If you do NOT see the Table of Contents frame to the left of this page, then
Click here to open 'USArmyGermany' frameset
4th Armored Division
(no official nickname)
Looking for more information from military/civilian personnel assigned to or associated with the U.S. Army in Germany from 1945 to 1989. If you have any stories or thoughts on the subject, please contact me

.
---
Occupation History

Cold War History

Page 2
Combat Comds
Brigades
Div Arty

Page 3
Div Trains
DISCOM

2nd Sq, 4th Cav

24th Engr Bn

144th Sig Bn

404th MP Co

504th Avn Bn



Welcome Booklets

Yearbook 1958

Pass-By 1961

Related Links

---
Division History - Occupation Period
Occupation Period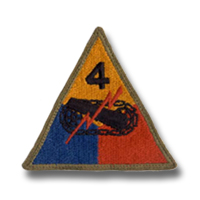 4th Armored Division Patch
Subordinate units remaining in Germany were redesignated as Constabulary units on 1 May 1946 (Webmaster Note: this table is still a DRAFT; still doing research on original duty stations of 4th Armd Div units in the April-May 1945 timeframe):
ORIG. DESIGNATION
ORIG. STATION
NEW DESIGNATION
NEW STATION
Hq/Hq Co, 4th Armd Div
HHT, 1st Con Bde
Wiesbaden
Hq/Hq Co, Cbt Cmd "A"
HHT, 2nd Con Bde
Munich
Hq/Hq Co, Cbt Cmd "B"
HHT, 3rd Con Bde
Bad Cannstatt (Stuttgart)
8th Tank Bn
Straubing
8th Con Sqdn
35th Tank Bn
35th Con Sqdn
Füssen
37th Tank Bn
Deggendorf
37th Con Sqdn
Wetzlar
25th Cav Rcn Sq
25th Con Sqdn
Regensburg
Straubing
10th Armd Inf Bn
Kitzingen?
10th Con Sqdn
51st Armd Inf Bn
Passau
51st Con Sqdn
Passau
53rd Armd Inf Bn
53rd Con Sqdn
Schwabach
22nd Armd FA Bn
Neustadt?
22nd Con Sqdn
Hammelburg?
66th Armd FA Bn
66th Con Sqdn
Degerndorf
94th Armd FA Bn
94th Con Sqdn
---
(Source: Email from Arnold Belasco)
I joined the 51st AIB, 4th Armored Division in March 1946 in Passau. At that time we were living in a school house down near "the point." This is where the 3 rivers come together, the Inn, the Ilse, and the Danube ,,, not sure of the spelling.

Was looking for some info on the 4th Armored when I came across your site. It is a long time ago ...

Have a few memories ... when I first got there, we rotated every couple of months between 3 towns: Passau, Pocking and Freyung. Believe this was to give the Germans the idea that we had many troops there at the time.

A number of the guys in the outfit were rotating home on points ... so many points for combat, time in service, etc.

I do remember visiting some of my friends at an outpost near Czechoslovakia, we were sitting aound playing poker at night when gunfire broke out. I was told, don't worry about it, it's the Russians firing up at us, our guys will return the fire shortly. It seemed it happened every night.

I do remember when General Harmon was visiting us, this must have been when the Constabulary first came into existence. Somehow, our commanding office knew his driver and I had some artillery training. I don't know where he got it, but we had a 75mm cannon. We loaded it with gunpowder and were told, as soon as Harmon comes around that hill, start firing. We did, but didn't realize we were right down the road from a German hospital. Well, people came pouring out of the hospital. They must have thought the war had started again.z
This is probably not the kind of stuff you would like, but it's what came to mind.
---
TELEPHONE DIRECTORIES
| | | | |
| --- | --- | --- | --- |
| 1. HQ 4th Armd Div Telephone Directory, early 1946 | | | |

---
Division History - Cold War Period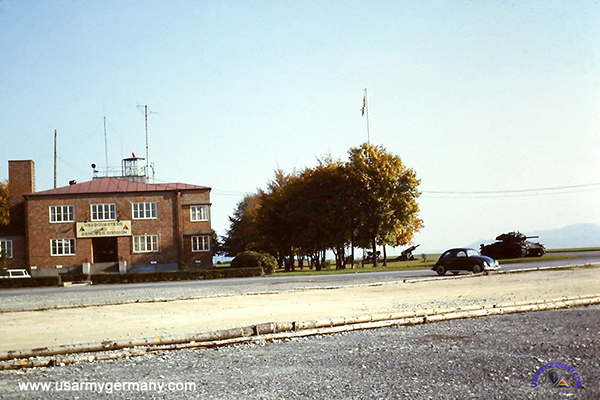 In December 1957, 4th Armored Division arrived in Germany from Ft. Hood, TX and established
division headquarters in this building at Cooke Barracks, Goeppingen (Photo from 1968)
Commanding Generals, 4th Armored Division
1957 - 1971 (list is complete)
Maj Gen Andrew P. O'Meara (1 Aug 1957 – 13 Feb 1959)
Maj Gen James B. Quill (14 Feb 1959 – 1 Apr 1960)
Maj Gen John K. Waters (2 Apr 1960 – 27 Aug 1961)
Maj Gen James H. Polk (28 Aug 1961 – 30 Nov 1962) (1)
Maj Gen John F. Franklin, Jr. (1 Dec 1962 – 31 May 1964)
Maj Gen Alexander D. Surles, Jr. (1 Jun 1964 – 17 Dec 1965)
Maj Gen James W. Sutherland, Jr. (18 Dec 1965 – 23 May 1967)
Maj Gen Edward C.D. Scherrer (24 May 1967 – 2 Dec 1968)
Maj Gen Stephen W. Downey, Jr. (3 Dec 1968 – 4 Feb 1970)
Maj Gen William W. Cobb (5 Feb 1970 – 10 May 1971) (2)
(1) MG Polk later served in Germany as CINCUSAREUR.
(2) MG Cobb, 22nd division commander, was reassigned to Berlin after the inactivation of the 4th AD and became the US Commander, Berlin.
---
1957 - 1971
COLD WAR - GERMANY
(Source: 52nd Anniversary, 1918 - 1970. The JAYHAWK Anniversary Issue, August 19, 1970.)
On June 15, 1954, the division was reactivated at Fort Hood, Tex.

In 1957 the division was ordered to Germany for the second time, and made the move in three days. The land was the same, but the mission was vastly different. The 4th Armored was now a peacetime force as part of the NATO shield. Former enemies were now trusted allies.

Today the 4th Armd Div, commanded by Maj. Gen. William W. Cobb, trains diligently to keep men and equipment in readiness. The Tank Crew Qualification Course, Mechanized Infantry and Scout Squad Proficiency Courses and Operational Readiness Tests are now the big challenges.

Apart from participation in the Command Post Exercises Certain Check and Front Centre '70, in which the brigades moved to field positions to test their command skills under combat conditions, there were a number of activities the Tankers enjoyed this past year.

In September, the 4th Armd Div band represented the US at the observance of the silver anniversary of the liberation of the Belgians during World War II, in Brussels. German-American Friendship Week was held throughout the division from April 26 through May 2, and from Goeppingen to Bamberg and Erlangen to Zirndorf, it was a week of bratwurst and beer, band concerts and bi-national athletic events.

Even in the line of duty, the 4th Armored has close ties with its host country, as numerous joint training exercises and marksmanship competitions are held with German Army units throughout the year.
---
1957
Fort Hood ARMORED SENTINEL

The website "Portal to Texas History," serves as a gateway to Texas history materials from Texas libraries, museums and archives. The website is maintained by the University of Texas Library's Digital Projects Unit.

Among its online newspaper collections are issues of the ARMORED SENTINEL that covered news of the Fort Hood garrison and the units assigned to this large post in Texas.

Click on the thumbnail (left) and follow the 4th Armored Division as it prepares for its GYRO deployment to Germany in late 1957 as well as the 2nd Armored Division as it settles in at Fort Hood after being replaced by the 4th AD in Germany.

---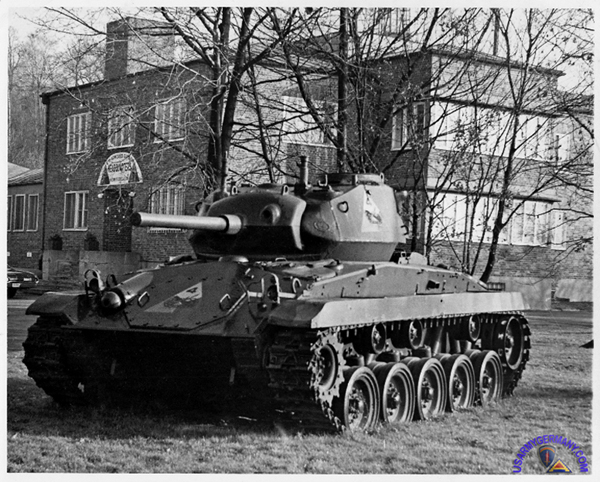 An M-24 CHAFFEE stands gate guard in front of 4th Armd Div Headquarters in Göppingen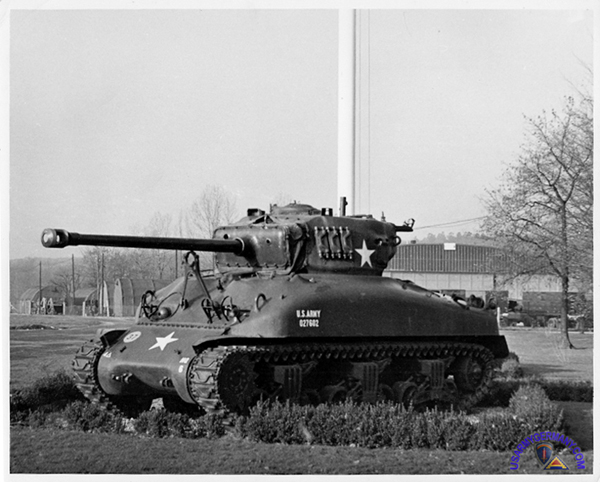 A WWII-era M-4A1 SHERMAN tank next to the flag pole at Cooke Barracks
1958
(Source: STARS & STRIPES, Feb 8, 1958)
Stuttgart Subarea Welcomes 4th Armd
Lots of Extra Work in Big Switch

STUTTGART, Germany (Special) -- The Stuttgart Subarea really had to hustle to roll out the welcome mat for the 4th Armd Div, which Gyroscoped into the subarea from Texas.

The 4th Armd Div moved into the area formerly occupied by the 8th Inf Div, which in turn moved into Northern Area Comd to take over the area formerly housing the 2d Armd Div, which Gyroscoped to the U.S.

According to Stuttgart Subarea officials, the major part of the logistical-support work involved in the movement of the 8th and the 4th divisions fell on personnel of the subarea here.

Extra Troops
To handle the sharp increase in the work, additional troops were assigned to the subarea. Sections most affected were transportation, billeting, quartermaster and engineer. The subarea's S4 section did the coordinating.

Posts involved in the 4th Armd Div move included Ulm, Leipheim, Heilbronn, Neckarsulm, Goeppingen, Schwaebisch Hall and Schwaebisch Gmuend, where 4th Armd soldiers and their families moved into quarters previously occupied by 8th Div personnel.

Timetables for various parts of the two-division switch were worked out at USAREUR Hq, subarea officials said, but these had to be coordinated with a host of smaller timetables set up in the subarea so that the movement could go off without a hitch.

'Biggest Fear'
"Our biggest fear," said Maj Howard C. Merrill, assistant S4, "was things we could not count on such as winter weather. We never knew when a blizzard or an ice storm would disrupt our plans. But luck was with us all the way."

Problems involved with moving troops without their dependents were nominal, officials said. The newly arrived soldiers came equipped with the same equipment the moving 8th Div troops had, they said, so that phase of the move was relatively easy.

The bigger problem came with the dependents, officials said, because no two families are exactly alike. All told, 1,000 housing units had to be changed.

Procedures had to be set up to move out the 8th Div dependents with a minimum of inconvenience, and plans had to be made to move the 4th Armd Div families in. And both plans had to be executed.

Each housing unit was equipped with about $20 in foodstuffs to help the new arrivals get settled in a hurry. The transportation section had its hands full with baggage.

One 4th Armd soldier noted that "I never saw any of the subarea troops, but my wife and I certainly appreciate what they did. The arrangement for myself and my family in getting together and settling down in our new quarters was swell."
---
(Source: Walter Elkins)
---
(Sources: ROLLING REVIEW, April 11, 1958 p. 11)
OPERATION GYROSCOPE
The official word on GYROSCOPE was received in December 1956 with the announcement that the 4th Armd Div would replace the 2nd Armd Div in Germany.

Original plans were laid for the 4th to be located in the Rhine River area with its headquarters at Bad Kreuznach. The 2nd would move to Fort Hood.

In the winter and sprng of 1957, personnel from all over the Army were channeled into the 4th to serve as cadre for the trainees that would begin arriving in June.

Administrative agencies such as the Trainee Processing Center and Dependents Processing Center were established to handle the inrush of troops and needs of the moving families.

Besides tactical training, the Division received indoctrination training in preparation for service in Germany. German road signs were posted throughout the Fort hood reservation and German language classes were begun.

In July, the first advance party arrived at Bad Kreuznach followed by parties arriving in August, September and October. The main body moved in three increments in November and December of 1957, and January of '58.

However, in October, a change of plans was announced. The 4th was now to move to a more southern location in Germany in order to further meet the operational needs of the Seventh United States Army. They would move to an area occupied by the 8th Infantry Division, with the 8th moving back to the area being vacated by the 2nd Armd.

With this added shift, the move became more complex but each of the three increments of the main body departed as scheduled.

On 13 December the colors of the 4th Armd Div officially arrived in Göppingen and in late January the Division was completey closed in its new home in southern Germany.
---
Yearbook 1958
Email from Michael Gushwa, author of the "2/5 FA Wiley Kaserne Neu-Ulm West Germany" website.

A few weeks ago somebody gave me a 4th Armored division yearbook from 1958 and I scanned it and put it on my website with my other book. It's got about 200 pages. Thanks

http://www.wiley2-5fa.com/new_page_10.htm
---
1960
(Sources: The 4th Armored Division, Welcome Booklet, 1960 or 1961, Germany)
ORGANIZATION (1961):
| | | |
| --- | --- | --- |
| UNIT DESIGNATION | DUTY STATION | |
| HHC, 4th Armd Div | Cooke, Göppingen | Special Trps |
| HHC, CC "A" | Wiley, Neu Ulm | |
| HHC, CC "B" | Ferris, Erlangen | |
| HHC, CC "C" | McKee, Crailsheim | |
| 1st MTB, 35th Arm | Ferris, Erlangen | |
| 1st MTB, 37th Arm | McKee, Crailsheim | |
| 2nd MTB, 66th Arm | Air Field, Illesheim | |
| 2nd MTB, 67th Arm | Monteith, Fürth | |
| 2nd Rcn Sq, 15th Cav | O'Brien, Schwabach | |
| 2nd ARB, 41st Inf | Wiley, Neu Ulm | |
| 2nd ARB, 50th Inf | Ferris, Erlangen | |
| 2nd ARB, 51st Inf | Ford, Ulm | |
| 1st ARB, 54th Inf | Wharton, Heilbronn | |
| HHB, 4th Armd DivArty | Pinder, Zirndorf | |
| 2nd How Bn, 14th Arty | Monteith, Fürth | |
| 2nd Rkt How Bn, 16th Arty | Bismarck, Schw. Gmünd | |
| 1st How Bn, 22nd Arty | Pinder, Zirndorf | |
| 2nd How Bn, 78th Arty | McKee, Crailsheim | |
| 24th Engr Bn | Johnson, Fürth | |
| 504th Avn Co | Monteith, Fürth | |
| Det "C" | McKee, Crailsheim | |
| Det "H" | Cooke, Göppingen | |
| 144th Sig Bn | Cooke, Göppingen | |
| 46th Med Bn | Wharton, Heilbronn | |
| 126th Ord Bn | Cooke, Göppingen | |
| "A" Company | Nelson, Ulm | supports CC "A" |
| "B" Company | Monteith, Fürth | supports CC "B" |
| "C" Company | McKee, Crailsheim | supports CC "C" |
| "D" Company | Ferris, Erlangen | |
| 4th QM Bn | Cooke, Göppingen | |
| Division Band | | Special Trps |
| 404th MP Co | Cooke, Göppingen | Special Trps |
| 504th Admin Co | Cooke, Göppingen | Special Trps |
| 4th Armd Div Trains | Cooke, Göppingen | Special Trps |
| Div NCO Academy | Wiley, Neu Ulm | |
---
Pass-By 1961
(Source: Letter from Murray Sunday, 66th Armor Bn)
The 4th Armored Division held a full-scale pass-by in Area M North, Grafenwöhr Military Reservation, on 17 June 1961 in commemoration of the Division's Activation Day, Flag Day, Infantry Birthday, and Armed Forces Day.

The event represented an historical occasion, including two significant "firsts:"

-- First public viewing on the European continent of the mass of an entire US Armored Division since World War II.

-- First display of the flags of the 50 United States outside of the US.


More than 3000 tracked and wheeled vehicles were assembled, manned by more than 12,000 troops. Under a brilliant sky and for more than two hours -- tanks; armored personnel carriers; self-propelled howitzers; signal, engineer, and ordnance equipment; and wheeled vehicles of every type rolled past more than 3000 spectators and representatives of several press, radio, and television media in an impressive display of power.



Pass-By 1961
Grafenwöhr, Germany



I spent 31 months in Illesheim, from 1960 to 1963. Was there when they built the Wall in Berlin. I remember the Sunday morning they called the Alert. We really thought the "balloon had gone up" and we were going to war. I remember to this day that chill that went through us all. Of course they didn't tell us what was going on for two or three days.

The time I spent in Illesheim wasn't as hard on me as it was for the guys from the big cities since I was from a small town in farmland Indiana. I enjoyed meeting a lot of good men and after almost 50 years I still wonder about them all.

I hope to hear from people who served in Illesheim and hope the web site keeps growing.
Murray Sunday
---
1961
Maj Gen James H. Polk, 4th AD commander, 1961-1962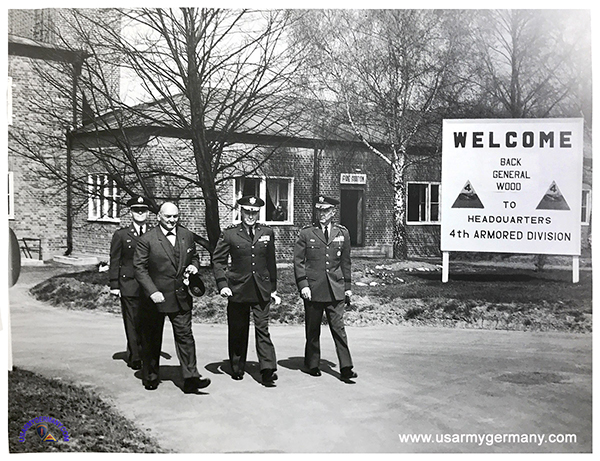 Special guest, former commanding general of the 4th AD during WWII, John S. Wood
(in civilian clothes), accompanied by outgoing CG, John Waters and incoming CG,
James Polk, head towards the parade field for the change of command ceremony,
August 1961



Change of Command, 1961
Göppingen, Germany



---
1962
(Source: Walter Elkins)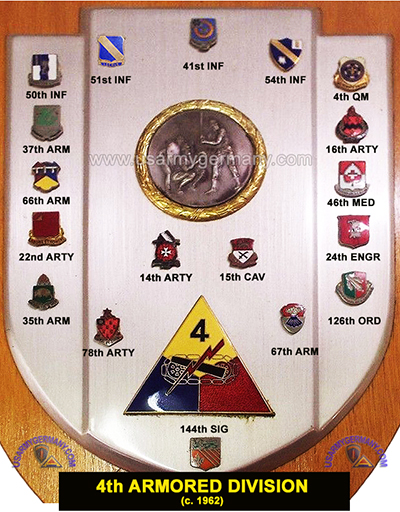 A while back, this sports plaque was listed on a well-known online auction
website. No date was given but based on the unit crests, I have idenitfied
it to have been produced around 1962. Also, the crest for the 51st INF was
missing on the original. Unit designations have been added by me.
Comments or corrections are welcome.
MISCELLANEOUS INFORMATION
(Source: Rolling Review, 23 April 1962)
Combat Command "A," Ulm
1st MTB, 37th Armor (Crailsheim) and 2nd ARB, 51st Inf (Ulm).

Combat Command "B," Erlangen
2nd MTB, 67th Armor (Fürth) and 2nd ARB, 41st Inf (Neu Ulm).

Combat Command "C," Crailsheim
1st MTB, 35th Armor (Erlangen), 2nd MTB, 66th Armor (Illesheim) (1), 2nd ARB, 50th Inf (Erlangen) and 1st ARB, 54th Inf (Heilbronn).

(1) 66th Armor, Illesheim, was transferred from Combat Command "B" to CC "C" in August 1961.

The US Army post at Illesheim was redesignated as Storck Barracks in Dec 1961. The facility was named in honor of Col Louis Storck, commanding officer of CCR, 4th Armd Div, who was killed in France during WWII.
CORRECTIONS
(Source: Email from Frank A. Tapparo)
I was in the 4th AD from June 1961 to December 1964, serving in the 2/50th ARB in Erlangen (Jun 61-Nov 62) and Div HQ at Goeppingen (Nov 62-Dec 64). I was also at Graf for the roll-by, which was also a farewell to Div Commander MG John Waters (Patton's son-in-law) and a welcome to the new commander MG James Polk. There are some interesting stories I have about the roll-by including what happened when four abreast vehicles passing the reviewing stand went to two abreast on the tank trail -- not a pretty sight. Also, some of the units had "shined" the right sides of the tracks with oil and guess what happened when the place turned to dust!

Also, there are a few errors in the description of the first page.

Under "Miscellaneous Information" CCB and CCC are mislabeled.

CCB had 1/35, 2/50. and 1/54th.

Combat Command "B," Erlangen
1st MTB, 35th Armor (Erlangen); 2nd ARB, 50th Inf (Erlangen) and 1st ARB, 54th Inf (Heilbronn).
Also, though it is correct that the 4th AD had units at Heilbronn in 1961, the 4th AD and 3rd ID switched some locations, with the units at Heilbronn going to 3rd ID and the 4th AD picking up the 3rd ID units at Bamberg.

In addition to forming a support command, the armored divisions changed combat commands to brigades and the artillery lost its BG commander, who became the second BG in the division HQ.

In addition, there is a note that with the ROAD organization the infantry units of the 4th AD became mechanized. NOT TRUE. The 4th AD's infantry units were always mechanized -- at least for several years before I joined 2/50 in June 1961. We had M-59 APCs. About the time of the ROAD reorganization, we switched from M-59s to M-113s, about the same time the armored units went from M-48s to M-60s. That was also the time when we went from M-1 rifles and .30 MGs to M-14s and M-60s firing the 7.62mm round.

The ROAD reorganization was not as traumatic on the armored divisions, as, with the exception of forming a support command from what was division trains, the reorganization was minimal. In addition to forming a support command, the armored divisions changed combat commands to brigades and the artillery lost its BG commander, who became the second BG in the division HQ.

The infantry divisions, on the other hand, had to go from a Pentomic structure (five battle groups) to a triangular division.
Thanks for keeping the memories alive.

Can anyone provide details on how CC "A" and CC "C" were organized in the 1962/1963 period, just before the transition to ROAD?
---
1963
ROAD Reorganization
(Source: STARS & STRIPES, Sept 14, 1963)
On Sept 21 1963, the 4th Armd Div marked the formal completion of the division's reorganization and redesignation plan under the ROAD system. The reorganization began on May 1. A division review held at Monteith Barracks on Sept 21 marked the formal redesignation.

4th Armd Div is the fourth division in USAREUR to complete the reorganization of its combat capability structure under ROAD: Since January 1963, the 24th, 8th and 3rd Infantry Divisions have reorganized into mechanized divisions.

Under ROAD, the 4th Armed Division 's three combat commands were changed to brigades; Div Trains was reorganized into a support command; and the division's infantry battalions were mechanized (addition of armored personnel carriers).

In addition, the ROAD changes brought an increase of two armor battalions and one mechanized infantry battalion (Source: Pamphlet for newcomers to the 4th Armored Division, 1965).

(SOME) CHANGES UNDER ROAD (1963)

INFANTRY BATTALIONS
2nd ARB, 41st INF, Neu Ulm -> reorg/redes as 1st Bn, 51st INF, 1 July 1963; battalion remains in Neu Ulm
2nd ARB, 50th INF, Erlangen -> replaced by 3rd Bn, 51st INF, April 1963; 2/50th relieved from assignment to 4th AD & reassigned to 2nd AD (CONUS)
2nd ARB, 51st INF, Ulm -> reorg/redes as 2nd Bn, 51st INF, 1 August 1963; battalion remains in Ulm
1st ARB, 54th INF, Heilbronn -> reorg/redes as 1st Bn, 4th INF and assigned to 3rd ID; 5 June 1963; 1/54 colors moved to Bamberg
1st Bn, 54th INF, Bamberg -> activated 5 June 1963
2nd Bn, 54th INF, Bamberg -> activated and assigned to 4th AD, 15 August 1963

Above information is tentative - looking for confirmation or corrections

ARMOR BATTALIONS
to be added soon
---
(Source: STARS & STRIPES, April 25, 1963)
Eighteen enlisted men, two NCOs and one warrant officer from the 4th Armd Div are now taking a seven-week IBM operators course at the USAREUR Data Processing Division In Heidelberg.

The training is in step with the new ROAD concept which will authorize the installation of IBM data processing machines.

They will be received by the 4th Armd Div Personnel Office and the division Finance Office early in July.
---
1964
(Source: Walter Elkins)
---
1966
---
Improvised Noncolor Bearing Unit Crest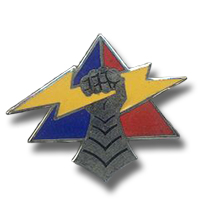 Noncolor Bearing Unit Crest (as of 1966)
(Source: ROLLING REVIEW, Feb 26, 1966)
Noncolor bearing units of the division will be donning new crests in the near future, according to SMaj Hugh D. Adcock of the division G1 section.

Adcock said the crests were on order and that units would be notified of the arrival of the new insignia in six to ten weeks.

"The Army Institute of Heraldry automatically begins design of a crest when a unit is organized," Adcock said. "But in the case of the 4th Armd Div, noncolor bearing units never really had an authorized crest."

Adcock explained that the division had issued an improvised crest, identical to division shoulder patches, on a temporary basis.

"As the Institue of Heraldry gets time, crests are designed for such noncolor bearing units as ours," he added.

The insignia will portray the division's drive across France into Germany during World War II. A silver gauntlet is shown grasping a yellow lightning flash horizontally in front of the traditional armored triangle.

Four segments of the gauntlet wristguard represent the numerical designation of the division, and the triangle is divided equally into vertical blue and red sections.

Institute of Heraldry officials said the triangle and colors blue, yellow and red are allusions to the division sleeve insignia.

The new crest is 1-1/8 inches in height.

Adock said the new crests will issued from the PX through unit funds, the same system used for distributing the current design.
---
1968
(Source: Walter Elkins)
The list was created by Walter Elkins and is based on units and locations listed in the June 1968 STATION LIST. For corrections, please contact the webmaster.
---
1969/1970
(Source: Unit Day Issues of the Rolling Review)
| | | | |
| --- | --- | --- | --- |
| | | | |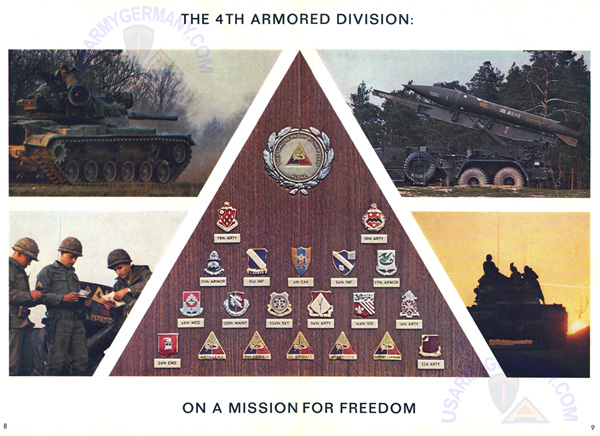 Pages 8-9, ROLLING REVIEW, 1969

---
DUIs - 1950s-60s
| | | | |
| --- | --- | --- | --- |
| CC "A" | CC "B" | CC "C" | TRAINS |
| 4th AD NCO Academy | | | |

---
2nd Squadron, 4th Cavalry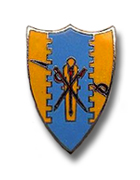 2nd Squadron, 4th Cavalry DUI
1970
(Source: Email from Paul Keats)
I arrived in Frankfurt in July, 1970, a month after graduating from Infantry OCS at Fort Benning. I was assigned to the Seventh Army, 4th Armored Division and told to report to the 2nd Squadron, 4th Cavalry in Schwabach. The Commanding Officer was LTC Calvin R. Bean.

I spent two years, first as platoon leader, 2nd Platoon A Troop; "A" Troop Executive Officer; Squadron Support Platoon Leader; and finally as S-1 Adjutant to LTC James Dozier (later, then Brigadier Gen. Dozier was captured by the Red Brigade in Naples, Italy and then released).

As a member of the 2/4 Cav, I participated in several Reforger exercises, Tank Gunnery (M-551 Sheridans) at Grafenwoehr and Hohenfels. I also served at Camp Gates on the Czech border. After I left the Squadron in April of 1972, the colors were retired and the unit was renamed 1st Squadron, 1st Cavalry Regiment. The 4th Armored Division had already become the 1st Armored Division, "Old Ironsides".


The Crest you display was the one worn by members of the 2nd Sqdn, 4th Cavalry, headquartered in Schwabach.

---
24th Engineer Battalion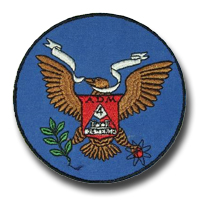 ADM Pltn, 24th Engr Bn
Who can provide details on the ADM Platoon?

---
144th Signal Battalion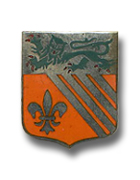 144th Signal Battalion DUI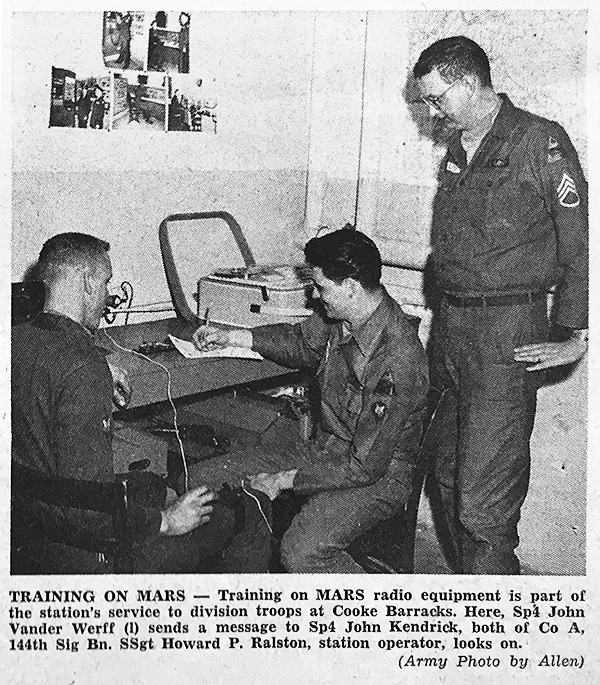 Göppingen MARS Station, ROLLING REVIEW, 1966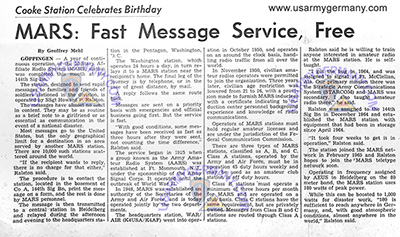 Göppingen MARS Station, ROLLING REVIEW, 1966
1966
(Source: ROLLING REVIEW, March 12, 1966)
The Military Affiliate Radio System, better known as MARS, station on Cooke Barracks is located in the basement of Company B, 144th Signal Bn. The station is operated by Staff Sgt Howard P. Ralston.
---
SUPPORTING DIVISION TRAINING AT GRAFENWÖHR AND HOHENFELS
(Source: ROLLING REVIEW, January 21, 1966)
GRAFENWÖHR - "First out and last in" is the unofficial slogan of the 144th Signal Bn, and this year at Grafenwöhr they're proving it.

Although most division elements arrived at Grafenwöhr Jan. 5, the detachment of the 144th which is stationed near Nürnberg arrived on Jan 3, and was ready for transmission two hours later.

'I'he detachment operates an AN/MRC-69, a Very High Frequency (VHF) radio van. Their mission is to support the division during the Grafenwöhr training period by providing the necessary communication.

Radio communication is a necessity at the gigantic Seventh Army Training Center because the ranges and training areas are dispersed over a large area, making land lines impractical.

The van, which can transmit up to 200 miles if integrated relays are used, is kept running 24 hours a day. At the controls are four men: Sgt James Haley, team chief; and radio relay carrier operators PFC Lyle E. Redmond, Pvt Nathaniel Harris, and Pvt Norman J. Iannarelli.

Each morning the operator on duty makes what is called a systems line up - a check of each of the van's 12 channels to make sure that they are free of static.

For the rest of his shift the operator keeps constant check on the equipment. Any malfunctions are immediately attended to by these school trained specialists.

The men pull long 12-hour shifts with the next 24 hours off. Being a signal outfit, these men aren't scheduled to return to their home stations until all division elements have left Grafenwöhr, sometime around April 3.
---
(Source: ROLLING REVIEW, February 19, 1966)
GRAFENWÖHR - While other division units fight the mud and fog on the ranges here, the 144th Sig Bn has its own round-the-clock battle keeping communication lines open and operating.

The vigil is maintained by a 40-man detachment commanded by 1st Lt Russell K. Pelis. Operating from a temporary headquarters here, the detachment's job is to back up unit efforts to move, shoot, and communicate.

Special signal vans link field headquarters here with Division Headquarters and Div Arty Headquarters via very high frequency (VHF) equipment.

Another VHF line connects the field headquarters with the 126th Maint Bn, making equipment maintenance faster and easier.

AM and FM radios provide communication for units which are training. Three AM nets are used as part of the division radio training program; another AM net is reserved for garrison use.

The FM systems provide commanders with a means of keeping in contact with each other, with their men, and with range controllers.

One of the biggest jobs of the signalmen is setting up and operating telephone systems for the division field headquarters, as well as the lines with run down to brigade and, in some instances, to battalion level.

"It's actually a lot easier for us to set up communications when we're out on maneuvers than it is here," said Maj Francis C. Miracky assistant division signal officer. "When we're in the field, all we have to do is string our own cables and we're ready to operate. But here, at Grafenwohr, it's a lot more complicated.

"Most of the buildings here already contain wiring which we must use and frequently supplement with our own cables in order to obtain adequate circuits.

"The wiring which is already ln the buildings is frequently old and sometimes defective. All this adds to a big job tor the wiremen and telephone operators, who are always on call,'' Mlracky explained.
---
(Source: ROLLING REVIEW, March 12, 1966)
HOHENFELS - Elements of the 144th Sig Bn moved into the Hohenfels Training Area last week before the main divisional units arrived, and they now have communications networks humming with messages between different field headquarters.

Van drivers were first on the scene as they drove their mobile Very High Frequency (VHF) radio stations into strategic locations to form a relay network.

Two teams of wiremen under the supervision of 1st Lt Walter D. Downey then connected the vans and field headquarters with heavy cable.

Meanwhile, 1st Lt Russell K. Pells arrived with all fixed installation equipment such as phone and radio sets and a master switchboard. His signalmen were in place and waiting to begin before a building was turned over to them.

Working quickly and skillfully, the communications specialists had the building completely wired within a day. The men worked closely with Hohenfels Post signalmen, especially on class-A telephone lines.

Among their other duties, signalmen also had to install and maintain a secure teletype line. Their radio wire integration facilities make conversations possible between one party on a field radio and another party on a telephone.

Some of the facilities have been strengthened by tapping commercial power. In case of breakdown of any of the signal equipment, there is always a team of repairmen on call.

---
404th Military Police Company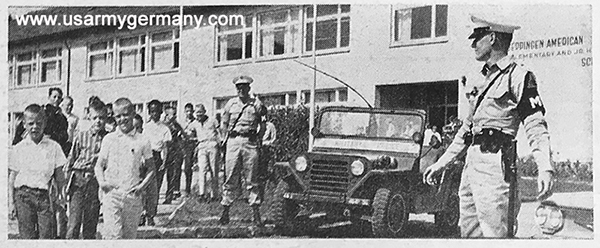 MPs have varied duties: here Sp4 Gordon Fields and Sp4 George Cook insure
safe crossing of school children at the Goeppingen American School, 1964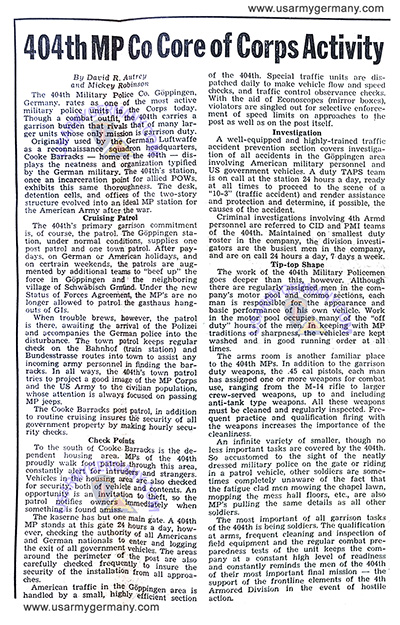 Göppingen MPs, ROLLING REVIEW, 1964
1964
(Source: ROLLING REVIEW, 25 September, 1964)
Article explains garrison duties of the 4th Armored Division's 404th Military Police Company at Cooke Barracks, Göppingen.

---
Related Links:
The Fourth Armored Division - Guy Ries' site is focused on the history of the 4th Armored during WWII.
4th Armored Division Yearbook 1958

- the entire book (200 pages) is posted in the 2nd Bn, 5th FA Wiley Bks website.