Seventh Army Major Field Exercises
7th Army
Looking for more information from military/civilian personnel assigned to or associated with the U.S. Army in Germany from 1945 to 1989. If you have any stories or thoughts on the subject, please contact me

.
---
---
Sabre Hawk (1958)
(Source: STARS & STRIPES, Feb 9, 1958)
7th Army to Launch Pentomic Test Monday

By HENRY B. KRAFT
S!aff Writer

VAIHINGEN, Germany -- Exercise Sabre Hawk, 7th Army's biggest winter maneuver, starts Monday with more than 100,000 men, split into "Red" and "Blue" forces, participating.

It is the first complete field test of the 7th Army since its pentomic reorganization. German and Swiss military officers will be among the observers.

Sabre Hawk is to be a controlled exercise with plans mapped out for each day. There will be neither winner nor loser. The principle objective is to give the maximum amount of training to leaders of small units and to individual soldiers. Basic fundamentals and techniques will be underscored, 7th Army officials said.

USAFE Support
Throughout the maneuvers which will continue until Feb. 19, USAFE tactical aircraft will fly reconnaissance, strike and transport missions. Air Force officials say their role will be a test of facilities and procedures for control and coordination of air support of ground forces.

Aircraft which will fly many sorties will include F100 fighter-bomber supersonic Super Sabre and RF84F and RB66 reconnaissance aircraft.

The 322d Air Div will play a considerable part in the maneuvers by dropping a combat control team on the first drop zone the first day. A lone C119 Flying Boxcar will drop the Pathfinders, all 12 of whom will be carrying communications equipment. As quickly as they hit the ground, they will set up their gear and guide the main body to the drop zone.

Daily Air Drops
Following the combat control team will be paratroopers of the 502d Abn Battle Gp in six C119s from the 317th Troop Carrier Wing at Evreux, France.

Then 12 more C119s from the 60th Troop Carrier at Dreux, France, will start the resupply phase of the operation. They will airlift ammunition, gasoline, rations, and medical supplies for certain elements of the 7th Army.

During one day 114,000 pounds of equipment and supplies will be dropped, stepping up the resupply until 180,000 pounds a day is dropped. The 322d will fly 18 sorties a day until Sabre Hawk is ended.

Lt Gen Bruce C. Clarke, 7th Army CG, will supervise the maneuvers, with Lt Gen Francis W. Farrell, V Corps CG, commanding the "Blue Force" and Lt Gen John F. Uncles, VII Corps CG, commanding the "Red."

War Games Area
The maneuvers will be conducted over an area generally bordered by Fulda, Giessen, Schwabisch-Gmuend and Gunzenhausen in the three states of Bavaria, Hesse and Baden-Wuerttemberg.

Sabre Hawk is expected to provide a test of 7th Army firepower as well as revealing any flaws in the pentomic structure.

The exercises are necessary, Clarke said, because a majority of 7th Army soldiers have been replaced since the last winter exercises at the end of 1956, "and one division has arrived since the last maneuvers."

Clarke is determined that road and property damage be kept down as much as possible. That is one of the reasons mid-February was chosen as the time for the gigantic maneuvers. In the past February has proven the coldest month of Germany's winter and he believes the cold may freeze the ground and thus cut down on damage by tanks and other heavy vehicles.

Sabre Hawk is being conducted with winter crops already harvested and before spring planting. Exercises will stop on Sunday, Feb. 16, and on Ash Wednesday, Feb. 19, to keep movement of Army vehicles from interfering with Sunday drivers or religious services.


---
Winter Shield I (1960)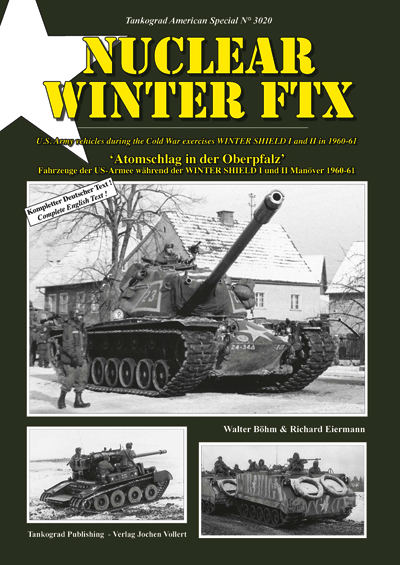 A Tankograd Publishing book (link)
In the early 1960s Germany was the center of the Cold War and a nuclear clash between the superpowers on German soil was a realistic yet in the same way horrific scenario.

The exercises Winter Shield I and Winter Shield II were conducted in February 1960 and 1961, respectively, and demonstrated how a real nuclear winter-war would have been fought.

Each exercise saw the participation of some 60,000 troops and about 15,000 vehicles. The use of nuclear weapons was given a decisive role in Winter Shield I. They were meant to serve as a deterrence as the military forces in the East were getting stronger and stronger.

Both exercises were conducted under the motto: "Train as you fight".

Commanding officers were veterans of recently fought wars - US officers had seen action during the Korean War, many German commanders had gained their experience on the Eastern Front during World War Two.

This publication describes the events and illustrates the spectrum of military vehicles serving with the US Army in Europe at that time, ranging from World War 2 veterans to then most modern equipment such as the M103 Heavy Tank.
---
Winter Shield II (1961)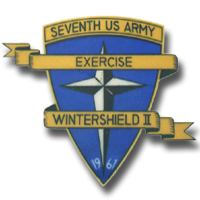 Exercise Wintershield II
(Source: Stars & Stripes, European edition, September 1961)
Winter Shield II

Photo by Gene Bane, S&S

---
Big Lift (1963)
B/W newsreels with some great footage of MATS aircraft landing and taxiing at Rhein Main Air Base during Operation BIG LIFT in 1963 and 2nd Armd Div troops debarking from various types of military transport planes, including the C-124 Globemaster. Also includes some scenes from one of the staging areas where troops received their prepositioned equipment.
---
(Source: ARMY, January 1964)
BEHIND BIG LIFT

During the Berlin Crisis of 1961 I took every opportunity to balance the U. S. Army in Europe tactically and logistically. I first asked for and obtained about a 45,000 man increase. About half of the increase was in logistics units, but some were in tactical units such as the 3d Cavalry Regiment. The latter was needed to provide a measure of rear area security west of the Rhine River. This need still exists. The remainder of the increase served two purposes: First, to replace the so-called "line deletions" in units which had gone on for many years. In fact, during the time I commanded the Seventh Army, 1956-1958, it lost about 12,000 spaces causing us to make many "line deletions" in TO&Es. Secondly, more men were needed to mechanize the 3d, 8th, and 24th Infantry Divisions.

These augmentations increased the U. S. Army, Europe to over 250,000, its all-time peak. It was balanced both tactically and logistically. It had adequate tactical and logistical mobility. It had offensive and defensive capabilities. It could give a large measure of support to our allies in critical areas. It was capable of sustained combat. It was capable of sustaining a conventional or a nuclear attack by the Soviets without being destroyed. It was capable of receiving and supporting at least two reinforcing divisions.
As the crisis wore on there were considerations for further reinforcing the U. S. Army, Europe. These generally involved another Corps (III) of two divisions: The 2d Armored and the 4th Infantry Divisions.

The moving of two more divisions to Europe would have caused problems in locations, housing, training areas, and disposition. There was no surplus troops housing space in Germany. The training areas were crowded. It would take several weeks to move the equipment for two divisions to Europe since most of it would have to come by surface lift. Also, as soon as such a possibility became known in allied circles there were strong bids to put the new Corps in the NORTHAG area. This concept I strongly resisted for many reasons. Also, if they had been actually sent to Europe, returning them later would have created a political problem.

During the discussions attending these tentative plans, the thought was advanced that if we had the equipment for the two extra divisions positioned in Germany, the troops could be flown over and married up with their equipment in a relatively short time. I do not recall who originated the thought but I give credit to General Lauris Norstad, CINCEUR, because he adopted it and got it approved on the Washington level It was then implemented with little delay as a priority project.
Once approved, our problem was to implement it in Europe as the equipment arrived or as it was taken from the Communications Zone depots. The job was given to the Seventh Army, who in turn, placed Major General Andrew J. Adams, of the Seventh Army Support Command in charge. The USAREUR directive was that the equipment had to be all placed west of the Rhine River with the 2d Armored Division's equipment mostly in Germany and as far west of the Rhine as we could find space for it. The reason for this was to insure that the personnel would have the time and space to arrive and marry-up with their equipmeat in case of an emergency.

I insisted it had to be placed in tactical unit packages for quick issue; it also had to be capable of being dispersed quickly by tactical units to cut down the peacetime heavy equipment concentrations; in case of a tense situation these undoubtedly would become Soviet targets.

Early tests of Big Lift
We insisted also that personnel from the parent divisions be assigned to look after and maintain the equipment. I believed they would be better motivated to do a good job of maintainence ad to keep a high state of readiness for their own people than would a detail from the Seventh Army.

Soon after the equipment was prepositioned, we started to test our ability to bring over units to marry up with their equipment. Several groups of less than division strength from the 4th Infantry Division were flown from Fort Lewis, Washington, in what was known as the Long Thrust Exercises. They were all successful and taught both Army and All Force participants much.

By the time I retired as Commander in Chief, USAREUR, 1 May 1962, the flying over of all or a portion of the 2d Armored Division as one of the Long Thrust exercises was being considered. I am happy to see that Operation Big Lift was finally played and was so successful.

Operation Big Lift is now history. It was a fine, valuable operation from which much training value was derived. It showed that the Army's efforts over the years to get the Air Force to increase its troop airlift capabilities had paid off. The question now is: would we have had enough airlift for Big Lift in case it had taken place during a real emergency when there were many other demands for airlift?

I am sure it heartened the people of western Europe to know that we can augment the U. S. Seventh Army with two divisions in a hurry.

Elements of long-distance troop reenforcement
However, before we consider this technique to be the answer to all our military efforts worldwide, we should understand certain basic factors that are involved in such an operation and are also involved in our military position in western Europe.

The equipment for two divisions was positioned in Europe two years ago and has been maintained there since in a high readiness state.

It was moved there by surface lift over a period of several weeks.

Exercise Big Lift flew far less than five percent of the total tonnage needed for combat readiness of the 2d Armored Division.

Adequate secure landing fields for large jets are needed in the marry-up area.

The equipment, parked in large concentrations in Germany because of peacetime real estate conditions, would be a lucrative target to an enemy making a surprise attack.

The marry-up area must have sufficient frontal protection on the ground to protect the marrying-up operations. It would need air cover as well.

This quick reenforcing technique requires two basic major national level and timely decisions for each proposed area of employment: First, to preposition the proper equipment well in advance and at the proper time; second, to move the troops at the proper time to marry-up with their equipment.

It will be some time before NATO nations who live where they can be overrun quickly by existing Soviet ground troops will have confidence in this reenforcing technique for their basic protection. They will accept it for reenforcing purposes, however.

The level of U. S. troop strength in Germany cannot be substantially pared down without great apprehension on the part of the people of western Europe.

In considering the level of U. S. Army strength that should be maintained in western Europe and to insure that the United States is adequately represented in the NATO organization, there are several factors that apply. It must basically be strong enough to insure that the Seventh U. S. Army cannot be quickly destroyed by a surprise attack. It is now the backbone of the NATO ground command; to reduce it is to reduce the United States' position in Europe and might cause a move to replace the next SACEUR commander, who is now an American, with another nationality.

Inaccurate bookkeeping
It may prove awkward later to claim that the troops we have now in Germany to be the equivalent of six divisions as has recently been done. This type of inaccurate military bookkeeping can be practiced by our allies also, to the disadvantage of NATO. The U. S. troops in Berlin, Italy, and France have special missions. What we have in Germany now is a balanced five-division force tailored for the military conditions we are likely to face there.

Equipment positioned over a long period presents problems due to deterioration, pilferage, and obsolescence whereby troops in the U. S. who are to marry-up are being trained on other equipment. It is most desirable that positioned equipment be of the same quality and type as that in the hands of operation units in the area. Rearranging due to changes in organizations, maintenance and cost of extra divisional slices of equipment are also problems.

Preposition of equipment alone is not enough. There most be at hand when the troops arrive basic leads of rations, POL, ammunition, spare parts, maps, SOPS, and SOIs, as well as preliminary disposition plans.

However, if we are to move rapidly oversees an armored or mechanized force of the Army against a nimble, relatively modern enemy threat, we have few alternatives but to preposition equipment.

All of the factors listed were apparent to us in 1961. In spite of them I was strongly in favor of the prepositioning of the equipment for two divisions in Germany at that lime. I have not changed my mind since. Exercise Big Lift has added to my conviction that it was a sound move. However, Germany is a special case. To use this technique elsewhere requires a special estimate of the situation and special arrangements to fit the case.

---
Related Links