If you do NOT see the Table of Contents frame to the left of this page, then
Click here to open 'USArmyGermany' frameset
1st Antiaircraft Artillery Group
34th AAA Brigade
Looking for more information from military/civilian personnel assigned to or associated with the U.S. Army in Germany from 1945 to 1989. If you have any stories or thoughts on the subject, please contact me

.
---
---
242nd AAA Group
1952 - 1953
(Source: 242d AAA Group Yearbook 1953)
Headquarters and Headquarters Battery, 242nd AAA Group was activated at Bridgeport, Conn., on Dec 23 1946, and ordered into active service on April 4 1951, reporting to Camp Edwards, Mass., attached to the 56th Brigade.

During its initial training period, the Group received commendations by General Mark Clark and General Willis D. Crittenberger. The Group was assigned five Battalions at Camp Edwards and supervised them until it departed for overseas service early in 1952. Upon arriving in Germany, the Group was attached to the 34th AAA Brigade.

The Group was stationed at Funari Barracks, Mannheim/Käfertal.

In 1953, the Group was redesignated as the 1st AAA Group.
ORGANIZATION - Jan 1953
| | | |
| --- | --- | --- |
| UNIT DESIGNATION | LOCATION | COMMENTS |
| HHB, 242nd ADA Gp | Funari Bks, Käfertal | |
| 302nd AAA Op Det | Funari Bks, Käfertal | |
| 27th AAA AW Bn (Mbl) | Vogelweh Cantonment, Kaiserslautern | Moved from Mittenwald to Vogelweh on 2 Dec 1952 |
| 45th AAA Gun Bn | Vogelweh Cantonment, Kaiserslautern | Located at Mittenwald, then Sullivan Bks, Mannheim and finally moved to Vogelweh |
| 62nd AAA AW Bn (SP) | Sullivan Bks, Mannheim | |
| 67th AAA Gun Bn | Worms | |
| 95th AAA Gun Bn | Coleman Bks, Sandhofen | |
| | | |

---
1st AAA Group History

---
27th AAA AW Battalion (Mbl)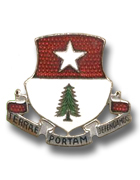 27th AAA AW Bn DI
1953
(Source: Email from Carl Hutchins)
I was commisioned after ROTC at graduation excercises in 1952 from UTEP, (Texas Western College. We received our commisions in uniform and orders to active duty in the same ceremony.



I reported to the 67th AAA Gun Battalion

, a 90 mm gun unit

, then at a Kaserne in Worms, Germany. Sometime between christmas of 1952 and the end of the year. Our mission was the defense of the two bridges over the Rhine. Although, when I got there, the vehicular bridge had not yet been restored and the middle span was missing.

I was transfered to the 27th AAA (SP) Battalion then stationed in Mannheim. This unit had M15 & M16 tracked vehicles. After assignments as platoon leader and executive officer, I was sent to Todendorf as the 34th AAA Brigade Liasion. In addition to my duties as liasion officer, I functioned as Post Adjutant. (I also recall Dachau, Hohenfels, Grafenwoehr, Baumholder.) I spent most of the summer of 1954, the winter and the first months of 1955 there. Very interesting assignment. The Army thought I was single. A whole other story!!

I returned to Brigade Headquarters and did absolutely nothing but pull guard and duty officer in rotation until my orders came through and I went to New York for discharge. I now had a wife and six month old child!!

I recall that the 27th came to range to fire their 75mm Skysweepers for the first time. Deadly accurate, they really tore up the sleeves. Far better than the 90 mm's ever did.

The half tracks that were the weapons when I was there were obsolete. I always wondered what good we could do with them in trying to track and shoot jets. The M15 with the 37mm was helpless in trying to track a jet. I saw that in practice, I am sure others did, but no one said anything. We just kept up the pretense.

I think my last mission with that unit was for my battery to travel with an armored unit to provide AA protection. Half tracks and trailers trying to stay with the Patton!! They would get into a village and do a 360 by spinning in their tracks, And we would try to turn the 1/2 track and trailer around anyway we could. The real joke was when the armored battalion commander ordered me to take the point with a track and my Jeep!! Shoot, I couldn't get the guns to bear on any ground target going forward! Fiasco.
I kept my mouth shut, though.

I learned a lot in my three year duty tour, though!!!
---
(Source: Email from Sandy Gaston)
A 'Korean-War' draftee in 1953 with AAA-training at Fort Full 'O Bilss, Texas, I was assigned to the Hq and Hq Battery, 27th AAA AW Bn in Vogelweh (Kaiserslautern) Germany, and was deployed there between August, 1953 until Sept, 1954. The cantonment camp included the 45th AAA Bn. Both these units were part of the 34th Brigade, 7th Army. (Webmaster Note: Vogelweh Cantonment would later be renamed Kapaun Barracks.)

Occasionally, in flightier moments of my old age, I succumb to the urge to reach back, and play a little game of 'nostalgics', surfing the net for whatever I can find, and came across your 'usarmygermany.com' website. If you know of any photo-collections from the Vogelweh Cantonment in Vogelweh, Germany, preferably around 1953-55, please send me the URL. I'm especially interested in photos of the garishly decorated mess-hall serving the 27th AAA Bn, colocated with the 45th AAA Bn, and several other units there.
Google map shows the buildings that were in place then still standing, and much more. It's a great way to reminisce.

Here are just a few of the pix I snapped while I was assigned to the 27 AAA Bn, Vogelweh Cantonment, in Germany. I wish I had more photos of the 'infrastructure' around the campus, but it's too late now.

With GoogleMap, searching on Kaiserslautern, you can find it, just to the west of the Highway marked B270, and a few blocks south of Kaiserstrasse. The 27th is the group of buildings bounded W-N-E by Louisiana St, Eighth Ave., and Kansas. The 45th Bn was located a few yards to the south of the 27th.
Sandy Gaston
adgaston(AT)austin.rr.com



27th AAA AW Bn (Mbl)
Vogelweh Cantonment






1. John P. Karahalios


2. Battalion crest painted on the mess hall wall


3. 27th AAA Bn mess hall


4. Three PFC's from Baytown, TX








---
45th AAA Battalion (Gun 90mm)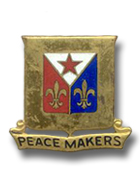 45th AAA Gun Bn DI
1953
(Source: Email from Dale E. Stroud)
I served in the 45th AAA Bn from October 1953 until December 1955.

I had basic training at Ft Bliss, TX. After basic training I remained at Ft Bliss and attended Light AAA Maintenance (40mm) (course). I received orders for Germany and was sent to Camp Kilmer, N.J.

I volunteered for duty at Ft Hamilton, Brooklyn, where we assisted military dependents arriving from and departing for overseas.

On October 10 I departed Ft Hamilton and arrived in Bremerhaven on Octover 20, 1953. I was assigned to Hqs Btry in S-3.

As I recall, our primary mission was to provide air defense for Ramstein Air Base. We moved the battalion twice a year to Todendorf NATO Firing Range on the Baltic Sea for live firing.

Would love to hear from anybody who served in the 45th during this time.
---
1954
(Source: Email from John P. Olson)
Enjoyed the stories of guys who served at the Vogelweh Kaserne at Kaiserslautern, Germany. I was there from March 17,1954 to May 2,1955. I was in the "A" Btry of the 45th AAA.

One week after I arrived, I was sent to the 1st Group Hqts. at Funari Barracks in Mannhem, Germany. I attended the CW Radio School for 12 weeks.

On my return to the 45th, I went back to "A" Btry, as a radar operator on the M33 GE radar.

While at Mannheim the Battlion went to Todendorf, Germany on the Baltic Sea for training on firing at the targets pulled behind a B26 bomber. A Russian ship observed us the complete time we were there. Todendorf was located in the British occupation zone, so they trained on their 40's AAA guns as well as the Dutch AAA.

My first trip to Todendorf was in August of 1954. Yes, the Russian ship pulled in the same day as we arrived. The next timed was in February of 1955 which was a challenge at best as we had snow and ice all the way to the Baltic Sea!!

Back at Vogelweh our mess was also used by the 27th AAA and also a Transportaion Company that hauled supplies from the coast of France to all parts of Germany and France. One of our neighbors from South Dakota was in a transportation unit in Ulm Germany and stopped overnight, We had dinner at the Mess Hall.

I will continue to write more experiences and appreciated the chance to contact any more guys from the 45th or the 27th.

---
62nd AAA AW Battalion (SP)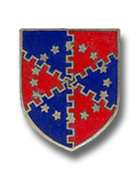 62nd AAA AW Bn DI
(Source: Photos - Walter Elkins; Information - Harald Späth)
You have some very interesting pictures of the 62nd AAA AW Bn (SP), 34th AAA Bde on your site.

The equipment of the Bn:


M16 (original, not the M16A1)


M15A1

The M15A1 were substituted in lieu of the M19, because there were far too few M19's in US Army stocks to equip all AAA AW Battalions (SP).

The 62nd AAA AW Bn (SP) was a Regular Army Bn, activated February 1949 at Ft. Bliss,TX, and assigned to 2nd Armored Division in Nov. 1949. It was relieved from the 2nd Armored Division and transferred to Europe in the fall of 1950.

The Bn was inactivated September 1958 and consolidated with the 62nd Artillery in June 1961.

The AAA AW Bns (SP) of the 28th & 43rd Infantry Divisions (National Guard) received the same equipment as the 62nd AAA AW Bn (SP).



62nd AAA AW Bn (SP)
Sullivan Bks, Mannheim






1. Motor pool


2. Unidentified soldier


3. Wrecker truck of Hq Btry

4. Unidentified kaserne


5. Another view of unidentified kaserne


6. Vehicle park




7. Tent city


8. Railhead





---
1955
(Source: Email from James Jerry Langford, 62nd AAA Bn)
After completing basic officers course at Fort Bliss, I reported to 34th AAA Brigade at Kaefertal (Mannheim) in December 1955. Maj. Harry Mooney was adjutant, and he had me sent to the 62d AAA Btn (AW, SP), which was part of 1st AAA Group.

Each of the four Groups in the Brigade (1st, 8th, 12th & 69th AAA Gps) had four batallions. The four batallions in each group were one AW/SP batallion. Each battalion comprised four batteries of eight M42s and eight M16s; each battery had two line platoons, each with four M42s and four M16s. The M42 had twin 40 mm cannon mounted on a Walker Bulldog light tank chassis, and the M16 was a half-track with quad 50 cal. machine guns.

The other batallions in each Group were 90 mm or 75 mm Skysweepers, with one or more of each such batallions in each Group.

Lt. Col. Lon Dixon was my CO at the 62d batallion. He had me assigned to Battery D, cummanded by Capt. Scott, a Citadel graduate. After a few months as an assistant platoon leader, I was platoon leader.

All of the 1st Group's batallions were in or around Mannheim. The other three Groups were at Karlsruhe, Baden Baden, and Kaiserslautern.

The M42 was a fairly new weapon, and well made by Cadillac, but its days were numbered, with Nikes soon coming to Germany. Our alert position was Worms Bridge. and we won the Cold War, keeping all Russian troops from passing.

After I returned Stateside, the 62d was put to sleep for a little while, and its M42s were given to the Bundeswehr.
---
1957
(Source: Email from Jim Wright, 62nd AAA Bn, 1957-58)
I came across your web site, and was happy to find it. I was in the 62nd AAA Bn 1956-57-58. I left just before the change was made. I was in Hq Btry. Co was Capt Moller, First Sergeant Zetts. I was the S-3 driver. The man was Major Myers. Top NCO was Master Sergeant Williams, and what a soldier he was.

As I remember we had Quad 50s on the half tracks, and twin 40s on the tanks. I have a couple of things you might be interested in seeing.

Photo #1 - we did not have a half track with a gun like that when I was there. Photos #7 & #8 - those are what we had.

The other pictures do not look like they were taken at Sullivan Barracks. I'm sending you a picture. It is a group picture of Hq Btry personal taken in 1957. Looking at the picture, on the left side, 4 rows up, I am the last one to the right.

I think it will look good on you're web site. It was taken at Sullivan Bks, Mannheim.



62nd AAA AW Bn (SP)
Sullivan Bks, Mannheim






1. HHB, 62nd AAA Bn


2. Bn sign


3. Members of the 62nd

4. Members of the 62nd









---
1958
(Source: STARS & STRIPES, Feb 9, 1958)
62d AAA Bn Reassigned

The 62nd AAA Bn, the oldest combat unit in USAREUR, has joined the 36th FA Group. The unit, 168 years old last September, was formerly with V Corps Arty.

---
67th AAA Battalion (Gun 90mm)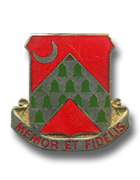 67th AAA Gun Bn DI



67th AAA Gun Bn
Taukkunen Bks, Worms






1. Bulldozer


2. Bulldozer


3. M4 track

4. M4 track










---
95th AAA Battalion (Gun 90mm)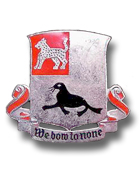 95th AAA Gun Bn DI
(Source: 242d AAA Group Yearbook 1953)
The 95th AAA Gun Battalion, Regular Army, was activated on Jan 15 1949 at Fort Bliss, TX. The mission assigned at this time was the organization and training of a 90mm Gun Battalion Mobile.

Upon completion of ATP training, the Battalion moved to Fort Lewis, Wash., arriving at its new station on Nov 29 1949.

On April 27 1951, the Battalion was alerted for shipment to EUCOM. Preparation of personnel for overseas movement was implemented immediately and plans for movement were developed.

Training under the ATP was continued until completion of the 28-week training cycle on July 15 1951. Upon completion of the ATP, the Battalion processed all T/O & E equipment for overseas shipment. The main body of troops departed from Fort Lewis on Aug 16 1951, arriving in EUCOM on Sept 9 1951.

Upon arrival in EUCOM, the 95th was assigned to the Seventh Army and attached to the 34th AAA Brigade. Permanent station for the Battalion was at Camp Y-79 (later designated as Coleman Barracks), Mannheim-Sandhofen, Germany. The balance of 1951 was spent in receiving equipment and retraining of personnel of the Battalion.

The Battalion participated in several CPX's and FTX's in Germany during the course of 1952. The annual ATT was admninistered to the Battalion in March 1952.

Two AAA service practices were participated in at the Putlos Firing Range during March and June 1952. During October the Battalion conducted an FA service practise at Grafenwoehr Training Area.

On February 7 1952, Lt Col Paul E. Pique assumed command of the Battalion following the relief of LtCol Lyle C. Daugherty.
| | | |
| --- | --- | --- |
| | | "C" Battery, 95th AAA Gun Bn, Coleman Barracks, Sandhofen, reports gun fully emplaced ready for action. Demonstration for Brig Gen Frank C. McConnell and Mr Robert Cutler. Time: four and one half minutes. |

---
Related Links: