If you do NOT see the Table of Contents frame to the left of this page, then
Click here to open 'USArmyGermany' frameset
3rd Armored Cavalry Regiment
Brave Rifles
Looking for more information from military/civilian personnel assigned to or associated with the U.S. Army in Germany from 1945 to 1989. If you have any stories or thoughts on the subject, please contact me

.
---
---
Regimental History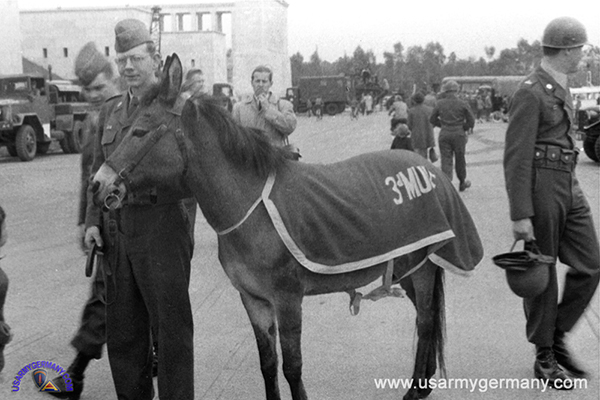 3rd Armd Cav mascot at a Regimental event at Soldier's Field, Nürnberg (Ronald Greenwell)

(the Regiment was sometimes call the 3rd "Mule" or the 3rd "Herd")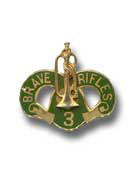 3rd Armd Cav Regt DUI
1955 - 1958 (GYROSCOPE)
(Source: Blood and Steel. Fort Carson Office of Historical Programs, Fort Carson, Colorado, 2001)
3rd Armored Cavalry Regiment

The Regiment began an intensive ten week train-up (in preparation for its deployment to Europe) at Camp A.P. Hill on April 1, 1955 which was interrupted when the troopers were required to fight a devastating fire in Bowling Green, Virginia. The climax to the training was a firepower demonstration on 24 June followed by the return to Ft. Meade from 27 to 29 June.

In August 1955, the Regiment became the first unit to deploy to Germany under Operation Gyroscope -- a plan under which divisional and separate regimental-size units were sent overseas as replacements to similar units which would return to the United States. The term Operation Gyroscope refers to the attribute of rotation with stability exhibited by a gyroscope. This was an attempt by the Army to reduce personnel turbulence by transferring entire units rather than individual soldiers.

The advance party arrived in Germany on 26 June. On 2 August, the First and Second Battalions sailed from New York aboard the USNS Randall and arrived at Bremerhaven on 10 August. The Third and Provisional Battalions sailed from New York on USNS Buckner on 6 August and arrived at Bremerhaven on 14 August.

Replacing the 2nd Armored Cavalry Regiment, the Regimental Headquarters was stationed at Nürnberg with the 1st Battalion at Bindlach, the 2nd Battalion at Bamberg, and the 3rd Battalion at Amberg. The exchange with the 2nd ACR was completed by 15 August.

The troopers participated in many field training exercises such as the NATO maneuver, "Cordon Bleu" and CPX "Polo Ball". In addition, the various units in the Regiment patrolled both the Czechoslovakian and East German borders, frequently working with West German Bundesgrenzschutz (BGS) personnel. The 3d ACR returned to the United States in February 1958, and was once again stationed at Fort Meade. The Regiment became part of the Strategic Army Corps (STRAC).
---
1955
(Email from Frank M. Levy, son of Sgt Maj Fred Levy, 3rd ACR, 1955)
My Father was Sgt. Maj. Fred Levy the 3rd Armored Cavalry's 1st Regimental Sgt. Maj. He served in the Regiment under Colonel Frazier and Colonel White. I remember as a child sailing on the USNS Buckner under Operation Gyroscope and arriving in Germany on August 14, 1955. I was 7 years old at the time.

I have many fond memories of our 3 years in Nurnburg, Germany and after when we returned to Fort Meade, MD. with the regiment. I believe that my father was instrumental in starting the 3rd Armored Cavalry Regimental Museum while stationed in Fort Meade, MD. If you have any information about the museum I would appreciate hearing about it.

My Father, Sgt. Major Fred Levy continued serving in the US army for 28 years before retiring to civilian life in Buffalo, NY. When he retired he was a US Army Advisor to the National Guard in Buffalo, NY. He was very proud to serve his country for 28 years and my family and I are very proud of him. Sgt. Maj. Fred Levy passed away in October 1994 after a long illness, but as we know old solders never die.
Frank M. Levy
---
1958
(Source: STARS & STRIPES, Feb 10 1958)
3d Armd Cav Vets Go on Last Patrol

BAYREUTH, Germany (Special) The same two men who led the 3d Armd Cav Regt's first patrols along the Iron Curtain 2½ years ago led the regiment's last patrols in Bavaria before preparing to Gyroscope to the U.S.

Sfc Clyde Robbins and Sfc Marshall Norman, both with the 1st Bn's Co A, led the first patrols from the regiment's border stations Aug. 20, 1955.

And the same two were selected to lead the last patrols before the regiment trades duty stations with the 2d Armd Cav Regt this month, 3d Armd Cav officials pointed out.

One patrol went north from the border station, the other south. The men kept careful watch along the border, logging everything they saw on either side of the barrier and staying on the alert to report any unusual happenings immediately by radio.

Following their custom, the patrols maintained no schedule or pattern. They did not follow the same routes or use the same schedules with any regularity.

Accompanying the two patrol veterans on their last mission were Sp3 Richard Longsdorf and Sgt Robert Brown, scout observers, and Pvt Daniel Knight, driver. Others included Cpl Floyd Hicks, Pfc Carl Bragg, Pfc Aubrey Stallard, Pvt Dennis Beckett and Pvt Donald Hullinger.

The 3d Armd Cav Regt begins moving to Ft. Meade, Md., Feb. 17, the day before the change-of-command ceremonies are scheduled. The 2d Armd Cav Regt will replace the 3d Cav in the same location the 2d held before the 3d took over here.
---
(Source: STARS & STRIPES, Feb 13, 1958)
3d Cav Ending Europe Tour For 3d Time

NURNBERG, Germany (Special) The 3d Armd Cav Regt is leaving Europe for the third time in less than half a century.

The regiment that has patrolled the eastern borders of West Germany for the past three years. Tuesday will transfer command and operational control of its area to the 2d Armd Cav Regt. The 3d Cav then will begin the long journey back to its garrison station at Ft. Meade, Md.

In addition to a successful tour of duty along the Iron Curtain, the regiment leaves behind a record of active participation in German-American programs and many friendships.

It was just a little more than 39 years ago that the unit, then designated the 3d U.S. Cavalry, was first deployed to Europe. Its troops had been performing garrison duty at Ft. Sam Houston, Tex., following action in the Philippine Insurrection and Mexican border flareup.

Sailed for England
The entire regiment sailed Oct. 19, 1917, for Liverpool, England. One troop moved on into France to participate in the closing engagements of World War I. The main forces followed immediately after the Armistice was signed and for the next two years performed occupational duties in the Rhineland.

On June 30, 1919, the troops returned to Ft. Myers, Va., ending the first European tour of the Regiment of Mounted Riflemen.

During the 24 years preceding 1943 the 3d Cav underwent several changes of duty station. It was commanded by such distinguished combat leaders as Gen Jonathan Wainwright, Lucian Truseott and George S. Patton, Jr.

After the U.S. entered World War II, the outfit was reorganized as a mechanized cavalry regiment and designated the 3d Cav Gp. This was the organization which, for the second time, sailed for combat action in Germany.

Drive to Fulda
The group landed in England in June 1944, and on Oct. 7 entered the Continent across the invasion beaches of Normandy to begin seven months of fighting across France, through Belgium and into the heart of Germany.

Patton, then commanding the 3d Army, said in reviewing the exploits of the 3d Cav Gp:
"The 3d Cavalry has lived up to the accolade bestowed upon it at Chapultepec by General Scott. As horse cavalry you were outstanding. I have never seen a better regiment. To your performance as mechanized cavalry this same remark applies. It is a distinct honor to have commanded an army in which the 3d served."

First Gyro Move
After a short tour of occupation duty in 1945, the 3d returned to the U.S. and was redesignated the 3d Armd Cav Regt.

When the Gyroscope plan of replacing major units in overseas areas was started, the 3d Cav was deployed to Germany again. Six officers, 12 enlisted men and 35 dependents in the advance party composed the first Gyro packet in the Army's new method of rotating assignments.

The regiment's main forces followed to establish its role in NATO's defensive shield, a post the 3d Cav now is transferring to its sister unit, the 2d Armd Cav Regt.

---
1961 - 1968
(Source: Blood and Steel. Fort Carson Office of Historical Programs, Fort Carson, Colorado, 2001)
3rd Armored Cavalry Regiment

In reaction to the Berlin Crisis, the Regiment redeployed to Germany in October 1961. Alerted for movement on October 10th, although scattered at different training sites along the Eastern Seaboard, the Regiment arrived at its new duty stations of Baumholder and Kaiserslautern exactly thirty days later.

VII Corps
The 3d ACR was initially placed under the Seventh Army Support Command and given a mission of rear area security. The troopers of the Regiment spent many hours reconnoitering various roads in the Seventh Army's area to determine the best routes for rapid movement in case of attack by Warsaw Pact units.

During 1962 and 1963, the 1st and 2d Squadrons relieved elements of the 14th ACR for two one-month periods along the East German border. From November 1962 through November 1964, the 3d ACR had a troop attached to the 14th ACR for border surveillance operations on a monthly rotational basis. In February 1964, the Regiment came under the direct control of the Seventh Army. On 10 June 1964, the 2d Squadron was redesignated as the 1st Squadron, 11th ACR, and returned to the United States with that Regiment.
Concurrently, the 1st Squadron, 11th ACR was redesignated as the 2d Squadron, 3d ACR and attached to VII Corps with it's duty station at Straubing, Germany. The 2d Squadron continued the mission of the 3d ACR along the Czech border, operating two border camps with one troop until relieved of its border mission and relocated to Kaiserslautern in March 1965.

While it was stationed in Europe, the 3d ACR performed varied and outstanding service for the Seventh Army. The entire Regiment participated in a number of major field training exercises (FTX's), including SCOTCH GAMBIT I and II in 1962, exercise BIG LIFT in 1963, BRANDY STATION in 1965 and SILVER TALON in 1966. In addition, the Squadrons took part as separate units in several other FTX's, such as SABER KNOT in December 1962, a major counter-insurgency exercise in Bavaria in 1964, and LUNDY'S LANE I and II in 1964 and 1965. In these latter exercises, the Squadrons of the 3d ACR acted as aggressor forces to test the capabilities of several British armor units.

From 1961 to 1968, the Regiment was situated with its Headquarters, Headquarters Troop, and the 1st Squadron at Baumholder, the Air Cavalry Troop at Hoppstädten and the 2nd and 3d Squadrons at Kaiserslautern. In December 1966, the Regiment was assigned to V Corps, and in 1967 took part in Exercise LARGE PLAY.

During its 1961-1968 stay in Germany, the regiment was situated with its Headquarters, Headquarters Troop, and 1st Squadron at Baumholder, Air Cavalry Troop at Hoppstätten, and the 2nd and 3rd Squadrons in Kaiserslautern. In December 1966, the Regiment was attached to V Corps and remained attached until (its) departure for Fort Lewis, Washington in July 1968.
---
(Source: Scott Hamric, Curator of Collections, Third Cavalry Museum, Fort Carson, CO)
I found this website facinating! I am a retired NCO and I spent a total of 7 years in USAREUR. My first 4 years with 1/11 ACR in Fulda and the last 3 with 4-69 (later reflagged to 4-34) Armor in Mainz. I also served with the 3d ACR for about 7 years. Yesterday, I forwarded your site's address out to about 30 other people who are associated with the Army in general or the 3d ACR in particular. I am already getting replies thanking me and raving about it.
I would like to obtain electronic copies of the photos in the 3d ACR section, if possible, for our photo archive. We don't have that many relating to the Regiment's service in Germany during the Cold War.
Would you like to add the following websites to the links?:
If you are interested, I can send the images of the Regiment to you that we have, that were taken in Europe in both the '50s and 60's. Also in our archives are examples of unofficial documents such as border certificates and others that the Regiment created over there.
| | | | |
| --- | --- | --- | --- |
| | | | |
| 1. 3rd ACR arrives in Germany (KB) | 2. B Troop (KB) | 3. A Troop mortar squad (KB) | |
| 4. Farewell review (KB) | | | |
| | | | |
| --- | --- | --- | --- |
| | | | |
| 1. German Army operated "birdbath" (KB) | 2. M113's after being washed (KB) | 3. Return to storage (KB) | |
| 4. M60A1's of B Trp (KB) | | | |

---
1st Squadron, 3rd Armored Cavalry
1955 - 1958 (Bayreuth)
(Source: Author's private collection)
| | | | |
| --- | --- | --- | --- |
| | | | |
| 1. Crew of C-17 (KB) | 2. (KB) | 3. (KB) | |
| 4. IG Inspection (KB) | 5. (KB) | 6. (KB) | |
| 7. (KB) | 8. (KB) | 9. (KB) | |
| 10. (KB) | 11. (KB) | 12. (KB) | |
| 13. Coburg, May 1956 (KB) | 14. (KB) | | |

---
2nd Squadron, 3rd Armored Cavalry
1955 - 1958 (Bamberg)
(Source: Photo Album of Sp3 Dean F. Amstutz, HOW Co, 2nd Bn, 3rd ACR, APO 139, 1956)
The 3rd ACR deployed to Germany from Fort Meade, Maryland, in August 1955, replacing the 2nd ACR.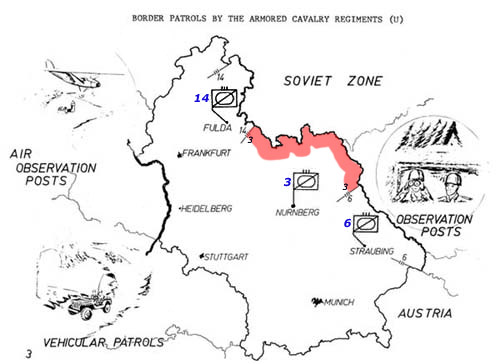 3rd Armd Cav area of operations 1955-1958
(adapted from Map 7, US Army Border Operations in Germany, HQ USAREUR, 1984)

LOCATION of units
HHT, 3d ACR - Merrell Barracks, Nürnberg, APO 696
1st Bn - Christensen Barracks, Bindlach, APO 114
2d Bn - Warner Barracks, Bamberg, APO 139
3d Bn - Pond Barracks, Amberg, APO 114

2nd Battalion, like the other Squadrons, had one Field Artillery Howitzer Battery.
The three line companies of the Bn rotated every three weeks to the border camps at Hof and Coburg where they served as East-West German border patrol.

The Regiment returned to Fort Meade in Jan 1958 (again as part of Operation GYROSCOPE), again switching duty stations with the 2d ACR.
| | | | |
| --- | --- | --- | --- |
| | | | |
| 1. Gate to 3rd ACR area of Warner Bks, 1956 (55 KB) | 2. Right side of gate to 3rd ACR area, 1956 (67 KB) | 3. Pre-fab buildings on Warner Bks, 1956 (87 KB) | |
| 4. Bell H-13 in front of barracks, 1956 (73 KB) | 5. Dispensary area (89 KB) | 6. Another view of area in front of dispensary (95 KB) | |
| 7. 2nd Bn troopers performing duty as SPs (120 KB) | 8. 2nd Bn trooper (82 KB) | 9. M-47 Medium Tank (65 KB) | |
| 10. M-52 (105mm SP) in the field during an exercise (107 KB) | 11. Deuce n' half used for transporting ammo to field (103 KB) | 12. 2nd Bn troopers in the field during a smoke break (110 KB) | |
---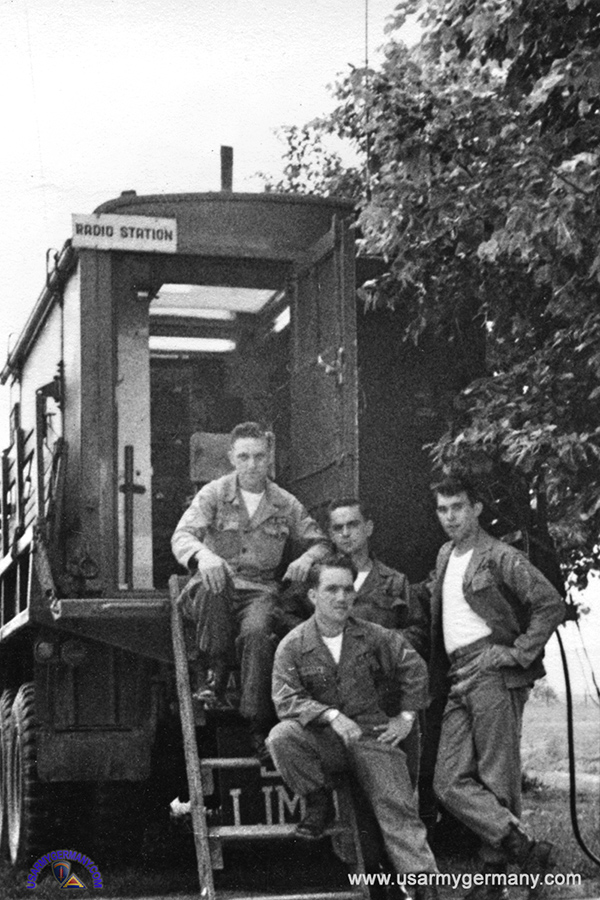 Radio station at Coburg, part of 2nd Battalion CW radio network (Ronald Greenwell)
(Email from Ronald Greenwell)
I was looking around the internet recently and discovered the web site with some of the old 3rd "Herd" history (and your email address). I too served in the 2nd Battalion, 3rd ACR from 11/1954 through 6/1957 and participated in Operation Gyroscope. Have many pics of that era including a few from Camp AP Hill and early pre-Gyroscope Ft. Meade stuff.

I enlisted in the Army in June of 1954 at age 15… After convincing (with significant stretching of the truth) the NM National Guard to let me sign up a few months before. After Basic at Ft. Bliss and Signal School training at Camp Gordon, I was assigned to the 3rd Cav at Ft. Meade in early Nov. of 1954. We were notified of the impending Operation Gyroscope around March of 1955 then on to Camp AP Hill for training before shipping out through NY harbor in August of 1955.

The make up of 2nd Battalion: it consisted of one Headquarters Company, One Tank Company, One Howitzer Company and 3 line companies, Companies "D" "E" and "F". We were a self contained mobile fighting unit.

While we maintained no operational radio networks at Ft. Meade, our tactical responsibilities while patrolling the East German and Czech borders included running a tactical CW radio network. Actually, we participated in a network which was controlled by Regimental headquarters in Nurnberg and included connecting to each of their 3 Battalion headquarters. Then each Battalion ran a network which included stations at strategic locations along the border. The 2nd Battalion border locations were at Coburg and Kronach and we had a station at each location talking to a net control station at battalion headquarters in Bamberg. Each station was manned by a 4 man crew commanded by an E-4 and operated 24 hours a day. Little traffic was moved through this network since there were more efficient ways of moving info by 1955. But the purpose was to be prepared for an assault by the enemy who would shut down all standard means of communicating like telephones and leave our CW radio network to move traffic from the border.

The radios we operated were AM/CW that is morse code operated on the 2 to 6 Megacycle band. We had a number of units left over from WW2 like the SCR-506 but received the AN/GRC-26 shown in the picture in early 1956. We only sent morse code messages although the AN/GRC-26 was capable of Radio Teletype.

The radio station in Coburg was located just inside the main gate to our barracks and hdqrtrs. The unit located there was an old WW2 vintage AN/GRC-399 station mounted on a Deuce and a half and permanently parked.
As to the troops stationed at each border location, Coburg housed a company sized line unit and Kronach housed a platoon sized team. They were rotated each month between the 3 line companies in Bamberg. Our radio teams were rotated between the Bamberg station and the two border stations every month as well. Our battalion radio section consisted of four 4-man teams, 16 in all with a Battalion radio chief in charge…….Leaving one team off schedule and in reserve each month. I ended up commanding that 16-man radio team at age 17 as a Staff Sergeant, E-5 before rotating home in June of 1957.

There was an ASA (Army Security Agency) team based in Coburg as well. We assume to monitor enemy CW radio traffic.
| | | | |
| --- | --- | --- | --- |
| | | | |
| 1. Radio truck during a field exercise | 2. Warner Bks II | 3. Dressed for the winter | |

---
3rd Squadron, 3rd Armored Cavalry
1955 - 1958 (Amberg)
---
1961 - 1968 (Kaiserslautern)
(Source: Email from James A. Riebe, "L" Trp, 3rd Sqd, 3rd ACR, 1962-64)
Arrived 2/1962 at Kapaun Barracks, assigned to L Troop as a scout in 3rd platoon, then drove exec. off. for a couple of months, he went stateside.

I went to the 1st platoon as a loader on M-60A1 tank, eventually became a driver on L-18 tank, the position I held till I went stateside for discharge on 5/20/1964



3rd Squadron
Kasiserslautern






1. "L" Trp, 1962 (KB)


2. "L" Trp, 1963 (KB)

3. Jim Riebe (KB)



4. Riebe and Jim Bates (KB)

5. Jerry Dawson (KB)

6. Bob Allsop (KB)

7. (KB)

8. (KB)

9. Ron Lucas (KB)

10. Stevenson (KB)

11. (KB)

12. Mike Stanley (KB)

13. Carl Sword and Billy Ault (KB)

14. Louis Chianella (KB)

15. Chianella and Riebe (KB)

16. Glenn Fultz (2d from left) (KB)


17. Safety patrol jeeps (KB)

18. (KB)


19. Snack bar & PX (KB)

---
Related Links:
3rd Armored Cavalry Regiment - official website at Fort Hood, TX