If you do NOT see the Table of Contents frame to the left of this page, then
Click here to open 'USArmyGermany' frameset
394th Transportation Battalion (AVIM)
2nd Support Command
Looking for more information from military/civilian personnel assigned to or associated with the U.S. Army in Germany from 1945 to 1989. If you have any stories or thoughts on the subject, please contact me

.
---
---
394th Transportation Battalion (AVIM)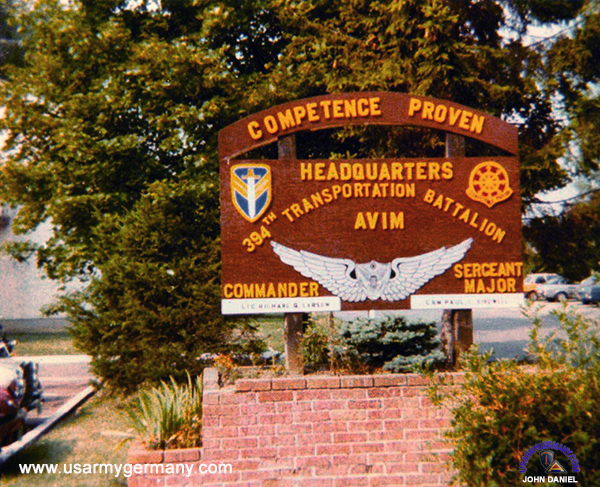 Sign in front of Battalion headquarters, Nellingen Kaserne (John Daniel)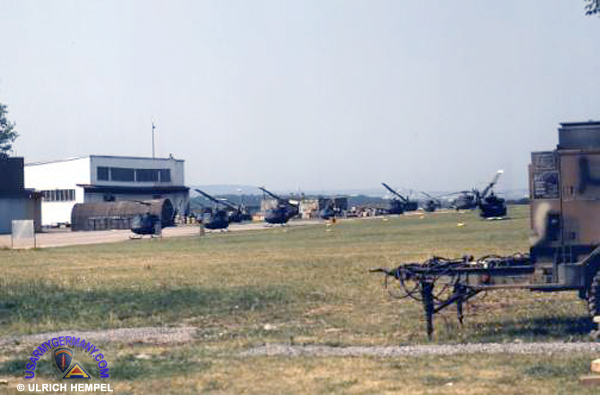 394th AVIM work area, Nellingen Kaserne (Ulrich Hempel)
1975 - 1987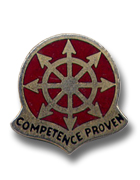 394th Trans Bn (AVIM) DUI
(Source: 2nd SUPCOM (Corps) - 1975 Annual Historical Summary)
48th Transportation Company
1 January 1975 - 23 September 1975

1. General


a. At the beginning of January 1975, the 48th Transportation Company was operating at Goeppingen, Germany, as a GS Aircraft Maintenance Company in the provisional Aviation Intermediate Maintenance Battalion headquartered at Nellingen, Germany.



b. During the summer the 48th Transportation Company continued operations in Goeppingen while preparing to relocate to Nellingen with the 29th Transportation Company (DS) under the AVIM concept. An advance party, working with the members of the 29th Transportation Company already at Nellingen completely rehabilitated the billets to be occupied and began making useable the hangars the Battalion would utilize.



c. At the beginning of September the company was ordered to relocate to Nellingen; between 2 September and 17 September all sections had moved and were back in operation. All personnel who had been occupying barracks at Goeppingen moved into refurnished barracks at this time.

2. Mission
The mission of the 48th Transportation Company (GS) is to provide DS/GS Army Aircraft, Avionics, and Armament Maintenance Support for divisional and non-divisional units in the 2nd SUPCOM area.



a. Provide GS Maintenance on aircraft engines.



b. Operate the 2nd SUPCOM area and avionics DX point.



c. Repair PEMA secondary and stock fund components and repair parts.



d. Provide aircraft recovery for VII Corps.

3. Significant Unit Activities


a. At the end of July, the 48th Transportation Company donated over two hundred dollars to the Transportation Museum at Fort Eustis, thereby earning the right to have a unit plaque with the motto "Support With Pride" placed in the museum. The money for this donation was earned by the the Officers and NCO's of the unit as they made targets of themselves for the "dunk tank" at the company picnic.



b. On 15 July, Maj Alfred J. Finch assumed command of the company from Maj. Charles B. Cooke.



c. From the end of July through the beginning of September, members of the company refurbished and rehabilitated the billets the units would occupy at Nellingen. This herculean job resulted in improving the appearance and liveability of the billets many times over.
---
29th Transportation Company
1 January 1975 - 23 September 1975

1. General


a. The 29th Transportation Company formerly with Special Troops Battalion was assigned to AVIM Battalion on 20 January 1975.



b. During the Calendar year of 1975, the 29th Transportation Company (Direct Support) has undergone tremendous personnel and mission changes climaxing with the complete re-organization into the AVIM concept. The personnel status of the unit has been steadily on the increase from the level of 190 in January 1975 to 237 on 22 September 1975, at the time of the re-organization.



c. The greatest change to the mission of the 29th Transportation Company (DS) came with the re-organization when personnel were distributed and combined with the assets of the 48th Transportation Company (GS) to create the Aircraft Repair Company, System Support Company and Headquarters and Mission Support Company. The Provisional Companies provide customer support in the areas of supply and maintenance to some 409 customer aircraft of the VII Corps region.

2. The significant events of the 1975 year are chronologically listed as follows:


a. 1 July 1975 through 23 September 1975 the Enlisted personnel upgraded the recently vacated 87th Maintenance Battalion Area to create a maintenance facility of the standards suitable to perform aviation maintenance. This area was cross-fenced, litter strewn and PSP clad. The buildings were dilapidated, deterorated and completely unsatisfactory for utilization as an aircraft maintenance facility. The toil and dedication for the men of the 29th Transportation Company (DS) resulted in the AVIM Battalion Maintenance Area. These proud soldiers changed the face of Nellingen Barracks.



b. 1 July 1975 AK4820 assumed the duties of providing supply support for the 12 OV-1D's of the 73rd MI Company and the 3 OV-1C's of the 330th ASA Det 1.



c. 23 August 1975 1SG James C. Allemon was replaced by 1SG Odd Sorli.
---
Augmentation 29th Transportation Company (ACFT DS)
APO 09140

1. General


a. The following constitutes a history of the Augmentation 29th Transportation Company (ACFT DS) from 1 July 1975 to 23 September 1975.



b. The second half of 1975 opened with 1LT Blazey as Commander and 1SG Medlin as Unit First Sergeant. 1SG Medlin departed the unit on 29 July 1975 for return to CONUS where he retired from active military service. SFC Ridgely S. Coates replaced 1SG Medlin as Unit First Sergeant on 30 July 1975.



c. On 19 July 1975, 2LT Larry D. Harman arrived in the unit as Accountable Officer. As such, he assumed responsibility for supply functions. The Unit's mission of providing repair parts to aviation units in USAREUR has remained unchanged. AK 4024 has remained the outstanding supply activity as in the past.

2. Personnel


a. The following constitutes a listing of personnel who departed during this period:
| | | | |
| --- | --- | --- | --- |
| | 1SG Medlin | 29 July 1975 | |
| | SP5 Barnes | 19 August 1975 | |
| | SP4 Rezende | 17 August 1975 | |
| | SP4 Martin | 28 August 1975 | |

b. The following constitutes a listing of personnel who arrived during this period:
| | | | |
| --- | --- | --- | --- |
| | 2LT Harman | 19 July 1975 | |
| | PFC Kyker | 25 July 1975 | |
| | PV2 Barrientes | 13 August 1975 | |
| | SP5 Green | 24 September 1975 | |
| | PV2 Hanna | 19 September 1975 | |
---
Reorganization
1. General

a. AVIM Battalion Headquarters and 29th Transportation Company began to move to Nellingen on 2 June 1975. Facilities will be swapped directly with 223rd Avn Battalion Headquarters, HHC, and 25th Avn Company. Mission activities of 29th Transportation Company will continue at Echterdingen until Nellingen is ready, troops will be bused.



b. On 5 June 1975 Corps is waiting on SUPCOM to reevaluate AVIM location and SUPCOM is waiting on Corps to make the study.



c. Found out the request to move 29th Transportation Company from Echterdingen to Nellingen had not yet been approved as of 9 July 1975. The request to move 48th Transportation Company from Goeppingen to Nellingen has been held at VII Corps until 29th Transportation Company movement request has been approved.



d. A reorganization ceremony took place on 23 September 1975 and three companies were created from the assets of the 29th and 48th Transportation Company: Headquarters and Mission Support Company (PROV); Aircraft Repair Company (PROV) and System Support Company (PROV). These units constitute the provisional AVIM Battalion in its entirety.



e. The MTOE's of the 29th and 48th Transportation Companies were maintained pending final approval of the draft MTOE's for the Battalion and the provisional companies. Consequently the end of 1975 found personnel and equipment of the 48th Transportation Company MTOE spread throughout the Battalion.

2. Personnel



a. SGM Roman L. Chomskis assigned to AVIM Battalion in the CSH slot 17 February 1975.



b. CPT Hurd assigned as S-4 20 February 1975.



c. CPT Beck assigned as Adjutant 21 April 1975.



d. Major Iannarino assigned as Maintenance Opns Officer 28 April 1975.



e. 1LT Donald Strother originally assigned to 29th Transportation Company, but diverted to 48th Transportation Company 3 July 1975 due to Officer shortage there.
---
1983
(Source: 394th Transportation Battalion (AVIM) 1983 Historical Summary)
Background:
The 394th Transportation Battalion Aviation Maintenance was activated on 20 December 1976, from a provisional maintenance battalion. The Battalion is organized in a two company configuration, and designed so it may be expanded to five companies if necessary. Under the present configuration, the Battalion consists of:
| | | |
| --- | --- | --- |
| UNIT DESIGNATION | DUTY STATION | COMMENTS |
| HHC, 394th Trans Bn (AVIM) | Nellingen Ksn, Stuttgart | |
| A Company | Storck Ksn, Illesheim | |
| B Company | Nellingen Ksn, Stuttgart | |
| | | |
NOTE: prior to 1983, the battalion organization consisted of: Hq & A Co, a Fwd Det (incl in Hq & A Co), and B Co. At that time, Hq & A Co was located at Nellingen; B Co at Stock Bks and the Fwd Det at Pastorius Barracks in Nürnberg.
Mission:
The mission of the 394th Trans Bn (AVIM) is to provide VII Corps units and units located within the VII Corps sector direct and back-up direct aviation maintenance and supply support. The 394th is the largest unit of its type in the US Army and provides maintenance and supply support for 496 rotary wing aircraft and supply support for 20 fixed wing aircraft. This support is provided to 25 aviation units located within a 40,000 square mile area.
If you have more information on the history or organization of the 394th Trans Bn, please contact me

.
---
(Source: JOBBER, July 4 1983)
| | | |
| --- | --- | --- |
| | | Article describes the role of test pilots in the AVIM battalion. |
---
1985
(Source: Email from Tim Black)
A Co, 7th Bn, 159th Avn
Decal designed by Tim Black

I was in the 394th Fwd Det in Nurnberg, Germany from 1985 to 1987, then I was in the move to Illesheim when we became 7th Bn, 159th....

I think it would be best if I gave you two separate histories. The main part of the story will be on the 394th Trans Bn AVIM (FWD DET). One history will be the more dry military type, with dates, names and places. The other will be the more "colorful" version like how our barracks was in the city of Nurnberg but our hanger where we worked was close to a half hour's drive outside the city to support 2 CAS of 2nd ACR. We had to fend for ourselves to get to work; hitchhike, taxi, subway, city bus or even a combination of the above.

Also, I am sending you an attachment of the sticker decal that I designed for the unit; I won a drawing contest and won a 4 day pass. Then I was commissioned to paint a large mural on the dayroom wall. But this "logo" was for A Co. 7th-159th AVIM when we turned into a larger unit and moved to Illesheim, Germany...a small town.

Later when I was stationed in Ft. Campbell, Kentucky I was in H Co.159th, I'm not sure how the units were related. I also just found a baseball hat where the logo calls us 394th Aviation Battalion (Maint.) But my unit patch was always the 2nd support command; blue shield with sword, the one at the top of your web page.

Ok, here is the first story, the more military version. I arrived in Nurnberg, Germany to serve in the 394th FWD DET. in Oct. 1985. I wasn't sure how long the Detachment was there but it seems to me some of the "old timers" were there six years or so before I arrived. Our main home unit was in Nellingen Barracks outside of Stuttgart. We didn't have much to do with Nellingen other than some unit picnics and change of command ceremonies.

Our Det. CO was Capt. Alexander and later Capt. Joiner. Our orderly room/headquarters was at Pastorious Strasse, an old train station depot (WWII era I believe), it was several miles from the nearest US military installation, it was basically on a German street corner with no gate or anything. The building also served as the motor pool and warehouse for aircraft parts. The total number of personnel was that of a small company = 2 platoons.

One platoon worked at the hanger and the other at headquarters. Most people were married and lived off post so there was never more than 20 or so troops in the barracks. The barracks was an old German SS barracks in the suburbs of Nurnberg, about 2 miles from Pastorious. Our hanger was Feucht Army Airfield outside of Nurnberg in the woods. We supported 2CAS doing AVIM level work. Armament for the Cobra attack helicopters. And other maint. like prop and rotor, sheet metal and avionics on huey's and scouts and later Blackhawks.

Around June of 1987 the entire unit was moved to Illesheim, Germany and became A Co. 7th-159th Aviation. Illesheim is about an hour from Nurnberg. The company grew to a rather large company. Half of the people were moved from Nellingen. The new mission seemed to be geared for the support of the new Apaches and Blackhawks. Our new company Commander was a Major Townsend. The First Sergeant was named Estes. I left Germany in Dec. 1988 to go to Ft. Campbell, KY. After I left I had heard indications that that my former unit was deployed to the first Gulf War. So I'm not sure how long A Co. lasted, also with the cold war winding down.

Now I'll tell you how this unit operated, not so much the actual job but the "colorful" things that surrounded it...although sometimes hard to believe. I first arrived in Germany fresh out of AIT in Oct. 1985 (Frankfurt) a handful of friends from AIT joined me for the flight over from Philadelphia. After a few days in Frankfurt they sent the lot of us on a German luxury bus to Nurnberg to 2CAS. It took us all day to get there cause we stopped at every little base on the way, but things were looking up, we would all be stationed together! When we got off the bus downtown Nurnberg at the Bavarian American hotel (late afternoon) a SGT. stopped us at the front door and stated that everyone would stay at Nurnberg except for me and another friend, we would be returning to Frankfurt reception center the following morning. We were really disappointed cause the city looked awesome from my hotel window, words can't describe the hustle and bustle. The next morning we left our 3 other friends behind and went back to Frankfurt.

After a few more days at Frankfurt they put me and my friend on a bus to Stuttgart/Nellingen/394th AVIM. When we got there I think we stayed one night or so and meanwhile up walks another buddy from AIT that didn't come over with us cause he was on leave in Colorado. We were then informed that we were going back to Nurnberg to the 394th FWD DET!! And we would support 2CAS and probably see our friends. Only one problem, our entire (future unit) of the 394th fwd det. was currently in the field near the Swiss border! It was chilly Oct. and they put us in the back of a covered CUCV Chevy pickup at night. It took us hours to get there. When we got there our new unit was in the field in a German civilian factory/warehouse nowhere near a US base. We walked in where all the cots were and got tons of stares from everyone. What in the hell were "newbees" doing here? They could just tell with our new sharp uniforms, no TA50 gear and our civilian suitcases and what not. I even had my electric bass guitar with me!!! I slept on an extra cot overnight freezing with maybe a blanket. The next morning they grabbed me for details and I was more worried about my guitar, I kept moving it out of the way of trucks and such. Anyways that very morning we were told that a German double decker luxury bus was going to take the entire unit back home to Nurnberg. M16's in the overhead luggage racks and all.

While waiting for the bus we were cold and hungry...some of the old timers told us about the barracks we would be living in; Merrell Barracks (Gangster Hotel) Sud Kaserne. They said there was still bullet holes from WWII and the hallways were about a mile long, 4 and 5 stories high and covered an entire city block. It was a 10 minute walk to the nearest subway. I had to see this to believe it...being a WWII history buff and all. Late afternoon we arrived in Nurnberg and saw the infamous barracks, with bullet holes and all. The walls range from 3 to 5 feet thick so they were more like craters. It was a novelty to live there but it wasn't much fun. It was being remodeled on the inside so we had to deal with the following; no heat, no hot water or maybe no water at all. When it rained like hell you would collect the inside wall in buckets.

One morning when I went to the latrine the floor drain was plugged and there was about 2" deep pool of urine to look at. We were on the 4th floor, just a rag tag band. Nobody on base knew we existed and if we got in trouble downtown the UP's had a hard time locating us. We had no base responsibilities. Remember, our headquarters Pastorious was a few miles away so some mornings we would take a city bus from our barracks to Pastorious to hold formation. Then they would tell us to go to work out in Feucht Army Airfield. That's about a 30 minute drive outside the city actually in the woods. How would we get to work? Sometimes hitch a ride in a POV. On the back of a uncovered CUCV, Taxi or Steet Car. But the most common way we went was to take a city bus a few minutes to the nearest subway (U-BAHN) stop and head south about 5 or 6 subway stops to an above ground Mall at Langwasser Mitte. We might sneak to McDonalds or catch a hot pretzel vendor for breakfast. We caught another city bus to a small village of Moorenbrunn. Got off and walked down the sidewalk, took a left and went through several German's back yards...walked along the highway (autobahn) for a stretch and finally walked up the road to the airfield. Sometimes when we got there we would be informed that we had an appointment at Finance in Furth/Darby Kaserne. That's on the north end of Nurnberg! apx. 500,000 people city. We had to do everything in reverse but add about 5 to 10 more subway stops and a long walk, that pretty much took care of a typical workday in the 394th.

Hope I didn't bore you with all this rambling but I love the excuse to tell this story. Every day was a new adventure in the 394th FWD DET. It broke our hearts when the unit became 7th-159 A Co and moved to ILLESHEIM, a small town! One day they told us to pack and that was it.....a lot of us came back to visit on weekends though.
Tim Black

---
7th Bn, 159th Avn
1987 - 19..
(Source: 7th Battalion, 159th Aviation Regtiment web site)
The 394th Trans (AVIM) was redesignated 7th Battalion, 159th Aviation Regiment in November 1987 after the creation of Aviation as a separate branch.

The 159th Regiment brought with it a proud lineage and history of service in Vietnam while assigned to the 101st Airborne Division. The battalion consisted of Headquarters and Headquarters Company and Bravo Company located at Nelligen Barracks in Stuttgart, and Alpha Company located in Illesheim.

Under subsequent reorganization of USAREUR forces, the HQ was established at Illesheim and Bravo Company at Giebelstadt.

In August of 1990, the battalion was alerted for movement to South West Asia, in support of VII Corps units deployed to "Operation Desert Shield/Desert Storm". The Battalion's soldiers and equipment provided AVIM support throughout Saudi Arabia and Iraq during the Gulf War. The unit accomplished two tactical moves in support of over 800 aircraft. After the war, the battalion returned to Germany and began the difficult task of unit recovery and relocation as VII Corps drew down.
HHD, 7th Bn, 159th Avn
Pocket Patch

A Co , 7th Bn, 159th Avn
Pocket Patch

B Co , 7th Bn, 159th Avn
Pocket Patch




---
Newspaper articles

(Source: Stuttgart Citizen, Nov 3 1986)
Soldiers of 'forgotten platoon' keep military intelligence flying

By Charles E. Gordon, 2nd SUPCOM PAO

Although they are sometimes referred to as the "forgotten platoon," the soldiers of the 394th Aviation Battalion (Maintenance) Fixed Wing Detachment know who they are and what they do.

Working on the sophisticated systems of the OV -1 and RV-1 Mohawk airplanes, a handful of men and women provide the only fixed wing AVIM support in VII Corps. Working out of the Stuttgart Army Airfield, the detachment supports the 2nd Military Inelligence Battalion.

AVIM, Aviation Intermediate Maintenance, is the level of maintenance between user service and complete overhaul. "We work on almost all aspects of the aircraft, from electronics to hydraulics to engines and ejection seats. Without us, the 2nd M.I. couldn't fly!" said Sgt. Randall Erwin, engine shop supervisor.

Even though some of the aircraft have been flying missions since 1962, they still perform and the Army has not begun to consider them obsolete.

"If these aircraft were judged by automobile standards, some of them would be antiques. Aggressive maintenance keeps them in shape," said Sgt. Will Kiper, avionics supervisor.

Officially serving under Company B, 394th, the detachment feels strong ties to the 2nd M.I. Formerly part of the 73rd Military Intelligence Company, the detachment provided support of the company, but wasn't officially an AVIM unit. Under a reorganization of the M.I. battalion, the detachment stood to lose some of its slots until the 394th took over its operations a year ago. The unit remained at Echterdingen, giving support to the M.I. battalion's A and B companies.

The detachment maintains day-to-day contact with Company B at Nellingen Barracks. Company B's First Sergeant Herman Harper said that the detachment does an excellent job, and being an "old fixed wing man" himself, he keeps a close eye on them.

SFC Walter Murry, quality control NCO, said that the soldiers he worked with are motivated and disciplined, and work long hard hours to keep the job moving.

PFC Barry Chatagnier, although a Mohawk repairer, works as the detachment supply clerk.

"I took this position as a challenge, to demonstrate that I am able and willing to work hard and do a good job, to take initiative. In supply, I work on a 24-hour-day on-call basis, seven days a week. I have to handle large volumes of high value inventory and be able to account for any given piece or produce any needed item on a moment's notice," he said.

Another dedicated soldier in the detachment received a Safety Certificate of Achievement from the 2nd M.I. In March, the M.I. battalion awarded SP4 Thomas Holmes the certificate, citing cleanliness, attention to detail and constant, proper use of sight and hearing saving devices.

"Working on these plains gives us a sense of purpose that I don't think exists in some units. Our aircraft fly real missions. Sometimes we've got an hour to get a plane ready to go, and we know it's not because somebody wants to get in a little flight time, said Holmes.
---

(Source: JOBBER, May 24, 1987)
A Company 394th AVIM: The brains of the battalion

by Chuck Gordon

"B Company may be the working arm of the 394th, but A Company is the brains behind the arm!!" said a soldier from A Company, 394th Maintenance Battalion (AVIM).

And essentially, that has a grain of truth in it. A Company, or actually Headquarters and A, contains the headquarters and staff elements of the 394th.

"The company is a peculiar unit in several ways," said 1st Sgt. Wylie B. Estes. "For one, we are a combined company, with the headquarters, and we also provide the aviation Class IX support for VII Corps.

"In addition," he continued, "we've got a Maintenance Operations section which is unique to aviation units. They perform a coordination mission with the elements of the Corps that we support, in terms of air missions, maintenance and safety of flight messages."

According to Estes, the company is composed of the headquarters element, an aviation Supply Support Activity, the Maintenance Operations Section, a Flight Section, and the company motor pool.

"This is a smooth running outfit, with a headquarters element and an operational mission. It's rough sometimes, but we keep it smooth," said Maj. William C. Townsend, company commander.

The company's Flight Section is unique in 2nd SUPCOM, and even unsual in VII Corps. Composed of a Flight Operations section, POL section, Aviation Life Support section, and the Maintenance section, the platoon handles all air traffic in the company, and coordinates all flight training and tesying in 2nd SUPCOM. They also provide the fuel support for the battalion, pumping in excess of 11,000 gallons of aviation fuel per month, according to SFC John Brinegar, technical inspector for the platoon.

"Basically, we have a training support mission. We take care of and crew chief the aircraft that are used by the aviator-qualified officers to maintain current flight status," said SP4 John D. Price, UH-1H crew chief.

"On the ground, we make sure the aircraft are mission capable, by inspection and maintenance. And in the air, we act as an extra pair of eyes for the pilot. Because there are only five crew chiefs and more than 30 pilots that we fly for, we stay busy. I guess that I put in anywhere from 10 to 40 flying hours per month," said Price.

He noted that a crew chief must maintain at least four hours per month to stay in flight status.

In addition to keeping up with the pilot's requirements in the battalion and 2nd SUPCOM, the flight section must keep their flying within the restrictions of the local population.

"Naturally, we cannot fly at all on German holidays, and we have to have a real good reason to fly on weekends, and there are 'quiet hours' that we have to observe," said SFC Daniel Rose, platoon sergeant.

"That can be good, and it can be bad. What happens is the no-fly times serve us as maintenance time, and gives us more actual time to spend on the aircraft," he continued.

The maintenance sergeant for the platoon, SSgt. Charles G. Branch, credits the crew chiefs with holding maintenance time for serious defects to a minimum, and with taking care of a task designed for almost twice as many people as the platoon actually has.

"These guys get out here and work hard," Branch said. "They are the ones who keep our aircraft up, and keep them running smoothly. They are the ones who get out sometimes two or three times a day to get the pilots in the air. They deserve the credit for a job well done."

Another hard working crew runs the Supply Support Activity. Estes said that the SSA works extended hours, sometimes 24 hours a day, seven days a week, to get parts and equipment out to the Corps.

"We support non-divisional and divisional aviation with Class IX items, a repairable exchange items program. We are the central point in VII Corps for Army Intensive Management items, as well as for Quick Supply Stores and the Operational Readiness Float aircraft accounts for our customer units," said Sgt. Rick Savage, Stock Control NCOIC.

As a major non-divisional aviation SSA, the soldiers may process thousands of items each monh. The SSA's computer has processed as many as 20,000 transactions in a daily run.

The SSA has a working agreement with the Civilian Support Groups of 2nd SUPCOM to share computer time on an as-needed basis. This helps handle the load, and acts as a backup in the event of breakdowns or emergencies, said Capt. Phillip Gianni, platoon leader.

"My soldiers here do a remarkable job, in light of the details and training that are required of us, Gianni said. "This warehouse is comparable to the warehouse of a major department store or factory back in the States, and really, we probably move more inventory than most of them."

In the company's headquarters element, the soldiers make up the staff sections and orderly room, and work to maintain the load of personnel actions, duties, supply needs, logistical coordination, and training of the battalion's soldiers.

"I was in a cavalry unit before, and when we got a mission, we got up and went. That's it, just went. But here, we have a peacetime mission to support. It's hard to get away to do the training we need. And it's impossible to get up and go as a battalion, like we did in the cav," said Estes. "And we're dealing with a company, A Company, that's about twice the size of a line company. B Compan's about twice our size too, so in the company itself, we've got twice the work just keeping house. And the staff sections have to do the work, keeping up with the huge battalion as a whole."

Estes said that the company has been emphasizing training and PT, both at company and section level, and that he was pleased with the steady improvements the soldiers were making in Common Task Testing, PT testing and Skill Qualification testing."

"We've been steadily gaining, and the last PT test results are a drastic improvement. I plan to continue to put an emphasis on training and get my people the best that we can. This company is a challenge, and I like challenges," said Estes.

Townsend agreed, and added, "This was a good unit when I got here, and it's better now than when I arrived. A Company is solid!"
---
(Source: JOBBER, March 2, 1987)
B Company: 'Working Arm' of 394th Trans.

by Chuck Gordon

B Company, 394th Aviation Battalion (Maintenance) doesn't get to fly much, but they keep aircraft belonging to VII Corps and other units in the air.

As the only Aviation Intermediate Maintenance (AVIM) unit in VII Corps, the 394th is responsible for keeping the helicopters, and some fixed-wing craft, in the air, through an aggressive maintenance and repair program. The aircraft are sent either to the 394th, or the company sends out contract teams to inspect, repair or recover the aircraft, bringing it to a location where it can be fixed.

B Company is the "working arm" of the 394th, the soldiers who bring the work in -- fix it, test it, and get it back in the air again.

The company consists of several platoons, either oriented to working on specific types of aircraft, or on specific parts of the aircraft.

The UH and OH/AH platoons support VII Corps and divisional units by working on specific helicopters. The UH Platoon works on and maintains utility helicopters, the UH-1 H Iroquois (Huey), and the UH-60 Black Hawk. The OH/AH Platoon takes care of observation and attack helicopters, OH-58 Kiowas, Scouts, and AH-1 Cobras.

Among the services the platoons provide is the "phase inspection." When an aircraft logs a specified number of in-flight hours, it undergoes a rigorous inspection from the inside out. This involves taking the helicopter apart, piece by piece, checking every detail, and reassembling the entire craft. The soldiers work around the clock to complete the inspection and get the aircraft back to the customer.

Avionics is the nerve system of an aircraft. B Company is the home of the only AVIM-level avionics shop in the VII Corps area. Soldiers assigned to the shop inspect, repair and replace the communications, navigation and radar equipment in aircraft belonging to the 25th Aviation Company, 421st Medical Company (AA), and the 2nd Armored Cavalry Regiment, among others.

Everything from welding, to sheet metal work, to painting can be found in B Company's shops. The consolidated Shop Platoon maintains a complete machine shop, capable of making anything from a hard-to-find rivet to a special wrench.

The company also has a large motor stable, containing their vehicles, which range from jeeps and CUCVs, to massive "low-boys;" flatbed trailers big enough to haul an aircraft behind a five-ton tractor.

The Headquarters Platoon runs the show, managing the affairs and training of their company. And the more than 400 soldiers assigned to B Company make a formidable force to keep up with.

One of B Company's primary concerns, after completing their mission, is community service. The company tries to stay involved in the local community, as individual soldiers, families, and as a unit.

During the recent Christmas holiday period, the company hosted a party and dinner for unit soldiers and their families. They also invited several refugee families, from Eastern Block nations such as East Germany and Poland, who got a first-hand taste of American hospitality and holiday cheer. The event was organized in cooperation with a local Protestant church which assists the refugees in starting a new life in the free world.

The company also enthusiastically supports relations with the 394th's Partnership unit, the Luftfahrzeug Technische Abteilung 202.

In addition, soldiers from the company participate in a vigorous sports program, regularly fielding teams for softball, volleyball and basketball. Activities for the soldiers and families are frequent, and well-attended. B Company is a busy unit, working hard and playing hard. But some soldiers, such as SSgt. Eric Scott, operations NCO, have been with the unit for years, and plan to stay in the unit for as long as possible.

As Scott said, "B Company is where it's at for me. We've got a good unit, good troops, and a good plan."

---
Related Links: