If you do NOT see the Table of Contents frame to the left of this page, then
Click here to open 'USArmyGermany' frameset
Grafenwoehr Army Airfield
Seventh Army Aviation
Looking for more information from military/civilian personnel assigned to or associated with the U.S. Army in Germany from 1945 to 1989. If you have any stories or thoughts on the subject, please contact me

.
---
History

Flight Sec 7th ATC

Related Links


Additional Information


---
History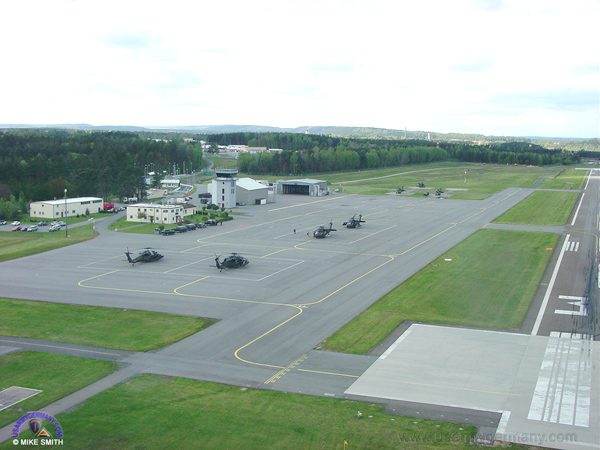 Grafenwoehr Army Airfield, summer (Mike Smith)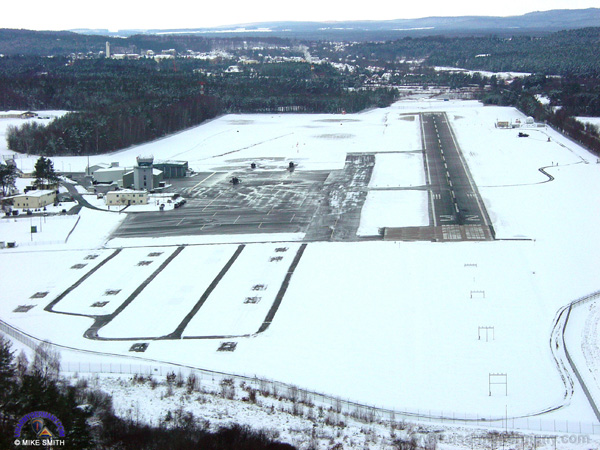 Grafenwoehr Army Airfield, winter (Mike Smith)
---
1959
---
1961
(Source: Army Aviation Magazine, Dec 1961)
---
---
1964
(Source: STARS & STRIPES, July 30, 1964)
The Grafenwoehr Army Airfield is commanded by Maj Charles R. Drummond, Jr. Drummond is assisted by three other officers assigned to the airfield: an operations officer; a maintenance & supply officer; and the deputy commander of the airfield. The AAF has seven organic aircraft.

Three sections are responsible for operations at the AAF:


Air Traffic Control


Flight Operations


Maintenance & Supply

In addition to these sections, the Hohenfels Army Airfield is also subordinate to the Grafenenwoehr AAF.

The ATC section has an NCOIC and nine aircraft controllers assigned who direct landings, takeoffs and emergency crews.

Flight Operations is headed by a Sgt. as NCOIC. It includes the Flight Coordination Center which, supervised by an Sp5, comprises eight German and five military personnel.

Maint & Supply has an NCOIC and four military personnel.

Hohenfels AAF: Two officers, eight EMs and four German employees provide aircraft refueling, minor maintenance, aircarft control and flight information.

Approximately 300 aircraft take off or land every day at the Grafemwoehr airfield. These aircraft, both rotary and fixed-wing, belong primarily to US and NATO training and transient units that come to the Grafenwoehr training area. .
---
1984
(Source: Email from Darrell Hill, Airfield CO, 1984-85)
I was the Graf Airfield Commander from 1984-1985. We were part of the 7ATC Aviation Section. There were 2 warrant officers and a commissioned officer that served as the 7ATC aviation liaison. They assisted training units when they came to Graf to train/shoot. I was in that office when I first arrived at Graf. We also did aviation training around Germany concerning Soviet threat air-to-air missiles, etc.

The Avn Section flew the commanding general and staff wherever they needed to go. We were very busy during REFORGER, as the CG was very involved in the training, etc. We flew quite often to Wildflecken and Heidelberg. We often flew to the training ranges where other units were training. We did a lot of VIP "tours" as well. Many congressional personnel visited our training area to view new weapons firing, etc.

We had a U-21 and 3 UH-1's. Some of the pilots were CW3 Freeman Cooper, CW's Al Aber, David Slack (Ops officer), and a few others over the years, but my memory is "rusty" right now.

There were two buildings near the control tower. The building on the left was the command building, offices, and dispatch (with a small flight planning area) - the airfield commander, operations officer, secretary amd operations NCO were located there. The building on the right was a lounge/supply, and an area for the German national employees.


There was a hangar for the 7ATC Aviation Section and there was another hangar that housed the MEDEVAC helicopters. They were a separate unit, and stayed busy with MEDEVAC for the training area. There was also an attached USAF unit that was responsible for some of the navigational aids on the airfield.

There was an airfield at Hohenfels (as well as the whole training area) that fell under the command of the 7ATC General. They provided fuel, etc. for training aircraft. Our flight section didn't have much contact with them other than refueling our aircraft when the General visited there, etc.

I went from there to Vicenza, Italy as the Flight Ops Officer, then got out of the Army in 1986.

---
Related Links: