If you do NOT see the Table of Contents frame to the left of this page, then
Click here to open 'USArmyGermany' frameset
Germersheim Army Depot
Communications Zone
Looking for more information from military/civilian personnel assigned to or associated with the U.S. Army in Germany from 1945 to 1989. If you have any stories or thoughts on the subject, please contact me

.
---
---
Depot History
German LN completes 41 years with U.S. Army, By Birgit Linke, Public Affairs Office, April 3, 1987
The reigns of the 8592nd CSG changed hands March 13, at Tompkins Barracks, in Schwetzingen as Alfred Bernhart replaced ZB-9 Rudolf Heyne, commander of the 8592nd since January 3, 1957.

Members of the 8592nd and many guests and VIPs gathered at the gym to pay their respects to the man who had led them for the past 30 years. They also welcomed Bernhardt, the incoming commander whose last assignment was with the 8531st CSG as chief of operation.

Heyne was presented the outstanding civilian service award; the highest award that can be given to a civilian employee in USAREUR. Commanding General of the 21st SUPCOM, Lt. Gen. Kenneth E. Lewi handed the medal to him.

Lt. Col. Bruce A. Block, Germersheim GSC, honored Heyne's professionalism and dedication as well as the outstanding support that was provided by Heyne and his men during his 41 years in service. Under Heyne's dedicated professional leadership the 8592nd CSG has excelled in supporting V Corps and VII Corps, bridge units and 21st SUPCOM POMCUS and war reserve stock.

Heyne started his career with the U.S. Army in January 1946 as a clerk typist with the 134th CSG Reg in Gelnhausen. In October 1946, Heyne transferred to the HQ 547th Engr Bn as supply clerk in Darmstadt. In July 1952 he applied for admission into the USAREUR Labor Service Organization and was instated with that date into the 6932d LS Company as ZB-5.

On August 1, 1952, Heyne was transferred to the 8592nd LS Company as Motor Sergeant, ZB-6, where he was promoted to the position of chief, Motor Vehicle Maintenance ZB-7, in July 1954. In January 1957, Heyne took over the 8592nd LS Company as Supervisor, Labor Group, ZB-8. This position was upgraded on August 1, 1959 to ZB-9, a position he still held until retirement. In April 1986, he was able to celebrate his 40th anniversary of working for the U.S. Army.

In 1957, the 8592d CSG operating the USAREUR and 7th Army Bridge Park, was attached to the 521st Engr Gp, M&S, 7A. In 1965, the 8592d transferred to the 11th Engr Gp, Combat, 7A. In 1969, the 11th Engr Gp was deactivated and the 8592d CSC became part of the 549th Engr Bn, 130th Brigade. On April 1, 1978 the 8592d CSG was transferred from 549th Engr Bn to the 21st SUPCOM and was placed under General Support Center Germersheim.

Heyne is married. He and his wife, Liselotte, and their sons, Achim - 26 and Gert - 24, are living in Robern Fahrenbach.

Bernhardt said he was honored, proud and pleased to assume command of the 8592nd. He promised Heyne and his new employees to do his utmost to be a good replacement. Bernhardt had started his career with the U.S. Army in 1977 as a warehouse worker with the 8592nd CSG. He is married and he and his wife, Gudrun, live in Neckarhausen.

If you have more information on the history or organization of the Germersheim Army Depot, please contact me

.
---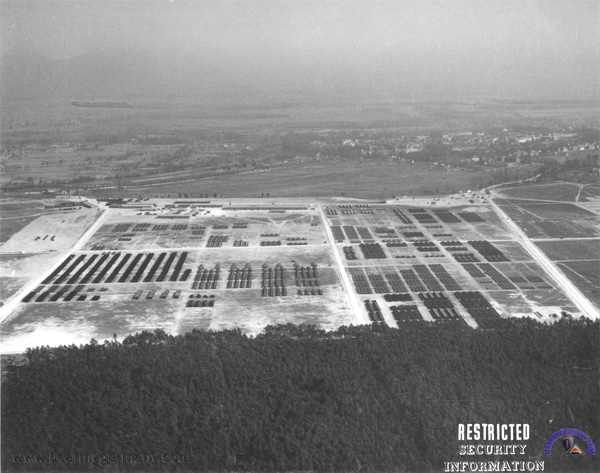 Ordnance Vehicle Park Germersheim, c. 1953 (Webmaster's collection)
Germersheim Ordnance Vehicle Park
1951
(Source: Leonard A. Huntington)
I was part of the original cadre living in Tent City at Germersheim in 1951. We arrived there in the late summer with the 559th Ord. MM Co. based in Giessen to prepare the way for the turn-in and turn over of all the old WWII vehicles which were being replaced by newly procured interim types.

I was the NCO in charge of the Supply and Inventory section office for the Park. Colonel Ormiston was the Park Commander and a young 2nd Lt. named Shaw was the Supply and Accountable Officer for inventory control. He was from Milton Mass., I believe. and a ROTC graduate of MIT, a very intelligent officer who was very new to the Army. My commanding officer of the 559th was Capt. Luther Holbrook, a tremendous officer and a graduate of West Point, I think.

I was promoted to SFC by Col. Ormiston and was one of the youngest SFCs in EUCOM, just turned 20 at the time. I enlisted from Boston, MA in September 1948, took basic training with the 9th Inf. Div. in Fort Dix, NJ. Arrived in Bremerhaven, on January 12th, 1949, graduated from the Eschwege Ordnance School that summer.

My first duty station was in Kassel with the 7864th Ord. MM Co. which became the 546th Ord. MAM Co. in 1950. During that time I was detached as cadre to the Ordnance Field Maintenance Shop #2 in Fritzlar. After establishing that Field Shop, we were sent to Giessen and merged with the 559th Ord. MM Co. and remained there until late summer of 1951 when we were sent to Germersheim to set up that operation.

I had an opportunity to accept a direct commission to 2nd Lieutenant but it would have required extending my enlistment an additional 3 years and after having received a one year extension by President Truman when the Korean War broke out in June of 1950, I decided to just take my discharge when my time was up. The limit for German Occupation Duty was 36 months and after serving 3 months beyond that I rotated stateside in March of 1952. In retrospect, it would probably been a good choice to exstend and remain another couple of years in Germersheim.

I had the opportunity to return to Germany in May of 2000 on a visit with my late wife and another couple and took a side trip to Germersheim to see the old Park. What a change had taken place in those 48 intervening years. I was especially surprised to find German Nationals as security to the Park, and the absence of any US Military personnel. The People were wonderful to us and I recall how little I remembered about the old town of Germersheim. I could not even remember how to get to the Headquarters which was located downtown. Fortunately I did remember how to get to Speyer so was able to visit the Dom there. That village did not seem to change very much from what I remembered of it.

I would love to hear from anyone else who may have been stationed there, and to get a real picturee of what a big undertaking we began in 1951, and how it all progressed through the years since I was stationed there. To have been a part of our involvement with the MDAP countries which in turn became NATO makes me quite proud of my military service.

I live in Maine and am now 78 years old, in reasonably good health, and would love to get to hear from others who served at the Germersheim Ordnance Vehicle Park. I am also a Country Music Entertainer and can be reached through my web-site at www.slimandrews.com.
---
1953
(Source: STARS & STRIPES, Sept 25, 1953)
The Germersheim Ordnance Vehicle Park is the only park in Europe that supplies rebuilt Army vehicles (including trucks, jeeps, ambulances, trailers, tractors and armored cars) to European nations (under the Mutual Defense Assistance Program). With a storage area covering over 396 acres of an old abandoned airfield used by the Germans during WWII, the vehicle park transfers over 50 different types of vehicles from USAREUR to European nations. (Since the first shipments in Jan 1952, over 47,000 vehicles have been delivered to eleven NATO countries.)

The US Army set up the vehicle park in October 1951. The airfield with its sandy soil and good drainage proved to be ideally suited for the task, providing a natural hard stand for the thousands of vehicles lined up as far as the eye can see. The installation has facilities for storing 25,000 vehicles at one time.

Operations was initially set up in an old German fortress in town while a tent city was erected on the airfield. By Jan 1952, the first shipments of vehciles were made. he tent city was replaced by prefab billets and offices in July 1952.

The Germersheim OVP is part of the 53rd Ord Gp. HHC, 7837th Ord Bn is responsible for the administration of the park. The 559th Ord Medium Maint Co handles the maintenance, the motor pool, and depot operations.

Formerly, Germersheim was also responsible for rebuilding over 6,000 vehicles which were received in unusable condition. That mission is now left to the ordnance depots under the 51st Ord Gp. Vehicles are now received at Germersheim "ready to roll." Most of the vehicles temporarily stored at Germersheim, arrive on flat cars (at the park's own railhead) or by motor convoy. Each is carefully inspected, unloaded, parked, rechecked, and maintained until the order comes to load and ship to an MDAP country.

The eleven MDAP countries are: France, Norway, The Netherlands, Denmark, Belgium, Iran, Greece, Portugal, the United Kingdom, Turkey and Yugoslavia.

---
Germersheim Army Depot Complex

---
Related Links