If you do NOT see the Table of Contents frame to the left of this page, then
Click here to open 'USArmyGermany' frameset
Pirmasens Army Depot
Communications Zone
Looking for more information from military/civilian personnel assigned to or associated with the U.S. Army in Germany from 1945 to 1989. If you have any stories or thoughts on the subject, please contact me

.
---
---
Depot History
1952 - 1956
(Source: Notes taken from the 'Annual History, 1 July 1955-30 June 1956, Pirmasens Signal Depot, 7773 Army Unit, APO 89')
The cessation of hostilities in Europe in 1945 found many signal supply dumps located throughout Holland, France, Italy, and Germany.

In July 1946, a concerted effort was made to consolidate the signal stocks in Europe at Hanau in a former German air force training site. The initial stockage at the Hanau Signal Depot consisted of various types of American, German, French and British equipment.

For six years the signal supply personnel at Hanau were confronted with a supply and maintenance mission as well as an extensive reidentification and reclamation program.

In June 1952, the depot shifted its stocks and operations to the newly established Pirmasens Signal Depot (PSD).

PSD MISSION: responsible for the receipt, storage, issue, and repair of Signal Corps equipment used by all elements of the US Army, Europe and US Air Force, Europe except elements based in the USAREUR Com Z area (France), as well as for the accounting and disposal of all Foreign Excess Personal Property generated by the Signal Divsion, HQ USAREUR.

PSD was officially included in the Army Stock Funding Program in July 1955.

The Modern Army Supply System (MASS) which was to be implemented later in Seventh Army, leaned heavily on the Stock Control Division for EAM support.

In FY 1956, the workload at Storage Division increased significantly due to the formation of the German Bundeswehr and the GYROSCOPE movement of 3rd Armored Division.

The depot's Army Aviation Section was located at Coleman Barracks, Mannheim-Sandhofen.

PSD published a unit newspaper called the PIRMASENS SIGNALEER.

8763rd LS Company is officially designated 8763rd Labor Service Signal Company (Base Maintenance & Depot)
If you have more information on the history or organization of the Pirmasens Army Depot, please contact me

.
---
1967
(Source: Email from Larry Dellinger, 76th MP Det, PAD, 1967-69)
In March 1967, fresh out of Military Police School at Fort Gorden, Gorgia, I was assigned to Pirmasens Army Depot as a member or the 76th Military Police Detachment. I was there for 2 years .

I was working the night we received the call about the post possibly being raided. By then I was a corporal and was patrol supervisor that night. I remember the commander as being a bird col., Cooperhouse. He may have just been over the depot. There was also a WAC warrant officer Mary something, who was over personel. She was sent to Vietnam before I left in March 1969.

I have a few pictures of the depot if your interested. Many are from March or April of 1969. They are of trucks, jeeps, warehouses ect. I was there during Reforger I (I think that was 1968 ???).
| | | | |
| --- | --- | --- | --- |
| | | | |
| 1. 76th MP Det, PAD Aug 1968 (KB) | 2. Larry Dellinger in front of Hqs Bldg (KB) | 3. Larry checking out a damaged warehouse (KB) | |
| 4. Signal repair bldg (KB) | 5. RADIAC Equipment Repair section (KB) | 5. H-34's at Pirmasens Airfield (KB) | |
| 7. Entrance to warehouse area (KB) | 8. Bldg across from depot (KB) | 9. Warehouse for sensitive materiel (KB) | |
| 10. Typical storage warehouse (KB) | 11. POMCUS open storage area (KB) | 12. Kore of the POMCUS storage (KB) | |
| 13. C-rations (KB) | 14. Storage of radio shelters (KB) | | |
---
(Source: Email from Rex Bowers)
After being commissioned as a Second Lieutenant in 1968 and after completing Armor Officer Basic at Fort Knox, I was deployed to Germany. My initial duty station was Pirmasens Army Depot.

I was informed that PAD was required to have a combat arms officer to serve as base defense officer. I have no idea why they thought a new Armor Second Lieutenant would know anything about organizing base defense for a Signal Corps. Supply Depot, but there it is.

My initial assignment was as Executive Officer of Troop Command. Troop Command at PAD was exactly like a Headquarters and Headquarters Company in a line unit. The soldiers belonged to Troop Command and we were responsible for feeding, sheltering, and equipping them. But they did not work for us. Their assignments were in various sections of the Depot itself.

I also had an additional duty as M.A.R.S. officer.

My Commanding Officer was First Lieutenant Roger Landers. The PAD Commanding Officer was Colonel Macadull (Spelling?).. In addition to being Commanding Officer of PAD, he was also Installation Coordinator so that all units on the base were under his direction (although not under his command). My memory is fading as I get older, but I know there was a H.A.W.K. battery there, a Finance Unit, and a P.A.L. Detachment. There was a Women's Army Corps. company under the command of Captain Fran Presley. Also, directly under PAD was the 626th Supply Company.

I served for several months as XO of Troop Command, then went to PAD Headquarters as Assistant Operations Officers under Lieutenant Colonel LaBass. I have little memory of that assignment.

The 626th Supply Company was the only unit on the base that was involved as a "Strategic Asset" (STRAC) When I first got to PAD, it was commanded by First Lieutenant Joe DunLevy. Shortly before I arrived, in October of 1968, the "Red Army" had been attacking small posts in Germany trying to steal weapons for their "revolution." One night, PAD received a phone call indicating they were going to be the next target. As PAD set up a perimeter, Lieutenant DunLevy led the 626th out of the way and up the hill toward the perimeter. Fortunately, he stumbled going through the woods and his voice was recognized. Otherwise there might well have been casualties.

When Lieutenant Dunlevy left active duty, I was assigned as Commanding Officer of 626. Although we had a strategic mission, in actuality our troops were assigned to move C-Rations in and out of the caves left over from the Nazi's in WWII. The caves were climate controlled and this was a perfect place to store rations. I understand other items were also stored there, but I never saw them.

In July, 1969, the 626th was deactivated by the Army. I was reassigned as Executive Officer of Troop Command. Colonel Macadull was transferred, about this time, to Vietnam. He was a full Colonel and this was the first time in his career he had been separated from his wife. His replacement was Colonel Kirkgian.

In November, 1969, I requested an Inter-theater transfer. I was, by this time, a First Lieutenant and knew that, as an Armor officer, I was in line for deployment to Vietnam. I didn't want to go without some experience in my branch, so I was sent to an Armor unit (4/35th Armor) in Illesheim on Nov. 26th.
---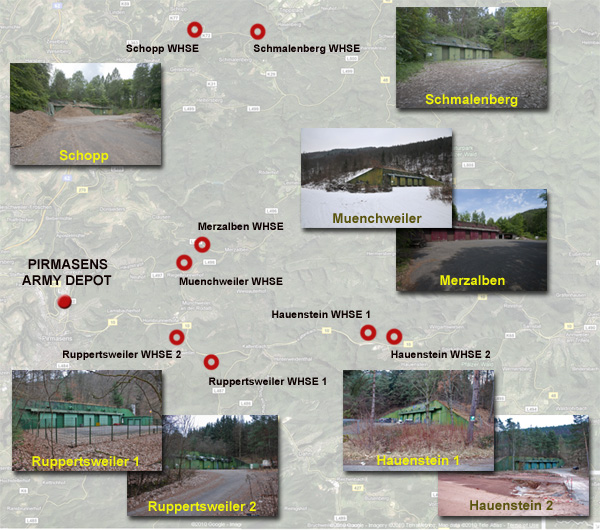 ABREST (Atomic Blast Resistant Storage) Warehouses
(A word of caution -- Sites mentioned here are either government property or owned by private citizens.
DO NOT TRY TO ENTER them unless you have obtained proper authorization from the owners!)
1969
(Source: STARS & STRIPES, Sept 25, 1969)
The Pirmasens Army Depot stores 140,000 line items of equipment. The depot ships between 50,000-60,000 items a month.

In addition to the storage space located within the confines of the installation, the Pirmasens depot also uses caves left over from the WWII Siegfried Line as storage space. (Webmaster note: I believe these storage facilities are officially called "Underground Warehouses," but they are actually caves.) 19 caves in the vicinity of Pirmasens are used for storing combat rations. Together, the caves have a maximum capacity of more than 12 million meals.

Constructed between the late 1940s and 1940, these caves were used by the German Army as command posts, underground hospitals and storage areas. The width of these cement-lined caves ranges from 8.5 to 16 feet and the height from 10 to 14 feet.

The Depot also has eight ABREST warehouses (Atomic Blast Resistant Storage) that were constructed between 1960-64. These 100-foot wide, 200-foot deep structures are covered by an 8-inch thick layer of concrete and a 35-inch dirt fill, and have walls that are a foot thick. They were built for a "special" mission. Each one of these warehouses is used to store vehicles, small arms, clothing, medical supplies, communications equipment, and other items for a combat unit.

The Pirmasens depot also has three other off-depot storage facilities. (Who can provide more details?)

1975
(Source: Email from Cornelius Goldberg)
COL Kirkjan was followed by COL Algood until the Pirmasens Army Depot went out of business by the end of FY75. The Maintenance mission was continued in Pirmasens (and still is) but to the best of my knowledge was transferred under control of Kaiserslautern Army Depot. The warehouse facilities and Headquarter building was taken over by USAMMCE (US Army Medical Materiel Center) moving from Einsiedelhof to Pirmasens where it is still located.

---