If you do NOT see the Table of Contents frame to the left of this page, then
Click here to open 'USArmyGermany' frameset
USAREUR COMZ Ports in France
Communications Zone
Looking for more information from military/civilian personnel assigned to or associated with the U.S. Army in Germany from 1945 to 1989. If you have any stories or thoughts on the subject, please contact me

.
---
---
Bordeaux Subport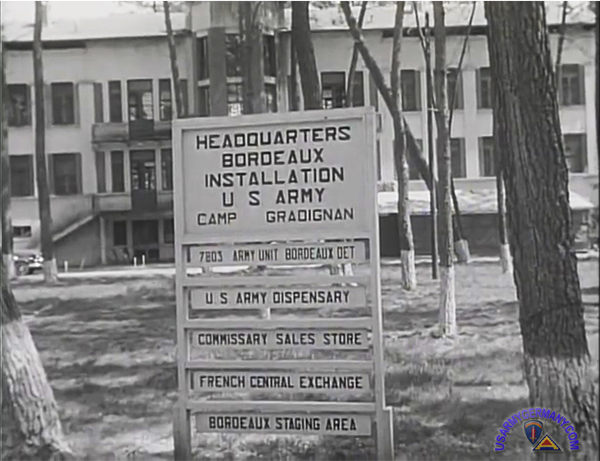 Camp Gradignan sign, Bordeaux ("Soldier in France" Big Picture video)
Can anyone provide information on the exact location of this facility? (Also looking for locations of other US Army facilities in the greater Bordeaux area....)

---
La Rochelle Subport (La Pallice)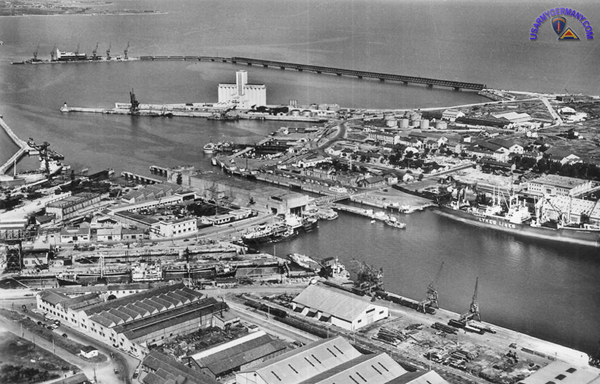 La Pallice harbor area - looking towards Quai des Máree and Mole d' Escale (French postcard)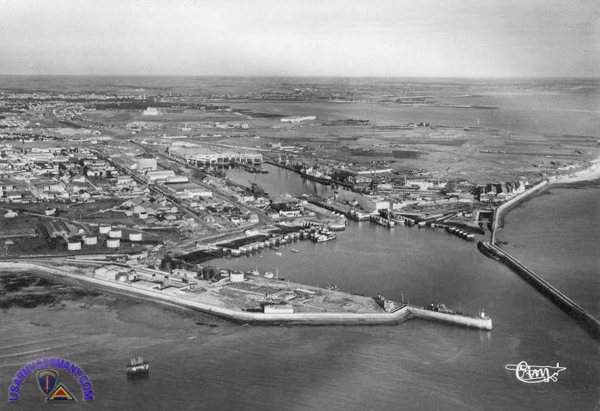 La Pallice harbor area looking towards Jeamont and the submarine pens (1950s)
1955
(Source: Email from Bobby D. Austin, US Navy, MSTS Office La Pallice, 1955-1956)
I was a Teleman third class (TE3) stationed at La Pallice, France at the Navy MSTS Office in 1955 and 1956.

Our office was located on a street at the end of the pier where the MSTS ships tied up. We were close to the old French Navy Submarine Base. Later, our offices were moved downtown to the Army Hospital grounds ().

We only had about 10 Navy personnel and 2 French Interpreters in our office.

I have studied the aerial photo of the area from 1964 that you have on the website and do not recognize our building. But I was there in 1955 and 1956 and we did move downtown to the Army base before I was transferred, so the building may have been gone before 1964.

Our job at the office was routing of the MSTS ships. I remember us delivering their sailing orders to the ships every time before they left La Palice. I was hoping that maybe some of my shipmates I served with might respond. I have lost contact with them.

I have researched La Pallice on the Net and have found no mention of our MSTS office being located in La Pallice. I would like to have that documentation in my Navy history.

Thank you very much. Just looking at the map brings back great memories of La Pallace and La Rochelle. That was my favorite duty station of all my 22 years in the Navy. Retired in 1974 as a Chief Radioman.
---
1956
(Source: STARS & STRIPES, May 28, 1956)
La Pallice is the busiest port in the Communications Zone. Between 18 and 20 ships disgorge 10,000 tons of general cargo a month. (General cargo can mean anything from tanks to household funishings for personnel with dependents.) The port also handles practicaly all of the private vehicles sent to and from Com Z. (In 1955, 7,782 vehicles were processed; vehicles are shipped to or from New York and Hampton Roads, Va.)

The two men in charge of these operations are Maj Robert T. J. Gilroy, CO of the La Pallice Terminal Battalion, and Capt McDonald Martin, CO of the 97th Trans Co (Terminal Svc). Gilroy handles the administrative end and Martin handles the men who supervise the unloading and loading of cargo by French dockers. Both officers have their offices at the Mole d'Escale, a man-made island half-way between the La Pallice coast and the Ile de Re, in the Bay of Biscay.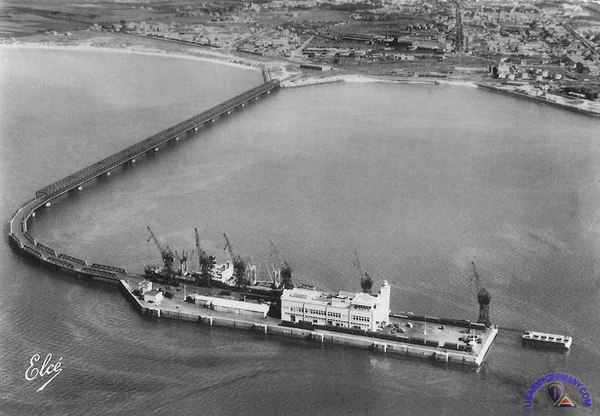 The Mole d'Escale (Long Pier) at La Pallice (French postcard)
The Mole d'Escale was built approximately 1500 yards offshore and is connected to shore by a vehicle and railway bridge that is capable of supporting vehicles of unlimited size with two-way traffic.

Most of the cargo arriving at La Pallice is discharged at the La Pallice port, but the mole is used when the traffic is heavy or when a ship is drawing more than 21 feet of water.
---
1957
(Source: Email from Miguel Duncan, son of former La Pallice Port Commander, C. Miguel Duncan)
I recently came across your website, and have some interesting photos of my father Maj C. Miguel Duncan jr, when he was the US Army LaPallice Port commander in 1957-58 [I noticed there was a gap in information on your site for that time frame].

I was only 7 at the time but remember going inside the U-Boat pens, and seeing the sunk French ship CHAMPLAIN sitting partially out of the water.

I have pictures of those and some of him delivering excess US tanks and trucks to King Hussein of Jordan in 1957 from the port [at that time a hush hush operation].

We lived in Chatelaillon until the winter storm of 1957 flooded our rented two story house. We had to move to the Army housing area in Aytre for the final stay until PCS to the States, summer of 1958.
My father arrived in theater in June 1955 from Fort Eustis VA. He held a few jobs before assigned as port commander [Port Comptroller in 1955, Port Deputy Commander, and then Port Commander. Promoted to Reserve Lt Col 15 August 1957. PCS to states in mid 1958.]

I have a 25 August 1955 letter he wrote to the Commanding Officer, La Rochelle Installation that stated he had been in theater for two months spending a lot of time looking "for housing for his family who have a port call within the next 5 days". It also says that Sgt Hiems of Billeting Section said it would be OK to locate something on his own since there was nothing available. My father found a French villa rental ("Les Tourelles") through the Dugue Rental Agency in Chatelaillon....quite a story if you care to see a copy of it. I'm not sure where he stayed for the two months before we moved into the villa.

He spent the majority of his time in the Army in the Transportation Corps during WWII and Korea.
| | | | |
| --- | --- | --- | --- |
| La Pallice Terminal Rochefort, Fr. | | | |
| 1. Maj Duncan with visiting NATO officers | 2. Aerial of the long pier | 3. French vessel sunk by German mines in WWII | |
| 4. Vehicles and trailers in storage behind the submarine pens | | | |
---

The basin at La Pallice, 1960s (French postcard)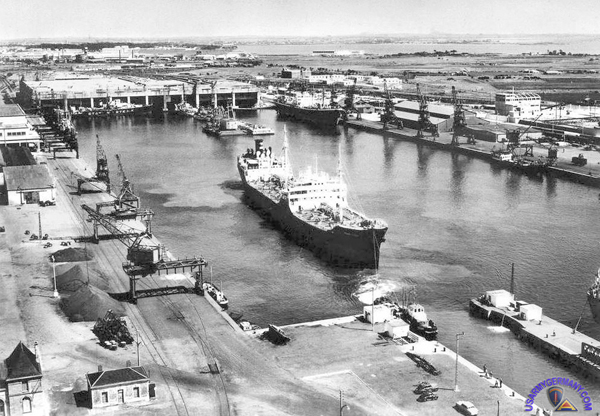 The basin at La Pallice, 1950s (French postcard)
1959
(Source: THE BASEC MISSION, June 3 1959)
In the Base Section concept of supply operations, no one port of the 11th Trans Terminal Command B on the French Atlantic outranks the others in importance. However, La Pallice Army Terminal has a major peculiarity which characterizes it from the rest.

The US facility has no defined berth for ships, works French hours (including the two hour lunch break), and uses lift cranes and facilities unmarked with "US Army" except for one 100-ton crane. In short, its activities are blended with those of the French. It might have started quite by accident, but there is no such thing as visiting the "American Port" for none really exists there that couldn't be French simultaneously.

Incoming cargo ships have plenty of berthing space in the basin overlooked by 11th TTCB personnel who work on the third and fourth floor Terminal offices of Warehouse No. 3.

The "first come, first served" rule, generally observed, results in flexible US operations over the entire port area. LCM (landing craft) have been unloaded from a far side berth by the Army's 100-ton floating crane while Class I (food) gets unloaded near the warehouse from a cargo ship.

Unloading Process
Berths depend on the type of vessel, capacity of the shore-side cranes, and tonnage aboard.

Capable of much increased tonnage in event of full operations, La Pallice Army Terminal, under the leadership of Maj Richard V. Hale of Oakland, Calif., unloads cargo expeditiously.

A contract with la

Société

Navale Delmas-Vieljeux provides French stevedoring.

Checking and clerking of cargo is accomplished under another contract, with Agence Maritime Renault-Delage of La Rochelle. Excellent relations exist with port authorities and the Chamber of Commerce, as well as the contracted companies.

Supervision, administration and operations for the movement of cargo is done by the La Pallice Detachment. During heavy operations, the port is augmented by the 97th Trans Co, but is always supported by the 97th's motor pool for material handling equipment drivers and trucks.
The key Army section is that of Port Operations headed by Maj Rodney E. Lawton, Capt Lelland C. Brader, and M/Sgt Haywood L. Davenport, all most capable and experienced cargo handlers. Maj Hale, formerly Bassens Terminal commander near Bordeaux for 18 months, was chief of the Water Division at Pusan's 2nd Logistical Command, Korea, and executive officer of Sasebo Port, Japan.

Old Rail Center
The La Pallice port, utilizing lift-on lift-off conventional discharge methods exclusively, opened their facilities for the use of the Americans in 1951.

La Pallice is an old rail center where, in World War I, American troops arrived and opened a rail car production factory which turned out many railway cars for the first Com Z supply line.

Four warehouses are available for storage of incoming and outgoing cargo, but because of the speed in which cargo moves by truck and rail from the port, and frequency of ships to be unloaded, they are not extensively used.

The Transportation Branch requests movement instructions for cargo as manifests are received. Much of the cargo's movement is programmed in advance by headquarters. Either line haul trucks move it or it goes by rail.
---
1960
(Source: NODEX-24, La Pallice/La Repentie, 28 Aug - 3 Sept 1960)
The Port of La Pallice is situated about three miles to the west of the town of La Rochelle, France. It consists of an Avant Port (outer port) and a wet dock, connected by a lock.

Numerous wrecks lie sunken and stranded in the port. A mere 750 yards from the Mole d'Escale lies one of the wrecks, the French ship Champlain. It was sunk by German mines in 1939.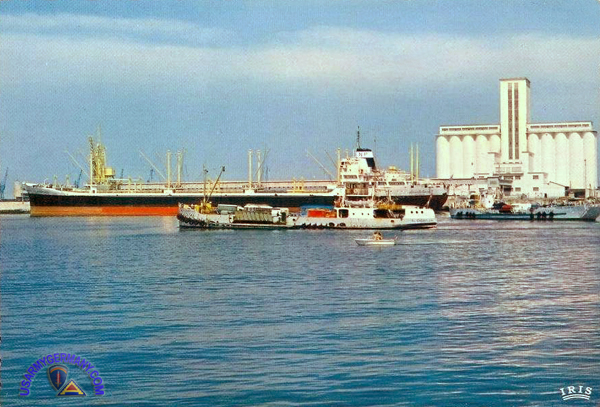 Quai des Máree where NODEX -23 and NODEX 24 discharge operations were held (French postcard)
The Quai des Máree is located in the outer basin (avant port) of La Pallice Port. The operating quay is constructed of reinforced concrete. The quay is protected by a seawall on the exposed side to the sea and can thus also be utilized as a "safehaven" for landing craft. The surface of the quay can support crane, forklifts and trucks with no damage to the surface. (The Quai des Máree has limited usage, since it is used by the French for the discharge of oil and gasoline tankers.)

Overall length of the Quai des Máree is 620 feet,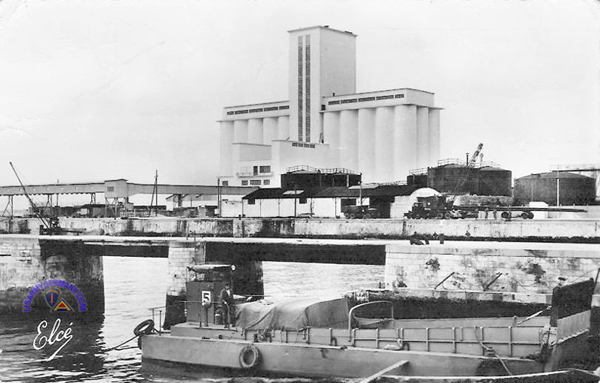 US Army port operations in the avant port of La Pallice (French postcard)
---
1963
(Source: STARS & STRIPES, Aug 17, 1963)
Army Terminal La Pallice

CO of the Army Terminal at La Pallice is Maj Guy Lombardo.

The Army Terminal handles an average of 16,000 tons of Army cargo a month. The administrative offices of the Army Terminal are located in a building only a few yards from dockside.

---
Rochefort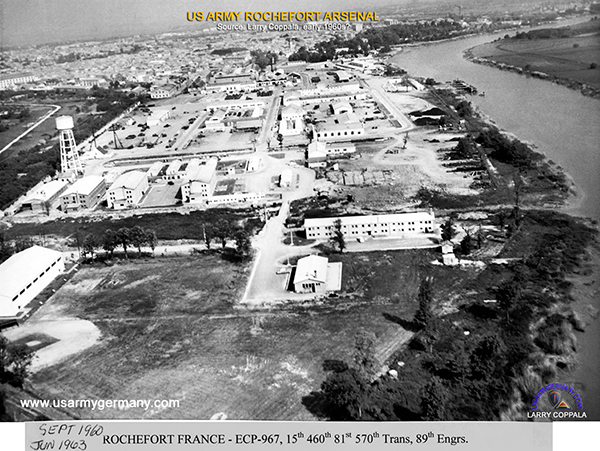 Aerial view of the Rochefort Arsenal, early 1960s (Larry Coppala)
(Source: Email from David Olson, son of Darrell Olson who served with COM Z in France, 1955-1958)
I am trying to retrace my Dad's history in Europe. My Dad's name was Darrell Olson and he was from Iowa.

He passed away a number of years ago and although he told me some things as I was growing up, many of the details are fuzzy or forgotten. I do have quite a few pictures he took while stationed there, and it has helped me piece some things together.

I would like to post some of these pictures on your site to see if anyone has additional information about the unit, station and exact mission of his outfit.

(Webmaster note: Darrell was probably assigned, at least for some time, to the Le Pellerin Detachment of the Wet Storage Division, Bussac Transportation Depot. Click here to see some his photos of the Le Pellerin storage site)



15th Trans Bn (Term)
Rochefort, Fr.






1. Boat basin, Rochefort

2. Army vessels of the COMZ Marine Reserve Fleet

3. LCU's in storage

4. Floating marine repair shop

5. Boat basin

6. Olson next to LCM (8)

7. J-boat?

8. American High School
---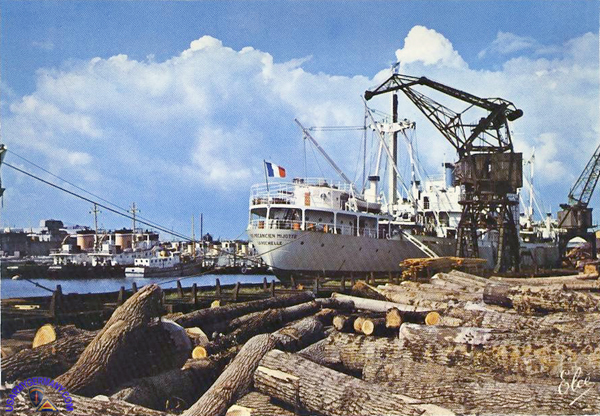 US Army watercraft at the port of Rochefort - in background (French postcard)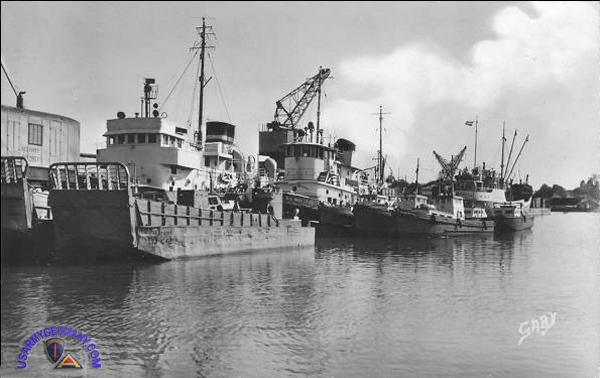 US Army watercraft at the port of Rochefort (French postcard)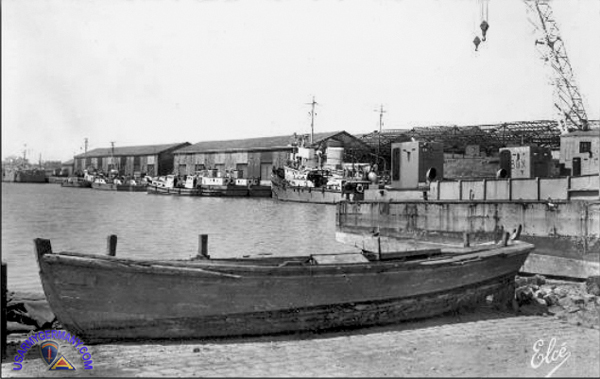 US Army watercraft at the port of Rochefort - in background (French postcard)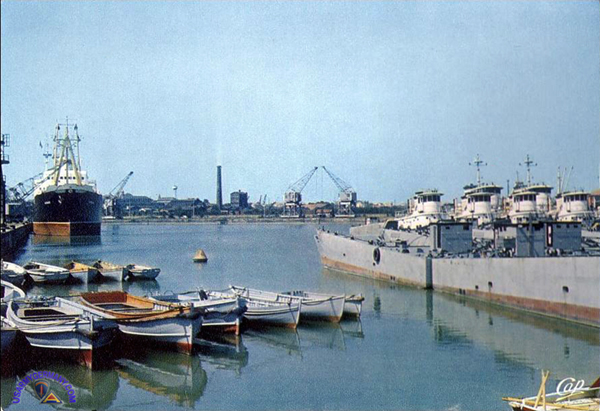 US Army watercraft at the port of Rochefort (French postcard)
1952
(Source: Email from Viktor Peteris)
Enjoyed reading your collected vignettes on Com Z activities in France.

My 89 EPC, engineer (port construction) company, Corps of Engineers, was stationed at Rochefort in 1952-54 in an old German submarine facility, where we lived in tents next to the Gironde River, which flooded periodically every winter.

Our company, commanded by Capt. Liebert, was responsible for off-loading ships in an emergency by building pontoon docking facilities, should harbors not be available. In the meantime we built facilities for military dependents all over France.

To my knowledge, the 89th EPC was an independent company with seven million worth of equipment (which in those days was a lot) including boats, tug boats, barges and various mobile heavy construction equipment of all kinds. Our infrequent inspections were conducted by Generals from Germany and I do not remember having command links to any local Corps of Engineers headquarters. (There may not have been any in France at that time).

My MOS was Cartographer, assigned to Operations G-2 section. Company strength: ca. 176 men. We shared the German U-boat facility with a Signal Corps transportation company (sic), but I do not remember their unit designation.

A couple years ago I had occasion to visit the area. Some U-boat repair slips are still in evidence, but the facility now is an industrial park.
---
1958
(Source: Email from John T. Moeller)
Well I was stationed in Rochefort, France from 1958-59 and came back stateside for Thanksgiving dinner 1960.

I was with 89th Engineers Port Construction. Our company had eight or nine divers and one of the jobs we had was to give them support as they were ancored off the beach on a barge with a crane. I think it was a forty-ton crane that was used to clean up the fuel importing lines to the fuel tanks at Piriac.

We were stationed for a few wonderful months in Piriac, France along the coast above St Nazaire. It was the spring and summer months when the little fishing village turned into a tented vacation spot. We had a total unit of probably 25 people at Piriac -- divers, truck drivers, landing craft personnel, cooks, and KPs. And I was one of two volunteer KP's that could work any hours we wanted as long as the other guy agreed. And a fine time (DUTY) was had by all.

I had the honor of falling through a warehouse roof in La Rochelle. But in those days the quickest way to the roof was climbing the roof support beams, and we could climb them like a native climbing a palm tree. Except palm trees don't have corrigated cement fiber roofs you can fall through.

We were also stationed at Braconne, France and had Leave in Angoleme. I got to visit OR Dor Sur Glen, I believe it was called, where a German panzer division had supposedely killed all in the town except two people. I am sure it would be a bit more meaninful today to go back as a older citizen rather than a 19 year old soldier boy.

I have always wondered what happened to the units stationed in Rochefort. The last I heard the American arsenal personel were reassigned elsewhere. Now as I see the tidal wave disaster I think how great it would be if we had those Army companies on the scene today.

Our base had a floating docks system and crane for the barges it could construct. Army DUWKs and BARCs and now I hear there is also a unit called a LARC, a huge amphibous machine. And we also had a transportation unit to make sure all the companies were mobile. I always wanted to go back as a civilian when I was younger ....but now there would be nobody in town or on base to go back and talk to.
---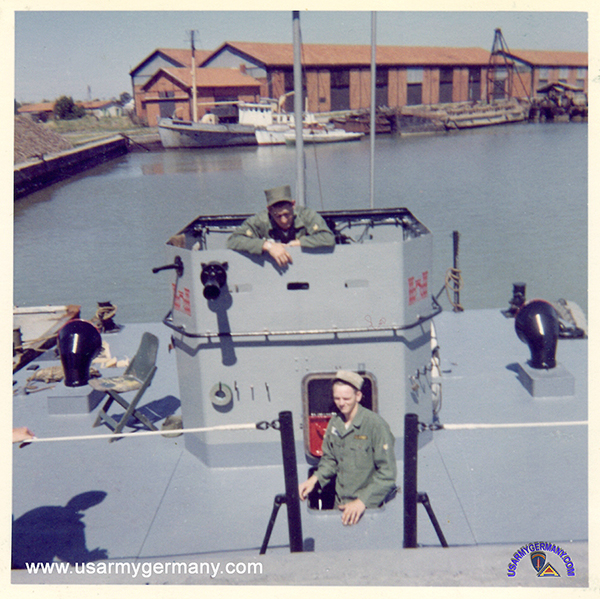 Members of the 89th Engr Co crew an LCM-8 at Rochefort (Webmaster's collection)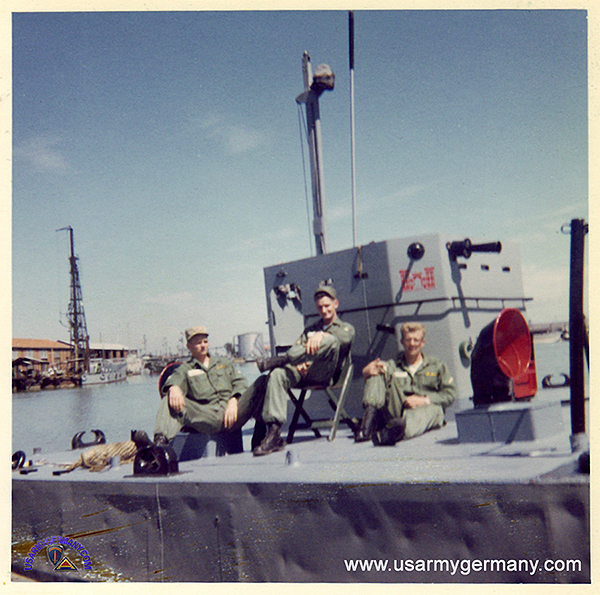 The crew of an LCM-8 take a breat at Rochefort (Webmaster's collection)
1962
(Source: Webmaster's collection)
I believe these photos are from a former member of the 89th Engineer Company (Port Construction) which was located at Rochefort, France. The photos are from 1962.

If anyone has details on the 89th Engr Co, please contact the webmaster (see email link at top of page).



89th Port Const Co
Rochefort, Fr.






1. LCM-8


2. LCM-8 & barge

3. LCM-8



4. Dozer loaded on an LCM-8



---
1967
(Source: STARS & STRIPES, Jan 13, 1967)
A flotilla of 100 US landing craft, tugs, floating cranes and other small vessels will cross the English channel to Britain this month as part of the redeployment of the US Army's stock of floating equipment.

Transfer of the equipment that has been based at Rochefort and Le Pellerin to the British ports of Poole and Hythe (both on Britain's south coast) has been necessitated by the order of the French President for all NATO forces to leave French soil. The first contingent of vessels leaves next week with the remainder to be completely moved by mid-March. The vessels have been located in France in support of port operations at French ports operated by the Communications Zone since the early 1950s.

Only eight US Army personnel will be transferred with the equipment to Britain. The US Army will give contracts to British civilian firms for maintenance of the craft under the supervision of the Americans.

---
Saint Nazaire Subport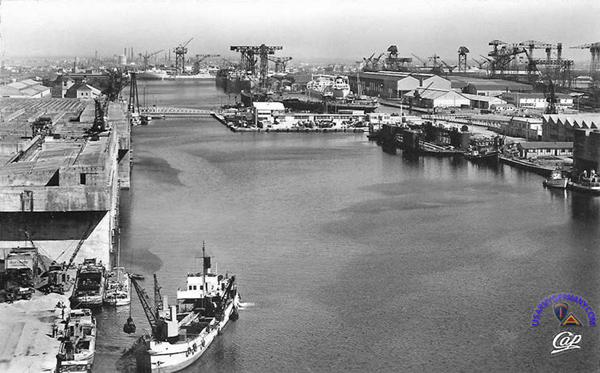 St. Nazaire harbor area looking north - former German sub pens
in foreground on the left (French postcard)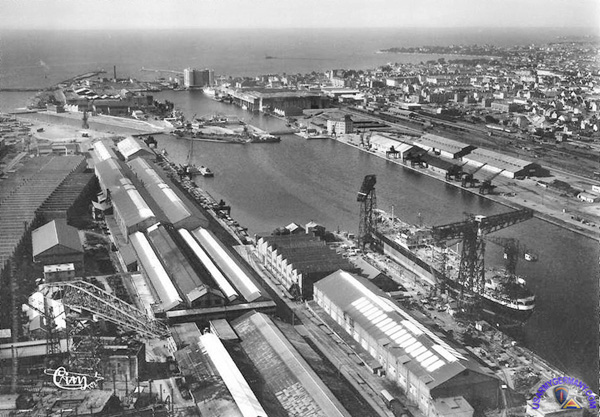 St. Nazaire harbor area looking south (French postcard)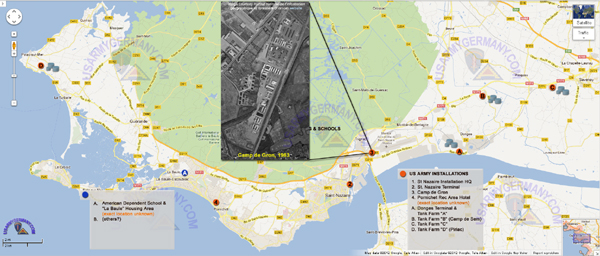 US Army installations in the St. Nazaire area (Google Maps/Walter Elkins)

---
Mobile Subport (15th Transportation Battalion)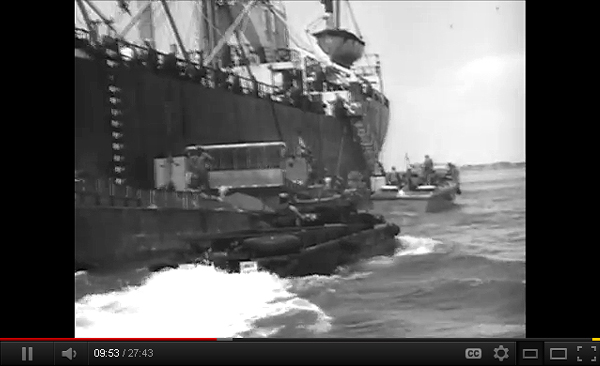 Big Picture Series: Transportation Corps (1950s) (Movie - 28 min) (Source: YouTube)
About 8 min into the video, the above Big Picture episode from the 1950s shows some clips (c. 4 min) of a supply over the beach (NODEX operation) exercise on the western coast of France.

---
Related Links
| | | | |
| --- | --- | --- | --- |
| | | La Rochelle - A Yahoo Group page for any US Military and there Families stationed in La Rochelle, France in the 1950s and through the mid 1960s. French Nationals that worked on the casernes in La Rochelle are also Welcome. | |
| | | | |
| | | | |