If you do NOT see the Table of Contents frame to the left of this page, then
Click here to open 'USArmyGermany' frameset
299th Engineer Battalion
37th Engineer Group
Looking for more information from military/civilian personnel assigned to or associated with the U.S. Army in Germany from 1945 to 1989. If you have any stories or thoughts on the subject, please contact me

.
---
---
299th Engineer Battalion History
1954 - 1963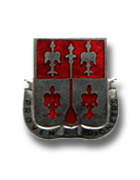 299th Engr Bn (Cbt) DUI
(Source: A Brief History of the 299th Engineer Battalion (Combat), (c 1989), LTC Cortez C. Aylor III)

On 3 December 1954, the 299th Engineer Battalion was activated in Hoechst, Germany. During its entire 9-year stay in Germany, the battalion was headquartered at McNair Barracks.
In July 1958 the battalion joined Task Force 201 and headed for Beirut, Lebanon, returning in September to Germany
In September 1963, the Battalion relocated to Fort Gordon Ga.
If you have more information on the history or organization of the 299th Engr Bn, please contact me

.
---
(Source: Email from William Love, 299th Engr Bn, 1961-64)
The 299th Engr Bn was at McNair Kaserne at Hoechst, West Germany, from 1954 thru 1963. Attached are some photos of the Kaserne and some photos of Equipment. I was a member of the 299th in Germany and at Fort Gordon Ga 1961-64.



299th Engr Bn
McNair Bks, Hoechst






1. Mike-Nair Service Club (KB)


2. Motor pool (KB)


3. (KB)




4. Dump trucks (KB)





---
Newspaper Articles

---
Related Links: