If you do NOT see the Table of Contents frame to the left of this page, then
Click here to open 'USArmyGermany' frameset
35th Engineer Battalion (Cbt)
37th Engineer Group
Looking for more information from military/civilian personnel assigned to or associated with the U.S. Army in Germany from 1945 to 1989. If you have any stories or thoughts on the subject, please contact me

.
---
---
Battalion History
1952 - 1957
(Source: Official 35th Engr Bn website at http://www.wood.army.mil/35th/index.htm)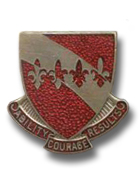 35th Engineer Bn DUI

The 35th Engineer Battalion was next activated on 1 April 1951 at Fort Lewis, Washington. It sailed to Germany in March 1952 and served there at Harvey Barracks, Kitzingen under the 37th Engr Gp for five years, returning to Fort Lewis in April 1957. (Webmaster Note: the 35th was replaced by the 9th Engr Cbt Bn in March 1957, Op GYROSCOPE.)

On 5 June 1953 the unit was redesignated as the 35th Engineer Battalion (Combat).
If you have more information on the history or organization of the 35th Engr Bn, please contact me

.
---
(Source: "A History of the 35th Engineer Battalion (C)", unpublished; submitted by Shawn Umbrell)
In 1950, the North Koreans crossed the 38th Parallel into South Korea and through United Nations actions, the United States was once more called to arms. On 1 April 1951, the 35th Engineer Battalion (Combat) was reactivated at Fort Lewis, Washington.

For nearly a year at Fort Lewis, the 35th maintained a rigorous training program. On 29 October 1951, the Battalion received its Army Training Test and earned the highest rating of any unit tested at Fort Lewis up to that time.

On 15 November 1951, the unit was alerted for overseas shipment to Europe. Final preparations for overseas movement were begun on 19 January 1952, and on 15 February, the Battalion entrained from Fort Lewis for the East Coast. Following arrival at Camp Kilmer, New Jersey, processing was immediately initiated and completed; on 28 February, the 35th sailed for Europe.

The 35th arrived at Bremerhaven, Germany, on 11 March and moved directly to Boeblingen, near Stuttgart. The Battalion was attached to the 115th Engineer Combat Group, VII Corps, Seventh Army, as part of the NATO Forces in Europe and their training stressed operational readiness and constant preparedness. (Webmaster Note: According to the USAREUR Station List from Dec 1952, Company B of the 35th was located at Bamberg.)

On 23 June 1953, the Battalion moved to their permanent station at Harvey Barracks, Kitzingen, Germany, and in doing so, transferred their attachment to the 37th Engineer Combat Group, V Corps. An intensive training program was effected including special classes in demolitions, reconnaissance, and barrier line planning.

Aside from the training status at Kitzingen, the Battalion undertook many unusual and interesting projects. Company A built a swimming pool and three sport plazas at Bad Kissingen. The Equipment Section of the Battalion built a pool at Kitzingen, which at the time was one of the largest pools in Germany. Company B constructed a Rod and Gun Club outside of Bamberg. Each winter the 35th was responsible for removing the ice block on the Lohr River and smaller rivers in the vicinity. In 1954, the freeze cut off the water supply in the town of Bindlach and Company B was called upon to bring water to the town by tanker during the shortage.

Company B supported the 2nd Armored Cavalry in 1956 erecting border warning signs along the Czechoslovakian Border. The signs were erected in a 25 mile section between Kronach and Oeslau.

The Company had to return to the five-mile wide "No Man's Land" the following year to replace the original wooden signs with more permanent ones.

In early 1957, as part of Operation Gyroscope, the 35th was replaced by the 9th Engineer Battalion in Kitzingen and returned to Fort Lewis.

35th Engineer Battalion Commanders while in Germany:


Lt. Col. McDonald, 1 April 1951 - 1955


Lt. Col. Wilbert W. Wallingford, 1955


Lt. Col. Gustina, 1955 - 1957
---
1954
(Source: Email from Rock Finlinson, son of PFC Paul R. Finlinson)
My father, Paul R Finlinson, served in Germany in the 35th Engineer Battalion. He was there from 1953-1955.

He never talked about much about it. He died 25 October 2012.

In going through his belongings, we discovered a box of his military stuff. I found a 1954 Christmas program that lists the Battalion Commander as LTC Daniel E. McDonald. My father was in Company C. He was a Pfc. His Company Commander is listed as Capt Edgar M. Luthy.
---
(Source: Email from Ronald Grundon, 35th Engr Bn, 1954-57)


Harvey Barracks Main Gate, mid 1950s

Upon return to CONUS in March 1957 under Operation Gyroscope, I was assigned to battalion Commo Center at Ft Lewis. I was released from active in August 57 and returned to my home in Indianapolis. A few years later I was working for Western Greyhound in San Francisco when, in January 1962 I had a talk with the Air Force recruiter in Oakland. Shortly thereafter I was on my way to Keesler AFB, MS for electronics training. The rest is history. 22 years later I retired at Lowry AFB, CO

I arrived at Harvey Barracks, Kitzingen in December 1954 and was assigned to "A" Company. Having been trained as a "Wheel Vehicle Mechanic" at Ft Leonard Wood, I was promptly assigned to the Commo section (figures!). After a 13 week school on Morse Code, I was assigned to Hq & Svc Co. Our job was to maintain 24-hour communication with 37th Engineer Group at Hanau while in garrison. When in the field, we established and maintained communications with Group and the battalion's companies. The 35th held the record for building the 60-ton floating bridge over the Main river in 1955/56. During the winter of 1955, the Main river froze to a depth of about 20 ft and, to prevent flooding in the spring, the 35th broke up the ice with explosives.

I am currently the president of KOTA (Kitzingen Old Timer's Association). Our last reunion was at Ft Leonard Wood where we were given a Red Carpet welcome. Sadly, we now have only about 12 active members. Other are not in good health. We have not planned our next reunion but hopefully it will be with the next couple of years. We're all getting up in years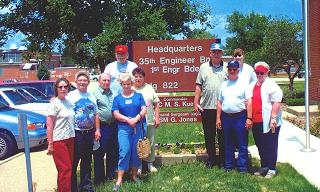 KOTA Reunion

---
Related Links:
35th Engineer (Combat) Battalion - Shawn Umbrell's very nicely done website is dedicated to his grandfather, a former member of the Battalion during WWII.