If you do NOT see the Table of Contents frame to the left of this page, then
Click here to open 'USArmyGermany' frameset
656th Engineer Battalion (Topo)
US Army, Europe
Looking for more information from military/civilian personnel assigned to or associated with the U.S. Army in Germany from 1945 to 1989. If you have any stories or thoughts on the subject, please contact me

.
---
---
Battalion History
Company B, 656th Engineer Topo Battalion
2014 Reunion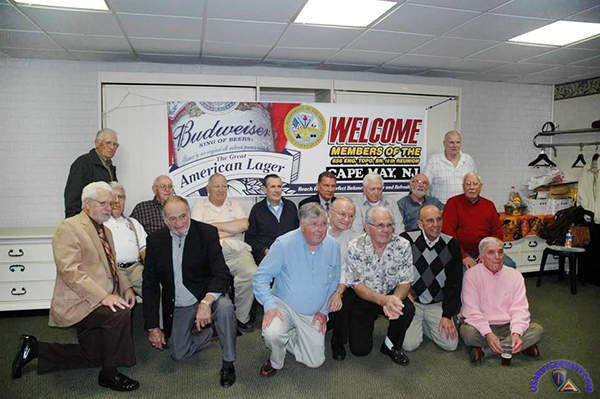 (Click on image to view a higher resolution copy)

Source: Email from Don Rothstein
I am sending along a little up date: B Co. 656 Eng. Battalion Topo had a reunion in Cape May, N.J., last week, from Oct. 20th to the 24th. This one was their 16th Reunion. Most of the guys were at Tompkins Barracks in Germany around 1959; one or two from as early as 1954; and a couple of the men went on to the mid-1960's.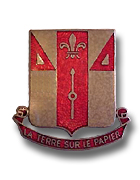 656th Engineer Battalion (Topo) DUI
(Source: History of the 656th Engr Bn (Topo) - 1944-1956, from an Organization Day booklet issued probably in 1956 and submitted by Gerry (Red) Moynihan, Company B, 656th Engr Bn (Topo), June 1956-Dec 1958)
The 656th Engineer Topographic Battalion (Topo) (Army) was first activated at Camp McCoy, Wisconsin on 30 March 1946. After a period of training at Camp McCoy the unit moved to Camp Robinson, Arkansas for additional training in preparation for overseas duty.The inevitable day arrived, and after a brief stay at Camp Shanks, New York, the Battalion loaded aboard the S. S. Santa Barbara and sailed from Brooklyn on 10 February 1945. Debarking at Le Havre, France on 24 February 1975 the Battalion moved inland to Paris via Camp Lucky Strike, a large staging area, arriving in the Paris vicinity on 4 March 1945. The survey platoon soon departed for the front in Germany where they provided Seventh Army artillery units with survey support. The remainder of the Battalion stayed in the vicinity of Paris and performed its wartime mission for approximately 90 days, known to the old timers as 'the famous 90 days" of hard work, memorable pleasures and laughable episodes which will forever ba cherished.

Suddenly, the war in Europe was over, and on 15 June 1945 the Battalion departed from the shores of Franca for home, where, after a short rest, the unit was to prepare for another adventure in Asia. The Japanese surrender occasioned a change in orders whereby the Battalion remained at Camp Swift, Texas for a short of time and then moved to Camp White, Oregon. Eventually, in April 1946, the Battalion made a motor marsh to Fort Lewis, Washington which became "home" for the 656th until deactivation in January 1948. The majority of the career topo men were transferred to the 62nd Engineer Company (Topo) (Corps) which was then stationed at Fort Lewis. Included in this group was the present Battalion Commander, Lt Col Griffin, who as a Captain served with the Battalion in various capacities from February 1946 until January 1948.

On 20 May 1949, the Battalion was reactivated at Fort Belvoir, Virginia. After more than two years of duty and training at Fort Belvoir, the men of this Battalion again mounted the gangplank and departed for Europe on 1 August 1951, arriving at its present station, Tompkins Barracks, Schwetzingen, Germany on 11 August 1951.

Upon reactivation on 20 May 1949, Captain Howard J. McCracken assumed command of the Battalion. He was succeeded by Major William J. Locke on 1 June 1949. The succesion of commanders time until this date, for periods of one month or more, include: Lt Col John S. Harriett, Lt Col C. M. Turner, Major Frederick W. Smee, Lt Col Charlie W. Eudy, Lt Col John K. Muller, and Lt Col Leonard F. Griffin, the present commander. Since its most recent arrival in Europe the Battalion has been operating in direct support of Headquarters United States Army in Europe.

The mission of the 656th Engineer Battalion (Topo) (Army) in Europe is to aid in the accomplishment of the theater topographic program assigned to the Engineer, USAREUR, including the production, revision, reproduction and distribution of maps to United States forces and other allied commands in Europe. Although the major effort is centered around Tompkins Barracks, the men of the Survey Platoon spend most of the year in the field traveling in nomadic fashion over the landscape of Germany.

ATTACHED UNITS
The 64th Engineer Detachment (Topo Liaison) was activated at Tompkins Barracks an 1 November 1954, to serve as an augmentation unit for those battalion headquarters elements which have assumed and increased operational and logistical work-load.

The 22nd Engineer Platoon (Reproduction) was activated in November 1951, al this station for occasional duty in support of Headquarters USAREUR, but with the major portion of its effort expended in supprt of the topographic mission of the battalion.

The 59th Engineer Platoon (Camouflage) was activated on 1 October 1953 for duty at Tompkins Barracks under the direct operational control of the Engineer Division, USAREUR, with a mission of planning, supervision, and inspection of camouflage installations in USAREUR and supervision and inspection of camoflage discipline and training of troop units.

The 515th Engineer Detachment (Topo Liaison) was activated at Fort Belvoir, Virginia, in October 1951 and arrived in EUCOM in April of 1952. The unit was to provide personnel for the 7774 Engineer Intelligence Group, as the USAREUR Engineer Intelligence Center was then designated, and later to provide personnel for Intelligence and Mapping Branch, Engineer Division, Headquarters, USAREUR, organized in October 1953.

Three other Engineer Intelligence units are attached to the 656th Engineer Battalion for administrative and logistical support. The 509th Engineer Detachment (Terrain) which was activated in December of 1952 for duty at Tompkins Barracks; the 501st Engineer Detachment (Technical Intelligence "Research") activated in Marsh 1953, for duty at Tompkins Barracks; and the 139th Engineer Detachment (Terrain) activated in April of 1954 at Tompkins Barracks.

The general mission of these intelligence units is to aid the Engineer, USAREUR, in the accomplishment of the theater intelligence program by collection, collation and evaluation of engineering information; to produce special studies and reports of engineer intelligence data; and to maintain libraries of documents, maps, and photographs of intelligence value.

The 7758th Amy Unit, Engineer Reproduction Detachment was activated in January of 1953 as the 589th Engineer Reproduction Detachment, for duty at Tompkins Barracks, to render reproduction support to the intelligence program.
If you have more information on the history or organization of the 656th Engr Bn (TOPO), please contact me

.

---
1956
(Source: Email from Gerry "Red" Moynihan, 656th Engr Bn, 1956-58)
I was in B Company in 1956 and 57. A group of guys who served in B Company and the 22nd Engr Plt at different times from 1954 to 1962 have been getting together for reunions. This coming September we will be having our 5th Reunion in Niagara Falls, NY.

While in Germany I served with Ron "Moon" Thompson who later returned to B Company in 1967-69. Our group reunions has on average 40 guys plus spouses. We have great times and tell war stories.
Gerry Moynihan

B Co, 656th Engr Bn (TOPO) & 22nd Engr Pltn - Colorado Reunion, 2002
---
(Source: Email from Buddy Jackson)
Attached are some pages (above) from a 1958 Organization Day brochure. I was with the 139th.

The Army had contracted with the United States Geological Survey to make cross country maps for tanks. We were a combination of soldiers and civilians. Somewhere I have a few pictures, will send them if I find them.
---
1959
(Source: Email from Jon Wolfe, B Co, 1959-61)
Are you still interested in getting info and stories for the 656 website?

I arrived at 'B' Company as an offset press operator in late March of 1959 from Fort Belvoir, VA, and left in August of 1961.

We worked on presses that were mounted in mobile vans parked next to loading docks. I have attached a newspaper article from 'The NACom Chronicle', dated Nov. 11, 1960 that talks about the activities of our company and others involved in our map making activities. I sent this article to my mother so she would have some idea what her son was doing so far away from home. I have not seen it reproduced anywhere else, so I thought it would be of interest.
| | | | |
| --- | --- | --- | --- |
| | | | |
| 1. Souvenir photo | 2. EM Club | 3. Christmas Message | |
---
1960
(Source: Email from Bill Barry, A Co, 1960-62)
I served as a Spec. 5 (E-5) with 656th Engr. Bn. Topo from April 1960 through February 1962. Our mission, at the time, was to produce original mapping documents from the Ruhr River Valley, Germany to specified areas in the Middle East.

I was a member of A Company, photo mapping platoon as a Photogrammatrist (Stereo Map Compiler). We, the map compilers, produced the original mapping documents by way of making use of "Multiplex Stereo Mapping" instruments (an optical system that projected an overlapping image from two separate aerial photos, projected down to a "tracing table" operated by the map compiler, to trace the terrain of roads, buildings, vegetation, and ground elevations (ground contours of elevation).

On occasion "A Company" also produced Photo Mosaic Maps from aerial photos taken by the US Air Force. These original map draft documents would then be photographed, by "B Company", and printed onto an "Orange colored plastic film media". This document would then be returned to "A Company's" drafting platoon and scribed (etched) with a steel needle like tool producing a "negative". This in turn would be re-photographed by "B Company" on to an "Orange peel" type of plastic media for additional scribing, color separation, for the various mapping requirements i.e. Roads, Rail Roads, Rivers, Vegetation, Building of significance, etc.

Once all of these mapping stages were correlated and completed, the raw documents would be returned to "B Company" for printing. Field checking would be accomplished by "Hq. Company" and the "Detachments" attached to the 656th Engr. Bn. As you read, we were a team!

Prior to my assignment to the 656th Engr. Bn. Topo, I attended the US Army Mapping School at Ft. Belvoir, VA, enrolled in two courses of study, Photo Mapping (MOS 812.10) and Stereo Mapping (MOS 812.20). Following the completion of these two courses, I was assigned to the 30th Engr. Bn. Topo, at Ft. Belvoir, VA and reassigned to the mapping school at Ft Belvoir for additional training in "Stereo Mapping Triangulation".

Shortly after completion, I, and several others, was reassigned to the 656th Engr. Bn. Topo, USAREUR. (Andreson, Meagly, Hackney, Rhemer, Gomes, (assigned to "B Company) and others?). Over my two years with "A Company" there were multiple changes in the Non-Coms, Sgts. Haggen, Tonneson, Doyle, Pelletier, Leffler, etc. Company commanders and officers were: Captains Mentkowski, Buffard, Lts. Weeks and Pacheco, etc. Operations officers were CWO4 Wolff and CWO2 Bryant. Please excuse my spelling; I'm digging deep into my memory cells!

While stationed with the 656th, the work assignments were varied and quite interesting. While in the European theater, I was given the opportunity to travel throughout Europe. That was just the beginning. Upon returning to the Atates by way of Bremerhaven, Germany on the troop ship Gen. WM. O. Darby and separated from the Army at Ft. Jay, NYC, in March of 1962. Bob Andreson and I tipped a few beers in NYC and went on our separate ways. He to a Borough of NYC and myself to Bellingham, MA. He became a Photogrammatrist for LKB, Syosset, LI and I for Moore Mapping Company located in Shrewsbury, MA.

I know of only one other, who attended the Mapping Courses with me at Ft Belvoir, VA (Kuzinski, 30th Engr. Bn. Topo, Ft Belvoir, VA) who stayed with aerial stereo mapping as a chosen carrier. The following year I visited with Bob Andreson (LKB, Syosset, LI) and Kuzinski (Aero Service, Philadelphia). This was my last contact with them. Over time, I remained in contact with Roger Pelletier, (I was god father to two of his children) for a number of years but drifted off on divergent paths as time went on. The following summer (1964) I married my high school sweetheart. Forty years later, two children and five grand children, I'm still married to the same wonderful lady.

I can honestly credit my career path to being in the Army and the Mapping School at Ft Belvoir. I went from high school to the Army within six months. While stationed with the 30th Engr. Bn. Topo at Ft Belvoir, a good many of the enlisted were draftees, civil engineers, etc. Also a few of the enlisted men with the 656th Engr. Bn. Topo were engineering graduates. This set me on my career path. It has been a great ride! Are there any from your "656th" Alumni who were with "A Company" during my tour of duty? If so, pass my name and address to them. Thanks.
---
1963
(Source: Email from Dave Davis)
I was stationed at Schwetzingen, Germany U.S.Army (TOPO) 656 Engineers HQ Company from 1963 to 1965. Then known as SP-4 D.J.Davis, I worked in field maintenance as Commo Chief. I was assigned and drove the 5-ton wrecker in the Motor Pool. My secondary MOS was mechanic helper so I also worked with the guys in the motor pool.

I also visited Alberts at the "Schlossgarten" and drank many Schwanengold steins of beer as well as several Pushkins. There were many Gasthauses in Schwetzingen at that time. The Grunner (hoof ) Haus was our home turf for the maint group. I had several civilian friends in Schwetzingen. The Erick Loose family & the owner of the Grunner house, Maria & Brunhilda, were great people. I made friends with a family who had a son my age in the German Army whose name was Dietterick. I was invited to their home several times for meals.

I often think of the great men who served with us in Tompkins Barraacks. I can only remember several who worked with me in the Maintenance group. Guys like Mule, Crud, Dennis Englebritzen, Joe Looser from PA, Paul Barula, Barry the kid, Speedy Gonzales, Butler, Dave Kwasney, Jimmy from West Va. Chuck Lyon from Ca, Mc Guire from Wilkes-Barre Pa. Sergeant Anderson & Patterson and Sgt Fergusson were in charge of the field maintenance group with WO Souse as our officer. I later met a fellow in Pa who served there in 1969, Don Dieffenback. Don married a girl from Schwetzingen named Anna, they live in the York, Pa area.

The Field maint group of civillians consisted of Jumbo, Cook, Kirt, Tony, the old man, Abinger and the clerk was a German civilian from Schwetzingen, named Lorri. I believe she married Donald (Masion) Fergusson from the Heidelberg Maintenance Motor Pool.

Don Geise and Marty Tresselt were in our group as well and were from York, Pa. I believe the base commander was Colonel Rudy at the time I was there. I did meet Lt Col Litinsky from Heidelberg who was also a fellow Pennsylvanian. I can also remember HQ, A & B Companies of the 656 as well as the 541 Floating bridge outfit across the Kaserne from our barracks. Our group had gone on TDY to Orleans & Fountainbleau, France and in 1964, the 656 Eng. sent a Surveying / map group to work in Ethiopia for the Ethiopian Govt.

I was proud to serve in the US Army and it was an honor to work with so many great Americans. I had opportunities to visit Europe on a construction project with a short term Missionary crew in 1992 and 1995 but was unable to visit my old Unit in Germany.

Thanks a million for your work and I wanted you to know I appreciate the kindness. It has been a long time since I served in Germany. This brings back lots of memories when I was a young man.
---
(Source: Email from Dominick D'Onofrio, Hq Co, 656th Engr Bn and 519th Trans Co)
I arrived in Heidelberg and was stationed at Patton Barracks in July 1963. I spent a year there, working in the Motor Pool Mess, 519th Transportation Company (Car), APO 090403. Mr Pelt, warrant officer, was in charge of food service along with Sgt Fetzgo. I remember the place like it was yesterday.

The 108th Transportation Light Truck Company was also stationed at Patton Barracks. They disbanded the company and all the drivers went to the 503rd Truck Company. We in the 519th Truck Co (Car) were assigned temporarily to the (billets of the) 108th before they were taken over by the 503rd. They were doing some retro work in our billets and we were sent over to the 108th for a short while.

While serving as a cook with the 519th, I asked one day about our fire extinguishers that we needed in the mess hall; we also needed one on our Mess truck. I volunteered to go to Tompkins Barracks to pick up the equipment. I signed off for 5 extinguishers and started the ride back to Patton Barracks; this was in February 1964. On the way back I came across an accident were a Volkswagen had gone off the road and was burning. I stopped as there wasn't any emergency vehicles or fire trucks there. I ran down the slope and found an American Officer, a Major Franz, who was partially in his Volkswagen and again it was on fire. I pulled the Major out of the vehicle and got him away to a safe distance. I went back to the car and proceeded to use the fire extingusihers to put out the fire as I thought the car was going to blow up. I used three extinguishers but the car was still burning, now only a little bit. The ambulance came and I assisted the people removing the Major.

Now I go back to Patton Barracks and explain the incident to the Motor Pool Sgt. (I forgot his name) He told me to fill out the trip ticket and explain what happened. I did and was called into the First Sgt.'s office a few days later. He said that it was a good thing that I filled the paper work out as the Officer injured (Major Franz) wanted to find out who the soldier was that helped him at the accident scene.

To make it short, they put me up for the Soldiers Medal but were told to give me the Army Commendation Medal for Heroism instead. They had me practice for a parade where they were going to give it to me with all pomp and circumstances. When I was transferred over to Tompkins Barracks, we practiced a few more times and I was expecting to be honored at a formal ceremony. What happened was that there was an alert and the Army Band that was supposed to be there couldn't make it that day. So they had a small ceremony in Col. Spacek's office. I got my picture taken and it was put in the Stars and Stripes as well as the local paper picked it up. I was a Pfc. then. The Col. asked the Mess Officer why was I still a Pfc. over two and not an SP-4. Well, I was made an SP-4 over two soon after that. I guess the colonel's words dug deep. I was proud that I helped the Major who had even called me at HQs on the phone. He told me that if I ever went downtown he would buy me a drink.

I still have that letter from the Major, who I found out had died from something. My dad had the letter framed and it hung in his Barber shop along with the medal I had received. I still have the article from the local paper somewhere in the house.
I also worked in the Patton Barracks Bakery for a long time. I helped knock down the bakery's German Ovens because they needed storage space, working with a broken hand and looking like a coal miner when we had finished a days work.

I was then stationed at Tompkins Barracks from 1964 till 1965. I was a cook in HQs Company (656th Engr Bn TOPO) . My Company commander was Capt Waddle. He was tall Southerner who was a good fast ball soft ball pitcher. I was his catcher. My Mess Lt. was Lt. Maume. Sgt Mickler was Mess Sgt along with Sgt Maldanodo and Sgt Beam. Maldanodo was from B Company and Beam from A Company.

We went to the field a few times in 1965. We had alerts every month where we packed up our gear and went out to the local race track and sat there for about an hour and then went back to the barracks.

Our new Colonel made us stay out there for a week. I remember using the M-1937 stoves and the doughnut immersion heaters. I would wake up the troops by mixing too much gasoline in the immersion heaters and having fun as the heater would pop loudly. We had a lot of fun there and some sad times.

I worked in the mess hall with a few guys: Garrison, Harding, Metcalf, Shumpert, S Davis Jr., Fred Fuller, and a few other guys and a bunch of wacky German KP's.

I left the mess hall near my separation and worked in supply until I left Aug 9, 1965 for the States.

I played in a "rock n roll" band in Germany. We called ourselves the "Six Playboys." Soldiers from 11th (Engr) Group, 7th Army. played in the group. Jimmy Folkes ( Chester, Pa); Don Nagy ( Cleveland, Ohio), ---- Novotonty, ----- Johnson( Florida), ---- Ditell, myself and Jimmy Folkes' wife, Gloria Folkes ( a former resident of Hackensack, New Jersey). Gloria was an African-American female; her father was a preacher and she had converted to Judisim. Boy, could she sing.

We played all over the immediate area: Turley, Funari, Coleman and Patton Barracks along with Tompkins Barracks EM clubs. There was also a local club near Tompkins Baracks, it was called the Green House. We played there too.

Some of the people I remember from Tompkins Barracks in 1964-1965:
Col. Spacek; Capt Waddell; Lt Maume; Sgt Mickler; Sgt Beame; Sgt Maldanado; Supply Sgt Rodriguez; S-4 Sgt Marino. The CO's from A. Co. and B., CO. I can see their faces but don't remember their names.

Mess Hall:
SP-5 Barney Davis; Sp4 Shumpert; Pfc Sam Davis; Sp4 Fred Fuller; Pfc. Tom Garrison; Pfc. James Metcalf; Pfc. Harden; and me, Sp4 Dominick DOnofrio. (TDY Pattton Barracks Bakery)

Supply
Pfc. Black (from Altoona Pa)

Patton Barracks
A Company Mess: SP-5 Michael Yarmon; Pfc. Fuchs

529th MP Mess:
SP-5 Davis; SP-5 Shemwell

Patton Barracks Mess Hall
Sp-5 Davis; SP-5- Davis (cousins)
Sgt Jerry Saunders; Sp4 Hooper; Pfc Bishop; Pfc Ben E. Runsk, Pfc Wildrick; Pfc Nelson; Pfc Dominick D'Onofrio (me)

The 541st and 530th Bridge companies, 7th Army units, were stationed at Patton Barracks along with the 11th Engr Group, 7th Army. Two support companies were housed next to us on the Quadrangle.

It was custom to throw the person who was rotating back to the States into the small pool that was inside the quadrangle which was in front of Hqs. CO 656 Eng. Bn Company commanders Office.

We were allowed to own and park our privately owned vehicles behind the Building in a the large parking lot before the Motor Pool and Topographical Engineer Offices. I had a blue 1959 Puget 4-dr Blue and then bought a 1957 Opel 2-dr. We were allowed gas coupons according to Hp of the vehicle. 100 gals for a vehicle over 45 Hp and 50 anything under.

The autobahn started on Speyerstrasse, a cobblestone roadway, and became a "no speed limit" soon there after. Coming off the autobahn you found a sign that stated "Stadt ------" and speed limit 31 kph which meant that you had to slam on your brakes or face the Polizei who was hiding near by. They allowed wheelchairs on the highways, where the operator used a push pull bar on each side of his chair to move forward. They also had a law that if a pedestrian placed their foot in the street in cross walk you had to stop and give the right of way to the pedestrian. A blind person wore a yellow arm band and usually walked with a cane or had a dog; they were given the same right as a pedestrian, more so, if they even appeared to want to cross the street traffic stopped.

We had a smart GI that tried to grab at a girls behind while he was in a Gov't vehicle and she was riding a bike. He grabbed her causing her to fall and he was charged.

I got bagged for parking one night and had to pay the Polizei on the spot, 5 marks. At that time GI conversion was 4 marks to a dollar -- the exchange rate in the Bahnhof was 3.97 Marks to a dollar. All you had to do was give a GI a dollar and he gave you four marks. Beer was 1.10 Mark 10 Pfenings. Scotch and soda was 2.50 at the local Guasthaus.

Another incident was drivers training. I was one of the men elected to assist in drivers training. I was a cook in HQs Company under Sgt Mickler and Lt Maume. The company commander Capt Waddle decided that there should be more trained drivers since we had a large motor pool and several vehicles with only one qualified driver. Well, it was a cold day and there was snow on the ground. We started to take men out towards the race track to start drivers training.

We found ourselves in the woods in a large open area. We had jeeps 3/4 ton trucks Cadillac of the army) and 2 1/2 trucks along with our Mess truck. I taught the guys on the duce and half, well by the end of the day we were sliding down the hills on small sleds and having snow ball fights.

I had one guy from supply who told me he never driven a truck before. So I give him a short run down on the truck and we start out the gate toward the driving area. Well, much to my surprise the guy starts to double clutch and down shift and run through the gears like a pro. He looks at me and tells me, "Ah I had to get out of the supply room today and let Sgt Rodriguez handle the mess there." The soldier tells me that he drove a big rig with a "Brownie Box" for a living before he came in the service. Boy was I happy and I sat back and enjoyed the ride.

We had guys driving jeeps with trailers that couldn't even turn them So we picked up the trailer (with a couple of guys) and turned it around and the guy passed for the day.

Guys in my company bought crystal shaped boots that held 2 liters of beer or water what ever you were drinking. We played a game with the new guys the secret was to hold the boot sideways and drink. If you held the boot straight you would get a back flush as the beer hit the bottom of the boot causing the unsuspecting person to get drenched in beer.

I used to order Veal Cutlet and melted cheese at the Guesthaus. Comrade (as we called all German people) thought that was crazy and couldn't believe that I wanted schnitzel mit cheese.
The barracks of a Polish detachment were located at Tompkins Barracks. Their building was on the left as you entered the Kaserne past the main gate. They wore Khaki uniforms with their patch, which was a small one on the shoulder.

I remember when I was supposed to come home. They had me listed for a boat cruise to come back to CONUS. But they changed my orders and I stayed at Tompkins until the last minute and went home in style. A Pan American flight that went to Wales first and then onward to the States. We landed in Kennedy airport a year after the World Fair, Aug 7, 1965. I had Rock Cornish game hen for chow on the plane. When I first went over to Germany I flew Pan American flight too. I had Curried Veal (never ate that stuff before) then they had no in-flight movies.

We had a company picnic one day. It was Hqs Co A. Co & B. Co., combined play day. The colonel even visited from Patton Barracks too.

We played enlisted men against the officers. Most of the guys and officers were a little tipsy from all the beer and Stienhager they were drinking. One of the guys (enlisted) got tackled by the CO on the way to first base. We laughed and had a real good time as the officers let down their hair. Except for the Colonel.

I remember blocking the plate and my CO who was a hefty guy tried to run me over. All I can remember was him hitting me and rolling over my back landing in the back stop. He gets up and comes over to em asking me If I'm OK mean time he has a raspberry on his elbow. He then tells me that I was tougher than a brick shit house. I couldn't stop laughing, he was a great guy.

We never had another day like that, but what memories.

I had asked the guys in the map section if one of them could draw me a picture for the back of the mess truck. We had the top lifted and now it was stand up 2 1/2 ton truck a M-34 (we had retired the old M-35) I asked if they could draw a picture of Cookie from Beetle Baily. They did. Wow, I pinned in on the back of the truck along with the caption "The Rollin Belly Robber." We had that and a 1 1/2 ton water trailer. I was the only guy that could drive it and then back it up. Funny a cook doing that.

They even hijacked me for an IG inspection one day. I went to the motor pool and was the guy who turned on the headlights and BO Drive markers. I stayed there all day loafing around having a ball in the motor pool.

I remember the day we went to the field. We stayed over night and had to cook a few meals there. One day someone dropped a lit cigarette in the Latrine. Well they called for every fire extinguisher in the place and of course we in the Mess tent had a few. We run over to the latrine and there is the colonel giving orders with his gas mask on. We with no masks had to enter the now smoking latrine and use the fire extinguishers to put out the fire. Most of us got hit with smoke inhalation, but not the colone. And then he takes off his mask as we, and I mean just a few us left were choking on the stuff, and tells us "Good Job Men" and then he walks away. What a joke.
---
1965
(Source: Email from Bill Lindquist)
I was with the 656th Engineer Battalion in 1965-66

.

In 1963 I lost my college deferment and got drafted….

While in 'Basic' at Dix, I met two other guys in a similar predicament – Eric and Ritchie… after a brief scare caused by a buddy telling us that he had seen the list and we were all given 622.1 (Heavy Equipment Repair) we were relieved to find that it was really 822.1 Topographic Surveyor. We were shipped off to Ft Belvoir, VA., and after an uncomfortable journey across the Atlantic in the smallest troop ship around… got to Tompkins Barracks, Bldg 4243… Survey lived in the left-hand half of 4243 and the Mess Hall was on the first floor in the rear.

The 'Mess' wasn't very good… they tended to over-cook everything… you had to hang-out close to the grills to get a piece of liver that didn't resemble shoe leather, in texture and flavor.

The cooks were GI, but everything else in that 'Mess' was handled by German Nationals 'Komrads', who brought their lunch in a briefcase, and often left for the day with enough 'Supper' in their briefcases for a large family…

Survey Section (in the north end of 4236) was 'commanded' by a couple of Warrant Officers, Mr. (??) and Mr. Oetiker. (Wish I could remember the other Warrant's name… he was the one we saw the most) Duty was pretty easy… maintenance of the file of Survey maps, etc, but the most fun was TDY to various Army Air Fields in the surrounding countries to bring position 'control' from known geodetic sites down to the air field itself for the installation of radar approach control equipment. Great Duty! I believe the Motor Pool was in the other end of 4236.

We walked to Survey Section every morning, saluting Officers as they passed… except for one, our Colonel, who could have been a 'short-timer' himself, and once stopped us and told us he would prefer that we didn't salute him every morning'.

Even 'ALERTS' and field maneuvers were not too bad… unless you had a 'few too many' the night before… Mostly the Survey Section did just that.. survey the site.

Speaking of 'few too many', guys seemed to think that the best place to puke was in the urinals, and were too drunk to even consider cleaning it up; leaving that duty to the details assigned…

Scrubbing the hallways was also a chore, as the Germans had tiled them with 'laterally grooved' yellow bricks… good for not slipping, but rough to get clean…

When maneuvers were scheduled, it seem that the most important 'charge' we were given was, 'Make sure you don't hit any of 'Komrad's' chickens along the way, or the Army will be paying for their 'estimated egg production' for years to come.

Eric, Richie and I hung out together and mostly tried to avoid all the other kinds 'chicken' that prevailed.

At the time, the roofs of the barracks buildings at Tompkins still had large, but faded red crosses painted on them to appeal to the GI bombers not to target a 'Hospital', which was actually a Panzer Kaserne. I guess that 'camo' was pretty effective, as those building were still habitable when I was there.

Some of our Survey Section was just arriving 'home' from helping with a census in Munich, as we got to the 'company'. All had stories to tell… about the variety of folks who opened the door when they knocked.

I bought my first VW in Heidelberg (I still have my 'Green Card) and shortly thereafter Richie bought himself a beautiful red Porsche Coupe. Eric decided to save his money instead, as he had a fiancée at home, and now had ample transportation.

When I parked my grey Beetle behind the (4243) building, I could see the back of the mess hall. That was my first encounter with the concept of 'EDIBLE' and 'INEDIBLE' garbage.

I believe they sold the 'EDIBLE' type to 'Komrad' to feed their animals… and sometimes when we were out 'surveying', we would encounter 'Komrad' with horse or tractor, pulling his 'Honey Wagon' fertilizing his fields… You wanted to be 'up-wind' of that operation.

And with the 'freedom' that a POV provided, we were able to escape the Company Mess, and found a little Gasthaus called 'Albert's' hidden on a side street in Schwetzingen. It was a small place run by Albert and his Frau, that was frequented by a number of the Tompkins residents, some of whom, mostly the 541 and 524 folks often became rowdy after a few beers, while the three of us - all older than most of the others - never caused Albert any trouble. It was just so great to find a good place to eat, that we kept to ourselves and 'behaved'. The local beer was outstanding – Schwannengold (sp?) but I mostly stuck with Rotwein.

Some months later, a group of our guys went on TDY to Addis Abba, Ethiopia (I don't remember why)… and told of how beautiful, and 'available' the women there were… a couple who sampled the local girls came back with some medical 'conditions' they hadn't left the 'company' with… aren't antibiotics wonderful… while, the three of us were on 'standby' and had all the 'shots', but, didn't get to go.

They flew into Wheelus Air Force Base in Libya and drove 'Deuce-and-a-halfs' across the dessert, saying, 'The dust they stirred up was so bad that the only driver who could see the road was the one in the 'lead' truck.

About that time 'they' were looking for volunteers to go to Viet Nam…. some of the young Black kids volunteered… None of us did… we were Draftees and ready to go home…

When that Ethiopia crew got back, there was such a 'celebration' at Albert's, that I don't remember how I got back to the barracks that night… maybe my VW had made the trip so many times, it found it's own way….the worst part was that some 'wise-guy' officer called an 'Alert' the next morning.

You may be familiar with the cry 'SHORT!'…

I liked Germany and it's scenery, food and drink, but, enough was enough.

I guess because we were always good and quiet customers, Albert and his Frau took a liking to us and treated us like 'family', taking us out on weekends, especially, when we were getting close to 'rotation'. They would take us a lot of the 'bars' and places, whose owners, Albert knew, they would introduce us and not let us pay for anything. They even took us to the movies in Heidelberg; "My Fair Lady" (in German).

Just before 'rotation' I had to take my car up to Bremerhaven to ship it home. Driving on the Autobahn was always an adventure. The wise driver of a car the size and power of mine, spent more time looking in the rear-view mirror, than looking forward.

As soon as you detected the distant flashing lights of another car, it was wise to move over to the right lane and hold onto the wheel. Because, seconds later, some big Mercedes or BWV Sedan with lights still flashing, would pass at a Hundred and Sixty 'klicks' or so violently shaking the car. Talk about defensive driving…

I think the government had already limited highway speed to 100 kph, but some drivers never got into, or out of the habit.

'Reveille' was always kind of sleepy, but 'Retreat' at Tomkins was always well done, even if we didn't have a real 'Trumpet', though it never ceased to amaze me how many 'scurried' for the nearest door just to avoid saluting the flag as it was lowered.

From the more recent pictures I see of Tompkins Barracks, it doesn't look as if it has changed much… some new buildings, interesting to see that the 541 had bad fire, and I see that all the buildings have been white-washed and nice blue roofs have been added (no more red crosses).

We never had a PX or a bowling alley… we had to go to PHV for all of that… and at those prices, I spent a lot of time in the bowling alley… I think it was a Quarter a game…

That building at the end of the quadrangle (4260) we referred to as 'Intel'… not much was know about what went on in there… actually, we didn't much care…

When I made Spec/4 I got a room to share with one other guy, even though I couldn't lock it – lost a nice radio that way… false security… dumb to leave it out… good lesson, though…

Saw the guys a couple times after I got home… Richie wrecked his Porsche… Eric went back to school…

I wish I could remember that Warrant's name… I can see his face but can't put a name to it.. and no amount of searching has helped… I'll remember as soon as I send this off…..
---
1966
(Source: Email from Tom Kupski, A Co, 656th Engr Bn, 1966-68)
I was drafted in April of 1966 and received basic training at Fort Knox Ky.

On completion of training I was given the MOS of 81A10 (General Draftsman), as I was a draftsman working for Chrysler Corp. in civilian life, the Army placed me in a job they felt I wouldn't need a lot of extra training for. After a short leave was assigned to the drafting department of the post headquarters at Fort Belvior Va. for four months until being notified of overseas movement to Germany.

Upon completion of processing in Frankfurt I was put on a train to Heidelberg, destination Tompkins Barracks, Schwetzingen and the 656th Engr. Bn. (Topo).

Pfc. Gene Heilman (not sure of the spelling), was Staff Duty driver the night he picked me up from the train station and brought me to Tompkins Barracks. As a new guy just coming in he saw that my orders had me assigned to his company, (A Co.) so, he took it upon himself to fill me in on some of the things to watch for, namely "The Berlin Orientation Tour".

Naturally, this was when West Berlin was still walled in.

He said that if I ever saw an application for this tour on the company bulletin board, to put my name in for it. He said not to listen to anything negative anyone might say about it, "Just do it, it's a real Benny" as he put it.

Being a young kid out of country for the first time and feeling home sick at having to be in a strange place just two days before Thanksgiving, hearing about tours wasn't making me feel any better, but I filed it away in my head for future reference.

But sure enough, as luck would have it, it was posted on our bulletin board early in 1967 for a tour that summer. So, remembering what Gene said, Dave, another guy from the company and I put our names in. As it turned out, we were the only two to apply out of the entire battalion and we were accepted. Heilman was right! The tour amounted to a one-week free vacation on the Army with no leave time deducted. When we got back and told the guys what a great time we had touring both East and West Berlin, and all the nightlife partying we did, well they were all kicking themselves for not putting their names in.

Having no previous training in map-making, on site classes were given and on completion I was given the MOS 81D20 and served as a Map Compiler till March 1968.

I was fortunate to meet another guy from Michigan who arrived in A Company a few months after I did. It was good to hear the latest from home. His name was Karl S. Krahn and we became good friends and for many years after our military service. I no longer have my old friend and Army buddy Karl to share stories of that time with, he passed away in 2008. I do miss him and may he rest in peace.

I'd sure like to hear from the guys who were in A Company during 1966 thru 1968. Like: David S. Perez (Texas), Gene Heilman (Michigan), Jim Shallman (Minnesota), Barry Moffee (Boston).

Again, please excuse any name misspellings as I'm drawing on an ever increasingly fuzzy memory.
---
(Source: Email from Michael T. Staggs, B Co, 656th Engr Bn (Topo), 1966-1968) & 649th Engr Bn (Topo), 1975-77)
Like others I was drafted in 1966 and sent to the 656th. I had worked for a small newspaper in HS and the Army said I was a qualified printer so I didn't go to AIT (I wasn't really a printer, at the paper I had swept floors and melted lead type).

I was assigned to B Co (Repro) and worked on the "Ramp" out of Vans. I was in the Plate and Layout section. My section leader was Sp5 Petee (who, as a Marine in 1950, had driven an assault vehicle ashore at Inchon).

There were good times - mostly hanging out at the club, the Romisher Kieser and the Lervin in Bruel (forgive my spelling). In those days we drank, a lot, sometimes when we weren't suppose to. The bar girls in the clubs got a lot of what little money we got and the club managers got most of the rest (some let us run tabs). Years later one of my Nephews sold his TA50 to please one of these girls.

I especially remember one night in Schwetzingen around Xmas. It had snowed and the church bells were ringing. I don't remember anyone else on the streets and the peacefulness was inspiring. Then, of course, there was the "fire fall" from the Heidelberg Castle and rides up the Necker River.

Mostly I remember KP, extra duty (which the NCO's would give for anything, I spent many hours cleaning the hallway floor tiles with a toothbrush), and the line of people at payday with their hands out. We were paid in cash once a month and not much (I think around $70) in those days.

One incident stands out. Late one night I had to get out of my bunk and go to the latrine. Our barracks had large wooden doors that opened out into the hallway. When I opened the door it hit a guy in civilian cloths who was with the CQ and a couple of MP's. I apologized, went to the latrine and got back into my bunk. Just as I went back to sleep again there was a flashlight in my face held by the guy I had hit with the door, with him were the CQ and the MP's. They told me to get up and get dressed.

I was handcuffed and taken to the main MP station in Heidelberg (anybody remember Susie's - across the street from the MP's?) and put in a cell. Nobody spoke to me and in a while I was taken out of the cell and put in a "line up".

I spent several hours back in the cell before they let me out. It seems a civilian dependent at Patrick Henry Village had been having an affair and, after being dumped, had told her husband she was raped by a GI. The MP's took me in for suspicion of the "rape".

Those were the days of Passes and signing out if you left the post and I hadn't been any where that night (I think I was playing Pinochle at the US), so I was hauled in because I bumped an MP with the barracks door.

They let my go that morning. The MP's never apologized and wouldn't even take me back to Tompkins, I had to catch the shuttle and then caught hell from the CO down.

This was the end of the old "brown shoe" Army and things were a lot different.

I was discharged from the Army in May 68 and re-enlisted in June 70. In just the couple of years I was out the Army had changed dramatically.

After tours in Japan and Viet Nam I went to the 524th TOPO at Ft Hood. In Jan 73 I went back to Tompkins, and the now 649th TOPO, on a Reforger exercise (at that time the 524th was a US Army Europe asset).

We were there for about 3 weeks and I don't remember much different from 66-68, even my old section leader, SP5 Petee, was still there (although I now outranked him).

In 1975 I was again assigned to the 649th, this was to be my last TOPO assignment as I switched career fields to Mil. Intel.

As I said the Army had changed and Tompkins Barracks with it. MILPERCEN Europe was there and that meant a lot of women (in addition to the ones in the 649th). Also we made a lot more money than in the 60's.

I don't think any of the clubs downtown were there anymore. The Tompkins snack bar was transformed into a Pizza Parlor after hours. Girls from MILPERCEN worked there as waitresses, I dated one of them for a while.

I started out as Plt Sgt of the Mobil Repro Plt (back on the "ramp") then went to Bn S-3, I also married one of those MILPERCEN girls.

I don't remember a lot of guys from my first tour: 1SGT Ronald A. Thompson (known as "RAT" by the rank and file), later at Ft Hood CW2. He got me my one and only Art 15, which I deserved; SSG(SFC) Galarita, SSG(SFC) Joe Starkel (all of whom I served with in the 524th). Sp4 Sammy Nadler (who turned me on to J.R.R. Tolkien and the Lou Reed and the Velvet Underground), Sp5 Dregger, SSG Ken Byers (ex-Navy boxer), Sgt (SFC) Frank Molina (both of whom I later served with in Japan); SSG(SFC) Fredrickson (who I served with in VN); SSG Prine (who make WO and I later served with at Ft. Bragg (and met again in Tallahassee, FL, after he retired); Sp5 Raymond Jastro (sharp guy who spent his money on stuff he could resell in the states for a good profit).

I also remember a Sp4 J.P. who cut his wrists (barely) in the bunk next to mine (he didn't die - got out on a med discharge, which was probably his plan. He was a draftee and did not fit in and he was pretty smart.

I do remember a lot of guys from the 75 -77 tour. A Carto NCO, Simon Cornell (Chief), and I had known each other for a long time (he married a Carto girl named Roz Seminiou (?); SFC Jessie Hobbs, SSG Melvin Cowan, SSG Bruce Yandel, Carto Sp5 Lenny Brown, SSG (later SGM) Claude Heath; CW3 Parker, CWO Yorvorski, Sp5 Sam Wade; and I remember Rick O'Neill who has a post here.

I also remember two 649 girls who stood out: Map Depot's Vickie Franklin and Survey's Michele Hess. Wow, the Army had come a long way!

Some men from a Brit. Unit, the 14th Field Survey Squadron from Dusseldorf, came down for a while, all our girls went crazy for them. We later went to their unit for a Field Exercise. It was a great exercise, seeing how another Army operates and how they approached the same job we did was a very good experience.

We did have some problems at the going away party they gave us. The Brit's don't seem to pay as much attention to their women as American GI's. I had seen this before in Australia, it was customary for a Brit guy (or Australian) to leave his date at a table with other girls and then hangout with his friends. Our guys see a table of women alone and see it as a challenge, trouble was these women belonged to the Brit's and they didn't see any humor in our efforts.

A few month after the trip the Brits sent an invitation for 3 of us (by name) to attend their Queens Birthday Ceremony. This caused an uproar at HQ, they thought inviting 3 NCO's, and no officers, was not kosher. They almost didn't give us a pass to go.

I took a female Lt. (I think she was in Carto) as my guest, Andréa Hernandez, nothing improper, she had a car and wanted to go. That also caused problems, the Brit's are much more rank conscious than we are.

Fabulous experience, the formal ball was like something out of a movie. All the Brit. Officers and NCO's their dress uniforms which hadn't changed in a hundred years (each branch (career field) of their Army has a different uniform), not to mention the women's gowns! Everything was programmed - I was really impressed.

There is a self published book, by a Carto Sp4, about Tompkins Barracks in the 70's, I won't give the authors name as the book is full of BS, but there a lot of photos and you can find it online if you look hard enough.

All in all I enjoyed my time at Tompkins and in Germany. Schwetzingen and Heidelberg are two of the few places where I served I'd care to see again.

There is also a Facebook page for Tompkins if anyone is interested.
---
1967
(Source: Email from Dana Levy, Hq Co, 656th Engr Bn, 1967-68)
I was a private and got shipped to Germany in December 1966 after being drafted in July 1966. I was a draftee so I did 18 months out of Tompkins Barracks as my brother was in Korea and they wouldn't send me to Viet Nam (except for a short 100 day TDY to Ethiopia for the Army Map Service).

I was in Headquarters Company and was in the Survey Platoon. I remember a great bunch of guys and getting to go around the whole country at 16 dollars a day per diem to survey the bridges. Ethiopia was a whole different experience and it seems to be just as backwards today as it was then.

As for the beer (bier) I will always remember the "flippers" of Weldebrau and eating a sandwich we called a "heavy duty special" at Albert's. The one trip to a five mark hotel in Heidelberg was a real experience for a 20 year old kid from San Diego. The EM club across the street from the post was a great place to get drinks for 50 cents on Thursdays cheap night and my friends and I did take advantage.

All in all it was a great adventure and I look back on the time in Schwetzingen as a fun and educational time in my youth. I hated the Army (always homesick) as did most of the other guys but the experience was priceless. Some day I hope to visit again and I don't stay in touch with any of my buddies anymore but I often do think of them fondly.

It was very interesting reading the other responses and I, too, remember Sergeant Reyes. He was the re-up sergeant when I was there and I still remember beating him in the one mile run we had to do for the yearly fitness test (running around the guadrangle). And our first sergeant (mitchell) was a quite heavy guy with no sense of humor at all. I don't remember him doing much running. I also really loved doing guard duty in the middle of the night with no bullets and doing KP duty.

The snack bar was the mainstay for all my real meals. We had ration cards for cigarettes and they could be redeemed at the little commissary we had on base.

After I made Spec 5, I was able to move up to the attic and we never again had to stand real inspections or see the "leaders" too often. Some of my fellow surveyors names were, Tex Blevin, Bobby Ray Carlock, J. Edgar Moss, Clark, Johnny Burgess, Domain, Andy Anderson, John Platt, Chief Kavalunas, French, Powell, and many more that escape me.

Feel free to post this anytime and put my e-mail address on it: yodalev@sbcglobal.net.
---
(Source: Email from Ken Jamin, 656th Engr Bn, 1967-68)
I was assigned to HHC, 656 at Tompkins Bks, from April 67 to June 68 as Bn. Special Orders Clerk.

I returned to Tompkins Bks. in June 76 while on vacation with my now-former wife. She was a beautiful German girl whom I met by accident at the club across the street. She was not one of the "regulars," but had accompanied her niece, who was filling in for the regular singer in the band for one night. (No, I don't recall the name of the band, but her niece was also beautiful.) The kaserne had changed quite a bit, and was much more open and informal. In fact, I recall a biergarten near what had been the entrance to the motor pool.

I can still recall several of the guys I served with: Bob Sheridan, "Crazy" Gronda, Tony Merino, Milt Davenport, Frank Regnier, Larry "bird dog" Dove (the COLs driver,) John Rigdon, Steve Diaz, Mac Murtray, Stokes, and some of the officers and NCO's: CWO Himes, CWO Forsey, SFC Reyes, 1SG Mitchell ("oink, oink!") I believe I can still contact SP5 Bill Slinkard who worked with me in S-1.

I also have foggy memories of the infamous Romischer Kaiser bar, the "Ooh-La-La," the Meierhof, Albert's, etc. in Schwetzingen, and smuggling "flippies" of German bier past the guardhouse under my winter coat.

I still have an original copy of the Tompkins Barracks Orientation Manual, and could arrange to copy and mail at cost, to anyone who is interested. I also have some photos and slides of the people and the kaserne. I now live in the Chicago area, and would enjoy hearing from anyone else who was there at the time. I would also like to receive any info about reunions.
Danke, Ken Jamin
---
1968
(Source: Email from Frank Binford, 656th Engr Bn, 1968-69)
I was stationed at Tompkins Barracks from October, 1968 to December, 1969.

My MOS was for an Offset Pressman making Topographic maps. We were the 656th Engineer Battalion (Topo) as I recall. I will check my DD214.

However, early in my Army life, it was discovered I had excellent typing ability and that was a valuable commodity. I was also stationed at Ft. Belvoir, VA from March, 1968 to October, 1968 at a topo map making unit and maybe that was the 656th, but I believe the 656th was in Schwetzingen.

I visited Europe for 2 weeks last month. My girlfriend was born in Nuremberg when her father was stationed there, so we visited both communities. Tompkins Barracks is still there, but I strongly suspicion the mapmaking is not there any longer. I know they moved into a permanent building to print maps. We worked out of vans back in the time I was there. Across the street is a new training facility where the Enlisted Men's Club used to be. I had an apartment in Hirschacker, a little community across the railroad tracks in back of the EM Club that I illegally crossed daily. You are not to cross tracks except at road intersections because of the danger of being hit by a train, which is very real because of how fast and quietly they run. The tracks are welded together and don't clickety-clack as they do in the US and most of them are electric powered.

I remember Sgt. Kitahara, Sgt. Galarita, Mr. Butze, Specialists Bob Madison (Indianapolis, IN), Bill Dick (Mayfield, KY), Ray Jackson (NY'C, NY, & Don Van Wie (Orlando, FL). I have had contact with Bob, Bill and Don since leaving the Army. Bill and Don I can get in touch with for certain, Bob maybe not. I can see many faces in my memory and some first names, but mostly I can't remember their names.

It was interesting to see how much things changed. The road that leads in from Schwetzingen used to cross the railroad tracks now the road cloverleafs around in a peculiar way and goes under the tracks. The Enlisted Men's Club used to be across the street from the barracks, it is gone and a training center has replaced it. The old barracks are exactly the same on the outside (I didn't go inside). The streetcar (strass as we called it) that went from Schwetzingen in front of the Schwetzingen Castle Park area to Heidelberg no longer exists.

Schwetzingen just didn't seem familiar except for the Castle. Hirschacker, the little community where I had my apartment had a town square that was all brick with no landscaping in 1969, but I had a hard time recognizing it because they have since planted trees, shrubbery and flowers in various places. I remember St. Martins Day being a big deal and all the children lined up in the square holding sticks with weird lantern that looked like pinatas with a candle in the middle singing Christmas carols on December 13th in 1969. It was a magnificent sight and sound to behold.

I remember visiting the Heidelberg Schloss with 5 Army buddies and having a wonderful time drinking Schwarze Katz white wine in a restaurant that overlooked the castle on December 31st, 1968. It is one of the most memorable New Year's Eves ever in my mind, and there wasn't a beautiful female in the group. I had just been there since October as most of us in this group had been in Germany and it was my first time away from home during the holidays. I suspect it was theirs, also. We all had a very special bond from this experience. When I visited the Castle on my recent vacation there were a group of 6 soldiers that reminded me of my group that eveniing. Laughing and carrying on something awful, but they seemed funny to me. My girlfriend and I ate at a restaurant that overlooked the castle, but it didn't feel like the same restaurant. It was our best meal in the 2 weeks we were in Germany and most of our meals were fantastic. The ambience was superb. There were very few patrons in the restaurant for some reason. My suspicion was that the castle had closed and it was twilight and the people visiting wanted out of the area before dark. We received terrific attention.
Frank Binford
---
(Source: Email from Michael Champion, TTMICP, 1967-69)
Served with the Theater Topographic Map Inventory Control Point when they were attached to the 656th Eng Battalion, which was the predecessor of the 649th Engineer Bn (TOPO). We were the inventory control point for the depot, but were a separate unit with only 2 military and 6 GN employees.

What I can recall is that HHC (656th Engr Bn), to which we were attached, consisted of the normal battalion functions, S1-S4 and of course the TTMICP, plus the Survey Platoon, which was charged with updating all mapping data until the arrival of sattelite mapping.

Never could figure what A Co. did. They were rather small in make up and very closed mouthed about what they did.

B Co was the true work horse of the battalion, they had the printing and warehousing function although they only did special projects. The true print plant was manned entirely by civilians with a warrant officer in charge.
Michael Champion
---
1969
(Source: Email from Robert Moeller)
I too was with the Co. B 656th Engineers in Schwetzingen Germany 1969 to 1970

I have some of the best memories of my life from that. I spoke fluent German thanks to High School, was of a German family and was truly amazed and at home in Germany. I absolutely hated the Army. I was one of the few draftees that was lucky enough to get Germany instead of Viet Nam.

I was originally stationed with the 320th Engineers out of Kornwestheim near Ludwigsburg. We were soon disbanded and reassigned to 656th.

I was on the original crew that took over the base printing facility from the German Nationals. I was the only EM sent to learn the plant prior to the transition from the trucks, all of the rest of the transition team were SFCs and higher. I was probably the only one educated in German on the base.

As with one of the other writers, I remember Sgt Galarita and Mr Butzie. I also remember Otto, Pop Denton, Sgt Hefernan, Herbie Gibbs who died in a 3/4 ton accident, Saia from Baltimore, Parrish from Hawaii, Boo Hoo, Gigliotti from New York, Bill Dick who was short when I got there and others.

The drug scene was very heavy then ( hard drugs) I couldn't believe anyone could be that stupid. I remember a "short" spec 5 who wound up going to Levenworth.

I intended this to be brief so will leave out any other rememberances for now.

I really miss Heidleberg. I loved the Schlossgarten in Schwetzingen and the Heidleberg castle and bridge.

I left in Jan of 1971. I wish I had taken a European out.
---
(Source: Email from Glenn A. Dieffenbach)
Hearing you guys talk about a Heavy Duty, I just had to write.

I was born near a town called Womelsdorf, PA. I'm a Pennsylvania Dutchman (German). The time I was in Germany there were more German names in my home local phone book than the Schwetzingen phone book cause of the of the many Italian immigrants in Germany.

I got to Ft. Belvoir's Engineer School in the fall of 1968 after being belt lined out of MP School in Ft. Gordon, GA. I was too young, and too short. 8-9-1950 & 5'8". I had several options since I had a guaranteed school. Had I elected to become a 2 year R A I would have been whisked away to Ft. Polk LA. 11-B, so I selected drafting or surveying & was sent to Belvoir.

I was in the group of 10 or so who were given the 10 wk multiplex course after the 10 wk map compiler course. I was the only guy in that class that didn't have a college degree, "draft induced". The guys who didn't get the 2nd course all got shipped to A Co. 656th Engr Bn in the spring of ' 69. There was a Staff Sergeant from Viet Nam, & a Captain from IRAN in our class. I finished 2nd in the class & was stationed permanent party @ Belvoir.

4 of us had a TDY assignment with a civilian from the Army Map Service. We wore civvies & grew beards. I was one of the few guys in that unit that had enough time in grade (sp 4) to go up for sp 5. Shave, haircut, wrinkled Greens & borrowed shiny low quarters.

I showed up @ Thomkins in late Jan. 1970 as a spec 5 under 2. My room mate in the barracks was a crazy short timer Eskimo. He gave me the deluxe Heidelberg tour. I bought his hand-me-down VW bug. I was assigned to the Dark Room expandable van. My partner was a cat from L A named Larry Bird.

The unit's mission during my stay was to upgrade the older European maps. We made the drafting symbols in the dark room on something called strip film. The greatest thing about the Dark Room was the sign on the door. YOU MUST KNOCK BEFORE ENTERING.

I was also the company Customs Inspector & the Nuke, Bio, & Chem. NCO. I believe I had the only M-14 in the battalion that had the full automatic switch. Lots of fun in the field.

The unit's unofficial mission was to have the longest hair in the 7th Army. The company's previous C O showed up after about a year of traveling around Europe in his VW camper with a beard & long hair.

Shorty was our janitor & if you wanted your room waxed just put a carton of smokes on your bunk. We had an acting 1st Sgt. Henry Johnson. He never went up for E-8 because his requests never made it past the dumpster while being hand carried to Battalion H Q by our Howdy Doody look-alike company clerk. The Dental Hygienist " Bloody Mary " surely had worked for Adolf in a previous life.

When I first arrived a Floridian from my map compiler class, named Noah Griffin gave me driving and German lessons. I had taken 3 years of high school Hoch Deutsch & hated it. Got Ds in it. By the time I drove my Triumph Spitfire to Bremen in May of 1971, for shipping home, I could pick up a German hitch hiker, & tell him that I was a 7th generation German American stationed in Schwetzingen without speaking any English. Once I picked up 2 Japanese hitch hikers on the way home from Frankfurt. They spoke no English & me no Nippon, so we communicated in Deutsch.

We had a casualty during my tour. A new guy was crossing the road @ the E M club & got hit by a taxi. He flew 75 feet. The driver said he was doing the speed limit.

We had our short timers' parties @ the Billiard Bar. The thing was to chug from the 3 liter boot of wine & coke and if the next guy finished it you had to buy the next one. A new guy Joe, who had followed me from Belvoir, was found the next morning passed out on the throne in the Billiard Bars' Boys room after his first such party.

The shortest guy in the company wore this little pair of wheels clipped to his shirt pocket, It was a rolling curtain hanger, we called them the Flight Wheels. He's flying home next. At the morning formation while he's being driven to the Frankfurt airport his rattiest uniform, boots & cap will be laying on the grass right where he'd have been standing the day before.

My time in Germany changed the rest of my life. I'll never own a G P S.

I've never made it back over but I'm not dead yet. It would be nice to see what the East is like. I have driven by Ft. Belvoir & that whole company area is gone.

I have seen some of the vets from my tour. We had a couple of get togethers back in the early 1970s. I've visited folks in Minnesota, Iowa, Oregon & Montana on various trips out west. I'll do some more visiting after I retire. I go to the local V A canteen store and they sell caps recognizing every can that ever sailed the sea.

In my era, 1968--1971 there were 350,000 troops in Germany and it's like we never existed. Oh well, I guess we did our Job. Keeping the RED menace on their side of the Wall.
---
1971
(Source: Email from Rick O'Neill, 656th Engr Bn & 649th Engr Bn, 1971-77)
I was an E-5 stationed from 1971 to '77 with the 656th Engr Bn (TOPO) which turned into the 649th. I was also in A Co. and then in HHC as an editor after we became the 649th.

It is stated on your web site that not much was known about what "A" Company. "A" Co created the maps that you printed, using arial photography and ground surveying notes. I'm quite sure that the process we used has long since been replaced by computers. The process that we used involved projecting the arial photos onto a coated clear plastic sheet and then scribing off the coating for each particular color on the map. Then a negative was shot for each color, usually 5 colors, then you guys got to do the printing.

Hope this helps and shows who did the REAL work. Just Kidding!

I got a lot of great memories of Tompkins Barracks, some not so good. Thanks for stirring some of them up!
Rick O'Neill
---
(Source: Email from Dan Nunez)
I was stationed from about March 1971 to April 1972 with the 656th Engr Bn (TOPO) Tompkins Barracks, Schwetzingen, Germany. I was with "A" Co which created the maps from Aerial photography and other input.

I was drafted July 1970 and after basic training in Fort Ord, California, I was sent to Fort Hood, Texas... 564th Engr Bn (TOPO) for on the job training. I also spend about two months at Fort Sam Houston, San Antonio, Texas "Army Map Depot" for additional training working with civilians.

I eventually was sent to Germany, Tompkins Barracks, 656th Engr Bn (TOPO) March 1971. I was a Cartographic Draftsman.

I enjoyed my stay in Europe and have no regrets.

---
Related Links: