If you do NOT see the Table of Contents frame to the left of this page, then
Click here to open 'USArmyGermany' frameset
56th Field Artillery Brigade
PAGE 3 - Field Sites, CAS, QRA
Looking for more information from military/civilian personnel assigned to or associated with the U.S. Army in Germany from 1945 to 1989. If you have any stories or thoughts on the subject, please contact me

.
---
---
Field Sites - Quick Reaction Alert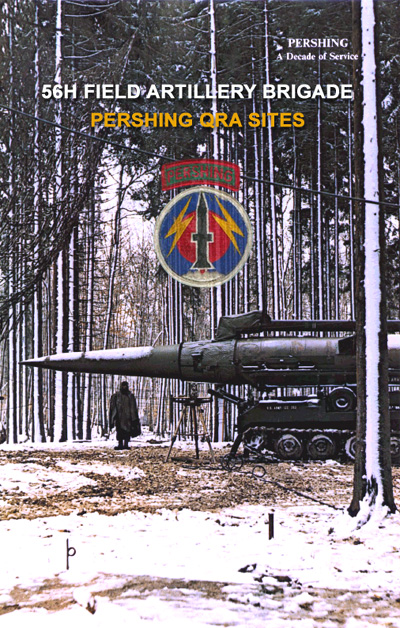 ---
(Sources: various; map created by Walter Elkins)
QUICK REACTION ALERT

This is an attempt to provide an overview of the QRA sites used by US Army and German Luftwaffe Pershing missile units in Germany.

Confirmation, corrections, and additions are welcome!

Some questions that I still have:
1. Did the 1-81 have a QRA mission while stationed at Mainz and Wackernheim (1964-1968)? If so, where was the site located?
2. Did the 4-41 (1-41 after Sept 1972) have several QRA sites in the late 1960s (Mutlangen, Nellingen, Hornberg)?
3. Was Strass near Neu Ulm an early QRA site (1969) for the 1-81?
4. Did the FKG 2 (Geilenkirchen) operate two QRA sites concurrently, like the FKG-1 in Bavaria during the early 1970s? If so, were there initially two USAFAD units supporting FKG 2, as was the case in the FKG 1?
5. Where were the FKG 2 sites located before the Arsbeck site opened in 1976? According to the STATION LIST 31 Dec 1969, the 85th Msl Det - warhead custodial unit in support of the FKG 2 - was originally stationed at Moorslede Kaserne, Köln-Dellbrück. Was the QRA nearby?

RESPONSES:
3. Was Strass near Neu Ulm an early QRA site (1969) for the 1-81?
Jerry Cooler responds:

| | |
| --- | --- |
| | I was assigned to A Battery 1/81st at Neu-Ulm in late 1968 and all of 1969. Our QRA site was Strass. It was a primitive area, all mud with underground bunkers. We were told it was a leftover from World War II. One could still see shrapnel in the trees, I suppose from American bomb strikes. Sometime in mid 1969 we stopped using Strasse and began using Inneringen as our QRA. |
ADDITIONAL INFORMATION :

Rick Anders, Germany, reports that 3rd Bn, 84th FA (Neckarsulm) used both Kleingartach (

) as well as Mainbullau as interim Pershing sites (in the early 1970s).

While researching information on NATO NIKE (air defense) sites, he came across a brief report in which USAREUR announced (on 23 Apr 1970) that the NIKE site at Mainbullau would continue to serve (after the NIKE missiles were removed) as "Interim Pershing Site 19."

A similar development was observed with the former French NIKE sites at Böttingen and Inneringen. These sites became Interim Pershing Sites 33 and 34 after the French removed their NIKE missiles from the NATO air defense belt in the mid-1960s.
---
(Source: Annual Historical Summary, HQ USAREUR & Seventh Army, Jan - 31 Dec 1966, HQ USAREUR 1967 )
During Exercise FALLEX 66, a NATO-wide CPX held in October 1966, some communications problems were identified between Seventh Army and its flanking forces -- German II Corps to the south and NORTHAG in the north. The problem was particularly significant because Seventh Army was to support these two elements with Pershing nuclear fire, and the procedures for executing the fire missions were unclear.

Webmaster Note: the mission of supporting NORTHAG was probably given to Flugkörpergeschwader 2 (2nd SSMW) once it became operational, that of supporting the German II Corps was probably assumed by Flugkörpergeschwader 1 (1st SSMW), when it achieved operational status. Can anybody provide details?

---
Finthen Field Site
1st Bn, 81st FA was stationed at McCully Barracks in Wackernheim from late 1964 to 1968. The battalion then moved to Neu Ulm.

During its stay in Wackernheim, the battalion's firing batteries used Finthen Army Airfield (and possibly other locations in the area) as a QRA site.

Can someone identify the exact location of the field site? Does someone have photos of the field site at Finthen?

---
Inneringen Field Site - Fort Black Jack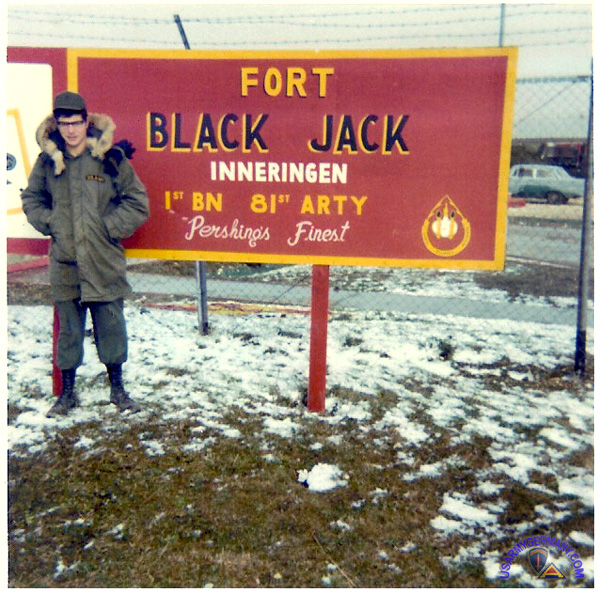 Fort Black Jack, Inneringen, sign, c. 1971 (Lee R. Weber)

---
Kleingartach Field Site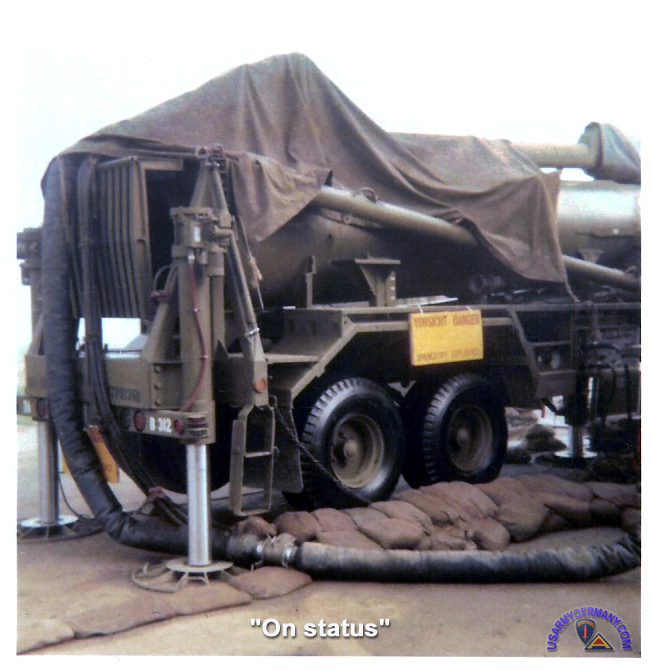 1st Bn, 81st Arty "on status" at Kleingartach c. 1972 (Lee R. Weber)

---
Lehmgrube Field Site - Fort Von Steuben
1985
(Source: 1985 Yearbook, 1st Battalion, 81st FA (PERSHING))
Fort von Steuben
CAS Site, Lehmgrube

1. Lehmgrube (KB)

2. Lehmgrube (KB)

3. Lehmgrube (KB)

4. Lehmgrube (KB)
5. Lehmgrube (KB)

6. Lehmgrube (KB)

7. Lehmgrube (KB)

8. Lehmgrube (KB)


9. Lehmgrube (KB)

10. Lehmgrube (KB)

11. Lehmgrube (KB)



---
Strass Field Site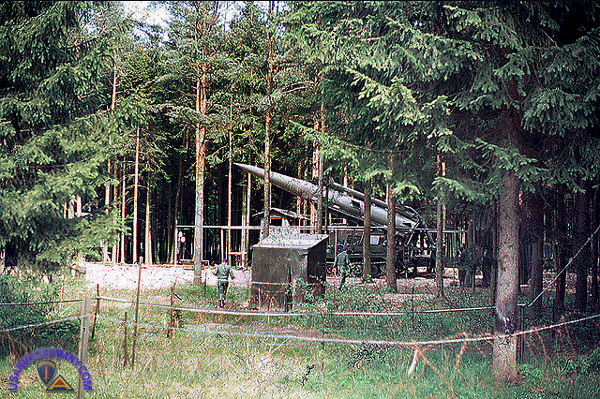 A Pershing 1 launcher of 1st Bn, 81st FA on a pad at Strass, 1969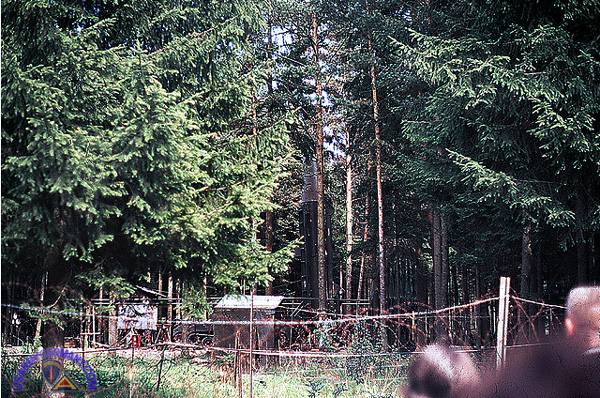 Missile at full erection ready to be "fired" - Family Day demonstration at Strass, 1969

(Source: John S. Todd)
I've been a fan of your website for some time.

Strass was the actual QRA site for the 1st Battalion 81st Artilley at the time my photos were taken.

The warheads were nukes programmed for specific targets and photographs were strongly discouraged. These photos were made during a "Family Day" when wives and children of the soldiers manning the site were allowed to visit the administative areas, eat lunch and visit with the spouses they hadn't seen for weeks.

This was 1969, just months before the tracked vehicles were to be "Swapped" for the new P1A version on wheeled vehicles and near the end of Strass as a QRA site. My next status tour would be held at Inneringen, an old Nike missle site.

ADDITIONAL INFORMATION
The P1 version of Pershing battery had 2 platoons with 2 launchers and 1 Programmer Test Station/Power Station each. Four missiles would be fired immediately from the QRA sites, then all 4 batteries in the battalion would move to other preselected but unused locations to reload and continue firing. The batteries were expanded to 3 platoons of 3 launchers each when we upgraded to P1A in 1970.

The exact firing positions were carefully surveyed for position and directional control but I am unable to point to even a rough location on the map today. We were not far (half mile?) from the entry gate and on the edge of one of the more wooded sections. It was a quiet location that was avoided by the locals except for the Forstmeister who visited regularly. The site had numerous ~20 concrete and steal reinforced bunkers. Some were mostly destroyed and some untouched. We used a couple of bunkers for sleeping quarters. My predecessors had acquired old trailers from an abandoned facility in France before my time and these were used for quarters and admin buildings.

The forest floor served as our lauchpads. This was not a problem when the ground was frozen, but very soft and muddy in the warmer months. We added some gravel, but left the site very much as found when we abandoned the site for Inneringen.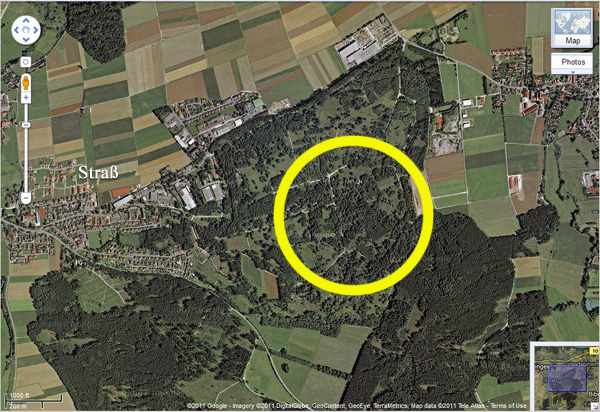 Approximate location of Strass QRA site (can anyone provide exact location?) (Google Maps)
(You can view more of John's photos on his Flickr page.)
Strass Field Site
Neu Ulm

1. Re-Up ceremony


2. Formation


3. Card game

4. Engineer Support


5. Family Day


6. P1 Programmer Test Station


---
Waldheide Field Site - Fort Redleg
(Source: Email from Thomas Schulz, Germany)
Approximate outline of the CAS site near Heilbronn known as Fort Redleg.

Would appreciate additional details about the site and any corrections to the information shown on the map (some of the information is still speculative). Information and comments about the photos below would also be very welcome.



Fort Redleg
Waldheide

1. (KB)


2. (KB)


3. (KB)


4. (KB)

5. (KB)

6. (KB)

7. (KB)

8. (KB)

9. (KB)


10. (KB)

11. (KB)

12. (KB)

---
Related Links: