If you do NOT see the Table of Contents frame to the left of this page, then
Click here to open 'USArmyGermany' frameset
165th Military Intelligence Battalion
205th Military Intelligence Brigade
Looking for more information from military/civilian personnel assigned to or associated with the U.S. Army in Germany from 1945 to 1989. If you have any stories or thoughts on the subject, please contact me

---
---
History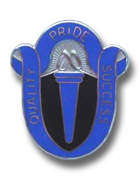 165th MI Battalion DI
(Source: Lineage and Honors, Military Intelligence units, US Army Center of Military History website))
Lineage And Honors Information - 165th Military Intelligence Battalion

Constituted 27 September 1951 in the Regular Army as the 165th Military Intelligence Service Detachment

Activated 18 October 1951 in Japan

Reorganized and redesignated 1 September 1952 as the 165th Military Intelligence Service Company

Reorganized and redesignated 28 March 1954 as the 165th Military Intelligence Company

Inactivated 25 January 1958 at Fort Bragg, North Carolina

Activated 1 June 1962 in Germany

Reorganized and redesignated 1 July 1972 as Headquarters and Headquarters Company, 165th Military Intelligence Battalion

Inactivated 1 July 1983 in Germany

Redesignated 16 April 1984 as Headquarters, Headquarters and Service Company, 165th Military Intelligence Battalion, and activated in Germany (organic elements concurrently constituted and activated)
---
(Source: Official 165th MI Bn website)
165th Military Intelligence (Tactical Exploitation) History
The unit was reactivated as the 165th MI Service Co on 1 June 1962 (in Germany - probably taking over the personnel, equipment and area of responsibility of the old Field Station III). It has been providing continuous intelligence support to units in the State of Hessen since then.

On 1 July 1972, it was redesignated as the 165th Military Intelligence Battalion as part of the 66th MI Group.

The 165th was inactivated on 1 July 1983 in Germany.

The Battalion was reorganized into its current configuration as a Tactical Exploitation Battalion on 16 April 1984 and reactivated in (Karlsruhe) Germany, with its organic elements concurrently constituted and activated.

E Company, 51st Infantry was activated and attached to the 165th Military Intelligence Battalion a V Corps' Long Range Surveillance Company on 16 September 1986 and permanently assigned to the 165th Military Intelligence Battalion in October 1988.

Most recently, the 165th Military Intelligence Battalion deployed to Bosnia in support of Operation Joint Endeavor from December 1995 to November 1996. The Battalion was presented with the Army Superior Unit Award and the National Intelligence Meritorious Unit Citation as a result of the support it provided to deployed forces during this period.
---
165th Military Intelligence Company
1968
(Source:Email from Ralph Delgado)
I was surfing the internet concerning the 165th and happened upon your contact. Ironically, a group of us that were assigned to the 165th recently attended our 50th reunion a couple of weeks ago in Wash DC.

Most of us worked out of the Frankfurt Field Office, located across the street from the American Consulate - at the corner of Friedrichstrasse and Siesmeyerstrasse (on the left corner in your pic).

There were four or five sections of responsibility in the house, which I think was the old Rothschild guest house, taken over by the US after WWII.

We were there around the 1968-71 time period. Dont know if it was leased, or the US provided some type of compensation for its use. A private company took over the building.

In 1971 we had to vacate the building and move our operations to the IG Farben building.

As already stated. there were four/five operations that existed in the FFO, and we all enjoyed working with the other operations when the needs arose.

There was SMLM, which was the Soviet Military Liason Misson....this tracked movements of the Soviet Embassy personnel and other Soviet military manuevers along the E German border and flights in/out of Frankfurt Airport.

There was a Tech center downstairs, along with a photo lab.

There was a small group whose job was to monitor the protest movements, etc..

Then there were two groups, one German citizens, and one US military, who conducted background investigations on both German and US individuals working with or in the military.

Lastly there were some agents working in outlying areas like Darmstadt, Fulda, Bad Hersfeld, and other towns near the E German border, of which I cant remember the names. They reported into the 165th FFO.

There were about 50-60 of us working out of this section. We all enjoyed wearing civilian clothing, possessed credentials rather than a rank, and the married men lived all over the Frankfurt area in either US controlled housing, or on the German "economy." A few single men lived on the third floor of the FFO.

The FFO reported into the 165th at Gutleut Kaserne, near the railroad station.
---
165th Military Intelligence Battalion
1988
(Source: About Town, Aug 18, 1988)
165th MI arrives in Darmstadt
After four years of waiting, members of the 165th Military Intelligence Battalion ran through the front gate of Kelley Barracks and to its new home in the Darmstadt military community.

The battalion was formed in Karlsruhe in 1984 and was then moved to temporary facilities on Wiesbaden Air Base while waiting for its new home in Kelley to be finished. The temporary stop in Wiesbaden lasted for four years, but as Lt Col Nicholas P. O'Dawe, battalion commander, said, "The battalion is home where it is suppose to be."

Carrying on a tradition which began with a 128 mile run in 1984 from Karlsruhe to Wiesbaden, teams of five runners each relayed the battalion's and Company E, 51st Infantry's colors 26 1/2 miles from Wiesbaden to Kelley Barracks.

About a mile from the finish, the entire battalion joined by Col Darrel McFerron, Darmstadt deputy community commander; Lt Col William Graham, commander of the 547th Engineer Battalion and several Darmstadt community soldiers, ran the final leg to the unit's modern barracks facility.
---
(Source: About Town, )
165th MI - Eyes & ears of V Corps

By Mike Cast

The battlefield commander must employ his forces in the most intelligent manner and be able to outwit the enemy, somewhat like a master chess player, if he is to win the battle.

To make smart moves, he has to know what his enemy is up to. Providing that information to V Corps commanders is the primary job of the 165th Military Intelligence Battalion, headquartered at Kelley Barracks in Darmstadt. The battalion also has the peacetime mission of providing military communities in the corps with counterintelligence services that enhance their operational security.

"We are part of a brigade, the 205th Military Intelligence Brigade, that really has three basic functions: intelligence from the air, from the ground and then it has a third battalion which puts it all together," explained Lt. Col. Nicholas Grant, commander of the 165th. "The 165th Military Intelligence Battalion is a ground battalion and the only one that would operate in the deep, close and rear areas of V Corps, should the corps go to war.

"I have a company that operates behind enemy lines, a company that operates right up with the divisions in the close battle area, and then I have two other companies that operate in the corps rear area, providing counterintelligence and interrogation of prisoners of war in support of the corps."

Alpha Company
A Company is the counterintelligence and interrogation branch of the 165th. Outside of Darmstadt, it has teams in Hanau, Wiesbaden, Giessen and Frankfurt that operate independently and help protect V Corps from espionage or acts of terrorism in peacetime as well as during war. They conduct personal security investigations, vulnerability assessments and anti-terrorism assessments, and provide that type of training to about 140 units in the V Corps area.

The company also has interrogators trained primarily in Russian. Some of them have debriefed refugees from East Bloc countries, even before the fall of the Wall, Grant said, and linguists in the unit helped with translations during nuclear-arms negotiations between the United States and Soviet Union. The interrogators are trained to use common sense and an understanding of human nature rather than force to obtain information from prisoners or civilians in the event of war.

"They teach you several different approaches to getting information out of prisoners of war, what types of things you can and can't do to extract information, and reporting of intelligence information you get," said Sgt. Daniel Crossley of the training he received at Fort Huachuca, Ariz. "They have different role players according to the scenario. There are certain points of information that have to be extracted, and you get graded on how much you get."

SSgt. Jeffery Couch, also an interrogator in A Company, said the trick is to take an accurate reading of a prisoner's mental state and take advantage of that. "Force does not produce reliable information," he said.

Both soldiers said emotional maturity is an important trait of military interrogators.

The company has a partnership with the 300th Interrogation Company of the 3rd German Corps, which led to the USAREUR Partnership of the Year Award for 1989.

Bravo Company
B Company, the electronic-warfare arm of the battalion, is trained to intercept radio or radar transmissions by hostile forces. It also has equipment to jam transmissions. Two of its platoons have tracked vehicles that carry intercept or jamming equipment, and the third operates in wheeled vehicles.

"The mission of that company is to operate in direct support of whatever organization the corps commander feels is necessary, either on the offensive or defensive," Grant explained. "The company also has real-world operations id that it goes up to the old border sites to monitor Soviet training areas by listening to radio transmissions."

As is the case with other companies in the 165th, B Company regularly trains with units it would support in time of war, Grant said.

Echo Company, 51st Infantry
Echo Company, an infantry unit, is the largest company in the 165th and is V Corps' eyes and ears deep behind enemy lines. It is comprised of 17 long-range surveillance teams, each led by a staff sergeant hand-picked for showing what Grant called "personal initiative."

The teams are trained to set up and monitor road intersections, assembly areas or other terrain for up to 10 days and provide intelligence information to the battalion.

They can be inserted behind enemy lines by helicopter or dropped by parachute. Working with NATO allies and French forces, E Company organized 250 parachute jumps between March and July of this year. The unit attained airborne status in July.

The opportunity to train with NATO allies is one of the most enjoyable aspects of being a soldier in E Company, said Sgt. Brian Hotaling, an assistant long-range surveillance team leader. He attended a Danish army jump school for two weeks and took part in the "Pegasus" long-range surveillance exercise hosted by the Belgians last year. That involved conducting surveillance on a target area for five days, picking up a buried cache of supplies and walking 80 kilometers in four days, carrying 100-pound rucksacks.

"Walking that distance in that amount of time is very physically demanding," he said. "In a normal week, we do PT at least five days a week for an hour. We do road marches with rucksacks, a minimum of 10 kilometers but usually 15 kilomters."

E Company is also comprised of a communications platoon that uses high-frequency radios, enabling LRS teams to broadcast signals to command headquarters, where the information adds to the intelligence picture.

Headquarters and Headquarters Support
Grant said no picture of the 165th Military Intelligence Battalion would be complete without the Headquarters and Headquarters Support - a company he referred to as the backbone of the battalion when it comes to personnel actions, logistical support,
vehicle and equipment maintenance, and providing soldiers with whatever they need to make things run more smoothly in the field and in garrison.

"I'm blessed with a great headquarters company that helps me put this all together," he said.

During a recent field exercise, HHS was put to the test when it had to in-process B Company soldiers posing as stateside reservists from a battalion that would support the 165th in time of war. They faced some of the challenges they would encounter in processing mobilized reservists into the battalion and training them on unfamiliar equipment.

Evaluators from the 511th Military Intelligence Battalion, VII Corps, rated them on their performance during the exercise.

"The evaluation looked at how we did the 'reconstitution' of the reserve unit that becomes part of the active unit during war," said CWO 2 Eddie Elias, property book officer for the battalion. "We had to prepare for everything, all the actions that have to be done to get them into the battalion. It was very challenging, but we do that every day, so it went very smoothly."

The 165th Military Intelligence Battalion is "big brother" to Youth Services and Darmstadt's Housing Referral Office. Soldiers in the battalion have lent their support to various YS activities, including sports, and linguists in the unit have helped translate for persons seeking housing through HRO.

---
Related Links