If you do NOT see the Table of Contents frame to the left of this page, then
Click here to open 'USArmyGermany' frameset
2nd Military Intelligence Battalion
(Aerial Exploitation)
66th Military Intelligence Group
Looking for more information from military/civilian personnel assigned to or associated with the U.S. Army in Germany from 1945 to 1989. If you have any stories or thoughts on the subject, please contact me

---
---
Seventh Army Aerial Reconnaissance Support Company (7877 Army Unit)
1957
(Source: Email from Bennett E. Young, 1957-59)
I was stationed at Kapaun Barracks, just outside of Kaiserslautern, from January of 1957 thru May of 1959 with an outfit called the Seventh Army Aerial Reconnaissance Support Company (7877 Army Unit). I have looked for it mentioned anywhere and have yet to see it listed, even on your very comprehensive Seventh Army list of organizations.

Let me give you a little of my own background and what I know of the 7877 AU and then later I'll dig through my piles of old photos and see what I can find for you.

I enlisted in the Army in July of 1956 and took my basic training at Ft. Leonard Wood in Missouri. Following that I went to the Signal School at Ft. Monmouth, NJ for a Photo Lab Technician's course and came out with an 841.0 MOS, I believe. I was then sent to Kaiserslautern, Germany in early 1957 to the 7th Army Aerial Reconnaissance Company, as I mentioned in my initial email to you.

Company sign

Unless I am mistaken, we were, organizationally, attached directly to Seventh Army Headquarters. We were a somewhat odd unit and had a table of organization which seemed, from my place well toward the bottom of that table, to be rather rank-heavy at the top. Our Company Commander, for example, was one Lt. Col. Ruff. We wore the 7th Army "pyramid of power" shoulder patch and "unassigned" rather than Signal Corp brass. Our garrison caps had the teal and white braid which was rather easily mistaken, at a distance, for infantry blue. We, as soldiers however, were seldom so mistaken.

Our mission was to print and interpret aerial photographs from negatives supplied us by the Air Force. We maintained a file of basic coverage, which consisted of negatives of every square mile of West Germany (and, just between you and me, parts of East Germany), all overlapped 30% in both directions and all shot at 10,000 ft (MSL I always assumed, but upon reflection, that might be a little low in parts of Southern Germany) and all carefully cataloged and identified. The film was on long rolls and we made either 10" x 10" or 10" x 20" contact prints of them. Almost all the work of the company was done in 42' vans pulled by two and a half ton semi tractors.

With no experience whatsoever I was assigned to one of these as a driver and became pretty adept at driving and backing one of these beasts. I was just a kid, I'd try anything. During an alert, or on maneuvers, which we went on rarely, we would hook up our vans and take our photo labs and photo interpretation offices into the field. Occasionally an alert would be called and we would hook up and form up as if to depart, but only actually went into the field on maneuvers twice that I can recall.
Soon after I arrived at SAARSCO, I realized that the Photo Section had very few slots for advancement and that the work was rather tedious so I made application for, and was accepted into, the Photo Interpretation section of the Intelligence, Military Police and Special Weapons School in Oberammergau, but that's a whole other story. I came out of that school with a 969.1 MOS, that of a Photo Interpreter. I later returned to the same IMPSW school a year or so later for an advanced PI course. I returned to the states and was honorably discharged on May 10, 1959.
---
(Source: Email from Kevin Carolan, 1957-59)
I was a member of the 7th Army Air Reconnaisance Co (SAARSCO) from Feb 1957 to Sep. 1959 and again from May 1962 to April 1966. I found the article (e-mail) written by Ben Young and it brought back many emories.

I enjoyed reading your website stories on the history of the unit from it's inception thought it's growth. Like I said, it brought back many memories. I have a scrap book, movies and pictures of my first tour and I was probably in the same 2-1/2-ton truck that you ran a picture of (No.1) with Clyde Ninomiya hanging out the back as we were in the same platoon and bunked in the same room at Kapaun Barracks.

I remember Major Ross Calvert and LTC Herman Ruff along with LTC Clarence G. Simon and LTC Rocky Barbuto, all of who were the CO's during my two tours.

Like yourself, I was a Photo Lab Technician and worked in the Repro Section out of one of the vans in "The Plant."
I remember the trips (in the snow) to the Air Force Base in France for our field problems. As for off-duty activities, I liked to dance and spent a lot of time at the Stadt Vien Nightclub in downtown Kaiserslautern along with a couple of my buddies.

After my first tour with SAARSCO, I spent a tour of duty with the Photographic Facility at Fort Devens, MA, before returning to Kaiserslauten and what was now designated the 2d MI Bn (ARS). By now I was a SP5 and with my previous photo lab experience at SAARSCO fit right in and was in charge of one of the repro sections.

I remained in that position for the first two years and in 1964, due to a shortage of image intereperters, was asked to help out in the library section of the unit where I became familiar with reading, screening, plotting and interpretation of aerial photographs.

In 1964, the battalion's security and intelligence analyst NCO passed away and once again I was asked to relinquish my duties with the Library section and take over the duties of the deceased security/intelligence analyst. I attended the Combat Intelligence NCO Course at the U.S. Army School Europe and upon returning to my unit I was assigned as the Intelligence Analyst (S-2 sergeant) of the battalion and promoted to Staff Sergeant, (E-6) and awarded the intelligence analyst MOS of 96B40.

That about ends my career with SAARSCO and the 2d MI BN (ARS).

I retired from the army in 1979 as a CW3 Order of Battle Technician) after 22 years of service that included two tours of duty in Vietnam, and tours with the USAINTS at Fort Holabird, MD., 3d MI Detachment (3d Infantry) in Wurzberg Germany), the Office of the Assistant Chief of Staff (Washington, D.C.), Bootstrapped at the University of Nebraska (Omaha, Neb) and finished up helping writing the MI Warrant Officer Advance Course at USAINTS (Fort Huachuca, AZ).

If you have any information on former members of SAARSC/2d MIBARS from early 1957 - 1966 I definately would like to get in touch with them. I am already in touch with Paul Wells and Benjamin Perez (who was my best man at my wedding) which took place at Kapaun Barraks in Oct. 1960. I married the daughter of SP Roger Wilcox (deceased) who also was assigned to SAARSCO.

Any information on SAARSCO and the early days of the 2d MI Bn (ARS) would be greatly appreciated.
---
(Source: STARS & STRIPES, July 8, 1957)
Aerial Photos Help Recon Company Spot Target

by Henry B. Kraft, Staff Writer

A Chinese sage once said that "one picture is worth ten thousand words." To the 7th Army, one picture interpreted by its Air Recon Co. stationed at Kaiserslautern, Germany, may be worth thousands of American lives.

For a photograph taken from the air may reveal a vital enemy position, a camouflaged supply depot or a plant which makes equipment vital to an enemy.

The Kaiserslautern unit has the responsibility of supplying the 7th Army with aerial information. The outfit is commanded by Maj. Ross H. Calvert, Jr. Its 150 technicians must reproduce, interpret and distribute all Air Force aerial photographs for tactical use by units of the 7th Army.

Air photo missions are flown by 12th Air Force reconnaissance planes. However, Army ground liaison officer teams (GLO), which are assigned with the Air Force, receive the developed negatives and rush them to Calvert's outfit.

In actual combat, the GLO would stand by while the films were being developed, prepared to scan the wet negatives and then speedily relay the "hot target" information to Army G2.

When the 7th Army Recon Co. receives the negatives, personnel examine them in mobile vans. Then they are printed and plotted to pinpoint the area covered and finally interpreted by the specialists to whom photographs are an open book.

"A good photograph," said Sp3 Roger L. Marohn, "will show about everything but the inside of a building. We get so much information from them that it doesn't seem legal."

Photo interpretation teams must be so highly trained that - to quote Sp2 Hoke S. Garrett - "we can generally decide the weight capacity of a bridge just by looking at a picture of it."

The teams study the aerial photographs for tactcial targets, troop movements and vehicle convoys, enemy emplacements, camouflaged positions and layout of the terrain. And they also consider strategic targets such as ports and industrial concentrations. A faint shadow, a dim line, may contain a clue to vital intelligence information.

A foxhole looks pretty small when a picture of it is taken from a plane two miles up. Yet troop concentrations can be determined just by counting foxholes in a picture. A pinpoint automatic counter is used for this purpose. Almost no enemy secret is safe from the photo technicians once they focus their attention upon a good photograph.

The company goes into the field whenever the 7th Army does. It is completely mobile. Whether on alert or maneuvers the darkrooms and photo interpretation vans roll quickly out of their permanent base at Kaiserslautern, taking with them all smaller vehicles and equipment essential to independent operation.

Calvert, describing the functions of his organization, said:

"Our job is to get the report to G2 before the target gets cold. To do this we sometimes must have the photos developed, printed and interpreted before the jets of the airplane that flew the mission get cold."
---
(Source: STARS & STRIPES)
Photos Tell Sgt the Story

Most people read books, but MSgt Harry W. Griffin reads pictures. And they tell him quite a story.

A member of the 7th Army Air Reconnaissance Co. stationed here (Kaiserslautern), Griffin studies pictures as part of his job of interpreting aerial photos. The other part of his job is training others to read the messages that aerial photos have to tell.

Griffin has spent most of his time in the service poring over photographs, analyzing them and making reports on what information they have to tell him.

During the early days of World War II Griffin was assigned to the photo-interpreting unit at Camp Ritchie, Md. That was when the Army was learning how photographs of enemy-held territory could save American lives if some one could interpret them.

The World War II Army Air Corps could and did take pictures of enemy-held areas. But it was up to some one like Griffin to study them, to find the location of enemy positions, weapons, troops, and enemy transportation and communication facilities.

Other Duties
Now busy studying photos here, Griffin devotes most of his time to training a new crop of photo interpreters as he passes along the skills he accumulated during World War II and Korea.

Skill as a photo interpreter doesn't come easily, Griffin's pupils point out. Senior noncommissioned officers in this relatively new field have to start their trainees from scratch.

They need a basic education in photography, but that's only a beginning. They need to know conventional military signs and symbols, and they need to be able to recognize enemy equipment and formations from a photograph.

Experience, Judgement
Experenced judgement plus special tools of the trade allow these photo interpreters to make a close calculation on the weight capacity of a bridge and what it would take to blow it up.

From stacks of photographs taken from the cameras of speedy Air Force planes the interpreter in his mobile van makes a map overlay, piecing together photographs until he has a complete picture of the area under study.

He examines the photographs almost microscopically for every scrap of information, and then prepres a clear report for his superiors on what he saw and where it was.

But Griffin's job in combat is not just looking at the enemy. Another important task is studying photos of friendly areas to make sure that American positions are camouflaged properly against the enemy's cameras.
---
| | | | |
| --- | --- | --- | --- |
| | These pictures are all from Operation Sabre Hawk which took place in February of 1958. Our unit actually left the comfort of the billets on Kapaun Barracks and ventured across the border to an Air Force Base near Nancy, France | | |
| 1. Sp3 Clyde Ninomiya | 2. "Get a horse" | 3. French village | |
| 4. Chatting with the locals | 5. Deuce and a half | 6. Vans parked at Nancy | |
| 7. Arriving at Nancy | 8. Inside a van | 9. Ben Young | |
---
(Source: STARS & STRIPES, July 26, 1958)
The 7th Army Air Recon Co is located in Kaiserslautern. CO is Lt Col Herman A. Ruff. The company is comprised of 23 officers, 1 warrant officer, and 140 enlisted men. (About 80 of the soldiers are photo interpreters.) The company also operates three L-19 airplanes from Air Force air bases (probably where the Air Force recon squadrons are located). They are used to deliver finished photographs and PI reports to tactical unit commanders.

The results of the photo interpretations performed by the company serve as a vital source of intelligence for the 7th Army -- the (peacetime) mission of the unit includes route reconnaissance, survey of maneuver and bivouac areas, investigation of bridges and their approaches, and surveys of possible river crossing sites.

Ground liaison officers are assigned to the Air Force recon squadrons. When they receive a survey mission from an Army tactical unit (such as a division or corps) they brief the pilots who will make the flight. (The briefing will include information on the target area and what the Army unit is looking for.) The AF recon plane then takes vertical and oblique shots of the target area during its fly over. Upon its return to the air base, the film is developed and the pilot de-briefed by the ground liaison officer. Once developed, the film is turned over to the photo interpretation teams of the 7th Army Air Recon Co.

Depending on the level of urgency, the film can be placed on a light table for direct interpretation or prints can be made for study under stereoscopes. The stereoscope provides a 3-D effect and makes the terrain stand out in relief. The Reproduction Section of the company can develop and print as many copies as the Army unit needs.

The company generates immediate reports that are primarily based on the intelligence collected during the de-briefing performed by the ground liaison officers. The reports are sent over a special radio net called the "Reccy-Glo" net.

Besides receiving much of their training "on the job," most of the photo interpreters are graduates of the Photo Interpretation Division, US Army Intelligence School (Fort Holabird, Md.) or of the USAREUR Intelligence School in Oberammergau.

The reproduction men come from the Signal Corps School at Fort Monmouth, N.J.
---
(Source: 7th Army Air Reconnaissance Support Company Briefing, 1959)

Briefing handout

Welcome to the Seventh United States Army Air Reconnaissance Support Company. During your brief visit we will introduce and present a brief orientation on US Army Signal equipment which is designed to reproduce in quality and quantity, the aerial photos required by Seventh Army units.

The semi-trailer van, ES-22, with organic equipment is being manufactured in limited quantity and at present only two (2) are in this theatre, both in this organization. The ES-22 compares most favorable with existing equipment and has a capability which will far exceed any like equipment in the theatre.

The Fort Monmouth Instructor Team, composed of seven (7) enlisted men, all specialized, will introduce and explain the operation of this equipment. Should any of you have any questions you are encouraged to direct them to the instructor concerned.

DESCRIPTION OF EQUIPMENT

Photographic Laboratory, Semi-trailer Mounted ES-22 is a complete unit containing the necessary facilities for rapidly processing prints from previously developed 9½" aerial film at the rate of approximately 8,000 9" x 18" or 9" x 9" contact prints per eight hour day. It is designed for field use under all climatic conditions from -68 degrees to 125 degrees fahrenheit. It may be transported by truck, plane, or ship.

The laboratory is divided into three compartments separated by light-tight doors. The forward compartment (utility room) is used for storage of heaters, air conditioners, water storage, etc. The center compartment has the necessary equipment for viewing negatives, cutting and sorting the finished prints. The rear compartment contains necessary equipment for the printing and processing of prints.

The water supply system consists of a 50 gallon hot water tank with the necessary tubing, valves and pumps to circulate the water through the system. Fresh water may be pumped into the laboratory through a 50 foot length of hose from a suitable stream or other source. The system is designed to use a minimum amount of water by applying stabilization processing.

The major components of the ES-22 are:


a. Semi-trailer, Van V-79/G, 10 ton.


b. 30 KW Diesel Power Generator on trailer, 1½ ton.


c. Processing Machine, Photographic Paper, EH-26.


d. Printer, Photographic, Contact, USAF Type, D1~A.


e. Printer, Contact, Continuous, USAF Type, C-1B.


f. Gasoline Space and Water Heaters.


g. Three (3) 1½ ton Capacity Air Conditioners.


h. Semi-automatic Paper Chopper, USAF Type, FM-6,


i. Table, Plotting, USAF Type, A-7.
| | | | |
| --- | --- | --- | --- |
| | For descriptions of the equipment, see comments below. | | |
| 1. V-79/G semi-trailer | 2. Type D1-A Printer | 3. Type C1-B printer | |
| 4. Paper processor | 5. Replenisher | 6. Photographic paper chopper | |
| 7. Utility room | | | |
Photo #1 -- Semi-trailer, Van V-79/G, 10 ton w/generator
Recommended crew:


1 Crew Chief


2 Operators


1 Assistant Operator


1 Maintenance Man


1 Generator Operator
(2 of the above are drivers)

Photo #2 -- Printer, Photographic, Contact USAF Type D1-A
The printer, photographic, contact USAF type D1-A is a semi-portable, continuous-multiple operation unit for the production of 9" x 9" or 9" x 18" prints on bromide printing paper. From processed roll film 9½" x 500 ft. The number of prints per cycle is one (1) to twenty-five (25) and this can be adjustable for any number prints desired per negative, Film and paper travel from left to right and paper frame or photo is adjustable in inches from 8" to 20" lengths. Paper width is 9½" and 9

".

Printer is equipped with printer counter assembly and can be reset for counting purposes. Four consecutive negatives can be readied for printing prior to "Printing" of first negative by "Setting up" on the dodging control panel. Approximate operating weight of machine is 650 lbs. Printer is used on 115 volt, 60 cycle, single phase and alternating current. Printer is manufactured by Morse Instrument Company, Hudson, Ohio
Photo #3 -- Continuous Contact Printer, Type C1-B
The type C1-B continuous contact printer is designed to print 70mm to 9½" wide aerial photographic negatives on to positive paper or film by means of the photographic process. This printer is designed to print good quality aerial photographs, for photo interpretation and for examining the quality of prints produced by the negatives on a roll of aerial film. Photographic printing process is briefly a method of exposing a postive print from a photographic negative. In this contact printer, the negative is held directly against the postive paper by a continuous method. That is the negative or the postive do not start and stop during the process printing. They are rolled together, causing a continuous print. The printer is composed of the following major components:


a. Case cover and table.


b. Side shelf and drawer.


c. Shelf support.


d. Cine cord.


e. Film adaqters.


f. Paper flanges.


g. Printer and case base.
The complete unit packed weights approximately 140 lbs. The printer can print 390 ft of aerial negative, and 500 ft spool of positive paper. The printer is operated on 110 volt alternating current-semi-portable and manufactured by Consolidated Photo Engraverz and Lithographers Equipment Company, Inc., Chicago, Illinois.

Photo #4 -- Processor (EH-26)
The paper processing machine was designed in accordance with the stabilization process. In addition, this equipment is capable of utilizing the Navy rapid developer #25 and the Navy rapid stabilizer #2 which are modifications of formula used in the Eastman Kodak Company stabilization process.
The paper processing machine was designed to process rapidly and continuously 9½" or 9

" water resistant paper in rolls up to 1000 ft, at speeds ranging from 5 to 50 ft per minute. The operating speed is determined by the processing chemistry involved. The speed at which the processor machine is run using the Signal Corps stabilization process, is 22 ft per minute. At this speed, each print is allowed to stay in each tank 8 seconds. The processing machine is composed of four (4) tanks, each containing 6 gallons. It has a paper transport system, electrically heated drying drum, pumps for filling the tanks and to circulate the solutions. There are three (3) flow-meters which govern the flow of solutions from the replenisher in gallons per hours. There are master flow valves which govern flow and counter-flow between the tanks. The machine has a tachometer which governs the speed of the paper which moves from the supply spool, into each tank and is taken up on the paper takeup spool. The replenishment rate of each tank is 18 gallons per hour for the Developer, 18 gallons per hour for the Short Stop, and 24 gallons per hour for the stabilizer. The reason for the difference in replenishment of the stabilizer and the other tanks is that one flow-meter governs both the stabilizer tanks in the processor. For cleaning this equipment, each processor tank is easily removed with self seating gromets. The rate of replenishment is 18 gallons per hour of Developer, 18 gallons per hour of Short Stop, 24 gallons per hour of Stabilization for a total of 60 gallons per hour of chem mix resulting in a 8 hour requirement of 480 gallons of chem mix at 22 feet per minute. The processor processes 1320 ft per hour, an 10,560 ft per 8 hour period.

Photo #5 -- Replenisher (EH-26)
The replenisher tanks are used to store and mix the chemicals used in the Stabilization Process. Each tank holds 50 gallons, and each-tank is equipped with a heavy duty mixer with measurements on the shafts. Each notch measures 10 gallons. In the Developer tank, Short Stop and Stabilizer tanks, there are submergion type heaters which are thermostatically controlled. The reason there is no heater in the fourth tank is that this tank is used to accurately measure the water to be used in the other three tanks. In the fourth tank on the back right, there are permanently welded notches which measure 90 gallons each. Attached to this fourth tank is an Echo pump to transfer the water to the other three tanks. At the bottom of each tank, there are two (2) valves. The larger of the two (2) valves is used to drain each tank. Also on the first, second and third tank, there is a smaller valve which is used to transfer the solutions to the Processor thru three (3) Neoprene tubes which run between the Replenisher and the processor. These solutions are pulled over by means of pumps located in the processor. There are four (4) indicators located on the wall behind the replenisher which allow the operator to know the temperature of the solutions in each of the replenisher tanks. Temperature must be maintained at 100 degrees fahrenheit for best results with chemicals.
Photo #6 -- Photographic Paper Chopper, Model # 2, Vectron
The photographic paper chopper, model # 2 serves to out off the individual photographic prints from a continuous strip roll of processed phatographic paper material 9½" wide x 1000 ft in length. (This is fed through the chopper.) The chopper is an integral component of the automatic processing machine, rapid, continuous and electro-mechanical, and a semi-automatic, self contained and manually controlled which serves to chop off prints from 9½" to 18½" in length. It is suited for use on 115 volts (+ or - 10 volts) single phase 60 or 50 cycles, alternating current. The components of the model # 2 chopper are:


a. Chopper assembly.


b. Control panel.


c. Electronic chassis.


d. Photo-electric unit.


e. Motor and gear head (ratiomotor) drive
The photographic paper chopper, model # 2, is manufactured by Vectron of Massachusetts.

Photo #7 -- Utility Room
The utility room houses a 50 gallon hot water tank, 100 gallon cold water tank and other miscellaneous items.


---
2nd Military Intelligence Battalion (Aerial Exploitation)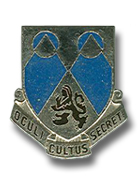 2nd MI Battalion (AE) DI
1968
(Source: Email from Ken Whitehorn)
I saw the information from Jim Plante (below) and thought I would add what I could to the story.

I arrived at the 8th MI Detachment of 2nd MI Battalion at the end of Jul 1968 from Vietnam. We were attached to the 8th Infantry Division (Airborne) at Rose Barracks in Bad Kreuznach, Rheinland-Pfalz, Germany.

The Commanding Officer when I arrived was Lt Jack J. Frezzolini. Later that year he was transferred to the 66th MI Group in München, Bayern, Germany. If my memory serves me, he was replaced by Captain John H. Black.

Other names I recall are: SFC Vincent Antelmi, SP5 James Beard, SFC Theodor Beck, SSG Robert Beisswanger, SSG Alvin Coombs, 2LT Robert Daniel, 1LT Robert DiJulio, 1LT William Fisher, 1LT Harry Gowens, Dennis Harline, SP5 Melvin Holt, SP5 Gary Nolan, SFC Henry Otten, SSG Edmond Roberge, 1LT Marvin Roberts, SP5 Jacob Sussle, MSG Pedro Torres, 1LT Tony Vella, and SFC Alvin Winslow.

In Feb 1969 I was re-assigned to Detachment D of the 2nd MI Battalion in Upper Heyford England with LTC Norman R. House as Commanding Officer. I recall SP4 Jim Plante and 2LT Larry White. Some of the other names I recall from my time at Upper Heyford are: SSG Ashby, SFC Robert Bergstrom, SP4 Billareal, SP4 Boucha, SP5 John Doriety, SP4 Ray Kenyon, SFC John Lawson, SP4 Earl Rivard, SFC Alexander Salsgiver, SP5 William Smart, and MAJ John Ullrich.


I remember the 17th TRS having RF4 Phantoms before I left in October 1969. I found a reference that bears this out (
http://www.raf-upper-heyford.org/17th_TRS.html
).
I also remember seeing the BOAC Concorde SST at the June 1969 NATO Airshow at Upper Heyford.
---
1969
(Source: Email from Jim Plante)
I arrived at Frankfurt, Germany from Fort Jackson, SC 9 July of 1969, and was sent to 66th MI Group in Munich 17 July, 1969. I have an NCO club card from McGraw, Kaserne, however, Von Steuben Hall seems to be in my memory.

Around 29 July, 1969 I arrived at HHC 2nd MI Bn (ARS) Kaiserslautern commanded by Maj. Crider, Terence and later by July, 1971, by LTC Galli. I am nearly certain the location was at the Kapaun Barracks, Bldg #2772 is on a set of orders to report to. The HHC 2nd Mi Bn was under control of the 66th MI Group.

From there I was sent to Det D 2nd MI BN (ARS), RAF Upper Heyford, England 31 July 1969 commanded by 2nd Lt White, Larry D. On my orders there is another 2nd Mi Bn Det C at RAF Alconbury, England. We also wore the 7th Army shoulder patch. Shortly after being assigned to the 2nd MI the new subdued patch was issued for the work uniform (black and OD, while full color remained worn on class A's)

At Det D we worked with the USAF 17th TAC RECON SQ flying the VooDoo 101's. I remained at RAF Upper Heyford, England with Det D 2nd Mi Bn (ARS) until 19 December 1969 just short of 6 months. At that time the whole unit "DET D" was moved along with the USAF 17th TAC RECON SQ to Zweibucken AFB, Germany. The base was located right on the old Siegfried Line. There are blown up bunkers in farm fields all around the base. Shortly after the move we got a new commander Maj. Crider, Terence

We were some of the first units to re-occupy the Zweibrucken AB after the Canadians vacated it. The base was a mess and in dire need of numerous repairs. Shortly after the move to Germany the USAF 17th TAC Recon SQ replaced there aircraft with Phantom F4C's. By the end of Dec Maj. Korf, Calvin became CO of DET D.

There was also a Det B 2nd MI Bn but I am not sure of its location. It seems to me it was at Wiesbaden, Germany. The 2nd MI had something at Sembach also.

I remained with DET D 2nd MI BN in Zweibrucken, Germany for just short of 2 years. It was a very interesting unit to be part of and hard to leave. Those that were familiar with the AB -- our barrack's location was the last set of buildings closest to the Water tower right of the old gate entering to the Base, the chapels on the other end long the fence line.

When I arrived at the Zweibrucken AB, no concrete aircraft revetments were on the AB. By time I rotated out to go back to the states construction was at full swing, several were done and in use.

The USAF along with our Detachment went on alert once every month and a half sometimes more often depending on NATO maneuvers or Soviet movement along the East, West German border.

At full strength the Detachments were only at about 40 men, no women during this time period. DET D primarily did image interpretation, we had our own photo lab run by SSGT Ashby and SP4 Johnson. We sent all info gathered from the photo's to HHC 2nd MI BN by decoding machine ( can not remember its nomenclature ) and from there it was transferred to the 66 MI Group. On all our vehicles the bumpers were marked 7A2MI with the number of the jeep or truck beginning with D for detachment; D4, D5, D7 etc.

It was sad to hear Zweibrucken AB closed on 22 July 1993 followed by Kreuzberg Kaserne 16 Sep 1993 on the other side of the City of Zweibrucken. Many great memories of places where the 2nd MI took me.
---
(Source: Email from Alan Wilgus)
I was in Germany from May 1969 until June 1970 at which time my tour was curtailed to attend Infantry OCS at Fort Benning.

To add to Jim Plante's email (above), the B Detachment was stationed at Ramstein AB.

Our TIFFs were clustered on the flight line and photo missions were flown by Air Force RF4Cs.

I was assigned there after a 12 month tour with the II Section, 55th MI Detachment supporting 1st Field Force in Nha Trang, Vietnam.

The B Detachment commander in Ramstein was Major Ernie Easom.
---
---
(Source: Email from Carroll Perkes)
I was assigned to the 2nd MI Bn in November of 1969. It was located in what I thought to be the Volgelweh Barracks in Kaiserslautern, Germany. The 2nd MI Bn was part of the 66th MI Gp, headquartered in Munich, Germany.

I was thereafter assigned to Det C, 2nd MI BN located in Huntingdon, England on the RAF Alconbury AB. This was an F4F phantom fighter tagged with a Photo recon mission commanded by AF Col Ralph Findley.

Det C had about 40 enlisted and Officers at full strength and was there in support of the AF in England.

There was also a detachment at Upper Heyford Air Base and one other in England, but I don't remember where.

In 1970 I was reassigned to the HHC which was located in the Bn building in Vogelweh barracks back in Kaiserslautern, Germany. I served at this post until Dec of 1971.

In trying to find history of the 2nd MI Bn online I found very little and everything said that the unit was not even active in the years I served with it. I was glad to find this site and wanted to give a little more history for anyone who might be looking.
---
1977
(Source: George "Pat" Riggs)
I served in Germany from 1977 to 1983 in HHC, 2nd MI Bn, Sergeant RATT Squad. First at Muenchweiler and then in Pirmasens.

I have found a couple of pictures from the planes used by 2nd MI, they are old but viewable. You may post to include some additional pictures in the information provided of 2nd MIBARS. These pictures are circa 1981.

Thank you! Great job with all the information compiled.
| | | | |
| --- | --- | --- | --- |
| 1. RU-21, 2nd MI Bn | 2. Phantom F-4, 26th TRW | | |
---
1978
(Source: George "Pat" Riggs)
I was assigned to the 2d MI Bn (Aerial Exploitation) from 1978-1982. The unit was basically a Corps-level unit that was operating as an Echelons Above Corps (EAC) role as it was the only unit in USAREUR with aerial exploitation assets. The 2d MI was assigned to the 66th MI Group (Intelligence & Security) (Provisional), an INSCOM unit. To further complicate things, we wore the 7th Army left shoulder patch, which the rest of the 66th wore the INSCOM patch. And, in the event of war, we chopped to CENTAG. A nice, clean chain of command…
It appears that the 2d MI could trace its lineage back to the Seventh Army Reconnaissance Support Company that was originally stationed at Kapaun Barracks in Kaiserslautern. When Kapaun Barracks was transferred to the Air Force during Operation Creek Swap in the mid 1970's, I believe the unit was temporarily moved to the Muenchweiler Army Hospital, just east of Pirmasens. (There was probably some violation of the Geneva Convention to have an MI unit in a hospital, which I think wasn't active but a contingency hospital, but I don't know the particulars of that…) Somewhere along the way the battalion was re-designated to be the 2 nd MI Bn (Aerial Reconnaissance and Surveillance) or 2nd MIBARS. In 1976 or 1977 towards the end of my first tour in Germany, I interviewed with then-LTC Ted Cummings, the Battalion Commander, regarding branch transferring from ADA to MI. We met in the BN HQ at Muenchweiler.
In the spring of 1978 2d MI had an HHC, and three companies. The Battalion HQ and HHC had moved from Muenchweiler to Husterhoeh Kaserne in Pirmasens and was located in Building 4607 (I think) on the east side of the kaserne. The three companies were the 73rd Combat Intelligence Company (Aerial Surveillance), the 330th Electronic Warfare Aviation Company (Forward) and the Combat Intelligence Company (Imagery Interpretation).
The 73rd Combat Intelligence Company (Aerial Surveillance) was located at Stuttgart Army Airfield and shared runways with the Stuttgart civilian airport. They flew two variants of the Mohawk, the OV-1D and RV-1D. The OV-1D was equipped with various aerial camera systems taking both panchromatic and infra-red imagery. Additionally, it had the APPS-94 Side-Looking Airborne Radar (SLAR) system. The RV-1D was an Electronic Intelligence (ELINT) collector. Both the OV-1D and RV-1D flew Peacetime Aerial Reconnaissance Program (PARPRO) missions on the East German and Czech borders. The OV-1D missions were called "Lard Can" and the RV-1D's missions were called "Carrot Rock" (I think). The 73d was commanded by a Major and had at about 300 soldiers assigned to it. It was a challenging command, flying time-sensitive PARPRO missions, exercise support for things like REFORGER, and providing aerial surveillance for a theater versus a single Corps AO.
The 330th Electronic Warfare Aviation Company (Forward) was located in multiple sites, which made command and control for the Company Commander a real challenge. The flight line was at Ramstein Air Base on the south side of the runway. The barracks for the 330th were at Kleber Kaserne in Kaiserslautern. Finally, the Integrated Processing Facility (IPF), where the data from the company's aircraft was downlinked for processing and analysis, was located at Gruenstadt, overlooking the Rhine Valley in an old Matador SSM site. The 330th's commander spent a lot of time on the autobahn between Ramstein, Kaiserslautern and Gruenstadt… When I first arrived the 330th was flying RU-21 GUARDRAIL IIA aircraft (I think). Like the 73rd the 330 th flew a theater-level mission. Data from the aircraft was downlinked directly or via a second RU-21 to the IPF, where it was analyzed and distributed via terrestrial communications or uplinked back to the RU-21 for downlinks to Tactical Commanders' Terminal (TCT) that were located with MI units in both V and VII Corps, as well with British forces in Northern Germany. This allowed the 330th to provide almost real-time COMINT data to supported units. The 330th was a large unit, also commanded by a Major.
In 1978 we upgraded aircraft and sensors in both the 330th and the 73rd. The 330th went to GUARDRAIL V, which was a significantly improved airframe and collection capability. The 73rd received the OV-1D and RV-1D Mohawks with the APPS-94F SLAR and improved ELINT capability for the RV-1D. (The RV-1D was the only ELINT collector in theater that could collect and geolocate the GUN DISH radar in the Russian's ZSU-23 AAA system – knowledge the Corps' aviation units were very happy to have…) When the upgrade was complete, a combined PARPRO mission was flown on the East German border. The Russian response to these new sensors was "interesting" to say the least. We located lots of new Warsaw Pact elements who responded to these new sensors…
The CBTI Co (II) was basically the old 2d MIBARS. There were four platoons and a company headquarters. (At one time the unit had a Delivery Platoon of U-21 aircraft for aerial delivery of photo reconnaissance products, but it stood down in 1979-80.) Two of the platoons and the company HQ were located at Zweibruecken Air Base with the USAFE 26th TRW and its two squadrons, the 38th TRS and the 17th TRS. (The 17th stood down in the late 1970's). Another platoon was co-located with USAFE's 497th Reconnaissance Technical Group at Schierstein (near Wiesbaden), also known as the European Special Activity Facility (ESAF) where they supported CREEK MISTY missions flying the Berlin Corridors, as well as national imagery exploitation. The final platoon was located at RAF Alconbury, UK and supported the 10th Reconnaissance Wing.
Command and control for the CBTI Co (II) was a real challenge as the Platoon Commander (not Platoon Leader – Platoon Commander with UCMJ authority…) at ESAF was not rated by either the Company Commander or 2d MI Bn Commander. He was rated by the ESAF Commander (USAF 0-6) and senior rated by either the 66th MI Gp Commander or the USAREUR DCSINT. Lots of challenges there… The Platoon Commander at RAF Alconbury was rated by the CBTI Co (II) Commander, but due to the geographic separation from the rest of the company, he had UCMJ authority as well. I commanded the CBTI Co (II) from June of 1981 until October, 1982.
This was a period when tactical reconnaissance was robust in USAFE. Zweibruecken AB was experimenting with data-linked side-looking airborne radar (SLAR), allowing for real-time exploitation of data in support of NATO forces using a variety of soft-copy systems such as Goodyear's ABLE and Texas Instrument's TIPI/MAGIIC/MAGIS. Reconnaissance Exploitation Reports (RECCEXREPs) could be generated much faster and push out to supported units.
2d MI also ran a unique intelligence support system for CENTAG and NORTHAG called the Tactical Aerial Reconnaissance Results Reporting System (TARRRS). TARRRS was activated for major exercises and consisted of landline links between different NATO recce elements and 2d MI HQ. A high-frequency radio-teletype (HF RATT) was the backup capability, but this was very slow and not too reliable. For exercises such as REFORGER, WINTEX, ABLE ARCHER and others, German, Belgium and occasionally French communications elements would converge at Husterhoeh Kaserne. RECCEXREPS from Zweibrucken, Alconbury, Stuttgart, and other NATO elements such as the French base near Strasbourg, would come in to 2d MI and then be pushed out to supporting units such as HQ CENTAG, V Corps, VII Corps, etc. As an example, a 38th TRS RECCEXREP supporting a German Corps could come from Zweibrucken to Pirmasens to the TARRRS Comm Center where it was routed to the German comms element deployed to Husterhoeh and then pushed to the German Corps. The TARRRS was an excellent example of multi-national use of intelligence assets. Even the French would occasionally participate in the TARRRS.
By 1982 there was a push to provide both V and VII Corps with their own Aerial Exploitation capability. Additional Mohawk and GUARDRAIL assets were deployed in theater, and the 1st MI Bn (AE) was activated. (For details on this see the USAREUR Historian Web Page…) The CBTI Co (II) didn't fit into the aerial exploitation TOE, so a decision was made to move it under the 502d MI Bn and 66 th MI Group. Each of the 4 platoon received new, separate numerical designations (the 581st, 582nd, 583rd and 584th MI Detachments) and reported directly to the 502nd, which had previously been a pure SIGINT unit.
During the 1978-82 period the 2d MI Bn (AE) performed in a mission that it was not originally envisioned for, but did it in an amazing manner. It fielded state-of-the-art aerial reconnaissance and surveillance systems in the 73rd and 330th with minimal assistance from HQ USAREUR and the 66th MI. The 73rd and 330th continually flew PARPRO missions from the North Sea to the southeastern corner of Germany. The CBTI Co (II) fielded the Army's first Mobile Army Ground Imagery Interpretation Center (MAGIIC). It flew Delivery Platoon Missions throughout Germany, the UK, Berlin, Italy and Spain. Finally, the 330th played a key role in the search for and release of then-BG Dozier when he was kidnapped in Italy by the Red Brigade. This was a huge battalion, somewhere in the neighborhood of 800-1000 soldiers scattered throughout Germany and the UK. It had superb leadership in LTC Gary Moore and his successor, LTC Jim Kollar. One General Officer and a disproportionate number of Colonels served as Captains and Majors in this Battalion. It truly was an outstanding unit that performed some very difficult missions in the height of the Cold War.

ADDITIONAL INFORMATION
Let me add a little info to follow on Jim Plante's email (above) on 2nd MI Battalion.
In 1978-82, Company structure was as follows:
Platoon A - Located with the USAF 497th Reconnaissance Technical Group (RTG) at Schierstein Compound in Wiesbaden. They did imagery exploitation of theater-level platforms such as CREEK MISTY and "National Systems."
Platoon B - Located at Zweibrücken Air Base with the 38th Tactical Reconnaissance Squadron, 26th Tactical Reconnaissance Wing. The 38th flew the RF-4 with photo, IR and side-looking airborne radar (SLAR). The RF-4 also had an ELINT package called TEREC (tactical electronic reconnaissance), but we didn't work that product.
Platoon C - Located at RAF Alconbury with the 10th Tactical Reconnaissance Wing (I think). Their RF-4s had photo and IR systems, but no SLAR.
Platoon D - Also located at Zweibrücken Air Base with the 17th Tactical Reconnaissance Squadron. Their RF-4s had photo and IR systems, but no SLAR. When the 17th TRS de-activated, we combined the Platoons B & D to work the 38th's mission.
Total for all of these folks was about 200 soldiers. As you can imagine, command and control was a challenge, to put it mildly even if the Platoon A Commander didn't work for me. Because of geographical separation we designated both Platoon A and Platoon C as commanders, to allow for them to handle UCMJ issues, etc.
This was how the unit was structured until right when I turned over command to CPT Marilyn Crawford in October 1982. The Company then split into 3 separate Detachments, with the 581st MI Detachment (Image Interpretation) remaining at Zweibrücken Air Base, the 582nd at Schierstein, and the 583rd at RAF Alconbury. The Detachments fell under the 502d MI Battalion at Augsburg, which kept them in the 66th MI Group chain of command while the remainder of the 2d MI BN (AE) moved under VII Corps.

ADDITIONAL INFORMATION #2
2d MI BN (ARS) had been in K-town at Kapaun Barracks.

As part of Operation Creek Swap (HQ USAFE moving from Wiesbaden to Ramstein and taking over K-town in the mid-1970's) the AF picked up Kapaun Barracks. So 2d MI BN (ARS) moved to USAH Muenchweiler.

Sometime before January 1978 2d MI moved to Husterhoeh. I showed up in early 1978 at the Battalion HQ was in 4607.

The battalion had added the 73rd CBTI CO (AS) and 330th EW AVN CO (FWD) by then and was called 2d MI BN (AE).


---
Related Links