If you do NOT see the Table of Contents frame to the left of this page, then
Click here to open 'USArmyGermany' frameset
2nd Region, USACIDC
US Army Criminal Investigation Command
Looking for more information from military/civilian personnel assigned to or associated with the U.S. Army in Germany from 1945 to 1989. If you have any stories or thoughts on the subject, please contact me

.
---
---
14th MP Detachment (CI)
1959
(Source: HQ USAREUR HQ CENTAG & NACom Tel Dir, 25 July 1959)
Sub-Detachments:


Aschaffenburg



Bad Kissingen (Daley Bks)



Bamberg (Warner Bks)



Kitzingen



Schweinfurt



Wildflecken (Camp Wildflecken)



Wuerzburg (River Bldg)
---
52nd MP Detachment (CI)
1950
(Source: Email from James Fitzpatrck, son of Ed Fitzpatrick who served with the CID in Regensburg and then Stuttgart, 1948-52
My Dad was stationed at Regensburg at the time of my birth in 1948. He was then very briefly stationed (for several months) in Frankfurt before being assigned to Stuttgart. I do not know when we made the move to Stuttgart but it was probably no later than 1950.



In the early post-war years there was no training for CID agents. My Dad was the Personnel Sgt. for another unit and a CID agent knew him and they needed a personnel guy for the CID in Regensburg. They made him a CID agent/detective and gave him a case to solve his first day. There was a night-time robbery of a US warehouse and the robbers took big bags of coffee beans in a truck. My Dad had no clue what to do but walked around the perimeter of the warehouse and happened to spot a coffee bean on the street. There was a hole in one of the bags, so he just followed the trail of coffee beans and made the arrest. He liked to tell that story. He said that there were some pretty sorry detectives in the early days.

Webmaster note: The 52nd CID was stationed in Frankfurt in the late 1940s, early 1950s. Can anyone provide details on the unit from that period?
| | | | |
| --- | --- | --- | --- |
| 1. Palmgarten, Frankfurt | 2. Java Junction | | |
---
1959
(Source: HQ USAREUR HQ CENTAG & NACom Tel Dir, 25 July 1959)
Sub-Detachments:


Bad Nauheim



Darmstadt



Frankfurt



Fulda



Giessen



Hanau



Hersfeld



Kassel
---
1966
1965
(Source: Email from James Fitzpatrck, son of Ed Fitzpatrick who served with the CID in Regensburg and then Stuttgart, 1948-52
My Dad would return to Germany for a second tour in 1965 and would be serve as a W-4 as Chief of the CID branch in Stuttgart. I graduated from high school at Ludwigsburg American High School in 1966.

Photo #2 is of the 52nd CID in Stuttgart circa 1965-1966. By this time my Dad was a CWO-4 and the Chief. He is in the center. To his left is Bob Melody. The occasion was a party for Bob going stateside. The only other ones that I remember by name is John Guthridge who is the heavier man on the far left. His son was the same age and we went to high school together. The man on the far right who is crouched with a crew cut was James Dean.

Webmaster note: The 52nd CID was stationed in Frankfurt in the mid-1960s. Can anyone provide details on the unit from that period?
| | | | |
| --- | --- | --- | --- |
| 1. Section of the 15th MP Bde? | 2. Stuttgart Field Office | | |
---
480th MP Detachment (CI)
1959
(Source: HQ USAREUR HQ CENTAG & NACom Tel Dir, 25 July 1959)
Sub-Detachments:


Bad Kreuznach



Baumholder



Kaiserslautern



Mainz



Pirmasens
---
481st MP Detachment (CI)
1959
(Source: HQ USAREUR HQ CENTAG & NACom Tel Dir, 25 July 1959)
Sub-Detachments:


Heidelberg



Karlsruhe



Mannheim
---
9th MP Group (CI)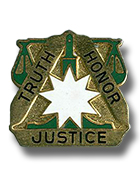 9th Military Police Group crest
(Source: Email from Dick Burch)
History of the 9th Military Police Group (Criminal Investigation)

On 15 May 1969, the 9th MP Group (CI) was activated as a subordinate unit of the 15th MP Brigade. It was the first Criminal Investigation Group to be activated in Europe since World War II.

The 9th MP Group was formed upon deactivation of the eight non-divisional CI detachments in Europe:
| | | |
| --- | --- | --- |
| UNIT DESIGNATION | LOCATION | COMMENTS |
| 6th MP Det (CI) | Heidelberg | |
| 11th MP Det (CI) | Berlin | |
| 13th MP Det (CI) | Fürth | |
| 15th MP Det (CI) | Worms | |
| 37th MP Det (CI) | Frankfurt | |
| 52nd MP Det (CI) | Mannheim | |
| 480th MP Det (CI) | Kaiserslautern | |
| 481st MP Det (CI) | Mannheim | |
and led to the consolidation of the various CI detachments in Europe, previously under various subordinate commands of USAREUR-7th Army, under one Headquarters.

The reason for consolidation was to provide central direction to the CID effort, and to thereby achieve greater economy in personnel, standardization in CID procedures, and grater flexibility to respond rapidly to specific requirements anywhere in Europe.

At first, the new Group organization was only a paper transfer. The detachments and field offices remained in the same locations with the same missions. But in the summer and fall of 1969, the 9th undertook an internal reorganization to equalize the CI work load and resources among the detachments. In the re-organization, completed in January 1970, portions of the investigative areas of responsibility of Detachments C and D were assigned to Detachments E and G.

According to the new unit history, the missions of the Detachments were as follows:
Detachment A:

Located Heidelberg, provided criminal investigative support to all U.S. Armed Forces and NATO investigative agencies located in Europe, Africa, and the Middle East to Pakistan. Detachment A, conducted investigations, which had been directed by the Provost Marshal, USAREUR and Seventh Army, without regards to specific area of responsibility. These specific investigations include the international traffic in drugs and narcotics, and other problems of special concern to the Commander –in – Chief, USAREUR.

Detachment B: Located Frankfurt, provided criminal investigative laboratory support to all United States Armed Forces and other NATO investigative agencies located in Europe, Africa, and the Middle east in Pakistan. The CI Crime Lab in Frankfurt, one of only four (4) such labs in the U.S. Army, provided scientific analysis of evidence in cases under investigation by the CID.

Detachment C: Located Nurnberg, provided area support to the U.S. Forces located in the Northern Bavaria, Franconia, and Vogelsberg areas of Germany, including the U.S. Army units along the East German and Czechoslovak borders.

Detachment D: Located and headquartered Mannheim, provided area support to U.S. Forces located along the Rhine river, from Switzerland in the South to Bremerhaven on the North Sea.

Detachment E: Located and headquartered Munich, had investigative responsibility for the South Bavarian and Wuerttemberg areas of Germany, as well as the Southern European Task Force (SETAF) in Italy.

Detachment F: Headquartered West Berlin, furnished criminal investigative support to U.S. Army, Berlin, including Helmstedt, which was on the western end of the free access autobahn to Berlin.

Detachment G: Headquartered in Kaiserslautern, provided support to all U.S. Army elements in Germany west of the Rhine River and in France, England, Belgium and, Holland.



The 9th had the distinction of being the only CI Group in the U.S. Army, which operated in six foreign countries. The 40 field offices of the Group were located in Belgium, Germany, England, France, Holland and Italy.

(Source of information is from the "The Griffin", 15th MP Brigade; 5th Anniversary 15th MP Brigade, 1965-1970, Thursday, June 25,1970. Information abstracted and compiled by Richard Burch, Retired member of the MP Corps for the 15th MP Brigade web page)

---
2nd Region, US Army Criminal Investigation Comd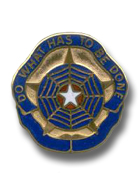 USACIDC Crest
1972
The Second Region, USACIDC, was organized in March 1972 as a provisional unit. The Region was formed from the Headquarters and Field Detachments of the 9th MP Group (Criminal Investigations) which were operating in support of U.S. Army, Europe (USAEUR) and 7th Army.

In May 1972, the Second Region was officially integrated into CID and assigned the mission of providing criminal investigative support to U.S. Army and other U.S. military and civilian law-enforcement agencies in an area extending from the North Pole to the South Pole and from the Azores to India.

The Second Region's missions included general and economic crime investigations, drug-suppression operations, protective services, crime-prevention surveys, and countering terrorism.

The Second Region inactivated on 16 September 1993 as a result of overall USAREUR force reductions (post-Cold War drawdown).
---
1984
(Source: Handbook of Federal Police and Investigative Agencuies, by Donald A. Torres, 1985)
The Second Region headquarters was located at Heidelberg.

The Region had 2 field offices, 4 district offices, 34 resident agencies, 18 branch offices, and 1 crime laboratory.

Link to online copy of The Handbook.
---
1988
(Source: STARS & STRIPES, Sept 25 1988)
Hqs 2nd Region, CIDC Europe, is located at Autobahn Kaserne, Seckenheim. The installation is located on Autobahn 656 between Heidelberg and Mannheim.

On Oct 1, the kaserne will be redesignated as Stem Kaserne. It is being named in honor of Brig Gen David H. Stem who was the commander of 2nd Region at the time of his death in 1987.

---
US Army Criminal Investigation Laboratory, Europe
(Source: Email from Eate J. Kirby)
Great article on USAREUR units of Military Police.

I spent over 24 years in the Military Police Corps. I was a Fingerprint Tecnician, spent two tours in USACIL Europe, one in an old building in city of Frankfurt at 59 Schumannstrasse (Frankfurt) and one in Betts Kaserne.

I was at the lab in Ft Gordon, Ga in Oct 1957. I also served as Officer in Charge of the lab in Vietnam from Nov 1968 to Aug 1969. Retired July 1973 at Frankfurt.
---
1983
(Source: Galley, February 1983)
Crime Lab converts evidence to proof

By David Hobby

The Webster's New Collegiate Dictionary defines evidence as "something that furnishes proof." Whether it's a felony case in which a Criminal Investigation Division special Agent is called in to handle the evidence or a case which involves a soldier in possession of drugs, the MPs come in contact with evidence.

After the arrest is made and all the paperwork that follows is complete, the MPs rarely see the evidence again. But, what happens to the evidence after the MP turns it in?

The United States Army Criminal Investigation Laboratory (USACIL), a subordinate element of the United States Criminal Investigation Command, receives almost all evidence of criminal nature for technical analysis. Once the USACIL receives the evidence, their mission is to provide forensic laboratory support, not only to CID and the MPs, but also a variety of United States and foreign military law enforcement agencies. Designed to cover any spot on the globe, USACIL is divided up into three laboratories. One is located in Fort Gordon, Ga. and another at Camp Zama, Japan. The laboratory that supports Europe and subsequently the 709th MP Bn. is located in Frankfurt, Germany.

Some of the functions USACIL performs are conducting technical analysis of criminal evidence, providing reports on the analysis and to present findings in court or other legal proceedings.

USACIL-Europe is divided into four main divisions: firearms, fingerprints, questioned documents and chemistry. The photographic, administration and logistical sections provide support for the main divisions.

Whenever there is question concerning a document such as a forged check, a forged signature or an altered document, the Questioned Document Division determines the validity of the document. In the case of a forged signature, the documents examiner will compare the lettering of the questioned signature with examples of known handwriting such as the suspect's enlistment contract or volunteer handwriting samples.

"Most of the handwriting comparison is just eyeballing it, no special equipment is used. We'll look at the questioned document and see if it's freely and naturally made. "Then we'll look at the known document and see if that is freely and naturally made. Then we look for the characteristics that we find in the questioned document and compare those to the characteristics in the known," said Special Agent Charles H. Underwood, Documents Examiner and Chief of Questioned Documents Division.

"We don't look for similarities between hand writing because one can usually find similarities between any two writings. When no differences are found, the only conclusion we can arrive at is that the person executed the questioned and known documents," he said.

The mission of the Firearms Division is to provide forensic support on firearms and related areas. Depending on the circumstances of the case, the firearms division will determine if a certain bullet or casing came from a particular weapon.

"We also do distance determinations," said Robert Poole, Chief of Firearms Division. "We determine how far away a shot was fired and that can be determined from a gunshot residue examination or from a shotgun pattern examination."

When a forceful entry into a dwelling or a safe is made, took marks are left at the crime scene. The Firearms Division will examine the tool markings with a suspect tool and make a determination.

"We do comparisions of tool marks that might appear on a file drawer pried open with a suspect tool by making our own test marks," said Poole. "We restore obliterated serial numbers and, on a very limited basis, we get into the examination of explosive devices and the examination of security devices. In the examination of explosive devices, I say limited in that our function is primarily to piece the device back together after an explosion."

Fingerprints are classic examples of evidence. The Fingerprints Division has on the average of 150 to 200 cases a month. Because there might be more than one exhibit per case, the division handles 2000 to 4000 exhibits a month. The division has two special agents.

The Chemical Division of USACIL-Europe employs one special agent and 26 civilians. The division has on the average, a very high level of education. "The minimum level of education is a bachelor's degree in chemistry and we have quite a few people with master's degrees.

"The minimum level of anyone we are hiring is two years experience in a crime lab," said Henry Goya, Chemistry Division Chief and forensic chemist.

"On the average, we handle 300 to 400 cases a month," Goya continued. "A good 75 percent comes from the Army, 10 percent from the Air Force and the rest from various sources."

The forensic chemist upon receiving evidence does not assume anything. For example, the chemist might receive a smoking pipe that reportedly has a hashish residue. The chemist won't assume that as fact and begin a test for hashish.

"We presume nothing about what evidence comes in. We start a basic analysis. From the basic analysis, we find out what it is. Many times we do get cases involving suspected controlled substances and we find out it is not. If it is not, we report is as no controlled substance found," continued Goya.

The division is broken down into two sections: chemistry and serology. The chemistry seciton does three types of work: drugs, fibers and trace. The serology section works with body fluids.

"Any evidence that doesn't fall in either the drug, fiber or body fluid falls under the trace category," Goya said. "Trace handles anon, paint and soil samples."

In all suspected hashish cases, the division can use one of three tests to prove the presence of THC. One is the microscopic examination, a second is a bicaloid lavene test which is similar to the field test and the third is similar chromatography.

A procedure that Leland R. Cabiness, trace examiner and forensic chemist, recommends to MPs who handle hit and run traffic accidents, is during the collection of paint scraping to always obtain control scrapings along with the paint transfer scrapings.

"Whenever there is a hit and run accident, we prefer to have a control sample from each of the automobiles involved. A control sample from a particular automobile is a paint chip that is typical of that automobile. The control chip should not contain any defacing (paint transfers) at all," Cabiness said.

Another tip that Goya feels might be helpful to MPs concerns drugs.

"If you have to use more than ten percent of the total amount of suspected drug in making a field test, don't bother making a field test," Goya said.

In other words, the more substance the division has to analyze the more positive identification they can make.

The serology section of the chemical division handles body fluids. They can determine if a sample of blood is in fact blood, whether is it human blood, what major blood type it is, and then they can narrow the blood type down considerably by testing for different types of blood enzymes.

About 70 percent of the human population secretes blood enzymes to other body fluids such as sweat, semen and saliva. If the person does secrete, the serology section can detect the enzymes and determine the blood type of any secretions left at the crime scene.

All evidence that comes to USACIL-Europe has to be photographed. Evidence can vary from an ordinary item like a shoe or shovel to the extraordinary like paint chips the size of a pin head or lip impressios. The mission of the Photographic Division is to make a fair and accurate photographic representation of all evidence submitted to USACIL-Europe.

"Basically, we provide forensic photographic support for the other divisions. Besides doing normal black and white work we do infrared photo work," said Kenneth D. Crowe, Chief of Photographic Division.

USACIL-Europe's photographic section is the best equipped photo lab in the system and quite possibly in any crime lab in Europe, claimed Crowe.

"What we have here is all a team effort," stated Crowe referring to the photo lab. "It has been a continuous effort of getting the right paperwork at the right place at the right time. Unless someone is willing to put out the effort, it won't get done."

---
(Source: Hessen Herald, April 18 1996)
Frankfurt CID facility closes
Crime Lab wraps up 51-year mission

By Paul Boyce

The 104th Area Support Group recently witnessed the closure of a 51-year crimefighting tradition, the U.S. Army Criminal Investigation Command Laboratory-Europe, located on Frankfurt's Betts Kaserne.

Col. Michael L. Sullivan, deputy commanding officer of the U.S. Army Criminal Investigation Command, and European lab director Chief Warrant Officer 4 Bruce A. Siggins officially closed the forensic laboratory during a morning ceremony at the Dunlop Conference Center, 717th U.S. Air Force Contingency Hospital in Frankfurt. In addition to remarks by both dignitaries, the ceremony included areading of the lab's unit history, the official publishing of the orders and the casing of the crime-fighting unit's colors.

Forensic work, such as fingerprint analysis, handwriting and document analysis, fire arms identification and other procedures will be provided to European units by the CID command's remaining laboratory located at Fort Gillem, Ga., near Atlanta.

Although exact figures arc not available, conservative estimates of between 800 and 1,000 cases annually processed would total nearly 50,000 cases completed at the European lab over more than five decades of history.

The USACIL-Europe facility operated out of Frankfurt starting in 1955, although its lineage dated back to World War II, according to CID officials. It was the first forensic laboratory within the U.S. Army and served law enforcement agencies from the United States, North Atlantic Treaty Organization nations, North African and Southwest Asian theaters of operation.

Frankfurt was chosen in 1955 as a centrally located hub for most American military and civilian personnel in Europe. This changed with the 1995 closure of the Frankfurt community.

The crime lab's Frankfurt building dates back to 1934, when it was used to house German Luftwaffe pilots. After World War II, the building was used as a dormitory for various units. During the Berlin Airlift, it housed American pilots. Later it was a barracks for military policemen assigned in the Frankfurt area.

The remaining laboratory's worldwide functions are: forensic chemistry (such as serology, toxicology and DNA testing); questioned documents (handwriting certification, typed and printed documents exams); firearms and toolmarks (ballistic comparisons); photography (for documentation, courtroom support); latent prints; and even computer forensics.

The U. S. Army Criminal Investigation Command investigates Army-related felony offenses under the Uniform Code of Military Justice and other crimes affecting the Army. The Army major command conducts worldwide operations with about 1,600 soldiers and civilians.

---
Related Links:
| | | | |
| --- | --- | --- | --- |
| | | CID Command - official website; link goes to a History Page on the website that includes information on the Crime Lab in Frankfurt | |
| | | | |