If you do NOT see the Table of Contents frame to the left of this page, then
Click here to open 'USArmyGermany' frameset
60th Ordnance Group
(Page 2)
Looking for more information from military/civilian personnel assigned to or associated with the U.S. Army in Germany from 1945 to 1989. If you have any stories or thoughts on the subject, please contact me

.
---
---
6901st Civilian Support Center (Area)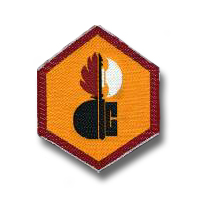 6901st CSC (Area) Patch
(courtesy Siegbert Mann)
(Source: Zweibrücken Sun, May 15, 1985)
Zweibrücken civilians earn high decoration

Two civilian employees in the Zweibrücken Community recently attended the Annual Incentive Awards Ceremony, held at the Heidelberg Officers and Civilian's Club in Patrick Henry Village. Zygmunt K. Lewandowski was awarded the Outstanding Civilian Service Award, while Michael P. Lynch was given the Secretary of the Army Award for Outstanding Suggestor.

The awards, presented only once a year, are signed by the Secretary of the Army. To be nominated for such decorations, employees must have accomplished assigned duties of major program significance to the Department of the Army. They must have also developed and improved major methods and procedures, inventions or other achievements that effected large scale savings to the government. Or, they must have provided outstanding leadership to the administration of major Army commands.

Lynch was a quality assurance specialist at Miesau Army Depot, but is currently stationed in Wildflecken. Throughout 1983, he actively participated in the Suggestor Program with the submission of eight suggestions. Most of these included suggestions of improvement with the APE 2199, a precision machine used in the production of ammunition.

Through just six of his suggestions, Lynch received a small personal reward of over $2,000 for tangible savings to the Army totaling $64,407.
ZB-11 Lewandowski, of the 6901st Civilian Support Center, served as a member of the Command Task Force for the development of the Ammunition Concept Plan (CONPLAN), and was responsible for all Civilian Support input, developing requirements and standards manpower, equipment, facilities and stationing.

With the implementation of the CONPLAN, he was tasked with re-organizing existing and activating new Civilian Support units within the 60th Ordnance Group throughout Germany. Lewandowski re-organized nine Civilian Support Groups in Mannheim, Haide, Viernheim, Miesau, Kaiserslautern, Münchweiler and Karlsruhe. He also activated three new Civilian Support Centers in Mannheim, Miesau and Zweibrucken, as well as six new Civilian Support Groups in Bad Kreuznach, Baumholder, Lebach, Walsrode, Germersheim and Pirmasens.

During this time, the personnel strength of Civilian Support in the 60th Ordnance Group increased considerably. His achievement and surpassment of assigned goals was also evident in the reduction of sick leave usage in his center and the subordinate units, despite the significant increase in personnel strength during one year.

Lewandowski also received the Commander's Award for Civilian Service in March, 1983.
---
Webmaster Note: The three Civilian Support Centers activated under CONPLAN were the following:
| | | |
| --- | --- | --- |
| UNIT DESIGNATION | LOCATION | COMMENTS |
| 6951st CSC | Mannheim | |
| 6952nd CSC | Miesau | |
| 6953rd? CSC | Zweibrücken | not sure if it was the 6953rd that was activated under CONPLAN and then later moved to Mönchengladbach |
The six Civilian Support Groups activated under CONPLAN were the following:
| | | |
| --- | --- | --- |
| UNIT DESIGNATION | LOCATION | COMMENTS |
| 2051st CSG | Germersheim | |
| 2052nd CSG | Lebach | |
| 2953rd CSG | Pirmasens | |
| 2054th CSG | Bad Kreuznach | |
| 2055th CSG | Baumholder | |
| 2056th CSG | Walsrode | |
---
(Source: Support Sentinel, June 18 1985)
Civilian support units mark 40 years' service

By Juergen Haarnagel
60th Ord Gp PAO

The Zweibruecken-based 6901st Civilian Support Center (Area) and its subordinate units celebrated their 40th anniversary May 15 at Turley Barracks, Mannheim. The event was sponsored by the 6851st Civilian Support Center.

Keynote speaker Zygmunt K. Lewandowski, superintendent of the 6901st, outlined the postwar role of the US Forces in providing a new life for Poles liberated from German POW camps and unable to return to their native land after the war.

"They never gave up or got lost in the jumble of the initial postwar chaos," Lewandowski said. The US Forces began hiring Poles in May 1945 to form labor service companies, providing them with educational and recreational facilities, churches and Polish newspapers.

"Since 1945, many changes have occurred in the organization, mission and personnel of labor service companies," he said. "In 1981, the term 'civilian support' replaced the designation 'labor service.' Today there are 94 CS groups composed predominately of German nationals."

Teamwork and devotion to duty are hallmarks of the partnership between the 60th Ordnance Group and the 19 civilian support groups of the 6901st, according to Col John R. Morgan, commander of the 60th Ord Gp. "The civilian support units have been the mainstay of ammunition logistics in USAREUR for many years," he said, and CS employees are "the backbone of the ammunition reorganization" within the 60th.

Following his remarks, Morgan presented length of service awards to 22 CSG employees.

Aleksander Antoni of the Viernheim-based 2049th CSG (Guard) was the sole recipient of a 40 year service award. Employees cited for 35 years of service were Jan Augustiniak, Bronislaw Hoch and Marian Zapart, 2042nd CSG, Miesau; Leonas Menzel and Waclaw Przendzielewski, 2048th CSG, Kirchheimbolanden; Stanislaw Dudek and Kazimierz Grochowski, 2049th CSG; Wladyslaw Swierczek, 2050th CSG, Karlsruhe; Wladyslaw Galuszka and Ryszard Grzeskowiak, 2054th, Bad Kreuznach; Arno Heid, 6952nd CSC, Miesau; and Leon Palka and Antoni Niebieszczanski, 7418th CSG, Miesau.

Cited for 30 years of service were Josef Kaminski and Edward Pietras, 2050th CSG; Jozef Podhajski, 2054th CSG; and Kazimierz Grabowski and Imre Mohacsi, 7418th CSG.

Jan Kliman of the 2041st CSG, Mannheim, and Heinz Goerlitz and Valentin Ress of the 2054th CSG were honored for 25 years of service.


---
6951st Civilian Support Center
(Source: Peter Neuen, 6951st CSC, Mannheim)
I became a member of the 6951st CSC at Turely Barracks in Mannheim shortly after it was formed - end of 1984/early 1985.(1) The XO of the 191st Ord Bn, our partner unit, was Major Robert Snyder. He arrived about half a year after I joined the 6951st.

CO of the 6951st was ZB-10 Zbignew Janutowsky; XO was Z-9 Raimond Zawalsky. Additional officers:

| | | |
| --- | --- | --- |
| | S-1 | ZB-9 Nikolaus Pokuschinsky |
| | S-2 | ZB-7 Peter Michael Neuen / ZB-7 Erich Wunderlich |
| | S-3 | ZB-8 Hans-Peter Wanner |
| | S-4 | ZB-9 Walter Karnowski |
| | Ammo | ZB-9 Frank Rank |

Officers in the 191st Ord Bn partner unit:

| | | |
| --- | --- | --- |
| | Bn CO | LTC Malcolm Mc Lellan |
| | XO | Maj Robert Snyder |
| | S-1 | Capt Charlene Thompson |
| | S-2 | Cpt. Patricia C. Everhart |
| | S-3 | Cpt. Earl Mc Lain |
| | S-4 | Cpt Wendel Wilkins |
| | Communications | Cpt. Holmes |

Training officers for members of the 6951st CSC were ZB-6 Rolf Braner and ZB-6 Petra Becker. NBC was handled by ZB-5 Armin Besenfelder; Communications by ZB-4 Kuckuck. ZB-6 Schäfer was in S-1; additional members of the S-2 section were ZB-5 Gärtner and ZB-5 Krause. Responsible for the Ammunitions Section were ZB-9 Rank and ZB-8 Paulus.

My section, S-2, was responsible for the physical security of the ammo storage sites in


Lampertheim (PSP 54 -

) (2)


Lorsch (RASP 951 -

)


Schifferstadt (PSP 77 -

)


Fürfeld (PSP 51 -

)


Spabrücken (PSP 50 -

)


Kriegsfeld (Kirchheimbolanden) - (RASP 952 -

)

Guard units were the


2049th CSG in Lampertheim (CO was ZB-8 Zachary)


2054th CSG in Bad Kreuznach (CO was ZB-8 van Rheenen)


2048th CSG in Kirchheimbolanden (CO not known)

Before being assigned to the 6951st, I served with the 4094th CSG (Guard) at Hammonds Barracks in Mannheim-Seckenheim (1983-1984). ZB-9 Becker was commander; ZB-8 Zeising the XO; ZB-7 Nowak was the Supply Officer; and ZB-7's Ruffing, Müller and Vogt were Guard Operations Supervisors.

(1) Webmaster note: the 6951st was formed under the CONPLAN project.
(2) Prestock Point designations and storage site GOGGLE locations added by webmaster.

ADDITIONAL INFORMATION
I have added the names of the 191st XO and S-1 (see above lisitng).

At the time that the 6951st CSC was formed, the unit was stationed at Turley Bks, Mannheim-Käfertal.

---
6952nd Civilian Support Center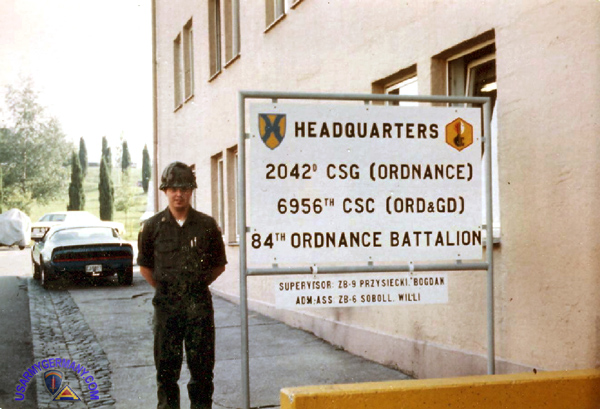 Major (ZB-9) Bogdan Przysiecki next to company sign, Zweibruecken, 1988 (Bogdan Przysiecki)
2042nd Civilian Support Group (Ordnance)
(Source: Das USAREUR Echo, August 1984)
Anniversary

The 2042nd Civilian Support Group (Ord) was formed on Aug 1 1977 as a subordinate unit of the 6956th CSC (Ord & Guard). Hqs of the unit was located at Kreuzberg Ksn, Zweibrücken with elements in:


Bremerhaven


Baumholder


Bad Kreuznach


Kriegsfeld

Sometime later, the unit was assigned to the 84th Ord Bn in Münchweiler.

On Nov 1 1983, in accordance with the new Ammunition Concept (CONPLAN), the unit was moved to Miesau and reorganized, with its subordinate elements redesignated as separate units with their own missions.

On Feb 1 1984, the 2042nd was augmented with personnel transferred from the 7418th CSG.

Currently, the unit is under the operational control of the Miesau Army Depot (MIAD) and under the administrative control of the 6952nd CSC (Ord & Guard).

The unit's MISSION: to receive, store, issue, sort, handle, maintain and conserve conventional ammo.
---
(Source: Email from Bogdan Przysiecki, Miesau Army Depot)
2042nd Civilian Support Group (Ordnance)
History of the Unit
1. Activation: Pursuant to HQ, USAREUR and 7th Army Permanent Orders 57-1, dated 16 May 1977, the activation of 2042nd CSG Ord was set forth for 1 April 1977. Effective 1 August 1977 the 2042nd CSG Ord Ammo was activated at Kreuzberg Kaserne, Zweibruecken. Preliminary activation plan and preparation of managerial actions were initiated by 6956th LS Ammo and Guard Center Muenchweiler. Key personnel were selected IAW the LS Merit Promotion Program. Requisitions of and/or initial issue of individual clothing and equipment, installation and organization property were accomplished by 6956th LS Ammo and Guard. The unit officially incorporated in the 60th Ordnance Group respectively 84th Ord Battalion on 1 November 1977.
2. Location of the unit and the ammunition detachments:
SECTION

FROM

TO

LOCATION
Unit Management, Motor Pool,
Supply,
Ammo Section, Saarland

01 Aug 1977

31 Oct 1983

Kreuzberg Kaserne,
Zweibruecken
Ammunition Detachment,
Kriegsfeld

01 Aug 1977

31 Jan 1984

Cantonment,
Kirchheimbolanden
Ammunition Detachment,
Area Baumholder

01 Aug 1977

31 Jan 1984

Training Area,
Baumholder
Ammunition Detachment,
Bremerhaven

31 Mar 1981

31 Jan 1984

Carl Schurz Kaserne,
Bremerhaven
Ammunition Detachment,
Bad Kreuznach

31 Mar 1981

31 Jan 1984

US Hospital,
Bad Kreuznach
Unit Management, Supply,
Ammo Section Miesau and Weilerbach, Saar Site

01 Nov 1983

30 Sep 1992

Miesau Army Depot
Motor Pool

01 Nov 1983

30 Apr 1984

Miesau Army Depot
Motor Pool

01 May 1984

30 Sep 1992

Weilerbach Storage Area
Unit Deactivation

30 Sep 1992

3. Commanders: The following named individuals were the commanders of the unit.
| | | | |
| --- | --- | --- | --- |
| | | | |
| RANK | NAME | | PERIOD |
| LSO-3 Captain LS | Visvaldis Drunks | | 11 Jul 1977 -- 31 Jul 1977 |
| LSO-4 Major LS | Pawel Sep-Sarzynski | | 01 Aug 1977 -- 30 Nov 1981 |
| LSO-4 Major LS | Bogdan Przysiecki | | 01 Dec 1981 -- 30 Sep 1992 |

a. Initial Mission: The mission of the 2042nd CSG Ord was to provide conventional Class V, direct supply and maintenance support. The 2042nd CSG operated the following ammunition sites until 1 February 1984;


PSP 5 Haustadt


PSP 9a Differten


PSP 29a Bueschfeld


PSP 32 Urexweiler


RASP 952 Kriegsfeld


PSP Sparbruecken


PSP 51 Fuerfeld


PSP 3 Gerbach


PSP 82 Boerstadt and


ASP 4 Baumholder

b. 1st Change in Mission: Effective 31 Mar 1981, the 2042nd was also assigned the ammunition sites of the German Army:


Training Area Todtendorf, Vogelsang and Muenster


Ammo Depot Waldsrode, Olfen, Lueberstaedt, Barronwiller (Belgium) and Sugny (Belgium)
including the same responsibilities like above.

c. 2nd Change in Mission: In line with the Ammunition Concept Plan (CONPLAN) the unit was reorganized and transferred from Kreuzberg Kaserne, Zweibruecken to Miesau Army Depot effective 1 November 1983 while its detachments became separate units with their own mission. On 1 February 1984 the 2042nd CSG was reinforced with personnel from 7418th CSG and took over ammunition mission like receipt, storage, issue, care and preservation of conventional ammunition and small rockets at


Miesau Army Depot


Weilerbach Storage Area and


four (4) Saarland Sites (PSP 5, 9a, 29a and 32)

d. 3rd Change in Mission: Due to reorganization of Miesau Army Depot, the 2042nd lost ammunition mission of Saarland Sites effective 1 October 1987.

5. Mission: Provides personnel support for receiving, shipping, rewarehousing, storage and inventory of Class V stocks in all assigned areas.
Implements on order of higher Headquarters those actions directed by applicable US Army contingency plans and missions.
6. Functions:

a. Provides personnel administration, accommodation, logistical support and overall supervision for assigned personnel.
b. Conducts on-the-job and annual refresher training, directs discipline, housekeeping, welfare and recreational activities for assigned personnel.
c. Provides operational of motor vehicles and special equipment to include training and testing of operators.
d. Performs organizational maintenance on assigned equipment of 2042nd CSG (Ord) and the 87 Ordnance Company MIAD.
e. Accounts for and maintains unit property as authorized in CS-TDA E2W4R1AA and applicable CTA's to include individual clothing and equipment listed in Annex B, USAREUR Reg 600-440.
f. Performs all other missions and functions as outlined in the applicable mission letter.
7. Ammunition Tonnage on hand:
| | | |
| --- | --- | --- |
| | | |
| PSP 50 | Spabruecken | 6,964 S/T |
| PSP 51 | Fuerfeld | 4,499 S/T |
| PSP 82 | Boerstadt | 8,258 S/T |
| RASP 952 | Kriegsfeld | 57,600 S/T |
| PSP 3 | Gerbach | 38,500 S/T |
| PSP 5 | Haustadt | 5,914 S/T |
| PSP 9a | Differten | 4,700 S/T |
| PSP 29a | Bueschfeld | 4,835 S/T |
| PSP 32 | Urexweiler | 7,761 S/T |
| | Lueberstadt | 985 S/T |
| | Olfen | 10,950 S/T |
| | BENELUX Countries | 35,602 S/T |
| | | |
| Grand Total: | | 186,568 S/T |
8. Personnel Strength as of:
| | |
| --- | --- |
| | |
| Zweibruecken | 104 |
| Ammo Detachment North Point | 32 |
| Ammo Detachment Baumholder | 19 |
| Ammo Detachment Bad Kreuznach | 25 |
| Ammo Detachment Bremerhaven | 32 |
5 Chechoslovakians; 181 Germans; 2 Lithuanians; 16 Polish; 3 Ukranians; 3 Yugoslavians; 2 other
9. Awards and Decorations:

FY 86 2nd place Annual Ammo Crew Competition within 21st SUPCOM
FY 87 1st place Annual Ammo Crew Competition within 21st SUPCOM
FY 88 1st place Annual Ammo Crew Competition within 21st SUPCOM
FY 89 1st place Annual Ammo Crew Competition within 21st SUPCOM
FY 88 Winner of USAREUR Unit Maintenance Excellence Award (Light TDA)
FY 89 Winner of USAREUR Unit Maintenance Excellence Award (Light TDA)
FY 88 Winner of Army Unit Maintenance Excellence Award (Light TDA)
FY 89 Runner up of Army Unit Maintenance Excellence Award (Light TDA)

---
6953rd Civilian Support Center
(Source: Traveler, May 2, 1985)
Civilian Support Groups: The latest addition to the Rheinberg Community

By Sp5 Jerome Coleman

If you've been in the Reichel Building or Moenchengladbach lately, you've probably already seen the lastest addition to the Community -- the civilian support group.

At first glance they probably looked like American soldiers, but a closer look told the story.

The new soldiers you saw are members of the civilian support group. They're German citizens that are hired and trained by the U.S. Army. They provide a means of augumenting our forces with a work force that is capable of performing both peace and wartime missions according to MAJ Felix G. Banis, Battalion Commander, 196th Ordnance Battalion.

The CSG should not be confused with local nationals that work for the government. "They wear the fatigue uniform and are part of a new "hybrid concept" of military and civilians working together to preserve peace," Barris explained.

History of civilian support group
The CSG may seem to be new to some but it was actually established after World War II. "Initially they were immigrants from Poland, Lutherans, and many anti-communists who Americans felt responsible for after the war, " said ZB10 Eberhardt Waadt, CSG Supervisor.

"The U.S. Army employed these men, trained them and organized them into support units," Waadt explained. At that time they were mainly transportation, maintenance, and supply units that supported the U.S. Army he recalled.

"Today, the 2056th CSG (Ordnance) and the 4006th CSG (Guard) are the primary work force in Twisteden," Barris said. These guard and ordnance personnel support the 196th Ordnance Battalion. "They will guard and man the ammunition bunkers now being constructed in Twisteden," Banis added.


Members of the 2056th CSG prepare bunkers for storage of ammunition at Twisteden, 1985.
Hiring through local labor office
Hiring began in February. "The local labor office directed people to us," Banis said. "We also contacted the Bundeswehr to interest experienced people that would be leaving the service soon."

Although ability was one of the main concerns in hiring personnel, physical fitness was also an important factor. Banis explained that individuals applied directly. They were screened and then given an extensive physical. "Only the physically fit were hired and then trained," he said.

Basic, advanced training
CSG personnel were trained in phases. "Phase I was conducted in Twisteden," according to 2LT Gilles Reimer, Adjutant, 196th Ordnance Battalion. "This training is simular to basic training for soldiers. Personnel are taught how to wear the uniform and how to read the CSG labor laws."

Phase II training provided personnel with the basic survival skills. Some personnel received this training in Rheinberg, others in Kaiserslautern. "During phase II training individuals received NBC training and first aid," Reimer said. "Safety was also emphasized."

The last phase of training is on-the-job. Guards returned to Twisteden while Ordnance personnel went to Zweibrucken for further training. Reimer said that all CSG personnel had one week of classroom training and an additional week of on-the-job training.

Not all CSG personnel needed training. For example, ZB10 Eberhardt Waadt, CSG Supervisor, is a retired Bundeswehr Colonel with years of experience in munitions.

CSG structured much like U.S. military
The CSG force is structured much like the U.S. Army. "There is no rank structure, but we do wear symbols," Waadt explained. "These symbols designate responsibility. ZB 7-10 designate commissioned officers while 1-6 represent the lower enlisted."

---
6956th Civilian Support Center
(Source: STARS & STRIPES, Nov 11, 1971)
The 6956th Labor Service Ammunition & Guard Center is responsible for guarding and issuing ammunition at 38 different sites. The 6956th is a subordinate unit of the US Army Materiel Command, Europe (MATCOM).

Superintendent of the 6956th is Stanislaw Szywalski.

---
Related Links:
Ammo sites in Saarland - great page on the ammunition storage sites operated by the 60th Ord Gp in the Saarland. Page is hosted on the German website - Geschichtsspuren.de (formerly LostPlaces.de)