If you do NOT see the Table of Contents frame to the left of this page, then
Click here to open 'USArmyGermany' frameset
308th Quartermaster Battalion
6th Quartermaster Group
Looking for more information from military/civilian personnel assigned to or associated with the U.S. Army in Germany from 1945 to 1989. If you have any stories or thoughts on the subject, please email me (webmaster

).
---
---
308th S&S Battalion History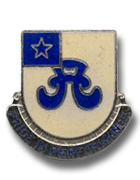 308th Service & Supply Battalion DUI
(Source: Lineage and Honors, US Army Center of Military History)
Activated 25 September 1961 in Germany as the 308th Quartermaster Battalion.

Reorganized and redesignated 2 August 1965 as the 308th Supply and Service Battalion.

Inactivated 26 July 1971 in Germany.
---
1968
(Source: STARS & STRIPES, April 30, 1968)
The 308th Supply and Service Battalion was consolidated two of its Class III supply points -- the consolidation merged the Kassel supply point with the Bad Hersfeld supply point. The move was done to provide better service to customer units by taking advantage of Bad Hersfeld's better distribution and storage facilities.

The Bad Hersfeld Class III Supply Point serves some 75 units within an area bounded by Kassel in the north and Darmstadt in the south. NCOIC is S/Sgt Leonard H. Derrick. He has a staff of six personnel who work at the supply point.

If you have more information on the history or organization of the 308th QM Bn, please contact me.

---
Related Links: