If you do NOT see the Table of Contents frame to the left of this page, then
Click here to open 'USArmyGermany' frameset
35th Quartermaster Battalion
2nd Quartermaster Group
Looking for more information from military/civilian personnel assigned to or associated with the U.S. Army in Germany from 1945 to 1989. If you have any stories or thoughts on the subject, please email me (webmaster

).
---
---
35th Quartermaster Battalion
1951 - 1965
(Source: Quartermaster Foundation website accessed July 15, 2011)
Redesignated March 1951 as Headquarters and Headquarters Detachment, 35th Quartermaster Battalion and allotted to the Regular Army.
Activated 1 June 1959 in Germany.
Reorganized and redesignated 25 September 1961 as the 35th Quartermaster Battalion (organic elements concurrently organized from new and existing units.)
Reorganized and redesignated 2 August 1965 as the 35th Supply and Services Battalion.
---
(Source: Military History, 2nd Quartermaster Group, 1945-1965. Compiled by the 2nd QM Gp in the mid 1960s)
HISTORY OF THE 35TH QUARTERMASTER BATTALION

The Headquarters and Headquarters Detachment, 35th Quartermaster Battalion, was activated on 15 March 1944 at Fort Devens, Massachusetts as the 216th Quartermaster Battalion. It was constituted 8 March 1944 in the Army of the United States. The Battalion served throughout World War II in the Far East where it was awarded a campaign streamer for the Ryukyus Campaign. The organization was inactivated on 25 July 1949 at Seoul, Korea.

Redesignated at Headquarters and Headquarters Detachment, 35th Quartermaster Battalion and allocated to the Regular Army on 7 March 1951, the organization was reactivated on 1 June 1951 at Roth, Germany.

On 1951 the Battalion was transferred from Roth to Coffey Barracks, Ludwigsburg, Germany, and served continuously on active duty in Germany with the 510th Quartermaster Company (1), 531st Quartermaster Company, 568th Quartermaster Company and the 7th US Army Quartermaster Company (DS 3762) as subordinate units.

On 25 September 1961 the Battalion was reorganized as a Direct Support (DS) Battalion with Company A and Company B, Direct Support. The 510th, 531st, 568th and the 3762 QM Companies were deactivated.

The 109th Transportation Company was activated on 4 June 1951, at Hammelburg, Germany.

Redesignated as Light Truck Company on 5 June 1953 it was reorganized as Medium Truck, Petroleum on 20 October 1953.

The unit moved from Hammelburg to Krabbenloch Kaserne in December 1951, to Flak Kaserne in March 1955 and then to Coffey Barracks in November 1961. The 109th served well during World War II earning for itself a Meritorious Unit Citation Streamer in the European Theater and 8 Campaign Silver Bands.

The peacetime mission of the 35th Quartermaster Battalion is as follows:
Operate a field bakery in Ludwigsburg; three Class I Supply Points, one in Ludwigsburg, one in Karlsruhe and one in Heilbronn; an ECS 702 Troop Issue Account in Karlsruhe, two Self Service Stores at Ludwigsburg and Karlsruhe; Supply II and IV Supply Expendables from a Self Service Supply Center; post, carry and station property through an ECP-256, all located in Ludwigsburg; operate 5 Clothing Sales Stores, one each at Stuttgart, Goeppingen, Crailsheim, Heilbronn and Karlsruhe and a Clothing Sales Van; distribute petroleum products from two Supply Points, one each in Ludwigsburg and Karlsruhe; maintain designated Reserve Points; conduct line haul of petroleum from PDC pipeheads to Class III Supply Points of the 2nd Quartermaster Group using attached 109th Transportation Company (Med Trk)(Petrl); make local deliveries of petroleum to Quartermaster Gas Stations, mess halls, unit motor pools and other facilities. The Battalion also operates a field maintenance activity in Ludwigsburg with off-site typewriter repair in Karlsruhe and Patch Barracks; when requested, provides Laundry and Bath support and Graves Registration instruction.

(1) CORRECTION: per Alfred Aya (see email below), should be 512th Quartermaster Company. Per STATION LIST, there was a 510th QM Company in 1960, and no 512th. It is possible that the 512th was replaced by the 510th at some point (maybe GYROSCOPE).
If you have more information on the history or organization of the 35th QM Bn, please contact me.
---
1951
(Source: Email from Alfred A. Aya, Jr.)
Via Google, I today found the "History of the 35th QM Battalion" in which I served 1951-1953.

There's an error describing the Quartermaster Bakery Company (Mobile). That was the unit I served in as XO. The company is described as the 510th. It was the 512th.

Perhaps the 510th was redesignated as the 512th just before I arrived at Coffey Barracks to join it - but I never heard of the 510th in any way, shape, or form.

We had two platoons stationed in Ludwigsburg, the 1st and 3rd. One was always baking (the equipment positioned in a former German Cavalry stable) and the other platoon would be in the field undergoing Infantry training. Each week they'd rotate. The 2nd Platoon was stationed in Munich where it occupied a former German commercial bakery - using that equipment.

Our CO was a former Paratroop officer, Capt Harry Vanatta. He had been assigned to the QMC following tearing his Achilles tendon in a parachute jump - his focus was on top quality baking, but he demanded Infantry capabilities for all personnel. Locally we were jokingly referred to as the 512th Infantry Bakery Company (Mobile) and we were very frequently deployed as maneuver enemy units to test combat capabilities of other QM field units - including testing such capabilities of a Combat Engineer Bn (at request of its group commander.

I was Capt Vanattta's XO and 1st Platoon Cdr from 1951 until demobilized in 1953.
---
1954
(Source: STARS & STRIPES, April 12, 1954)
ORGANIZATION (1954):
| | | |
| --- | --- | --- |
| UNIT DESIGNATION | DUTY STATION | COMMENTS |
| HHD, 35th QM Bn | Ludwigsburg | |
| 512th QM Mob Bakery Co | Ludwigsburg | |
| 531st QM Petr Supply Co | Ludwigsburg | |
| 556th QM Subs Supply Co | Ludwigsburg | 1st Pltn in Kaiserslautern |
---
1962
(Email from Geraldus Bond, 35th QM Bn, 1962-64)
I served as an enlisted man with the 35th QM Bn from March 1962 to October 1964. I had a three year enlistment and was discharged upon arrival back to the States.

I was the Bn mail clerk and had responsibility for Hqs Det, 109th Trans, Companies A and B. I traveled twice daily to Robinson Barracks for mail pick up and distributed mail to the various units.

Some of the officers were Capts. C. L Rice, George Stephens, Charles O Jefferies and Lt. John Glavin. I welcome anyone who served at Coffey Barracks during this time to contact me at my email address.

---
35th Supply & Service Battalion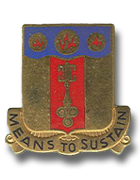 35th Supply & Service Bn DI
1965
(Source: Quartermaster Foundation website accessed July 15, 2011)
The 35th QM Bn was reorganized and redesignated on 2 August 1965 (as part of the COSTAR Program) as the 35th Supply and Services Battalion.

Battalion headquarters was initially located at Coffey Barracks, Ludwigsburg. Sometime in 1969 or early 1970, Bn headquarters moved to Flak Kaserne, Ludwigsburg.
The 35th S&S Bn was inactivated on 21 December 1972 in Germany.
---
1971
(Source: Email from Charles Lefevre)
I with with the 35th S&S Battalion from Feb 1970 - Sept 1971 at Flak Kaserne, Ludwigsburg.

When I first got there our warehouses were downtown Ludwigsburg but shortly after we moved just on the other side of Pattonville to some warehouses there. I don't remember exactly were but I know it wasn't too far from the Pattonville Housing complex.

That was my first duty station after AIT and I really enjoyed it a lot. There were a lot of good times and a bunch of good guys there.

If anyone else was stationed there I would like to hear from them.

---
531st Quartermaster Company
1951
(Email from Jerry Morgan)
The 531st Quartermaster Petroleum Supply Co. formed at Ft. Bragg, N. C. in Jan. 1951.

After 14 wks. of infantry basic training we were run through for another eight weeks. We were located on Smoke Bomb Hill. We started moving our trucks and equipment to railhead in June or July and boarded trains ourselves in August bound for Camp Kilmer, N.J. though we didn't know where we were going till we got there.

We boarded ship on the 26th of August (U.S.N.S. General Muir), We stopped in La Palice, France to drop off some stuff and then on to Bremerhaven, Germany. We took a train to Roth where there was a small Luftwaffe base.

We spent about a month there waiting for our equipment to arrive. After that we went to Fromann Kaserne in Ludwigsburg where we spent our time except when we were in the field, which was oftern.

We spent the month of January, 1952 in squad tents in Grafenwoehr. One platoon split off and set up in Munich.

We were mostly from Ohio. We had been drafted for 21 months but that was extended to two years. Many of us came home for Christmas, 1952.

Fromann Kaserne became Coffey Barracks. I understand it no longer exists.
---
1954
(Source: STARS & STRIPES, June 28, 1954)
The 531st QM Petroleum Supply Company, Ludwigsburg, is responsible for supplying petroleum products for all kasernes, civilian gas stations and QM laundry and dry cleaning plants in the Stuttgart-Boeblingen Detachment (Area Comd) area plus those areas that were formerly part of the Stuttgart-Boeblingen Det and are now part of the Augsburg Det. Products supplied incl. gasoline for POVs and official service trucks and autos, solvent (for dry cleaning plants and laundries), as well as oil and lubricants.

Average monthly distributions: 1,250,000 gallons of gas; 50,000 gallons of oil; 20,000 gallons of solvent and 100,000 gallons of diesel fuel. The company also ships many gallons of fog oil used in smoke generators during field problems.

CO of the 531st is Capt William J. Clement.

The 531st operates the POL dump for the Stuttgart area.

During maneuvers, the company becomes responsible for providing POL support to VII Corps. The company has the capacity for setting up six different supply points (while remaining involved in the normal distributions that continue in the rear echelon).

There are three platoons in the company, with two sections in each platoon. One section is capable of distributing 60,000 gallons of gas in a 12-hour period in the field.
| | | | |
| --- | --- | --- | --- |
| 1. 531st QM Co | 2. 531st QM Co | | |

---
Related Links: