If you do NOT see the Table of Contents frame to the left of this page, then
Click here to open 'USArmyGermany' frameset
56th Quartermaster Battalion
2nd Quartermaster Group
Looking for more information from military/civilian personnel assigned to or associated with the U.S. Army in Germany from 1945 to 1989. If you have any stories or thoughts on the subject, please email me (webmaster

).
---
---
Battalion History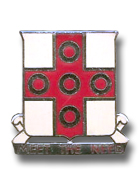 56th Quartermaster Bn DI
1956
(Source: B. Clyde)
I served in the 565th QM Company (Graves Registration), 56th Quartermaster Battalion during the period January 1954 - June 1956. The Commanding Officer of the 565th Graves Registration Company was Captain William O. Rupert (an outstanding Officer).

Under the battalion were the following: Capt. Mack C. Holt, 215th QM Co (Petroleum Supply); Capt. John J. Vallaster Jr., 48th Ordnance Company; 1st Lt. Lawrence L. Laughlin, 185th General Dispensary; Capt. Clyde W. White, 592nd QM CO (RCLM & MAINT); Capt. Edward C. Fleming.

Units attached for rations, CO. "D", 40th Signal Battalion (Construction); 1st Lt. Leath C. Johnson Jr., 525 QM Co. (Petroleum Supply) 3rd Plat.; 1st Lt. Bruce J. Kellner, 556th Quartermaster Co. (SUB SUP) 1st Plat.

The Commanding Officer for the 56th Quartermaster Battalion was Lt. Col. Edgar Zimmerman. Executive Officer was Major Donald J. Revere; S-l and Adjutant was Capt. Robert O. Cohn, S-2,3 was Maj. Richard W. Bowers, S-4 was Capt. Jesse J. Johnson. The Personnel Off. CWO Willie B. Pickette. The Sup. Off. CWO Arthue K. Bruhn. The Sgt Maj. was M/SGT John W. Elkins. Also included was the Headquarters Detachment.

I served about 29 months in Kaiserslautern, Germany.
---
1959
(Source: Bud Kreitle)
I was stationed with Company B in Baumholder from 1959 to 1962.

Prior to going to Baumholder the Company was at Fort Lee, Virginia. We were known at that point as the 215th QM Co. We left for Germany in November of 1959, took a train to Brooklyn and got on the USS Buckner for the trip to Bremerhaven, the entire Company rotated to Germany together. Three of the platoons went to Kaiserlautern and one platoon to Baumholder.

For the first year we were attached to the 215th QM Co, 56th QM Bn. We ran the fuel depot down the hill. We were in the same barracks with the 3767 Co, which ran the clothing depot, and the 488th, which ran the food distrubution facility. They all consisted of one platoon detached from Kaiserslautern.

After about one year we all became Co "B", 56th QM Bn. I spent most of time being the mail clerk for the Company. Our Company Commander was Captain Boozer. If you would like any additional info, let me know.
---
1964
(Source: Email from Len Nemiroff)
I believe that Co.B of the 56th (S&S Bn) was housed at Pirmasens as well as Baumholder. I served with Co. A in Kaiserslautern from 1964-65.
If you have more information on the history or organization of the 56th QM Bn, please contact me.
---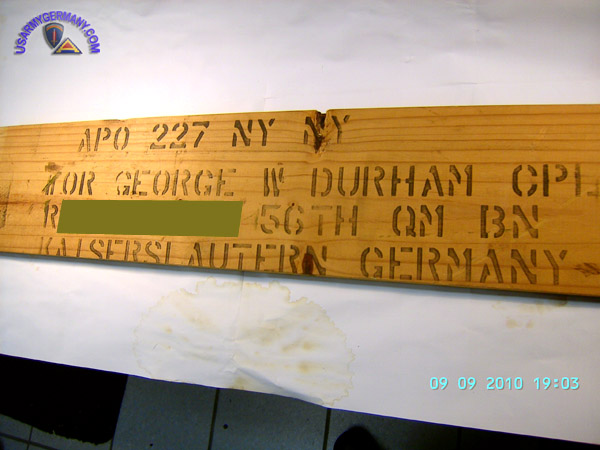 (Source: Mike Montgomery)
A German friend in Kaiserslautern was cleaning out his basement. The house dates back to the late 1940s/early 1950s. During his cleaning he came upon a piece of wood as stenciled (see photo above) and contacted me for more info. I was able to tell him that, based on the 3-digit APO number, which has long since been 09227 – one of now several APO numbers for Kaiserslautern – and the RA number vs. Social Security number, I would guess this comes from the 1950s.

Does anyone have a 56th QM Bn unit roster from the 1950s that might include Corporal George W. Durham? Can anyone provide additional details?

---
Related Links: