If you do NOT see the Table of Contents frame to the left of this page, then
Click here to open 'USArmyGermany' frameset
8th Logistical Command
Southern European Task Force
Looking for more information from military/civilian personnel assigned to or associated with the U.S. Army in Germany from 1945 to 1989. If you have any stories or thoughts on the subject, please contact me

.
---
---
SETAF Support Command
1955 - 19..
(Source: STARS & STRIPES, Oct 31, 1955)
In late Oct 1955, USFA Support Command in Livorno was discontinued as the logistical base for US Forces in Austria (USFA) and was redesignated as
SETAF Support Command
.
CO of the new command is Col Charles L. Williams.

---
8th Logistical Command
1962
(Source: SETAF Information Booklet, c. 1962)
The history of the 8th Logistical Command ges back farther than the history of USASETAF itself. In June 1951, the United States concluded negotiations to establish a line of communication through Italy in support of the US Forces in Austria. The agreement provided for a military port, a general depot, and a post in Leghorn under a logistical command. In November 1952, the depot, port, and post were separate commands. It was later seen, however, that this arrangement did not permit adequate control over the facilities and so the three were reorganized as the US Forces Austria Support Command.

In a later reorganization, the name was changed to USASETAF Logistical Command, and port and depot headquarters were eliminated.

In 1959, the Command name was again changed to USFA Logistical Command SETAF (Field).

Then, in 1960, this command was further redesignated as the 8th Logistical Command.
---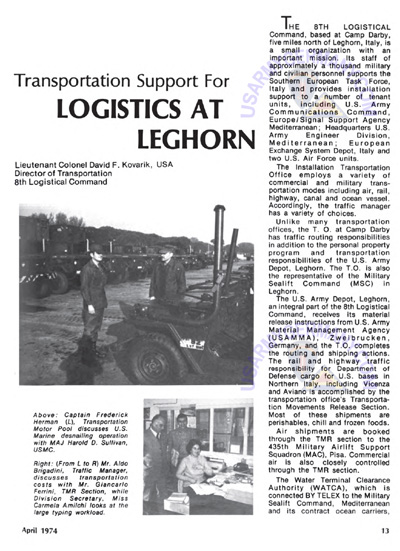 ---
Related Links
U.S. Army Africa (formerly SETAF)

- Official web site