If you do NOT see the Table of Contents frame to the left of this page, then
Click here to open 'USArmyGermany' frameset
181st Transportation Battalion

Looking for more information from military/civilian personnel assigned to or associated with the U.S. Army in Germany from 1945 to 1989. If you have any stories or thoughts on the subject, please contact me

.
---
---
154th Transportation Battalion History
1951
The 154th Trans Truck Bn was a Pennsylvania NG unit (headquartered at Huntington, Penn) that was ordered to Federal service in 1950 and sent to Europe in October 1951. (STARS & STRIPES, May 27, 1954). (CO of the battalion in May 1954 was Lt Col Ralph J. Keckler.)
---
1953
(Source: STARS & STRIPES, March 5, 1953)
The 154th Trans Truck Bn has recently assumed the responsibility for the operation of a trailer transfer point (TTP) and marshalling yard at Turley Barracks in Mannheim. CO of the 154th is Lt Col Antonio J. Lawrence.

The function of the new operation is to assemble loaded and empty trailers arriving in Mannheim from various supply installations into convoys.

(Webmaster note: The TTP at Turley would remain in operation until early in 1974 when it was moved to Coleman Bks, Sandhofen.)
---
1955
In January (?) 1955, the 154th Trans Truck Bn was inactivated in Mannheim (returned to PA NG) and the 181st Trans Truck Bn was activated to replace it. The 181st assumed the mission, personnel and equipment of the inactivated 154th. (Article in the March 7, 1955 issue of the S&S confirms that the 154th was replaced by the 181st.)
MISCELLANEOUS INFORMATION
In August 1953, the 108th TT Company, Patton Bks, was subordinate to the 154th TT Bn.
In August 1954, the 40th Truck Co at Mannheim was part of the 154th.

---
181st Transportation Battalion History
1955 - 19..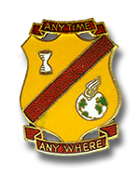 181st Transportation Battalion DUI (worn before COSTAR II)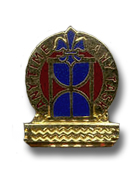 181st Transportation Battalion DUI (approved Oct 25, 1967)
1955 (37th Trans Gp)
(Source: Email from Leslie Herd, 84th Trans Co)
I was quite surprised when I read the article by Stars and Stripes dated Dec. 21, 1956 regarding the 181st Transportation Battalion stationed at Turley Barracks, Mannheim, Germany.

After completing training in the Army School for Wheeled Vehicle Mechanics at Fort Ord, I arrived at Turley Barracks in Sept, 1955 and was assigned to the 84th Transportation Company (MT), part of the 181st Transportation Battalion of the 37th TMTC.

The battalion was made up of 4 companies. The following information is from the Christmas 1956 menu;
181 Transportation Battalion --


Major John L. Buckley, Commanding


Capt. Robert F. Eisenhauer, Executive Officer


Capt. Francis L. Grice, Adjutant


Capt. David L. Davis, S-3.


Capt. Walter E Krause, Ass't S-3


CWO Jack Smith, Motor Officer

84th Transportation Company (MT) --


Capt Harry E Jones, Jr. Commanding


2nd Lt. John T Mulgrew, Executive Officer


CWO Norman Rentz, Motor Officer

108th Transportation Company (LT) --


Capt. Aden L Barnes, Commanding


2nd Lt. James F. Kilcoyne, Executive Officer


CWO William E Ray, Motor Officer

503rd Transportation Company (LT) --


1st Lt. James H. Weisflog, Commanding,


2nd Lt. Ralph P. Gentile, Executive Officer,


CWO Thomas F. Anderson, Bn. Maintenance Officer.

519th Transportation Company (Car) --


1st Lt. Kenneth H. Griffith, Commanding


2nd Lt. William H Fischer, Executive Officer


1st Lt. Roland J. Sheret


2Lt Cleo F. Miller, Mess Officer


2nd t. Henry G. Moore, Supply Officer


CWO Robert P. Mills, Maintenance Officer

The 84th Transportation Company had 60 U7144T Autocar 4-5 ton 4X4 cab over engine tractors with single axle box trailers (see Picture #1) plus support vehicles. This is the same vehicle that was shown on the 29 cent postage stamp depicting WWII, 1944, issued in 1991.

Our mission was, in case of an attack, to go to Patton Barracks in Heidelberg, load USAREUR headquarters and head for France. Our assembly location was the race track at Hockenheim, Germany.

We were assigned to USAREUR most of the time, however we were transferred to COMZ for about six months and then we were transferred back to USAREUR. While we were assigned to COMZ, we did receive 60 new M52 6x6 tractors (see Picture #2).

The only fuel truck that was assigned to the 84th TTC was a M34 2 and ½ ton truck with a load of 5 gallon "Jeep" cans full of Gasoline (see Picture #3)

ADDITIONAL INFORMATION
Since I wrote my last e-mail to you I found some items that need correction.

When the four Truck Companies (84th,108th, 503rd and 519th Trans Co) were transferred to COMZ, the 181st Transportation Battalion did not transfer with them. Rather, the 181st Transportation Battalion was reassigned to the 7th Army and was assigned four new companies -- the 40th, 41st, 51st and 342nd Trans Companies. (See Bn Sign photo above).

I do not know what happened to the original truck companies that had been the 181st after they were transferred to COMZ.

After about six months we were reassigned to USAREUR and I though we were still in the 181st Battalion. We always wore the Battalion crest that we wore when we were in the 181st. The inspecting officer never mentioned we were wearing unauthorized insignia during the inspection. This is unusual as their sole purpose was to chew out a soldier for anything that was wrong. I was still wearing the crest when I returned to the States in February 1957.

The photo I sent of the M-52 (Photo #3 below) was taken while we were with COMZ. The other photos were taken while still with the 181st Battalion.
| | | | |
| --- | --- | --- | --- |
| 1. 4-to 5-Ton 4x4 Tractor Truck (Autocar Model U-7144T) (KB) | 2. Close up Autocar Model U-7144T (KB) | 3. M52 6x6 tractors (KB) | |
| 4. 84th TC's Fuel truck (KB) | | | |
---
1956 (Project MASS)
(Source: STARS & STRIPES, Dec 21, 1956)
Army Truckers Keep Project MASS Rolling
The wheels have been rolling night and day for the 181st Trans Bn based in Mannheim, Germany ever since last May when this organization was chosen to provide transportation logistical support to 7th Army's Project MASS (Modern Army Supply System).

Designed to speed up the provision of repair and replacement parts to front line units, Project MASS has been in the experimental stage with 7th Army in Europe for more than six months.

Although the supply items involved make up only 20 percent of the overall Army supply system, parts ranging from transistors to tank treads are essential to the effective operation of a field army. Formerly, the bulk stockage of these items resulted in the need for large warehouse space and in a certain amount of loss of equipment through deterioration.

Most important, however, was the length of time it took to obtain a spare part from a Stateside warehouse. According to Lt Col Elmore P. Moore, CO of the 181st Trans Bn, the old style supply system required between 30 says to three months from the time of request to the time of receipt of a spare part. Under the MASS system, says Mooore, the time element can be as short as 10 days and usually never extends beyond one month.

But just as old soldiers will say, that no matter how modern warfare becomes, nothing can replace the infantryman, it appears that no matter how modern the Army supply system becomes, the truck driver will still play an important part in the operation. And the continuing success of the MASS experiment here, says Moore, is in no small part due to the men who drive the trucks in his battalion.

Briefly, the MASS operation is one of electronic communication. When a unit in the field needs, for example, a tank engine, a request is transmitted to the 7th Army stock control center, where in a matter of minutes it is known if the part is in Europe. If the part is not available, a TWX is sent immediately to the Overseas Supply Agency (OSA) in the U.S., where the part is obtained.

Requested items are categorized according to their need. Code 1 items are shipped back to Europe by plane. Receipt of Code 2 items takes a minimum of 20 days from the time of request to the time of arrival. Code 3 items with no urgency involved take at least 30 days to arrive in the command and usually are transported by ship.

No one has discovered a way to transport the items electronically. Once the shipment arrives in Europe, the job of bringing the supplies to the direct support unit falls to Moore and his hard driving men.

"The success of our mission depends on the individual driver," Moore says.

Noting that "We rise or fall on the driver's ability to deliver," Moore pointed out that a special driver training shool is conducted and each member of the battalion is required to attend.

Three light transportation truck companies using 180 M34 2½ -ton vehicles are involved in the MASS operation -- the 41st, 51st and 342nd Trans Truck (Light) companies. In addition the 40th Trans Co (Medium Trk)(Petroleum) provides 10 semitrailers for the operation.
The job is continuous and runs around the clock. A shortage of drivers adds to the burden and in most cases means that a driver coming off a long haul one evening must leave on another trip the following morning. There isn't much time off.

In one day, for example, the 41st had 16 trucks available but only 7 drivers, the 51st had 22 trucks and 9 drivers while the 342nd had 14 trucks and 7 drivers.

MASS drivers are given logistical support from all units along their route. The little red sign on the front of each truck bearing the letters MASS serves as an entry to any Army post and every mess hall. Although night driving is discouraged it sometimes becomes necessary, when a driver is caught between two distant Army posts.

Each man is required to carry winter equipment and emergency repair equipment in cases of breakdown on deserted roads or all night driving.
The responsibilities are many. Their trucks are loaded with supply parts for several direct support units. The truck itself is valued at $4,500. The cost of the five tons of cargo varies but runs as high as $50,000 for a helicopter tail assembly quick-change kit.

Since the MASS experiment began last May, trucks of the 181st have hauled 349,634 pieces of cargo totaling 16,341 tons over 1.5 million miles of road.

There have been only 88 breakdowns and 41 accidents. And as one officer of the battalion explained, "Everytime a bike scratches one of our trucks that is parked, we count that as an accident. At least half of the accidents we record are not the fault of our drivers."
---
1959
(Source: STARS & STRIPES, July 16, 1959)
The 181st Trans Bn delivers technical services maintenance orders from warehouses primarily in the Mannheim area to direct support units anywhere in southern Germany between the French and Czech borders. This mission is part of Project MASS - 7th Army's logistics system that was implemented in July 1956.

When MASS orders are placed with a storage depot, warehouse personnel "flash" a message to the Operations Room of the 181st. Then, a driver of the subordinate 41st, 51st or 342nd Trans Co receives a route order and he is on his way. When the driver is transporting regular orders, he is limited to driving only during daylight hours. However, when driving "Blue Streak" orders (priorty items), the driver rolls around the clock. Three daily air routes deliver Blue Streak items.

Vehicles of the 181st travel on average about 250,000 miles a month.

CO of the 181st Trans Bn is Maj Robert W. Shidier.
---
1970
(Source: STARS & STRIPES, August 4, 1970)
The 181st Trans Bn is located at Turley Barracks, Mannheim. With a fleet of some 200 2½-ton trucks and 5-ton tractor trailers the battalion covers more than 200,000 miles a month as it fulfills its mission of providing direct and general motor transport support to USAREUR and Seventh Army units. (The tractor trailer rigs consist of 5-ton tractors and 12-ton stake and platform trailers.)

The 500-man unit comprises three transportation companies:


41st Trans Co (Light/Medium)


590th Trans Co (Light/Medium)


51st Trans Co (Medium)

In addition to the three truck companies, the 340th QM Detachment (Parachute) is also attached to the 181st.

Missions are assigned by V COSCOM (Corps Support Command) in Frankfurt and TASCOM's Central Highway Operations Center (CHOC) in Kaiserslautern. The Battalion Operations Section is notified each day by CHOC of the missions assigned to the battalion for the next day. The section in turn decides on which units will provide the trucks for each mission. Once a truck company learns of its assigned missions, the unit's CO selects the drivers. The missions include hauling everything from spare parts, clothing, rations, and ammo to small tracked vehicles.

Before starting on a run, each driver checks his vehicle for leaks, loose nuts, strange noises, fuel oil, water and makes sure that all instruments are working correctly. A trained mechanic also inspects the vehicle under the supervision of an officer.

The driver also supervises the loading of his vehicle and is responsible for the cargo during the mission.

The battalion has around 100 vehicles on the road each day. About 75 vehicles leave the kaserne every morning, the remainder are usually still on the road on previous missions.

Maintenance support is provided by the school-trained mechanics assigned to each truck company as well as by a five-man team from C Company, 51st Maint Bn (they perform field-level repairs).

41st Transportation Company (Lt/Med) -- during the week (Mon-Fri), the company runs a high priority express service with three 2½-ton trucks out of the Kaiserslautern Army Depot. This door-to-door service delivers urgently needed parts and supplies to units along routes that go to Munich, Nuernberg and Giessen.

340th QM Det (Parachute) -- this small unit has a strength of 6 (1 warrant officer, 5 EMs). Its mission is to provide maintenance support for air equipment. This includes almost 900 emergency type parachutes for all Army aircraft in V Corps and the Martin-Baker ejection seats used on the Mohawk aircraft.

---
51st Transportation Company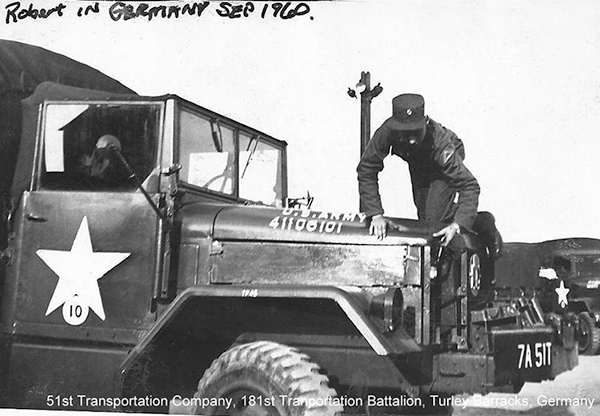 This photo was taken before the 51st became a Medium Truck Co. It was still
a Light Truck Co when I got there in August 1960 (Robert Noe)
1960
(Source: Email from Robert L. Noe)
First, let me thank you for having this website, it was great to find this information.

I was assigned to the 51st Trans Co, Mannheim, Germany Aug 1960 thru Feb 1963 at age of 17. I started out driving a ¼-ton as the drive for the platoon leader, then started driving 2½- tons, then on to the 5-ton. Put in a lots of hours on the road.

The photo above was taken a couple of weeks after being assigned when the 51st was still a Light Co. (I believe it was within a year after I arrived, the 51st went to a Medium Trucking Company.) We were working 7 days a week. On Sunday's, you were allowed time off to attend services, then back to work. The hours were long, getting off around 9 PM most days. This work trend lasted for about a year.

I recall now that during 1961, our work scheduled working until 9pm started to be reduced, although, never eliminated completely. We started getting days off at 5pm, but then, that entailed GI parties, getting ready for Saturday inspections, although, our quarters were inspected daily and we were inspected daily as well as we fell out for the morning work formation.

In 1962, we actually started getting some Saturdays off. Seems that most Saturdays were inspections of personal gear and living quarters or inspections of our trucks/motor pool. One thing for sure, we were always kept busy.

As I already related, we were always confined on the compound, couldn't leave without approved passes, we were always subjected to "shake down" inspections during the night/early mornings, our lockers would be opened, our lockers emptied. The superiors were always looking for contraband alcohol or magazines with lewdly dressed women or pin-up's in our wall lockers. A real pain in the ass!

Some comments regarding the attached map of the compound (above):

The 51st billets was in the building with the pill box on top. 1st platoon and the Company Staff was on the 1st Floor with the Orderly Room and Co's Office. The 2nd floor was 2nd Platoon; 3rd floor was 3rd Platoon. The supply room was in the basement with the Arms Room. 4th platoon was on the 4th floor. 1st & 2nd squad were directly under the pill box with the 3rd and 4th squads housed with the little 4 little windows. The 41st Trans company was housed in the same manner to the left in the picture. There was no 5th floor, the area directly under the pill box was rafters, to get to the pill box, one would have to enter through a port hole in the hall way on the 4th floor, work one's way through the rafters to a wooden ladder that entered the pillbox.

The 51st occupied only 1/2 of the building -- the North, North East section. The other half was, I believe the 41st. We also shared the same trucking area with the 41st.

The Mess Hall is the single story, white building, it was a horse stable converted to a Mess Hall, the outside still had the tie rings where one would tie up the horses.

I don't recall the other half of the Motor Pool area, how it was configured at that time, only that of the 51st motor pool and area leading to it.

The building in the diagram that I circled, but did not add a note of identification, became the Tire Repair Shop supervised by a PFC Grimms.

My service with the 51st Transportation Company was a motivation for me to remain in the military and advance.

I served 20 years that moved me into Administration/Flight Operations/Special Forces with Vietnam service with the 5th Special Forces Group and MACV-SOG, Infantry Intelligence, Recon, Operations & ROTC instructor. Enlisted ranks achieved 1SG. Received a battlefield commission and retired with the rank of Captain.

---
84th Transportation Company
1960
(Source: Email from Randy Chapman, 84th Trans Truck Co, 1960)
I was stationed with the 84th Transportation Truck Company at Patton Barracks in 1960. We had a MP Company and a Wac Company there also.

This unit was made a part of CENTAG in 1961 and we moved to Hammond Barracks.

In late 1961 or early 1962, I was sent to Angevillers as part of a CENTAG detachment, 7 of us, 5 Military Police, one Cook, me, and one driver. (The detachment was from Hq & Hq Co. CENTAG from Hammond.) I was the highest ranking soldier there, I was a Sp4. We stayed that way for a year, then I left and they sent a M/Sgt Wolf to take over.

We were given an old barracks in the far corner of the French compond, and our sole function was to guard CENTAG communications assets. We lived in Angevillers, drew supplies from Metz, and avoided Thionville for at that time there was much trouble with the Algerian population. We all carried our weapons anytime we left the compound, even off duty in restaurants & bars. Carrying weapons lasted about seven weeks.

We spent most of our off duty time in Luxemburg and I would up marrying a young lady from Trier Germany who was working in Luxemburg.

I retired from the service in 1979, and from all work in 2003.

When I retired in 2003, I moved to Florida and one day while playing golf with a stranger, we found we were both at Angeviller, doing the same job. He arrived there one month after I left and went back to Germany. What's the chances.

Went back to Germany in 1966 and wound up stationed at Neureut Kaserne with the 516th Signal which was part of STRATCOM. While serving with the 516th, we went on maneuvers both at the Angeviller and the Pirmasens bunkers. Also, as far as the 516th, I ran one of the consolidated dining facilities as a SSG, got promoted to SFC and off to Viet Nam in 68.

I believe I was initially with the 72d Signal Bn, part of the 516th. Then moved to the 516th Food Service Supervisor position, then Viet Nam.

---
108th Transportation Company (Lt Trk)
154th Transportation Truck Battalion
---
(Source: Email from Jerry Hood)
I was assigned to USAREUR.

I have learned that the 108th Transportation Company merged with the 503rd Trans Co. We hauled stuff from Mannheim and Frankfurt back to mostly Campbell Barracks.

My barracks was the first building on the right as you enter the gate (Patton Bks). Spent lots of nights at the EM Club. Was friends with a few MP's from the 529th MP Co.

There was a 519 Trans. Co there that was just staff car drivers. Then Co A was all clerical workers.

Spent 2 years there and really had a good time.
---
1962
(Source: Email from Thomas Kelly)
I was stationed at Patton Barraks from Nov.1962 till May.1965.

I was in the 108th Trans Co till they disbanded it. Then I was in the 503th Trans till I got out of the army.

I would like some pictures of Patton Bks. of that time frame. I would like them of the barracks I was in. It was near the main gate.

---
342nd Transportation Company (Lt Trk)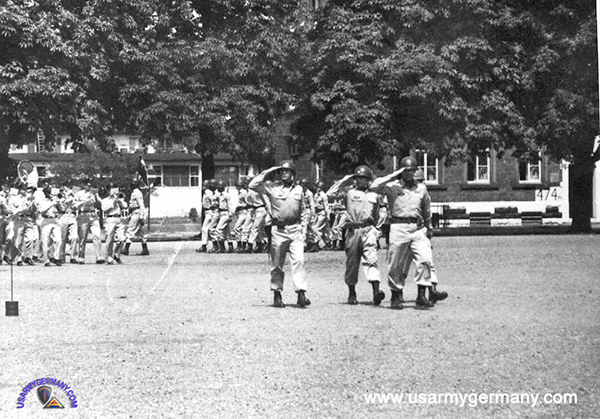 The 342nd Trans Co participates in a review at Turley Barracks (Bill McDaniel)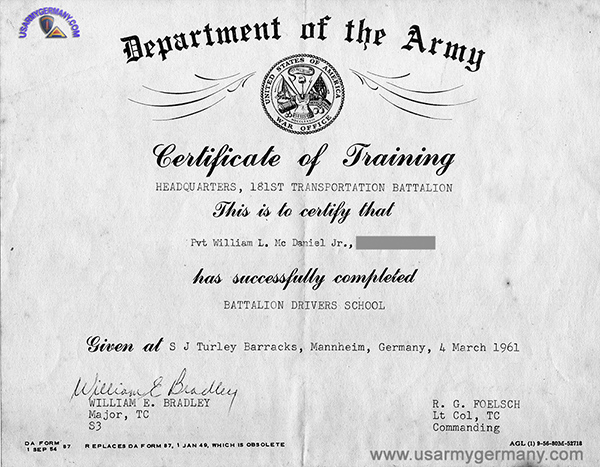 Certificate of Training awarded to Bill McDaniel after completion of drivers school, 1961
1961
(Source: Email from Bill McDaniel)
My name is Bill McDaniel. I was stationed at Turley Barracks, Mannheim Germany, from 1961 to 1963. During this time I was assigned to the 342nd Transportation Company, 181st Transportation Battalion, and attained the rank of Sp4 while driving a Light Truck (deuce and half). Our billets were next to the 51st Transportation in I believe what is Ib on the map of Turley Barracks.

During my time there my main duty was delivering cargo to various posts throughout Germany. I doubled as company photographer for special events such as parades etc. This was unofficial though but it did get me out of various inspections and parades.

I have included some photos which managed to survive over the last 50+ years. They include a parade, inspection and photos of the Commanding General, Our Battalion Commander and a Local German Commanding officer, along with various equipment, both American and German.

I have long lost contact with any of my friends there and doubt if many are still alive. I always wanted to come back there to visit but the opportunity never presented itself.
| | | | |
| --- | --- | --- | --- |
| 1. Awards ceremony | 2. 181st Trans Bn CO? | 3. Awards are handed out | 4. Tree planting ceremony |

---
503rd Transportation Company (Lt Trk)
154th Transportation Truck Battalion
---
1963
(Source: Email from Ron Britton)
Was in Heidelberg, Germany at Patton Barracks 1963-1966. Heavy Vehicle Driver.

In 1963 I was assigned to the 108th Trans Co at Patton Barracks. It was a Truck Company that supported United States Army Europe Headquarters in Heidelberg.

In 1964 the 108th and 503rd (also at Patton) were combined. The 108th and 503rd were very much the same. Vehicles and Mission were support of US Army Europe Headquarters. Each Company had 3 Light Truck Platoons and 1 Heavy Truck Platoon. I think it made perfect sense to combine the two.

After the merger of the two companies into the 503rd, the reorganized unit had 4 Light Truck Platoons and 1 Heavy Truck Platoon. Some of the guys from the original 108th received orders for Truck Companies all over Germany.
---
1965
(Source: Email from Dale Rogers)
I found the site about the European Army HQ etc.

I was in a unit at Patton Barracks in 1965-67 called the 503rd Transportation Company, Special Troops. The Commandant was Col. Marvin N. Stanford, our company C.O. was 1st Lieutenant George A. Neeham of Massachusetts.

Our mission was to move HQ (USAREUR) to a safe place [France] in case of emergency. That is read -- if the Russians crossed the Czech border.

Anyway, I have been back there 3 times and no one knows the fate of the 503rd.

Your article says the 519th [Sedan] was absorbed into the 503rd in 1983. I have life long friends that were stationed with me in Heidelberg, also met my wife at Campbell Barracks Officers Mess. She was an American tourist.

ANY INFO WOULD BE OF GREAT INTEREST TO SOME OF US. Thank you in advance
---
1980
(Source: Email from Greg Brown)
I just want to start out by saying that you have a great website.

A quick question, do you remember the 503rd Trans. Co. in Heidelberg (Patton Barracks)?

I was there in 1980 to 1981. We also had the 519th Trans.Co. in the same building. Our motor pool was at Tompson Barracks. Centag was there also.

We spent our leisure time at the "IOR" (Intenational Other Ranks) club on post.

I wonder what happened to that unit. That was my home for 13 months.

Once again, love your website. Keep up the good work!

---
590th Transportation Company (Lt-Med Trk)
4th Transportation Battalion
1960
(Source: Email from Charles Wayne Miller)
i was with the 590th Transporation Company (Light Truck) from Sept 1960 - Mar 1963 on Flak Kaserne, Ludwigsburg.

It was suppose to be a two year tour but when the Cold War broke out August 13th 1961, I was extended six extra months which made it a thirty month tour instead of twenty four months.

The day the alarm sounded our platoon leader Sgt Slaughter came through the hall way screaming this is the real thing. We all were stunned. Our ages were from eighteen to twenty three years old. All of us became men that very day.

From that day on we hauled supplies seven days a week. We were a direct support transporation company.

In Sept of 2004 there was a Forty One Year reunion of the 590th Trans Co in Branson, Missouri in which eleven vetrans were there.
---
181st Transportation Battalion
1972
(Source: Email from James A. Rung, 590th Trans Co, 1972-74)
I was stationed with the 590th Trans Co. in the 181st Trans. Battalion, from May 1972 - Dec. 1974.

Back then we were considered a light/medium trucking co. with only 8 or 10 five-ton tractor /trailers. These were all driven by the men in the 3rd Squad of 3rd Platoon. We had to earn that right to go to what was considered the "Elite squad". There were less of us than there were 2½-ton trucks (1st and 2nd Platoons and the 1st and 2nd Squads of 3rd Platoon). We seldom had to worry about being able to find a load going somewhere. We did a lot of what was called "line hauling" in support of the 37th Group.
Our main mission back then was to move the IG building out of Frankfurt, to the field when ever we were put on "alert". I can honestly say that I would do it all over again if I were given the chance.
When I left Germany to ETS after approx. 29 months on the road, I think I had something like 36,000 accident free miles.
I had a 12 year beak in service before I went back into the reserves into the 365th Evacuation Hosp. where I served in Operation Desert Shield/Desert Storm, in Oman

ADDITIONAL INFORMATION
There were three transport companies in the 181st Battalion. The 41st was a light truck comapny; the 51st was a heavy truck company; and the 590th was a light/medium truck company.

We did a lot of over the road trips that the tractor/trailer unit from 37th Group couldn't handle and then the rest of our commitments came from 7th Army.

I remember driving all the way to Bremerhaven up north and down to Garmisch, and all points in between.


---
Related Links: