If you do NOT see the Table of Contents frame to the left of this page, then
Click here to open 'USArmyGermany' frameset
Special Troops Battalion, 2nd Support Command

Looking for more information from military/civilian personnel assigned to or associated with the U.S. Army in Germany from 1945 to 1989. If you have any stories or thoughts on the subject, please contact me

.
---
---
STB History
1973 - 19..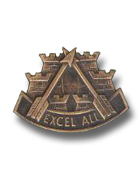 VII Corps DUI (worn by personnel of STB)
(Source: History Special Troops Battalion, 1980s)
The Special Troops Battalion was constituted on 15 January 1973 and stationed at Nellingen, Germany. Its mission was to establish and maintain messing and quartering facilities for Headquarters, 2nd Support Command (Corps).

Since that time, the Special Troops Bn has added the 16th Data Processing Unit, and the 11th and 51st Chemical Companies to give it increased capability to support the COSCOM Headquarters.

The mission of the STB today is to provide command, control, administrative and logistical support to the assigned and attached units, and to provide life support and security to Headquarters, 2nd Support Command (Corps) and VII Corps.

---
800th Service Company (Corps Material Management Center)

(Source: JOBBER, November 1, 1982)
800th CMMC: Beans, bullets, benzine for all of VII Corps

By Robin Hawkins
Be it tanks or toilet paper, it's the 800th Corps Material Management Center's business. If you need it, chances are the 800th CMMC can get it for you.

The 800th CMMC's mission is to support the entire VII Corps managing all classes of supply, (except medical and communications security items) providing integrated supply and maintenance support.

"In plain talk, this means we perform the day-to day management to get the beans, bullets, benzine and repair parts necessary for the tactical units," said Lt. Col. Pete Phelan, 800th CMMC commander.

Almost all of VII Corps' support and maintenance supplies must be requisitioned through the 800th CMMC. They are the "middle men" who arrange for the supplies to be sent from the storage facilities or their place of origin directly to the unit needing the supplies.

The 800th CMMC's customers are the 35 SSAs (Supply Support Activity) located throughout VII Corps. SSAs serve VII Corps units by keeping many small supply items on hand for purchase by units. Large scale items that the SSA does not have on hand must be requisitioned. These requisitions are sent to the 800th CMMC for processing.

The types of supplies the 800th CMMC deals with are many. They handle Class I supplies, which means they make sure that the troops in the corps have C-rations to eat in the field. They handle Class II supplies which includes TA-50 field gear and other military clothing like fatigues. Class III supplies, POL (Petroleum, Oil and Lubrication) supplies, must also be requested through the 800th CMMC along with construction items, such as concertina wire, which are considered Class IV supplies. The 800th CMMC acquires missile munitions maintenance items and ammunition which go under the Class V heading. They handle some Class VI personal demand items and items known as Class VII, which includes tanks and trucks. The repair parts for just about all these iems fall into Class IX and the 800th CMMC can get those for you too.

"We process about a half-million transactions a year and follow up on about 130,000 transactions a month. What we call transactions are requests for supplies, receipt documents and follow up documents. In terms we can all understand, last year this amounted to approximately $230 million worth of supply requests," Phelan explained.

All the different types of items the 800th CMMC handles do not come from the same place. Depending on the items requisitioned and depending on the urgency of the requisition, the 800th CMMC has several places it can turn to fill its requests.

"We have various areas we can draw (supplies) from," said Sgt. Maj. Albert W. Dawson, 800th CMMC sergeant major.

High priority requisitions for Class II, IV, VII, IX and some Class II items may be filled from the GSSB (General Supply Support Base) in Boeblingen. The GSSB has 18,000 different types of items in storage and serves as the corps' back-up for supplies during wartime and sometimes supplies urgent peacetime needs. If an item cannot be gotten from the GSSB or is not a high priority need, the next place the 800th CMMC would turn to acquire it would be the 200th TAMMC (Theater Army Materiel Management Center). The final place the 800th CMMC can fill its requisitions from are the NICPs (National Inventory Control Point) back in the United States. There are NICPs for each different type of supply. The NICP will pull the item from its stock or procure it from its point of origin and send it directly to where it is needed.

Before the 800th CMMC can fill any requisition, it first must make sure that the unit requesting an item is authorized to have it. To do this, the 800th CMMC's Equipment Authorization Branch keeps an updated TOE (Table of Equipment) library. A TOE is a document that states among other things exactly what types of equipment a unit is authorized to have along with exactly how many pieces of each type of equipment. Each unit in VII Corps has a TOE on file in the library.

When it is time for brand new equipment to arrive in VII Corps from the United States, it is the responsibility of the 800th CMMC's Force Modernization Branch to make sure that all the repair parts for the new items are standing by ready when the new equipment arrives.

Both the Equipment Authorization Branch and the Force Modernization Branch are part of the 800th CMMC's Logistics Support Division. In addition, the Logistics Support Division includes the Logistics Readiness Branch which direct the center's four commodity divisions among other tasks. The Customer Assistance Branch supports and assists the SSAs in making sure the VII Corps units get what they need. The Plans and Procedures Branch is in charge of wartime plans and policies along with planning the center's field exercises.

The center's four commodity divisions, Tank and Auto, Missile Munitions Armament, POL and Aviation-Electronics each process the requisitions for the type of commodity they deal with. In addition, each of the commodity divisions must keep records on budget and monitor their overall effectiveness in meeting the needs of VII Corps. Part of the center's mission is the concept of integrated supply and maintenance. According to Maj. Louis Sabo, officer in charge of the Missile Munitions Armament Division, integrated supply and maintenance is the divisions' ability to determine on their own which parts are needed to perform specific types of maintenance.

The 800th CMMC's Troop Support Division is slightly different from the four commodity divisions in the types of items it deals in. Troop support manages, for the most part, the items that the SSAs keep on hand for immediate purchase by the units. These items include clothing, TA-50, health and comfort items, small repair parts and other selfs-ervice items like office supplies.

The center's Systems Processing Division is responsible for scheduling the automatic data processing cycles that are sent to the 16th Data Processing Unit, Special Troops Battalion. The center must work hand in hand with the 16th DPU in order to process the hundreds of requisitions that are received daily. The Systems Processing Division must also analyze supply and maintenance systems and evaluate their effectiveness. The division relies on their own micro-computer terminal, the CPT-8000, to aid them in keeping track of the mountains of data they deal with.

The 800th CMMC also maintains a word processing and IBM keypunch center to streamline their operations.

The 800th CMMC first became recognized as a battalion in January of this year, a relatively short time ago.

"The history of the material management center is difficult to trace because it was initially made up by bringing together the people and functions of several units. In a nutshell, the concept of an MMC was started in the middle '60's but it took until the '70's to bring the supply and maintenance functions together in VII Corps. Our unit was basically formed when the 7th Inventory Control Center in Karlsruhe and the Corps Agency managing maintenance and some elements of the AC of S Supply 2nd Suppport Command were combined at Boeblingen in 1972. Doctrine for the MMC was not formally staffed until 1976 and it is still under development. We are very fortunate because we have had a chance to influence the development of our own unit," Phelan said.

The 800th CMMC's area of responsibility extends throughout the entire VII Corps area which is north of Bamberg, east to the Austrian, Czechoslovakian and East German borders, south to the Austrian and Swiss borders and west of a line between Heilbronn and Aschaffenburg. The area covers approximatey 40,000 square miles.

According to Phelan, of the five corps level material management centers in the Army, the 800th CMMC is the smallest in terms of people.

"But I believe we are the largest in terms of transaction volume. We definitely have the largest mission in terms of the number of troops we support and the land area we cover," he said.

The center's authorized strength is only about 200 troops.

Phelan added, that right now a new TOE is in the planning stages for the 800th CMMC.

"This would increase our personnel size drastically and would enable us to do many missions that we are unable to do now. I foresee a continually growing organization, which is the most important, logistically speaking.
---
(Source: Email from Jo Anne Jordan, 800th MMC, Dec 1975-July 1976)
I was stationed at Nellingen Barracks (800th MMC) from December 1975 until July 1976. Wondering if the base is still in the same location in Nellingen, and if the 800th MMC is still there as a part of the 2nd Support Command.

The base was great, not too large so it was easy to find your way around. The street names were all in German.

I got married while I was there and my husband and I moved off base in the little town of Nellingen. Because of the presence of the 800th MMC there was a huge motor pool operation with trucks, tanks etc. There was a movie house on the base and lots of folks would go to the movies on the weekend. There was a very nice PX, a Catholic Church, and a great cafeteria where those living on post could go for meals.

I worked in a huge English Tudor style building that looked like a castle. The officers and other enlisted in our company would go out the windows and climb down to the ground for PT time (4-5PM). We had such a good time exercising on the lawn, running in formation, etc. I was the third WAC to ever have been in my company. Women were not a huge presence in the military when I joined and the MOS were limited. You could not be in combat.

I recall in 1975 or 76 the Bader Meinhof gang was present and we had to sit in specific areas of the base with our M-16s that we retrieved from the 2nd Support Command center and guard the area. It was really just a drill but it felt so real.

I also recall such things as being able to bargain with the locals for auto repairs on our POVs with alcohol and/or cigarattes because we could get them so much cheaper. We would have our car repaired and give them a 5th of booze or a carton of cigarettes. I remember the exchange rate in Germany (at the time they used Marks) was about 2.5 per dollar. Gasoline prices were in the upper 2-3 Marks per gallon. Living off base was fun and reazonable, although the Army gave us a cost of living allowance. I remember the town of Nellingen and the surrounding towns were pretty old - i.e. we had to light oil to heat our home. Many of the homes were heated that way. We also had big tanks above the tub and sinks that you had to turn on to get the water hot. It was quite a different lifestyle. We traveled a lot because we were given 30 days leave per year and there was so much to see and do. A lot of people would go to Mallorca, or Greece for vacation.

---
(Source: The Champion, Oct 25, 1989)
Branches combined; TAMA created

by Zena Featherston

If you need help with your tank or your missiles you'll call TAMA.

Tank, Automotive, Missile, Armament Division of the 80tth Materiel Wanagement Center is a new division that was created by the combination of two branches of the MMC.

Before the two branches were combined the Missile, Munition, and Armament Branch dealt with the management of missile readiness, munition, armament and fire control items. Munitions was excluded from the consolidation and handled as a separate division.

The Tank Automotive Division handled common Class IX for tanks, wheeled and tracked vehiles and major assemblies for these systems.

The two missions interacted in certain areas. Capt. Gary M. Potts, Deputy Division Chief, TAMA, said, "We were basically using the same procedures in two different sections." He continued, "The concept of merging the two sections was to facilitate more responsive support for the VII Corps."

Under the guidance of 800th MMC Commander, Lt. Col. Patrick E. Garren, the TAMA division was created and operational around mid-August.

Headed by Division Chief, Maj. James B. Martin and NCOIC MSgt. James Dixon, TAMA's mission is to perform integrated materiel management for all tank/automotive, missile and armament systems in VII Corps.

TAMA is broken down into three sections. Missile Maintenance provides solutions to maintenance problems for missile systems. They act as the materiel readiness manager for the missile systems in VII Corps. They also research and validate repair parts. This section is headed by Sgt. 1st Class Bernard L. Walker.

The Class IX Branch manages the common Class IX requisitions and processing for applicable materiel categories. They manage the tank/automotive portion of the GSSB stocks. And, they provide instruction on the status for Class IX excess in VII Corps. This section is headed by Sgt. 1st Class Shelton Davis.

The Major Assembly Branch manages the Class IX major assembly supply of combat armament and tactical equipment in specific materiel categories. They manage the major assembly reporting system and they prepare the major assembly technical update. Sgt. 1st Class William W. Stites is the NCOIC for this section.

Since the consolidation, Capt. Potts commented that the communicaton flow was much better and in turn the customers are getting better support.

---
16th Data Processing Unit
1971
(Source: STATION LIST, 30 Sept 1971)
DPC VII Corps Support Command, Panzer Kaserne, Boeblingen (UIC = W236AA)

DPC = Data Processing Company
---
(Source: STARS & STRIPES, May 15, 1971)
A 13-trailer complex (within a fenced-in area on Panzer Kaserne, Boeblingen) houses the mobile IBM 360-40 digital computer used by VII COSCOM. (Webmaster note: the unit operating the computer is the Data Processing Company of VII COSCOM.)

The computer is used to keep track (in peacetime as well as in a war) of VII COSCOM's supply and maintenance activities. To assist personnel in keeping track of supply and demand, the computer can provide up to 106 different types of reports.

A very important aspect of VII COSCOM's mission is maintenance. Monthly statistics for a typical maintenance battalion:
repair & return - 1,300 wheeled vehciles, 230 tracked vehciles, 1,900 pieces of armement, 65 aircraft, and 4,700 vehicle components;
repair parts - submission of 33,000 requests for repair parts.

One very successful procedure handled by the computer is called "cross-leveling." It can fill unit stock shortages from excess supplies held by another unit in the command.

In addition, the computer is used for keeping tabs on the 4,500 tons of ammo issued each month and a dozen other duties.
---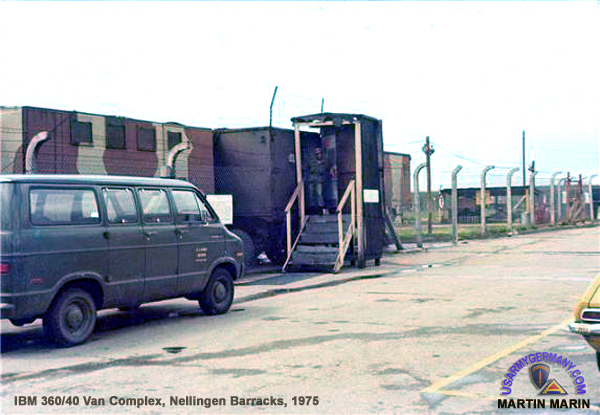 IBM 360/40 van complex, Nellingen Barracks, 1975
---
1984
(Source: JOBBER, April 9, 1984)
A look at computers

by Mark Heinz

Computer technology is becoming an increasingly significant factor in our daily lives. For soldiers in the 2nd Support Command, computer technology is more than a time-saving luxury. It's an absolute necessity.

"You have to look at our mission here which is to provide logistical support to VII Corps," said Maj. Brian E. Harper, 2nd Supcom Data Systems Officer. "In order to accomplish that mission, extensive automation assets are required. Without automation, it would be physically impossible to process the paperwork needed to get supplies to customers.

"Last year, 2nd Supcom completed more than five and a half million supply transactions " Harper continued. This enormous workload was processed with the help of 20 major commuter systems assigned to this command."

Of those 20 major systems, 18 are mobile Decentralized Automated Service Support Systems (DAS3) which are principally located in supply support activities. All DAS3s process supply transactions, and along with several other units within VII Corps, feed these transactions to the 16th Data Processing Unit. The 16th DPU completes the processing for VII Corps and transmits the supply transactions to the theater and CONUS. Activities such as receipts and cancellations are processed through 16th DPU and eventually return to the customer.

Supplies which are not procured locally are ordered through the automated supply system. A typical supply support activity orders and replenishes several thousand lines of items that they stock for their customer, everything from bolts for jeeps to major aircraft repair parts.

SFC Frank Pangelinan, Assistant Chief of Staff, Materiel Office, described a typical supply transaction. "Say a unit needs a wiper blade which they don't have in stock. They would initiate it through the Supply Support Activity (SSA) where it would be processed through the Phoenix or DS4 system. From there it would be transmitted to the 800th Corps Material Management Center, who would process the requisition through the subsystem at the 16th DPU. The requisition is then transmitted to the appropriate National Inventory Control Point in the States, and eventually the wiper blade is shipped to Germany, trucked to the SSA, and issued to the customer unit.

"Once a receipt card is processed at the SSA, closing out their file, it's sent to the 800th CMMC so they can close out their file. A typical transaction like this usually takes between 25 and 35 days," Pangelinan said.

To ensure that all transactions occur in a timely manner, managers from the 800th Corps Materiel Management Center monitor all classes of supply, with the exception of Class VIII, medical supplies. Critical shortages are managed by the 800th CMMC, which also keeps an eye on such things as high-dollar value items. Each class of supply has its own manager who programs a system to block a particular item or an item which costs over a certain amount.

While one IBM 370-138 computer at the 16th DPU is busy meeting VII Corps' supply needs, a smaller IBM 360-40 computer is dedicated almost entirely to supporting the personnel system.

Maj. Steven R. Edwards, 16th DPU commander, stated that, "The principal customer that the 16th DPU supports with the IBM 360-40 is the 38th Personnel and Administration Battalion, which services 2nd Supcom along with all other non-divisional Corps units.

"Four Standard Installation/Division Personnel System (SIDPERS) cycles per week are processed which insures that all personnel data such as promotion, transfers, and reassignments are filed on the SIDPERS data base. Each cycle runs about 10-12 hours and processes approximately 7,000 personnel transactions."

In addition to the routine maintenance of all personnel data, the 38th P & A Bn. uses SIDPERS data to obtain numerous special reports and inquiries from the 16th DPU. This can include anything from providing a commander with a personnel roster to determining the quantity, names and locations of personnel with any given military occupational specialty.

Using this inquiry system, commanders can have their supporting personnel service company provide them with a roster listing personnel according to the commanders' needs. For example, if a commander wants to find out which soldiers are eligible for promotion, he can request a roster based on time in service and time in grade. The only limitations are that they specify what information they want, and that information is on file.

An automated system, consisting of word and data processors operating with Wang equipment, was installed in 2nd Supcom in 1982. It provides word- and data processing support to all 2nd Supcom chiefs of staff. In addition to processing thousands of documents such as letters and policies, the headquarter system has more than 80 programs that address more than 40,000 records.

These programs manage a variety of activities for the entire headquarters, covering minor applications such as maintaining the command group's calendar and major applications such as the management of force modernization for the Assistant Chief of Staff, Materiel. It provides vehicle disposition for the Movements Control Center, and financial control for the Resource Management office. When dates and destinations are inputted for TDY, a program computes the projected costs.

Smaller word-and data-processing system have been installed at the 394th Transportation Battalion (AVIM) and the 6930th Civilian Support Center. Within the next six months, 2nd Supcom's other seven battalions, the 7th Support Group headquarters, and the 30th Medical Group will receive similar systems. Although they are smaller than the system in 2nd Supcom headquarters, these systems can perform many of the same functions.

For example, the 6930th CSC recently adapted a calibration program that was being used by the 394th Trans. Bn., keeping them from having to develop their own calibration system from scratch. And Harper predicted that "the sharing of data files and applications will be critical in the future. We've already seen the need for it."

Many initiatives in the field of automation are scheduled for the near future, to include an optical character reader, a high-speed device capable of ingesting one page per minute. Documents such as company SOPS may be fed into the reader, revised, and reprinted, eliminating hours of typing.

The 242nd Chemical Company, Special Troops Battalion, is scheduled to receive a microcomputer capable of automatically plotting fallout, and preparing various NBC reports.

During the next year the headquarters' system, which is presently overtaxed, should be upgraded to accommodate a system containing approximately 60 devices. (A device is a printer or terminal.) As it now stands, the headquarters' system has 32 devices.

"Automation exists to support the users," Harper concluded. "Everything we do in automation must be designed to meet the needs of the people who use these tools. We're in the business of supplying answers to needs, and for that reason automation is a never-ending process. We must constantly be capable of adapting automation to the missions and requirement of the Army and the 2nd Support Command.
---
(Source: JOBBER, August 19, 1985)
Mobility is 'essential' for DPU!

by Mark Heinz

The word which best describes the 16th Data Processing Unit is mobility. Or how about diversity. Take your pick. The 16th DPU is a highly mobile unit whose 110 personnel possess a wide range of military skills.

Their mission is to provide automated processing support to VII Corps and 2nd SUPCOM personnel and logistics management missions. The majority of this workload is handled by two IBM computer systems. Each system occupies two 35-foot vans, while a third van houses each system's library.
The smaller of the two systems, consisting of six tape drives and nine disk drives, processes SIDPERS transactions. The larger system processes SAILS transactions. Whereas SIDPERS actions deal with personnel, SAILS is a logistics system which processes many classes of supply -- 2, 3 packaged (4,7,8,9).

The larger computer system processes more than 530,000 SAILS transactions monthly, therefore it's not surprising to learn that both systems are scheduled to be replaced by a more powerful system next summer.

"These are considered to be wartime systems," said Maj. Mark C. Freeman, commander 16th DPU. "The reason we're in vans is to be mobile -- to be able to processs and move. Since we're mobile it's also important to be self-sustaining."

The 16th DPU's headquarters operates as a self-sustaining, separate company to include a mess in the field. There are 17 different MOS's to be found in the 16th DPU; everthing from a cook to truck driver to a computer repairman. Organizationally, the unit is divided into divisions to better cope with their wide-ranging mission.




About 22 personnel belong to the Production Support Division. Their Input and Output Control section takes in raw data from customer units in the form of magnetic tapes and IBM punch cards. This data is checked for completion and verified, and instructions are added as necessary before it is sent to the Set-up and Scheduling Section.

According to 1st Lt. Lori M. Beha, Chief of Production Support Division, "Our customers tell us the jobs they need for that month, and the Set-ups and Scheduling Section schedules them into that month. In other words, they tell us what they need done, and we fit the job into what ever time slot we have available."

Also included in the Production Support Division is the Library Section which is responsible for managing approximately 50 disk packs and 3,500 magnetic tapes used by the systems.

The systems are active 24 hours a day, seven days a week, and that is the responsibility of the Operations Division. Capt. Rodrick L. Jones, Chief of Operations Division, noted that, "We only have 25 personnel on hand even though we're authorized 43. It makes our scheduling tough. We're short people, but the ones we have are very good, exceptionally dedicated."

When the unit goes to the field, the systems are operated as usual. If the customer units are not located at the field site, they may deliver their data or a courier may pick it up.

The Programs and Systems Analysis Division performs software maintenance of all assigned Army standard, USAREUR command and approved local unique systems. They also provide limited software development support to 2nd SUPCOM. CW3 Robert L. Gambert, Chief of Programs and Systems Analysis Division, gave an example of limited software development. "Say that the 800th Corps Materiel Management Center needs an extract of data listing. They would send their requirements and parameters from which to select date, and a program would be coded using executive software programming."

Besides producing new programs, this division also fixes any problems which might pop up in existing systems. Sp4 Charlie Vark, a computer programmer, explained. "We have programmers who are always on call, 24 hours a day, seven days a week. If there's a problem, we have to analyze the program. A major problem can take as long as two weeks to straighten out."

This division's 10 personnel are currently being augmented by selected personnel from the 167th DPU, a National Guard unit from Montgomery, Ala. The 167th DPU had the same mission as the 16th DPU. But according to Sp5 Sherrell E. Turner, a guardsman from Greenville, Ala., "It's hard to get much training in two days a month." So the guardsman are sent to train with the 16th DPU for three-week cycles.

Problems with hardware are handled by the Maintenance Division. "We run pretty much trouble-free," said SFC William R. Brown, senior automated repair supervisor. "Less than one percent of the total available time lost is due to hardware problems. As far as the basic computer systems go, we lose very little time."

Preventive maintenance is pulled weekly on both major IBM systems and the autocom, and periphereal systems such as key punches, paper separaters, and tape testers.

CW2 Terry Corbin, Chief of Maintenance Division, said, "We're the most diverse division in the 16th DPU because of our different missions and MOS.

"We have two distinct missions. One is the support of computer systems up through depot-level maintenance. The other is the maintenance of the 55 vehicles in our motor pool."

The Maintenance Division also maintains the unit's huge 100-killowatt generators and its air conditioners.

According to SSG Edward Velez, a utility equipment repairman, "During our last field problem we had an electric source available and we had a converter, but we used the generators as something new. After all, that's what we might have to rely on at a remote field site."
---
1986
(Source: Email from James Martin, 16th DPU, 1986-88)
I was stationed at the 16th DPU in June of 1986 to about June of 1988. I wore the "Excell All" pin and the silver sword on blue background.

My MOS was 74 Foxtrot, i.e. computer programmer.

Shortly after I showed up the old IBM 360's were replaced by 2 IBM 430's (sic), which proved be better machines. They were still trailer mounted, and while I was stationed there we went on two training exercises.

When I arrived, there were about 110 people in the 16th. When I left there were only about 40 people, and we were still doing the same job running SIDPERS, which I forgot about until I read it in your site.

This was an amazing time for me in the service. I remember working for Major Freemen -- he was fair, straightforward, and he cared about his troops. He was very good at keeping his troops from being sent to do other unrelated duties, such as working at the guard shack.
I still remember a few of the names of the personnel stationed there. I remember working for
CW3 Robert L. Gambert. He was a marathon and triathlon runner. He made us young kids look wimpy when we went on our weekly / daily runs.
Sp4 Charlie Vark had just shipped out before I showed up in Nellingen, so I heard about what a great programmer he was, but I didn't know him.
I wish I knew where some of these people are now. Do you know any of them from 1986 to 1988?

I later spoke with SP4 Scott Alves, who worked with me at the 16th. He said that when he was working in the MP detachment during the first gulf war he spotted the 16th DPU trailers in the distance.

---
229th Trans Co (Movement Control Center)
(Source: JOBBER, April 27, 1987)
229th MCT No. 2 in USAREUR NDTA

by Robert Mitchem

First they took 2nd Support Command (Corps). Then they took VII Corps. And soon after that, the Movement Control Team, Stuttgart, 229th Movement Control Center, made an excellent showing at the USAREUR-level National Defense Transportation Association competition, finishing with first place in its category and second overall.

As part of their day-to-day job, the MCT is responsible for controlling all movement of cargo within the Greater Stuttgart Military Community.




According to Lt. Col. Curtis Houston, ACofS, Transportation, the 229th MCT has commitment authority over units such as the 4th Transportation Battalion. That is, when a truck from that battalion hits the road, it must first be cleared through the MCT.

"They oversee and arrange transportation of cargo, not only by truck, but sometimes by CH-47 Chinook, commercial rail and occasionally by certain theater assets," Houston said.

"For instance, if the 3rd Infantry Division should need to get something to Crete, Greece, the 229th MCT may arrange for the Air Force to do the lifting.

The NDTA is a world-wide competition, and the next level following USAREUR level is the national competition at Headquarters, Department of the Army. Unfortunately for the 229th MCT the competition is run differently at that level.

According to Houston, while USAREUR's Deputy Chief of Staff for Logistics looks for the best unit in three different categories, the national competition focuses on the one best transportation unit Army-wide.

USAREUR is allowed only one nominee in the national competition, yet different types of organizations compete in separate categories at USAREUR-level, Houston added.



The three USAREUR-level categories are:



Trucks. Motor transportation or aviation;



Installation Transportation Offices, dealing with personal property; and



Movement Control Units. Those who deal essentially with freight or unit moves. The 229th MCT fell under this category.

Houston said that units in Category 1, trucks, are usually selected to represent USAREUR at the national level, because that is the type of unit DA is looking for. The 15th Transportation Company, 4th Transportation Battalion, was 2nd SUPCOM's nomineee to the category, and made it to the USAREUR competition. However, it didn't place high enough at USAREUR to continue on to DA-level.

Every soldier in the 229th MCT does not belong to 2nd SUPCOM. About 80 percent of them are from the 39th Transportation Company, 4th Transportation Command. They are, however, attached and under the operational control of 2nd SUPCOM.

"Their Table of Organization and Equipment belongs to the 39th," said Houston, "but they are attached to us, and their major's report card comes from 2nd SUPCOM."

Lt. Gen. (Ret.) Oren Dehaven, the honorary Colonel of the Transportation Regiment, presented the 229th MCT with its award during the NDTA European Conference held April 14 in Munich.
---
(Source: JOBBER, May 11, 1987)
`Nothing moves it we don't do our job'

by Anna K. Van Note

Hundreds of soldiers and family members in the 2nd Support Command visit the Nellingen American Express Banking Office every day, but few people realize what crucial work is taking place underneath their feet.

Downstairs, past the Craft Shop, in the very back of the basement of building 3503, is the headquarters of the VII (U.S.) Corps Movement Control Center. It is small in size when measured against other battalions in the command, but it has a very challenging mission.

"Briefly stated, our mission is to provide effective transportation movement management for all commercial container, highway, Army and Air Force air, rail and inland water operations supporting VII Corps," says Maj. Thomas R. Clark III, a 1973 Virginia Military Institute graduate who serves as the MCC executive officer. "The MCC works closely with the Material Management Center to arrange movement of all classes of supply (except bulk POL by pipeline) within, into and out of the VII Corps area."

The MCC is comprised of several elements.
The Highway Traffic Headquarters (HTH), led by Maj. Harland M. Borneman Jr., receives and processes all convoy clearances and road movements bids for VII Corps units, as well as other units which pass through VII Corps boundaries.

The HTH plays one of the most critical roles in German-American military liaison in the VII Corps. Every major U.S. convoy element on German roads in the Corps area must be processed by the HTH and their counterpart, the Verkehrskommandaturen (Verrk). The Verrk offices use a computer system to track all convoy movements in West Germany.


The daily operations mission for the MCC is handled by the Movement Control Element (MCE). The soldiers in the MCE manage the transportation needs for the entire VII Corps, taking customer requests for transportation and determining how to best move the cargo -- by truck or train, or by air.

"The commitment process works like this," explains SFC Richard J. Rieks, the MCE NCOIC. "Let's say a unit has some cargo or equipment which needs to be moved. They call one of our Branch Movement Control Teams (BMCT) and provide a description of the cargo, a pick up and drop off location, and request a move date. The BMCT passes the request to its Movement Control Team (MCT) in either Nuernberg or Stuttgart. MCTs serve customers on an area basis.

"Then the MCT calls me or one of my soldiers at the MCC for a control number," he continued. "That number tells the transportation unit, like 4th Trans. Battalion, that I have approved the commitment. Fourth Trans. then determines which truck company will support the tasking. We do more than just manage the truck commitments, though. We handle all the air and rail requests, and track container and MILVAN management, and set up HET (Heavy Equipment Transport) move, too."

The MCC has 22 subordinate movement control elements. The two Movement Control Teams in Nuemberg and Stuttgart each have six to eight Branch Movement Control Teams, which are staffed primarily by local national employees. Additionally, at the Center headquarters at Nellingen, the MCC is served by a plans and exercises section, as well as detachment headquarters, which provides limited logistical support to the MCC.

"I command one of the most diverse units in the entire VII Corps, both in geographic location and mission," says Lt. Col. Tommy W. Vassaur, MCC commander. "I would not trade this experience for any other command. We are the transportation managers for this Corps. Nothing moves if we don't do our job. To be most effective, our traffic managers must not only understand transportation principles and procedures, but also must possesss a solid background in supply and maintenance support operations and unit movements by surface and air transport modes."

(1st Lt. Anna K. Van Note is the adjutant for the 229th Movement Control Center).


---
Related Links: