If you do NOT see the Table of Contents frame to the left of this page, then
Click here to open 'USArmyGermany' frameset
4th Transportation Battalion

Looking for more information from military/civilian personnel assigned to or associated with the U.S. Army in Germany from 1945 to 1989. If you have any stories or thoughts on the subject, please contact me

.
---
---
SUBORDINATE UNITS
| | | | | | | |
| --- | --- | --- | --- | --- | --- | --- |
| SUBORD UNIT | STATION | CTRY | | SUBORD UNIT | STATION | CTRY |
| 10th Trans Co | Ludwigsburg | GE | | | Ludwigsburg | GE |
| 11th Trans Co | Böblingen | GE | | | Karlsruhe | GE |
| 15th Trans Co | Nellingen | GE | | | Ludwigsburg | GE |
| 32nd Trans Co | Ludwigsburg | GE | | | Augsburg | GE |
| 62nd Trans Co | Karlsruhe | GE | | | Augsburg | GE |
| | | | | 590th Trans Co | Ludwigsburg | GE |
Battalion History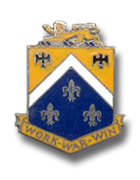 4th Trans Bn DUI (1950s-60s?)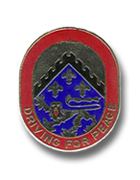 4th Trans Bn DUI (approved Feb 1, 1968)

(Source: 4th Transportation Battalion History , PAO, 4th Trans Bn, around 1980, and online Unit History)
At the end of the World War II, the 4th Quartermaster Battalion was in Leipzig, Germany, but was moved to Munich and given a depot clearance mission.
For its wartime accomplishments, the unit was awarded five battle streamers representing the Normandy, Northern France, Ardennes-Alsace, Rhineland, and Central European campaigns. These streamers are carried on the colors today.
The battalion was temporarily inactivated in March 1947, after being converted to the Transportation Corps.
It was reactivated on Okinawa in June 1949, but inactivated one year later.
Final activation came at Fort Eustis, Virginia on 20 November 1950 when the battalion was allotted to the Regular Army. It remained at Fort Eustis until
Operation GYROSCOPE
brought it back to Germany in 1956. The 4th Battalion would rotate to Ludwigsburg, Germany, to replace the 27th Transportation Battalion, which would return to the US and be stationed at Fort Eustis. An advance planning group of the 4th Battalion arrived in Europe on 15 November 1955.
The main body of the 4th Trans Bn left Fort Eustis on 6 April 1956. Arriving in Germany, the Bn was assigned to Flak Kaserne in Ludwigsburg and attached to the
10th Transportation Highway Group
. From that time until its inactivation at the end of the Cold War, the battalion remained located at Flak Kaserne.
By the mid-1950s, the French Line of Communications (LOC) was in full swing and US Army Europe had established a line of communication from the ports of Northern France to the 7th Army in Germany. The
37th Transportation Highway Group
was responsible for the
western leg of the line haul
to Mannheim; at Mannheim, it handed off cargo to the 10th Group which then delivered to the garrisons and units in the field.
At that time, the 10th Trans Hwy Gp was composed of the
4th
,
29th
and
38th Transportation Battalions
. With the arrival of the 4th in Germany, the 27th Trans Bn released its truck companies to the 4th.
In
June 1956
, the 4th Trans Bn comprised the following companies:
| | | |
| --- | --- | --- |
| UNIT DESIGNATION | DUTY STATION | COMMENTS |
| Hq/Hq Co | Ludwigsburg | |
| 10th Trans Co (Med Trk)(S&P) | Ludwigsburg | |
| 62nd Trans Co (Med Trk)(S&P) | Karlsruhe | |
| 109th Trans Co (Med Trk)(Petrl) | Ludwigsburg | |
| 590th Trans Co (Lt Trk)(Army) | Ludwigsburg | |
| | | |
At the end of 1956, the 62nd Medium Truck Co was released from attachment to the 4th and attached to the 29th Trans Bn.

In 1956 or early 1957, the 15th Trans Co (Lt Trk)(Army) was transferred from Ft. Eustis to join the 4th with station in Bamberg.

In 1957, the Battalion picked up the 32nd Trans Co (Med Trk)(S&P) that replaced the 10th Trans Co which rotated back to the States (Ft. Eustis) on 21 March as part of Operation GYROSCOPE.

The 126th Trans Co (Med Trk)(Cargo) was attached to the 4th Trans Bn in early 1958. This unit was located at Karlsruhe.

In June 1958, the 4th Trans Bn comprised the following companies:
| | | |
| --- | --- | --- |
| UNIT DESIGNATION | DUTY STATION | COMMENTS |
| Hq/Hq Co | Ludwigsburg | |
| 32nd Trans Co (Med Trk)(S&P) | Ludwigsburg | |
| 126th Trans Co (Med Trk)(Cargo) | Karlsruhe | |
| 590th Trans Co (Lt Trk)(Army) | Ludwigsburg | |
| | | |
Headquarters and Headquarters Company, 4th Trans Bn (Trk) was reorganized and redesignated as Headquarters and Headquarters Detachment, 4th Trans Bn (Trk) on 20 Feb 1959.

In the late 1950s and early 1960s, the 4th Trans Bn was tasked with providing general support to Seventh Army units and direct support to the 3rd Infantry Division, which was organized as a pentomic division. With the reorganization to pentomic, the 15th Trans Co was released from attachment to the 4th and attached to the 3rd Inf Div where it provided DS to 2nd Battle Group, 4th Infantry located in Bamberg. In 1962, the 3rd Inf Div reorganized under ROAD and the direct support role of the 15th changed. The Company was reorganized as a Medium Truck, received new M-52 tractors and the M-127 stake and platform (S&P) trailers, and was reattached to the 4th Bn.

On 24 June 1962, Headquarters and Headquarters Detachment, 4th Trans Bn was reorganized and redesignated as Headquarters and Headquarters Detachment, 4th Trans Bn (Trk).

In 1963, the 4th Trans Bn was organized as follows:
| | | |
| --- | --- | --- |
| UNIT DESIGNATION | DUTY STATION | COMMENTS |
| Hq/Hq Det | Ludwigsburg | |
| 15th Trans Co (Med Trk)(S&P) | Bamberg | |
| 32nd Trans Co (Med Trk)(S&P) | Ludwigsburg | |
| 590th Trans Co (Lt Trk)(Army) | Ludwigsburg | |
| | | |
Looking for additional details on the unit history of the 4th Transportation Battalion - with special emphasis on the early 1960s though the 1970s. This period is not covered by the online history at the Biggs Library.

---
(Source: 4th Trans Bn Command Briefing booklet, late 1980s)
Restated Mission:
The 4th Transportation Battalion provides sustained motor transport support to the US VII Corps by providing general support transportation as directed by the 229th Movement Control Center (TRANSCEN).

The Battalion will be prepared to provide direct support to non-divisional and divisional units, as directed, and tailor support to meet surge and special operational requirements. Operations will be designed around the company as the base operating unit with major emphasis on small unit operations (squad level) during the hours of darkness (assume air priority as best case). Heavy lift assets will be prepared to support evacuation operations and tactical movement operations. Heavy lift assets will be massed to ensure maximum and immediate response to tactical situations. Company level elements will be prepared to sponsor and transition, to a wartime posture, TPFDL forces being deployed from CONUS.

Subordinate Units:
11th Trans Co (Hvy), Panzer Kaserne, Böblingen
- provides truck transportation for the movement of heavy or outsized vehicles

15th Trans Co (Med), Nellingen Kaserne, Stuttgart
- provides transportation for movement of containerized and/or general cargo by motor transport, with the exception of bulk petroleum products

32nd Trans Co, Flak Kaserne, Ludwigsburg
- provides transportation for movement of containerized and/or general cargo by motor transport, with the exception of bulk petroleum products

396th Trans Co, Flak Kaserne, Ludwigsburg
- provides transportation for movement of containerized and/or general cargo by motor transport, with the exception of bulk petroleum products

515th Trans Co, Flak Kaserne, Ludwigsburg
- provides bulk POL support to divisional and non-divisional units within VII (US) Corps.
---
(Source: Email from Robert L. Bandi, 590th Trans Co)
As a former enlisted member of the
590th Trans Co
, 4th Trans Bn. It is great to see the history of the 4th TC Bn. However, I noticed that nothing was said about the 533rd Trans Co being assigned to the 4th in the early 1960's.

I was assigned to the 15th Trans Co and then transferred to the 590th after arrival in Germany. I have many documents that I saved from my times with the 590th at Flak Kaserne.
---
1965
(Source: Email from Lou Buffardi)
I've recently learned of your website from a friend of mine from the 4th with whom I served during my brief tour from 1965-1966.

I arrived for an ostensible 3-year tour in the summer of 1965 fresh from the 2nd Armored Division where I had served as an Armor officer. My first tour of Army duty was with the 2/66th Armored at Fort Hood, Texas, and had included leading a tank platoon and later, being assigned as the Recon Platoon Leader for the battalion.

With all of 2 years total military experience, I was then sent to the second half of the Transportation Officers Basic Course at Ft. Eustis. Completion of that saw me on my way to my first transportation corps assignment in Ludwigsburg.

I had hoped to be assigned to a truck company so that I could learn the organization and management. But I was assigned instead to the battalion headquarters as assistant S-3 that summer of '66. I had the good fortune of having LTC Schaefer as Battalion Commander, and Jerry Murphy as my boss who was the S-3. I recall Bill Waterman also assigned to the unit and he became Bn XO. Some of my fellow lieutenants at the time included Jeff Barrie, Art Brandt, Bill McDonald, and some stellar others whose names the passage of time seems to begrudge me at the moment. I recall two of the others had Porsches! I was entirely happy with my 1964 Corvair Monza convertible, thank you.

The first six months were pretty busy in the S-3 office with exercise plans, field exercises, and a lot of fun as well to include bowling and marksmanship competitions. The officers club was just out of sight superb! We had plenty of fun there -- and I recall slot machines and some sort of long board game that attracted a lot of the guys involving twisting handles to hit a small ball from one end of the table to the other. There was also a swimming pool there.

The band was fantastic, playing all the hit tunes of the time causing us to dance to "Hang on Snoopy" and all the great Beatles tunes. My best memory is Art Brandt inviting me out with him to meet some girls for a double-date. I had the good fortune of meeting my wife, Pat, that evening! It was the beginning of a 40+ year romance!

It seems that the New Year of 1965 brought some marked changes. Levies for Vietnam began to deplete our numbers each week. By about March of 1965, each company had been reduced from a complement of 5 officers to only one each. In our battalion headquarters, we were reduced to the battalion CO, the battalion XO, and me -- as one of the last officers assigned there.

I was now the headquarters commandant, the S-1, the S-2, the S-3, the S-4, the S-5, the maintenance officer, and the mess officer. I recall one day, sitting at my desk with my head in my hands, the XO coming in asking me what I was doing. I looked up and said "I'm having a staff conference".

With the loss of so many fellow officers, there were no competitions and very few dances after that.

I was levied in May and that was the last time I saw the 4th. I certainly missed the education of being in a truck company, as my subsequent assignment called for me to organize and command one!

Of all the units to which I have had the good fortune to be assigned, I will readily admit that my time with the 4th Trans Bn was the best.

I'm not sure how much value this all is to your seeking information about the Ludwigsburg group in the 60's, but it certainly gave me an opportunity to reminesce about some fine times. As a quote found in the magazine Reminesce goes, "Nostalgia is a lesson in grammar: You find the present tense, and the past perfect."

ADDITIONAL INFORMATION
(Source: Email from Jeffrey Barrie)
I would like to add a few more cents worth to Lou's recollections.

I joined the 15th Trans Co (Med Truck) in 1964 when it was in Bamberg, and we moved to Flak the following year.

Capt David Percival was the CO, who married a Bamberg girl and brought her to Ludwigsburg. Hal Cox was his replacement. Art Brandt joined us as exec after we arrived.

Colonel Roger Rush was the Bn Co when I arrived.

The hqs for the Transportation Group was near the main gate, and Major Gene Lonzillo was the Adjuctant, later to become a general officer.

Tommy Chan was the O Club officer, and having Chinese restaurant experience in Seattle, did a great job.

Other names that I remember: Dan Shellabarger was CO of the 32nd. Michael Weissman of the 590th.

I was theater officer for a while, in charge of movies and popcorn.

Several years ago, here in Moscow at the airport, I met a German from Ludwigsburg who set pins in the bowling alley at Flak. Small world.
---
1973
(Source: Email from Steven Korish, 396th Trans Co, 1973-75)
I started off in Germany in HQ Co. of the 3rd Bn, 21st FA (Honest John) at Fiori Barracks, in Aschaffenburg. Initially worked as the fuel truck operator for the 3/21st - a 5-ton tactical fitted with two 500 gallon diesel pods and towing a third (gas) pod in a trailer. We spent a lot of time in the field - larger scale maneuvers in Grafenwoehr and every winter we participated in the REFORGER exercises. REFORGER IV and V for sure.

My favorite REFORGER exercise was breaking down on a lonely hilltop location after topping off one of the Batteries - huddled in a sleeping bag in the cab all night waiting for a mechanic. I was close-up to a great aerial dogfight the next morning - and learned from the mechanic when he arrived that one of the jets had 'killed' me. I thought 'GREAT!" - that means I can sit back - this truck won't have to deliver fuel for the rest of the exercise. Somehow my being dead did not eliminate me from hostling fuel, despite my protests.

Luck sent me to the 396th Transportation Company - Flak Kasern - Ludwigsburg, outside of Stuttgart. My truck there was a deuce and a half. Our best runs were taking slack for 37th Group when they got overloaded. Always hoped it would take us in or past Rhein Mein - they had the best messhall and it served breakfast at midnight; almost made you want to join the Air Force.

---
109th Transportation Company
1951
(Source: Email from Bud Lacey)
I was in the 109th Transportation Truck Company in 1951/1953. We hauled supplies, tranported troops, etc. We hauled for several divisions (28th, 43rd Inf Div & 2nd Armd Div).

We lived in tents in Mannham at an old German airfield (Camp Y79). We then moved to Ludwigsburg in 1952 which had 4 truck companies. We had a PX, club, small hospital, a nice mess hall that was open 24 hrs a day because of trucks comming in at all hrs. of the day and night.

We took part in Operation Driveaway in 1952 where our old WW2-era trucks were replaced with newer trucks. We would pick up trucks, jeeps, ambulances, 3/4-ton utility vehicles in Bremerhaven. We took them to Ordnance depots from Frankfurt to Augsburg. I was in an 'escort team' convoying the trucks from Bremerhaven to Hanover. Those were long days -- up at 4 am, on the road, got back around 5 pm.

Also worked with heavy drivers taking new tractor trailers to Berlin. This went on for about 8 months. We also had a control jeep team which took the convoys out every day. The control jeep carried the convoy commander, serial commanders - in all we had 5 jeeps on the road with maintenance trailers with spare parts, gas, oil, water, tow bars. I drove a truck about 80,000 miles in the 19 months I spent there.

Returned to States in March of 1953. One cannot forget those troop ships.
---
126th Transportation Company
1960
(Source: Robert B. Lorenz)
Not much history on your site re: 126th Trans Co. I arrived in Feb 1960 and rotated in July 1962 (6 months added because of the Berlin Crises). They wanted me to stay and offered SP5 (E-5) but I wanted out.

Separated upon return stateside and then after 18 months re-entered in 1964 as an E-2 and was assigned to the 538th Trans Co.

The 126th was there at the time or shortly afterwards and then it went to Nam as I remember. I was transferred to the 4th Bn, 68th Armored until their colors were retired to Fort Stewart in 1965. A

fter that my career went forward and retired as a SGM (E-9) in 1983. The Army was a great career and no regrets.
The 126th covered the southern half of Germany, and some of us brought in the first M-14s (replacement for the M1 Garand) as well as the new jeeps arriving at Bremerhaven for Army units. The jeeps were prone to flipping over (operator malfunction).
Spent about 120 days hauling A-frames and telephone cable for the German/Polish Labor Service and slept in tents in the woods with them. Always had a great time talking with them and learning from them. They were stationed at Gerszewski Barracks outside of Karlsruhe. Most were survivors of the Nazi Concentration Camps. (These were the same people that the Terrorist Leader of Iran says did not exist since he believes the Holocaust was a fabrication.)
I hauled everything from toilet paper, Armored Personnel Carriers, 936 five-gallon cans to a load until one of our guys flipped his truck, to nuclear tip warheads for Honest John rockets.

It wasn't until I was out of the Army and working again for the US Gov't that I found out I was issued a CONFIDENTIAL clearance -- now that was good security back then!??? Visited just about every ammo dump in southern Germany and spent many nights at Grafenwoehr and Vilseck, as well as Baumholder and Fulda. Went five days once without a shower, dry shaved, and stunk like hell.
Caught the head cook passing cigarettes over the fence to a Frau and it sure made my future KP duty fun. Ran into him at Fort Bragg during one of my two tours there.
Other units at Phillips Kaserne/Barracks were the 502nd Engr Co, 555 Engineer Bn, and the 78 Combat Engineer Co. (they lived on the 3rd floor of our building.)
Lot of great memories about my tour with the 126th.

---
396th Transportation Company
1974
(Source: Email from John Stroh)
I was assigned to the 396th Transportation Company, 4th Transportation Battalion, Flak Kaserne, Ludwigsburg, Germany from 1974 to 1976.

We wore the 2nd Sup Com patch, and supported various maintenance and supply companies. We also would support 1st Infantry Division components as needed (especially for training at Graf).

---
515th Transportation Company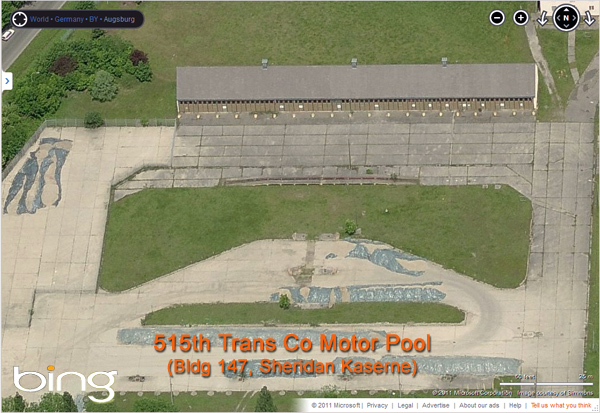 Bldg 147, 515th Trans Co, 1982 (Bing)
1982
(Source: AUGSBURG SCENE, June 10, 1982)
| | | |
| --- | --- | --- |
| | | Article provides information on the formation and mission of the 515th Transportation Company at Sheridan Kaserne. |

---
533rd Transportation Company
1966
(Source: Email from Dave Cansdale)
Thanks to both of you for such quick responses to my email. I will try to cover my experiences in the US army involving, and leading up to, my service with the 533rd Trans Co.

I was drafted into the US Army on July 14, 1966, (Rochester/Buffalo, NY) basic training at Fort Dix NJ, remaining at Ft Dix for a 5 week light truck driving course. November 15, 1966 I arrived at Reese Kaserne in Augsburg, GE assigned to the 533rd TC, 4th Battalion.

The 533rd consisted of a large compliment of deuce and a halfs (2½-ton) with trailers, including ten 5-ton tractor/trailers.

The mission of the 533rd was to transport goods throughout Germany to and from various Kasernes (barracks). This duty allowed me to travel throughout Germany, from the south to the north, on numerous transportation assignments. I think the only major city I did not transport to was Berlin. We were a support unit to armor/infantry divisions training in Wildflecken. June 1967 the 533rd was placed on alert and prepared to be activated for a possible conflict in a politically volatile situation in Israel. Fortunately we were cancelled.

Approximately February/March 1968 the 533rd was assigned to transport an infantry unit which was being reassigned from Munich to Fort Riley, Kansas. This involved the transport of their heavy equipment dispersed at different locations within Germany. We utilized, exclusively, the 5-ton tractor trailers for this transport. I was fortunate to have been assigned to this 5-ton squad, just prior to the assignment ... great duty.

There were four transportation companies assigned to the 4th Transportation BN -- three were assigned to Ludwigsburg, the fourth was the 533rd assigned to Augsburg.

I worked with a great group of guys while assigned to the 3rd Platoon. The names of your Army buddies you never forget: Gary Hoffman, Chuck Nebelski, Daryl Miller, Jerry Romesburg, Lloyd Potter, Gary Harris, Jim Johnson, Randy Hershman, Sgt. Henderson, and the list goes on. (Now I realize some names are slower to come to my mind.)

I was very fortunate to have served with the 533rd being assigned in Germany as opposed to being sent to Viet Nam. I have a photo album that depicts the 533rd Motor Pool at Reese Kaserne.

---
Related Links:
4th Trans Bn/44th Trans Bn - one of many great transportation unit histories online at the US Army Transportation School Library (Biggs Library and Information Center)