If you do NOT see the Table of Contents frame to the left of this page, then
Click here to open 'USArmyGermany' frameset
Donnersberg Radio Station
Wideband Germany
Looking for more information from military/civilian personnel assigned to or associated with the U.S. Army in Germany from 1945 to 1989. If you have any stories or thoughts on the subject, please contact me

.
---
---
Donnersberg Radio Station
102nd Signal Battalion
---
7th Signal Support Unit
(Source: Email from René Meier, Det A, 7th Army Sig Spt Unit, 1963)



102d Sig Bn - 1963
Donnersberg






1. DOG Radio Station, 1963 (154 KB)


2. DOG radio towers and main gate, 1963 (KB)

3. AF radio site in distance, 1963 (KB)




4. 102nd Sig Bn MW tower, 1963 (KB)


5. MW dishes on 102nd tower (KB)


6. Site billets, 1964 (KB)


7. Construction of new tower, 1964 (KB)


8. New MW tower for link to Italy, 1964 (KB)

9. Quonset huts and Det A radio van, 1963 (KB)


10. Siemens relay comm equipment, 1964 (KB)

---
447th Signal Battalion
---
68th Signal Battalion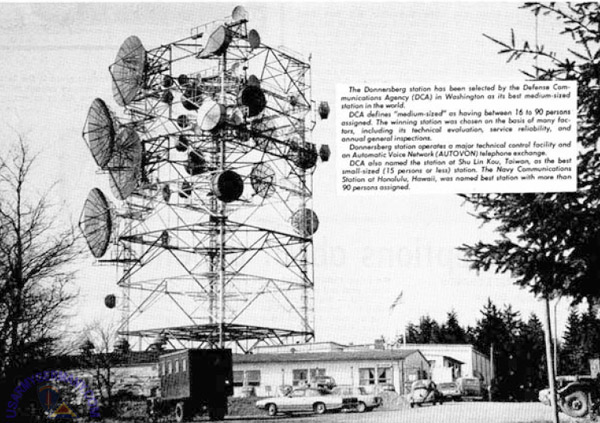 Donnersberg Radio Station, mid-1970s
(Source: Email from Hank Ickes)
I was assigned first to Co. A, 68th. Sig. Bn. and later to Co. E, 102nd Sig. Bn. (after the 102nd. was consolidated in Germany in 1966) under the 22nd. Sig. Gp. for the time I was in Germany: April 1965 through July 1967. I was at the Donnersberg radio station, roughly half-way between Kaiserslautern and Mainz/Wiesbaden, all that time.

Co. A, 68th. Sig. Bn. headquarters was located at Neureut Kaserne, north of the city of Karlsruhe, but the bulk of the enlisted personnel were detached from there to either high-frequency radio sites (which you alluded to in your description of the Edingen radio station), or microwave/tropo-scatter sites making up part of the ET-A system. (I never heard anyone there use the term "ET-Alpha", by the way.)

Co. E, 102nd. Sig. Bn. was originally located in France, but its headquarters moved to Donnersberg as the station grew beyond its original mission, to add the ET-A system equipment and later an AUTOVON telephone switch. (It was largely due to the headquarters move confusion about the time I got out of the Army that delayed my receiving my Good Conduct Medal for about 4 years, but that's a separate story . . .)
FOLLOW UP
Now that I have a *little* more time to write, I'll expand on my personal experience a bit.

Background: I enlisted from New York (Long Island, more precisely) in July, 1964, and after Basic Training in Ft. Dix, NJ, I went on to my guaranteed tech school: "Fixed Station Receiver Repair" (then known as MOS 271.1 and later, I understand, called "32B2", or something like that) at Ft. Monmouth, NJ. So I was a bit baffled when I saw my shipping orders were sending me to what sounded like a combat unit (Co. A, 68th. Sig. Bn.), rather than a fixed station! I later found out that that unit had both HF and microwave radio missions. So in their infinite wisdom, I went to one of the microwave sites! Go figure. (I found out later that the HF stations were part of the "Cemetery Net".

So -- from Ft. Monmouth, I went to the overseas replacement station at Ft. Dix for about a week and a half, whence I schlepped my stuff up to New York City to the Brooklyn Army Terminal, and got on board the USNS Gen. Alexander M. Patch for a leisurely (hah! It was slightly more than a week of heaving - both the ship and my stomach) trans-Atlantic cruise, pulling into Bremerhaven in April, 1965. Thence by troop train and DB local service to Karlsruhe.

Anyway, after about a month of doing routine stuff around the company's HQ at Neureut Kaserne (near Karlsruhe) and some mux training at the 22nd Sig. Gp.'s school at Taylor Barracks (I believe it was) in Mannheim, I was finally shipped off to Donnersberg. At that time, the site had three separate organizations resident:

(1) my detachment from A, 68th., operating the ET-A equipment: AN/FRC-66 microwave/tropo- scatter radios (manufactured by ITT) with General Electric's TCS-600 multiplex equipment and associated patch panels, all operating from 2.5-ton truck commo shelters on concrete pads at the foot of the tower (which is worth a discussion itself!),

(2) a detachment from Co. C, 102nd Sig. Bn., which operated Siemens FM-120/2000 (including freq.-div. multiplex equipment roughly equivalent to AT&T's "K" and "L" carrier) and PPM-24 (incorporating time-division mux) on what they called the "Line of Communications" network between France and Germany. Note: I recently saw a tech diagram of this network from October, 1963 on the Internet. If you haven't seen it, give me a yell, and I'll e-mail it to you. It's quite detailed, breaking each link down to its individual 12-voice-channel groups, including "filtered-through" groups. Each station is identified only by its three-letter DCA designation - for example, Donnersberg's site was called "DOG", and

(3) a detachment of folks from Co. A, 7th. Army Sig. Spt. Bn., which had a number of AN/TRC-24 VHF links to who knows where - that outfit was always having field training exercises . . .

As the mission of Co. A, 68th. Signal slowly grew to include the new AUTOVON switch (for which a new building was constructed, and a couple of guys on the construction crew actually let me lay a few bricks in the North wall), that was at the same time frame (1966) as the US and Canadian forces were leaving France, so when they deactivated Cos. D and E, 102nd. Signal in France, they consolidated all the Donnersberg microwave and tropo operations as the new Co. E, 102nd. Signal, (new DCA designation: DBG) and shoved the 7th. Army Sig. Support off the Donnersberg site, moving them a couple of miles over near the US Air Force's microwave site called "Dannenfels". What a bummer - they were now operating out of *tents*!

Anyway, in addition to doing microwave and mux maintenance, Donnersberg was a *MAJOR* cross-connection point in both the ET-A and LOC systems, so we were pretty always hopping doing tech. control work: 1Khz test tones, 600-ohm terminations, troubleshooting broken circuits, installing new circuits, that sort of thing. Most of the other stations on both those networks, except those at major headquarters and telephone switches, never had the work-load we had. It came in handy years later when I was a contract-bum in Viet Nam and Thailand!

So, I was located there for my entire tour, returning back to the US in July, 1967, when I went into the (very!) inactive reserves.

End of boring story, unless you think I can fill in some other holes. BTW - in the "official" website, I recall some reference to an AUTOVON switch at Pirmasens which was supposedly the only such switch North of the Alps, or some such. Actually, Pirmasens had the AUTODIN switch, and Donnersberg had the AUTOVON switch.
---
73rd Signal Battalion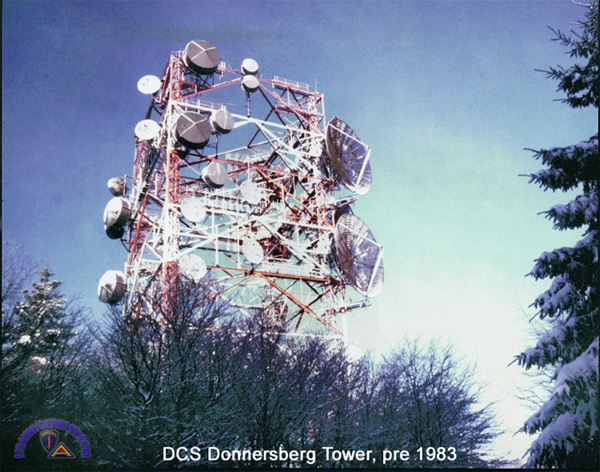 Microwave Tower, DCS Donnersberg, prior to 1983
(John DeHart)
1975
(Source: STARS & STRIPES, Dec 27, 1975)
On the Donnersberg, a 2,215-foot mountain in Rheinland Pfalz, are two German and American television towers as well as the largest US military communications tower in the world.

The 153-foot orange-and-white structure is the hub of American military communications in Europe. The Donnersberg site is operated and maintained by the 76-man Donnersberg Detachment, an element of the 298th Signal Co.

The site handles an AUTOVON switch (one of only two "Army" AUTOVON switches in Europe), 16 relay systems and a technical control facility.

Since there are no billets at the site, the enlisted and unaccompanied soldiers live on the economy.
---
1986
(Source: BANNER, May 1986 - Worms MILCOM newspaper )
| | | |
| --- | --- | --- |
| | | Article on the Donnersberg DCS station and the 298th Signal Company which ran the site in the 1980s. |
---
DONNERSBERG SITE CLOSURE (October 2011)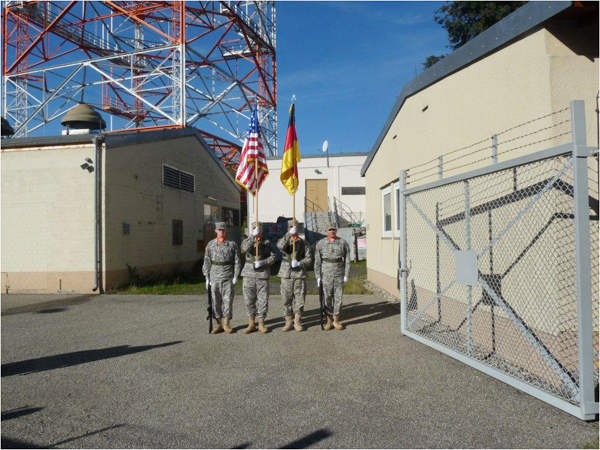 2nd SIG BDE color guard during official closing ceremony at Donnersberg, Oct 2011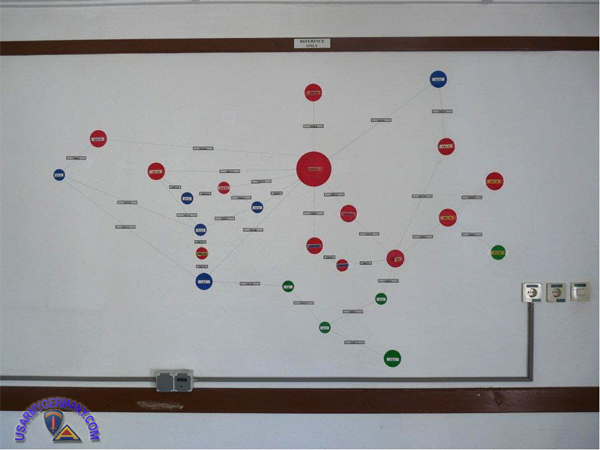 M/W network diagram on wall in the conference room at Donnersberg

(Source: 5th Signal Command website; accessed April 15, 2013)
Article by Kristopher Joseph

DONNERSBERG, Germany (Oct. 14, 2011) – Donnersberg, or the "Thunder Mountain," is the highest hill in Rheinland Palatinate at 2,200 feet high. After World War II, the U.S. constructed the largest radio station in Western Europe. This site was a primary hub of American military communications with its 153-foot tower.

As communications have transformed in Europe, the time has come to bid farewell to an important part of 5th Signal Command history.

Members of 5th Signal Command held a small ceremony that also included local German national colleagues to honor the closing of the Donnersberg site.

Back in the day when most communications were relayed through radio and line-of-site microwave relays, the Donnersberg site also housed the Automatic Voice Network (AUTOVON) switch (one of only two "Army" AUTOVON switches in Europe), 16 relay systems and a technical control facility.

Throughout its existence, Donnersberg has gone through many transitions as communications have improved and expanded. Various 5th Signal units served in Donnersberg to include Wiesbaden's 102nd Signal Battalion.

Donnersberg and the several other towers throughout Europe were part of what was known as the Digital European Backbone or DEB. With the implementation of a new fiber-optic network backbone and the onset of Dense Wave Division Multiplexing, just to name a few, historic towers such as these have been slowly phased out.

"The Soldiers and civilians that worked at the site will go down as important contributors to the modern bandwidth infrastructure that we benefit from today," said Keith Ingram, 5th Signal Command's Global Information Grid program manager. "We learned lifelong lessons here while also learning, developing, polishing and evolving our technical skills. For this reason we are here at our Alma Mater to honor it for its service and say goodbye. We may no longer be stationed or work here but we'll always have some special moments we shared here. The 'Thunder Mountain' will always have a special place in our hearts."

Click here to view more photos taken at the Donnersberg site during the closing ceremony in October 2011 (5th Signal Comd Flickr set)

---