If you do NOT see the Table of Contents frame to the left of this page, then
Click here to open 'USArmyGermany' frameset
16th Signal Battalion
505th Signal Group
Looking for more information from military/civilian personnel assigned to or associated with the U.S. Army in Germany from 1945 to 1989. If you have any stories or thoughts on the subject, please contact me

.
---
| | | |
| --- | --- | --- |
| Battalion History (19..-19..) | | |
---
Battalion History
19.. - 19..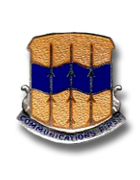 16th Signal Battalion DUI
(Source: Official 3rd Signal Brigade web site)
On 15 May 1952, the 16th Signal Operations Battalion reorganized and received the designation of 16th Signal Battalion. It assumed the mission of supporting the lll Corps, headquarters at Fort Mac Authur, California. In August of 1953, the battalion moved again, this time to Fort Lewis, Washington where it continued it's signal support mission.

In August of 1954, the battalion moved to Fort Huachuca, Arizona where it received a new designation as Combat Area, Army-level Signal Battalion. The 16th remained at Fort Huachuca to support U.S. Army proving ground testing until September of 1961 when it moved to Schloss Kaserne located in Butzbach, Federal Republic of Germany. Upon closure in Germany, the battalion became a subordinate unit of the 505th Signal Group where it also received an additional company into it's structure, the aptly named 16th Signal Company. This company became Delta Company.

In the summer of 1968, Delta Companies of the 1st, 16th, 26th, 93rd, and 440th Signal Battalions in the 7th Signal Brigade returned to Fort Hood, Texas. They were designated as REFORGER companies, and were placed under the control of Headquarters and Headquarters Detachment, 366th Signal Battalion.

On 21 September, 1977 the 16th Signal Battalion was reduced to zero strength and the colors were returned to Fort Hood, Texas where the battalion reformed under the 5th Army and was attached to lll Corps.
If you have more information on the history or organization of the 16th Signal Battalion, please contact me

.

---
Related Links:
16th Signal Battalion -