If you do NOT see the Table of Contents frame to the left of this page, then
Click here to open 'USArmyGermany' frameset
25th Signal Battalion (Const)
505th Signal Group
Looking for more information from military/civilian personnel assigned to or associated with the U.S. Army in Germany from 1945 to 1989. If you have any stories or thoughts on the subject, please contact me

.
---
---
Battalion History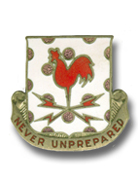 25th Signal Bn (Const) DUI
In March 1956, under the command of L. Col. Edwin J. Chatham, the battalion gyroscoped the USNS Geiger to Rhein (Gerszewski) Barracks in Karlsruhe, Germany, to replace the 40th Signal Battalion. The Battalion was attached to the 160th Signal Group.
1957
(Source: OPERATION GYROSCOPE IN THE UNITED STATES ARMY, EUROPE. Headquarters USAREUR Historical Division, 6 September 1957)
Interchange of the 25th and 40th Signal Battalions

The 25th Signal Battalion (Construction) in the United States was chosen to rotate with the 40th Signal Battalion, Germany, in the first of these smaller unit moves. As was often the case with units in the United States that were earmarked for Gyroscope movements, the time before rotation was insufficient for the completion of normal training schedules.(1) However, the 25th solved the training problem by instituting an on-the-job program to make seasoned linemen, drivers, mechanics, and clerks out of 600 recruits in about 8 weeks. None of these recruits had had any previous Signal Corps training. Bypassing the usual schools because of the early Gyroscope deadline, the battalion offered 4 courses that ran simultaneously for the 8 weeks and consisted almost entirely of practical experience, except for 5 days of classroom work for prospective drivers.(2)

The advance party of this first technical service unit to rotate from the United States to a foreign post left on 10 February 1956. The main body of the battalion arrived in Germany on 9 April, and the 40th Signal Battalion departed the next day. Only 152 dependents sailed with the main increment, and all of these seemed to be satisfied with the usual Gyroscope family benefits.(3)

(1) Cable AHFKC-7-456, First Army to CINCUSAREUR, 25 Oct. 55. In file above, B/P, Vol. III.
(2) The Stars and Stripes (Eur. ed.), 22 Mar 56.
(3) USAREUR Press Release, 9 Apr 55, sub: Six Battalions "Gyroing" in April. In USAREUR PID files.
---
It appears that most of the 25th Signal Battalion (the exception was "C" Company) was inactivated in Germany in 1966. Can anyone provide additional details?
If you have more information on the history or organization of the 25th Signal Battalion, please contact me

.

---
1958
(Source: Email from Willie Brooks)
Charlie Co., 25th Signal Bn (Const) at Knielingen (Gerszewski Barracks) from 1958 to 1960. We were spread out pretty thin.

I was mostly TDY to Boeblingen and other points over Germany and Austria. The only time I spent in Knielingen was less than two weeks when I was clearing all paper work to go to Fort Benning, Ga.

We were a small group of about ten men and four vehicles. We had no officers, just a Buck Sgt. The detachment was attached to the 585 Signal Company (Support) at Boeblingen.

We lived in a sixteen man tent most of our time doing maintenance on phone lines. We lived in the forrest just like a hermit.
---
1962
(Source: Email from Richard Ghera, Co B, 25th Sig Bn)
I was in 25th Signal Battalion Co. B. 2nd Platoon (1962-63). I arrived by ship in Bremerhaven (General Gordon) and took a troop train to Karlsruhe. When I arrived at Gerszewski Barracks before I could unload my duffle bag Sgt. Ladd, and Sgt ? (Tree Top) told me leave it alone you are going to the field.

We were in the forest outside of Mannheim somewhere and stayed there on maneuvers for about three months before I got back to Karlsruhe. I remember how cold it was and we had, I think ,10 man tents with two pot belly stoves to keep up warm. You had to fuel them, but it seemed like no one got up at night long enough to keep them going. So in the morning you would wake up and look at the others in their sleeping bag blowing cold air and it was like a train around the tent with the cold air blowing up in the air.

To this day I am amazed how "comrade" (the Germans) knew we were in the forest. The first night I arrived at our bivouac area a couple of the guys said "come to town with us." I ask how the hell we going to town out here no one knows we are here, and they all laughed and told me, "just wait and comrade will show up in cabs to takes us." And sure enough, about 1800, here they came.

Well, being a rookie in country the guys told me we are going to town on a yak attack. I said "yak attack, what is that?" Cognac rookie, ouch, the next thing I remember I woke up in my sleeping bag being awakened to go to the field to lay spiral 4 cable for the maneuver. I asked how I got back to the camp and they told me -- they told comrade to bring me back because I was in no condition to continue the night." That we my first memory of the field in Germany.

Co. B, we also spent a lot of time at the cable yard or walking behind a deuce and a half reeling in cable on the cable machines. I remember how some guys had a talent for reeling in cable on the cable machine and never over lapping a row of cable over the next row of cable as they fed the cable by pulling it onto the reel. It took me about four months before I got to be a reeler and walk behind the truck picking up and a reeling in spiral 4 cable after the maneuver was completed.

The bar I remember the most close to Gerszewski Barrack was called "The Tracodero." We used to have a hole cut in the back fence where we could sneak back in after curfew and the MP's could never find the hole.

I have so many great memories of Gerszewski Barracks and my time traveling all over German laying cable. We would go to Graf and qualify or else go to Baumholder and fire our 50's. Now those were cold ass places. I still remember standing by the engines on trucks with our hands out over the manifold to get warm. I remember on maneuver, we were out in the country side, way out, and as we were laying the cable, the forest was really thick, and one of the guys yelled at us and said "come here and look at this." I will never forget it. It was like a movie. He said "peek through the bushes," and there was an ice rink on the outskirts of a town and all these young girls were ice skating in their ice skating shorts. Of course everyone from the platoon came running over and we couldn't go talk because we were in our fatigues and dirty as hell. But that night, again, here comes comrade in cabs to take us to town.

The people of Germany were just great, always treated us with a great welcome whenever we entered their town, and the food was super.

A few names I still remember: Lt. Williams (speedy Williams), Mahoney, French, Ettinger, Dyer, Ford, Freddie Leigh, Kawasaki (Ski), Sgt Major (MF) he hated if you said it. Returned home on the General Rose. We went to Fort Hamilton and had to wait about two weeks for our discharge papers before we was released, it seemed like a year.

When I started reading some of the stories it brought back a lot of memories. I saw one about football in Germany. I remember each division had a football team and they would play each other. It was a big deal in the 1960's who was the best. I remember when I got out and I was watching the Steelers play on TV and because I am a Raider fan and I was at a Raider game against the Steelers and there was Andy Russell, linebacker for the Steelers. I went to the sideline and yelled at Russell and ask him if he played football in Europe and he said yes he did and came over and talked to me and I told him I saw him play in Mannheim against 7th Army. He talked to me for a long time and had to go because the game was going to start, but you could see and listen to him talk about his football playing in the service and it meant a lot to him.

I went to high school with a friend who played linebacker for the 24th Infantry Division. I told other friends how I had seen Andy and many other pro players in Germany. SHAPE command, 7th Army, 24th infantry, and other divisions had football teams. It was such a big deal to go to Mannheim and watch division level football games. 7th Army played their home games in Mannheim. The players would get drafted and the Generals would learn who they were and away they would go to try out, if they made the team, you would not see them again. It didn't make any difference which sport, if you were a jock (and good) you had it made. They had their own barracks (all the jocks). They took care of the gyms at the dependents living areas, or they would take care of the soldiers gyms, baseball fields or track depending on when their sport was in season. They never went to the field, never..hehehe...

The best sham were the boxers, because they were TDY all the time and all they did was train. I remember they had the Olympic try outs and the military always sent many boxers to the try outs. We would be encouraged to attend the military try outs and it was a lot of fun for all the troops to go and support the guys from 7th Army against the other divisions. Some how I remember that SHAPE command had a lot of Navy guys involved in sports along with the other services.

My high school friend who played for the 24th Infantry Div. attends a 24th Infantry football team reunion every few years with the football players he served with.
---
(Source: Email from Jim Wilder)
I was with Co. B of the 25th Signal Bn 1962 thru 1964. I could almost repeat the remarks already on your site ...

I arrived in Bremerhaven by troop ship (USS Rose) in Sept, of 1962... took a train to Gerszewski Barracks in Knieligen, Germany (just west of Karlsruhe ). Two weeks later I was on top of a mountain looking down on Heidelberg walking guard duty in a foot of snow...

The 25th would go out in the field and build telephone communications for the war games and afterwards would clean-up and go back in barracks for inspections, training, and re-stocking our 2 1/2 ton trucks to do it all over again.

Our Battalion Commander was Col. Brock. Captain Jack Smith was our C/O among others (Company B).

Some of the names I remember are Sgt. Taylor (he was called "tree top" because of a song lyric at the time about tree top liver; he had a red 1961 Ford Convertible and in Germany at that time it was a chick magnet). Other names: Lt. Bazan, Sgt.OBrian, Sgt.Badura, 1st Sgt. Mac Finch (a fantastic leader), John Geisy, Ralph Coulson, Lt. McClelon, Ron Chordes, Hendrix Allen, George Yingling, Zotales, Burke, Kemp, Small, Walter Reed.

During the Cubin Crisis the M-60 tanks on our base were all fired up and ready to head East....we were issued live ammo and packed all our equipment and thought for sure we were going to war....was a heck of a time to be a 20 year old kid.

When President Kennedy was killed.....Germany stood still........they loved him as much as we did.......and again we packed up and thought we might be heading toward Russia.

Germany at that time was only 18 years out of World War Two and there was a generation of combat soldiers from both sides that were there looking into the retirement years of life. Some of the "lifers" I served under and a number of "locals" I was lucky enough to meet occasionally would talk about their experiences. Mostly I got the feeling that they looked back and discovered that the whole thing was useless and they felt like pawns, but yet they would do it all over again.

As an E-4 I made $64 a month and discovered that I was making more than the average German family man in Karlsruhe. Only very wealthy locals owned an automobile and all the women I saw were riding bicycles to and from work. It was normal to see a man in a suit with a briefcase on a bike in downtown Karlsruhe.
---
1964
(Source: Email from Gary Potter)
Here is a photo of Hq Det, 25th Sig Bn, taken June 8, 1964. I was stationed at Gerszewski from Feb. 1962 - Aug. 1964. The names of the personnel are enclosed. I'm holding the chicken.

Hope someone else will enjoy the pic. Others I served with seemed to.
---
1966
(Source: Email from Nick Shillinger, Co A, 25th Sig Bn)
I was in Co. A of the 25th Signal Battalion when they broke up the unit. I was sent to Wiesbaden to the 5th Missile Bn. (HHC 5/1) part of the First Missile Group. That was in 1966 and I had only been in country 18 months so I had to do another 18 mo. with the 5/1 that had Hq's at the Wiesbaden AB.

The 18 mo. I spent with the 25th were very busy for me. The Bn. had it's own NCO Academy that was a prep school for the real one at Bad Tölz. I attended both. I made buck sergeant there after Bad Tölz.

The 25th also had it's own cable school that taught us how to install and test Spiral 4 cable. We laid about 100 miles of it (some right up the center of the Autobahn) for one of the annual training exercises. We had to go out before the exercise and place the cable, stay out there during the exercise to maintain it, and then stay after the exercise to remove the cable and haul it home to Karlsruhe.

We were stationed in Knielingen at Gerszewski Bks (just outside of Karlsruhe). One of the First Sergeant's I remember was 1SGT Sharp. (Some of the guys nick-named him "notso") Can't remember any of the other names but I remember one of the other instructors, we had for the Bn. NCO academy, was a very tall black Sgt nick-named "Tree" or sometimes "Tree Top". He was very sharp.

---
Related Links: