If you do NOT see the Table of Contents frame to the left of this page, then
Click here to open 'USArmyGermany' frameset
379th Signal Battalion (Support)
160th Signal Group
Looking for more information from military/civilian personnel assigned to or associated with the U.S. Army in Germany from 1945 to 1989. If you have any stories or thoughts on the subject, please contact me

.
---
---
379th Signal Battalion (Support)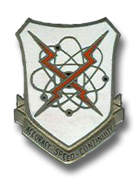 379th Signal Bn (SPT) DI
(Source: Seventh Army TROOP LIST 30 June 1958)
ORGANIZATION (Sept 1958):
| | | |
| --- | --- | --- |
| UNIT DESIGNATION | DUTY STATION | COMMENTS |
| HHD, 379th Sig Bn (Spt) | Panzer Ksn, Böblingen | |
| 58th Sig Co (Spt) | Pirmasens | |
| 59th Sig Co (Spt) | Pirmasens | |
| 176th Sig Co (Repair) | Panzer Ksn, Böblingen | |
| 229th Sig Co (Spt) | Panzer Ksn, Böblingen | |
| 585th Sig Co (Spt) | Panzer Ksn, Böblingen | |
(Source: USAREUR STATION LIST 30 June 1961)
ORGANIZATION (June 1961) (speculative!):
| | | |
| --- | --- | --- |
| UNIT DESIGNATION | DUTY STATION | COMMENTS |
| HHD, 379th Sig Bn (Spt) | Panzer Ksn, Böblingen | |
| 58th Sig Co (Spt) | Pirmasens | |
| 59th Sig Co (Spt) | Baumholder | |
| 176th Sig Co (Repair) | Panzer Ksn, Böblingen | |
| 229th Sig Co (Spt) | Panzer Ksn, Böblingen | |
| 545th Sig Co (Depot) | Mannheim | |
| 585th Sig Co (Spt) | Panzer Ksn, Böblingen | |
---
1960
(Source: Email from Rex Redmon)
I finished Intermediate Speed Radio Operator's School at Fort Jackson, SC as a Private E-2 on October 14th, 1960. Twenty members of our class were assigned to various stations in West Germany with nine of us assigned to the 229th Signal Company, 379th Signal Battalion of the 160th Signal Group at Panzer Kaserne, Boeblingen, Germany.

We arrived at Panzer Kaserne on Halloween night after a rough ten days on the troop carrier, USNS Rose, bouncing around on the North Atlantic. We could not have arrived at a worse time as the natives were restless -- meaning the men in the company were celebrating Halloween and the majority were not feeling any pain. We new guys caught hell until the majority of the celebrators passed out in their bunks. I dreaded spending 18 more months with those guys.

The next morning we were marched across the big parking lot to Hq, & Hq. Detachment of the 379th Signal Battalion for processing. The Lord is indeed good. Three of us were reassigned to Hq. Detachment, one went back to the 229th, and the rest were reassigned to the 97th Sig. Co at Panzer Kaserne.

Because of a background selling firearms at Sears after I graduated from High school, I was asked if I wanted to be the 379th Signal Battalion Armorer, a position I readily accepted. One of my friends accepted a position in personnel as clerk typist and the other friend went to the motor pool as a mechanic because he previously worked in a service station. The three of us never touched a radio the entire eighteen months we were at Panzer Kaserne. I might add we were all draftees.

Rank came fast at HQ. Det. Within thirty days the three of us were wearing PFC stripes. Before our first year of enlistment was up in May we were Specialist E-4s.

President Kennedy began his European build-up in July of 1961 and the 379th Sig.. Bn. was deactivated. The 229th and the 97th signal companies became Battalions wthin themselves and their number of men quadrupled. Our 75 man detachment grew almost overnight to a 200 man Headquarters Company (of the provisionally formed 1st Sig Bn). New leaders were needed and when the 1st Signal Battalion was activated October 1, 1961, the majority of us who were E-4s were soon eating in the NCO dining hall and wearing three stripes. I became part of the IG inspection team and spent the majority of my time in the line companies of A, B, C, & D inspecting weapons, ammunition, bayonets, personal mess equipment and all field equipment -- a great duty.

I slept on the second floor in a six man squad bay until our numbers grew and was promoted to SGT. I then moved into a three man room on the fifth floor with two other E-5s.

Prior to the buildup German civilians pulled KP for us. We were charged $1.00 per man per month for their services. Kennedy also ended that privilege wanting US money spent elsewhere. The 379th Hq. Detachment did not pull any kind of post details either such as guard duty etc. That ended as well where we became Hq. Company of the 1st. Sig. BN. I was attached to supply and supply was exempt from any kind of detail as well.

I will always remember when the Cold War almost grew hot on August 17th, 1961. The Brandenburg Gate was closed in Berlin and East Germans were not longer permitted to cross over to the west. The alert alarm sounded during the night and I was told to take a detail to the ammo dump and load all our ammunition -- the first time that had happened since I had been in Germany. Within two hours our barracks was empty of all field equipment, weapons and anything else needed during a military skirmish. We drove east in a long caravan for five hours and then bivouacked on a mountain top. Scuttlebutt had us on the Czech. border supporting the German Infantry who was bivouacked in a valley in front of us. We later learned the allied army of Europe was bivouacked all along the Eastern front facing the Soviet Union. Yeah,. we were scared.

Ten days later we broke camp and returned to our barracks. All was quiet on the Eastern front. Kennedy had called the Soviet's bluff.

I remember Panzer Kaserne as a beautiful place situated in the Black Forest of Southern Germany. I played a lot of sports there, ran seven miles a day in the woods south of the post, and have many good memories of Boeblingen and Stuttgart. I dated a lot of German girls I met in neat places. I did not frequent the GI bars but hung out with the student crowd in the little University town of Tuebingen as well. There was a great Jazz Bar there sitting right next to the river. A French Officers Club was in Tuebingen and a fellow Sgt. and I often ate with the officers. We dressed nicely in civies, conducted ourselves as gentlemen should, and were warmly accepted in the club. They served great food. They thought we were American officers and we did not tell them any difference. Of course we paid for our food.

Stuttgart was a good jumping off place to see the rest of Europe. I used all my leave time touring Holland, Belgium, France, Spain, Austria, and Switzerland plus driving down to Munich on the weekends was always a treat especially during October Fest.

My memories of Panzer Kaserne are good memories. I would love to visit there again. I wonder if there are still holes in the fence where a late GI can sneak in?

ADDITIONAL INFORMATION
I was battalion armorer for Hq. & Hq. Detachment, 379th Sg. Bn. until we became HQ. Co. of the 1st Signal Bn. on October 1, 1961. I rotated home in April of 1962. I experienced a great tour of duty at Panzer Kaserne, one of the most beautiful kasernes in West Germany.

I have memory of August 17, 1961, when the alert sirens sounded and we loaded everything from the buildings and ammo dump and headed for the Czech border where we sat for ten days. Tanks rolled on the Autobahn toward Berlin in a show of force against the Soviet Union -- a very scary time for us indeed. We called the Soviet's bluff and everyone stood down and we headed home to Boeblingen, thank goodness.

I read on one website where someone wrote the 1st Sg. Bn. also included the 229th Sg. Co. That is not true. Originally, the 379th Sg. Bn. was part of the 160th Sg. Group and the 229th Sg. Co., the 97th Sg. Co. and other companies I have forgotten were companies made up of the 379th Bn.

I was with Hq and Hq Detachment, 379th Sg. Bn. from November 1st, 1960 until the 379th was deactivated and we then became the 1st Sg. Bn. October 1, 1961. We went from a 65 man Hq. Detachment to a 200 man Hq. Co. We then formed Companies A, B, C, and D. The 229th and 97th became battalions within themselves and also formed their own companies. This was all a result of President Kennedy's European military build up to combat the threat of the Soviet Union who were rattling their cages constantly. Kennedy called their bluff more than once during the early Sixties.

With regard to your question about the 1st assuming the same mission as the 379th all I can tell you is from my limited knowledge is the mission was greatly increased by both men and equipment. As an example, approximately 1,000 men made up the 1st, and the same with the 229th and the 97th. So, using these three outfits as examples we went from a 465 man outfit (65 in 379th Hq. Det), 200 in the 229th Co. and 200 in the 97th Co. to 3,000 men.

As I was never involved in direct communications because as an armorer I was attached to Supply and was never involved in communications support. I know the 160th and its Bns. were considered support outfits.

As a member of the 1st we continued to live and work in the same barracks and motor pools as did the 379th. My arms room went from housing 75 weapons such as M1 and M2 carbines and 45 caliber grease guns to 200 new M-16 rifles. The barracks and offices were located on the corner beside the 160th Signal Group headquarters and overlooked the large parking area in back of the building. The mess hall was located just behind us. I was also a jock and spent a lot of time playing Bn. and Group level sports.

I hope my information helps.
---
1961
(Source: STARS & STRIPES, May 9, 1961)
The 379th Signal Bn, a subordinate unit of the 160th Sig Gp, recently concluded its participation in Operation Spring Prelude II. More than 1,900 signalmen and 400 vehicles from six companies of the battalion particptaed in the field exercise.

During the exercise the 379th operated seven area signal centers and 30 field locations, including radio relay teams and remote radio hill sites throughout southern Germany,

Four of the signal companies, the 58th, 59th, 229th and the 585th. provided field communications through the use of radio, telephone, teletype, crypto, facsimile and messenger service.

Signal supply specialists from the 545th manned the 7th Army Signal Depot, while the 176th Signal Co., the lone signal repair unit iIn the 7th Army, provided signal maintenance support.

---
58th Signal Company (Support)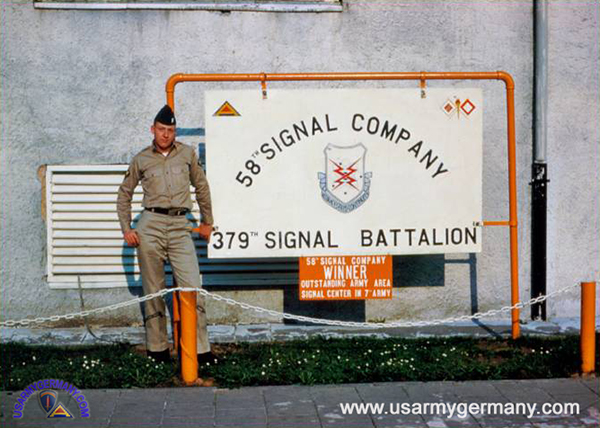 Andy Vos in front of 58th Signal Company sign at Pirmasens, 1960 (Andy Vos)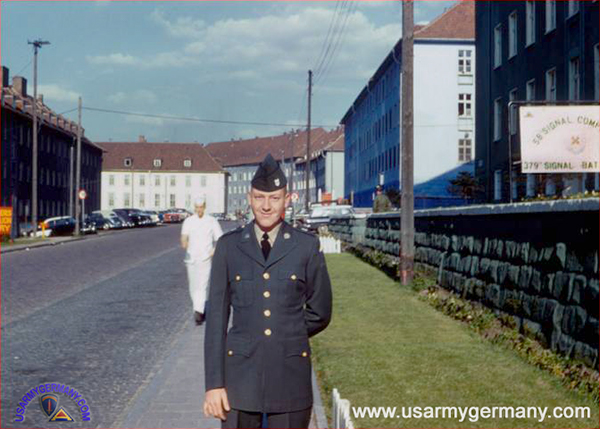 Andy Vos at Husterhoeh Kaserne, Pirmasens, 1960 (Andy Vos)
(Source: Email from Andrew Vos)
I was stationed at Pirmasens in the 58th Signal Company, 379th Signal Battalion in 1960-61.

---
59th Signal Company (Support)
(Source: Email from Walt Leggett)
I was told that we had a sister company at Darmstadt but I'm not sure.

We (59th/440th C company) had a radio relay site at Hindswrath (sp?) near Hahn Air Force Base. We received our support from Hahn and were a four man team. I was NCOIC until I rotated back to the States.

I believe we supported HQ 7th Army in Böblingen and the III Germany Corps.

As a member of the 440th, we spent a lot of time in the field as individual units supporting front line outfits. If we provided, teams individually, we were requested often. As teams, we spent more time in the field than in the barracks. We missed those wonderful inspections on Saturday.

The only time we went out as a unit was during "Winter Shield" on the German eastern border.

In 1961 we were deactivated and reactivated as the "C" Company, 440th Signal Battalion. The unit was still in existence when I left Germany in 1963.

---
176th Signal Company (Repair)
For more emails from former members of the 176th Sig Co (during the 39th Sig Bn period), click here.
(Source: Email from Wayne M. Gryde)
Really enjoyed your website. I'm starting to forget some of the fine details of my Army time. I did find a copy of my separation orders. I was in the 176th Signal Co (Repair), 379th Signal Battalion (Support), APO 46. Headquarters were in Boeblingen, Germany.

This Company had many small teams that were attached to units stationed throughout Germany. I was sent to Nurnberg first, then on to Straubing where I remained with Headquarters Co. of the of the 11th ACR for the remainder of my tour. Returned to Boeblingen
only on return trip to Bremerhaven for return trip to America on the USNS Rose.

My Army time in Germany is one of the high points in my life. Many friends and many enjoyable times. Hope this helps you. I live in Polson, Montana. This is a small town in Northwest Montana, near Flathead Lake and Glacier National Park.
---
(Source: Email from Bill Capers, 176th Sig Co, 1958-61)
I just came across your website, and was pleased to see that you have included the 176th Signal Co (Repair) and the 379th Signal Battalion.

I was in the 176th Signal Company from April 1958 to May 1961, and was assigned to Team 5 and Team 6 as a Field Radio Repairman. Teams 5 and 6 were stationed in Nurenburg at the SS Kaserne (Merrell Barracks). Due to personnel shortage, I was temporarly assigned to the repair team in Straubing, supporting the 11th ACR for a few months in 1959.

Thanks for bringing back some memories of the old 176th Signal Company
---
(Source: STARS & STRIPES, March 30, 1961)
176th Signal Company

The men of the 176th Sig Co (CO is Capt George C. Falk) are responsible for repairing 7th Army communications equipment. The 30 or more mobile repair teams are located throughout the 7th Army area of responsibility in Germany. The teams operated repair shops that are "customized" to provide the right kind of support to the specific signal units located within their area of responsibility. In most cases, they are located on the same kaserne as the units they support. Some of the teams (operating aviation electronic shops) that support Army aviation units are located at Army airfields where their customer units are stationed.

The 176th also operates repair shops for radar, teletypewriter, telephone, facsimile and various types of test and photographic equipment.

The teams of the 176th also participate in major 7th Army maneuvers such as the recent Winter Shield field exercise.

The mobile repair teams are also often used to support corps and division signal repair shops.

---
229th Signal Company (Support)
(Source: Email from Haroland M. Patterson)
My first tour in Germany was with the 229th Signal Company (Spt), 379th Signal Bn, 160th Signal Group, Panzer Kaserne. My last tour was with the US Army Material Command Europe in Zweibrucken.

The 229th Signal Company was the most decorated company in the Army it had ten battle rings on the guideon. The 379th Signal Battalion and the 229th was activated at Camp Gordon, GA in 1956 and sent to Germany to replace the 39th Signal Battalion at Panzer Kaserne, Böblingen.

As far as the mission we was responsible for providing telephone and radio communications between Seventh Army and it's major units. It has been so long some of it I have forgotten, sorry. Hope this helps. I have been trying locate some of my fellow soldiers from the 229th but have not been able to locate any of them so far.
---
1961
(Source: Email from Donald Kosa)
I joined the 229th Signal Company in July 1961, four days before the Russians put up the Berlin Wall. We were supplying communications to the Army network for about a month or so during that time.

I was present for the birth of the 1st Signal Battalion and was a Carrier Team Chief in A Company 1st Signal Battalion.

I returned to the United States in June 1963.



229th Sig Co
Panzer Ksn, Böblingen






1. 229th Sig Co sign (172 KB)


2. 229th motor pool (204 KB)


3. Trans Co motor park (191 KB)




4. Car Rally on post, May 1962 (232 KB)


5. Carrier rigs (286 KB)


6. Three rigs during Exercise Checkmate in 1961 (196 KB)




7. Carrier rigs and power units (308 KB)


8. Frame and switchboard (324 KB)


9. RF rigs and antennas (KB)




10. Stringing cable to the RF rigs (KB)


11. Finished cabling (KB)


12. H-fixture and cabling (KB)




---
545th Signal Company (Depot)
For more emails from former members of the 545th Sig Co (during the 39th Sig Bn period), click here.
(Source: Email from Larry Poling)
I was with the 545th Signal Co (Depot) in Sullivan Barracks, Mannheim Germany from 1960 - 1962. I worked in Depot Supply and also in Maintenance on field radios.

I think it was in the early part of 1962 the 379th Sig Battalion was disbanded and we became Co. D and I can not remember the Bn. number.

The ones of us that had been there for a while never gave up the 545th and still wore our old 545th, 379th Signal crest. (when off duty). I am looking for a picture of or a company crest of the 379th Signal Battalion.


The 97th Signal Battalion was next door to us at that time and was still there in 1964 when I returned to Germany and with station in Heidelburg with the 2nd DPU. In 1965 I was in Bamberg, Germany with Service Btry, 2nd Battalion, 1st Artillery.

I am attaching an old photo taken of me at Sullivan Barracks. I was 17 at the time. I'm the one on the right. The other guy is a buddy of mine from the 97th.

---
Related Links: