If you do NOT see the Table of Contents frame to the left of this page, then
Click here to open 'USArmyGermany' frameset
40th Signal Battalion (Const)
160th Signal Group
Looking for more information from military/civilian personnel assigned to or associated with the U.S. Army in Germany from 1945 to 1989. If you have any stories or thoughts on the subject, please contact me

.
---
---
Battalion History
1952 - 1956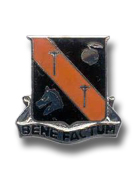 40th Signal Bn (Const) DUI
The 40th Signal Construction Battalion was activated on 19 September 1950 at Camp Gordon, Georgia. The battalion departed for Germany on 17 January 1952 and was attached to the 160th Signal Group in support of Seventh Army.

on 1 October 1953, the battalion was reorganized and redesignated as the 40th Signal Battalion (Const).

The battalion remained in Germany until April 1956 when it was replaced by the 25th Sig Bn (Const) as part of the GYROSCOPE program.
---
If you have more information on the history or organization of the 40th Signal Battalion, please contact me

.

---
Related Links: