If you do NOT see the Table of Contents frame to the left of this page, then
Click here to open 'USArmyGermany' frameset
509th Signal Battalion
5th Signal Command
Looking for more information from military/civilian personnel assigned to or associated with the U.S. Army in Germany from 1945 to 1989. If you have any stories or thoughts on the subject, please contact me

.
---
---
Battalion History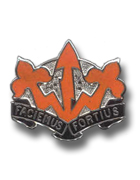 509th Signal Bn DUI
(Source: Official 509th Signal Battalion website - http://www.509sigbn.army.mil/)
For article click here (Coltano Signal Station Page)
If you have more information on the history or organization of the 509th Signal Battalion, please contact me

.
---
(Source Email from John Welch, 509th Sig Bn, 1988-90)
I commanded both the 7th Signal Bde (1995-96) and 509th Signal Bn in Italy (1988-90).

We need to add the 167th Signal Company to its list of subordinate companies. It transfered from SETAF to US Army Signal Command and 5th Signal Command in 1985 and remained in the Battalion until it deactivation (due to theater drawdown) in 1992.

The 167th Signal Company which was activate as one of the 3 Photo companies in the ETO during WWII had existed for many years within SETAF before being designated an echelon above corps mission and being realigned to the EAC Signal Command (USASC and 5th Signal).

---
54th Signal Company
1980
(Source: Email from Mike Jensen)
I was assigned to the 54th Signal Company from mid 1980 thru 1981.

After in-processing with the people of the 509th Signal Battalion at Camp Darby, I was assigned to the 54th Signal Company in Vicenza, Italy. After being there a couple of weeks and finishing my in-processing, (taking intro to Italian classes and getting issued my TA-50 gear) the 1SG asked me where I was from. When I told him Idaho, he told me that they had a Communications Detachment way up in the Northern Mountains by the Austrian Border. After being real tired of cleaning the barracks and Latrine Duty each day as the New Guy, I asked the 1SG to let me transfer up to the Mountain site.

My duty station was at the Army Signal Detachment above the town of Bressanone, Italy. We provided communications (HF Radio Cemetery Net and Digital Communications-Microwave radio to the Air Force Site at Cima Gallena) to a Artillery Detachment. Our base was joined up to an Italian Artillery Base with big Howitzer cannons. Approx 1 mile from the base was a Special Ammo site that contained Special Warheads that would seal off all the mountain passes from an invading Soviet Army.

I was stationed with the following at the Signal Detachment:


SFC Lonnie Walls


SP5 Brian Thomas


SP4 James Yirak


SP4 Thomas Santos


PFC Edward Ollila

The last CO I had with the 54th was a 1LT at the time by the name of Ken Stumpf. He is registered on Military.com under the 54th. I met him as my tour in Italy was over and I was awaiting return to the US. He was a good guy then and I am sure he still is today.

P.S. I think the 54th's Main job at Vicenza was to run a Comm Center right across the street from the Barracks.

---
56th Signal Company
1984
(Source: ECHO, July 1984)
Coltano: a small, satisfying standout

by SSgt Gayle S. Marks, NCOIC of research and analysis for the 56th at Coltano.

Chances are you won't be able to find the place named Coltano on a map of Italy. It's that small. It's well known, though, within USAISC (formerly USACC) circles, and for good reason.

The U.S. Army has been communicating from a site a few kilometers from the small Tuscan village of Coltano, Italy, for more than 20 years. It lies just 15 minutes from the beaches of the Italian Riviera, and on a clear day, although you can't quite see forever, it is possible to see the world famous Leaning Tower of Pisa.

At this site in 1911, a man named Giglielmo Marconi made history. He connected three continents - Europe, North America and Africa - by wireless communicaton: the radio. This unprecedented feat established Coltano as a focal point in world-wide communications and it's maintained that position for more than 70 years.

Today the 56th Signal Company of the 509th Signal Battalion operates and maintains the Coltano Automatic Switching Center (ASC), one of the three in Europe, all under the control of the Defense Communications Agency.

The troops of the 56th who work in this Automatic Digital Network switch (AUTODIN) take great pride in the important mission they perform at Coltano. Their hard work assures the Coltano switch, a major link in the world-wide AUTODIN network, stays on line, providing vital communications between the United States and all of Europe.

Their dedication hasn't gone unnoticed, however. Recently the Coltano ASC was selected as the AUTODIN Switch of the Year for Europe by the Defense Communication Agency.

Winning the award made the 56th troops justifiably proud, but didn't come as a surprise to them. They're well aware of their success rate. The graph of monthly down-time statistics shows figures which are consistently high enough to impress even the most seasoned of signal workers.

Coltano staffers aren't strangers to receiving awards of excellence either. In the years since 1969, when the switch began operating, the 56th troops have attained numerous awards for their work.

But resting on laurels isn't enough for the 56th soldiers. They continually strive to excel and surpass even the seemingly unbeatable records of past years.

Sgt. Maj. Eddie McGlown, site chief, can personally attest to individual and collective dedication at the facility. McGlown is currently serving his fourth tour at Coltano. Like him, numerous other soldiers have returned to the site on succeeding tours, most of them requesting the assignment. Extension request rates are high and the command takes pride in being able to retain a large percentage of first-rate soldiers at the facility. This is especially important because many of the Military Occupational Specialties (MOS's) worked in the ASC are in the Army's Space Imbalanced Program.

MSgt. Temple Nunnally, NCOIC of the site's quality assurance section, says plainly, "People extend or request to come back here because we've got a full-time live mission. At other assignments they often spend a good portion of their time doing things like painting rocks or inventorying commissary shelves - but here that's not the case. The soldiers get to do what they were trained for."

CWO 2 Orin N. Fatolitis, the site OIC, believes that excellence doesn't just happen - it's built. And the "building blocks" are good training programs and good training. Training is constantly going on in most areas of the switch 24hours a day.

How effective the training programs are was recently shown when the ASC won the runner-up award in the 5th Signal Command's Commanding General's Maintenance Award in the intermediate category. Most of the site personnel holding the MOS of 34H (Automatic Digital Message Switch Repairer) had no electronics experience prior to working in AUTODIN, much less experience in maintaining one of the Army's most advance communications computers.

34H is not an entry-level MOS, and many new maintenance personnel are in the grades of E-6 or above. At a time in their careers when their contemporaries have become experts in their jobs through years of experience, these mid-grade NCOs have accepted the challenge of learning again, and that's good. The younger soldiers reporting to Coltano soon realizes that training and learning are where it's at, and follow suit.

It's been a good year at Coltano ASC for awards and recognitions, not all of them mentioned here, but now, at Coltano, the troops aren't thinking of it much. They're busy communicating.

---
59th Signal Company
1984
(Source: ECHO, July 1984)
The 59th Sig Co operates an AN/GSC-39 satellite communications terminal at the Coltano radio site.
---
(Source: Email from Jon Watt, 59th Sig Co & HHD, 509th Sig Bn)
I was assigned to 59th Sig Co in Nov 1979 with extension and a re-enlistment for station – then in 1982 for 6 months was assigned to HHD, 509th, departing in 1983. I returned for a second tour 1988.

During that time, Coltano Autovon Switch earned DCA Switch of the year – two consecutive years (1979/80 and 1980/81). Two CSMs were prominent – CSM Hartman and CSM Pacheco (served as CSM from 1982 until he retired there in 1990). During that time, we saw the building of the 39 Satellite Earth Station Terminal, and the 86 (sometime between 1984 and 1988). It also saw the deployment of the DEBS (Digitial European Backbone System – the first of the digital microwave systems to be deployed by DCA) to replace the JEMS (don't recall what the acronym stood for – but was an analog microwave system) as one of the 3 microwave systems.

We had a 1SG rotate back to the States only to be murdered (he was in 56th Sig Co but well liked), and one soldier earned distinction for the battalion in 1980 when he was named Soldier of the Year, 5th Signal Command, that same year SSG Perez (I believe his name was) earned runner-up for NCO of the Year – 5th Sig CMD.
---
(Source: Email from E. Saul, 59th Sig Co, 1985-87)
I worked 13/9L maintenance Mar 1985-Mar 1987.

I see the patch with a dragon. We wore a different patch when I was in the 59th. As I said before it was/is a globe of the world. A one dimensional picture of a globe, if you will, with a lightening bolt going through the center at an angle.

I'm not sure how much information I have that would be valuable for you. I remember a lot of things. I was a microwave technician. We had four radio 'shots'. Two were tropospheric scatter and two were line of sight. We had the 'krypto' room. There was some equipment we worked on that was used in the Korean War: the AN/FCC-118.

As you are probably aware the 59th signal provided commo for the Korean War. Gosh the list just goes on and on. I'm remembering stuff I hadn't thought about in years. 20, to be exact on the amount of years.

The First Sergeant for 59th Signal was Charlie Simpson. He was married to an Italian lady. The CSM was the same as the one you mention in the brief article, CSM Pacheco; in fact his driver was one of my closest friends away from work.

---
Related Links:
| | | | |
| --- | --- | --- | --- |
| | | 59th Signal Company - 1988-1991 - Facebook Page for former members of the 59th Signal Company who served at Coltano near Pisa, Italy. Anyone who served at nearby Camp Darby is also welcome. | |
| | | | |
| | | | |