If you do NOT see the Table of Contents frame to the left of this page, then
Click here to open 'USArmyGermany' frameset
51st Signal Battalion (Cmd)
93rd Signal Brigade
Looking for more information from military/civilian personnel assigned to or associated with the U.S. Army in Germany from 1945 to 1989. If you have any stories or thoughts on the subject, please contact me

.
---
---
Battalion History
1981 - 1993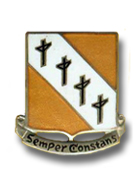 51st Signal Bn DI
On 16 March 1981, the 51st Signal Battalion was activated in Ludwigsburg, Germany where it supported VII Corps.

On November 8,1990 the battalion was altered for immediate deployment to Saudi Arabia ("Operation Desert Shield"). Within 3 weeks it had personnel on the ground in Saudi Arabia.

While the war only lasted 100 hours, it was the 15 of April, 1991, before they returned to Germany.

At noon April 15, 1993, the 51st lowered the American flag for the last time in Germany
If you have more information on the history or organization of the 51st Signal Battalion, please contact me

.

---
Related Links:
51st Signal Battalion Reunion Homepage -