If you do NOT see the Table of Contents frame to the left of this page, then
Click here to open 'USArmyGermany' frameset
52nd Signal Battalion
160th Signal Brigade
Looking for more information from military/civilian personnel assigned to or associated with the U.S. Army in Germany from 1945 to 1989. If you have any stories or thoughts on the subject, please contact me

.
---
---
Battalion History
1974 - 1998
(Source: 52nd Signal Battalion web site, www.52sig.stuttgart.army.mil - now a dead link)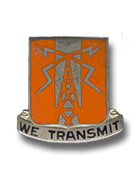 52nd Signal Battalion DUI
The 52d Signal Battalion was constituted 18 October 1927 in the Regular Army and later activated on 10 February 1941 at Fort Sam Houston, TX. On 2 February 1942, the battalion arrived in Australia, and subsequently worked its way through Dutch New Guinea, and eventually the Philippines before the end of the war. The battalion participated in a total of four campaigns during the war to include Dutch New Guinea, Leyte, Luzon, and the southern Philippines. It was during these campaigns that the battalion received the honor of being known as "MacAuthur's Own" The battalion completed its valiant service in the South Pacific and was inactivated in Korea on 25 January 1949.
On 15 October 1966, the battalion was reactivated in Can Tho, Republic of Vietnam, at Fort Lewis, and assumed operational control of all area communications facilities in support of IV Corps, US MACV Advisory Teams. Over the next four years, the 52d Signal Battalion would participate in twelve separate campaigns throughout the Republic of Vietnam. In the fall of 1971, the battalion began to stand down and was subsequently inactivated at Fort Lewis, Washington on 12 October 1971.
On 1 July 1974, less than three years later, the battalion was again activated at its present home at Patch Barracks, Vaihingen, Germany.
The battalion consisted of Heaquarters and Headquarters Company, the 578th Signal Company, and the 589th Signal Company.
The SOCEUR Signal Detachment (SSD) was formed, and joined the battalion, at the direction of the USCINCEUR in July 1984, to provide wartime communications support for Special Operations Command Europe (SOCEUR) and peacetime contingency/crisis communications. Since its creation, SSD has provided unique communciations support to SOCEUR including Operations Desert Shield/Desert Storm and Southern Watch, Provide Hope (Rwanda), Provide Promise/Deny Flight and Joint Endeavor (Bosnia); Noncombatant Evacuation Operations (NEO) in Liberia and Sierra Leone; VIP support to U. S. dignitaries throughout the European and African continents; and survey support as part of USEUCOM Survey and Assessment Teams.
In 1986, the Information Mission Area and the United Kingdom Signal Company were added to the battalion.
In 1989, the 298th Signal Company, located at Kelley Barracks, Moehringen, joined the 52d Signal Battalion.
The conclusion of Operation Desert Storm ushered in a new era of reorganization for the battalion. In April 1991, the 52d Signal Battalion, minus the 587th Signal Company and the United Kingdom Signal Company, was transferred to the operational control of the 2d Signal Brigade.
On 1 November 1991, many of the missions and functions of the 578th Signal Company, 589th Signal Company and the 298th Signal Company were combined with Headquarters and Headquarters Detachment, 52d Signal Battalion.
On 17 June 1994, as a continuing part of reorganization, the 69th Signal Battalion's Augsburg Community Service Center was transferred to the 52nd Signal Battalion. The 52nd Signal Battalion was now responsible for the administration of all DOIM functions for Southern Bavaria.
The battalion's last reorganization occurred on 29 June 1994, when the 587th Signal Battalion was realigned from the 302nd Signal Battalion and the 52nd Signal Battalion assumed all responsibilities for the soldiers assigned to the 587th Signal Company.
If you have more information on the history or organization of the 52nd Signal Battalion, please contact me

.

---
578th Signal Company
1982
(Source: STUTTGART CITIZEN, August 29, 1982)
Article on the

Vaihingen Communications Service Center

at Patch Barracks.


---
1982
(Source: Email from Joeseph S. Tropea)
See Joe's other email on the 447th Signal Bn during an earlier tour in Germany.

I was the First Sergeant of the

578th Signal Company

from July 1986 thru September 1988. I was originally assigned to HHD, 52nd Signal Battalion, as the S-3 Non-Commissioned Officer-In-Charge in September 1982 and held that position until being assigned as 1SGT of the 578th Signal Company, 52nd Signal Battalion located on Patch Barracks in July of 1986.

(1SGT Krause took my position as Battalion Operations Sergeant and I took his 1SGT's slot. It was funny because in October 1985 I had to fill his training slot at the 1SGT''s Course at 7th Army Training Center, Munich because he came up with a bad knee and couldn't attend the nine week course).

The 578th Signal Company's main mission was to provide communications support to the Headquarters, United States European Command (USEUCOM). This was a real live 24 hours per day, seven days a week, fifty-two weeks per year job. There were seventeen flag level officers on that post and real world situations to deal with. No words can convey the amount of pressure that was placed on the 578th Signal Company in its daily performance of its mission.

To perform its mission the company consisted of:



two Telecommunication (TTC) facilities (one being a Special Security Operations - SSO)



one automatic secure voice switch facility (AUTOSEVOCOM)



one automated multi-media exchange (AMME), and



a consolidated COMSEC/Teletypewriter maintenance division.

There were normally 181 personnel authorized but in most cases we operated under strength.

Company Commander when I came in: Captain Carl G. Gardner, he DEROS' ed Mar 1988.

Captain David P. Hill, March 1988 (I don't have his DEROS date)

Supply Officer: 2nd LT John Keppel, later on became battalion S-1 AG

There was two more lieutenants, can't remember their names. One was shipped out to another company (589th Sig Co).

Company Operations Sergeant: MSG Diddez (sp)

Training NCO: SSG Helen Kaseman (her husband worked for me in the S-3 as Current Operations DCO project manger) SSG Kaseman moved up to battalion as re-enlistment NCO, was replaced by a SFC McDonald.

Comm Center NCOIC: SFC Lopez (there was someone else but for a very short time before he left and I can't recall his name. There was also a SFC White who later made CSM)

AMME: There were two but I can't remember.

AUTOSEVOCOM: ???

TTY repair: ???? (I do remember a Sp4 Rose assigned as repairman)

Communicates Site 007: Cpl Copeland?

Company had to relocate a communications terminal of some kind (I really don't know what it was) that was in the main USEUCOM Operations building, but had to be moved so that work could be done due to removal of asbestos. We never got resourced for it and had to take manpower out of hide. Needed five soldiers to run this little site. It got its name because it was in Room 007 of the temporary command building. I know it connected with SHAPE HQ's (128th Signal Company, 39th Sig Bn) so it must have been important traffic, especially since SHAPE sent out a message complaining about outages and how we were supposed to fix it. We did fix it. In fact I was attending U. of Maryland night classes and my business paper was about that site 007 and the problems it caused and how sound management principles fixed it. I got an "A" on the paper.

Supply Sergeant: SgtM Kitts and SgtM Cameron

Company Clerk: ??? (I should know his name, he did after all type up that business class paper for me)

(There were only a few soldiers I seen later on at Fort Irwin, which was my next duty assignment).

The

Comm Center

was the largest in the Army after the one with-in the Pentagon. Sixty percent of all in-coming message traffic was classified and multiple addressed so literally thousand of copies were made daily. It was estimated that the comm center used enough paper to reach the top of a forty story building yearly.

When a new CINC (General Lawson) came in, he request through his CofS that a copy of every message traffic be delivered to his office every morning so he could read everyone and keep abreast of what was going on and to see what kind of traffic came in. The company was tasked by Bn S-3, so the comm center would box the messages and send them over to the CofS office. First morning it took three soldiers with weapons because of classified traffic to bring over. Did that for three days, than told to stop. General got the information he needed. He didn't have enough time to read all those messages, and he found out that his command got a lot of message traffic!

One time (before my tenure) the company Supply Officer didn't check on-hand paper supply and company ran out of paper for the comm center. A box truck had to be sent up to the comm center in Heidelberg (43rd Sig Bn) to get many reams of paper. Supply Officer was fired. And it never happen again.

When I took over as 1SGT, the company HQ's was in the basement of Building 2311 which also housed the barracks. Less than a week later we moved to the basement of Building 2303 which already had the Comm Center, SSO and AUTOSEVOCOM (all on the first floor). Second floor and upper floors of the four story building housed USEUCOM staff office plus Community General office. We also moved the TTY repair section into what once was their old space, had been taken oven by battalions S-3 section under my direction back in 1983. (But that's another story.)

Because of its twenty-four a day mission, it was as a First Sergeant, almost impossible to get every soldier in a company formation, but I did manage to get most there. This was done to improved morale of the unit and to gain back some control which I felt was lost. All sections were put on same scheduling as to shift start and end times.

Platoon concept was done instead of one big mass formation as what happened the first time I called "Fall-in". Non Commission Officers were given positions such as Platoon Sergeant, Section Chiefs, Squad Leaders so that their NCO evaluations would mean more to them and the promotion board. I had the company commander assign his officers (commissioned and warrant) to platoons as their rank and position dictated. This also promoted closer relationship among unit personnel of all ranks and provided training for those positions.

Had the first unit Halloween and Christmas parties which went off absolutely perfectly and soldiers really had great times. Promoted lot more unit functions that greatly enhanced unit esprit de corps and which brought soldiers much closer into a solid mission oriented group.

The soldiers of the 578th Signal Company did an outstanding job, and no one could be more prouder than I as I think back twenty years ago. So to all of the than 578th... I say "Keep the Spirit".

---
587th Signal Company
1976 - 1998
(Source: 52nd Signal Battalion web site, www.52sig.stuttgart.army.mil - now a dead link)
On 1 July 1976, the 587th Signal Company was reactivated at its present location in Stuttgart-Vaihingen, Germany, under the 52nd Signal Brigade.

During the 5th Signal Command reorganization, the Company doubled in size, growing to a total of 337 soldiers and 20 communications sites spread throughout southern Germany.

In 1991, the 587th Signal Company was placed under the 302nd Signal Battalion.

On 14 June 1994, the 587th was again reassigned to the 52nd Signal Battalion, 2nd Signal Brigade. The Company's size was reduced to 235 soldiers and 9 communications sites. This included the newly acquired sites of Project 329 at Bad Aibling, the tech Control (facility) at Augsburg and the Automated Multi-Media Exchange of the 52nd Signal Battalion.

---
589th Signal Company
1986
(Source: Email from John W. Davis, CO, 589th Sig Co, 1986-87)
I was the commanding officer of the 589th
Sig Co
from June 1986 – December 1987. I found my old overhead slide presentation that I used to give for the company responsibilities and loaded to my web site. Maybe you would like to take a look at it now as a
P
ower
P
oint presentation and include it on your web site about the 589th for others to see and remember.

Most of the Kaserns we supported are gone now turned over to the Germans along with many of units deactivated.
H
ere is the link to the presentation: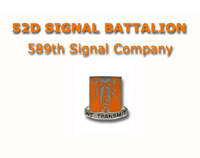 ---
(Source: Heilbronn Eagle, April 25, 1988)
Communications from the unknown



By Stan Buhring

Ask the average soldier on Wharton Barracks who is 589th? The responses vary from "I don't know" to "you tell me." If a person mentions telephones it helps.

The telephone people, as

589th Sig. Co.

is referred to, are a small detachment of twelve soldiers and five civilians. Annexed from their headquarters in Stuttgart, 589th provides telephone service and telecommunications support for the Heilbronn Military Community.

This small group of soldiers and civilians work for the

Directorate of Information Management

(DOIM). "Communications is one of four areas controlled by DOIM. They are a small group of people who do their work very well," explained Billy Smith, DOIM Director.

Most people recognize the telephone service because of its use. Telephone service is made up of two functions.

The first and most common is operator assistance. Megan Smith, civilian operator for 589th says, "We mainly just give information such as ETS prefixes. We can place some calls to Heilbronn and the outlying areas.

"We work 7:30 a.m. to 4 p.m. After 4 p.m., Stuttgart operators take over our switchboard."

Telephone maintainance and installation is taken care of by the soldiers and two civilians. Sp.4 William B. Heyward III explains, "The work isn't hard but we have to pay close attention to detail in order to give the customers the service they asked for."

The work ranges from checking the ringer to climbing poles and installing cable. Heyward continued, "The renovations have given us extra work transferring phones to different buildings. We have just a few people and we have to cover five sites."

The five separate sites that are covered by telephone repair take up most of their time. "The hardest task is tracing a short in a line," Heyward continued. "Once you've installed the phone it's easy to work on because you know what you did to install it."

The telecommunications support comes from the soldiers you hardly ever see. They work such hours as 6 p.m. to 6 a.m. or 10 p.m. to 6 p.m. They are rarely seen in uniform during normal duty hours.

"Working night shift is nice because there is no one around. It's really quiet," Sp.4 Cindy Buhring explains. "The only drawback is sometimes the nightshift workers have to put in few extra hours during the day for common skills training."

The

telecommunications center

(TCC) is manned 24 hours a day. There is always someone there if an emergency arises in the community and messages need to be sent. Recently going to a part-time operation, the TCC handles only "emergencies" after 5 p.m.
"We work with a lot of classified information in here," explained Dan Peterson, one of two civilians in the TCC. "We have to pay very close attention to detail in our operations. We are very security conscions."

The TCC has been highly successful in accomplishing their mission. Recently they received a Certificate of Achievement from their battalion for outstanding site operations and community support.

"We have recently upgraded our system to include magnetic tapes," Peterson continued. "Magnetic tapes provide faster service with data traffic than data cards which were being used before."

"We work very hard in supporting the Heilbronn community. We understand the fact that we are a very important part of this community's mission," said Sfc. Roy M. Leon Guerrero, TCC NCOIC.

589th also has a small detachment in Schwaebish Hall. "Schwaebisch Hall has the same mission there as we do here," said Sfc. Ronald Robeson, area chief for Heilbronn and Schwaebisch Hall.

Though small in size, 589th Sig. Co. completes their mission just like the big boys.

---
Newspaper articles
(Source: ECHO, October 1984)
Letting the Stuttgart military community reach out and touch ...
By Eugene Hill (from the Stuttgart Citizen)

Those who have been assigned to Germany for any period of time may recognize the ubiquitous term "Hitler's Revenge" as a mocking term used to describe the problems of the military phone system in Germany.

Many of the problems that have helped create that phrase, such as disruption of phone service by bad weather or busy signals that seem to last for hours, can sometimes be attributed to some of the 1940-vintage equipment that the 5th Signal Command still operates.

The wheels of progress continue to roll, however, and new phone equipment is being installed to replace the World War II relics.

The command's representative in the Stuttgart area, the 52nd Signal Battalion, a part of the 160th Signal Brigade, has a mission that calls for more than just military telephone service. They are also relied on for area communication support and direct support to DCINCEUR, USEUCOM.

The battalion's Headquarters Detachment, 587th and 578th Signal Companies are located at Patch Barracks in Vaihingen, near Stuttgart, and the 589th Signal Company is located at Robinson Barracks in Stuttgart itself.

The battalion's 675 military and civilian personnel work around the clock to provide a vast assortment of communications media, including telecommunication, microwave and telephone services.

The 52nd is one of three battalions in the 160th Signal Brigade. The others are the 69th, headquartered in Augsburg, and the 43rd in Heidelberg. SSgt. Steven Gilmore, the 52nd's dial central office coordinator, explained some of the brigade's mission.

"We have the senior headquarters in Europe to contend with," he said. "The 43rd supports USAREUR Headquarters and the 69th has the mission of supporting the southeastern portion of Germany.

"We cover an area of 14,500 square miles, but the 69th has the rest. They have a lot of little units and different kasernes and they're providing them with telephone service. But there are very few general officers out there who need all kinds of fancy communications equipment."

According to Gilmore, all of the 52nd's equipment is being upgraded to state-of-the-art equipment.

The unit's Patch Telecommunications Center is the largest communications center operated by the battalion. It processes approximately 65,000 incoming and outgoing messages per month and the reproduction requirements exceed 520,000 copies per month.

Despite these other forms of communication, the dial services represent the most well-known portion of their capabilities. The unit operates dial central offices in 14 sites to include six sites outside the Stuttgart area.
The two switchboards at Patch and Robinson Barracks contain Redlines for authorized personnel, AUTOVON service and the "99" service for off-post calls. Combined, they handle 200,000 calls per month.

According to SSgt. Roger Zorga, NCOIC of the Patch switchboard, they have 10 operator positions on the switchboard and it has AUTOVON service to the States and all over the world in direct support of USEUCOM Headquarters.

"The military personnel normally operate the direct line to HQ, EUCOM, but we do have them operate the switchboard on the weekends," he said.

According to Zorga, the peak calling period, from his observation, is from 1 p.m. to 8 p.m., because it's the main calling period back in the States.


"We have a lot of AUTOVON calls scheduled to Washington and the Pentagon and so on," he explained. "They're all trying to get a hold of someone here at EUCOM or someone at EUCOM is trying to get a call to the Pentagon. That's why I say we're the main direct support for HQ EUCOM."

According to Zorga, the number of operators on hand to handle calls depends on the amount of traffic coming through the switchboard. For example, during the early morning hours before 7 a.m., there are only 3 or 4 operators available but during normal duty hours all ten operator positions are filled and ready to help.

"If someone has trouble getting through to a party it's usually because the circuits are busy," Zorga said. "AUTOVON lines are constantly busy and we have some of them out from time to time for scheduled maintenance. That's another reason why a lot of people have trouble getting through."

In the very near future getting through to your party won't be as difficult to do. As a matter-of-fact, if you can't reach your party, your phone might have a feature that will enable the new equipment's computer to do the redialing for you.

According to SFC Rudolph Williams of the 52nd Signal's S2/3 office, the new equipment called the European Telephone System (ETS) comes to Europe as the result of an agreement between the United States and the German government. Siemens Corporation was designated to engineer the system.

"The ETS installment is under way right now," states Williams. "Siemens began installing the system in June, however, the switch will not be turned on for use by military telephone users until late November.

"There are several new features these phones will offer. However, in order to learn how the features are put into use, the subscriber will have to attend an operator's class. A schedule of class dates will be published in Stuttgart media in the future."

Williams explained that the computerized system is solid-state equipment as opposed to the electromechanical equipment presently being used.

"You will need to know how to dial from the new system into the old system," he explained. Under the new system customers will use the new 7-digit numbering plan which will be explained in the operator's class. There will be no change for military phone users dialing from an old system into the new ETS system.

With ETS switches already installed in several locations in Germany, military phone users will have to listen to the dial tone (if they are out of their local area and unsure of what type of switch they are dialing from). The new ETS system has a solid, continuous dial tone while the old system has a broken tone.

According to Williams, ETS will differ from the old system in several ways. "One difference is that some of the places that have 99 service will not have it when ETS is installed." (The reason for this is to reduce unnecessary traffic).

"It's really important that the subscribers attend the class," stressed Williams. The new system will require some special handling of the telephone instrument and the class will describe the usage.

As the ETS system matures, long distance calls will be completed quicker because of the increased capabilities of the new ETS network.

There are a lot of great features in the new system but many of its benefits will not be realized until the entire ETS system is completed in Germany, sometime in 1987, and all of the old switches are replaced.

---
Related Links: