If you do NOT see the Table of Contents frame to the left of this page, then
Click here to open 'USArmyGermany' frameset
Hanau Signal Depot
Signal Division, European Command
Looking for more information from military/civilian personnel assigned to or associated with the U.S. Army in Germany from 1945 to 1989. If you have any stories or thoughts on the subject, please contact me

.
---
---
Depot History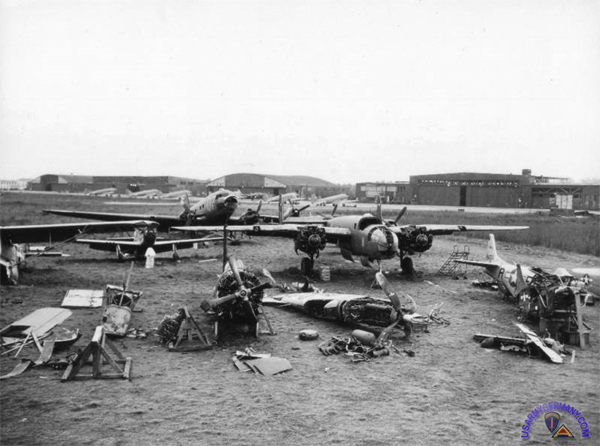 Hanau Fliegerhorst (Airfield), July 1945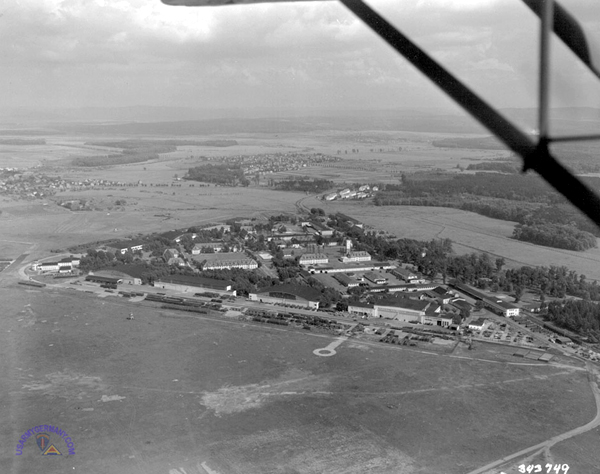 Hanau Signal Depot, 1950
1946 - 1952
Signal Supply in the Post-War Period

(Sources: Various volumes of the OCCUPATION FORCES IN EUROPE series)
In the early months of the occupation there was a steadily increasing consolidation of signal equipment at permanent depots within Germany:



Neu Aubing (near Munich), Depot S-24


Mannheim, Depot S-613


Nürnberg, Depot S-870

These signal depots had originally been set up by the armies (3rd and 7th) during their advance through Germany. In the months immediately following VE-Day, Seventh Army supply operations centered on developing S-613 at Mannheim as the principal signal depot in the Western Military District, while Third Army selected the depot at Neu Aubing (S-24) as the only Eastern Military District signal depot for storage and issue of Signal equipment. The depot at Mannheim (S-613) was designated to receive all fixed plant equipment. The three signal depots were transferred, along with similar depots set up in the Bremen Enclave and in Berlin, to the control of TSFET (Theater Services Forces, European Theater - the post-war replacement of the wartime Communications Zone) in October 1945.

Major supply projects in the immediate post-hostilities period (second half of 1945):



Repair and packaging of Signal supplies for shipment to the Pacific (redeployment).



Redeployment of Signal troops; - on V-E Day, approx 75,000 Signal troops on hand in the ETO; - of the above number, 33,000 were assigned to ComZ - by end of July, 85% of signal construction troops in ComZ had been redeployed.



Shipments of signal supplies from depots in western Europe to the U.S. and Germany (largely completed by the end of March 1946); - total of 160,000 tons of signal equipment on hand on March 31 1946; - by March 31 1946, 95% declared surplus; - by end of June (1946), 141,671 tons of surplus property held in Signal depots.



Establishment of permanent signal depots in the U.S. Zone; - by the end of June (1946), permanent signal depots had been established at:


Mannheim


Nürnberg


Neu Aubing (Munich)

Major supply projects during the first half of 1946:



Disposal of captured enemy equipment;



Furnishing equipment required by the U.S. Constabulary

Signal depot operating responsibilities were transferred, as scheduled, from Continental Base Section (CBS) to OCSigO with the closure of the former (May 15 - Jun 15, 1947).

Responsibilities of the Supply & Procurement Div:



Supervision of Signal Corps depot operations;



Formulation of policies and supervision of operations with respect to captured enemy material;



Repair and maintenance of signal equipment;



Procurement and production of signal equipment;



Disposition of surplus signal property;



Determination of Theater requirements for signal items;



Control of Theater levels of signal supply.

During the third quarter of 1946, the U.S. Constabulary continued to place heavy demands for signal equipment on the Supply & Procurement Div.

On Sep 30 1946, surplus property on hand in six depots in France and Belgium totaled 120,585 long tons. No items remained for shipment to the U.S. or to Germany. This surplus in the liberated areas was disposed of by Western Base Section before Mar 31 1947.

On Sep 30 1946, signal supplies on hand in the six signal depots in Germany totaled 81,424 long tons. The signal depots were located at:



Mannheim


Berlin


Neu Aubing


Bremen


Nürnberg


Hanau

In 1946, in accordance with the new Theater policy of consolidating technical installations at key depots located at strategic points within the US Zone of Occupation, a central signal depot and maintenance shop was established on 5 July 1946 at Hanau. The depot site had been chosen because of its central location in the US Zone and the availability of hardstanding storage space.

The 22nd Sig Svc Gp, formerly located at Mannheim, moved to Hanau to operate the new depot. Hq & Hq Co of the Group was augmented by Company B, 126th Signal Battalion.(1) The 22nd Signal Brigade had it's origins in Frankfurt Germany with the activation, on 1 December 1945, of Headquarters and Headquarters Company, 22nd Signal Service Group with duties supporting the Army of Occupation.

The disposition program initiated as part of the effort to consolidate signal supply at the central signal depot in Hanau, provided that all items needed for Theater reserve levels be moved to Hanau. Items requested by the War Department were returned to the Z.I.; demilitarized captured signal equipment was released to OMGUS; the remaining signal equipment was declared as surplus and transferred to other services or declared to the Office of the Foreign Liquidation Commissioner. Between 5 July 1946 and 1 May 1947, when it became a point of issue, the Hanau Signal Depot was engaged in receiving and repairing stocks from the other depots, in improving its storage and repair facilities, and in obtaining and training a German staff.

On 20 June 1948, the 22nd Signal Service Group was inactivated and replaced by the 7797 Signal Depot Group.

The closing of the Mannheim Signal Depot in August, 1948, (2) and the disposition of remaining surplus stocks through the Office of the Foreign Liquidation Commissioner (OFLC) and Staatliche Erfassungs-Gesellschaft für Öffentliches Gut (STEG), left - at the end of 1948 - signal supplies concentrated at Wels, Austria, the Hanau Signal Depot, and (military) post installations, and enabled the Hanau Signal Depot to assume the central supply role designated for it early in 1946.

The Hanau Signal Depot was replaced in June 1952 by the Rhine Signal Depot (in Pirmasens).

(1) The other depots were operated during the same period as follows:


Mannheim Signal Depot - 543rd Signal Base Depot Company and 192nd Signal Repair Company


Bremen Signal Depot - 218th Signal Depot Company


Neu Aubing Signal Depot - 51st Signal Depot Company


Nürnberg Signal Depot - 221st Signal Depot Company

(2) Nürnberg Signal Depot was the first to closed out - latter part of 1947; this was followed by the Bremen Signal Depot (May, 1948); the Neu Aubing Signal Depot (June 1948); and then the Mannheim Signal Depot.
If you have more information on the history or organization of the Hanau Signal Depot, please contact me

.

---
Depot Guide Book
1949
(Source: Depot Guide Book, Hanau Signal Depot, European Command, 1949)
The Hanau Signal Depot is presently the only signal depot in the European Command.

The Depot is located approximately 2 miles east of Hanau on the Main River and about 20 miles east of Frankfurt on the Main.

On 16 July 1946, the Hanau Signal Depot was activated to consolidate the four signal depots which were located throughout Germany at the time - at Bremen, Mannheim, Neu Aubing and Nürnberg. These depots were under the command of the 22nd Signal Service Group with headquarters at Mannheim.

In August 1946, the inactivation of the other signal depots commenced, and shipments of Signal Corps equipment were received at the Hanau depot at the rate of 200 tons per day.

In June 1948, the Neu Aubing Depot was inactivated.

In July 1948, the Mannheim Depot was inactivated.

The Hanau Signal Depot thus became the only signal depot in the European Command.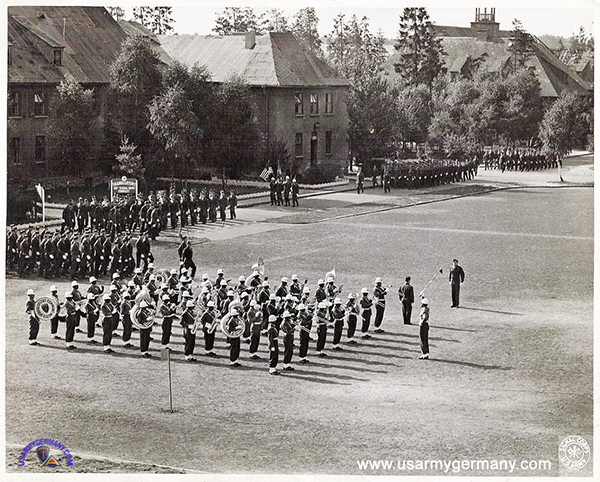 Hanau Signal Depot, July 1947 - Parade given in honor of Brig Gen Matejka,
new Chief Signal Officer, EUCOM
GENERAL IN COMMAND
| | | |
| --- | --- | --- |
| CHIEF SIGNAL OFFICER EUCOM | Brig Gen F. H. Lanahan | Jul 1946 |
| | Maj Gen Jerry V. Matejka | Jun 1947 |
COMMANDING OFFICER
| | | |
| --- | --- | --- |
| 22nd Signal Service Group | Col J. V. Tower | Jul 1946 |
| Hanau Signal Depot | Lt Col E. M. McDermott | Dec 1946 |
| 22nd Signal Service Group | Col W. M. Mack | Apr 1947 |
| Hanau Signal Depot | " | |
| 22nd Signal Service Group | Col E. V. Elder | May 1947 |
| Hanau Signal Depot | " | |
| 22nd Signal Service Group | Col F. J. Schall | Jan 1948 |
| Hanau Signal Depot | " | |
| 7797th Signal Depot Group | Col F. J. Schall | Jun 1948 |
| Hanau Signal Depot | " | |
The Mission

The mission of the Depot is:
1. To receive, store, issue and provide 5th echelon maintenance for all signal equipment issued to the Occupation Forces of the European Command and equipment required to carry out additional missions charged to the Chief Signal Officer, EUCOM.

2. To operate signal field procurement teams for the Office of the Chief Signal Officer, EUCOM to procure from the German economy various types of signal equipment.

3. To rehabilitate all equipment and items retaining at least 35% of their original value. The program includes rebuild, repair, cleaning and preserving, packing and rebuilding, proper marking and identification and classification, in order to put all items into Class "A" and "B" condition for issue.

4. During 1949, the Depot was responsible for:


75,000 approx. line items


145,000,000 approx. individual pieces of stock (expendable items, maintenance parts)


$62,000,000 approx. Dollar value
| | | | |
| --- | --- | --- | --- |
| | Click here for location guide to photos | | |
| 1. Aerial view of Hanau Signal Depot, May 1950 | 2. Main Gate, 1949 | 3. Hqs Bldg, 7797th Signal Depot Gp, Hanau | |
| 4. Hanau Signal Depot installation map, 1949 | 5. Warehouse area gate | 6. Warehouse area - southwest view | |
| 7. Warehouse area - southeast view | 8. Signal Corps vehicles in storage | 9. Labor Equipment Section | |

---
7797 Signal Service Company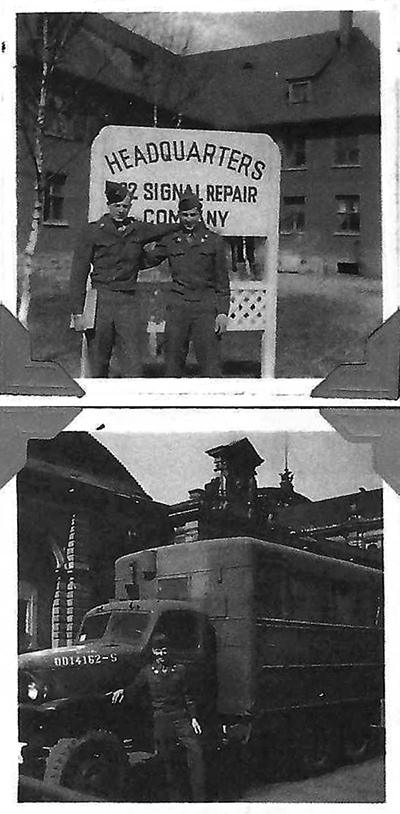 Top: In front of the 192nd Signal Repair Company sign at
the Hanau Signal Depot
Bottom: Dorcas in front of a Signal repair truck at the
Frankfurt main train station
1947
(Source: Email from Albert S. Dorcas, 7797 Sig Svc Co, 1947-49)
I am a US Army WWII veteran. I was posted at Hanau Signal Depot from January 1947 to February 1949 attached to the 7797 Signal Group.

After my basic training in Camp Crowder in Neosho, Missouri I was bussed, troop trained and sent to Fort Monmouth NJ for Signal Corps training. I was to be assigned to occupied Hanau Germany.

Then I was sent to Camp Kilmer NJ for overseas processing and where I got my first cruise on a Victory ship. My heart filled with pride when I saw the Statue of Liberty in the harbor. A day I shall never forget.

The ship was filled with troops and we spent eight hours above deck and 8 hours below deck. The trip was memorable through wind and rain you stood your post, and many were sea sick.

Finally land and then we were sent to our assigned camps through the war ravished Germany.

I still remember the sights and smells of the devastation. I was amazed at the preservation of the churches and other buildings.

And so here I was in Hanau at the 7797, a young kid ready to face the world in a foreign country. Putting to work all I had learned about climbing poles, connecting wires and repairing phones.

We worked benched repairs or drove our mobile repair truck to locations. We were in the communication business ensuring companies and post were able order the supplies and assistance they needed via the phone.

It wasn't all work but a bit of adventure was added. Our company commander was a sports advocate. I was fortunate to play baseball, football and even did a little boxing. I was able to travel to Paris, Munich and did some skiing.

I was part of the parade given to honor Brig General Matajka. I was honored to be selected as Orderly of the day during his visit and meeting with General Clay. I've attached a photo of Brig General Matajka and General Clay in the mess hall. I'm in the background standing post.

Attached are photos of me as a lineman on a pole and me doing a bench repair. There is a photo in front of our barracks and one of me in front of our mobile repair truck. And a copy of our Christmas dinner menu dated 25 December 1947.

I thank you for this opportunity to share a bit of myself and a little history of 77-97 Signal Group Hanau, Germany.
---
1954
(Source: Email from Joe Wimberger, 7797 Sig Svc Co, July 1953-July 1954; 7830 Sig Svc Co, July 1954-Jan 1955)
I am answering you request about the 7797 sig svc group . My wife found your website so here is my story.

I arrived in Germany in July 1953 I was assigned to the 7797 Sig Svc Co stationed at the FLIEGERHORST KASERNE IN HANAU. Our job was guard duty at four different outposts scattered around the Hanau area. Nobody execpt the brass knew what we were guarding because it was underground. We would pull guard duty for 3 days and then have 3 days off.

Our company consisted of about a total of 45 or 50 men and that included NCO's and officers. 0ur mess hall was in the same building as our billets.

Then in July of 1954 the Co. was deactvited. Our commanding officer, Capt Weinfield A.Sprague was sent to our sister Co., the 7830 Sig Svc Co in Zweibruecken. He was able to take a few of us from Hanau and I was one of the lucky ones. I finished my last 6 months from July 1954 to Jan 1955.

Now the mystery begins. I can't find any information about the old 7797 Sig Svc Co. Its almost as if it never existed. I have one photo of a buddy of mine taken in Hanau in front of our building proving that there was such a unit. The picture was taken in Sept or early Oct. 1953. Hope you have info about the 7797 Sig Svc Co.

---
551st Signal Depot Company
(Source: Email from Ken Saul, 551st SDC, from early 1951 to October 1952)
There were four organizations on site at the Hanau Signal Depot when I was there. A Depot Headquarters Company, the 7796th Photo Company, the 551st Signal Depot Company and a detachment of WACs.

The original 551 SDC operated during World War II. It was formed on 12 June 1944 at Camp Shelby, Mississippi and disbanded on 14 January 1946 in the Philippines.

On 20 March 1951, five years later, the 551 Signal Depot Company was reactivated near Hanau-am-Main, Germany. The unit was composed of old Company "C" of the 7797th Signal Depot Group with all personnel of the old company being reassigned to the newly activated company. The activation was celebrated, and during the ceremonies, Brigadier General Rex van den Corput, Chief Signal Officer, EUCOM, dedicated the three playgrounds which had been built by members of the inactivated 7797 SDG, to the German Youth Activities. The strength of the newly activated company was 7 officers, 1 warrant officer, and 131 enlisted men.

With the activation of the 551st came the appointment of Major William D. Gooley as Commanding officer on 27 March 1951, relieving Captain Louis Pollock, Commanding Officer of old Company "C", who served as CO the seven days prior to the assignment of Major Gooley.

The unit was inspected on 5 April by General Basil Perry, Commanding General Frankfurt Military Post, and received an overall rating of superior.

On 15 November 1951 the company was reassigned from the 27th Signal Base Depot to Seventh Army per Troop Assignment #29, HQ, EUCOM.

At this time the unit began plans for setting up an Army Signal Depot to support Seventh Army Units. A stock control unit was organized 1 December 1951, with Capt. Frank Carbonne as Accountable Officer. This stock control unit operated a paperwork organization, in support of the Second Armored Division and the Fourth Infantry Division. The actual issuing of supplies was handled by the 27th Signal Base Depot, also located at Hanau Signal Depot.

A portion of the bin stock area of the 27th SBD was given to the 551st, and an initial stockage of approximately 8,000 line items were shipped to this station. Captain Gannon, Storgae officer was appointed, in addition to his regular duties, Executive Officer & Personnel officer.

On 21 March 1952 the 551st celebrated the first anniversary of its reactivation at the Hanau Signal Depot EM club. There were lots of good food and beer provided.

Upon the first anniversary the following officers were serving with the 551st:
| | | |
| --- | --- | --- |
| | Major William Gooley | Company and Depot Commander |
| | Capt. Frank Carbonne | Stock Control Officer |
| | Capt. Joseph Gannon | Executive Officer |
| | Capt. James Reynolds | Storage & Training Officer |
| | Capt. Richard Smith | Maintenance Officer |
| | CWO Howard Bell | Maintenance Officer |
| | WOJG Clarence Collins | Maintenance Officer |
| | WOJG Donald Reed | Stock Control Officer |
| | | |
During September 1952 we closed down the shops in the Maintenance division and moved our equipment to the depot Bahnhof where it was prepared for shipment to the new signal depot in Pirmasens. Most of the German civilians working for me in the Electric Shop were put to work in the Bahnhof.

I returned to the ZI at the end of September 1952 so have no knowledge of the disposition of the 551st after that.

---
Related Links: