If you do NOT see the Table of Contents frame to the left of this page, then
Click here to open 'USArmyGermany' frameset
38th Transportation Battalion
107th Transportation Brigade
Looking for more information from military/civilian personnel assigned to or associated with the U.S. Army in Germany from 1945 to 1989. If you have any stories or thoughts on the subject, please contact me

.
---
---
SUBORDINATE UNITS
| | | | | | | |
| --- | --- | --- | --- | --- | --- | --- |
| SUBORD UNIT | STATION | CTRY | | SUBORD UNIT | STATION | CTRY |
| | Friedberg / Aschaffenburg | GE | | 51st Trans Co | Mannheim | GE |
| | Worms | GE | | 126th Trans Co | Karlsruhe | GE |
| 35th Trans Co | Frankfurt | GE | | | Worms | GE |
| | | | | | | |
Battalion History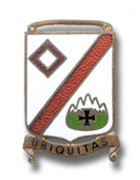 38th Transportation Bn DUI (prior to Nov 1967)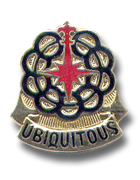 38th Transportation Bn DUI (authorized Nov 24 1967)
Headquarters and Headquarters Company (HHC), 38th Transportation Truck Battalion was activated in Munich, Germany on 1 June 1951.

On 1 April 1953, the battalion was redesignated HHC, 38th Transportation Battalion (Truck).

During this period, the 38th was assigned to V Corps.
ORGANIZATION - 1954
| | | |
| --- | --- | --- |
| UNIT DESIGNATION | LOCATION | COMMENTS |
| 7th Trans Co (Lt Trk) | Aschaffenburg [1] | |
| 34th Trans Co (Lt Trk) | Butzbach [1] | |
| 35th Trans Co (Lt Trk) | Frankfurt [1] | |
| 51st Trans Co (Lt Trk) | Hanau [1] | |
| 594th Trans Co (Lt Trk) | Kirch Goens [1] | |
| | | |
[1] STATION LIST, 31 Dec 1955
On 20 February 1959, HHC was again reorganized and redesignated as Hq/Hq Detachment.

Prior to 1965, the 38th Trans Bn was under the command of the 10th Trans Gp. With the inactivation of the 10th and the activation of the 107th Trans Bde as part of COSTAR in 1965, the 38th Trans Bn was reassigned to that command.

The 38th Battalion left Coleman Barracks, Mannheim, Germany and arrived at Fort Eustis, Virginia, on 20 September 1968. One of its subordinate units, the 100th Transportation Company, also left Germany and relocated to Fort Eustis.
If you have more information on the history or organization of the 38th Transportation Bn, please contact me

.
---
1959
(Source: Email from Laurence (Larry) St.Onge , HQ 38th Trans Bn, 1959- ; 66th MI Gp, )
I was assigned to Hq, 38th Trans Bn, Taukkunen Barracks, Worms, Germany about Jan 1959. The CO was LTC Hamilton Rebentisch. He was replaced a year or two later by LTC Phillip I. Klein.
The Bn Adjutant when I first arrived there was Major Thomas G. Haake. The Personnel Officer, for whom I worked, was CW2 Kendall E. William.
As I recall, the 34th Trans Company was co-located with the Bn Hq in Worms, there was the 377th Heavy Trans Co at Sandhofen Barracks, and I've forgotten the others.

The 38th Trans Bn was a VERY active cargo hauling outfit using mostly 5-ton trucks for over the road use supporting 7th Army. Also, of course, we had numerous deuce and a half trucks, jeeps, 3/4 tons, and so on. The Bn under LTC Klein was one red hot sharp outfit. Klein was a stocky, very powerful guy, one of the strongest men I've ever known. During an extended field stay in the Lorsch Woods near Worms, LTC Klein caught a couple of outpost guard points asleep. He took their tripod mounted .30 caliber machine guns, then called a Bn formation in a clearing at first light. He had about 900 troops, the entire outfit, clustered in that probably one to two acre clearing. He called attention, picked up a machine gun in each hand, held them out to arm's length, and walked all around the ranks chewing behinds. This was amazing! Many of us husky young studs tried to duplicate this later and could not. A tripod mounted air cooled Browning weighed probably 60 pounds and to hold two of them out like that while addressing the troops for something like ten minutes was something to see and marvel at.

Anyway, the 38th under that guy was the best unit I every served in during 25 years in the Army! We might have been truckers but we were soldiers first! Also damned well taken care of by that same LTC Klein.


I was with 38th Hq about 2.5 years, made SP5, and was transferred to Hq 10th Trans Group, Karlsruhe, about 1962 to be promoted to E6 and become the Personnel Sgt of the newly activated or formed 125th Trans Bn co-located with 10th Trans Group. The 125th subsequently took over the Transportation Companies of the 24th Infantry Division which were located at Augsburg and Munich. I made many TDY trips to those locations trying to get the records straight and get a handle on the very poorly maintained 24th Div records.
We did a lot of field time in the 38th, especially under LTC Klein. He, by the way, died just a couple of years ago as an 0-6 in his mid 90s. A grand old man.
I left in late 1964 after a five year tour. I subsequently applied for Military Intelligence, was accepted and went back to Germany, to 66th MI Group, Stuttgart, as a special agent late 65 or early 1966. I was assigned to the VI CIC Region at Flak Kaserne, Ludwigsburg.

That unit was just changing it's title from VI CIC Region to 6th MI Company. As you may know, a MI Company in those days was the equivalent of a regular Army battalion. The "Company" commander was LTC George Krelo and we had Field and Resident Offices in Heilbronn, Ludwigsburg, Augsburg, Munich, Garmisch, and Berchtesgaden. I was an E-6 and just out of the agent's and DAME courses at Ft. Holabird. Within a few weeks of my arrival, Krelo called me and told me he was transferring the current Technical Chief (TC), CW2 Burton Staats, to be supply officer and I would now be TC. We had an active technical program with electronic countermeasures missions all over the southern half of Germany and we did very frequent electronic "sweeps" for 7th Army and 7th Army Support Command. These command sweeps included the General and senior staff offices, command trains, staff cars, conference rooms, quarters, etc., to hopefully detect bugging by the very aggressive Soviet intelligence services. We also did technical monitors of classified conferences sometimes carried out in gyms, movie theaters, and so on. In those days, the Status of Forces Agreements between the US and Germany gave the US the authority to arrest and detain German and other foreign nationals, do clandestine surveillance missions, and so on. I won't get into details about any of that but we did conduct and/or support many of our own missions and also provided services for the German intel agencies primarily the LFV.

Anyway, my TC slot was an 0-4 position and I held it for three years as an E-6, E-7, WO-1, and CW2. Krelo got special dispensation to retain me when I made WO even though that almost always meant an automatic transfer.

I returned to the US in 1968 assigned to the MI Resident Office in Leavenworth, KS. Was there about a year and then sent to eight months of Vietnamese language training at Biggs Field, Fort Bliss, TX. Went from there to 2d Bn, 525 MI Group, RVN.

I came back from Nam May 71 and had the Grand Junction, CO Resident Office for a couple of years and was reassigned to be the one man RO at Dugway Proving Ground, UT in 74. I stayed there until 1980. The 525 Group was reconstituted/relocated or whatever they call it to Presidio, SF, CA, so I was again in the 525 Group. My last CO there was LTC Russell Cooley, also a great guy, the initiator of the OPSEC program, and a true genius in counterintelligence. Went from Dugway to South Korea in late 80, was only there a couple of months, and was pulled back to a special unit in D.C. which I won't discuss at all. Retired effective 1 Nov 81 and there we are.
---
1968
(Source: STARS & STRIPES, Aug 4, 1968)
The 38th Trans Bn and its (five) subordinate units are being transferred to the States as part of Operation REFORGER.

One unit, a heavy transportation company (prob the 96th Trans Co, Karlsruhe) was already moved back to the States in early June.

The next unit to move is the 126th Trans Co (Med Trk Cargo), Gerszewski Barracks, Karlsruhe. They are scheduled to leave for Fort Bragg, NC - their new home station - on September 6. The company's 68 wheeled vehicles will be turned in to the 3rd Maint Bn (USAREUR Augmentation Readiness Gp) in Karlsruhe. However, before turning in their vehicles, the 126th must make sure they are in good condition. The Wheel Vehicle section of the 3rd Maint Bn will inspect the vehicles and if they pass, only then are they accepted and become the responsibility of the 3rd Battalion.

After the vehicles have been accepted by the 3rd Maint Bn, they will go through a four-hour storage preparation operation in which every moving part, with the exception of engine components, receives a coating of leightweight oil. The engine oil is changed and oil with a special additive is put in its place. Even the fuel system is coated with the special oil.

The next step is to bleed the brake system, pull all wheels to check for seal leaks and worn bearings. If no replacements are needed, the truck is taken to the storage area where the final steps in preparing them for long-term storage are taken.

Should major repairs be required,Co B, 51st Maint Bn in Karlsruhe is responsible for providing support or they are sent to the appropriate repair facility (for higher echelon work).

Not everything will be put into storage in Germany. Some items will accompany the unit to the new station. Weapons, protective masks and unit records will follow close behind the main body of troops leaving in September.
---
(Source: STARS & STRIPES, Oct 3, 1968)
The 513th Trans Co (Med Trk) left Germany for its new home station at Fort Lewis, Wash., on Sept 30. The 513th, previously stationed at Coleman Barracks, Mannheim, was the last USAREUR unit to return to CONUS under Operation REFORGER.

---
7th Transportation Company
1951
(Source: Email from Cliff Cummins)
I was assigned to the 7th Trans Truck Company when it was started in Munich in April or May or June 1951.

We went to Dachau to get our trucks where they had been in storage. They were the old GMC 2-and-a-half-ton 6 by 6 trucks that they used in WW2.

We were later moved to Friedberg. We were the first white trucking battalion to be intergated several months later.

We supported the 4th Infantry Division. When we went on maneuvers we would haul the troops up to the front lines and then we would pull back with our trucks behind the front lines, camauflage them, dig fox holes for ourselves and wait for futher orders.

From an article from the Army Times Newspaper dated sometime in 1952.

38th TT Maintains Good Safety Record
The 100th TT Co located in Schweinfurt has passed its 5th month of operations without an injury or accident. The unit has driven 116,000 miles over the 5 month period extending through the winter months from October 1951 to Feb 1952. The operational and safety figures for the month of Feb showed, however, that the 7th TT Co drove 31,000 miles without an accident or injury.

My enlistment was up so I left Friedberg about May 1953.

I have lots of memories and personal records of the 7th Trans Truck Co in Germany.

---
34th Transportation Company
WORMS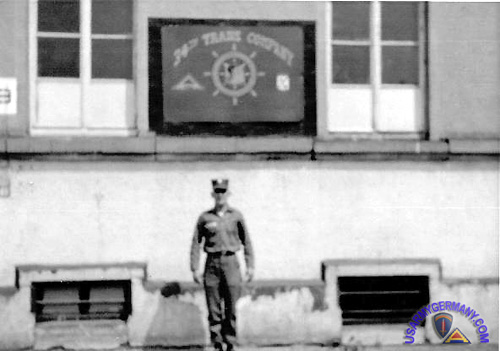 Company sign on barracks building, Taukkunen, 1963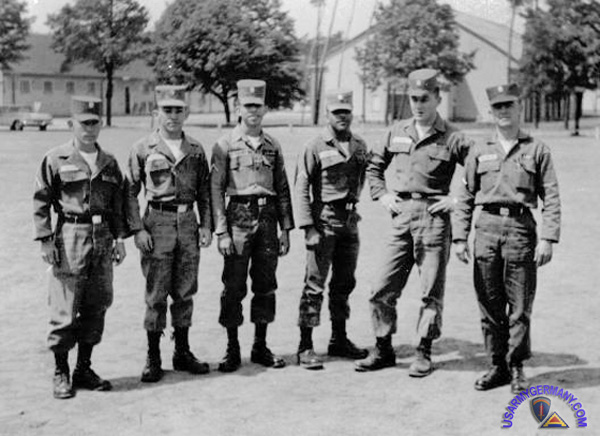 Men of 3rd Platoon, 34th Trans Co, Taukkunen, 1963
1960
(Source: Email from Jim Kuipers, 34th Trans Co, 1960-65)
I was stationed at Taukkunen
Barracks in Worms Germany from Nov 1960 to Nov 1965. I was with the
34th Trans Co
which fell under the
38th
Trans
BN
. Also there was the 513th
Trans
, the
594th
Trans
and
BN
Hq of the
38th
Trans
BN
.

Our
BN
fell under the 10th
Trans
portation Group. We wore the Seventh Army shoulder patch.
In addition there was the 48th Infantry
BN
which fell under
the 8th Infantry Division.

I was there when the Berlin Wall was built and

when President Kennedy was assassinated in 1963.
I have some pictures of the Kaserne which a friend I was

stationed with just sent me. I will email them to you if you want? They are from

my time there.

Taukkunen Barracks was a military installation since 1787 and
has now been given back to the city of Worms and converted into an arts and

cultural center where music and the arts are studied and learned by a younger
generation.
This is a quote from my friend who was stationed there with

me from 1963 to 1965. "I think it is a fitting tribute to the times that we and

thousands of others spent as soldiers there ready to lay it on the line and

never had to (thank God), to a place where beautiful things are taught to a new

generation."


PS The
38th
Tran
BN
crest was similar to the 10th Group one except it had this word at the bottom, UBIQUITAS which means all over.
---
1961
(Source: Email from James A. Pfeifer, 34th Trans Co, 1961)
I arrived in Worms, Germany in February of 1961 after being on a troopship for 12 days. When we left New York we sailed in a gigantic winter storm which caused the ocean to be very rough for half of the trip across the Atlantic Ocean. We arrived in Germany a week before the Lenten season began during the Fasching season 1961 - similar to our Mardi Ga season .
I was assign to the 34th Transportation Company in Worms. Drove a 2 1/2 ton, Truck # 29 until the spring of 1962.

There was a large build up of US Army personal in Germany 1961 because of the Berlin Wall that was built. No G.I.s left Germany during the time the wall started going up until spring/summer of 1962 even through their tour of duty in Germany should have been ended.


When they finally discharged all those being held beyond their discharge date, hundreds of military personnel left Germany in a short period of time. As a result the 10th Transportation Group, which the 34th Transportation Company was part of, went to the line companies and transferred soldiers to the 10th Transportation Group in Karlsruhe, Germany so that headquarters was fully staffed.

I had to give up my truck (#29) for a desk job at the 10th Transportation Group. I worked in the S-4 section for SSGT St.George and W-4 Mr. Kelly. I did not realize it at the time, but that move would changed my life. A number of soldiers at the 10th Transportation Group either had college degrees or some education beyond high school. After being around those guys I was convinced that I needed to continue by education when I was discharged. I did.
The reason for writing this is because I was surfing the internet and found information about the 34th Transportation Company, Worms Germany. I saw the information written by Bolivar Rodriguez and what really intrigued me is that he drove Truck #29 when in the 34th Transportation Company. He would have been assigned there about the time I was transferred. Truck #29 did not have a governor like the rest of the trucks because the guy that drove it before me (I think his name was Wedel or something like that) told me they made adjustments so it would go faster than the regular 2 1/2 tons.
Bolivar, if you out there and you read this feel free to contact me.
---
1962
(Source: Email from Bolivar Rodriguez, 34th Trans Co, 1962-64)
I was member of the 34th. Trans. Co. from 1962 through 1964. I was the driver of truck #29, a deuce and a half. Drove over 20,000 miles in my assignment picking up and delivering all kind of supplies. At that time our unit was at Taukkunen Barracks in Worms.

I am including some pictures taken during 1962-63. Got more! My excuses if any of them looks blurred; they were taken with a German camera purchased at the post PX and the instructions were in the German language.

I arrived Germany aboard the SS Alexander M. Patch around the middle of July 1962. It took us 10 days at the sea. About 1,600 soldiers that were spread out to different posts around West Germany. Sixteen of us were assigned to the 34th. Trans. Co. in Worms as replacements. The Cold War was on and a lot of tense moments happened, like alerts, US Army convoys being blocked on their way to Berlin, the killing of President Kennedy.....
At that time the 38th. Trans. Bn. in Worms consisted of the Batallion Headquarters, 34th. Trans. Co., 513th. Trans Co., and 594th. Trans. Co.. Other companies from the 38th. Trans. were at other locations: 7th. Trans. Co. in Aschaffenburg, and 544th. Trans. Co. in Baumholder.

We didn't have much communication with those companies that were out of Worms. Maybe they were assigned to other areas of Germany since very seldom we could see them on the road.

Our 34th. was named "The Gamblers" (for obvious reasons). Our days on the road were were very tough specially during the cold winters. During the month of December 1963 we were operating in temperatures of 35 below zero...without heaters in our trucks.

We usually made our pick-ups at the Army Depots in Mannheim and Rhein Main A/F Base at Frankfurt. We used to go on the road on Monday mornings and returned to post on Saturdays by noon.

On a next communication with you I'll more photos. Since I'm having problems with my printer (not scanning) I can photo-copy the whole yearbook that contains pictures and more information about the 38th. Trans. Bn. and and send it to you in the mail.
| | | | |
| --- | --- | --- | --- |
| | | | |
| 1. Motor pool | 2. German-American Day | 3. German-American Day | |
| 4. Snowy day | 5. Bolivar in front of his deuce-and-a-half | | |
---
Official unit pictures taken at Taukkunen Barracks in Worms, Germany, Spring of 1965
1963
(Source: Email from Vince B. Cockeram, 1963-1966)
I served in the US Army August 1963 to August 1966. I was stationed at Taukkunen Barracks, Worms, Germany from December 1964 to December 1965 and served in the Maintenance Platoon of the 34th Trans Co / 38th Trans Bn / 7th Army.

I have in my possession the official unit pictures that were taken in the spring of 1965. A unit photo was given to all 34th Transportation members and we were able to purchase additional photos as desired. I purchased all offered photos as the price was as I remember quite reasonable.

I had the photos scanned today at a local Office Max at the highest available scan resolution. The resultant TIFF files are huge. Converting them to .jpg files does reduce the file sizes somewhat but resolution is lost.

As these were official unit photos, I'm wondering if you might be interested in possibly posting them in your USAREUR pages.
| | | | |
| --- | --- | --- | --- |
| | | | |
| 1. Unit photo page | 2. James Kuipers, Motor Sgt 1965 | 3. Vince Cockeram, master welder | |
---
1965
(Source: Email from Jim Hickenbotham, 34th Trans Co, 1965-67)
I was with the 34th Trans Co, 38th Bn, 7th Army and drove a 2.5 ton truck. During my last 4-5 months in the bn. I was relocated to Boeblingen. At that time I did not realize that the unit was headed to Nam. My ETS from Germany was April 1 1967 and the unit went to Nam in September that same year.
My unit picked up and transported supplies all across Western Germany. We also supported the 8th Infantry stationed an the same base in Worms, Taukkunen Barracks. We would go to Grafenwoehr and Wildflecken.
I continue to stop in Germany from time to time traveling with my job as a labor leader and will travel to Worms and remember the good times. The base has been turned into a mall with hotel, shopping center and the works. i would love to find out what happened to my old unit! The last I heard was that upon their return from Nam they ended up at Fort Campbell. Kentuky.
My friends and I used to travel to Lapenheim (?) to a resturant run by a black gentleman by the name of Mr. Wheims who had retired and married a german lady and we could go there and eat soul food especially on Sunday. Last year when I was in Germany again I ran into another gentleman who had stayed in Germany and he advised me that Mr. Wheims had passed away.
I could go on and on as I love Germany!! I recenlly retired from the Reserves as 1st Sgt. The guys would not believe it :-) (80th Division, Salem, VA.) I hope someone will be able to offer me some information regarding my old unit.
There were also two additional transportation units on base, the 513th and 594th Trans Companies, if my memory serves me right.
ADDITIONAL INFORMATION
I think that the relocation regarding the 38th BN from Worms to Panzer Kaserne, Boeblingen, Germany, could have taken place late 1966 or early 1967.


Also after looking in what little info I can find, I did receive a Safe Driving Certificate for driving 15,000 miles without an accident from the timeperiod 16 Dec. 1965-Jan.21 1967. This was with the 34th Trans Co. and the 4TH Trans. Bn. - confusing, I know. Martin W. Shaffer, LTC, TC, commanding.
I know that the time spent in Boeblingen was almost like being in a holding station, as all we did was go to the motor pool and p.m. the vehicles and back to the barracks and play cards. And of course have alerts every other morning.
---
(Source: Email from Dave Endres)
I was in the 34th TC with a MOS of 64A10, light vehicle truck driver. I was a Spec 4 (E-4) and I do remember Jim Hickenbotham (see avove).

I served in both Worms and Boeblingen from late 1965 until March 1967. I remember that Comm Z moved from France to Worms, thanks to Charles DeGaulle, forcing us to move from Worms to Panzer Kaserne near Boeblingen.

Part of my time with the 34th TC was as a Unit Policeman at Taukkunen Kaserne in Worms, then actually being a truck driver driving all over the then West Germany in my deuce and a half.

At both Taukkunen & Panzer I was a CQ for a few months serving under M/Sgt Beryl Harvey. Then I came home and out of the Army.

Some of the guys at the 34th TC were Gene Huebner, Jim Biandilllo & Abie, Dan Radakovich, Nick Nichols, Leo ?, Jim Cezeroni, Nauseef etc.

ADDITIONAL INFORMATION
Back in either late 1966 or early 1967 my company moved to Panzer. I believe the other companies under the 38th Trans Battalion of the 107th Trans Brigade, like the 594th TC, a 5-ton truck company, moved to other locations in West Germany, not sure. Also the 8th Infantry companies moved out, all to make room for that big US Army Comm Z (Communications Zone) outfit coming from France.

When I visited Worms many years ago (over 25 years) with my older daughter it was still a US military base. It was around Easter time. I loved Worms as TB was in the city right across the street from Lily Marlene's gasthaus and bar where we used to drink cola/sholas, a mixture of red wine and coke or the beers with the red washers, wire fasteners and crockery stoppers. We'd take the washers off and try to break of the "nipple" with out thumb and middle finger! :-)

I hated Panzer, too far from Boeblingen, out in the middle of NOwhere! As a light vehicle truck driver traveling with a trip ticket and my "awol bag" full of my "civvies", I was able to travel all over West Germany go out to the early hours of the morning with no bed check and sleep late before getting back on the road.
---
BÖBLINGEN
1966
(Source: Email from Charles Brocksmith)
Good memories. Got to Worms beginning of 1966. Story about that for another time.

We (34th Trans Co) moved to Panzer Kaserne the Monday after Thanksgiving 1966.

Remember my platoon Sgt going home to his German wife about a month before the move. She fed him, sat him in his easy chair with a beer, and said,"When are you going to tell me about the move?" He explained we were to get boxes together for a move but the facts were Secret and we weren't told.. She said It was in the German paper that we were moving, there were going to be a lot of military movement on that day, and for germans to watch out for traffic! So secret!

There was a big shakeup among the battalions of 107th Brigade because of the drawdown of people being sent to Vietnam. There were at least two consolidations I remember. I was made Sgt, and was moved to the 342nd. The 34th eventually did go to Ft Campbell as part of the original REFORGER operation and the 342nd went to Ft McClellan, Aniston, Alabama.

I do have my battalion flashes from Worms, the white background red road and red diamond, but can't remember even getting new ones when we showed up at Boblingen. I remember we joined two companies that were already there. We really didn't like moving, and really didn't like getting Battalion taken away from us. But considering the way things were in turmoil at the time, I guess we should have been glad we weren't put on ships and gone straight to Nam considering the troop drawdown that was going on in Europe.

From what I remember, there were at least 4 battalions of trucks under the 107th. At least two of the battalions disapeared. Where the other companies went is a mystery for me. I was an E3 E4 at the time, and you know how much we get told! I don't know where the semi companies, the 513? and 594, went. Talked to a guy at the VA several years ago who was in the 594th. They didn't move much. Our company drove way more mile than both of the other companies. He said that was cause they were special companies. Drivers had Secret Clearances etc. Really never did see them on the road.

If you Google Panzer Kaserne 2915, Boblingen, and zoom in a little to the south end of the complex surrounded by the trees on three sides west of the road. The two basically north south red-roofed long buildings on the west were the barracks for the battalion. The southern building was 34-342 barracks and the battalion offices. The maintanence shops were on the west, 2nd from the bottom. The parking lot between the 3rd and 4th grey roofs was for 34th semi's and the lot on an angle by the trees on the north was parking for 34th deuce and a halfs. The vertical building west of the shops wasn't there if I remember correctly.
Going east, to the big parking lot, go between the two red roofs and 342 parking was there. Our mess hall was the small red roofed building at the north of the big parking lot. The north-south red roofed buildings on the east were 7th Army Support Command. The three red roofed building at the quad. on the west was west side 7th army support command headquarters building, the east-west building was snack bar, quick stop and upstairs was a big day room with couches and chairs, a living room, and pool tables. the big north-south building was the exchange and barber shop. The big grey roof north of the exchange was a pshycological warfare building, very quiet. Obviously don't know why they weren't at Bad Tolz with the rest of Special Forces.

South of the exchange across the road that goes west, was sick bay, but that building appears to be gone. Going north from the exchange again were the movie theatre under the trees on the west, the gym, go to the T in the road on the right was Ordnance where our trucks were repaired by Groups of the people that were disposessed by the war (Labor Service?). Turn left, and the bowling alley, church and the road to the main gate with signal companies base facilities and the MP's if I remember correctly.

If you go out the gate at the south end of the exchange and turn right and go down the hill to the clearing on the right, were the pistol and rifle ranges. The long structures were used for zeroing Africa Corps tank guns from the stories we heard. The floors were marked out with range marks and I remember it was 225 meters to where we set up targets on weekend shoots. We were allowed to keep personal firearms in the company armories at the time. There was a shooting club at Patch Barracks which was nato command headquarters? A lot of Airforce and even a few sailors, Brits, Germans, etc. there.

One of the guys that wrote said he hated the place, but It wasn't bad for me. Rather liked it there once I found out what was there, especially driving and seeing some of the other places people were stationed at.

---
594th Transportation Company
1963
(Source: STARS & STRIPES, June 14, 1963)
The 594th Transportation Company (Med Trk)(Cargo) was reorganized as a full-strength tractor-trailer outfit in 1960. Since then, the company has driven some 3.2 million miles while providing logistical support for 7th Army units, primarily in Germany.

Each of the 89 dirvers assigned to the unit averages a little over 1,000 miles each month.
---
1967
(Source: Email from Tim France, son of SFC Joseph W. France, motor pool NCOIC)
Here are some photos of the 594th Trans Co from the 1967-68 time frame. I believe the pictures were taken at Coleman Barracks (where the unit was stationed at the time).

My dad was the motor pool sergeant.
| | | | |
| --- | --- | --- | --- |
| | | | |
| 1. Unit photo | | | |
---
(Source: Comments by Dan Baker on unit page, Military.com)
I was with the 594th (Transportation Company) from 1967 - 1968 @ Coleman Barracks, Sandhofen, Germany.

We had 5-ton
M52A2
tractor trailers. We hauled goods and some APC's, all over Germany. Used to go into France but DeGaulle evicted all NATO forces.

The unit was previously located in Worms, Germany. We were with the 38th Trans Battalion, 107th Trans Brigade
(1)
.

We were re-deployed in 1968 or 1969 to Ft Campbell
(2)
.
(1) Initially, the 38th Trans Bn was part of the 10th Trans Gp, then reassigned to the 107th Trans Bde as part of COSTAR II
(2) as part of the original REFORGER program that returned xxx troops from Germany back to the States. According to the Transportation Corps historian, the 594th was transferred to Fort Campbell, KY on 12 August 1968.

---
Related Links: