If you do NOT see the Table of Contents frame to the left of this page, then
Click here to open 'USArmyGermany' frameset
Nahbollenbach Army Depot
Communications Zone
Looking for more information from military/civilian personnel assigned to or associated with the U.S. Army in Germany from 1945 to 1989. If you have any stories or thoughts on the subject, please contact me

.
---
---
Depot History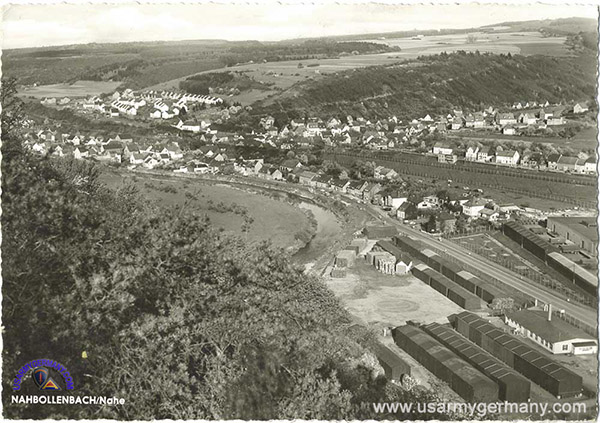 Northeatern area of Nahbollenbach Army Depot, 1960s
1950 - 1986
(Source: Welcome to General Support Center, Kaiserslautern. Compiled by GSCK in 1989)
Nahbollenbach was a German Army depot until the end of World War II.

It was turned over (at the end of WWII) to the French Army until 1950.

In 1950 it was turned over to the US Army. Construction on all the large warehouses began in 1951, and was completed in December 1952.
The United States Army used the depot as a Quartermaster Depot, a General Depot and as a US Army Depot until 1975. Lt Gen Gregg, USA (Ret.), commanded there as a Colonel.

US Army Depot, Nahbollenbach was deactivated in 1975. Additionally, Nahbollenbach Storage Area was then used by the Department of Defense Dependent School (DODDS) System to store school supplies and by the US Army to store Prepositioned Materiel Configured To Unit Sets (POMCUS).

In July 1985, CINCUSAREUR directed its use as a Theater War Reserve location and assigned it to the General Support Center, Kaiserslautern.

In April 1986, four warehouses and 100,000 square feet of open space was made available to establish the European Redistribution Facility (ERF) for the US Army Material Command, Europe.
---
(Source: Email from Dave Willis)
Col Hines was the Depot Commander when I arrived there in Nov 1952.

ADDITIONAL INFORMATION:
I don't know if this is important enough to note but I noticed (from the Depot drawing) that the numbers of the warehouses have been changed since I left in 1956. I don't remember the numbers for the whole depot but I do remember the warehouses I was in charge of and those on either side:.

The warehouse numbered 2 in the drawing was Warehouse #1 in 1952. The warehouse numbered 1-3 was Warehouse #2, warehouse numbered 1-2 was Warehouse #2A, warehouse numbered 1-1 was Warehouse #3. I was the NCO in charge of warehouse 2, 2A & 3 before I returned to the States in 1956.

Warehouse numbered 5 in drawing was originally Warehouse #4.

When I arrived in Nov 1952 there were only twelve warehouses, several more were built before I left in 1956.

Also there was a Lt Col Grisham in charge of Warehouse Operations when I left in 1952.
The original twelve warehouses were:

#1 - Designated as 2 on drawing

#2 - Designated as 1-3 on drawing

#3 - Designated as 1-1 on drawing

#4 - Designated as 5 on drawing

#5 - Designated as 3-1 on drawing

#6 - Designated as 3-3 on drawing

#7 - Designated as 3-5 on drawing

#8 - Designated as 3-7 on drawing

#9 - Designated as 6-7 on drawing

#10 - Designated as 6-5 on drawing

#11 - Designated as 6-3 on drawing

#12 - Designated as 6-1 on drawing
Warehouse #12 shipped Less Than Case lots (LCL Shipments) .
---
Early/mid 1950s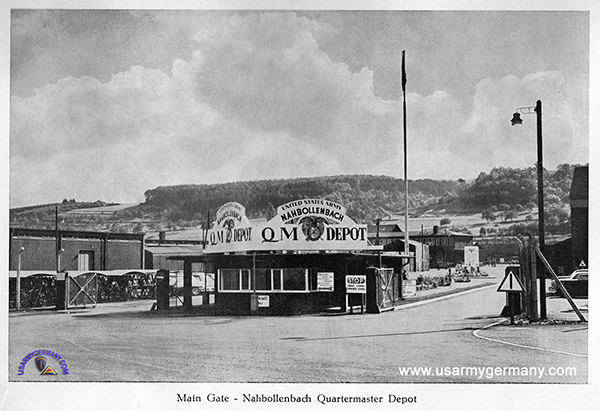 (Click on image to view a higher resolution copy)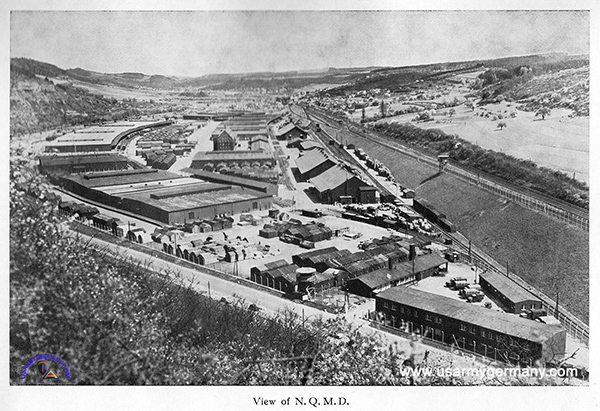 (Click on image to view a higher resolution copy)
(Source: "Souvenir of N.Q.M.D. - St. K., Idar Oberstein, Germany," undated brochure, Webmaster's collection)
Brochure includes photos of Strassburg Kaserne. Click here to view those image.
---
1964
(Source: Email from Hartmut Wettmann, son of Arthur Wattmann, civilian employee at Nahbollenbach Depot)
---
1966
(Source: Email from Ron Proffitt)
I was stationed at Strassburg Kaserne from Christmas Eve 1966 (yes, I arrived on Christmas Eve) as an E-2 and was extremely nervous. We flew into Frankfurt from Ft. Dix, New Jersey IIRC....long time ago. Three of us boarded a train for Idar-Oberstein, (West) Germany. Each of us did not know one another other than we were going to Strassburg K.
We arrived at the train station about midnight and there was a small phone booth that had a sign on it with the number to call for pickup by US Army; we called and about 20 minutes later a jeep or other military vehicle arrived. Driver asked to see our papers. When ok, we hopped in and headed into the night on a road that had NO straight sections in it at all (remember I'm from Kansas and we can see for miles and our roads are as straight as arrows!).
The driver took us up to Strassburg Kaserne and dumped us out at the first barracks. We checked in and were assigned to #4 (clear at the other end of the street, about 1/4 mile) so we carried every thing we owned (not much) and checked in. Were put up on the 4th floor (attack area) with nice rooms and were told at what time Chow would be served at breakfast across the street and about halfway back down the street.
We were in a "Holding Company" until our orders arrived about 3-4 days later which assigned each of us our barracks. Since I was a 71N20 (MOS - Transportation Movements Specialist), I was put into the HQ Company on the other end of the street just inside the Main Gate. The others were put into the other Company's according to their MOS (I think both were "box humpers", warehouse guys) and really never saw either one of them again other than off and on at the PX.

I was replacing a E-5 who was rotating out of the Army and going home. We would board a bus each morning and ride about 30 minutes to Nahbollenbach General Depot where I worked in the Transportation Dept. There were five (5) in the Transportation Office which was located on the building's 1st floor. The mess hall was on the second floor, so was very 'handy'! I was the only GI in my office. In the next office was the Sgt E-7 in charge, and in the next office to that was the Officer in Charge of all transportation. Across the hallway were three other offices that were all Transportation. Remember, back then all paperwork was either all hand written or typed with non-electric typewriters!! (and now one asks......what's a typewriter?) amazing........

My duty was to Time Stamp a "packing slip," sign it with my name, and then someone would pick it up and take it to the warehouse for the driver to haul it to 'where-ever'. We also had shipping via Rail and, very seldom, via Air. But the shipment would go out of our office via truck to Ramstein Air Base or Frankfurt Air Base.

I might mention that Nahbollenbach General Depot was the largest in Europe at that time. It was being built due to the unrest with our troops being in France for so many years and they "wanted us out" ! (Do a Google Maps search for Nahbollenbach Germany and you'll see that parts of the Depot area are still there but hard to make out. Within the last 10 years the Germans have torn down a large 7-story building that was the main HQ for all Europe Army Freight. The facility now is a huge German Industrial complex with a McDonalds and huge Gas Stations, etc. Of course it has been 45 years since I was there.....but it seems like yesterday.
If you have more information on the history or organization of the Nahbollenbach Army Depot, please contact me

.

---
RSAN Organization and Mission
(Source: Welcome to General Support Center, Kaiserslautern. Compiled by GSCK in 1989)
Source: www.innorev.com

MISSION

Receive, store, maintain, and issue peacetime and war reserve materiel to include TR-1, Decrement, Organizational Readiness Float, and Theater stocks as directed by the 200th Theater Army Management Center (200th TAMMC).

NOTE: Click on thumbnail for nice aerial view of Nahbollenbach Storage Area after it was released by the US Army to the German Federal Government.
MISSION STATISTICS (as of Jan 1989)
| | | | | |
| --- | --- | --- | --- | --- |
| | Line Items On Hand | | 1,100 | |
| | Short Tons On Hand | | 23,000 | |
| | $ Value | | 250.0 MIL | |
| | Wheeled Vehicles On Hand | | 2,200 | |
| | Tracked Vehicles On Hand | | 500 | |
GENERAL INFORMATION

Nearest Autobahn located approximately 28 km at Freisen.

Nahbollenbach Storage Area is situated on 96 acres of land.

Nahbollenbach Storage Area has - 71,958 sq yds of roadway; 6.7 miles of railroad; 3.11 miles of fenceline.

---
Winterhauch Storage Site
(Source: Email from Michael Sheetz, 7th CEC, 1974-76)
I commanded 7th CEC at Idar-Oberstein from summer of 1974 to summer of 1976. Our barracks were at Strassburg Kaserne with equipment stored at both Nahbollenbach Depot and Winterhauch Storage Site.

We had a very busy time in many respects. Issues to projects 9dd and 9jj, Reforger 74 in September 1974, Brigade 75 in January 1975, Reforger 75 in September 1975 and Reforger 76 in March 1976.

Additionally, when Depot Command closed Nahbollenbach Depot facility, I became installation commander there and concurrently we civilianized the majority of the unit, hired several hundred of Nahbollenbach's personnel and moved the barracks from Strassburg to a very small Kaserne behind the depot. At that point 4 officers; 1 Warrant Officer and 15 to 20 enlisted all E-6 and above.
Per USAREUR instruction, the Group developed a facilities plan with all new and modern shops, storage facilities with weapon areas, test tracks and vehicle wash racks. All were accepted but only one built while I was there, a modern tank repair shop.

When I left 7th CEC, I became Group Director for Supply and then Group XO. This entire time was spent opening CEBN. While XO, I was responsible for sites in England; 1 at Hythe (fleet storage) and 1 at Liverpool (depot facilities).

I don't remember many names. COL. Patrick Roddy, later MG; LTC Roland Shawl, later COL. Lots of fun, lots of work.

---