If you do NOT see the Table of Contents frame to the left of this page, then
Click here to open 'USArmyGermany' frameset
293rd Engineer Construction Battalion
24th Engineer Group
Looking for more information from military/civilian personnel assigned to or associated with the U.S. Army in Germany from 1945 to 1989. If you have any stories or thoughts on the subject, please contact me

.
---
---
Battalion History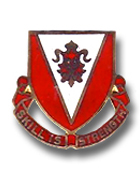 293rd Engineer Bn (Cons) DI


If you have more information on the history or organization of the 293rd Engr Bn, please contact me

.

---
1955
(Source: Email from Bruce Love)
I was assigned to Company A, 293rd Engineer Construction Battalion from May 1955 - October 1957. We were based in Baumholder but spent most of 1957 in Wildflecken at the rock crusher site.

I drove the escort jeep when we moved the 150 ton crusher from France to Wildflecken. I also graduated from the 24th Eng Gp NCO Academy and their NBC school.
293rd Engr Bn (Const)
Baumholder









---
(Source: Email from Ed Gleason)
Found your website and it brought back many great memories. I was stationed in Baumholder with Headquarters Company from November 1955 to September 1957 as a heavy equipment mechanic. I visited the work sites to effect repairs, but never really stayed at a worksite for any period of time. I was assigned a ¾-ton which I used to get to the sites, but most of our work was preventative maintenance at the workshops.

We travelled around quite a bit supporting most construction efforts and repairing damage done by the 2nd and 3rd Armored (one was "gyroscoped" to replace the other) as they rolled out on various alerts/exercises. I was also deployed to Wilflecken for a long period of 1957 and had some of my most memorable experiences there. W e also did a lot of support in Kaiserslautern, and with the Air Force at Mainz-Wiesbaden.

Have kept a watch in American Legion Magazine for old comrades without much success, so your site is most interesting.

We were assigned to Wildflecken for a lengthy period, but I am not certain of the dates. I am enclosing some pictures from my TDY at Wildflecken. The pictures say I was there in September 1956 in support of the rock quarry site effort which is shown in one of the photos. The other photos show the barracks area we used and the training barracks for the newly activated German Army.

Miss the wiener schnitzel sandwiches and liters of beer we used to grab at a small German operated shack on the tank training facility at Baumholder. Gratefully, the MP's never caught us.

Thank you so much for posting the site! We had a great bunch of guys and we were all over the place. Some of my best memories are of the days I spent there.
| | | | |
| --- | --- | --- | --- |
| 293rd Engr Bn (Const) Wildflecken | | | |
| | | | |
---
1967
(Source: Email from Paul Kornberger)
I was with the 293rd Engineer Construction Battalion from 1967 to 1969. I was an Earthmoving Platoon leader, then a Construction Platoon leader before becoming the Battalion S3 Officer as a Lieutenant. Normally, I suppose, the S3 would've been a Major, Field Grade Officer, but the Vietnam Conflict thinned the ranks in Europe/Germany etc.

The 293rd Engr bn Commander at that time was Col Dornbusch; our Executive Officer was Major Easton.

I have a lot of photos of the 293d's activities with the Nahbollenbach project for ordnance storage for REFORGER etc as well as our Rock Crusher and M4T6 floating bridge crossings of the Rhine River 2 times with support by a Lithuanian (Labor Service) unit which had the components.

Also designed the explosive charges for a couple of bridges to drop them in case the Russians ever came West across Europe. I guess those bridges have probably collapsed by now.

Be that as it may the on-going Russian invasion of Ukraine stirred my earlier Cold War memories such that I googled the 203d's website.

I have fond memories of my Baumholder assignment despite it being shaded by the more visible Vietnam conflict.

I already had my Civil Engineering when I was drafted, went to OCS and then got assigned to the 293d. Went on to get a Masters degree in Engineering Mgt. on the GI Bill at night.

In late 1981 my wife our two children and I visited Baumholder. We were on our way to Riyadh Saudi Arabia where I had accepted a two-year tour of duty with the Corps of Engineers Mideast Division assigned to the Peace Sun/Peace Hawk program to upgrade several Saudi air bases. The air bases were to receive the McDonnell Douglas F-15 fighter jets the US had sold them. I wanted my son and daughter to see first-hand where we had spent that earlier chapter of our lives, my son having been born at a US Army hospital in nearby Neubruecke West Germany.

I continued to serve the Army in my capacity as a civilian engineer with the St Louis District of the US Army Corps of Engineers.

The 293d sent me to the Army's explosive and demolition school in Murnau, Germany before assigning me the chore of designing the explosives to drop those bridges but I'd already had courses in explosives and blasting as an undergraduate.

I'll not soon forget my assignment in Baumholder and have 375 photos of that period in Germany on my computer thumb drive. Was also there when De Gaulle kicked Americans out of France and had to go into France to salvage our equipment and buildings and haul them back to Germany etc. I could write a book but will stop now.

I do NOT remember the occasion (of the parade in the top two photos) but I can tell you that the 293rd Construction Engineer Battalion was not a participant in the event. I was merely a spectator who had been made aware of it and attended and as I saw what was transpiring before me, I thought it was spectacular and started snapping photos.

I am uncertain as to the identity of the combat units (infantry, artillery, etc) stationed at the Baumholder location but the 293rd seemed to have a lower profile than other branches of the Army there.

In the year 1902 the Engineer Branch officers were the only branch of the Army where the commissioned officers were granted the privilege or authorization to wear distinctive buttons on their dress uniforms to signify their original mission of harbor fortifications with the logo ESSAYONS which stand for "let us try."
293rd Engr Bn (Const)
Baumholder


5. Construction equipment

6. Construction equipment

7. Baumholder Motor pool

8. Baumholder Motor pool
---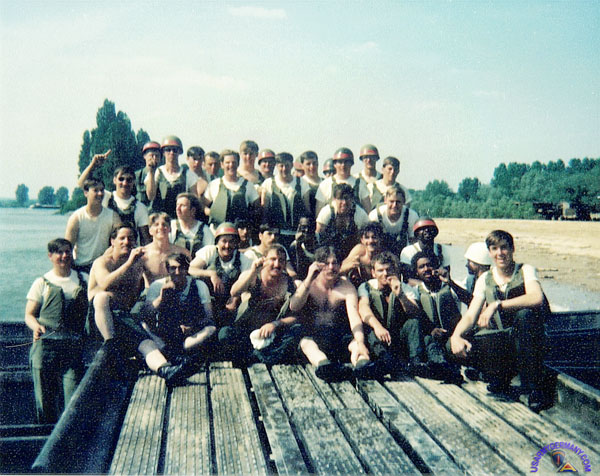 Bridging the Rhine River, men of Bravo Company
1973
(Source: Email from Stanley Sandidge, B Co, 293rd Engr Const Bn, 1973-1975)

24th Engr Cons Gp Hqs
I was a member of the 293rd Engineer Bn. (B Co.) from around March of 1973 to August of 1975. I was the crane operator for First Platoon of B. Co.

I have been recently cleaning house, unpacking many boxes of stuff (aka junk) that I have accumulated over the past 20 years in my basement. I found several boxes of items from my military experience in Germany. Out of curiousity I did a search on my old unit on the internet when I came upon your website. I didn't realize that anyone would be interested in such things.

It is my understanding that the 293rd Engr Bn was deactivated in 1992 from information I found on the internet.


My first 6 months in Germany I didn't own a camera. Mid 1975 I lost hundreds of photo to thieves while I was at the Landstuhl Army hospital for a hernia operation. It appeared the key to the storage facility in the B Co. basement was stolen and all of the footlockers inside were ransaked and many valuable items were stolen or destroyed. I personally lost a footlocker full of memories. Litre mugs from Octoberfest in Munich and Frankfort, 2 cameras, and 20 rolls of fill destroyed. I was too "short" to pursue the matter so I never filed a complaint.
I was involved in the following projects in no particular order:


AYA remodel at Kaiserslautern (remodeled the American Youth Activity Building)


Rod and Gun Club Baumholder (replaced concrete shooting pads)


AFRTVN Tower near K-Town (placed footings and erected new tower)


Fuerth Barracks Rehab (few photos of 1st platoon)


K-Town Bank Vault (photos of building a bank vault)
(All cameras were confiscated at the Safenest Projects)


Project Safenest Bitburg (photos not allowed - Security Clearance)


Project Safenest Spangdahlem (photos not allowed - Security Clearance)


Project Safenest Italy (photos not allowed - Security Clearance)


Mannheim TTP Project (photos)


Annual Bridging the Rhine Exercise 73-74-75 (photos from 1975)


Reforger 74 and 75 (no photos - lost in theft)

Job site quarters

Almost all photos of R&R to Paris, Amsterdam, Belgium, Italy and Frankfort were stolen or destroyed.


I was there for the All Volar change over. They took our khakis, my personal favorite uniform. Took our unit patch - everyone had to have the USAREUR 7th Army (flaming sword) patch sewed on instead of individual 293rd unit patches we had.

I was glad I was leaving soon. I didn't really care for the purple bedspread I got issued to replace my US wool blankets, didn't seem very manly during room inspections.
293rd Engr Bn (Const)
Baumholder
















| | | | |
| --- | --- | --- | --- |
| 12. Mannheim Trailer Transfer Point construction | | | |
| | | | |
| --- | --- | --- | --- |
| 13. TTP project | 14. TTP project | 15. TTP project | |
| | | | |
| 19. SWORD & CASTLE, 1973 | | | |

---
Related Links: