If you do NOT see the Table of Contents frame to the left of this page, then
Click here to open 'USArmyGermany' frameset
317th Engineer Battalion
130th Engineer Brigade
Looking for more information from military/civilian personnel assigned to or associated with the U.S. Army in Germany from 1945 to 1989. If you have any stories or thoughts on the subject, please contact me

.
---
---
Battalion History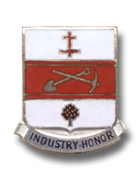 317th Engineer Battalion DUI
317th Engr Bn
Pocket Patch

317th Engr Bn

(mid 1980s)


Pocket Patch
Atomic Demolition Munitions Platoon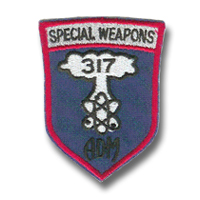 ADM Platoon pocket patch, 1960s-1972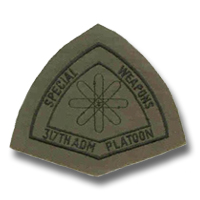 ADM Platoon subdued pocket patch, 1972-1980s
If you have more information on the history or organization of the 317th Engr Bn, please contact me

.
---
Frankfurt-Höchst
1961
(Source: Email from Dick Revell, D Co, 317th Engr Bn, 1961-1963)
I was in
D Company, 317th Engr Bn
at Bad Hersfeld June 1961-Oct 1963. We had a ADM platoon but it was all TOP Secret so we never had any patches about.

Our ADM platoon started in 1957 as part of C Company 63rd Engineers, the 63rd was deactivated in 1959 and we became D Company 317th Engineers intill Oct 1963.


T
he 317th returned to the USA and we became D Company of the 54th Engineers with HQ in Wildflecken.

We were always the same Company with the same mission and the same men, at all time because of the importance of the mission.

We have a reunion group from 1957-1965 and have reunions every other year, and a web page at www.boderbarons.org The web page is not complete at this time but I am working on it and hope to have it completed in the next month. We will have links to other pages and I hope to add yours.

You can get to the first page by goggling "border barons."
---
1962
(Source: Email from Michael Grilli, 317th Engr Bn, 1962-63)
I arrived in Europe in 1962, originally assigned to an Engineering Battalion that was stationed in Hersfeld, Germany supporting the 14th Armored Cavalry.

My orders were changed enroute to Europe and I was assigned to the 317th Engineer Battalion stationed at Hoechst Kaserne.

Yes, the 317th was part of the 37th Engineer Group but I cannot tell you if the 299th was part of the group. (Webmaster note: the 299th Engineer Battalion was also at Höchst.) I can tell you for certain that the 317th Engineer battalion was stationed at McNair and there was no other unit co-resident while I was there through the middle of 1963.

I have been looking at the installation map for McNair Kaserne, but it is difficult to recall what all of the buildings were used for. The 317th occupied the buildings on the left where the main entrance is to the courtyard. The battalion would assemble in the courtyard and buildings 881-888 were used for billets, offices and the courtyard as an assembly area.

Unfortunately the map showing the other buildings does not jog my memory as to where the motor pool was located or the use of the other buildings.

I only recall the group of buildings to the left that we used for offices, billets and the parade ground. The motor pool area was to the right of the photo where you see the vehicles parked in front of the maintenance buildings.

Officers lived on the economy with bachelor officers residing in a beautiful castle like building located in Koenigstein up in the Taurnus Mountain range about 7 kilometers from the Kaserne. There were only two of us living there and it was quite nice bordering on ostentatious.

My assignment (in 1963) to the 299th came out of left field, totally unexpected….. and, most of the officers assigned to the unit were unmarried reserve officers except for those above the grade of Captain.

When we were assigned to the 299th, we were told that it was a round out battalion returning to the States, with no personnel and no equipment. It was as if the unit appeared out of no where and that the Battalion was being reformed.

I cannot tell you where the 299th was stationed before I was assigned to the unit because I had not run into them in Europe; and, even though I was assigned to join them, managed to squeeze in leave time to tour Europe. Consequently, I did not physically report for duty until I arrived in the States and went to Fort Gordon.

I really do not think the unit was in Europe, otherwise I would think that we would have had to transport men and equipment to CONUS. The skeleton crew of newly assigned officers and non coms were already at Fort Gordon by the time I arrived.

We established a Battalion area, began to accept engineering heavy equipment and prepared to perform advanced infantry training for soldiers who had just completed basic training at Fort Gordon.

What we did not know when we were assigned was that the 299th was being prepared to receive a full complement of men and equipment for ultimate reassignment to Vietnam. That eventually happened.
---
1964
(Source: 32nd Signal Battalion website)
In March 1964, after spending nine years in Darmstadt, USAREUR moved the Battalion to McNair Kaserne in Hoechst, Germany, just outside Frankfurt.

Webmaster note: I assume that this is when the 317th Engineer Battalion made its move to Camp Eschborn - late 1963 or early 1964 to make room for then 32d Signal Battalion.

Can anyone provide details?

---
Eschborn
1968
(Source: Email from

Mike McDuffee, A Co, 317th Engr BN, 1968-69

)
I served with the

A Co, 317th Engr Bn

from 1968-69. Went to Vietnam in 1969 and served with 5th Special Forces at B41 Moc Hoa. My last month in Vietnam was with the 168th Engrs in Lai Khe

.

In 1968 the 317th when we got there A Co was pretty empty. A lot of us came straight from Leonard Wood after AIT. We had a great platoon sergeant named Castle, he said he came to Frankfurt in 1945 on a bulldozer. Most of our sightseeing in Germany was done from the back of a five-ton dump with the canopy rolled back. We slept in pup tents in the snow, went days without bathing, worked all night putting up bridges just to disassemble it when we got it up. We had a blast and didn't even know it.



"A" Co, 317th Engr Bn
Camp Eschbon






1. Eschborn under a blanket of snow


2. View from A Co, third floor


3. Morning formation




4. Eschborn PX

5. (KB)

6. "Back gate"

7. Reward after record time

8. Don Adler



---
1969
(Source: Email from James D. Gibson, ADM Platoon)
ADM Platoon sign mounted on the wall of the work center of the ADM Pltn at Camp Eschborn. We called the building "The Shack." The picture was taken probably in 1970

I was a member of the 317th at Camp Eschborn from Jan. 1969 - May 1971. I was in Headquarters Company in the ADM Platoon. This stood for Atomic Demolition Munitions. I was a SP/5 with a 12E20 MOS. Our purpose was to slow the Communists down if they decided to attack West Germany. Our actual weapons were not stored on site but were in secure storage in another location, guarded by one of the armored divisions.

I really enjoyed my time in Eschborn and would love to return there sometime, although, what used to be Camp Eschborn is now occupied by an industrial park. I assume there are no more units like the one I was in anymore. During Internet searches, I have seen declassified pictures of the nukes like we had. I saw that the 12E20 MOS is no longer active, they even dropped my SP/5 rank!I

I would really like to read more about my old outfit if you have any material available. Thanks for listening to an old GI rambling on about a very dear part of my life.



CORRECTION


The ADM patches for the 317th Engr Bn ADM platoon (above) have the wrong dates on them. The first one (color) was used from the mid-1960s thru about 1972 and the subdued patch was used from then, when subdued was mandated, until 1975 when the ADM platoon was absorbed into the 567th Engr Co. ADM.

I was told that the 317th guys didn't want to give up their pocket patches at that time but their time had come! I talked with the LT that took over the platoon in late 1971 or early 72 and he said one of his guys designed the new subdued patch. Not as colorful as the one I wore but subdued was required. I would love to find one of the later patches for my display but I guess that was too long ago.

Keep up the great work you are doing for you are making a lot of old GI's happy. James(Hoot) Gibson 12E20 forever!

We used to get a lot of long stares at our patches, as we wore them on our right fatigue shirt pocket and also on our red engineer scarves.
---
(Source: Email from John Casler, ADM Pltn, 317th Engr Bn)
I, too, spent time in the Special Weapons Platoon "Shack" mentioned by Jim Gibson in his article. I was there from May 1969 to September 1970, and thus overlapped with Jim. I have some slides from that era. Particularly one that I have a print of on my office wall, showing our platoon of the 317th building a pontoon bridge across the Rhine down near Worms in July or August, 1970.



The personnel are from the 317th Special Weapons Platoon but also from the "509th", which was an ADM platoon that was based with us at Eschborn but somehow attached to NATO. I never did know the arrangement.



First two were of the 317th Engineer ADM platoon, and the 509th - a sister platoon committed to NATO directly rather than to the 317th. Building pontoons for the 317th's bridge exercise down towards Worms in July or August, 1969. I remember it as one of my best weeks in the Army. We worked hard, but our tent site down on the Rhine was a beautiful place to drink Henninger flippies and read in the evening.

The Gashof Schutenhof up in Kronberg/Taunus was a favorite of many 317th ADMers.

One shot is of the billets on base where the enlisted guys from the 317th and 509th guys lived on Eschborn Kaserne. Upstairs was quarters for some of the NCO's.



ADM Pltn, 317th Engr Bn
Camp Eschbon






1. 317th Engr Bn bridge exercise near Worms, 1970


2. Bridge exercise


3. Main gate area




4. Camp Eschborn, 1977/78

5. Billets

6. Bn Hqs bldg and softball field

7. Billets, 1977/78

8. Hq Co

9. Vehicle park


10. Picnic in the Taunus


11. Gasthof Schutzenhof, Kronberg
---
(Source: Email from Robert Tessier, 509th Special Weapons Pltn, March 1971 - April 1973)
I was with the 509th Special Weapons Platoon from 1971 to 1973.

I just found this site what great info and pics. I was assigned to the 509th ADM platoon when I arrived there in March of 1971. E7 Sgt. Gunn was in charge of the Platoon and I think he was there long before I got there. He knew everybody on post and at other places around Frankfurt so we always seemed to get what we needed. He always took real good care of his men.

I had two different LT's while I was there: one was a Lt. Dan Gurney and the second was Lt. James Torgerson who was a real good leader. He went on to be a one star general and I chat with him once in awhile.

The 509th was attached to the 317th Battalion.

We were classified as NATO troops

and this made for some interesting power struggles when 1st Seargent Leake at HHC wanted us to do some duty on post.

Our training took place on German posts located near the Danish border most of the time. We were trained with nuclear demolitions and also in conventional demo also. Our mission along with the 317th ADM was to slow the Russian advance by blowing roads, dams and valleys making a barrier forcing them into slower ways to advance. We all held some type of security clearance -- most of us had NATO Secret Crypto; a few of us had Top Secret.

We worked in support of the No. German corps mostly. By the treaties that were in effect at that time they had control of our weapons and guarded them for us, we knew how to deploy them. In case the balloon went up they would provide our security to get us to our targets so we could make a barrier against the Russians.

Training with the West German troops was always looked forward to. We taught them how to use our weapons (conventional) and they taught us theirs and we partied hard with them in the off hours.

Our barracks (Bldg #747?), which we shared the bottom floor with the 317th ADM, used to be Luftwaffe pilots rooms. We had mostly 2-man rooms with adjoining bath rooms with showers between them. I was married and lived off post with my wife in a real nice apartment above a German family in the village of Eschborn. It was for my wife and I a great time with good memories of our time over there.

I didn't see a unit patch for the 509th. The 509th was the unit that loaded and armed the A-bombs dropped on Japan. We were authorized to wear a pocket patch with our unit and a mushroom cloud on it. I wish I had kept them but we usually passed them on to new troops as we left. That I would like to find again.

I would like to see the aerial photos and would like to help any way I can.
---
1970
(Source: Email from William Quaday, ADM Pltn, 1970-71))
I was reading the info about the 317th ADM platoon that had been submitted by Mr. Gibson. I was there at the same time he was. If he's the guy with the curly red hair, I most certainly remember him. I believe he was one of the squad leaders.

I recall some other names of the guys I worked with: SP5 Dennis Pate was a squad leader; SSG Thorn was a platoon sgt or squad leader; MSG Woodward was the platoon boss.

I began my tour with the ADM unit in July of 1970, and was there for only a couple months, then transferred to 317th HHC company motor pool.

Looking back at my time in Germany, I must say that the time I spent in Germany with the 317th Engr BN was the most fun I had in my life. I would like to mention the name of a person who has had a powerful influence over my life since my service. That is the name of First Sargeant George Leek, 1Sgt of HQ company, a man who didn't demand respect from anyone, he just got it.
---
1983
(Source: Email from Rod Houser, HHC, 317th Engr Bn, 1983-85)
I was a little disheartened to learn that Camp Eschborn is now the site of an industrial park, but it was probably for the better.

I was assigned to
HHC, 317th Engr Bn
from August 1983 through October 1985 when we all worked for CSM Terrell and Lt. Col. Ruff.

CSM Terrell left his mark at Camp Eschborn by forming a "Retraining Platoon" for those poor souls who ended up on the wrong side of an Article 15. He converted one of the old shacks (left side of photo no. 4; see above) into a mini stockade, complete with inspections 3X /day, extra PT, and other fun activities. Eventually, CSM Terrell transferred down to my buddies unit in Karlsruhe , and we were all relieved to see him wave goodbye.



When I arrived at Camp Eschborn in August of 1983 the troops in HHC had a less than polite hazing policy for any new enlisted man. Some victims ended up with broken bones as a result of "dog-piling". Fortunately for me, that tradition died out after a few of the instigators ETS'd.

Our "Top" was 1st Sgt. Williams, and he was every bit as ornery as CSM Terrell, but man his boots were shiny. I think he smiled about three times in the two years that I was there. That guy handed out more Article 15's than you could shake a stick at.



The high point of my tour with the 317th was when we (the whole battalion) went TDY to the NATO tank ranges at Grafenwoehr to work on the new Abrams/Bradley armored vehicle range. The slogan over the entrance gate was "Uebung Macht Den Meister" (training/practice makes the master). The
G
ermans were always fond of pasting inspiring slogans at the entrance to their camps. I was a surveyor (82B) with HHC and we spent the summer setting construction stakes for numerous roads, target areas, and parking aprons. I worked for Sgt. Gilman and Sgt. Hall at the time. I also remember working with SP4 Witski, and SP4 Fuldower (we called him Flounder).

Witski always had a german girlfriend wherever we ended up, owing to his fluency with the language. On the downside, he would always fall asleep at the wheel while he was driving us from the barracks to the job site.

Then there was our soils guy, Paul. I can't remember his last name because we all called him Droopy-Drawers. Later on in his tour he shipped his new wife out to Germany and he rented an apartment in Frankfurt ; I think that settled him down a little bit. I remember one afternoon we went over to his apartment, but he was out with his wife somewhere. We weren't going to let that stop us though, so we climbed into his apartment through an open window in the back. We whiled away the afternoon watching his TV and drinking his beer until he got home. I still remember the look on his face when he opened the front door only to see four of his buddies asleep in chairs and on the floor of his apartment. Aahhh…the good old days!

Of course, there were many many other shenanigans too numerous to mention.

On the whole, I really enjoyed my time while I was stationed in Germany . My unit was ball-bust, for sure, but living overseas was a great experience. I'll see if I can dig up some old photos from that era.

Other people that I remember from my time there:




SFC Goble


1st Sgt Widner


SFC Navins


Pvt Scott Wells (aka "Homer")


SP4 Brown


SP4 Hoover


MSgt Rogge


Maj. Snow





Thanks for the great website; it's fun to reminisce about the good ole days.

---
Related Links: