If you do NOT see the Table of Contents frame to the left of this page, then
Click here to open 'USArmyGermany' frameset
563rd Engineer Battalion
7th Engineer Brigade
Looking for more information from military/civilian personnel assigned to or associated with the U.S. Army in Germany from 1945 to 1989. If you have any stories or thoughts on the subject, please contact me

.
---
---
Battalion History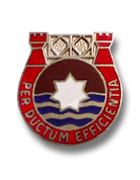 563rd Engineer Bn (C) (Army) DUI


If you have more information on the history or organization of the 563rd Engr Bn, please contact me

.

---
1970
(Source: Email from Jerry Tidwell, S-3 563rd/Asst S-4 7th Engr Bde, 1970-72)
I was the S-3 of 563d Engineer Battalion, and then Asst. S-4, for the 7th Engineer Brigade at Ludendorff. I was at Ludendorff from 1970-72.

I arrived in March, 1970 from Vietnam. I was the first S-3. The battalion was commanded by LTC Jack C. Roles. LTC Roles and I were like oil and water. I was very young, 19 yr old 2Lt and 21 Year old Captain. Only bad OER I ever had. Later OER was taken out of OPO file as a result of letters from BN XO Maj. Bill Huff, and Col. Hesse, after I had served on his staff for 2 years.

At the time, Bn consisted of:


38th Engineer Company - Panel Bridge - Ludendorff


503rd Engineer Company - Light Equipment - Ludendorff


93rd Engineer Company - Floating Bridge (Class 60) (The highlight of my 563rd experience as the S-3, spending 3 days with the 93rd, bridging the Rhine during a Reforger exercise !)

Located at Nelligen Barracks.

Now what is interesting, is that on the 563rd beer stein I have, it also shows the 320th Topographic Company unit symbol, as well as the others. I have only very vague recollection of the 320. I don't think they were part of 563rd (probably a figment of Role's imagination!) And even after I went to brigade staff, never had anything to do with them, or even hearing of them.

I have vivid recollection of the 275th ADM (Engineer Company), primarily because of the frequent NRAS duty!!

There is also a rather hoky looking 563rd unit insignia, on the stein, which I can't imagine survived.

Col. Richard Hesse was Brigade Commander ( I think he was the first after activation!) and all of the principal S-staff were captains as most of the field grades commanded battalions or were in Vietnam. Ralph Danielson was S-3, a great officer, and Paul Iwai was S-4. Lyman Cartner was S-2. the S-1 was David Payne.

LTC John Adsit commanded the 9th Engr Bn and LTC (I think Phillip) Huber the 82nd.
Jerry Tidwell
---
1981
(Source: Email from SGT Chris Carter, 563rd Engr Bn, 1981-82)
I was at Ludendorff with the 563rd EN BN in 1981-82. I am having a reunion Party. I was wondering if you know any good suggestions to locate people from the 563rd's past? I have located members already.

I have a 563rd Reunion web site at: http://www.geocities.com/enbn563rd/

I live in Tampa myself, right now I'm in Saudia Arabia with the JSD CENTCOM. Its too hot here, its 115 every day. I need to get back to Tampa Bay!
SGT Carter
---
1983
(Source: Email from Steve Harmon, 563rd Engr Bn, 1983-85)
I served with the 563rd from February 1983 until December 1985.

At the time the battalion consisted of


38th Bridge Company (Medium Girder)


503rd Engineer Company (Combat Support Equipment)


275th Engineer Company (Atomic Demolition Munitions) and


535th Engineer Company (Combat Support Equipment)

The 275th was on Coffey Barracks in Ludwigsburg. They inactivated in December 1985.

The 38th and 503rd were on Ludendorff along with 7th Engineer Bde HQ's.

The 535th was at Grafenwoehr.

Battalion Commander when I left was LTC Sam Raines. He was commander from May/June 1984 until I most likely June 1986. He later became the BDE Commander. LTC John G. Moravac (spelling??) was the commander when I arrived in Feb 1983 until LTC Raines took over.

The 320th TOPO Detachment was attached to either the 563 HQ or to 7th BDE HQ's. I don't remember them that much. They did come to our Hail and Fairwells for awhile so they must have been attached to the 563rd for at least awhile.

Thanks, your site brought back a lot of very fond memories. You had to be a part of USAREUR to understand.

---
535th Engineer Company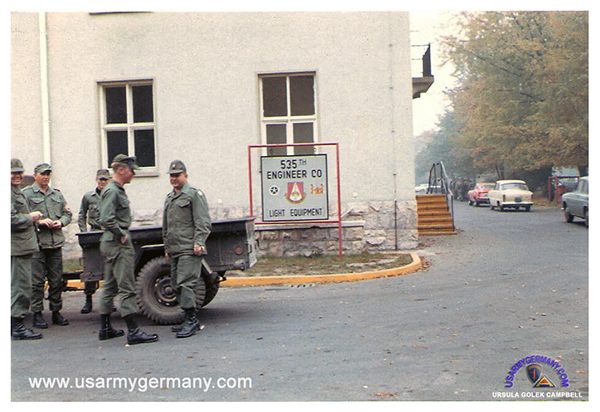 535th Engr Co, Taylor Bks, Mannheim, c. 1970 (Ursula Golek Campbell)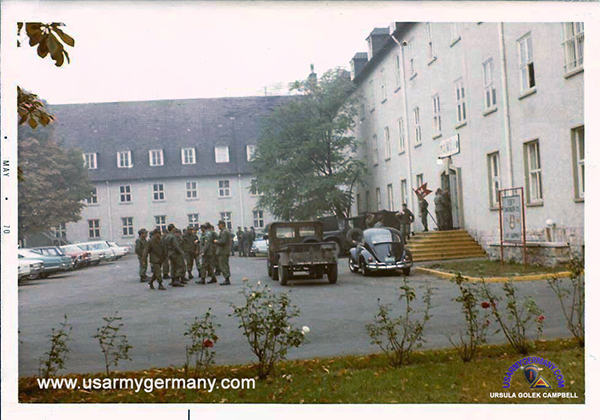 535th Engr Co, Taylor Bks, Mannheim, c. 1970 (Ursula Golek Campbell)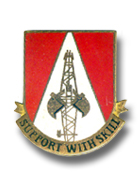 535th Engr Co (Light Equipment) DUI (Source: Walter Coin)
(Source: Center of Military History website - accessed 06/27/2018)
The 535th Engineer Company was activated on 15 November 1954 in Germany.

Webmaster note: The Aug 1954 STATION LIST places the 535th at Seckenheim (which probably also includes Schwetzingen) at that time. (The 535th was probably activated to replace the 346th Engineer Company (Light Equipment) previously stationed at Schwetzingen.)

For more on the 346th Engineer Company, click here
---
1970
(Source: STARS & STRIPES, March 16 1970)
The 535th Engr Co performs many missions, from road grading to rock crushing. In February, the company was also tasked with a temporary transportation mission.

The company needed to have 13 new 10½-ton crawler cranes that were being stored at Mannheim delivered to them by the 28th Transportation Battalion. However, the 28th was overloaded at the time with high priority missions and could not deliver the new cranes to Schwetzingen. The crawler crane is essential for operating the 535th's quarry near Heppenheim. Without the crushed rock the unit produces, their road construction would come to a halt.

Fortunately, CWO Willard Storie, maintenance officer of the 535th, recognized that the company had 16 'lowboys' in their own motor pool that they could use to pick up the cranes themselves.

Plans were quickly made, and trips were spaced throughout February with the last crane arriving on the last day of the month.
---
1983
(Source: Training Times, September 1983)
535th Engineers part of "Graf 83" upgrade

by Bob Shipp

Everyone knows the 18th Engineer Brigade is involved in Graf 83. But did you know there are also "homeboys" working on the project?

The 535th Engineer Company, stationed in Graf, is working on Range 42 alongside engineers of the 18th Brigade.
The 535th is here to support 7ATC and the GTA ranges. Their mission is to repair roads, berms or any type of needed repair work on any of the, ranges.

"We are tasked by GTA Operations according to its priorities," says SFC Paul D. Matthews, 535th operations sergeant. "Grafenwoehr, being a training area, involves a lot of earthwork on tank trails. Tracks have a tendency to tear up the earth.

"Berms sometimes get hit too. If a berm gets blown up we may get a call in the middle of the night for emergency repairs so the target system doesn't get damaged.

"In addition to range work, we also provide snow removal support for main post.

"Those are our normal missions nine months of the year."

The company itself is unique. There are only four combat support equipment (CSE) companies in the active Army and three of them are in USAREUR. One CSE company has more equipment than a combat engineer battalion.

"Our bread-and-butter is the company personnel and their equipment," says Capt. Stephen C. Nash, 535th commander. "Having that much equipment means we are also heavy into maintenance."

The 535th is the only engineer company at Graf and was not part of Graf 82 construction.

"But when the 18th Brigade engineers left, we were the guys who went to the ranges to repair berms that had been shot up," states Nash. "We gained first hand knowledge of what was done during Graf 82 by fixing what had been constructed during Graf 82.

"Now here we are involved in Graf 83, alongside the 18th Engineers because we have the experience, the 'feel' for the ranges, contacts, established maintenance support and we don't need TDY money.

"We don't have to go TDY, we can do the work at home,"says Matthews. "But when we finish our day's work, we only get to stay home four or five hours until it's time to go to work again."

The unit has been working on Range 42 since July 5. Company personnel board a bus at the company at 6:45 a.m. to go to the range and load onto the bus again at 8 p.m. to return to the company Monday thru Friday.

Although the hours are long, Nash says this project is one of the better things his company has been involved in. "For most of our soldiers, this is the single biggest construction project they will ever be involved in and probably the most worthwhile job they'll do in their Army career," he says.

"It also gives them the chance to do what they are suppossed to do: operate equipment. They get more equipment hours than normal because of the intense pace of the construction.

"Our equipment is probably the most used equipment in the Army," he continues. "Not only are we involved in Graf 83, but we have a 365-day 'real world' mission."

---
Related Links:
503rd Engineer Company - website dedicated to the men and women who have served with the 503rd Engineer Company (LE) and also the 683rd Engineer Light Equipment Company
563rd Combat Engineers, Ludendorf Kaserne, 1979-1982 - Ludendorf Alumni Locator