If you do NOT see the Table of Contents frame to the left of this page, then
Click here to open 'USArmyGermany' frameset
94th Engineer Construction Battalion
39th Engineer Group
Looking for more information from military/civilian personnel assigned to or associated with the U.S. Army in Germany from 1945 to 1989. If you have any stories or thoughts on the subject, please contact me

.
---
---
354th Engineer Battalion (Const)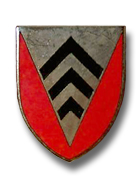 354th Engineer Battalion (Const) DI
1950 - 1955
(Source: History of 354th Engineer Battalion (Construction), 11 September 1950 to 10 March 1955, HQ 94th Engineer Bn (Const), APO 46, 25 March 1955)
1. The 354th Engineer Construction Battalion was notified 12 August 1950 by West Virginia Militart District that it was being ordered to active duty on 11 September 1950.

2. In November 1951 the unit was alerted for movement to Europe and was brought up to full T/O&E strength of 26 Officers, 15 Warrant Officers and 844 Enlisted Men. New equipment was received. The unit was assigned to USAREUR per Movement Order Nr 6, Hq, Camp Pickett, Va., dated 29 January 1952 and departed by motor transportation on 20 February 1952 for Hampton Roads Port of Embarkation, Va. where it loaded aboard USAT General Hershey and sailed for Bremerhaven, Germany. On arrival at Bremerhaven 1 March 1952, the unit was relieved from attachment to 311th Engineer Group and attached to 39th Engineer Construction Group. The unit departed for Hohenfels, Germany, a training area near Nurnberg, Germany, and arrived there on 2 March 1952.

3. During the period 2 March 1952 to 19 October 1952 the battalion was engaged is construction of a 2500 foot aircraft strip, for light aircraft; a "combat in cities" course; rifle ranges; barracks and mess halls and an open air stage. On 20 October 1952 the unit moved from Hohenfels, Germany, to Nellingen, Germany. Average strength for 1952 was 20 Officers, 16 Warrant Officers, and 826 Enlisted Men.

4. With a winter of MOS training at Nellingen the battalion, less Company C, moved to Northern Area Command in May 1953 and established headquarters at Giessen, Germany. Company A constructed four prefabricated steel warehouses at the Giessen Quartermaster Depot. Company B was stationed at Butzbach, Germany where it completed a firing range. Approximately 342,000 yards of earth and 24 acres of trees had to be removed from the new range. One platoon of Company B completed a steel truss warehouse at Frankfurt, Germany. Company C, at Nellingen, completed a hardtop Air Strip 1000 x 300 feet with tie down facilities for 50 planes; installed lighting fixtures, and a POL storage point. Average battalion strength for 1953 was 24 Officers, 14 Warrant Officers, and 854 Enlisted Men. On 7 December 1953 the battalion was redesignated 354th Engineer Battalion (Construction) per GO 99, Hq, USAREUR dated 24 November 1953. Authorized strength 20 Officers, 10 Warrant Officers, and 539 Enlisted Men. The battalion returned from Giessen to Nellingen in September 1953.

5. Construction in the early part of 1954 consisted mainly of small civil affairs projects which helped to establish good will and furthered German-American relations. In July Company C moved to Muenchweiler, germany to construct a Hospital Train Staging Area. Company B sent a reinforced platoon to Heilbronn, Germany to construct a baseball diamond; 3 softball diamonds, a quarter mile track, a football field, and a building with dressing rooms, shower rooms and latrines. This project was completed 2 October 1954 and on 2 November 1954 B Company departed far Thionville, France on a six week projct of providing Engineer support for a USAREUR CPX. In August 1954 Company A built parkways, roads and curbing at 5th General Hospital, Bad Cannstatt, Germany. On 2 November 1954 Company A left for France to assist Company B and returned to Nellingen, Germany on 10 November 1954. Company B returned to Nellingen, Germany from France on 14 December 1954. The battalion was reorganised 10 December 1954 per GO 190, Hq, USAREUR, dated 24 November 1954 with an authorized strength of 20 Officers, 10 Warrant Officers, and 686 Enlisted Men. On 20 December 1954 Company B started work on a POL dump and tie-downs at the air strip Nellingen, Germany.

6. Company C returned to Nellingen, Germany on 5 February 1955 after completing 89% of construction started at Muenchweiler. This project was suspended for an indefinite period due to wet and freezing weather. Company B continued construction of POL storage during 1955 and began construction of an 18 hole golf course at Kornwestheim, Germany. Company A began construction of an athletic field at Nellingen, Germany and repair and improvement of drainage on the rifle range at Stetten, Germany. The 354th Battalian was released from active duty on 10 March 1955 per G0 40, Hq, USAREUR, dated 21 February 1955. All construction already in progress and all personnel and equipment were transferred to the 94th Engineer Battalion (Construction), activated 10 March 1955 to replace the 354th Battalion.

7. During the period 11 September 1950 to 10 March 1955 the 354th Engineer Battalion was commanded by:
| | |
| --- | --- |
| Lt Col John P Nolting | 10 September 1950 - 8 November 1953 |
| Maj Joseph J Wallner | 9 November 1953 - 3 January 1954 |
| Lt Col David B Conard | 4 January 1954 - 19 October 1954 |
| Lt Col Robert L Mushen | 29 October 1954 - 10 March 1955 |
---
(Source: Email from Herbie Meeks)
Herbie Meeks

I was drafted in April 1953. Had an 8-week Basic training course at Ft.Ord, California. Then on to Wheel Vehicle Mechanics Course. Scored at the top of the class. Bounced around a while and then arrived at Bremerhaven, Germany, in November 1953 on a Troop Ship named Gen. Harry Taylor. From there we rode a train south to Karlsruhe. A few of us were sent on to Nellingen Air Base, as it was called then, an old German Camp. We built the first Helicopter landing pad at Nellingen. I remember the Choppers arriving there in 1954, flown from a ship in the English Channel, across France to Nellingen, Germany.

I was assigned to HQ & HQ & Service Company, 354th Engineer Construction Battalion at Nellingen, Germany, in November 1953. The designation was changed later to 354th EBC. The 354th had 3 line companies: A, B,& C that moved around on different jobs.
I worked a while servicing wheel vehicles. Then Chief Warrant Officer Bowman picked out a few of the better mechanics and sent us down to Murnau, Germany near the Bavarian Alps, where we attended a 10-week Heavy Equipment Machinery school. William Campbell and I came out of there with a Master Sgt. MOS number, but we did not get the stripes then, because of something about the pay raise that went along with the stripes. William and I were technical inspectors for all of the heavy equipment and we were in charge of the mechanics who kept the construction equipment running. We also traveled to the construction sites described in the article "History of 354th Engineer Battalion (Construction)" describing some of the construction jobs. Campbell and I toured these jobs inspecting the Heavy Equipment, as well as all wheel vehicles. Our job was to see that all equipment was serviced, and cared for, and deadlined if we found some thing wrong. We ordered parts from the supply warehouses near Giessen. (I am probably getting these town names mixed up). Had to find the Guest Houses to buy Beer, not many Cafes, and no Hamburger Joints. The Express Guest House, in Esslingen, Germany, near Stuttgart, was a favorite for the Boys stationed at Nellingen.

I did travel the whole distance from Bremerhaven to Berchtesgarten. The Russians occasionally charged the front line, in what they called maneuvers, just to harass us, as we had to go on full alert, and move out with full field gear, and retreat towards France, with all the heavy equipment we could move on trucks. Every vehicle had a 50 caliber ring mount on top of it, and machine gunners had to grab their 50 caliber machine gun, and mount them as we moved out. Of course the rest of us all had the old M1 Grand, or a M1 Carbine.

I previously emailed pictures taken on the job at Münchweiler, where we were working on a railroad spur, and receiving dock, at the Munchweiler Hospital. This was the last job the 354th worked on. I was then shipped home about the same time the 354th colors was re-assigned to the USA, March 1955.

All of the battalion's equipment and jobs were assigned to the 94th EBC.

The yet to become famous country singer, Johnny Cash, Air Force, was also on his way home on the same Troop Ship with me. We formed a small Country Music Band, and entertained the troops all the way to New York. I will never forget the Hurricane we hit, and rode out for 3 days. It was a 10 day trip due to the Hurricane. If any of your readers have pictures of the band, taken on the Troop Ship, I would love to have copies emailed to me.
| | | | |
| --- | --- | --- | --- |
| | | | |
| 4. Münchweiler Evacuation Hospital, 1954 (KB) | 5. Breaking ground, rail road spur (KB) | 6. Trench for concrete foundation (KB) | |
| 7. Pouring cement (KB) | 8. Sgt. Roach operating his crane (KB) | 9. C Company on the job | |



Christmas Menu
354th Engr Bn, 1953

My first Christmas in Germany. The menu contains a list of all personnel in the 354th at this time, December 1953.





1. Christmas menu cover (KB)

3. Page 2 (KB)




4. Page 3 (KB)

6. Page 5 (KB)

7. Back cover

---
94th Engineer Battalion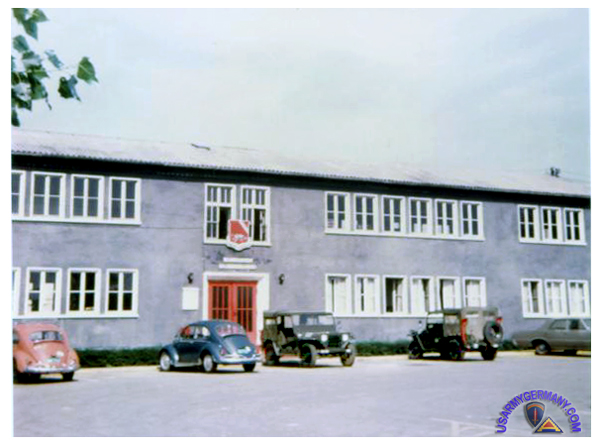 Headquarters, 94th Engr Bn, Nellingen (John Briggs)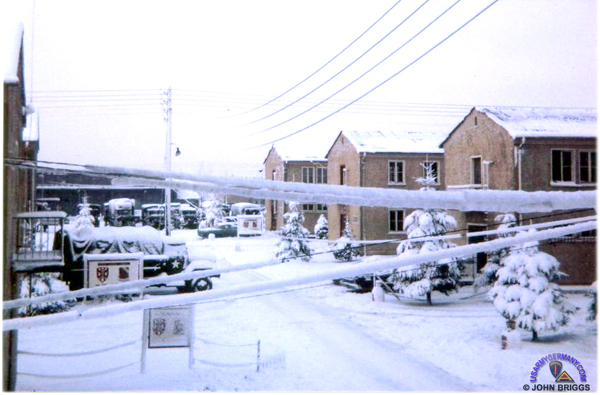 Headquarters, 94th Engr Bn, Nellingen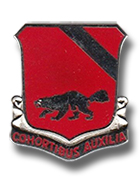 94th Engineer Construction Battalion DI
Nellingen
1955
(Source: Email from John L. Briggs)
The 94th Engineer Battalion was originally constituted as the 53rd Engineer Battalion on 1 October 1933. The Battalion was then re-designated as the 94th Engineer Battalion on 1 January 1938. The Wolverine was born on 12 February 1941 when the Battalion was activated at Fort Custer, Michigan. After being re-designated as the 94th Engineer General Service Regiment, the unit departed from New York on 23 March 1943 in route to North Africa. In early 1944, the regiment moved to Italy, where it participated in both the Naples-Foggia and Rome-Arno operations. On 1 November 1944 the regiment moved to France, and then as part of the massive U.S. demobilization was deactivated on 22 December 1945 at Camp Myles Standish, Massachusetts.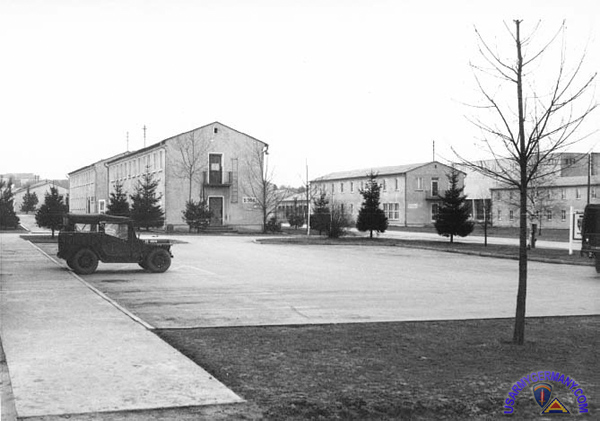 Parking lot in front of Headquarters, 94th Engr Bn, Nellingen
(Briggs)
After being re-designated as the 94th Engineer Construction Battalion on 16 May 1946, the Wolverines were reactivated on 27 May 1946 at Fort Lewis, Washington. After assignments to various locations throughout the eastern United States, the battalion was once again reorganized and re-designated as the 94th Engineer Battalion on 20 September 1953. That same year, the battalion was moved to France, where it would eventually be deactivated on 27 November 1954.

Reactivated on 10 March 1955 in Nellingen, West Germany, the Battalion was reorganized as a construction unit (94th Engr Const Bn) on 24 December 1958.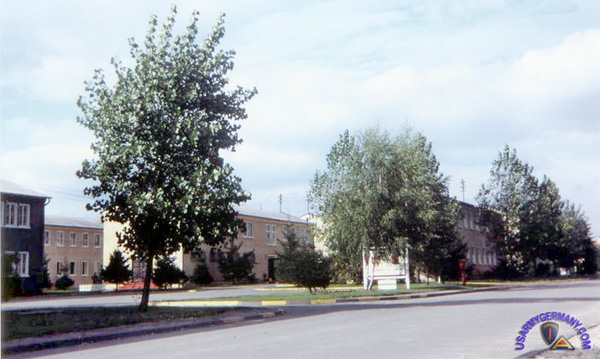 Nellingen
Kaserne (Briggs)
In 1972, the Battalion moved to Darmstadt, Germany, where it was re-designated as the 94th Engineer Combat Battalion (Heavy) in 1978.

In April 1988, the Battalion Headquarters and Company A was combined to form Headquarters and Support Company.

In 1991, the Battalion deployed to Southern Turkey and Northern Iraq in support of Operation Provide Comfort to provide humanitarian relief to Kurdish refugees following Operation Desert Shield and Desert Storm. Following Operation Desert Storm and the fall of the Soviet Union, the battalion was reassigned to the 130th Engineer Brigade, V Corps, and then reorganized in 1992 to become the only Engineer Combat Battalion (Heavy) in the European theater.

Newly designated Companies A and B moved from Karlsruhe, Germany to Hohenfels and Wildflecken, Germany, while Headquarters and Support Company and Company C moved to Vilseck, Germany. In addition, the 535th Engineer Company (CSE), at Grafenwoehr, Germany was attached to the battalion, making it the largest engineer battalion in the Army.

In 1993, Company B was inactivated as Wildflecken, Germany, and Company C in Vilseck, Germany was re-designated as Company B.

In November 1995, the 94th Engineer Combat Battalion (Heavy) and the 535th Engineer Company (CSE) were called to deploy in support of peace enforcement operations in Bosnia-Herzegovina. Reassigned to the 1st Armored Division, Task Force Eagle, the battalion supported every phase of Operation Joint Endeavor.

In July 1998, Company B with attachments from the Headquarters and Support Company again deployed to Bosnia-Herzegovina for four months in support of Operation Join Forge. In May 1999, the battalion was once more called upon to support peace enforcement operations in Kosovo in support of Task Force Falcon. The battalion, along with the 535th Engineer Company (CSE), were the primary construction units called on to build Camp Bondsteel, the primary base camp intended to house 5,000 personnel.

In November 1999, the 94th Engineer Combat Battalion (Heavy) and the 535th Engineer Company (CSE) redeployed to Central Region to prepare to build again. This opportunity would come in January 20003 when the 94th Engineer Battalion deployed to Kuwait in support of Operation Enduring Freedom. The Battalion transitioned to support Operation Iraqi Freedom in March 2003. The 94th Engineer Combat Battalion (Heavy) supported the 3rd Infantry Division and V Corps in its historic attack to seize Baghdad in March and April of 2003.

After spending one year in theater supporting combat and stability and support operations, the Battalion returned to Germany. The Battalion is currently (2006) deployed to Iraq in support of Operation Iraqi Freedom 3.
If you have more information on the history or organization of the 94th Engr Bn, please contact me.
---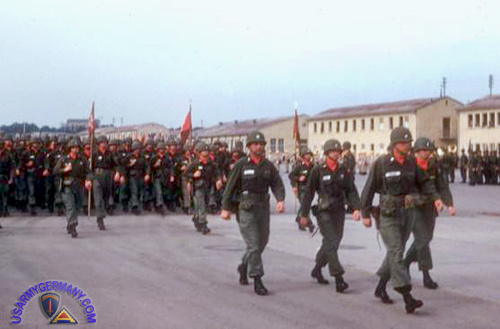 Parade at Nellingen
Kaserne (George Clough)
1957
(Source: Email from George Clough)
I have enjoyed and was most interested in your web site, as I am trying to collect some history of my former unit that I was in from 1957-1959. My unit was the 94th Engineer Battalion (Const.) located at Nellingen (outside of Stuttgart).
I am doing my family history and would like to include my two years in the army, so I have been looking for the history of the 94th. Those two years had a positive effect on my life.
Here are a few random facts that I can remember. I`m not sure what you might be looking for.
We were attached to 7th Brigade and headquarters was in Karlsruhe? I was a draftsman in S-3, and Capt. Hyatt was Company Commander. Major Vallery was in S-3.
The 94th went to France each summer for construction projects. Summer of 1957 was near La Rochelle. Summer of 1958 was in the Orleans area, Saumur, and maybe Toul. I remember us designing and building large parking lots at a gigantic storage facility. Also building a four or five bay repair garage.
During the fall and spring we did a lot of construction around Stuttgart in a lot of the small towns or military faculties. Too far back to remember.
During the winter we did our infantry training. I just remember it being really cold as we did not have winter clothing till the second winter I was there.
The base was an old German airfield during WW II, as it had some buildings from that time. As I remember, there were several different units on the base and at one end was dependent housing.
How and why are you interested in the U.S. Army of Germany during those years? My children (40 years +) don`t seem to know that we were expecting an invasion and it was implied that we were expendable.
---
(Source: Email from Lee W. Bettis)
I served in the 94th as the Battalion Photographer from Feb 1957 to June 1958, when I was transferred to another outfit heading for Lebanon. In particular, while in the 94th, I worked for Major Vallery in S2.

During my hitch with the 94th, it was located at Nellingen Kaserne, Nellingen, Germany, but we also had short-term, 2-3 month, stints in La Rochelle, FR (1957) and Orleans, FR (1958).

I recall that Dick Nelson, was my driver (when I didn't do it myself) and George LNU was a draftsman.

I do have some photos of my days with the 94th in La Rochelle and in Orleans.

Of course, I have many fond memories do those days, but they are mixed with some bad memories too, e.g., Major Vallery was always on my case!!
---
1958
(Source: Email from Albert Gunther)
I was stationed in Nellingen with the 94th Engr. Bn. in 1958 through 1960.

There were 2 bridge building companies, an ordnance company and another engineer company.

I was the draftsman for Company B and also operated heavy equipment.

Looking at your company picture & seeing the company area where I was stationed, the church and right across from the church was the EM club. Just like going back almost 50 yr's.
---
(Source: Email from Frank Hricay)
I served in the 94th at Nellingen, Germany from August 16, 1958 through July 14, 1960. I was a construction surveyor assigned to HQ company.

During my deployment I worked on projects assigned to the 94th at the Crailsheim Tank Range, Kornwestheim Nike Site, Hardstands at Schwaebisch Gmuend and Heilbronn in Germany and at Nancy, France and the prefabricated school buildings at Boeblingen, Bad Tolz and Landshut, Germany.

In September 1959 I was honored to be selected as the "Specialist (E-4) of the Month. My reward was to be the Colonels orderly the next day.

Hope this adds a little more history and maybe someone will remember me.

It was great to have the honor of serving there.
---
Darmstadt
1974
(Source: Email from Donald W. Prest)
I was in the 94th Engr Bn at ELK in Darmstadt, Germany, 11/74-06/77. The 94th was a construction BN until I think 1976 when it went to combat (Webmaster note: the battalion was reorganized as an Engineer Combat Battalion).

I didn't know of any major changes. HHC. A, B,C, and D Company. "A" company had what they called "Third Shop" in Greisheim. It did the major repairs on the equipment.

I was a medic in HHC. We started an aid station running sick call everyday M-F and would transport patient to dispensery over by Cambrai Fritsch Kaserne.

They did seem to like to go the field a lot.

Other units on the kacern were 11th Signal Bn, and the 10 ADA.
---
1975
(Source: Email from Gary Glintenkamp)
Enjoyed your web site. I was stationed at Ernst Ludwig Kaserne with B Co. 94th Engr. Bn. (Earth Moving Platoon), 24th Engr. Gp. USAREUR. from Jan. 1975 to Aug. 1977. Sorry to see they tore it down. I was a 62K20 grader operator (among other things). We used the graders for roads, airfields, tank pads, etc anything they wanted flat & level or spread out i.e. fill, gravel or asphalt. It was a good job.

I remember Donald Prest. He was a medic & we used to hang out together now & then at a little guest house down the street that had great beer.

We went TDY all over Germany doing various construction projects, K-Town ammo dump roads, Augsburg project, Bad Hersfeld tank pads, Michelstadt Airfield, etc. We use to "go to the field" at Wildflecken training area now & then, I remember putting in & taking out mine fields...

Then, when we went from construction to combat heavy, we practiced building tank traps with our scrapers in case "the balloon went up" & the Soviets & Warsaw pac came pouring through the Fulda Gap.... Cold war days. They said our mission was to slow them down till reinforcements' got there from the states, Fat Chance! If it wasn't for the tactical nukes there to back us up......

I remember spending a lot of time in the motor pool trying to stay warm in the damp, cold Darmstadt winters,

Great memories.

You ever hear anything about a underground motorpool or tunnels that the Germans' built there under ELK during WW II? After they tore down the buildings they may have found them.....
---
1977
(Source: Email from Randy R. Rapp)
I was the Direct Support Maintenance Platoon Leader of the 94th Engineer Combat Battalion (Heavy) at Ernst-Ludwig Kaserne March 1977 - November 1978.

Saw your information on the rebuild organization at Ober Ramstadt. We used their products. We routinely and often sent our worn tires for retread to Ober Ramstadt. I wish I could recall the savings we calculated at the time, but it was considerable, compared to purchasing all tires anew. The refurbished tires tended to function reliably, but we would not put place rebuilds side-by-side on the duals, nor would we ever mount them as front tires.

As I saw it, this was one of those distinct success stories for vehicle maintenance in those days, when we had so many older line items in the MTOE. Budgets were fairly tight, so any savings was appreciated.

Attached are several photos of the 94th Engineers:

The first one shows a presentation ceremony for winning the Staff Soldiers Survival Cup. The award is presented by LTC Jerry Hubbard, Cdr, 94th Engrs, to 1LT Randy Rapp, SFC Tullock, SGT Burleson, SPC ??, PFC ??, and PFC ??. CPT Daniel Wheeler, Cdr, Co A, 94th looks on.

The building to the left in the photo was an admin building: clothing sales, barber, classrooms for evening U. Maryland programs, bar-lounge in basement. Between the right and middle buildings was the lane running to the main gate on Eschollbrücker Strasse. The building in middle was HQ and HHC, 94th Engineer Combat Battalion (Heavy). and the building on the right was Companies B and C, 94th Engrs.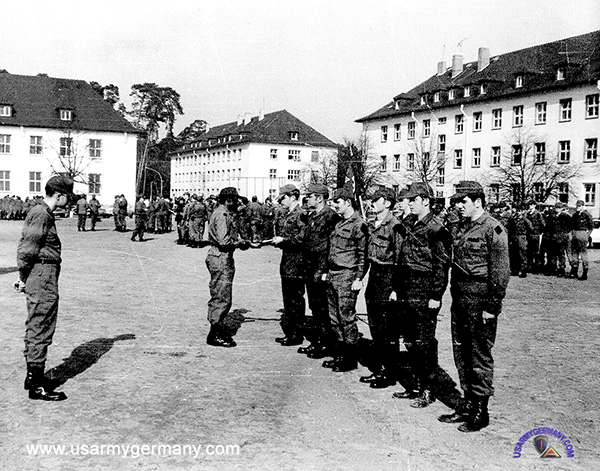 The Staff Soldiers Survival Cup winning team, ELK (Randy Rapp)
The next photo shows the 94th heading out for our ARTEP in 1977. The motor pool is clear in the background, as are the rear of the barracks on the north side of the kaserne.
The repair parts vans were parked on the east side of the kaserne behind the old stables. The vans were used for storing repair parts for low-density Engineer equipment. We had to stock our own parts, since it took a while to get dozer, grader, crane, earthmover, etc. parts from the US. The space given us for supply support in the stables building was not enough, so we used the parts vans a lot.

The stables building had one smaller room heated, where my troops worked, since they had to do meticulous clerical activity (see them at their desks accounting for parts requests and arrivals). I sat in the unheated part of the building, where my hot coffee would ice over within an hour or so during winter workdays.
Concrete Access Lanes Project: in this project at Wiesbaden Air Base, we cut 30-ft lanes through the apron tarmac to lay down concrete, which would stand up to the Army tracked vehicles without spalling. Spalled pieces would be bad for jet engines, if emergency required the Air Force to again use the facilities.

There were eight lanes running from the road (for which we had the concrete pavers on curves) to the far side of the apron, which was the Army vehicle hardstand, fenced in.

Concrete saw. Mid-distance left is a partial shot of the old paver, run by Labor Service, still in the mid-1970s composed of older gentlemen who as young fellows reportedly had fled the Russians after WW2 and were happy to work in a sort of paramilitary group, attached to 24th Engineer Group to run the specialized equipment such as the paver. In background is Brigade 76 vehicles in the fenced hardstand.

Hand Screeding - "cutting off excess wet concrete to bring the top surface of a slab to the proper grade and smoothness." We had to hand-place and finish the concrete pavement near the hangars, since our old paving machine would not fit -- too narrow.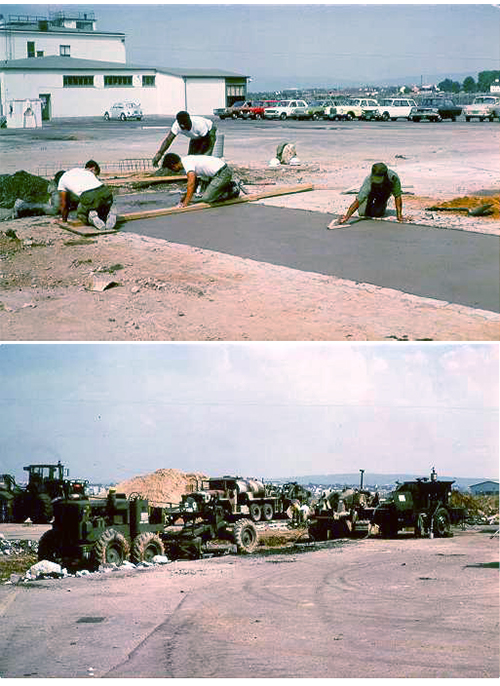 Additional photos showing work done during the Concrete Access Lanes project
Turning Pads Project: in the photo (below) from February 1976, troops for D-293rd Construction Engineer Bn prepare subgrade and base for dogbone pavers used instead of concrete.

The curves needed hard surface for the M60A1 tanks coming with Brigade 76, 4th Brigade, 4th Infantry Division out of Ft. Carson to Wiesbaden Air Base. The installation had previously been a USAFE air base and had recently been turned over to USAREUR.

The Engineers were tasked to convert Wiesbaden Air Base to an Army installation to house the brigade, which was attached to the 8th Infantry Division. It was housed east of the Rhine to reinforce against conventional attack through Fulda Gap.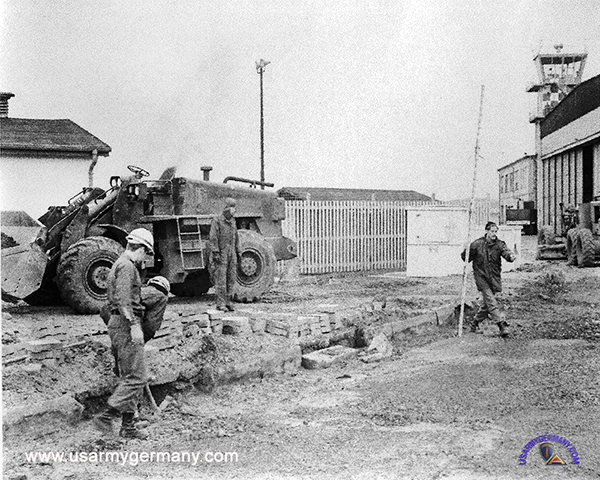 Preparing subgrade and base for pavers used instead of concrete (Randy Rapp)
The troops in the Darmstadt region qualified at Dieburg Range. The range was built in the early 1970s by 547th Combat Engr Bn out of Kelly Barracks in Darmstadt, just up the road on Eschollbruecke Strasse. .

The first photo (below) shows A Company, 94th Engr Bn qualifying at Dieburg in March 1978.

How many soldiers does it take to fire an M1911A1 .45 auto? Second photo, also at Dieburg on the 25-meter side, perpendicular to the firing line of the other photo (late winter 1977).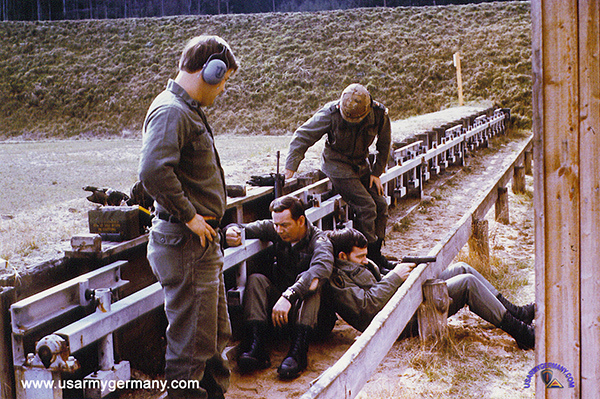 Shepherd, Hreha, Sharpe and Wilson at the Dieburg Range (Randy Rapp)
---
1985
(Source: Email from Joe Ruiz)
I was just searching the Internet to find anything about my old unit 94th Engineer Battalion. I served with the 94th Engineer Bn during the years: July 1985 - Febuary 1987. The reason that brought this great interest is because: I just recently met an Army Recruiter who's son is also on my son's high school football team. Turned out he was also in the 94th Engineer Battalion -- Bravo Company. Different time frames, but we must of talked over an hour just talking about unit and the same great times.

We we located at Ernst Ludwig Kaserne in Darmstadt, Germany. I spent very little time in Darmstadt because we we always TDY somewhere. Such places as Coleman Barracks in Mannheim; different locations throughout Greece; and Wildflecken, Germany.

I am attaching a photo of Bravo Company of the 94th when we were TDY in Wildflecken. We were pouring concrete in the new motorpool for the 54th Engineer Bn.

Other units on the kaserne in Darmstadt were the 11th Signal Bn and the 10th ADA Brigade.

---
Related Links: