If you do NOT see the Table of Contents frame to the left of this page, then
Click here to open 'USArmyGermany' frameset
46th Artillery Group (Redstone)
Seventh Army Artillery
Looking for more information from military/civilian personnel assigned to or associated with the U.S. Army in Germany from 1945 to 1989. If you have any stories or thoughts on the subject, please contact me

.
---
---
Group History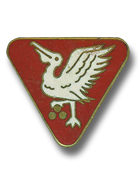 46th Artillery Gp DUI
(Sources: Unit History, 46th Artillery Group, APO 176, 1961)

PROMINENCE IN THE MISSILE AGE
In June 1954, the 46th Field Artillery Group was reactivated at Fort Bliss, Texas, attached to the 1st Guided Missile Brigade and assigned the mission of organizing and training surface-to-surface missile units, specifically CORPORAL and HONEST JOHN. At this time Fort Bliss had the responsibility for organizing and training all missile units in the US Army. The 46th Group organized and trained nine of the thirteen COPORAL battalions extant in our Army and the HONEST JOHN unit supporting USCONARC combat development activities. The 46th organized the Corporal Technical Assistance Team which was the forerunner of the Field Artillery Missile Systems Evaluation Group now at Fort Sill. In September 1955, the 46th Group provided units and support elements for "Operation Big Delta" in Alaska which tested units and material under artic environments. Between February 1956 and the end of April 1957, the 46th released six CORPORAL battalions to augment the NATO forces in Germany and in the following September and November sent two CORPORAL battalions to SETAF in Italy. By the end of November 1957 the composition of the 46th FA Group was Headquarters and Headquarters Battery with the 259th FA Bn (Corporal) and the 550th FA Rocket Battery (Honest John) attached. This organization remained basically unchanged until early 1958.

COMING OF THE REDSTONE
The first week of February 1958 found the 46th FA Group believed of all its attachments.and transferred to Fort Sill, Oklahoma, with one officer and 42 enlisted men. Shortly afterwards the Group was redesignated as the 46th Field Artillery Group (Redstone) with the following units attached:

ORGANIC AND ASSIGNED UNITS OF THE 46TH ARTILLERY GROUP (TOE 6-630T)
Headquarters and Headquarters Battery (TOE 6-631T)
A Battery, 2nd Missile Battalion, 333rd Artillery (TOE 6-634T)
B Battery, 2nd Missile Battalion, 333rd Artillery (TOE 6-634T)
523rd Engineer Company (Redstone) (TOE 5-464T)
91st Ordnance Company (Redstone) (TOE 9-21T)
ORGANIZATION AND TRAINING OF THE NEW GROUP
On 24 June 1958 the 46th Artillery Group was again reorganized, the 2d Missile Battalion's Headquarters and Headquarters Battery was disbanded and the firing batteries, A and B, were assigned to the 46th Artillery Group. 9 July 1958, Headquarters USAA&MC, Fort Sill issued GO #72 which once more redesignated the Group and assigned all the units formerly attached as organic organizations of the Group under TOE 6-630T.
46th FA Gp Pocket Patch

Now known as the 46th Artillery Group (Redstone) it had its own organic and assigned fire and support units. It was a unique organization, being one of the three such units ever to be activated in the US Army. It is the smallest unit, in strength and structure, to contain members of practically every branch of service. Among the different branches recognizable in the Group's Tables of Organization are Artillery, Engineer, Ordnance, Military Police, Signal, Adjutant General, Quartermaster, Medical Corps and Chaplain Corps. In effect it is a hard-hitting, self-sufficient task force providing "field artillery atomic missile support for a field army".

During June and July 1958, the Group hand-picked its recruit fillers from several of the basic training units at Fort Sill. The first of August the Group undertook a rigorous program of training culminating with the Group's first Army Training Test in January 1959. Accomplishing in less than six months a training cycle which normally extends over a year, the Group successfully passed the non-firing phase of ATT 6-630 at Fort Sill. The firing phase was conducted at White Sands, New Mexico, where B Battery fired the first round and A Battery its round on 10 March 1958, less than two weeks later.
PREPRATION FOR OVERSEAS MOVEMENT
While A Battery was preparing to shoot its round at White Sands, the remainder of the Group at Fort Sill was packing and POR qualifying for movement to Germany. By the end of March 1959 all the equipment, and a caretaker party had been loaded aboard 3 ships and sailed from the port of Beaumont, Texas. The heavy equipment had been moved overland by rail and then loaded aboard the two liberty ships, USNS GREENVILLE VICTORY and USNS PVT TOWLE while the LOX plants were placed on board the converted "baby flattop" USS CROATAN. The troops left Fort Sill on 1 April 1959 and sailed from Brooklyn aboard the troop transport USNS GEN ROSE on 3 April 1959. Troops and equipment rejoined in Bremerhaven, Germany on 18 April 1959. After hasty processing the Group undertook a 500 mile road march to its new home station, at Artillery Kaserne, Neckarsulm, which it reached on the afternoon of 24 April 1959.


EARLY DAYS IN GERMANY
Prior to the Group's arrival at the Artillery Kaserne a Communist-inspired protest meeting was held to resist locating this organization in Neckarsulm. In an attempt to dispell any such actions against the 46th Artillery Group, good community and press relations with local officials of the German Government were fostered by Seventh Army and warm contact with the local officials was established by the Group. A special demonstration of the Redstone missile and its allied equipment was presented to the officials and public which resulted in excellent community relations which persist today.


THE GROUP BECOMES OPERATIONAL
Upon its arrival at Artillery Kaserne, the 46th Group was assigned to Seventh Army Artillery and within thirty days it had been given a Command Maintenance Inspection, an Operational Readiness Test, and declared fully operational. In July of 1959 the Group was attached to VII Corps Artillery for peacetime administration and operations only. The subordination to VII Corps Artillery lasted until July 1960 when the Group reverted to Seventh Army Artillery control.


THERE lS NO BUSINESS LIKE SHOW BUSINESS
Because of its high state of training and assured readiness, the 46th Artillery Group became the show unit of Seventh Army for many NATO, USAREUR, Seventh Army and Seventh (sic) Corps demonstrations.

The 46th Artillery Group participated in the General Patton Memorial Day at Ettlebruck, Luxembourg with Battery A in June 1959 and Battery B in June 1960. These demonstrations consisted of a static display of Redstone equipment. A similar display was presented by Battery B for the retirement ceremony of Lt Gen Farrell, Seventh Army Commander, in June 1960 at Bad Cannstatt near Stuttgart.

A recurring demonstration which the Group has been called upon to perform has been the USAREUR Quarterly Atomic Weapons Demonstrations given for NATO Forces. This demonstration consists of Redstone Firing Site Procedures narrated in English and either French or German depending on the predominent nationality attending. B Battery first presented this show at Finthen Airstrip in July 1959 and at Oberschleissheim, near Munich, in June 1961. A Battery has presented it, first at Murnau in November 1959 and also at Oberschleissheim in June 1960.


VIP VISITORS COME TOO
The group has been visited by many dignitaries of the United States Army and government during its tour of duty in Germany, and practically everyone of them has been treated to a presentation of the Firing Site Procedures demonstration. Included on the honor roll of VIPs are Lt Gen Francis W Farrell, CG Seventh Army in May '59; Lt Gen Gordon B Rogers, CG VII Corps in July '59; Lt Gen Guy S Meloy Jr, CG VII Corps in November '59; Hon Hugh M Milton II, Under-Secretary of Army in December '59; Gen Clyde D Eddelman, CINCUSAREUR, in April '60; Lt Gen Garrison H Davidson, CG Seventh Army in July '60; Representative F Edward Hebert (D-La) and William E Hess (R-Ohio) in September '60; and the latest being Hon Elvis J Stahr Jr. Secretary of Army in May '61.


COOPERATION AND TRAINING WITH NEIGHBORING UNITS
When the Group arrived at Artillery Kaserne, the only other unit onpost was the 6th Ordnance Company (DS) which is still here today. Close, friendly relations have existed with this automotive support unit during this entire time, with the 6th Ord being practically an adopted member of the Group's "family."

1960 was the beginning of a close training cooperation with the 1st Armored Rifle Battalion, 54th Infantry. Joint field problems have been conducted emphasizing scouting, patrolling and guerilla activities for the infantry troops, while the Group employs countermeasures against such activities. These series of exercises have been known by the nickname of "Operation Bicycle" and have been been carried out under all weather conditions imaginable in Europe.

The Group has also participated, to some extent, in every major CPX and FTX conducted within Seventh Army and USAREUR since its arrival in Germany. These include "Wintershield I and II" and "April Shower '60 and '61" plus several of the "Quicktrain" and "Roadbound" exercises.


ANNUAL SERVICE PRACTICE
In March 1960 the 46th Artillery Group started its two firing batteries and needed support elements back to White Sands Missile Range, New Mexico to participate in a special service practice for Redstone units. A Battery successfully fired a Block II missile on 19 April and then returned to home by 25 April. B Battery departed 5 May and put their missile in the air 2 June.

The Bravo missile was also a Block II, however, it carried the first onboard TV set for transmission of pictures while in flight. They returned to Germany 7 June 1960.

1961 gave a repeat trip to CONUS for the firing batteries with Alpha departing in June and Bravo going in July. Results of these firings cannot be indicated at this time.


CONTINUED TRAINING AND TESTING
Fall of 1960 began an extensive period of training and practice for the annual Army Training Tests and Technical Proficiency Inspections. During the last week of October the Group moved into the area west of Frankfurt-Karlsruhe Autobahn between Gersheim and Graben and there successfully completed the ATT under Seventh Army Artillery umpire control.

October 1960 was also the month for the Department of Army IG' Technical Proficiency Inspection, followed in January of '61 by a USAREUR IG TPI. All these training and technical inspections were capped by the Seventh Army IG's Annual General Inspection during the end of January. April 1961 brought the Defense Atomic Support Agency's TPI and early May a Command Maintenance Inspection was called by Seventh Army. All inspections were handled in the Group's distinctively creditable manner.


COMMUNITY ACTIVITIES
June 17th, 1960 was the first "Open House" held at Artillery Kaserne to which the entire local population was invited. Over 3,500 persons from the surrounding countryside poured through the kaserne gates to see displays and kaserne facilities. This was a joint exercise by the 46th Artillery Group and the 6th Ordnance Company (DS) featuring the Redstone trainer, communciations equiprnent, and automotive and small arms repair facilities. It was a "big hit" with everyone and received many favorable comments in the local. press.

Much has been done in the way of providing assistance to the local communities near the kaserne. This has included bulldozers, wreckers, generators, and fire trucks with the personnel to operate them. In the fall of 1960 the Group's fire trucks and fire fighters were instrumental in helping save the village of Kocherdorf from being completely destroyed. Bulldozers have been loaned to aid community projects in Neckarsulm, Heilbronn, Weinsberg, Biberach, Jagsthausen, and several other surrounding villages. This has included everything from a sportsplatz to an airstrip and ground leveling for municipal schools and other buildings.

The 46th has developed an annual project in its Christmas program whereby many needy children and old folks in the Neckarsulm area are treated to a little of the holiday spirit. Also included in the program is a big party for all the dependent children of the Group.

Another annual event of community relations is support of the Heilbronn Dependent School's PTA Carnival with generators to furnish lights and power to the concessions and rides. It is through the use of the Group's generators that the PTA obtains their share of the money received from the carnival operators. In 1961 this amounted to a sum of DM 9,000.

Tenst and bleachers have been furnished to aid many of the local sporting and civic cultural events, and quite often the manpower to erect them has come from within the Group.


TECHNICAL ASSISTANCE SUPPORT
An integral part of the 46th Artillery Group, since its conception as a REDSTONE organization, are the civilian technical representatives from the various prime contractors of the system. Chrysler Corporation has been represented by a team of field engineers, ably headed by Clifford M Hoch. Until recently this team has consisted of eight members, but current plans call for a slight reduction due to the proven reliability of the system. Air Products Corporation, the prime contractor for the LOX plants of the 523rd Engineer Company, has been represented by Mr Paul J Kmetz, who recently departed for the US after having been with the Group for over three years.
---
523rd Engineer Company

The 523rd Engineer Pipeline Company was reactivated once again on 8 July 1957 as the 523rd Engineer Company (Support)(Redstone). The unit was stationed at Fort Belvoir for training and support of the Engineer Center. In April 1958, the company dropped the word (Support) from its title, loaded its equipment, and proceeded to Fort Sill, Oklahoma for attachment to the 46th Artillery Group. With the reorganization of the 46th Artillery Group on 24 June 1958, the company was assigned as an organic unit of the 46th Artillery Group with the mission of producing and supplying Liquid Oxygen for use in the REDSTONE missiles.

91st Ordnance Company

The 91st Ordnance Company (Direct Support) was reactivated as the 91st Ordnance Company (Redstone) at Redstone Arsenal, Huntsville, Alabama on 3 September 1957 thus entering the missile age at the home of the Army's missilery. While stationed at Redstone Arsenal the company was in support of the Ordnance Guided Missile School and Army Ballistic Missile Agency. In early 1958 the 91st Ord Co received orders transferring it to Fort Sill where it was attached to the 46th Artillery Group. In June 1958, at the time of the Group's reorganization, the 91st Ordnance Company was assigned as an organic unit of the 46th Artillery Group to provide missile and automotive maintenance support.
If you have more information on the history or organization of the 46th Arty Group (or any of the subordinate units), please contact me

.
---
(Source: Email from Ernie Kuemmerer)
I was with the HQ and HQ Btry of the 46th Artillery Group in Neckarsulm from April 1960 - June 22, 1962 were I was a teletype/crypto operator.

I looked over the sites collection of photographs from the old Artillery Kaserne which brought back memories of happy times.

I cannot find it right now but I have an old aerial photograph of the Kaserne which shows all of its buildings.

I looked at the photo which, is incorrectly labeled, August 1955 Flag Pole HQ Building. That is the Mess Hall. All of the barracks had two entrances, one on each end of the building. Only the mess hall had a larger front door. Check the photo's from 1945 and you will see what I mean.

The Hq building was to the right of the main gate and next to the Chapel. The mess hall was behind the main gate. The mess hall on the right was the only building that had a flag pole, the HQ building on the upper right did not.

As you can see in the period of 1960-1962 there was only farm land around the Kaserne. In 1964 during a vacation I visited the Kaserne to visit old friends that were still them since I had left. At that time it had not changed.

In the late 1980's I was back again to find the new autobahn and the Kaserne encircled with large stores/shops etc. In the 1990's I passed by on the autobahn but could never see the Kaserne prehaps it was torn down by them. In 1999 I drove through nearby Heilbronn were in 1960 I had first arrived by train. The town was so changed that I could not even find the train station.

---
(Source: Email from Robert A. Chesebro, Jr.)
What a great website. In your posted pictures of the Neckarsulm Artillery Kaserne showing the flagpole and "headquarters building" taken in 1955, Ernie Kuemmerer claims that building to be the mess hall due to the central triple doorway seen behind the flagpole. He is correct, as I was in the same unit with him (46th FA Gp, later redesignated 2nd BN 333rd FA Gp, a Redstone missile outfit).

I was in Hq & Hq Battery as a personnel management specialist in charge of all the enlisted personnel records, their marriages to Germans, in and out processing, etc. I probably handled Ernie's records a number of times, and even have a few orders of my own also containing his name, but I don't remember him personally.

I was there from Nov 1961 to March 1964. I took a ton of pictures; black & white at first, colored transparencies later on - still have them all.

If you go onto "Google Earth," type in "Neckarsulm, Germany," and once there, adjust the picture so it is centered on 49 degrees 11' N, 9 degrees 14' 12" E, then close in, you will find yourself smack in the middle of the Neckarsulm artillery Kaserne. Robert Mayers Strasse now cuts through behind the big gray roofed gym and severs what used to be the motor pool, shops, PX, etc., behind it. All that area is now grass field and a horseshoe shaped track of some sort. It must be an old picture, as I'm told the entire kaserne is now gone.

When I was there, the road out the main gate was a long narrow one cutting across farm fields before meeting up with the main road. Farmland surrounded the entire kaserne on all sides as I remember.



HHB, 46th FA Gp
Neckarsulm






1. Maneuvers, May 1963


2. Personnel Section


3. Sp4 Robert Chesebro




4. CWO W4 Tomas H. Guffain







---
1962
(Source: FB, Bob Medlock, Neckarsulm Detachment, Company B, 26th Sig Bn, 1962)
My recollections of that time are very limited. Our unit, B Co. 26th Signal Bn, out of Flak Kaserne, Ludwigsburg, was assigned to provide 46th FA Group HQ phone and teletype communications with 7th Army (I think). I have a few photos.

The 46th was the only detachment B/26 Sig supported. We rotated crews with Flak Kaserne. I was at Artillery Kaserne only about 5 months.

Personnel of the detachment were billeted right there in HQ. There were at least 4 of us at any time. Some times 6. The other guys with me were Jerry Upmor, Bill Stadley, Larry Harris, Bernard Seltzer, Jerome Peterson and Ken Nielsen.

We had two rigs there. One was permanently setup behind HQ. We manned that rig 24/7. The other was used for the field.

I thought you might also be interested in the Group's newsletter.
| | | | |
| --- | --- | --- | --- |
| 1. Behind HQ Building | 2. EM-NCO Club | 3. Medlock & Stadley inside the RATT rig | |
---

(Source: Stars & Stripes, European edition, Tuesday, August 21, 1962)
Redstone rocketeers (article)

By William Duren, Stars & Stripes
Article with photos of the 7th Army REDSTONE artillery groups

---
2nd MSL Battalion, 333rd Artillery
(Source: Email from Bob Bailey via Jim Ryan)
The attached photos were sent to me today by Bob Bailey who served in the Firing Section of Battery A, 2nd Missile Battalion, 333rd Artillery, 46th Artillery Group (Redstone). Bob was stationed at Artillery Kaserne, Neckarsulm, Germany from the time the Group arrived in Germany in 1959 until December 1960 when he left for discharge. Bob was assigned to 46th Artillery Group at its inception as a Redstone Missile Group at Fort Sill, Oklahoma in 1958, after he completed a REMM-C at Redstone Arsenal, Huntsville, Alabama.
After discharge from the Army in December 1960, Bob immediately re-enlisted as E-5 in the USAF for training on the USAF Mace TM-76 missile. After his Air Force schooling in Florida, Bob returned to Germany and served with Mace TM-76B missile units at Bitburg AB, Germany, and subsequently Kadena AB, Okinawa until 1969. Bob retired from the Air Force in 1975 with the rank of Master Sergeant.
I thought you might like to have these photos for your 46th Artillery Group page.

---
(Source: Email from Joe Merz, A Btry, 2nd Bn, 333rd Arty)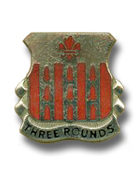 2nd Bn, 333rd Arty DI
I was stationed with the 46th Artillery Group, "A" Battery in 1961 & 1962.
---
(Source: Email from Vincent Sorrentino, "B" Btry, 2nd MSL Bn, 333rd Artillery)
I was there from March 1961 to August 1962. Assigned to "B" Battery, Commo section. I was an E-4 in an E-6 slot. Communications Specialist - A/M, F/M, VOICE, MORSE CODE, RADIO TELETYPE, ON LINE CRYTO. With Top Secret clearance.

To this day, I am still proud of my contribution.

(NOTE: 46th FA Gp pocket patch displayed above was also submitted by Vincent.)
| | |
| --- | --- |
| | |
| 1. Group sign in front of hqs bldg | 2. Artillery Kaserne main gate |
| 3. EM/NCO club, Artillery Kaserne | 4. Consolidated Mess Hall, 1961 |
| | |
| --- | --- |
| 5. ''Yo-Yo'' garrison set up | 6. 'Yo-Yo'' field set up |

---
523rd Engineer Company (Redstone)
(Source: Email from
Mel Rude, 523rd Engr Co)
I deployed with the 46th Artillery Grp from Fort Sill in 1959. I was part of the 523rd Engr Co. I have several slides of the LOX trailers deployed on one of our field exercises. I also have a unit picture with names of individuals on the back.

My most vivid memory is the mud. If it rained, as it often did when we went out on an FTX, due to the weight of the LOX trailers we created mud up to our knees. We often had to position the trailers with D8 bulldozers. As you know the trailers had to be positioned side by side about 21 feet apart and level.
I enjoyed reading your history of the 46th. What brought it to mind was remembering what shoulder patch we wore.
---
(Source: Email from Louie Krieger, 523rd Engr Co, 1962-64)
Louie Krieger on maneuvers near Massenbachhausen, 1962

I was stationed there from 1962 to '64 and was a sergeant E-5 when I left. I was with the 523rd Engr Co., 1st platoon. The building behind us in the group picture (Photo #1) is where we were housed the entire time I was there.

I operated a LOX plant for two years while there and, as you know, we simply supported the Missile Co's with fuel (liquid Oxygen and liquid nitrogen). I was trained at Fort Belvoir, VA and then sent straight to Neckarsulm.

After two years the unit was disbanded and I finished my tour of duty in Hanau, Germany in an Ordnance Co. and was discharged in Oct. 1964. My total duty time was 3 years as I was regular Army. While there, I attended, and graduated from, NCO Academy in Bad Tolz, Germany south of Munich and because of that I made E5 Sargeant.

I am proud of my service to my Country and like to believe we made a difference in how the Cold War turned out. I learned a great deal in the Army and it has helped me throughout my life and I met some good guys as well. I don't miss, however, the cold and the Bivouac, and we did plenty of that while I was there.

Thank you, Walter, for your web site and the trouble you took to make it and I'm sure a lot of us ex-GI's appreciate your efforts and enjoy visiting our adventures of the past. I am 68 years old now but I do remember that time of my life very fondly. God Bless you,
Louie Krieger


| | | | |
| --- | --- | --- | --- |
| | | | |
| 1. 1st Pltn, 523rd Engr Co, 1964 | 2. Display at Open House | 3. Air Source Trailer | |
| 4. Louie Krieger operating liquid oxygen plant, 1963 | 5. Squad leaders, 1st Pltn | 6. Redstone missile display during Open House | |

---
91st Ordnance Company (Redstone)
1959
(Source: Email from Ron Giblin, 91st Ord Co)
I was a Ballistic Missile Guidance & Control Repairman, MOS 371.10, from January 1959 to my discharge date in January of 1961. For the later part of that period, I was stationed at the Neckarsulm, Germany, Kaserne as part of the
91st Ordnance Company
, 46th Artillery Group (REDSTONE). I was not an 'original' member of the 91st Ordnance but joined them after they had been in Germany for awhile.
My initial training was at Ft. Bliss as a Nike-Ajax Fire Control System Technician. After completing that course I was assigned as an instructor in the Radar Park, at Ft. Bliss, for a short time. Soon after, I received orders to go to Germany.
I ended up in Munich and quickly learned that there was no work for my MOS in my new unit. After contacting the I.G., and explaining my situation, I was assigned to the 91st Ord Co in Neckarsulm. The IG explained that there were no slots in Germany in my Nike MOS and that the Redstone Guidance and Control work was the closest (related) work he had for me. I would be trained On The Job. My security classification was also upgraded from confidential to secret. I spent my remaining enlistment time with them. This included participation in a practice firing at White Sands Missile Range. The entire Unit was airlifted there and back on MATS.
While in Germany, the 96th Ord. Co. mission consisted of keeping the Missile equipment and transport vehicles maintained and ready. Every few months the unit would go to the field to participate in maneuvers and to practice missile setup, checkout, and re-deploymentt. The Cold War Strategy was to have some REDSTONES in the field at all times, to act as a deterrent for Russia. We were told that the missiles we had were targeted on locations inside the USSR and by setting up to fire, 'firing', and then quickly moving to a new location we could keep them guessing.

All of the equipment was built into trucks and easily connected using large multi-pin cables. In addition to our missile technical jobs, we were each assigned a truck, on which we did preventative maintenance, and which we also drove to the field when on maneuvers. I drove a 'duece-and-a-half' that carried all of the hookup cables. We also had a remote, secure, site up in the woods above Heilbronn where our daily jobs were performed and where we kept the missiles and the warheads. When it came time to pull guard duty, you could be walking a post inside the fence up in the woods or back at the post. I did both.
It actually worked out very well for me. The 91st Ord Co were a great bunch of fellows and some of the smartest people I was priviledged to work with. They were very generous in heIping me to learn the Missile Guidance Systerms job. I especially remember those listed below and would hope to link up with them again:

Sgt Joe Casanovas, Sgt. Adair, Spc Ted Woerner.
---
1960
(Source: Email from Robert Loehmann)
I was an M.P. or security guard attached to 91st Ord Company, from Oct. 1960 to Nov. 1962. We were on top floor on the building at Artillery Kaserne. Captain Squires was CO when I came. Lt Clark was CO of M.P. detachment. Master Sgt Bulter was First Sgt.

I remember mostly the long nights guarding the warheads in back shacks of the two areas. Most of all I remember going out and enjoying the girls and beer in the two towns. Mainly Heilbronn. Ma Muller's beer hall.

The one (warhead) storage area was small and closer than the larger one. It was out of Neckurslum a short distance. The larger one was over around Heilbronn. Go up a hill with grape orchards and it was atop of the hill. They made LOX at it.

We used to run convoy's to France and exchange warheads ever so often.

The M.P. detachment had two 2 1/2 trucks and I was assigned to one. I went out on alert for the Cuba crisis with on a few days left on my tour. Thought maybe might not ever go home.

Left soon after that and finished my enlistment at Walter Reed M.P. detachment.

My best friends were Buster Kitchens and Bennie Baxter. We were close until they both died last year. Good memories.

The U.S. Army was a great experience for me. It was a privilege to serve my country. And made me a better person.
---
1962
Source: Email from James Dodd, 91st Ord Co, 1962-64)
I was attached to the 91st Ord Co in Neckarsulm, Germany in 1962, 63 and part of 64. I was a Guided Missile Propellant-Explosive Specialist. I was mainly responsible for the maintenance of the hydrogen peroxide and alcohol trailers and their contents.

I think it was the 5th Engineers (actually, the 523rd) that made the LOX. I was with the unit until they phased out the Redstone for the Pershing. Of course all this is declassified and has been for years. Even outdated as it is, the old security awareness is there.

I really enjoyed most of the time there except for one night in October, 1962 when the Cubans were about to receive several shiploads of missiles and we went to full alert. Most of our young butts did not expect to live more than a few days once our basic load of missiles were launched to the East and we became very unprepared infantry. I think I aged ten years that one night.
James Dodd.
---
(Source: Email from George "Gerry" Lewis)
I just happened on to your web site. I was assigned to the 46 Arty Gp from May 1962 - Dec 1963 and was in the 91st Ord Co as a 2Lt. I went thru the OOOC at Aberdeen.

I believed Col Gains was the commander of the Gp and Capt Rodriquez was the commander of the 91st.

There were two special weapons storage sites nearby: one near Neckarsulm (Webmaster note: Wilfensee) and one also in Heilbronn, don't remember the name.

In the Ord company, we had all the sections: HQ, maint, supply, missile maint., and a MP section that took care of the storage areas, plus the Chrysler reps.

We did do all the alerts that someone mention and it seems they were all during the middle of the night. During the summer of 1963 we did come back to White Sands and fired our bird.

I remember Nov 22-23,1963 when JFK was killed and the action that we took. There was even mentioned the NEO plan might be activated. I was part of the 333rd Atry Bn and still have my crests.

After leaving active duty I remained with the Army Reserves in Ohio, Minn, Ind, Ky and during the first Desert Storm as Deputy Chief of Staff for Training at the 123rd Army Reserve Command, Ft Ben Harrison, Indianapolis, In

I haven't seen anyone from the old 46th of 91st since I left at the end of Dec 1963.

---