If you do NOT see the Table of Contents frame to the left of this page, then
Click here to open 'USArmyGermany' frameset
793rd Military Police Battalion
VII Corps
Looking for more information from military/civilian personnel assigned to or associated with the U.S. Army in Germany from 1945 to 1989. If you have any stories or thoughts on the subject, please contact me

.
---
---
Battalion History
1945 - 1988
(Source: MILITARY POLICE Journal, July 1964)
---
(Source: History of the 793rd Military Police Battalion. 793rd MP Bn Welcome Pamphlet, November 1988)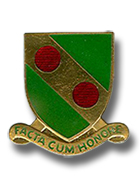 793rd Military Police Bn DUI
The 793d Military Police Battalion was activated at Camp Maxey, Texas on 26 December 1942, and has been on continuous active duty since that day.
In February 1944, the Battalion departed the United States for a period of retraining in Scotland and was then transferred to France in August 1944. From August through December 1944, the Battalion performed traffic security duty on the Red Ball Highway.
From December 1944 to June 1945, the Battalion was charged with the protection of the Port of Antwerp, Belgium. It was during that period that the Battalion was awarded the Meritorious Unit Citation and was cited in the Order of the Belgian Army.

In June 1945, the Battalion moved to France to prepare for deployment to the South Pacific, but the end of the war resulted in its being assigned port security in Marseille.

PHOTO: A motor patrol from B Company makes its appearance in a German town in 1946 to enforce discipline, law and order. The old ETO patch, then used by the Military Posts, and the "I" (Roman numeral) on the jeep bumper identifies the 793rd as belonging to the 1st Military District.
In January 1946, the Battalion entered Germany for duty with the Third United States Area at Bad Toelz until April 1946, when it moved to the Nuernberg-Fuerth area. Attached to the 26th Infantry Regiment, First Infantry Division, the Battalion was assigned security duties at the Nuernberg War Crime Trials.

In February 1947, the 793d Military Police Battalion moved to the William O. Darby Kaserne, its present location. They again moved to Monteith Barracks, then to Pinder Barracks. Finally in September 1948, they returned to William O. Darby Kaserne, where the Headquarters Detachment, 793d Military Police Battalion and the 615th Military Police Company are presently located.
In 1953, the 793d Military Police Battalion began to spread out and cover a vast area of Bavaria. The MP Station was moved from the Palace of Justice to William O. Darby Kaserne on 24 June 1953.

In 1968, the 793d Military Police Battalion and the Feldjaeger Battalion 760 were designated as "Sister Units" which created a closer working relationship. In April 1971, LTC Parks, Battalion Commander, accepted the 1970 Project Partnership Award for the 793d Military Police Battalion at special ceremonies in Koblenz.

During the months of September-October 1972, MPs as a deterent force, were placed on additional security for the Olympic Games in Munich and possible terrorist attacks from Middle East countries.

PHOTO: Another view of the motor patrol as it passes through a German town in 1946.
On 21 October 1977, the three line lettered Companies A, B and C, were deactivated in Germany. With the deactivation of the old lettered companies, the HHD, 793rd MP BN was headquartered in Bamberg with new numbered Companies.

The 595th Military Police Company was activated and assigned to HHD, 793rd MP BN and located in Fuerth, Illesheim and Crailsheim.

The 615th Military Police Company was activated and assigned to HHD, 793rd MP BN replacing Company A, 793rd MP BN which was inactivated. The 615th MP Co was co-located with the 595th MP Co in Fuerth, Illesheim and Crailsheim.

The 630th Military Police Company was activated and assigned to the HHD, 793rd MP BN replacing Company C, 793rd MP BN which was located in Bamberg, Erlangen and Ansbach.

The 981st Military Police Company was activated and assigned to the HHD, 793rd MP BN and located in Kitzingen, Schweinfurt and Bad Kissingen.

In September 1979, the 793d Military Police Battalion was awarded the Department of the Army Community Award for excellence in support of tile Community Relations Program. It was in recognition of the unit's assistance to the residents of Katzwang, Germany during the flood disaster on 26 March 1979.

On 16 November 1980, the three line companies were reorganized. This reorganization increased the combat power of the Battalion. Most significant was the authorization of one M60 machine gun and one M203 per vehicle.

The 793d Military Police Battalion continues to participate in an active partnership program. The participation in training, athletic and social activities has developed a close personal and professional relationship between the 793d Military Police Battalion and the German Feldjaeger Battalion 760. The partnership program is culminated annually, with a march, composed of team members from both Battalions, from Fuerth to Munich.

The 218th Military Police Company, 385th MP Company was reassigned in 1982 from HHD, 385th MP BN to HHD, 793rd MP BN and remained headquartered with 2 Platoon in Augsburg and 1 Platoon headquartered in Munich, with detachments in Garmisch, Berchtesgaden, and Bad Tolz. (In June 1974 a detachment of 4 MPs was located at the American Hotel in Chiemsee.)

The Battalion currently has five line companies spread throughout Bavaria:
| | | |
| --- | --- | --- |
| | 218th MP Co | Augsburg, Munich, Bad Toelz, Berchtesgaden and Garmisch |
| | 595th MP Co | Fuerth, Illesheim and Crailsheim |
| | 615th MP Co | co-located with the 595th MP Co in Fuerth, Illesheim and Crailsheim |
| | 630th MP Co | Bamberg, Erlangen and Ansbach |
| | 981st MP Co | Kitzingen, Schweinfurt, and Bad Kissingen |
In a later realignment, 615th MP Company was headquartered in Grafenwoehr with detachments in Hohenfels and Vilseck.
If you have more information on the history or organization of the 793rd MP Bn, please
contact me

.
(For unit history information of the 793rd Military Police Battalion and its subordinate units after the Fall of the Wall in 1989 please see websites listed below in the Realted Links section.)
---
1946
(Source: Eulas Hamilton via his son, Mike Hamilton)



793rd MP Bn
Nürnberg, 1946-48

Photos were provided by Mike Hamilton, whose father, Eulas Hamilton, served with the 793rd from 1946-48.

1. MP escort squad


2. US Senator gets MP excort for tour of Nurnberg


3. Gen Omar Bradley arrives at Nurnberg airport for a visit


4. "A" Co mess hall


5. "A" Co motor pool


6. Street scene outside of barracks


7. Entrance to "A" Co motor pool


8. Eulas Hamilton with friends


9. Armory room


10. Briefing before patrol


11. Short arms inspection


12. Short arms inspection


13. Unidentified LT


14. CPT Scioli


15. CPT Klekas


16. Officers in front of "B" Co


17. In front of the MP Station


18. MP Station


19. Traffic Information desk




20. Hamilton and Stewart, 1946


21. Unidentified MP, 1947


22. Hamilton and Stewart, 1948




23. Palace of Justice during the Trials


24. Stand by duty


25. Vehicle stopped


26. MP guard at Palace of Justice


27. Checking a soldier's papers


28. Raising or lowerin the flag at the Palace of Justice


29. Storck Club


30. Jeep patrol


31. Hamilton and German policeman


32. Autobahn patrol


33. SGT Neal, motorcycle patrolman




34. NMP Precision Drill team

35. 53rd Constab Sq

36. 53rd Constab Sq

37. "A" Co in parade

38. MG headquarters


39. Military barracks


40. Parade in downtown Nurnberg


41. Precision Drill team


42. Post stockade

---
1953
(Source: MILITARY POLICE Journal, April 1953)
Nurnberg (PIO) - "Facta cum Honore" (Achievement with Honor) keynotes the new Battalion Crest received last month by the Officers and Men of the 793rd MP Battalion.

Symbolic of the Battalion's heroic service in World War II, the crest traces the Unit's operations and depicts the decorations conferred upon the organization.
---
1963
(Source: Email from Dennis O'Malley)
I'm a retired Army Colonel, Military Police Corps, who served in USAREUR from 1963-1966.

My initial assignment was to the 793rd MP Battalion in Nurnberg where I was Bn S4 from Jul 1963 to Jun 1965. At arrival the Bn was commanded by Major Ernest E. Talbot. He was an interim cdr, pending arrival of Ltc Keith Monroe. The troops called Talbot " Lucky" as I understood he was an Infantry Lt in Korea during hostilites there. I understand the shelf life of an Inf Lt was measured in hours and days, and Talbot survived the war.

I was a young Lt accompanied by my wife and infant son and we arrived in Nurnberg after a long flight and then train ride from Frankfurt to Nurnberg. I don't remember the dates for command by the various cdrs, but Ltc Wm H Brandenburg, a Citadel graduate took command from Monroe at some point during my time there. I believe Talbot eventually retired as a Ltc, Monroe as a Col and Brandenburg as a BG.

Our Kaserne was in Furth and its name was the William O. Darby Kaserne after the famous Ranger Officer. The first floor of the Kaserne was largely Hqs staff offices for the Bn as well as Co A 793rd MP Bns, the HQs Det Cdr and the MP Station. The basement offices were for supply, arms rooms as I remember it. The 2nd (to ) floor was enlisted barracks.

As S4, I was Property officer for a battalion spread all over Eastern W Germany, with elements in Grafenwoehr, Ansbach, and as far South as Munich. A new S4 NCO convinced me and the Bn Cdr to move the property book to the subordinate 3 companies to get responsibility nearer the users etc, and much of my time was devoted to this effort, and monthly staff visits and inspections all throughout the command.

I was promoted to Cpt in Nov 1963 with date of rank 11/11/63 the date of the Kennedy assasination. I still remember being in a Bridge game that fateful evening when one of our patrols as I recall, came by with the news that the President had been shot. The next few days were spent spellbound as Oswald was captured, then killed by Ruby. We all wondered if the world had gone mad.

Our time was spent doing the typical S4 staff work, and also participating in monthly alerts, some involving relocation to our tactical site near Heidelberg. We were also detailed by roster as MP Duty Officers, involving MP Guardmounts, patrolling the city and performing pre and post midnite headcounts at the Stockade near our Hqs.

In April 1965, I was transferred to command the

67th MP Detachment and simultaneously be station commander of the Hanau MP Station. The datachment had stations in Gelnhausen, and Wildflecken and I reported to the Cdr 2nd MP Group on PM matters and was administratively hooked to the 709th MP Bn, headquartered in Frankfurt.

I could provide you reams of info on my time as Station Cdr in what was reputedly the toughest troop town in Germany. I can attest to that based on Serious Incident Reports (SIR'S) on a daily basis filled with murder, rape and mayhem, frequent forays to the black bars on Lamboy Strasse and an interesting encounter with a DP who terrorized military housing areas all over that part of W Germany until my MPS caught, lost and eventually ID"d him for German Police.

I also managed to apprehend a staff officer in 3d ID who was a hit/run driver, read article 31 to the District Cdr where I worked for larceny charges and other close encounters with ranking officers which was pretty strong stuff for a young Captain trying to make a career.

I eventually rotated back to the land of round door knobs in 1966 for schooling at Ft Gordon Germany and the continuation of a career definitely helped by my many experiences in Germany.
---
1971
(Source: Email from John Lawrence)
John Lawrence in the new building down

the parade field

I just found your website on the 793d read some of the emails that were posted on the website, a couple of the names I do recognize do to the job that I had when stationed at HHD 793d. I was known as JD.

I arrived just before Christmas of 1971 as I was being diverted from Vietnam to West Germany and when I arrived in Furth I was picked up by a MP patrol and taken to the stations where the Desk Sgt gave me sheets and a blank and told me to go up the stairs to the transit barracks and he said wait there someone will come and get you. On the morning of the 4th day up there I was getting pretty hungry as I had not seen or heard from anyone about anything or where to get food. I had 3 packages of peanut butter crackers that I rationed out but ran out on the third day.

So, on the morning of the fourth day, I went back to the Desk Sgt and asked who was to come and get me and what about food. He was a E-6 and man oh man did he come unglued that I had been up there so long without food and turned and started screaming over the radio mic for a patrol to get back to the station. They arrived and was sent directly to the 1/94th Artillery for food and I never missed a meal the rest of the week that I was up there.
Finally after 8 days up there a SP-5 came up and we went down stairs to Personnel and the first questions I was asked was "Do you know how to type?" and I said yes doesn't everybody? Wow what a answer and I was immediately shown a desk right there in Personnel and SFC Mario Zamor introduced himself as my new boss. Sgt Z was a great person to me and showed me how to run Personnel.

We were in the same building as the MP Station and about a year later we moved to the other end of the parade field since it was just remodeled and our old building started to be remodeled.

I was in Personnel until I left West Germany on October 15, 1975.

A lot happened over the years and the amount of area we covered from Aschaffenburg south to Garmisch area was cut in half when another MP Battalion was moved from Vietnam to our northern area to start coverage there and the 793d was moved from the 15th MP Brigade to 7th Army at that time also. I just remember it was a lot of work bring in the new MP Bn and the changing of personnel but it was done.

The year of 1972 was a hard year there with the terrorist (Badder Meinhof gang) and then Munich and the hostages that were killed at the games. Being at Battalion HQS I was in on a lot of stuff and during the games when the hostages were taken all the planning that S-3 did to move all of the 793d to a staging area just outside Munich for a rescue attempt and what a plan it was to be as it evolved every member of the Battalion but it never made it off the table top but there was a lot of risks and I remember what they had projected as causalities was disturbing to say the least.

All in all it was my best assignment in the 6 years I was in the Army.
---
1976
(Source: STATION LIST, Sept 1976)
ORGANIZATION:
| | | |
| --- | --- | --- |
| UNIT DESIGNATION | LOCATION | COMMENTS |
| HHD, 793rd MP Battalion | Darby Ksn, Fuerth | |
| Company A | Darby Ksn, Fuerth | |
| Company B | Grafenwoehr Training Cen | |
| Company C | Warner Bks, Bamberg | |
| | | |
---
1978
(Source: Email from Stephen J. Veyera)
I was recently reading the website with information regarding the 793rd MP Bn. I believe part of the information is in error.

I was assigned to the 595th MP Co. in the summer of 1978. At that time, the 595th had been newly activated and was in fact assigned to the 1st Armored Division Divarty headquartered in Fuerth. The 595th was at W.O. Darby Kaserne and was responsible for security of NATO 23, vic Feucht AAF.

The company fell under the 1/94 FA Bn. We relieved the DIVARY Batteries from pulling security at the NATO site, the ARTY troops still pulled security for the adjacent conventional ammunition storage. The CO for the 595th was Cpt. Duane Peterson and the XO/Plt. Ldr. was 1LT Terry Skelly in the 1978-1979 time frame while I was there.

The 615th MPC, 793 MP Bn commanding officer was Cpt. Steve Curry. They were collocated at W.O. Darby Kaserne, where the 595th was. The company had one platoon in Anbach that supported the MILCOM (military community).

The 501st MPC (1st AD) was headquartered in Ansbach, had 2 platoons in Ansbach, one in Illesheim, 1 in Bamberg and 1 in Schwabach.

The 630th MPC provided road patrols to Crailsheim.

The Provost Marshal for Ansbach MilCom had the main MP station in Ansbach, and oversaw the operations in the substations located in Illesheim and Crailsheim. The unofficial MP substation in Schwabach was under the control of the Nurenburg MP station/Provost Marshal.

The Provost Marshal Office was at Hindenburg Kaserne, across the compound from 1st AD HQ. My office was in the Ansbach MP Station, the CID RA was upstairs.

The Community Commander at that time was Col. Charles Jolley.
---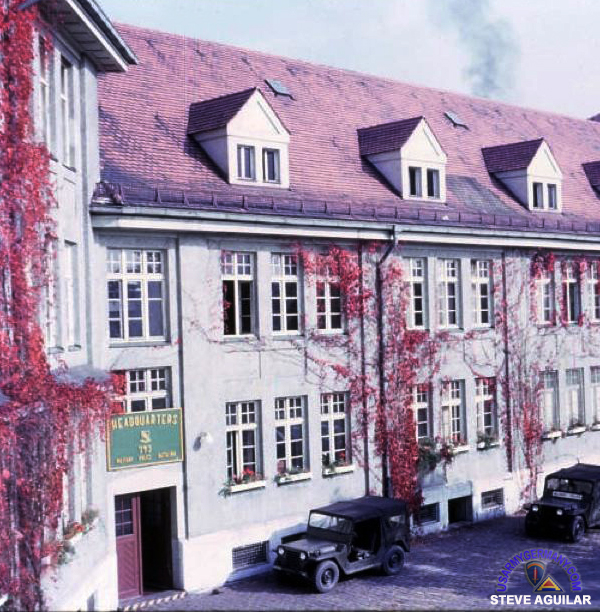 Headquarters building, 793rd MP Battalion, WODK, mid-1970s (Steve Aguilar)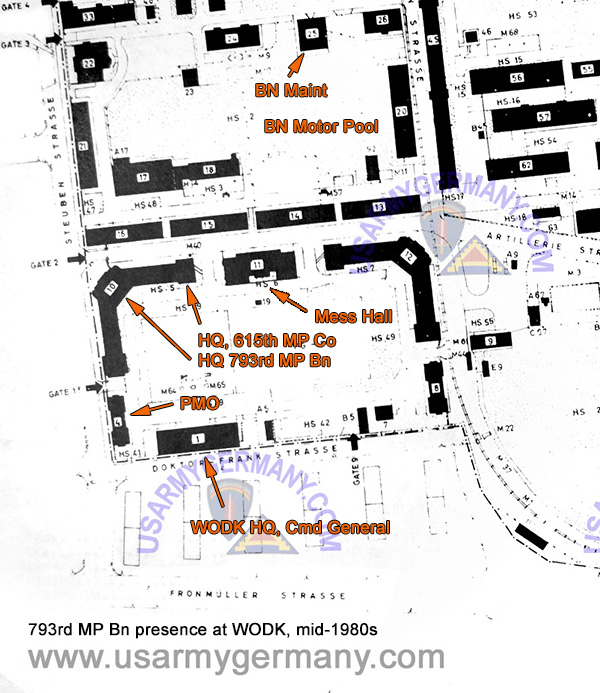 1985
(Source: Email from Leslie (Les) Barnes, BN S-2 and CO of HHD, 1985-88)
I spent 3 years with Headquarters, 793rd Military Police Battalion from September 1985 through September 1988.

I arrived with my wife and daughter in September 1985 and spent a month living in the Green Peace Hotel right outside Darby Kaserne before government housing became available. I had been to Germany several times previously during REFORGER exercises with 1st Infantry Division during the early 1970's, but I was enlisted at that time. This was the first time out of the US for my wife, so it was initially very challenging for her. But, the owner and his wife of the Green Peace were very friendly and made my family feel welcome.

After quarters became available, we moved across Nurnberg to a housing area (Pastorius Housing Area) right in the middle of German civilian housing. There were about a dozen 4-story former SS barracks on Pastorious Strasse that had been remodeled into US government housing where Army families lived. My recollection is that each building had 24 families. My wife remembering having to share a communal basement laundry room with 11 other families.

My time with 793rd was as the battalion S-2 intelligence officer (Captain), but primarily responsible for physical security type duties for all battalion locations. This meant periodic inspection trips to all locations where the battalion had troop facilities – Nurnberg, Erlangen, Bamberg, Ansbach, Augsburg, and Munich areas including the platoon locations at Garmisch, Bad Tolz, Chiemsee, and Berchtesgaden. All that official travel meant I learned how to get around really well, so on weekends I'd take the family out "castle hunting" and we'd get to see history up close. We loved it! My S-2 senior enlisted was MSG Paul Zedallis for most of my tour. He had a German wife so his language ability was much better than mine, but I learned a lot from him.

Funny story: One weekend the family and I were looking for castles and historical sites near Coburg and I made a wrong turn ending up on a road that went right next to the East German border fence. I almost panicked because the rule was "no US military within 5 KM of the border unless on official military duty". So here I came around a corner in the road and saw a group of workers on the East German side working on the fence. As I sped away I could see the guard making a note of my license plate number, so I knew there could be an official complaint lodged and I would be in hot water. The next day I went to see the XO and explained what had happened. He thanked me for coming forward but told me not to do that again. I don't know if the battalion commander or XO ever received an inquiry over the incident.

During 1987 I was asked by the battalion commander, LTC Phillips, to takeover duties as Headquarters Detachment commander as well as keeping the S-2 duties. The battalion as short of MP officers so they didn't have enough to take that position. It was a bit unusual for an Military Intelligence officer to be in charge of an MP unit. But I had the encouragement of the battalion executive officer (XO) Major William F. Carey. I'll always remember his name – he always introduced himself to everyone like James Bond – "Carey, William F." So here I was as a Captain in charge of a unit that had as members the battalion commander, XO, and S-3 Maj Mark Pankow (Operations) all senior in rank. Lesson: Learned how to be diplomatic.

In 1988 the battalion received more MP officers so I relinquished command to CPT Janice Edwards.

My family loved our time in Germany. Besides the travel and western civilization history we got to see up close, we all learned to ski at the US Recreation Center in Garmish.

When we rotated back stateside in 1988 we always thought we'd go back again on another assignment, but the Army had other plans. After a 4 year stint with CAC Threats Directorate, Fort Leavenworth, KS, the Army sent me on a solo tour with 8th Army in Seoul, Korea then I retired from the Army after finishing Automation Management School, Fort Gordon, GA.

Now I manage the computer department for a bank. The strange twists and turns of life!

---
Headquarters & Headquarters Detachment, 793rd MP Bn

---
Company "A," 793rd MP Bn / later 615th MP Company
1946
(Source: Email from Mike Hamilton)
Eulas Hamilton, A Co, 793rd MP Bn Lt Col Forrest Roust

My Father was in Nurnberg, Germany from 1946-48. He was in "A" Company, 793rd Military Police Battalion from August 1946 till January 1949.

The 793rd Military Police was the only police unit in Nurnberg at that time. The Nurnberg Military Government didnít organize the German Police until 1947. Nurnberg was a city about 7 square miles. "A" Company had Ĺ of the city and "B" Company had the other half of the city.

"A" Company had 4 zones to patrol. Each zone had one M.P. on patrol and worked 6 hour shifts. Headquarters were in charge of the Police station. We were also in charge of patrol around the outside of the Palace where the trials were being held.

"K" Company of the 26th Inf., 1st Div. was on Court room duty. "K" Company was the most decorated company in Nurnberg.

After the German Police were organized we were required to have a German Policeman in our Jeeps on duty at all times.

For many more great photos out of Eulas' collection, see Page 11, Photo Gallery
---
1970
(Source: Email from Gene Thomas, Company "A", 793rd MP Bn)
I was assigned to Co A, 536th MP Co, and 595th MP Co under the 793d MP Bn in 1970 to 1975 in Fuerth-Nurnberg, Germany.
T
hey were part of the 15th MP Bde.

I really didn't get tight with anyone in particular. We patrolled in Class A uniform in jeeps, sedans, vans, whatever they threw at us. I can remember faces but no names. I arrived at the Bn in 1970 and pretty much stayed in that general area (Fuerth, Erlangen, Bamberg) for some time.

I started in Augsburg with the 536th MP Co and got some of the best patrol time there. I was happy with my job. You'll have to excuse me, I'm not very prolific at writing. I do remember having a lot of friends in the MP Corps. They were the best at what they did and it rubbed off on me and made me one of the best as well.



ADDITIONAL INFORMATION


In 1971, I was chosen to be a member of a pistol team representing the 793d MP Battalion; there were 5 of us. I do not remember the names of the other members of the team. We were placed on special duty. We were trained on marksmanship and practiced shooting known distance with the .45 M1911A1.

The match was set in Kaiserslautern. Every unit in the 15th MP Brigade was there. It was great. At the end of it, I placed third on my team and my team placed third in the match. I still have vivid memories of it. I'm not sure if any paperwork was generated on it, like certificates of participation; I didn't get one if there was.

To the best of my knowledge this pistol match continued for some time after I got reassigned to th 62d MP Detachment in Erlangen as a Desk Sergeant in 1972.
---
1977
(Source: Email from

Bob Gunnarsson, author of the book "American Military Police in Europe, 1945-1991"

)
Redesignation of Lettered Companies to Numbered Companies:

The 793rd-- I have letter Companies A,B and C inactivated 21 October 1977. They became
:
| | |
| --- | --- |
| A Company | 615th MP Company |
| B Company | 212th MP Company |
| C Company | 630th MP Company |
---
(Source: Email from Jim Hendry)
I was assigned to McKee Barracks, Crailsheim, Feb. 1977- Oct 1978. Many great memories that didn't seem so great at the time. Chasing the Red Brigade, bar fights, ride along with the GP (Blackie). Great friends that I lost track of, Ralph Brock, Lou Rivera, Rick Garvin. Great friend I am still in contact with, Bob Cary.

I remember the rolling stock: 4 M-1-51s, a Dodge and an Impala that was way too big for the narrow German streets.

We had the first female company commander.

The lax fitness standards of the mid seventies were replaced by mandatory runs and fitness tests, to the sound of load groans. The height/weight standards were suddenly enforced which scared the desk sergeants at "Bungalow Gipper", what a call sign!

Drugs were rampant, we made countless apprehensions for possession. I had an early introduction to "meth" I had no idea how common it would become in "the world." I didn't see it stateside for ten years, where as we all know, it has become the worst drug epidemic of this generation. At the time we didn't think it was any worse than speed.

I feel fortunate that I was on the right side of the law since so many grunts and cannon cockers wound up ruining their lives with chemicals. I remember that heroin was common at the time and we made many heroin busts too. A real culture shock for a kid from Vermont.

The New Yorker Night Club, off limits to military personnel (except 3rd platoon) I got caught there my first week in the detachment by Sgt. Arieux (sp). I learned my lesson, hide.

Boxing matches returned, one member of the detachment was a former US Army boxing team member. He coached the fighters and we enjoyed a good exhibition at the gym.

---
Company "B," 793rd MP Bn / later 212th MP Company?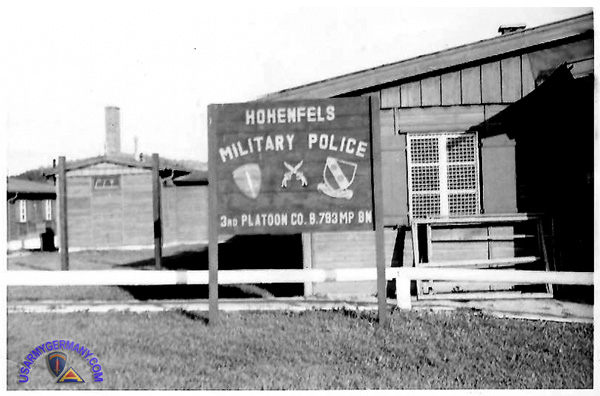 3rd Pltn, Company B at Hohenfels, around 1960
1959
(Source: Email from Woodrow "Woody" Hall, Co B, 793rd MP Bn, 1959-1962)
I was in Co B, 3rd Pltn, stationed in Hohenfels Training Area . I arrived at Hohenfels thru batallion hq.'s, and was then assigned to B co. Company Hq. was in Grafenwoehr Training Area. From there I was assigned to 3rd platoon. I arrived there in Nov. 1959.

The barracks were wooden, we had 4 men rooms, arms and supply room, day room, and orderly room. There were 180 Army personnel, including us -- a 30-man detachment. We patrolled the base, made security checks at the PX, Commissary, Range offices and normal patrol 24-7. We also patrolled the little towns nearby.

It was very boring and tedious work when the Infantry divisions weren't training. When the 3rd and 24th Infantry Divisions came down to train we would be augmented by the division MP's and we got to practice all phases of MP work. We were most busy in the winter months with accidents on base and off. At that time any auto accidents off base were still the responsibility of the U.S. Army.

The normal tour was 24 months; but, the East Germans decided to build a wall and everyone got an automatic 6-month extension. So my tour ended up being 30 months.
One funny incident I remember, a patrol was returning from Hohenfels and as they went thru the gate a couple of our MP's, who had been out drinking, waved them down and asked for a ride back to our barracks, and it was snowing so they asked to ride on the front fenders. They allowed them to, and when they topped the hill in front of our barracks, they saw our company commander's car there; well the other side of the hill fell sharply for about a 1/4 mile, when the driver spotted the CO's car he slammed on the brakes, the two on the fenders slid off and on the slick road they couldn't stop and ran down the hill; it was almost curfew when they came in winded and gasping for breath. The CO looked at them and said "boys, I don't like my men cutting curfew so close they have to run all the way from town". I guess that loses some of the hilarity in the telling, but at the time it was funny.
W
e also had to go to 2 weeks combat training every year, where we practiced riot control, POW processing, keep up map reading skills, perimeter security, etc.
W
e always enjoyed this, most of us. Also, we had to furnish the MP's for the other companies when they went training. I always enjoyed doing Co. A's duty, patrolling Nürnberg/Fürth. We would also cover Co. C sometimes, they were in Schwäbisch-Hall and Hof.

All in all, I guess I enjoyed my time "over there". In March 1962, I came home, got discharged and stayed out until Sept. 1963. I re-enlisted and was sent to Alaska, the 56th MP Co. at Ft. Richardson. Alaska was wonderful, winter and summer. I was there when they had the big earthquake in 1964. I stayed there 18 months and was transferred to Vietnam, which wasn't so wonderful. I was with the 1st Infantry Div., 1st MP Co.
| | | | |
| --- | --- | --- | --- |
| | | | |
| 1. Camp Nainhof | 2. Camp Nainhof | 3. Woody Hall's locker | 4. Camp Nainhof |
| 5. Dayroom | | | |
---
1974
(Source: Email from Ed Spear)
I was just looking at the USAREUR Units. Hadn't looked at this for quite some time.

I was with the 793rd in Wuerzburg from 1974-78. I was both a line MP & later the unit armorer from 77-78.

Your mention of the 981st is quite foreign to me as it should be the 212th at least from 1977-78 and I believe into the 80's as I have had contact with folks who were still there after I left.

I know for 1977-78, we had Wuerzburg (HQ & 1st Plt), Kitzingen (2nd Plt), Wertheim & Bad Kissigen (3rd Plt), A-Burg (4th Plt) & Scheinfurt (5th Plt).
Back in the B Co days it comprised Wuerzburg (HQ & 1st Plt), Kitzingen (2nd Plt), Wertheim & Bad Kissigen (3rd Plt).

Prior to that, at a time of reorganization (75-76) I believe at the deactivation of the 15th MP Brigade, it was briefly identified as 536th MP Co since the 536th out of Schweinfurt at the time was combined with Co C 95th MP Bn in Wuerzburg that was attached to the 793rd for operational & administrative functions.

---
Company "C," 793rd MP Bn / later 630th MP Copany
1966
(Source: Email from Kenneth Monds, 536th MP Company, 793rd MP Bn, 1966-1968)
The 508th Military Police Battalion consisting of Companies "A" & "B" were relocated from McGraw Kaserne to Von Steuben Hall, which was outside the front gate of McGraw Kaserne, in August 1963. The 508th Military Police Battalion was deactivated in July 1964 and Company C, 793rd Military Police Battalion, was assigned to Von Steuben Hall.
I arrived in Munich in September 1966 and was assigned to the 536th Military Police Company, 793rd Military Police Battalion which was located in Von Steuben Hall. I do not have a date when Company C was replaced by the 536th Military Police Company.
| | | |
| --- | --- | --- |
| | | Detachments from the 536th Military Police Company were located in Bad Tölz, Garmisch, Landshut, and Berchtesgaden. Also housed in Von Steuben Hall during this timeframe were the 13th Criminal Investigation Detachment, the South Bavaria District PMO and a detachment of the 42nd Military Police Group. In 1968 headquarters was moved to Augsburg and a detachment remained in Munich. |
I have been able to locate 80 former members of the 536th Military Police Company, 21st Military Police Detachment and the 42nd Military Police Group. In 2006 we had our first two reunions. One in July in Pigeon Forge, TN and the second in September in Las Vegas, NV. A total of 27 attended. We have a webpage and the following is a link to our site:
http://groups.msn.com/536thMilitaryPoliceCompany
---
1970
(Source: Email from Kirk Mints, 793rd MP Bn, 1970-73)
I was stationed at Ferris Barracks and then Fuerth as a Garrison MP from 1970-73. Boy, have things changed since the "Cold War".

I remember a brewery right across the Strasse from the main gate of William O Darby in Fuerth called "Hals" beer that was the most bitter stuff I ever drank but I got used to it. LOL ... I wonder if that brewery is still there?

At the time all the troops in Nam were slowly being deployed to Germany and when I arived at Ferris Barrack we only had 10 MP's for something like 10,000 troops. We were very busy pulling double shifts, 13 days on with a day and a half off and very little sleep from the many fights & riots & traffic accidents.

The drugs, drinking & crime were out of control, and we also had to cover 40 miles of autobahn with accidents all the time involving Americans or their families which made for very long nights and then back to the station to do paperwork with the German Police. I missed many a meal at the Mess Hall and had to eat a quick sandwich from the PX on the run, drinking 20 cups a coffee per day.

I spent two weeks in Munich during the Olympics in 1972, driving up & down the autobahn and checking ID's.


Once, we were chasing a suspect as we buried the needle and our engine blew on our 65 Chevy sending the hood, oil & engine parts into the windshield where we lost control and flipped the car over a guard rail. My partner suffered head injuries & a broken arm. We were lucky we weren't killed. I was so tired one night I fell asleep at the wheel and crashed into a building..

I know the Germans were not to happy about all the troops and had riots & protested ... They were always yelling at us to "GO HOME! "... Most people were upset but they knew, with the Cold War, they had no choice.

It was hard to relax but it was still a beautiful country ... like stepping back in time.
| | |
| --- | --- |
| Downtown Erlangen, 1971 | WOD Mess Hall, 1971 |
---
1971
(Source: Email from Dale Snelling)
I arrived in Munich in May of 1971. At that time, I was assigned to 3rd Platoon (I think) of Co. B, 793rd MP Battalion, 15th MP Brigade. Sorry that I can't remember the names of the Provost Marshall, Battalion or Company commanders, but my Platoon leader was 2Lt Britton, the Brigade commander was Col Bullock, and my squad leader was SSGT Curt Bentley who shortly after I arrived was awarded the Silver Star for actions in Viet Nam.

The company headquarters then were in Grafenwoehr, battalion in Nurnberg, and brigade in Kaiserslautern.

Shortly after I arrived, I believe around August,

our platoon was reassigned to Co. C 385th MP Battalion, 15th MP Brigade

. The company was located in Augsburg and battalion in Stuttgart. First advice I remember was to stay away from Perlacher Annie!

We were all living in apartment buildings along Traunsteiner Strasse and Alzstrasse with the police station in Von Steuben Hall. There wasn't much left of McGraw Kaserne, just a couple of buildings as I remember. Most of the troops stationed in Munich then were in the Medical Corps and total troops numbered probably around 2,000 at most. We had two 1970 Falcon (Torino bodies) patrol cars, two 1969 Rambler Ambassadors and two or three M151's. We were always in Class A's in winter and khakis in summer and white hats. What ever happened to the white hats? About half of our platoon were returnees from Viet Nam, nearly all from the 18th MP Brigade.

Some of the names I recall were SSGT Bunch, Sgt Gottsacker, Sgt Henry Ford and Spc Shelby Ford (really, you can't make that stuff up), Spc Ron Carter or Charter, Pfc Paul MacIntosh, Pvt Ronnie LaBarr.....I'm sure more will come to mind after I send this!

In October of 1971, there was a shortage of prison guards and myself being in disfavor of the Co. CO, I was the short straw and ended up in Mannheim with the 77th MP Det, 15th MP Brigade until
I left Germany in December of 1973.
---
1974
(Source: Email from Richard E. Bartlett)
I served with the:
Co C. 793rd MP BN (3rd Plt in Ansbach, Apr 74 - Dec 75) (Station call sign "Conquest Apple")
Co A. 793rd MP BN (2nd Plt in Crailsheim Jan 76 - June 76) (Station call sign "Crane Bullet")

Those where the days
---
1976
(Source: Email from Kimberly P. Hagen)
A little to add to your history...

In the 1976-1979 time frame, I was assigned to the 793rd MP Battalion, and initially stationed at Ansbach. During that period, the manning of both MP units was short and we were augmented by MPs from the 202nd ASA.

Because they were 95B (Military Police Specialists), their officers thought it would help promotions to do the more traditional garrison police duties with us, PLUS we really needed their help as we were below even critical manning.

The MPs from the 202nd were invaluable to the area's mission. They worked alongside of the rest of us, on regular patrol duties, at the Hindenburg Kaserne gate duty, and so on. They tended to be a bit senior in rank and age to the rest of us who were coming into the Army straight out of High School.

I remember that the mission at Katterbach did include a helicopter detachment and that there was Warrant Officer Housing co-located, which was part of our patrol area. Further, there was a 'Bierfest' actually held on the post, complete with carnival rides, beer tents, food, games and so on. The 202nd MPs also augmented our Bierfest patrols downtown, which tended to be a very rowdy period. The larger Bierfest was in the Fall.

They were integrated into our schedule and great to work with. I remember at times they would be off the schedule, and it had to do with their work at the 202nd building on Katterbach. The rest of us weren't cleared for their level of security. I do remember seeing the secure area they guarded, but obviously never had access.

The only two names I can remember (it's been about 30 years now!) are Sp4/Sgt Chris "Pete" Petersen and SP4 Tom Coe. ( I believe "Pete" Peterson had a given first name of Walter. He went by Chris or Pete, but he was technically a Walter.) They were assigned there between 1975-1977 or 78, and had come in from Augsburg. I am not sure if they were merely assigned FROM Augsburg or if they moved earlier with the unit during the activity described elsewhere.

As it turned out, I ETS'd in 1979, but re-enlisted as an officer in 1984 in one of the US Air Force's Intelligence Branches, The Electronic Security Command. Most of my assignments were around southern Italy and the Middle East, but I did get the chance to return to Bavaria and see the old areas surrounding Ansbach. It is amazing how much has been signed back over to Germany.

Thanks much, hope the further information is of some use to your history. I do have some photos of the unit, people, and their building, and if I can find them, I will send them on if you want them.
---
212th Military Police Company
1977
(Source: Email from Larry Brune)
I transferred into
B Company, 793rd MP Bn
, in July of 1977 from A Btry, 3rd Bn, 7th ADA, Schweinfurt, Germany.
I spent a week making a round trip back to Schweinfurt being assigned to the 5th Plt. Company HQ was at Wurzburg with the 1st Plt. The other platoons were spread out between Aschaffensburg, Bad Kissiingen, Kitzingen and Schweinfurt.
In October of 1977 the company was re-designated as the 212th MP Co., under the command of Capt. John Antonitis.
---
According to the STATION LIST from June 1976, Co C, 95th MP Battalion was located at Leighton Bks, Wuerzburg in 1976.
(Is there a connection between Co C and the 212th MP Co that was formed a year later?)
The
212th MP Company
was activated on 27 October 1977 in Wuerzburg, Germany and settled in Kitzingen, Germany.
During 1982 the 212th MP Company was reassigned from the 793rd MP BN to the
385th MP Bn
, thereby putting the HHD, 385th MP BN in direct support of the 3rd Infantry Division.
---
(Source: Email from Peter Kraushaar)
I enjoy your 793rd website and have visited it before. I see it covers through 1988 but I see no mention of the 212th MP Company.

I was in the 212th MP Company (part of the 793rd MP Bn) from 1979-1982. Our HQ was in Wuerzburg and I was in 5th Platoon in Schweinfurt.

Great pics by the way!
---
1979
(Source: Email from Russell Green)
Hi, I just recenly came upon your web site about the 793rd Military Police Batallion. I was looking for something and came across your site.

I was in the 212th MP Co. in Schweinfurt, Germany from Nov 1979 to Dec 1981. I was noticing that the 212th either doesn't exist any more or isn't in Schweinfurt.

I believe the company hq was located in Wurzburg with platoons in the surrounding areas. If you know anything about the company and where it is now, I would appreciate it. I am wanting to re-do my MP helmet and was looking at other web sites trying to find the sticker for the side that has the "Facta Cum Honore" on the bottom and that is how I found your site. Thank You

---
463rd Military Police Company (Escort Guard)
(Source: US Army Center of Military History)
463rd Military Police Company
Constituted 30 November 1943 in the Army of the United States as the 63d Military Police Company

Activated 1 December 1943 in North Africa

Inactivated 17 September 1945 at Camp Kilmer, New Jersey

Activated 25 August 1947 in the Philippine Islands as the 63d Military Police Company (Philippine Scouts)

Inactivated 1 June 1949 in the Philippine Islands

Redesignated 24 June 1965 as the 463d Military Police Company and allotted to the Regular Army

Activated 25 June 1965 in Germany
1967
(Source: Email from Gary Guenther)
I was a 1st Lt of the 463rd MP Company in Schweinfurt, Germany, 1967 and 1968. We wore the 15th MP Bde patch. Our unit worked law enforcement internally, and jointly with the local Stadt Polizei. The CID unit also worked undercover.

The 463rd Company & (793rd) Battalion HQ were in Fürth, Germany, right next to Nuremberg.

As part of the unit I was in Schweinfurt with two platoons, the CID group, and the MP Station. As a Lt I was the CO and Provost Marshal.

Actually, the 463rd was on both bases in Schweinfurt: our company barracks were at Conn Barracks, also the O Club, etc. The MP station was at Ledward Barracks. It also included the CID unit and translators.

I brought the unit back to the States as part of Operation REFORGER in 1968, as most of the senior MP officer corps was in Vietnam.
---
536th Military Police Company
Wertheim, Germany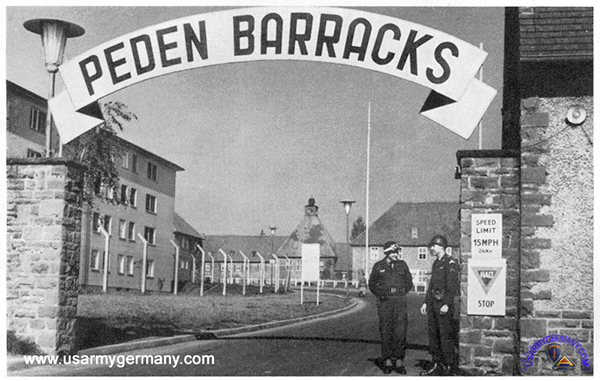 The main gate at Peden Barracks, Wertheim, 1954 (Webmaster's collection)
1954
(Source: MILITARY POLICE Journal, July 1954)
536th MP Co, USAREUR


The life of a military policeman stationed in Europe can embrace a number of responsible duties, both interesting and varied. If you don't believe it ask any MP from the

536th MP Co

stationed in Wurzburg, Germany.

Under the command of Capt Marshall D. Hospins, the company has a primary mission of acting as a military police agency for the Northern Area Command. Its secondary mission, and a no less important task, is to support VII Corps and its attached units, whenever so directed.

Besides routine duties, such as supervision of military traffic and continued maintenance of area and security control, the company is assigned the additional task of protecting the welfare of soldiers' dependents stationed in the Wurzburg area. This territory includes Wurzburg, Kitzingen, Bad Kissingen, Wertheim, Schweinfurt and Wildflecken.

These additional tasks fill an MP's duty hours with a close contact to human problems. On day's duty may consist of directing traffic at a dependents' grammar school, investigating the theft of a soldier's automobile, handing out tickets of traffic violations, or making a nightly inspection of German beer parlors.
---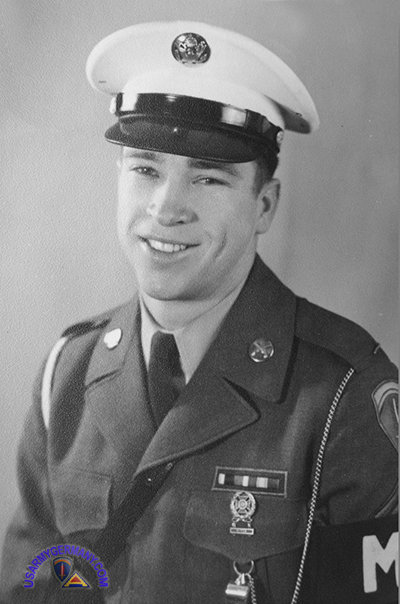 Photo of Edwin Barnhill taken during his tour at Peden Barracks

Guard mount at Wertheim (Edwin Barnhill)
(Source: Email from Edwin Barhill)
I was in the 536th MP Company in Wertheim, Germany for two years 1954-55.

There were about 1200 Soldiers on the base. There were SEARCH LIGHT, ARTILLERY, AND MEDICAL personnel on the base called Peden Barracks.

It was much different in those years than now. In 1954-55 if you were going downtown you must wear full military dress or if wearing civilian you must wear a jacket and tie. We were instructed to write D.Rs if a soldier was not in compliance.

There were two restaurants / bars that the soldiers frequented within walking distance of the base. There were no titty bars and no street girls.

We didn't have a jail or detention center. In the two years I was there no one ever drew his weapon, a M1911 45 cal pistol, never used our baton/billyclub/ night stick. Actually I never had to cuff any soldier.

We had a Courtesy Patrol that went to all the bars offering a ride back to base on Saturday night. 90 % of the Soldiers were draftees. They just wanted to be there two years and get back to Mom, Dad, Girlfriend, and Job.

You must remember that this was 1954-55 and some elements of the military were still segregated. We had no knowledge of Homosexuality, Lesbian or Transgender. Our duty was like being the Sheriff of Mayberry or the Constable of Camelot.

Our squad was all men 6 ft. or over. Very impressive. Very easy duty.

Went back 45 years later. Was very disappointed in how it had changed.

I did not re inlist. No job in Police work as a civilian although I had offers.

Went to school on the GI Bill to study radio and Television electronics. Worked 25 years in the industry. March 7th 2020 I will be 87 years of age.

I took pride in being in the Military Police.
---
Munich, Germany
1967
(Source: Email from Bruce Harget)
I was drafted in July 1967 & after Basic & AIT (MP School @ Ft Gordon, GA) I was assigned to the

536th MP Co

. in Munich, Germany in Dec. 1967.

If my memory serves me right, Capt. Michael J. Cunningham was CO. The company was comprised of the 536th HQ., MP Station, Operations, CID, Quarters & Mess Hall and a German Police Station - all were housed off military property in a 4-story building directly across from McGraw Kaserne in the southern part of Munich.

We patrolled the City, sometimes assigned to ride with a German Police unit.

In Feb. or Mar. of 1968, a group of us were sent to take over a MP detachment in Garmisch, Germany - part of the AFRC (Armed Forces Recreation Center). Our quarters were in Sheridan Barracks, and MP Station & Operations were in a small military Shopping Center in downtown Garmisch.

CO was a LT Benjamin Winslow.

Again, our Patrol Area was the town itself & assisted German Police. At some point later, I was told the 536th HQ moved to Frankfurt. I remained in Garmisch until the end of my tour - June, 1969.

By the way, I'm quite sure the 536th was a part of the 793rd MP Bn, & the 15th MP Brigade. We wore the 'Griffin' patch of the 15th MP Brigade & 793rd shoulder crest pin.

Several years ago, I signed up at the Military Police Home page Web site. I found little or no reference to my old unit, the '536th'. I would like to learn more about the unit, ...apparently it was short-lived???
---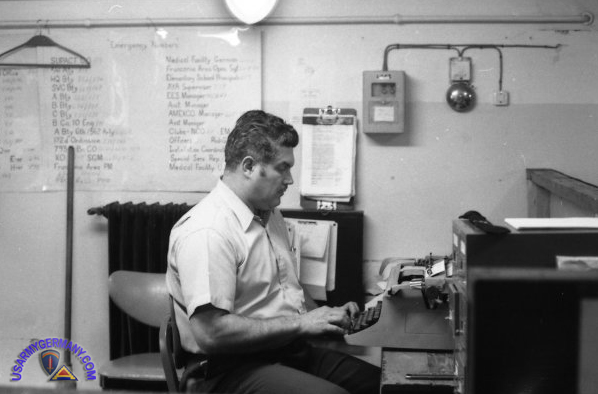 A picture of our Desk Sgt on duty when I first rotated into BK. I don't remember his name
as he was "short" at the time and left a couple of weeks after this was taken. But it shows
the typewriter and him typing the log for that shift (Jim Rush)
1972
(Source: Email from Jim Rusch)
I was stationed with 536th MP Co. in Bad Kissingen 1972-1974 and worked as Desk Sgt. for much of that time.

We typed the logs with carbon paper to make enough copies for distribution. Not sure where they all went, but think we kept a copy in BK, one for company HQ in Aschaffenburg, and then more copies for further up the line.

Bad Kissingen was a couple hours from Company HQ and we ferried all our paper work up and down the line during the midnight shifts by sending our packets halfway to the next station in the chain. To the north, next to us and furthest out in the chain was Wildflecken, and to the south and the next station closer to company was Schweinfurt. Likewise, patrols from those stations would send their reports by similar packets and the exchange was made at a rendezvous point between each of the stations and packets were exchanged. If I remember, the process was called a "co-op" or something similar. This was the way reports and paper documents were moved up and down the line of MP stations, in the 536th anyway.

Looking back on those days, I wish I would have stuck another sheet of carbon paper in and made a personal copy (although the stack was so thick it was a tight fit in the typewriter already) so would have a record of all the calls and antics that we faced.

Do you know if there is a repository of those logs somewhere? If they were ever save to micro fish or digitized? Seems like something the Army would do. But then again that was a ways back in time.

Again, am enjoying reading the posts on you web page.
---
7th ARMY TRAINING COMMAND
1978
(Source: Email from Mark Foelker, CO of the 536th MP Co, 7th ATC, 1978-1980)
I was the commander of the

536th Military Police Company

from March 1978 to May 1980. We reported to the 7th Army Training Command (ATC) Provost Marshal and supported the command with personnel for law enforcement operations.

At that time, the 536th was a separate company assigned to the 7th ATC, not the 793rd MP Bn.

Headquarters was in Grafenwoehr and we had platoons at the major training areas (MTAs) Grafenwoehr (1st), Wildflecken (2nd) and Hohenfels (3rd). There was also a squad in Bayreuth supporting elements of the 2nd ACR there.

The platoons provided law enforcement support through MP stations at each location. The Grafenwoehr platoon also provided patrols in Vilseck where elements of 7th ATC were located.

We were a readiness reporting MTOE 19-77 (believe it was a 19-77H, but could have been an earlier series) Military Police Company organized at Authorized Level of Organization (ALO) II. The company did not get priority of fills for personnel within USAREUR and we used our tactical vehicles (1/4 tons) for the law enforcement patrols which took its toll on equipment readiness. However, this made sense as the division and corps assets would come first.

We sometimes would get 180 day loans on 1/4 tons from POMCUS stocks that at the end of the period would be transferred permanently to us. Administrative Use Vehicles were never available as they were in short supply within the command. However, the officers, NCOs and junior enlisted of the company did a great job with what we had both personnel and equipment-wise.

I left to become the Provost Marshal of Schweinfurt Military Community in 1980.

Also, was in Kaiserslautern from 1990-92 as Cdr, Kaiserslautern CID District - 13th MP Det (CI).

When I left, the 536th was still a separate company assigned to 7th ATC. You can see from other accounts that the 536th most likely came from parts of the 793rd MP Bn, but the 7th ATC wanted a company of their own and redesignations and assignments were made.

Lastly, my dad was in Linz, Austria in the late 1940s where he met my mother and my older brother was born. He was a MSG in the Constabulary for USFA. My mother was in American Red Cross.
My dad started in the 45th Div into Sicily and ended up in the 34th Div as they went through Italy. He was an infantry platoon leader in a couple different regiments. I think he rotated back to the States after the war, then went back to USFA from Mar 1946 - Sep 1949. He was in Hq & Hq Trp, 24th Constabulary and A Trp, 24th. When he came back we were at Oklahoma A&M (now State) ROTC where I was born. Then Fort Richardson, Fort Dix, Korea and finally, Fort Devens. He retired in 1960 after 20 years.

---
Related Links:
793rd Military police Battalion - web page on Military.com
793rd Military Police Website

- official web page of the Battalion in Germany