If you do NOT see the Table of Contents frame to the left of this page, then
Click here to open 'USArmyGermany' frameset
1st Maintenance Battalion
2nd Support Command
Looking for more information from military/civilian personnel assigned to or associated with the U.S. Army in Germany from 1945 to 1989. If you have any stories or thoughts on the subject, please contact me

.
---
---
1st Maintenance Battalion
1965 - present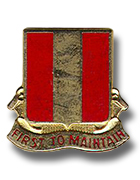 1st Maintenance Bn DUI
(Insignia was amended, 8 Aug 1966, to change the motto)
COSTAR II (Combat Service to the Army)
If you have corrections, comments and additional information/photos please contact the webmaster!
(Source: STATION LISTS for 1964 an 1965; FM 29-22 Maintenance Operations in the Field Army, July 1965)
On August 2, 1965, 1st Maintenance Battalion (Direct Support) was activated at Ludendorff Kaserne, Ludwigsburg, under the COSTAR II concept.
| | | | |
| --- | --- | --- | --- |
| ORIGINAL UNIT | NEW UNIT | STATION | COMMENTS |
| | HHD & A Co, 1st Maint Bn (DS) | Ludendorff Ksn, Lornwestheim | |
| ? Ord Co | (A Co (Main Support)) | | existing Ord Co used for Main Spt Co? |
| 22nd Ord Co (DS) | B Co (Lt Maint) | Eastman Bks, Dachau | moved from Warner Ksn, Munich |
| 6th Ord Co (DS) | C Co (Lt Maint) | Artillery Ksn, Neckarsulm | |
| 569th Ord Co (DAS) | D Co (Lt Maint) | Flak Ksn, Ludwigsburg | |
| 29th Trans Co (Acft DS) | no change | Stuttgart AAF, Echterdingen | |
| | | | |
---
1965
(Source: Email from William Pattan)
I arrived at Ludwigsburg, Germany on or about June 12, 1965. My first shoulder patch was the Seventh Army (big stepped A). Some of the people on my Kaserne (Flak) wore the 'Seven Steps To Hell' (tab) under it.
Originally I was assigned to
569th Ordnance Company
, but almost immediately they changed the company to
Company D
, 1st Maintenance Battalion. I spent the rest of my tour at Company D, 1st Maintenance Battalion, 3rd Support Brigade at Ludwigsburg . Later in 1965, we were changed to
COSTAR
but we were told it meant
CO
mbat
S
upport
T
o the
AR
my. (
Webmaster Note:
Bill is close; the original designation of 'COSTAR' was
Combat Service to the Army
.)
My shoulder patch was not changed to the 3rd Brigade patch until approximately 6-7 months later, and remained the same until my honorable discharge in 1967.
The major difference that I noticed from being a regular unit and a COSTAR unit was we could support anything the Army had. We normally could support trucks and light vehicles, but we started a chemical weapons repair facility and a tent shop and we then started going out to mobile missile sites, didn't do much there but observe.
---
1966
(Source: Email from Tom Fairbanks)
I was in Hq. & A Co. First Maint. Bn. from Oct 1966 to Oct 1969. The unit was located in Ludendorff Kaserne, Kornwestheim, Germany. The battalion was part of the 3rd Support Brigade of the Seventh Army Support Command.

My friends there told me that A Co. used to be the 24th Engineers until 1965 when the 1st Maint. Bn. was formed. B Co. was in Dachau, C Co. was in Schwäbisch Hall and D Company was at Patch Barracks, Panzer Kaserne or, maybe, Nellingen Kaserne. I don't remember which one for sure but it was in that area.

Also, there was another company in the First Maint Bn, the 29th Transportation Co. It was made up of light airplanes and helicopters. I don't know much about them except that they were used to transport high ranking officers around Gemany. They were close to USAREUR headquaters at Patch Barracks, I think, located at an airfield on Nellingen Kaserne.

When I arrived in Gemany we wore the 7th Army patch on our uniforms. About a year later we got patches for the 3rd Support Bde ( 3 yellow spears pointing up on a red background) and the last year we changed to 7th Corps patch but I don't know if we were still part of the 7th Army Support Command or not.

Other companies located at Luderdorff Kaserne were part of the 540th Engineer Group. The were the 38th Engineers (bailey bridge); 503rd Engineers (Construction); 320th Engineers (topo). A med detachment and the 540th Group headquarters.
Tom Fairbanks
---
1969
(Source: Email from Bob Thieman, HQ & A Co, 1st Maint Bn, 1967-68)
I read Tom Fairbanks article regarding HQ & A Co stationed at Ludendorff Kaserne. I was acquainted with Tom. I arrived at A Co June 1967, transferred to D Co. June 1968. D Co prepositioned company TO&E and transferred to Ft Riley the following October. D Co took part in REFORGER ONE.
After returning to Ft Riley I went TDY taking part in Project Transition. While I was at school D Co was disbanded. My last two weeks were with C Co 724th Maint Bn 24th Inf.
My claim to fame at Ludendorff, which I'm sure Tom remembers, was putting a loud mouth bully (who just happened to be the Colonel's driver for the Engineers [panel bridge]) in his place. I utilized a very physical manner. When the brass was looking for the troop who was involved (I had got out of there) and questioned Tom, he replied "What fight, Sir?" Tom is a good man.
The First Sergeant was proud of me for standing up to this guy. He chased me out of the orderly room only to call me back the next day. He said the Battalion XO jumped on his case and he was forced to discipline me. I received two weeks extra duty cleaning empty brass form 0400 to 0600 hours.
The Colonel's driver was extremely friendly towards me from then on.
---
1969
(Source: Email from Ron Morgan, 1st Maint Bn, 1969-72)
I found your web site on the history of the 1st Maintenance Battalion. It is the unit I served with in Germany from 1969 to 1972. I was located at the Ludendorff Kaserne, in Kornwestheim. I was the battalion legal clerk and traveled to our units in Augsburg, Crailsheim and our aviation unit. When I was in the 1st Maintenance Battalion, we had HQ & A Company in Kornwestheim, B Company in Augsburg, C Company in Crailsheim, and the 29th Transportation Company at the military airport in Stuttgart.
---
1975
(Source: Email from John Stephens)
I saw your posting on the history of the unit. I was with HHD when it was still at Flak Kaserne in Ludwigsburg from 75-78. My MOS was 05F, Radio Teletype Opr (Ratt Rigg).

We didn't get out to the field very much so they made me a courier. I loved it. Had my own 8-80 and everyday I drove around Stuttgart picking up and dropping stuff off.

Spent a lot of time in the local Gasthaus'. My roomie and I had bicycles and we'd head out whenever we had 20 marks between us to see the country, sleeping in hay bales open fields, or the woods. Once you got away from where the Americans were, the Rads would open up and treat us like family. During Reforger we would bring along our own food because that field chow sucked. We'd go into town and get cases of beer and sit on guard duty and get tanked. Lot's of great times. I'd love to go back for a visit.
---
Webmaster Note:
According to information provided in the
7th Army COSTAR section
, the COSTAR changes (in 1965) for the 1st Ord Bn would have included the following reorg & redes actions:
Hq & A Company, 1st Maint Bn (DS) activated on 2 August 1965
14th Ord Co ---> B Company (Lt Maint), 1st Maint Bn
15th Ord Co ---> C Company (Lt Maint), 1st Maint Bn
---
SHOULDER PATCHES WORN BY THE 1ST MAINT BN - 1960s - '80s
| | | | |
| --- | --- | --- | --- |
| Seventh Army Patch | 3rd Support Bde Patch | VII Corps Patch | 2nd SUPCOM Patch |

---
1989
(Source: Letter from the S-1, 1st Maint Bn, APO 09046, 1989)
MISSION OF THE 1ST MAINT BN

The 1st Maintenance Battalion is a non-divisional combat service support battalion, which means that it provides maintenance and supply support on an area basis rather than to a specific division. The primary customers of the battalion are therefore mostly non-divisional units, such as engineer and signal units. The battalion is divided into three maintenance companies, a supply and service company, and a headquarters detachment.

The Headquarters is located at the Boeblingen Maintenance Facility along with the 263rd Maintenance Company. The 586th Maintenance Company is located on Ludendorff Kaserne in Ludwigsburg, while the 22nd Maintenance Company is located at Wharton Barracks in Heilbronn. The 229th Supply and Service Company is on Reese Kaserne in Augsburg.
The 22nd and 586th Maintenance Companies have a similar mission and composition. They are both direct support maintenance companies, with the responsibility for providing direct combat service support to all non-divisional units located in their area of responsibility. This support includes, in addition to maintenance, such items as repair parts supply, evacuation service, and a reparable exchange service.

The 263rd Maintenance Company has both a direct and back-up support mission. They provide back-up direct support to the 1st Infantry Division (Fwd) as well as to the 22nd and 586th Maintenance Companies. In addition, they operate a general support reparable exchange point for communications-electronics modules and fire control assemblies.

The 229th Supply and Service Company provides supply and service support to over 64 customers throughout Southern Bavaria. This includes providing supply of Classes II & IV, III and VII (which is construction equipment, fuel, and major items respectively). They also provide bath and clothing exchange support on an area basis. The 229th Supply & Service company operates a Self-Service Center and fuel Storage and Issue Yards in Augsburg and Neu Ulm.

In total, the 1st Maintenance Battalion is authorized 1000+ military personnel, to include 38 commissioned officers and 29 warrant officers.

---
(Source: 1986 Historical Summary, 1st Maint Bn, 1 Jan 1986-31 Dec 1986)
ORGANIZATION (1986):
| | | |
| --- | --- | --- |
| UNIT DESIGNATION | DUTY STATION | COMMENTS |
| HHD, 1st Maint Bn | BMF, Böblingen | |
| 22nd Maint Co | Wharton Bks, Heilbronn | |
| 263rd Maint Co | BMF, Böblingen | |
| 586th Maint Co | Ludendorff Ksn, Ludwigsburg | |
| 229th S&S Co | Reese Ksn, Augsburg | |
HHD, 1st MAINTENANCE BATTALION

MISSION AND ASSIGNMENT: Headquarters and Headquarters Detachment, provides the 1st Maintenance Battalion staff all personnel, administrative, logistical, maintenance (organic) and communications support for both garrison, and field environments; provides for the health and welfare of 102 assigned personnel through individual training, billeting, finance, and Uniform Code of Military Justice; supervises the dining facility and Central Issue Facility for organizational clothing and individual equipment operations supporting over 2,000 soldiers; supervises Installation Coordinator's operation entailing the use of commercial construction equipment for snow and ice removal on a 200 acre installation; repair and space utilization of 75 buildings on the Boeblingen Maintenance Facility; responsible for physical security operations on the BMF for all tenant units consisting of both U.S. and German forces.
KEY PERSONNEL:
| | | | |
| --- | --- | --- | --- |
| | 1. | LTC Gilbert H. Edmondson | BN Commander |
| | 2. | CSM William R. Notz | BN CSM |
| | 3. | MAJ Jackie R. Hamilton | BN Executive Officer |
| | 4. | MAJ Frederick Wham | MATO |
| | 5. | MSG Barry M. Chattillion | MATO NCOIC |
| | 6. | 1LT James M. Brandon | S/1 OIC |
| | 7. | SFC Issac C. Levy | S/1 NCOIC |
| | 8. | CPT Debra Cameron | S2/3 OIC |
| | 9. | SSG Gilbert Messick | S2/3 NCOIC |
| | 10. | CPT Hiram Wilcox | S/4 OIC |
| | 11. | SFC Samuel Branch | S/4 NCOIC |
| | | | |
SOME HISTORICAL INFORMATION:
Headquarters and A Company, 1st Maintenance Battalion, was activated on 2 August 1965 in Germany.

Reorganization and redesignation again took place on 21 December 1972 and the organic elements became separate numbered companies:
A Company -- 6th Maint Co ?
B Company -- 22nd Maint Co
C Company -- 586th Maint Co ?

In October of 1980, the headquarters moved to its current location at the Böblingen Maintenance Facility.
---
22nd MAINTENANCE COMPANY

MISSION: The 22nd Maintenance Company provides DS maintenance and technical supply support to up to 56 company sized non-divisional units, on an area basis.
SOME HISTORICAL INFORMATION:
The unit was activated at Augsburg, Germany on 20 July 1950 and assigned to the United States Constabulary.

It was attached to the 19th Ordnance Battalion in Munich in October 1950 and to the 80th Ordnance Battalion at Dachau in October 1951.

On 15 November 1951 it was reorganized and redesignated 22nd Ordnance Company Direct Support and attached to the 71st Ordnance Battalion at Munich in January 1953.

The unit joined Army Task Force 201 on 18 July 1958 and sailed to Bierut, Lebanon, where it remained until 13 October 1958.

On 2 July 1965 the 22nd Ordnance Company moved to Camp Dachau, Germany, where, on 5 August, through consolidation with the 78th Engineer Company, it was reorganized and redesignated as Company B, 1st Maintenance Battalion.

On 21 December 1972 the company (B Co, 1st Maint Bn) was redesignated as 22nd Maintenance Company, Direct Support.

During the early 1980s, two detachments of the 22nd Maint Co were located at Craislheim and Neckarsulm. Later, the detachments were expanded to four teams and relocated to Augsburg.
---
263rd MAINTENANCE COMPANY
SOME HISTORICAL INFORMATION:

On 16 October 1986, the 263rd Maint Co was activated as a subordinate company of the 1st Maint Bn, at Böblingen Maintenance Facility, upon the deactivation of the 78th Maintenance Company.

(Note: The 78th Maint Co, previously located at Nellingen and part of the 87th Maint Bn, was apparently moved to Böblingen in 1975. Maybe at this time the 78th was attached to the 1st Maint Bn? Based on some notes found in the historical summary, the 263rd was activated in October 1986 in place of the 78th Maint Co. However, there was a major TOE change - so the mission might have changed also.)
---
586th MAINTENANCE COMPANY

MISSION: During 1986 the 586th Maintenance Company continued to provide direct support maintenance, recovery and evacuation, and Class IX support to VII Corps non-divisional units in the Stuttgart area. The 586th Detachment also continued to provide maintenance support in the Crailsheim community. In all, over 77 customer units were served.
SOME HISTORICAL INFORMATION:

The 586th Maintenance Company was activated in Germany on 21 December 1972.
---
229th SUPPLY & SERVICE COMPANY

MISSION:
A. PEACETIME: The mission of the 229th Supply and Service Company is to provide logistical support to all of Southern Bavaria in Class II, III, IV and VII supply. The company also provides water purificatioon support on an area basis. Incorporated as an integral part of the peacetime mission is the tremendous task of training unit personnel in all areas while maintaining a high states of unit readiness.
B. WARTIME: In time of war, the 229th Supply & Service Company deploys and receives REFORGER elements, provides supplies and services and also assumes a water, grave registration, bakery, laundry and bath mission.

The Company Headquarters, Maintenance Facility, and Water Sections are located on Reese Kaserne, Augsburg.

The Supply Support Activity and Class III Facility are located at Quartermaster Kaserne, Augsburg.

The Neu Ulm Class III Facility is located at Offenhausen Support Center, Neu Ulm,

A small element of the company also operates a Class III bulk fuel point in Munich.
SOME HISTORICAL INFORMATION:

The 229th S&S Company was activated in Germany on 21 December 1972.
---
(Source: Email from Paul Browne, 1st Maint Bn, 1983-1985)
I was at HQ, First Maintenance Battalion from 1983-1985. I worked as a civilian in the S-1 under Captain Gloninger, with Sergeant Frater and Privates Barnett, Fekete, and I can't remember who all else. It was actually a pretty good place to work — my dad was a civilian at Patch Barracks and I was taking classes at night at the Patch Ed Center for my degree. I'd love to hear from any of them. They very courteously got me blotto on MD-20/20 at my going away!

I do remember an SP4 not showing up for formation one day and the top being very POed. The young specialist phoned in nearly lunchtime claiming to have been kidnapped and not knowing where he was but cognizant of his whereabouts enough to know he could be at BMF in an hour or two. It was amazing how shiny clean the suddenly Private kept the floors.

When I first got there I was a clerk typist and we had only the top floor of the 'modern' building across from the Kantine. But then the DPU unit that occupied the building moved out and 1st Maint Bn got the whole building. We had bought a Wang VS-25 system and since I seemed adept (even back then) at it, I was made the system administrator and got a lovely corner office — with the DPU's industrial strength air conditioning!

Before 1st Maintenance Battalion, I worked at the Patch Barracks O'Club (hated it) and the USEUCOM mail room with a Sergeant Shoemaker (loved it). I was good friends with Kathy Jeffcoat (her dad was in the USAF), Joannie Crosby, Ruth Gifford, and Glenda and Jeff at the sports shop (name?) (down the hill near the commissary and gas station). I also remember a USAF Sergeant Mark Donberger, and Paul Delgadilio. I'd love to hear from any of them too.

I remember when the Mark rate was gyrating wildly how the AMEX ATM would run out of Marks and rumors would fly around the crowd waiting in line -- 'RB has some!' 'You can still buy marks at Panzer!'

I took my driving test on Patch Barracks. I also remember going up to the AAFES cafeteria, getting a large milkshake cup but filling it only half full with a chocolate milkshake and pouring kaluha into it in the car — you could drive along looking oh-so-innocent.

I remember Kathy convincing me to sneak out of class at the Ed Center to go down to the clubs. We drove out to Echterdingen Airfield to pick up Joannie but she couldn't make it so we trotted off ourselves. We made a mistake going down Degerloch hill and ran the car over the strasse tracks where you weren't supposed to — and put a hole in the gas tank. We finally ran out of gas somewhere in Stuttgart Ost, but still managed to go out and have fun! I remember also Ruben Matos, the KC, putting a stereo on layaway at RB (such glamour to have so many stores!) where when you went you were sure to run into somebody you knew.

Before we were in Stuttgart in 82-85, my family was in Berlin from 80-82. My dad was a 'DoD Special Representative' at Teufelsberg — very nice existence with a driver and all. I was at the John F. Kennedy German American School at the time. I did work after school at the Berlin Brigade Swimming Pool with Sylvette Pool, Giselle (somebody), Peter (somebody from Australia), John (somebody), and checked hundreds of soldiers and dependents in and out from the front desk. I remember getting plastered at the Fest and being found passed out on the park bench by the Oskar-Helene-Heim U-Bahnhof (near that Imbiss) by my not-too-happy dad at 4 am. We lived in requisitioned housing near Krumme Lanke U-Bahnhof, between Argentinische Allee and Potsdamer Strasse. I used to love taking the PX shuttle up to the French PX and NAAFI.

It's so sad that so much of that has disappeared.

By the way — in honor of all this nostalgia, I'm listening to the Spliff Radio Show album with AFN Berlin's Rick DeLisle.

Can you put my e-mail up so anyone who knew me can get in touch, please?
Paul Brown, PSBrowne(at)comcast.net (replace (at) with @)
If you have more information on the history or organization of the 1st Maint Bn or its subordinate units, please contact me.
---
(Source: Jobber, Feb 2, 1987)
Boeblingen based battalion supports VII Corps

by Paula T. Click
Sgt. Paula T. Click is a special Electronics Device repairer serving as a journalist with the 2nd SUPCOM Public Affairs Office.

The 1st Maintenance Battalion takes the motto embossed on their unit crest "First to Maintain" very seriously by providing first quality direct support maintenance to non-divisional units of USAREUR's VII Corps.

The 1st Maint. Bn., is one of three maintenance battalions within the 2nd Support Command, whose mission is the direct support of non-divisional units of VII Corps and back-up direct support of other units throughout southern Germany.

The Battalion consists of three maintenance companies and one service and supply company. The Headquarters element and the 263rd Maintenance Company (DS) are located on the U.S. Maintenance Facility at Boeblingen. The 263rd services non-divisional units in the Greater Stuttgart area, providing direct support maintenance on communications electronic equipment, power generation equipment, wheeled and tracked vehicles, small arms repair and tanks. Additionally the unit operates a Signal Intelligence/Electronic Warfare (SIEW) repair facility, (the only one in VII Corps) and a Material Collection and Exchange Platoon (MCEP). The MCEP consists of a Forward Storage Site for decentralized issue and turn-in of major assemblies for the 800th Consolidated Material Management Center, a cannibalization point operation, a disassembly operation, and a classification section for issue and turn-in of selected Class VII and Class II controlled items. The unit recently finished two special missions, the repair of Code R Class VII items and the Repositioned M60 series Tank Upgrade Program.

The 22nd Maintenance Company and 586th Maintenance Company have almost identical missions. They both provide direct combat service support to all non-divisional units in their respective areas. The 22nd covers Heilbronn; the 586th the Ludwigsburg, Crailsheim area. The 22nd also provides three Maintenance Support Teams (MSTs) to the 17th Field Artillery Brigade in Augsburg, Germany and one to the 237th Engineer Battalion. The 586th's two MSTs Maintenance Support Teams support the 2/42 Field Artillery Battalion and the 7th Engineer Brigade.

The Battalion has one Service and Supply company. The 229th S&S Company is located in Augsburg. Its mission is the receipt, storage, and issue of Class II, III, IV and VII supplies, and with augmentation, provides field services for laundry, clothing exchange, graves registration, and bakery services. Additionally they operate a forward Class III Supply Point at Neu Ulm. The 229th also has a water purification team which can treat contaminated water as well as ensuring the potability of up to 120,000 gallons per day.

Overall the missions of the 1st Maint. Bn. is a varied one. In an average year the Battalion will complete more than 10,000 work requests for repairs, 8,500 fuel and electrical component repairs and 10,000 classification inspections. The 1st Maint. Bn., also participated in all major VII Corps field exercises last year to include WINTEX and REFORGER.

The Battalion is a strong supporter of Project Partnership and takes seriously its positive relationship with its German partner unit the Instandsetzungsbatallion 220. The units have activities together and have an exchange program whereby soldiers from both units get an opportunity to see how the other lives and works first hand. The program has been so successful that the 1st Maint. Bn., has won the USAREUR battalion level "Project Partnership" award for two consecutive years.

Everyday the 1st Maint. Bn., soldiers prove that they are indeed the "First to Maintain." They are where they are needed when they are needed, ever ready to provide first class Combat Service Support to the VII Corps and the U.S. Army.

---
78th Maintenance Company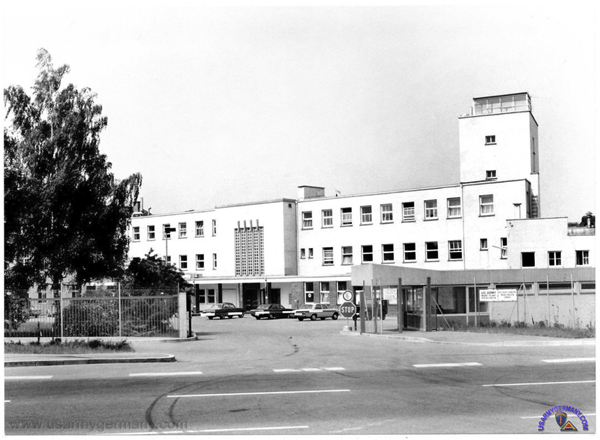 Entrance to the Boeblingen Maintenance Facility, 1970s (Böblinger Flughafengeschichten)
1979
(Source: Earl Miller, 78th Maint Co, 1979-82)
I was assigned to the 78th Maint. Co. 1st. Maint Bn. from 1979-1982.

The 78th ran the RFI (rebuild for issue) Program for 2SC/7Corps rebuilding 5-ton and 2 1/2-ton trucks. They had a small Armament Shop, Service and Recovery Section, Engineer Shop, and Signal Plt.

1st Maint. Bn. HQ moved to BMF about 1981.

I was the Armament Technician 913A while assigned to the 78th Maintenance Company. The company was commanded by Cpt Frank Diez, Cpt Richard Lake, 1Lt Carlton Smith. All told it was a good assignment.

Most difficult was the housing assignments for most soldiers. It was not at Panzer but at Robninson Barracks in Stuttgart, Nelligan Barracks, Korwestheim, Ludwigsburg, and all points in between. Really rough during alerts, particularly those that used the duty bus.

78th stored and maintained the 1/4 ton, 1/2 ton and the 5 ton floats for 7th Corps. A rebuild program for 8" Howitzers was tasked to the 78th during that time. We had ordered stock to do that and was receiving that when I rotated back to the Sstates. Would be interested in hearing how that came out if anyone knows.
---
1981
(Source: Michael Cabrera, 78th Maint Co, 1981-1983; AAFES, Panzer Ksn, 1984-1988; BMF Snack Bar, 1988-1991)
I originally arrived at the Böblingen Maintenance Facility in the summer of 1981, when I was assigned to 78th Maintenance. Co. We were billeted at nearby Panzer Kaserne & would go to work each morning by bus, or car, to work at our shops at BMF.

At the time, there was no PX, Shopette, or snackbar on the post, just a mess hall & a German gasthaus. A small snackbar was added a short time later.

The only people billeted at BMF then, were the Civilian Labor Group, or CLGs as we called them. They were German civilians that worked on the post in many jobs such as building maintenance & in the heating plant boiler rooms. I know they worked in other positions as well, but it has been too long & I do not know where, if I ever did. They were issued the older U.S. Army cotton fatigue uniforms (we were still being issued the green permanent-press fatigues at the time).

My platoon was the RFI platoon (Ready For Issue). Our job was to rebuild vehicles, primarily jeeps, 880 Dodge pickups, & 2 ½ ton, & 5 ton trucks rescued from military CANN yards (junk yards) Our shop was the largest one on the post & used to be an aircraft hangar (building 2813).

In the winter of 1981, we were moved out of the building into a much smaller one next door for 6 or 8 months, so a German construction company could renovate it. It was a very cold winter, as the other shop was not big enough & many of us ended up working outside in the cold from time to time.

In 1982, or 1983 I think, they moved or disbanded the Civilian Labor Group & for a short time, there were no troops billeted on BMF.

In November of 1983, my enlistment was up & I left Germany to return to California. I was back as a civilian in 1 month's time. I just could not see living anywhere else.

I worked for the Army & Air Force Exchange Service (AAFES) at Panzer for several years, during which time the snackbar at the BMF was enlarged & rebuilt. A barbershop was also added. Later, in 1987 or 1988, I was moved into a supervisory/ management position at the BMF snackbar.

In the meantime, 78th Maint. Company, had become 263rd Maint Co & was now billeted at the BMF in the old Flughafen Hotel. (My snackbar was in a smaller building , #2810, attached to the back. There was also another unit, & a small detachment billeted there at the time.

I worked there until the 263rd was sent to Saudi Arabia for Operation Desert Shield in August of 1990 & stayed for Operation Desert Storm.

At that time, I was informed by AAFES that we would be closing, maybe just until the my old unit returned, or maybe for good, no one knew for sure. I spent my last week there, boxing up supplies & cleaning, all the time hoping I would be opening it up again soon, but that would never happen.

I was only to enter the BMF front gate on two more occasions, when some of the 263rd returned from Saudi, only to packup & leave for their next post in the US.

I stayed in Germany until 1995, when the falling dollar, the U.S. base closings & an overstaffed AAFES-Europe made it impossible to stay, but I will always remember my time at the BMF as one of the happiest in my life.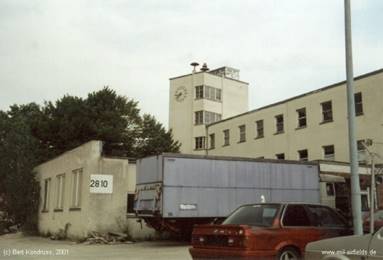 (courtesy mil-airfields.de)
My old snackbar building (photo above - 2810 in the foreground). This is a picture I found online, taken shortly before it was torn down.

An interesting note:
In 1993 I think, the U.S military paid for a complete renovation of one of the barracks (I don't remember which building number, but it was at the far right front corner of the post when you came into the front gate, it was the old CLG barracks). The decision had already been made to turn the BMF back to Germany & the city of Böblingen had told the U.S. military it did not need the building renovated, as it would be bulldozed anyway, but the expenditure had been approved, so the entire building was renovated as a barracks & Germany had to wait until it was finished before taking ownership. I think it was used for a year or two, as immigrant housing, before being torn down.
---
1983
(Source: Marvin Gibson)
I was assigned to the
78th Maintenance Company
from June 1983 through June 1986. It was subordinate to the 1st Maintenance Battalion, providing DS/GS Maintenance on an area basis for non-divisional units based in the Stuttgart area.

The Company operated from two locations: its barracks was located up on the hill in Panzer Kaserne and the shops were located on the Boeblingen Maintenance Facility.

I was the
Service and Evac Platoon
Leader and then became the Company's Shop Officer.

While there we participated on many major exercises such as the Graf Range Upgrade projects for the M1 fielding, also REFORGER 1984, 1985, and 1986. I also remember our TDY trips to our GDP locations near Regensburg.



I have many good memories of this assignment, especially being a young single man in Germany during the early 1980's.

For the record, while assigned to the 1st Maintenance Battalion it had five subordinate units:


HHD in Boeblingen


22nd MNT CO in Heilbronn


586th MNT CO in Ludwigsburg


78th MNT CO in Boeblingen and


229th S&S Co in Augsburg

LTC Sharock and LTC La Grange were the BCs during my time there.

I also remember two of my mentors, 1LT Fred Merchant and 2LT Dave Summerland, as well as my first PLT SGTs, SSG Jiles and SFC Wynn, as well as my RCS SFC Gayle.

I also remember a very pretty 2LT just out of West Point, her name was Elizabeth Ward. I wonder what ever happened to them..

---
124th Maintenance Company
87th Ordnance Battalion
1959
(Source: Email from Paul A. Smith)
I was stationed at Nellingen Airfield with the 124th Ordnance Heavy Maintenance (1959). This later became the 124th Ordnance General Support. We were under the 87th Ord Bn, 47th Ord. GP, Seventh Army.

To the best of my knowledge also in the BN were the --


585th Ord Co (Park)


903rd Ord Co


504th Ord Co


(there was another Ord Company but I can't recall its designation)

When I was there (early 1959) CO was Capt. Lushbaum. He was transferred to BN as supply officer.

We then had the honor, privilege or whatever to be commanded by Captain Billie E. Searles. This guy was real GI. He had more medals than any of us had ever seen. He was a good CO.

I left for home in March of '61. All in all in was a tremendous experience. Don't regret one day of it. Lots of great memories.

If any one remembers the bar outside the lower main gate....the La Paloma. I ran into the owners at a social gathering in New Jersey. Boy did we have fun talking of old times.

Another one of my assignments took me to Bad Tolz and Lenggries. They are also long gone. These were beautiful Kasernes. Never touched during the war. My CO in Bad Tolz was Clovis J. Snyder.
Hope I may have filled in some historic holes
---
1st Maintenance Battalion
1976
(Source: Thomas Rowan, 124th Maint Co & 1st Maint Bn)
I was a 63H (Automotive Repairman – Tracked & Wheeled) and was in Mechanical Maintenance Platoon. Sergeant First Class Young was our platoon sergeant. I don't remember who our platoon leader was.

I was then moved to Technical Supply Platoon. I worked for Staff Sergeant Kruk. SSG Kruk was my squad leader and NCOIC of the Cannibalization Point (this has been mentioned in other posts on here) that we maintained for the Stuttgart area. SFC O'Connor was our platoon sergeant.

Then the the "red-headed Lieutenant" showed up a few months before I ETSed. We had several Women Army Corps personnel in the company but they were enlisted like we were and were mostly clerks at "The Plant." Others were in the Headquarters platoon with a few truck drivers in the Service & Evacuation platoon. Yes, the women were still called WACs in 1976-1977. I guess she thought she had to "prove something" being a female in a predominantly male unit...but she over-played her hand and no one liked her.

Also, some one mentioned First Sergeant Davenport. He came to the unit about two-thirds of my time in the 124th. Enough said about him. I also noticed in one of the previous posts that CWO Kanashiro was mentioned. He was at Panzer in the 124th when I was. Across from "The Plant" was a German Kassene & we had a rail head at BMF.

The 124th & 78th Maint Cos. were billeted on Panzer Kaserne. We were bussed to downtown Boblingen to "The Plant". Then were were bussed back up at the end of the day. Also, there was an hourly shuttle bus going back & forth. We had our own cooks that only cooked lunch for us down at "The Plant" (good duty if you can get it). We ate breakfast & dinner at the 4/73 Armor's mess hall up the street from our barracks. We lived on Panzer Kaserne but had nothing to do w/any of the two units of the 1st I.D. that were also posted there.

The story I got whilst there was that the BMF was originally the Stuttgart Flughafen. During the war, it was a Luftwaffe fighter base. This would make sense because the area that were the runways was where we had our regional cannibalization point for the Stuttgart area because of all of the space. And Stuttgart being an industrial center, and was bombed into rubble during the war, would have a fighter base nearby. Also, there was the remains of the tower and the waiting area of the airport which was our mess hall and the like. Also, we used some of the old airplane hangars. When I was there I worked in one. Also, our Technical Supply Platoon worked in one which was used as our parts warehouse.

After the war, Mercedes-Benz took over the BMF & produced cars there until they built their present location in Sindlefingen which is right next (I mean cross a street from Boblingen to Sindlefingen next to each other). Diamler-Benz then leased the BMF to the U.S. Army for, I heard, a dollar-a-year.

Across the street from the BMF was the "German Army" kaserne. We really had no interaction with them except for a once-a-year "friendship" thing in the summer where we all went over there and everyone stood around like freshmen at a dance until we could go back across the street to "The Plant". I attended one of these in the summer of 1976.

---
(Source: Email from Jeffrey Ressler)
I was stationed at Panzer Kaserne from April 1976 to Aug. 1978 in the 124th Maint. Co.

I started out working in the section that dis-assembled all sorts of vehicles to take out the usable parts for rebuild. I then moved on to the Military Standard Engine platoon (MSE).

My first job there was to disassemble small engines ranging in horse power from 1.5 to 20 hp. I quickly moved to the other side of the shop where these engines were rebuilt and test run before being sent out as finished units.

After being promoted to Sergeant E-5, I was put in charge of the 5-ton truck transmission rebuild shop.

I was not sure that the 124th still existed and was glad to see that at least by this web site that it does. It is my understanding that the Mercedes Benz factory that used to be across the autobahn from the Maint. Plant has expanded across the autobahn and now occupies the Maint. Plant which used to be the base of operations for the 124th and 78th Maint. Companies.

Any information you might have for me as to what is still happening with either of these Companies would be of great interest to me
---
1977
(Source: David Losee, 124th Maint Co, 1977-80)
I was assigned to the 124th Maintenance Co. from January 1977 to August 1980.

We were barracked at Panzer Kaserne and worked at the BMF (Boeblingen Maintenance Facility). We were billeted with the 4/73rd Armor and 1/16th Infantry battalions. M60A2's and M113 personnel carriers were the heavy equipment on post.

At the BMF, the 124th was a sister to the 78th Maintenance Company. Both companies were depot repair providers.

The 124th had the following shops:
* MSE (military standard engine) - The Hercules generator engines. We rebuilt 1.5hp, 3 hp, 6 hp, 10 hp and 20 hp engines;
* 5-ton truck transmission rebuild shop;
* The M880 (Dodge Pick up) engine and transmission rebuild shop;
* The 1/4 jeep rear end shop;
* F&E rebuilt distributors, fuel pumps and carburetors);
* The packing and crating shop for shipment of all the materials that had been rebuilt;
* The warehouse managed the surplus weapons arms room, maintained inventories of all incoming and outgoing equipment, and supported the armored and infantry divisions at Panzer Kaserne;
* The Evac crew ran the 747/746 Heavy Equipment Transport (HET), an M88 recovery track, and several 5 Ton wreckers and lowboys. Within Evac there was also the crane crew which loaded and unloaded incoming surplus vehicles at the railhead. Such as the 5/4 tons that were turned in after the arrival of the Dodge pick ups. I recall most all of these loaded and sold to the Greek army.

I worked my way through each of the operations including operating and maintaining the HET's.

Commanders were Capt. Wilkins (?); Major Turner, and 1st Lt. Ogden. First Sergeant most of my 44-month tour was Davenport.

There were three warrant officers I recall: W1 was Faust and Rhodes, and there was a W4 that I cannot recall his name. The other W4 I was stationed with also at Ft Ord where he retired and we road Harleys together and that was Leslie Kanashiro.

If I think of anything else that is worthy I'll send you a note.
---
(Source: Email from Donna Van Dorn - Libbey)
I found your page and was thrilled to see it. I was one of the FEW women stationed in Panzer with the 124th. I was stationed with the Service and Evacuation Platoon - first as a wrecker driver then a Semi 5 ton driver delivering rebuilt parts all over Germany (logged 98,000 miles before I went home on a medical discharge - I'd gotten married in May and ended up Preg.) My husband was Sgt. Kent Libbey with the 78th but assigned to our company as a wrecker driver. He was shipped back state side before we found out I was Preg.

I was there when Cpt. Butterick was in command, and before I left Lt. Hutchinson. He was our Platoon leader when I got there, then he left and came back as a Cpt.

When I got there both the 78th and 124th women were billeted together on the TOP floor; when I came back from leave in May they'd moved all the women to the first floor and took the 78th women over by the PX.

I had several roommates, Sgt. Anna that worked in the Rebuild shop, SP4 Karen Hawley -- she was a cook, that we remained live long friends.

We talked though the years and I lost my leg from a car accident May, 11 2006 and went home on the 16, talked to her that day and her daughter said she closed her eyes and passed on.

So many happy Memories. I'd love to go back to that part of Germany. Loved that Gasthaus (the Voldhime in the woods)

There was a lot of guys in our section I wish I could locate - Paul Crewe, Sgt. Carroll, Galen Foster.

Sgt. Roger Matthews (I know he passed away; he was our Bus driver to and from base daily).

ADDITIONAL INFORMATION:
The installation map brings back memories;

124th and 78th shared #2915 when I got there in July 1976 and we'd hold Morning Formations in the parking lot across the rd. 78th personnel occupied the North end; 124th the South end ,with ALL women in the top end South side.

#2913 was Mess Hall for Us and I assume others.
#2916 was NCO Club and they had a Pizza shop there.
#2900 North end Gate was MP main office
#2901 Was their (MP) Barracks
#2941 Was the Catholic Church or at least where I went
#2941 I think was the PX but I remember that had like a place to grab lunch or sandwiches and made the best Philly's there
#2948 is where I went for Dental and I think Medical too, or they were both side by side in buildings.

When I came off Leave in June 1977, they had moved the 124th Women DOWN stairs on the North end of the South side and taken the 78th Men and Women and moved across base to building 2961.

I remember it well because I came back and all my stuff had been moved to a room down stairs, and my room mate, a cook at the plant, was gone and I got stuck with a gal name J. Any ways within 2 months she came in one night starting throwing shit around and attacked me. I moved my bed to the CG station and slept on the floor. My my Platoon Sgt came in and FOUND out. They did a piss test and literally she was GONE the same day.

I can expand on some of Losee's email (see above). I was in the Service and Evac and I ran a wrecker when I first got there. Then I was assigned to my own 5-ton and ran Lowboys and box trailers hauling all the Rebuild parts to different parts of Germany - Mannheim, Germersheim, and you name it.

We operated the "junk yard" and our Crane crew consisted of Sgt. Earl Davis from Panama (he'd been in Viet Nam and so many places). He had been Pathfinder there. In fact our Platoon had a lot of those, it was scary. At one of our Guasthaus trips it came up and they all said they'd ask for it, they were short timers, (under 3 yrs for the most part) and just wanted something simple.

The main Bus Driver was Sgt. Roger Matthews (Sgt. Matt) and he was our main driver for the 747/746 and I was the Head Escort driver for any missions where the those big trucks went out. Sgt. Carroll was in our Machine shop, Sgt. (Sp4.) take your pick he went up and down on a fairly regular basis. Jim Record was sort all over the place. Sgt Paul Grewe drove truck, Pvt. Pearson worked in the motor pool that was also part of the Unit where we sent ones that didn't have a Drivers permit. Sgt. Willie Keith worked out in the yard. Sgt Gaelen Foster was another Semi driver like me. I really need to find my Pictures.

When I came back from getting Married in June 1st, 1977, Sgt. Jones had assigned my semi to someone else and I got put in as clerk (Jones didn't think a woman should be doing that) of Service and Evac platoon. I then did all the work orders for the Machine shop, log books for the semi, Escort Driver for any thing that needed it going out, since I'd been a Semi Driver I knew the routes. I also drove for the Company Commander, just anywhere they needed a Jeep driver too. (I have to admit I hated Sgt. Jones for that) but I was with my platoon that I loved. We got a WO4 in 1977, he was quite the "person". Coming in on Monday's with black eyes, LOL.
---
1982
(Source: JOBBER, February 26, 1982)
1st of the 1st

By Robin Hawkins
Army vehicles take a big beating. After they can no longer be repaired by a unit mechanic, VII Corps units evacuate those vehicles to the experts at the 124th Maintenance Company, 1st Maintenance Battalion at the Boeblingen Maintenance Facility.

The 124th supports VII Corps by repairing and maintaining 13 major items, from tanks and deuce-and-a-halfs to equipment like generators. Parts from all types of tactical and combat vehicles, including track vehicles are repaired.

One of three USAREUR units operating under the CRE (Collection, Reclamation and Evacuation) concept, the 124th is one of the oldest units of its kind. The unit company runs on a program divided into three sections; the Collection and Classification Platoon, the Exchange Platoon and the Service and Evacuation Platoon.

The Collection and Classification Platoon consists of the Inspection section and evaluates equipment for repair according to economic feasability. The unit must not exceed 65 percent of the total cost of what it would cost to replace the items completely. The Disassembly Sections are responsible for removing usable items from junk vehicles, cleaning them and returning them to technical supply or shipping them to repair sites. The Heavy Material Storage and Shipping Section is responsible for requesting disposition of items - either they will be sent elsewhere for repair or disposed of. This section also operates the Cannibalization Point which is part of a vast holding yard of more than 20 acres of both good and unserviceable vehicles from which useable parts are removed. These parts fill requisitions from units throughout VII Corps.

The Exchange Platoon is tasked with the storage and shipping of procurement army items (direct exchange items), operating the crating and packing system and ordering and issuing parts for repairs.

The 124th also operates TARP (Theater Army Repair Program) which services M-577, M-578 and M-60 track vehicles along with five-ton transmissions.

The soldiers who make the 124th Maintenance Company what it is sometimes must work in unheated garages with a shortage of parts and facilities. Still, they service items like engines, transmissions and generators, cleaning them up and painting them till they appear almost like new. The reincarnated parts are then boxed in crates built by the units in its own carpenter shop and sent out to do their work for VII Corps.

Mechanics of the 124th work on a system of "follow through" dedication, repairing engines then testing the work they have done in the unit's testing facility. The 124th maintains not only vehicles and equipment, but also the motto that they are "First of the First" in all their operations.
---
(Source: Stuttgart Citizen, Sept 5 1983)
Repair platoon proud of accomplishments

By Patrika McNeil

Imagine having a job that not only pays you but saves you money as well.

It's not a situation many of us are aware of, but when you think about it, that's the case for Army mechanics. The skill they learn in the Army is a skill that can save them money lifelong.

"The job of our mechanics is to repair 1.5 to 20 horsepower (hp) engines or competely rebuild them if necessary. Learning to perform this job proficiently not only saves the Army money, but can save the soldier money as well," said CWO 2 Robert Tallent, maintenance techincian, 124th Maintenance Company, Boeblingen Maintenance Facility. "A major portion of our job entails rebuilding engines that power small generators or other types of equipment and rebuilding various components that belong in the fuel and electric system.

"We are the Component Repair Platoon (CRP) of the 124th Maintenance Company and we are broken down into two sections within the platoon," he explained. "Our sections consist of the Military Standard Engine (MSE) (section) and their job is to rebuild engines, and the Fuel and Electronic (F & E) section and their job is to rebuild small electrical and fuel components.

"When we get engines in that need to be replaced, they go to the MSE section. We receive these engines from various units that have small generators and other military equipment. Once the engine goes bad they send them to us and we repair or replace them. Initially, when we receive the engine, one of our mechanics will evaluate the overall condition of it. Sometimes an engine will come in that may only need a carburetor or a head and if that is the case we would only replace the part(s) required. But most often we must rebuild the whole engine," he pointed out.

"The mission of the F & E section is to rebuild small electrical and fuel components. They service every type of vehicle the Army has and replace or rebuild such parts as distributors, fuel pumps, injectors, injector pumps and carburetors just to name a few. The F & E also rebuilds batteries out of any type vehicle," he said.

"All in all, I'd say we have a pretty good operation here. Our staff varies between 20 and 40 people, but regardless of the amount of people we have, we usually rebuild 1,000 engines per year," Tallent said. "This doesn't include all the parts replaced on engines or parts replaced in the electrical system, this is strictly the amount of engines we rebuild. I'm glad to say we usually get our job done ahead of schedule or right on time," he said. "That's saying a lot considering we have people coming in straight out of Advanced Individual Training (AIT), who need additional training.

"Usually when we get a mechanic who's coming from AIT, we would assign him/her to an experienced mechanic in the unit. We would do this for a period of two weeks to two months because AIT only briefly familiarizes soldiers with mechanics, and we want them to learn the specifics of the engines we're building. After these soldiers receive this additional training we usually let them work on their own," he added.

"Normally when you mention the word mechanic, people automatically assume you're talking about men. When I say mechanic I'm talking about women as well because we do have female mechanics. I have to admit that the first time I worked with female soldiers I was kind of skeptical as to whether they could handle a job in mechanics," he admitted. "Now that I've worked with them I know for sure they can perform with the best of men. As a matter of fact, I have female soldiers right now who are producing as much as my best male mechanics.

"I must say I'm very proud of my soldiers because they are dedicated workers. There's no way anyone could make me believe I don't have the best mechanics in the Army. My mechanics stay with a job until completed. I'm speaking of quality production in a small amount of time. It only takes my mechanics two days to completely disassemble, repair or rebuild, and reassemble the engine. No one could ask for a better job performance and I'm glad to be working with good soldiers like my mechanics," he concluded.
---
(Source: JOBBER, April 23, 1984)
Introducing new trucks into USAREUR

By Mark Heinz

New from A M General, it's the M-939 series five-ton truck. Comes complete with air brakes, model 250 Cummings engine, and an Allison automatic transmission. Some assembly required.

Since October 1, 1983, the 124th Maintenance Company, 1st Maintenance Battalion, has received and
deprocessed more than 600 of the M-939 series trucks, and that figure is expected to reach 800 by the end of April. It's their initial fielding in Europe, and the 124th Maint. Co. deprocesses all of the trucks for VII Corps and the 56th Field Artillery Brigade.

The M-939 series consists of seven different models. Most of the models being deprocessed for VII Corps are
the M-923, a standard five-ton cargo truck, and the M-931, a five-ton tractor. Other models being deprocessed
are the M-925, which is a M-923 with a winch, the M-927, a long-bed truck, the M-928, a long-bed truck with a winch, the M-929, a dump truck, and the M-932, another five-ton tractor.

Most of the trucks arrive at Bremerhaven or Rotterdam and are sent to the Boeblingen Maintenance Facility by rail. A few are delivered by commercial transport.

About 36 members of the company form a special platoon which begins the deprocessing by unloading the trucks from the railhead. The platoon is divided into four- to eight-man teams who strip the tape from the vents, and perform minor assembles such as installing the canvas top, windshield wipers, exhaust stacks and spare tire boom.

Something like an extensive Preventive Maintenance Checks and Service is then performed, consisting of 94 checks on the vehicles' functions and fluid levels. A routine deprocessing requires approximately six man-hours.
About 10-12 trucks are deprocessed daily, but the platoon can deprocess as many as 20 vehicles daily when necessary. After deprocessing, the trucks are stored in the Code B lot where they wait for the customer units to claim them.

In the large bay where the trucks are deprocessed, the work is sure and steady. While walking to lunch at 11:30 a.m., Pvt. 2 Richard Hayden said, "They keep us busy. I don't get bored. The last time I thought about the time it was nine o'clock."

Sp4 Virgil Weedman said, "After a while it gets to be routine, but at least I know what it's about. I feel competent. My favorite part of the operation is unloading them (the trucks) off the railhead. It's a lot of physical work, and it's outside. It's a change of pace and a chance to get out of the shop for a while."

The primary mission of the 124th Maint. Co. is to maintain a classification, reclamation and evacuation point for VII Corps, a place where vehicles are inspected and classified according to their condition and operability. Deprocessing the M-939 series trucks is an additional mission for the company, and one that their wheeled vehicle mechanics are well-suited for.

The deprocessing platoon was the Component Repair Platoon before the special tasking, and at least one soldier misses his usual line of work. Sgt. Herbert Oliveira stated, "It's more like a new car dealership than anything, taking them off the railhead and preparing them for delivery. It gets boring sometimes, doing the same thing over and over, but I don't mind. It's a new truck just now getting introduced in the Army, and I'm getting introduced to it."

---
263rd Maintenance Company

---
586th Maintenance Company
1983
(Source: Email from Robert Rorick)
I was stationed at the 586th Maint Co from 1983 to 1985 and again in 1989 to 1992. This was the most fun and the best time I ever had.

I was in the Maint. shop part of the contact team that supported the 32nd Trans on Flak Kaserne (Ludwigsburg) and then in the recovery section.

I miss Germany. I had a chance to visit Ludendorff about 7 years ago -- there were 4 buildings left: the gym, the dinning hall, and the two buildings, one on each side of the gate. It was sad. Seemed like part of me was being torn down.
---
1985
(Source: Email from (R) W. Lopez)
I was stationed with the 586th Maint Co from 1982-1986 and was on several REFORGER's and at many missile sites.

I was with the Small Arms shop, along side Bill Foote and Jim, I also remember Sunshine, Nina, Jennifer, Mike, Paul, Mark, I can still picture our 1SGT and the commander who kicked in a M151 window.

Have a lot of good memories in Korwestheim, got married to a girl from Ludwigsburg had a son here also, love it so much that when I retired in 2000 I returned and am currently still here. Still married to the same girl. and still in contact with Paul who also lives here in Ludwigsburg and also see Mike from time to time who also lives here in Ludwigsburg.

I was on a contact team. Actually we were a contact team of not more than 3 or 4 persons as our shop was never that big as I can recall. Pretty small for a GS/DS small arms shop, but we had a large community to support at the time there were somewhere around 25 or more Kasernes in the Stuttgart area; 15 or more just in Ludwigsburg area alone, of which were some of the main Battalions or companies that worked within the greater Stuttgart region.

We also we went to Crailsheim and Gross Sachsenheim missile sites at least once a month. I remember they had problems with bent barrels and front sights. They would drop their rifles from the towers or close the doors of their trucks on them when they hung them from the inside window latch upside down.

Some of the people I also remember are 1Sgt Mcfarlan, D. Nichols, Dan Fulkerson, Dave Tucker, and SSG Robertson who was the Mech Maint Plt SGT at the time. Another very good friend was my first roommate Paul who showed me Germany like a true young soldier should know it, and that's why I loved it so much and moved back after retiring. To this day we are still friends. He also married my wife's best friends.
---
1987
(Source: JOBBER, Nov 9, 1987)
Whatever, whenever, wherever

by Robert Mitchem

Their battalion's motto is "First to maintain." However, if the 586th Maintenance Company, 1st Maintenance Battalion, should ever decide to develop its own motto, a phrase which embodies its soldiers' attitude about their mission and function in the Army, it could be: "Maintaining -- whatever, whenever, wherever."

The 586th supports a large number of military units in and around the Ludwigsburg/Kornwestheim and Greater Stuttgart Military Communities. A good percentage of them are other 2nd SUPCOM units, but many of them aren't. The company supports Military Police units, signal units, engineer units and many others.

The heart of the company's service and support lies in four sections: the Direct Support (DS) shop, the Communications Electronic/Ground Support Engineers (CE/GSE) shop, the Service and Recovery Shop, and the "586th Crailsheim Detachment." Each section is responsible for third echelon maintenance in their respective areas.

Yet, what really matters, is that in their fields of maintenance and service support, not only do the sections provide their service whenever it is needed, in many cases, they will also provide the service wherever and on whatever needs it.

According to SFC John Fitzgerald, NCOIC of the DS shop, his section has a small arms repair (armament) shop with turret maintenance capability and a battery shop. He also has a fuel and electric shop and an automotive maintenance shop for wheeled vehicles. The automotive shop tests, diagnoses, and replaces engines, axles, transmissions, transaxles, and transfer joints. "We work on everything from bumper to bumper," he said. "The only thing we don't do is work on the people."

According to Sgt. Debra Crumbley, four maintenance shops fall under the CE/GSE acronym. Aside from the Communications Electronic Shop there is also a Generator Maintenance Section, a Refrigeration Section and authorization for two Engineer Support Teams. Crumbley is the NCOIC of the Generator Section.

"The Refrigeration Section works on both refrigerators and air conditioners with the bulk of their work being on air conditioners," said Crumbley. "In my section, we work on all types, from 1.5 to 100 kilowatt generators. The only thing we don't work on is the engines. If those go bad, we send them to the 8905th Civilian Support Group for repairs."

The Engineer Support and the Communications Electronics Sections, both provide off garrison support. The Engineer Support Teams provide "road side" automotive maintenance support or wrecker support as needed and, the CE Section provides electronic maintenance support to its customers both on and off post.

CE provides "direct support maintenance on all Army radios, tactical switchboards, teletypewriter equipment and special electronic devices such as mine detectors and night vision devices," said SSgt. Duncan E. Ward, the CE shop supervisor. "We provide contact teams for the units we support when they go to the field -- if and when our assistance is requested. And, there have been times when our soldiers have volunteered to accompany a unit headed for the field," Ward said, noting that this is not due to a shortage of work in garrison. "We usually average about 150 jobs a month, and when we're at full strength we have about 25 people available to do them."

"The Service and Evacuation Platoon is open and available for pickup and delivery 24-hours a day," says SFC John Fanning, NCOIC of Service and Evac. "We are set up to roll and recover any type of vehicle out there, at any time we are asked to do so," added SSgt. Wayne Jordan, the shop foreman.

"Our biggest customer is the 4th Transportation Battalion but we are prepared to assist any unit in the Ludwigsburg/Kornwestheim Community," said Jordan, adding that his shop is on record for servicing approximately 45 different units. "A lot of our missions are heavy equipment transport," added Fanning.

SP4 Carlos Carr, a motor transport operator, has spent a good portion of his 20 months on German soil working for the Service and Evac Platoon as a Heavy Equipment Transport operator. The young soldier is full of stories and anecdotes about slidings, sinkings and near misses, but so far, no accidents.

"I like my job," he says. "It's never the same. Each day we do something different. The only thing that's always the same is the autobahn. But once you pull off of it, there's always something different to watch out for. It gets wild out there sometimes, but it stays interesting," he said.

The Service and Evac Platoon also provides canvas repair, welding, body repair, radiator repair and machining wherever it is needed. According to Jordan, his section supported REFORGER by sending a 4-man contact team to a small town near Bremen to do canvas repair work.

In order to provide more expedient track, wheel and turret maintenance support to Headquarters, 7th Support Group; the 4/12th Air Defense Artillery (Webmaster note: this is probably an error on the reporter's side; should be 4th Bn, 12th FA (LANCE)); the 501st Ordnance Company, 101st Ordnance Battalion; and D Company, 34th Signal; the 586th has a detachment of approximately 20 soldiers billeted at McKee Barracks in Crailsheim. According to SSgt. Edward Payne, the detachment NCOIC, the soldiers spend a good amount of time on the road.

"We're situated over a hundred kilometers away from the main company and our parts support. We do all of our paperwork, DX, delivery and pick up in Ludwigsburg," said Payne. "And, the 4/12th keeps us pretty busy especially when they go to the field. For that, we've got contact teams.

The 586th is on record for having one of 2nd SUPCOMs highest Standard Installation Personnel (SIDPERS) ratings of the 1987 fiscal year. According to Sgt. Regina Morgan, the company PSNCO, it has been a real job keeping track of the company's nearly 250 soldiers and maintaining the timely submission of its personnel duty status to her "higher ups." "Each transaction needs to be reported the day of, or the day after an activity," she said. "If they are reported late, it takes away from your percentage." Not an easy task for a company whose soldiers at any given time can be doing whatever, whenever, wherever.

---
Related Links: