If you do NOT see the Table of Contents frame to the left of this page, then
Click here to open 'USArmyGermany' frameset
22nd Signal Brigade
V Corps
Looking for more information from military/civilian personnel assigned to or associated with the U.S. Army in Germany from 1945 to 1989. If you have any stories or thoughts on the subject, please contact me

.
---
---
Brigade Introduction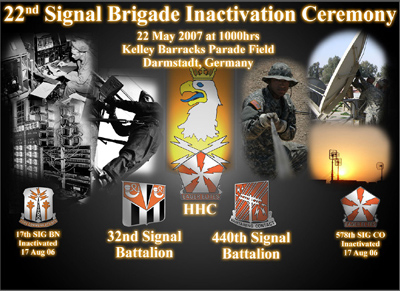 1963 - 1988
(Source: Welcome to the 22d Signal Brigade. The Welcome Edition of the "Voice of the Corps" newspaper, 31 October 1988.)
History of Brigade as colorful as patch
The history of the 22nd Signal Brigade is as colorful as the patch we wear today.
Originating as the 22d Signal Service Group in 1945, the unit took part in five campaigns in the Korean War and earned the Meritorious Unit Commendation and Streamer. The Group was inactivated in Korea in 1955.
In 1961, the U.S. government recognized the urgent need for a unilateral U.S. communications system to provide the Commander-in-Chief, US European Command, with the capability to communicate with US units supporting NATO. This resulted in a Defense Communications Agency (DCA) plan to improve US-NATO communications via a joint military-operated radio system.
The Army portion was designated the
European Troposcatter-Army System
, or ET-A. The 22d Sig. Bde. was to play an important role in the establishment of ET-A.
The
22nd Signal Group
was activated on 19 August 1963 in Germany
In Feb. 1964, the newly organized 22d Signal Group assumed its first operational mission by taking over the
Edingen High Frequency (HF) Radio station
and eventually 43 planned HF sites.
By Aug., the group had become a subordinate unit of the U.S. Army Strategic Communications Command, Europe.
From the mid-fifties until 1966, strategic microwave trunking in Northern Europe was handled by the 102d Signal Battalion, a 22d Group subordinate unit. After France's decision to withdraw from NATO, the 102d moved its colors to Frankfurt and assumed the mission of operating telecommunications centers and dial direct offices. The group had taken a big step - from operation of strictly command and control oriented communications to all strategic microwave communications in Northern Europe.
1967 was a year of hectic organizational activity. In July, the 447th Sig. Bn. moved to Baumholder and the 360th Sig. Bn. was rebuilding after its stand-down in France.
The unit was changed from TOE to TDA organization and redesignated Signal Group 22 in Sep., 1967. By the end of the year, the US Army STRATCOM facility in Pirmasens was added as another subordinate unit and became known as the Automatic Switching Center (ASC), the only AUTOVON switch north of the Alps until 1973.
An AUTOVON switch was activated in Donnersberg in 1969 as part of a program to bring CONUS (continential U.S.) - style AUTOVON service to Europe. Technical difficulties were overcome and, in June, the switch was cut over to traffic.
Members of Signal Group 22 were called upon to react quickly on May 24, 1972, when a terrorist bomb exploded in the parking lot at Campbell Barracks, USAREUR Headquarters. The explosion totally destroyed the microwave system between Heidelberg and Donnersberg, but within 30 minutes, many high-priority circuits were back on line.
The group continued to grow and its last year was one of additional responsibilities and changing missions. The Interim Wideband Secure Voice Communications System was activated through the Corps microwave links. Satellite terminals were upgraded and communication responsibility by function gave way to responsibility by area of operation.
On Aug. 12, 1974, the 22d Signal Group's colors were unfurled for the last time.
Concurrent with the inactivation, a Department of the Army initiative set in motion the planning for Echelon Above Division (EAD) which resulted in the Sig. Bde. concept. A provisional brigade was established and on Sept. 16, 1980, the 22d Sig. Bde. was placed on the active rolls.
Six months later, the 22d Sig. Bde. (Corps), a major command to Headquarters, V Corps, was activated. The brigade consisted of three battalions: the 17th Sig. Bn. (Command) 32d Sig. Bn. (Radio), and the 440th Sig. Bn. (Area).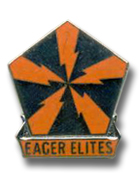 22nd Signal Brigade DUI
The brigade headquarters, along with the 17th and 32d Sig. Bn.'s were headquartered in Hoechst, while the 440th remained in Darmstadt.
Under a reorganization in 1986, communication, information management and command control automation functions were consolidated under 22d Sig. Bde. control.
Today, the 17th Sig. Bn.
(1)
remains the command operations battalion, providing support to the Main and Tactical Command Posts.
The 32d Sig. Bn.
(2)
was reorganized to an area battalion and it and the 440th became identical in equipment, personnel and mission capability.
The 440th Sig. Bn.'s
(3)
Delta Company was deactivated and the personnel and equipment redistributed within the brigade.
Since activation on March 16, 1981, the 22d Sig. Bde. has been commanded by Colonels Theodore W. Hummel, Joseph D. Schott, Ronald D. Conte, and Robert M. Reich.
Present Brigade Commander, Col. Dale E. Fincke, assumed command on March 22, 1988.
Today, the 22d Sig. Bde.'s 1,900 soldiers remain committed to providing the V Corps Commander with the necessary C-3 to fight, sustain and win the Corps AirLand Battle, anywhere, anytime, under all expected conditions in support of NATO's Central Army Group (CENTAG).
(1)
The 17th Signal Battalion was reactivated on July 5, 1950 at Karlsruhe, Germany.
It was inactivated September 25, 1965.
On March 16, 1981, the Battalion was reactivated under the 22nd Signal Brigade at Höchst, Germany, and entrusted with the mission of providing Command and Control Communications to the V Corps (US) Commanding General and subordinate units.
In December of 1992 the Battalion moved to its current home on Larson Barracks in Kitzingen, Germany. More about this battalion will be posted in the future on the
17th Signal Battalion Page
.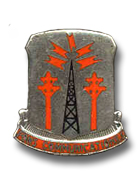 17th Signal Battalion DUI

MISSION:
The battalion provides tactical communications consisting of automatic voice switching, automatic staff message center services, telecommunications facilities, radio teletype, FM radio retransmission, radio and wire integration and motor messenger for the V Corps Tactical, Main and alternate Command Posts and for the 3d Support Commander and staff at the V Corps Logistical Operations Command Post in order to concentrate the combat power of the Corps.
(2)
Reactivated January 28, 1955 at Darmstadt, Germany, as the 32nd Signal Battalion (Corps).
In 1956, relocated to McNair Kaserne, Frankfurt-Höchst.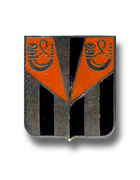 32nd Signal Battalion DUI

MISSION:
The battalion provides three Area Signal nodes and related multichannel facilities as part of the V Corps Area Communications System and provides access to the network and signal nodes for the 3rd Armored Division and the 11th Armored Cavalry Regiment.
(3)
440th Signal Battalion was reactivated and headquartered in Kaiserslautern, Germany, in 1961.
Eleven years later the colors were moved to Darmstadt, the battalion's present home station, where the 93rd Signal Battalion was redesignated as the 440th Signal Battalion.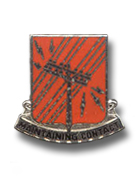 440th Signal Battalion DUI

MISSION:
The battalion is one of two Corps Area Signal Battalions which provide three Corps Area Signal Centers to form a portion of the backbone for Corps communications systems. It provides telephones, teletypewriters, facsimile, radioteletype and other data services for the 8th Infantry Division, 41st Field Artillery Brigade and elements of the 3rd Support Command.
If you have more information on the history or organization of the 22nd Sig Bde, please contact me

.

---
1963
(Source: Email from Ballard Fleming, 22nd Sig Gp)
I served with the
22nd Signal Group
in Mannheim, Germany after it was first re-activated there. Before the Group was activated, we had a unit formed, called "Special Ammunition Support Battalion." I commanded the unit upon it's activation as a Major. Mostly, the work was getting facilities organized at Taylor Barracks, Mannheim, Germany, so that we could get the Group activated and settled in there.
The first "real commander" of the 22nd Signal Group, reactivated, was Colonel Donald R. Hodges. He was a real fine gentleman.We served under the, at that time, Army Strategic Communication Command. After the unit was activated as 22nd Signal Group, and the Special Ammunition Support Battalion was phased out, I served as the Group S4, along with CWO Paul Leary. Paul now resides in Maine and we do occasionally correspond. There are others that I remember; however.
I retired at the end of 1965 and moved to Omaha, Nebraska to attend the University of Nebraska, Omaha for a business degree. Having done that, my family and I settled down here and have resided here ever since.
Regarding the
Special Ammunition Support Battalion
, it wasn't much of a unit just headquarters personnel doing the job of preparation for activation of the 22nd Signal Group. The word "Special Ammunition" sort of gives it some meaning. We were going to establish communication links to all of the non-U.S. NATO based personnel in Germany and down to part of Italy. (See
email from Bob Wooten
who explains some aspects of the
Cemetery Net
.)
The
main axis
was across from England, I forget where, North and South from Bremerhaven to somewhere in Italy. It may have been Livorno, not certain. Anyway, from these towers in the main line, North and South, the units being supported would be supported by microwave shots going out from the main axis.
While I was commanding the Special Ammo Support Bn, I had to visit France for an inspection of one of the units and, sadly, upon my return the Sergeant Major, Dan Robbins, passed away. The unit went out for an annual physical test and he exerted himself too much and had a cardiac arrest. That's the only incident of a sad nature that I recall while there.
Actually, the first one to command the 22nd Signal Group was a Lt. Col. Martin O. F. Schroeder. He was only in that position for a few months and a bit later on there was another individual whose name I don't recall, a Lt. Col, who took over from Lt. Col Schroeder. He, too, was only in there for a few months and, finally Colonel Donald R. Hodges arrived and assumed command.
It was at this point that the subordinate units, consisting of 2 battalions, were formed. I don't recall their numbers (
Note:
68th Sig Bn and 447th Sig Bn). One of them was in the BOAR area (British Army on the Rhine) and it was commanded by a Lt. Col. Underwood, first name I don't recall. The Operations Sergeant was CMS Gerald R. King. He was one fantastic person, tremendously helpful with his background in electronics.
Shortly after setting up at Taylor Barracks, after the 22nd Signal Group was activated, they established a school, using part of the headquarters building, and from that school they taught the men who would be going out on site the intricacies of the
Tropospheric Scatter System
that we were going to take over from the ITT (International Telephone& Telegraph). They were installing the system.
So, this is where the first introduction of
AUTOVON
and
AUTODIN
came about. I remember most of the sites, and made it a point to visit all of them to the extent possible. Bremerhaven, Stein, Lindehofe, and one near Heidelberg, up on a pretty high mountain, sorry, forgot it's name. Then there was Black Forrest, which was an attractive location, but I knew it would be tough on troops... They lived in a German Resort area....
ORGANIZATION (1964):
| | | |
| --- | --- | --- |
| UNIT DESIGNATION | DUTY STATION | COMMENTS |
| HHD, 22nd Sig Gp | Taylor Bks, Mannheim | |
| 68th Sig Bn | | |
| Hq/Hq Det | Airfield, Nellingen | |
| A Co | Neureut Ksn, Karlsruhe | |
| B Co | Nelson Bks, Neu Ulm | |
| C Co | Pendleton Bks, Giessen | |
| 447th Sig Bn | | |
| Hq/Hq Det | Prüm | |
| A Co | Prüm | |
| B Co | Linderhofe | |
| C Co | Bremerhaven | |
| 32th Sig Sv Det | Camp Darby, Leghorn | |
---
1964
(Source: Email from Steven Schlaffman, HHC, 22nd Sig Gp, 1964-66)
I was stationed with HHC 22nd Signal Group, from January 6, 1964 to June 1966. While at Taylor Barracks, I was assigned to the Personnel Section under the direction of CWO Ralph T. Jackson, and SFC John Rasso, the Personnel NCOIC.
My timing for this assignment was perfect as I was in on the ground floor for the total organization of the overall group.
Some of the names that come to mind was the Group XO, a Major Gibney. Following Col Schroeder was a Lt. Col. Sable, then Col. Hodges.
Initially, there were two Battalions (68th and 447th Sig Bn), which you previously identified, and a Signal Detachment (32nd Sig Svc Det) in Leghorn (Livorno). The Northern Detachment was assigned to St. David's Kaserne outside (Darmstadt). I had occasion to visit there once and found the British troops very professional and cordial.
Sometime in early 1966, a reorganization resulted in most the group staff being reassigned to the 510th Signal Service Company which was moved to Coleman Barracks. Shortly thereafter I was returned to the USA for discharge at Ft. Hamilton N.Y.

I have also thought of several names of company commanders of the Headquarters Company. They were Lt. Mamous, and Lt. Charles E. Kell, there was also a Capt Phillips. For a short period for the 510th there was a Capt. Alanso E. Short Jr, who I happened to see on TV during congressional hearings on base closures. He was testifying as an active duty General. Seems he did well.


Reading this information has brought back many good memories about the 22nd Signal Group. I arrived as a private and left as a Spec 5. It was a wonderful unit to be with as hard work and dedication paid off. Hopefully, one day I will return to Germany and visit Taylor Barracks and the surrounding area. I discuss this often with my wife. It is hard to believe it has been over 40 years since I was there.
---
1974
(Source: Email from Michael J. Wilkerson)
I am not sure about the information you have as there is a big gap between 1974 and 1980. Here is a small paragraph on the history of the 5 Sig Cmd that contains information about the 22nd:

During the summer of 1974, ACC-E reorganized as Headquarters, 5th Signal Command at Kilbourne Kaserne in Schwetzingen. The reorganization called for the activation of 2nd and 160th Signal Groups from resources of inactivated units from the 22nd and 4th Signal Groups and the assignment of the 6981st Labor Service Group and 72nd Signal Battalion to 5th Signal Command. Additionally, the Command relocated to Taukkunen Barracks, Germany, in August 1974, and the 12th Signal Group was inactivated by July 1975.

7th Signal Brigade remained under 5th Signal Command's operational control until 1981, when it was officially assigned to the Command.

I was first stationed at Signal Facility Pirmasens in January 1974. We were part of Signal Group 22 of USASTRATCON-EUR.

My unit was Troop Command, which covered personnel in Pirmasens, Kaiserslautern and Zweibrucken. When Troop Command became the 73rd Signal Battalion, Signal Group 22 became 2nd Signal Group which later became 2nd Signal Brigade.

Two companies and a detachment were activated at Pirmasens:
267th Signal Company took care of the BCC, Tech Control, microwave, and the transmitter farm.
270th Signal Company took care of the Pirmasens ASC which was an AUTODIN switch and not an AUTOVON switch and of course the Headquarters Detachment.

The 298th Signal Co was activated in Kaiserslautern and the 327th Signal Co was activated in Zweibrucken.

So my lineage was 270th Signal Company, 73rd Signal Battalion, 2nd Signal Brigade, 5th Signal Command, US Army Communications Command.

Throughout that time we wore the electrical basketball patch and the 73 Sig Bn Seahorse crests.

(Webmaster note: A copy of this email is also posted on the 73rd Signal Battalion Page.)
---
1991
(Source: Email from David Casey, HHC, 22nd Sig Bde)
First, let me say how very much I am enjoying your website. I made it to Germany as a PFC in the US Army in December 1991, so most of the history of this stuff was already in the books, but it's neat to read about units and
places I had seen while I was there.

Anyway, I was assigned to HHC 22nd Signal Brigade on December 8, 1991 while waiting for a unit at 21st Replacement Detachment at Rhein-Main AB. The SDNCO drove down from Camp King which was located in Oberursel just north of Frankfurt. Our equipment was located on McNair Kasern down in Hoechst since the motorpool on Camp King was so small. I had gone to AIT at Fort Gordon to be a Multichannel Communications Systems Operator, but once I got to the unit I was told I would be working tactical satellite.

In August 1992, they gathered all the long-haul communications equipment in 22nd Signal Brigade (tac-sat and tropo) and formed the 504th Signal Company. We moved to Muenster Ammunition Depot near Babenhausen where the unit remained until deactivating in September 1994 as part of the drawdown. All the tac-sat and tropo equipment were spread back around 22nd Signal Brigade in the 17th Signal Battalion (which had moved from McNair Kasern to Larson Barracks in Kitzingen around 1993 or so), 32nd Signal Battalion located on Kelly Barracks in Darmstadt, and the 440th Signal Battalion located on Cambrai-Fritsch Kasern also in Darmstadt.

When I returned to Germany years later, HHC 22nd Signal Battalion had moved from Camp King (which is closed today) to Kelly Barracks in Darmstadt.

---
Area Maintenance & Supply Facility
(Source: information on the AMSF from the 5th SIGNAL COMMAND HISTORY)
On 1 July 1970, the Area Maintenance Supply Facility opened shop in Neuostheim (they moved to Sullivan Barracks in Mannheim, Germany the following March). The AMSF provided repair and maintenance support for all fixed station facilities and some transportable communications systems.

The history of the 5th Signal Command during FY 76 continued to record an ever increasing growth in the Command's support requirements for US Army Europe while simultaneously losing manpower assets as a result of Project 16/78. Approval of the plan for civilianization of the Area Maintenance and Supply Facility-Europe signified the Command had entered into the final phases of Project 16/78.

(1975) This reorganization caused the Area Maintenance Support Facility-Europe to come directly under the control of the 5th Signal Command.

As part of the civilianization of the Area Maintenance Supply Facility (AMSF), the Maxi-Contract was awarded to Federal Electric.

Maintenance support for the 509th Signal Battalion supplied by the Area Maintenance Supply Facility- Mediterranean (AMSF-MED) changed from (2nd half of 1976) military to civilian manning.
---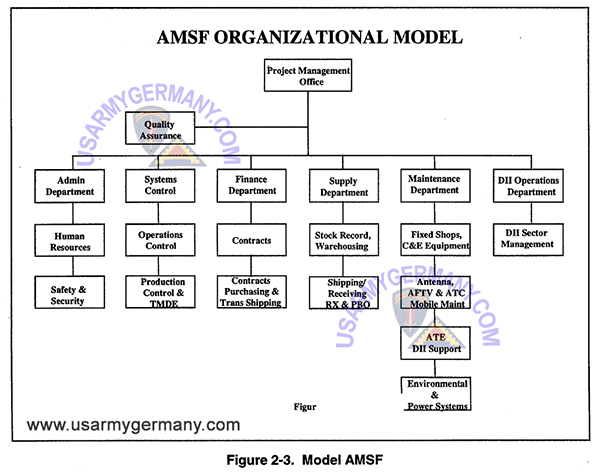 (Source: Chapter 2, FM 4-30-3, Maintenance Operations and Procedures, Sept 2000)
MISSION
2-2. The AMSF provides logistical support for echelons above corps (EAC) non-tactical communications and information systems used in an overseas theater.

CAPABILITIES
2-3. The AMSF may provide--



Logistics support for any EAC communications or information system not specifically assigned to another command or agency for support.




Support to the Defense Satellite Communications System (DSCS), Army-operated portion of the Defense DII, the American Forces Radio and Television Service (AFRTS), the Military Affiliate Radio System (MARS), and other theater-unique communications or command and control systems.




Maintenance on information systems equipment specifically designated in the AMSF mission statement. Types of equipment repaired at the AMSF include, but are not limited to, the following:



Signal transmission systems -- DSCS microwave, troposcatter, high frequency, satellite, special transportable systems, NonStrategic Nuclear Forces command and control information (NSNFC3 I) systems, antennas, associated towers (except for major overhaul), and wire and cable systems (including fiber optic cable).



Automated communications systems -- Defense Switched Network (DSN), automatic digital network (AUTODIN), electronic tandem switching centers, commercial off-the-shelf (COTS) data network equipment, COTS computers, and COTS auxiliary information processing equipment.



NOTE: The AUTODIN system is currently being replaced by the Defense Message System (DMS).



Dial central facilities -- electronic switching systems and telephone key systems.



Special activity communications equipment -- radio and television, emergency action consoles, command control centers, and air traffic control equipment and systems.



Specified information management and processing equipment (IMPE)-automation and visual information equipment for strategic and sustaining base services.

ADDITIONAL CAPABILITIES
2-4. The AMSF may also provide support to other U.S. military departments, DOD activities, and government agencies or installations. Support is provided through interservice support agreements on a reimbursable basis.

BASIS OF ALLOCATION
2-5. Each theater of operations normally will have only one AMSF. Approval for the creation of an AMSF is given by the DA Deputy Chief of Staff for Logistics (DCSLOG). AMSFs are task-organized facilities. The structure of an AMSF depends on the support requirements of the theater. The size of the organization is based on the number of sites supported, their geographical dispersion, and the type of operational equipment located at each.

2-6. An AMSF may be operated directly by the Army, or it may be operated by a civilian contractor with Army oversight. An AMSF may be staffed by soldiers, Department of the Army civilians, U.S. civilians, or local national personnel.

2-7. Currently, two AMSFs are in operation: one in Europe, one in the Pacific. The AMSF-Europe (AMSF-E) is operated by a civilian contractor. It is staffed with U.S. civilians and local national personnel. The AMSF-E provides support for both DSCS and DII systems in England, Germany, Italy, and Southwest Asia. The AMSF-Pacific (AMSF-P) is operated directly by the Army and is staffed with a combination of military, Department of the Army civilian, and local national personnel. The AMSF-P provides support for DSCS systems in both Japan and Korea.

2-8. Figure 2-3 (above) is a diagram of a model AMSF. This model may be used as a guide for structuring support activities for specific requirements. Based on support requirements, all sections may not apply to every AMSF or additional sections may be required.
---
1971
(Source: STARS & STRIPES, June 9, 1971)
A supply warehouse and repair system designed to support STRATCOM-Europe's communication network from London to Asmara, Ethiopia, has been opened here.

The Area Maintenance and Support Facility (AMSF) is one of two command support supply facilities established by the Army throughout the world.

STRATCOM-Europe's facility is modeled after a similar operation in Southeast Asia. Its mission is to support STRATCOM-Europe in the areas of communications - electronic repair and supply.
---
(Source: Email from Jim Barnes)
I'm trying to locate anyone who served at the AMSF, 22nd Signal Group during the period of January 1971 to January 1975. The Area Supply and Maintenance Facility was under the 22nd Signal Group located in Sullivan Barracks. 5th Signal Command had just moved to Worms, Germany.
---
(Source: Geneology page for Lt Col John J. Schuck, US Army (Ret.), a former company commander of AMSF in Mannheim, Oct 1971 to Oct 1974, accessed June 2019)
As Company Commander of the Area Maintenance and Supply Facility at Sullivan Barracks, Mannheim, he was dedicated to the logistical support of ACCE [Army Communications Command - Europe] peculiar DCS [Defense Communications System] (Army) equipment.

He supervised operations of two stock record accounts of more than 12,000 line items valued at over $40,000,000 and maintenance support to more than 200 ACCE communications sites; assigned personnel was 156.
---
1974
(Source: Email from Steve Horne)
I was at Mannheim in 1974-75 STRATCOM but I can't find anything about it.

I was a 36D antenna man on a mobile maintenance team. Went TDY to Holland , England, Italy, Iran, Turkey, Berlin and all over Germany. My unit was AMSF but I wasn't at the barracks much (Sullivan Bks). Spent so much time TDY my stuff got packed up for the bed space.

No complaint though. I got to see a lot of the world on Uncle Sam's paycheck. Many locations were "civilian clothes only" authorized, so you would get a clothing check for that mission. I was TDY so much I hardly touched my regular pay check and got hazardous waste duty pay, 13 of the 14 months I was there. (Jump pay) for working over 150' in the air.

I was on a team with Sgt Gramm and Spec. Tommy Carter. I also worked with the German civilian workers.

If you know of a link or info about my unit please let me know.

ADDITIONAL INFORMATION
I believe we were in Bldg. 210 -- both barracks and orderly room. The whole company was in the same bldg.

I was on the second floor in a 4-man room for most my hitch. But then they moved the antenna men and some other guys on mobile teams upstairs in open bay. Wasn't bad - a lot of room but the bathroom was on second floor.

The AMSF work area compound was off to the back. It could have been bldgs. # 206 - 207. (Or the one to the left that is now gone torn down.) They were old guildings and shops. Plus we had apple yard and some towers there. There gone now.

During my time there, the AMSF was all military with some German civilians.

---
1975
(Source: Email from Joseph Peck)
I saw your web page and was very impressed. I was in the Army and stationed at Sullivan Barracks in Mannheim, Gemany in 1975. I was with the 5th Signal Command and was assigned to the AMSF.

I have been trying for years to find the chain of command (Command, Group, Division, Brigade, etc) for this unit I was in. We wore the old STRATCOM patch and had the "Voice of the Army" unit crest. All I remember about the unit I was in is from old papers I have:


5th Signal Command


HHD USACCEUR (WORDAA-A)


AMSF


APO 09086

Can you help me and give me a little more on this unit (History wise). Was this AMSF part of the 160th Signal Group?

I can't remember the company I was in but I do remember the following people from the Documents that I saved:


SFC James M. Hudson


MSG Charles O'Malley


WO1 Larry G. Niewoehner


CW2 L.D. Clayton


CW3 Arthur L. Schmid


CPT Roger A. Gress
---
1985
(Source: ECHO, Jan 1985)
Armed Forces Network, Europe
5th Signal Command is responsible for operating and maintaining the AFN-TV transmission and distribution system in central Europe. The Command transmits AFN-TV over a spider-web network stretching from Bremerhaven to Munich, in addition to SHAPE, Belgium.

The system transmits close to 6,000 hours of programming to 146 communities every year utilizing 151 transmitters, 24 cable distribution systems, and 177 master antenna systems. (MW relay stations are used to forward the signal between communities.)

Maintenance and repair of the system are the specific responsibility of the Command's Area Maintenance and Supply Facility (AMSF) in Mannheim. More than 280 calls are received each month by the field maintenance and repair teams located in Bremerhaven, Frankfurt, Würzburg, Mannheim, Stuttgart, Kaiserslautern and Nürnberg.
---
1986
(Source: ECHO, Jan 1986)
The Theater Command Control Center at HQ 5 th Signal Cmd operates as the collection point for all transmission (AFN-TV and others) outage reports. The AMSF in Mannheim is then notified to dispatch a maintenance team to investigate the problem and, if it is caused by a malfunction in the transmission system or 5 th Signal Cmd owned reception equipment, the team will make the necessary repairs.
AMSF, Sullivan Bks, Mannheim, a major subordinate unit of the 5th Signal Cmd, is responsible for operating and maintaining the AFN-TV, with the exception of the studio. The organization takes care of the signal after it leaves the studio and ensures that the signal is distributed through the network of 75 MW relay sites in the AFN system.
In addition to AFN, AMSF also provides the necessary maintenance support and supply action to keep running the facilities of the DCS, MARS, ATC systems and remote printing operations.
---
1989
(Source: Onine Job Description for an opening for a DAS-3 Comuter Operator at SERV-AIR Inc., a subsidiary of E-Eystems, 1989)
Computer Operator of DAS-3 (Decentralized Automated Service Support Systems) for AMSF (Area Maintenance Supply Facility) in Mannheim, Germany. Responsibilities included executing various programs for users on the compound using a Honeywell DPS-6 Mini Mainframe System using GCOS version 3.2. Executed programs for the users of the compound to keep track of their supplies such as Tactical devices, Radar Units and other communication equipment that they kept for the Army (5th Signal Command). Analyzed program failure, re-executed programs if problem was found. Kept a schedule of events that occurred on the system. Transferred files from the Honeywell system to the Army's TACCS box, and vice-versa. Dumped program output to printers in various plies, sorted and distributed them to the users of the compound, and all over Germany. Brought up computer system on night shift and all peripherals, also brought down computer system when needed. Work revolved around rotating shifts in two month periods. Other responsibilities included filling HAZCON supply requests and sending them to the TCC branch for shipment to CONUS.

---
Related Links:
22nd Signal Brigade - official website of the active unit in Germany