If you do NOT see the Table of Contents frame to the left of this page, then
Click here to open 'USArmyGermany' frameset
73rd Signal Battalion
2nd Signal Brigade
Looking for more information from military/civilian personnel assigned to or associated with the U.S. Army in Germany from 1945 to 1989. If you have any stories or thoughts on the subject, please contact me

.
---
---
Battalion History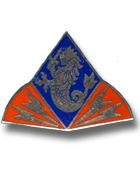 73rd Signal Battalion DUI
1974
(Source: Email from Michael J. Wilkerson)
I am not sure about the information you have as there is a big gap between 1974 and 1980. Here is a small paragraph on the history of the 5 Sig Cmd that contains information about the 22nd:

During the summer of 1974, ACC-E reorganized as Headquarters, 5th Signal Command at Kilbourne Kaserne in Schwetzingen. The reorganization called for the activation of 2nd and 160th Signal Groups from resources of inactivated units from the 22nd and 4th Signal Groups and the assignment of the 6981st Labor Service Group and 72nd Signal Battalion to 5th Signal Command. Additionally, the Command relocated to Taukkunen Barracks, Germany, in August 1974, and the 12th Signal Group was inactivated by July 1975.

7th Signal Brigade remained under 5th Signal Command's operational control until 1981, when it was officially assigned to the Command.

I was first stationed at Signal Facility Pirmasens in January 1974. We were part of Signal Group 22 of USASTRATCOM-EUR.

My unit was Troop Command, which covered personnel in Pirmasens, Kaiserslautern and Zweibrucken. When Troop Command became the 73rd Signal Battalion, Signal Group 22 became 2nd Signal Group which later became 2nd Signal Brigade.

Two companies and a detachment were activated at Pirmasens:
267th Signal Company took care of the BCC, Tech Control, microwave, and the transmitter farm.
270th Signal Company took care of the Pirmasens ASC which was an AUTODIN switch and not an AUTOVON switch and of course the Headquarters Detachment.

The 298th Signal Co was activated in Kaiserslautern and the 327th Signal Co was activated in Zweibrucken.

So my lineage was 270th Signal Company, 73rd Signal Battalion, 2nd Signal Brigade, 5th Signal Command, US Army Communications Command.

Basically, Signal Facility Pirmasens was a battalion size unit that later became the 73rd Signal Battalion consisting of 4 companies and 1 detachment:
HHD, 267th Sig Co and the 270th Sig Co were in Pirmasens. The 298th Sig Com was in K-town and the 327th was in Zweibrucken.

The 267th had the all the long lines, e.g., Primary Tech Control, BCC, Microwave and the Transmitter site at the antenna farm which was just past the AUTODIN Switching Center (ASC). There were other transmitter and receiver sites throughout the countryside.

The 270th had operations and maintenance of the ASC. Pirmasens ASC was the largest switch in Europe. The one in Augsburg closed and was reassembled at Fort Gordon for training purposes. There was one in Coltano, IT that was part of 5th Sig and then the Air Force one in Croughton. The ASC in Pirm, had an operation branch which ran the console and traffic service, maintenance branch which provided maintenance for the computer system, tape drives, printers and the traffic service area, Patch and Test Facility which provide tech control functions for the ASC, and then the COMSEC Branch which provided crypto services for the ASC. I was a 32G in the COMSEC branch. Most of our circuits were protected by KG-13s and the others by KW-26s. We ran both R and Y community circuits. We had a total of 220 pieces of crypto, We even shipped two banks of 26s to Tague.

I was assigned to Pirmasens from Jan 74 – Nov 79. Prior to that I was with STRATCOM-Japan at the Fort Buckner ASC, and prior to that the 508th Maint Det, 11 Signal Group at Ft, Huachuca….

Throughout that time we wore the electrical basketball patch and the 73 Sig Bn Seahorse crests.
---
1986
(Source: Email from Bob Liddell, CO, 73rd Sig Bn, July 1986 - July 1987)
I had the privilege of commanding the 73rd Signal Battalion from July 1985 to July 1987.

I was preceded by LTC Jorge L. Torres Cartagena, and succeeded by LTC George Barr.

When I assumed command, this was the Mission Statement:

"The Mission of the 73rd Signal Battalion is to plan, direct, and supervise activities of five subordinate units engaged in operating the Army portion of the DCS and in providing communications support to all Army facilities in the Rheinland-Pfalz area of the Federal Republic of Germany.

In support of this mission, the 73d Signal Battalion operates and maintains as AUTODIN Switching Center, an AUTOVON Switching Center, a National Command Authority station, two satellite terminals, two major high frequency sites, eight microwave sites, six communications centers, and sixteen telephone exchanges."

DCS = Defense Communication System

AUTODIN = Automatic Digital Information Network (formatted text message command and control system)

AUTOVON = Automatic Voice Operations Network (world-wide switched voice command and control system)

NCA station = Mystic Star (air/ground HF radio system; the only Army station in an otherwise USAF network)

During my period of command a couple of telephone exchanges and 1 or 2 communication centers were reassigned to other units. The initial unit strength was about 750 personnel. On 1 October 1985, we picked up two of the three largest data processing centers (Kaiserslautern and Zweibrücken), and three mobile Data Processing Units (4th, 7th, and 9th). This brought the battalion strength to around 1200 personnel.

I'm enclosing the Lineage and Honors of the 73d Signal Battalion, and its decorations.

The unit crest's symbolism: The sea lion is taken from the Philippine coat of arms, which was in use at the time the unit received the Philippine Presidential Unit Citation. The blue background represents the Pacific Ocean. The four electrical radio flashes represent the four capabilities of a signal unit, while the orange and silver (white) are the colors of the Signal Corps."

The 267th and 270th Signal Companies and 4th DPU were headquartered at Pirmasens; the 298th Signal Company and 7th DPU were headquartered in Kaiserslautern; and, the 327th Signal Company and 9th DPU were headquartered in Zweibrücken. I need to find the designations for the two fixed DPUs at Kaiserslautern and Zweibrücken.

Note: the statement "I was a member of the 73rd Sig BN, 4th Data Processing Unit (4th DPU) from 1986-89, where we provided signal support for the 59th ORD Bde." is somewhat incorrect. Please refer to the mission statement. 59th Ord. Bde. was the senior unit at Husterhoeh Kaserne, Pirmasens, and its Brigadier General was also the Post Commander.
If you have more information on the history or organization of the 73rd Signal Battalion, please contact me

.

---
4th Data Processing Unit
1986
(Source: Email from Darryl Tabb, 4th DPU, 1986-89)
I was a member of the 73rd Sig BN, 4th Data Processing Unit (4th DPU) from 1986-89, where we provided signal support for the 59th ORD Bde.

The 73rd had three (3) of these units:
1. 4th DPU - Husterhoeh Ksn, Pirmasens
2. 7th DPU - Kaiserslautern
3. 9th DPU - Kreuzberg Ksn, Zweibrucken
The also had the 270th and 267th Signal Companies. There were probably other units in the Battalion that I didn't know about, but being an E-4 and a 94B10, I was not often kept in the loop.
In 1988, the 4th DPU and the 276th Sig Co merged into the 4th DPU. I, was shipped to the 9th DPU at Zweibrücken, Kreuzberg Kaserne, I still remember a lot about both of these post. The biggest thing I remember is the fact that everyone treated everyone like family.
---
(Source: Email from David Baxter, 4th DPU, 1986-1989)
Wanted to update your location information. I was stationed at Pirmasens but worked and lived near Sembach Air Base. The city was Lohnsfeld where we had a radio station. All facilities were available with mess, barracks etc.

I lived with my wife and children in Rockenhausen in military housing. This was from 1987 to 1989.

As I remember just about every experience was wonderful. I was a 31 Charlie with duties over MARS (Military Auxiliary Radio System) which I enjoyed around the holiday to help with troop morale. Lohnsfeld was the gateway for Germany. We handled all Mars traffic for Europe.

As you remember back then phone calls where just too expensive back to the States.

I was detached to Lohnsfeld – MARS was only part of our mission – the rest is classified. It was a HF radio station with microwave to Donnersberg mountain station for com relay.

I was responsible for 01 mission communications with a well-known Government Agency. The detachment was only com equip, no data center. I was the 1st to bring in computers by building a heathkit hardsectored system to use to transmit MARS messages. Eventually our commander sent us our first computer - a PC with 64 bits of memory, and Mircosoft Windows 1.3. By the way he banned Windows - thought it was a game because of Solitaire on it. I devised a phone relay back to the States both at Husterhoeh Kaserne and Lohnsfeld and received a citation of achievement for troop morale during the holidays for the phone patch both at Lohnsfeld and Pirmasens to stateside. I can remember hanging out on the roof of HQ going through the ceramic tiles to anchor the antenna on the building that seemed 100 ft up.

The site had many antennas, broad beam dipole, log periodic's, rhombic 822 ft legs, microwave to Pirmasens for conversion back to HF for relay to Ft Meade. There were no transmitters due to the listening capabilities of the site and the potential interference it would cause, hence the microwave to Pirmasens. We were setup self-sufficient and had all necessary equipment for an extended stay. This happened when we went after Libya's Gaddafi.

Life was good with a barracks at the site (out of site out of mind). I believe there were about a dozen rooms and a mess hall that was eventually move to Sembach Air Base where we had Air Force mess. Much better.

I did the MARS out of joy and fun, our call was AEM1USA, I was familiar with MARS since I came from Ft. Lewis Mars USAISC, where the call sign was AAR0USB.

Through HF radio I met General Colin Powell, he was responsible for my being stationed at Lohnsfeld due to our friendship over the radio. I spoke with him for over a year before I discovered he was THE General Colin Powell.

If you remember event, I was at the Ramstein Air Show when the Italian planes crashed. I was just east of the beer tent with my family.

In addition, at Sembach I did see an SR-71 land for maintenance and had to provide security.

One thing may spark some memory I was under the command of the captain that drowned while at a public pool. I forgot his name.
---
1987
(Source: ECHO, March 1987)
| | | |
| --- | --- | --- |
| | | The mission of the 4th DPU is to provide tactical peacetime and wartime data processing support to the US Army Medical Materiel Center, Europe (USAMMCE) and 200th Theater Army Materiel Management Center 200th AMMC).. |

---
9th Data Processing Unit
1984
(Source: Email from James Lane, 9th ADPSC)
This unit (9th ADPSC) was one of five deployed to Europe in 1984 to provide mobile data processing in support of Echelons above the Corps (EAC) levels.
The 9th was originally assigned to and supported the
200th TAMMC
in their wartime systems processing at Kreuzberg Kaserne, Zweibrucken Germany.
In 1985 the unit was transferred (no movement involved) to the
73rd Signal Battalion
in Pirmasens. They continued in their original support role to the 200th TAMMC. The original staff was led by:
| | | | |
| --- | --- | --- | --- |
| | Maj. John R. "Rick" McKay | | Unit Commander |
| | MSG Robbie Robertson | | Senior NCOIC |
| | CW3 Johnny Mullins | | Maintenance Officer |
| | CW2 James Lane | | Operations Officer |
By 1986 Cpt. James Hixson was the Unit Commander.
I rotated in 1986 after five years at both the fixed and mobile sites in Zweibrucken. Of the 5 units, one was located at Zweibrucken, one at Pirmasens, one in Kaiserslatern, one in Heidelberg (at 1st PERSCOM), and one (at Oberursel) with the 4th TRANSCOM.
I am told that in late 1986 the equipment belonging to the 9th was given to another unit and the personnel sent to Pirmasens which was the home of the 4th DPU and the Hq of the 73rd Sig. Bn. According to the article in the 4th DPU section above, by 1988 the 4th DPU, with the 276th Signal Co., was providing support to the 200th TAMMC.
ADDITIONAL INFORMATION
Q:
Was the equipment used by the 9th ADPSC loaded onto vans and ready for deployment?
Answer:
The main system consisted to two 35' vans. One contained the CPU, Operator console, Communications Controllers, and Terminal Controller for local external terminals, Card Readers/Punch and high speed printer (2000 lpm). This van was linked by a removable walkway and cabling to the Mass Storage Van. The Mass Storage van housed the Disk Drives (dual 5GB drives) and 6-8 reel to reel tape drives.
Power was proved in two modes. In garrison, an inverter (400v 50hz to 220v 60hz) provide power directly to the power distribution box. In the field power, it came from 1 of 2 100kw diesel generators. Only 1 generator was required to power all vans. Both could be connected to the distribution boxes. As one was running low on fuel, another could be run up, synced with the other and the generators hot swapped. This practice was seldom used as it could damage the systems and generation equipment as well if not done properly. Generally, everything was powered down, generators swapped, and equipment brought back up. One generator could run for approximately 12 hours on one fuel filling. Hot fueling was never practiced.
There were two additional vans, both box vans on a 2 1/2 ton chassis. One was the I/O - tape storage vans and one for the spare parts for repair.
The 9th was like other units in that there was no provisions for office space in either the field or garrison. To overcome this an additional old 35' van was retrieved from the PDO yard in Kaiserslautern, fitted out with administrative space and used in both the field and garrison. Still inadequate but better than sitting on a stump.
Q:
In garrison, did the 9th use its own equipment, or did they work in the fixed site on Kreuzberg?
Answer:
When the system was deployed in 1984, some new personnel came with it. The remainder of the staff came from the fixed site. Essentially, the fixed site became civilian run and the mobile system strictly green suiter's (BDUs).
Q:
Looking at the
map of Kreuzberg Kaserne
, can you tell me where the fixed site was and where the mobile unit?
Answer:
The map you provided was old. The fixed site was located in building 4008. Building 4013 perpendicular to the map north was dual emergency generators for the fixed sited. What's missing is another building to the map east and parallel to 4008. This building was for paper and card stock storage (they literally used tons of both). Surrounding all of this was a guarded chain link fence. All of this has been leveled now.
Rumor has it the 4008 was a former Panzer motor pool building that was retrofitted with AC, raised floor and suspended ceiling. Note I did not mention heat. The AC was for the equipment not creature comforts of the personnel.
In preparation for the arrival of the mobile system, a multi-bay loading dock was added to the map east of building 4008. These were fitted with according receptacle rubber closures. This allowed the personnel to move from van to van without getting out into the weather. (Note that heat was not included on ramp.)
The motor pool area for the system was located to the map west of building 4008. The individual mechanics operated in field conditions most of the time. They had some office space in basement of 4008 but did their mechanical work in a relocatable garage.
Q:
What type of computer(s) did the mobile unit use?
Answer:
The mobile systems mainframe was an
IBM 4341-L10
. Lowest entry level as far as memory capacity. I believe the processor was rated at approximated 5 MIPS (millions of instructions per second).
Q:
What type of computer(s) were installed at the fixed site?
Answer:
The mainframe used by the fixed site was an
IBM 4381
. Note relative performance of 9 times that of the mobile system.

---
207th Signal Company
72nd Signal Battalion
1972
(Source: Email from Waldo Brownlee)
I served with the 207th Signal Company from 1972-1974 in Karlsruhe, Germany -- Neureut Kaserne.

I was 36C20 at that time left as a Spec 4.

Wasn't it the 72nd Sig Bn at that time. I was 36C20 at that time left as a spec 4.

Webmaster note:
The Army Lineage Series, "Signal Corps" by Rebecca Robins Raines, 2005, provides the following information"

The 72nd Signal Battalion was activated on September 25, 1965 in Germany and inactivated on November 13, 1967.

The battalion was reactivated, again in Germany, on January 1, 1972.

The 73rd Signal Battalion was activated on July 1 1974 in Germany.

So, it is probably correct that the 207th was attached to the 72nd at least from 1972 to sometime in 1974.

Can anyone provide a date for the transfer of the 207th Signal Company from the 72nd Sig Bn to the 73rd Sig Bn?
---
73rd Signal Battalion
1977
(Source: Email from Rick Raab-Faber)
I believe that HHD 73rd Sig Bn became the 207th Sig Co when we moved to Massweiler/Pirmasens. A large part of the mission was extremely secret. There was what was know as "The Vault". Entrance required a CRYPTO clearance. As I understood the primary mission, we operated AUTOVON vans that controlled phone lines for Northern Europe, including SHAPE HQ in Belgium.

I was a cook with the 207th Signal Company. Originally we were based at Neureut Kaserne near Karlsruhe. I arrived there in November of 1977. At some point in 1978 (I think it was winter time), the unit was moved from Neureut to Massweiler. I was on temporary duty near Neu Ulm at the time, but rejoined the unit shortly after they moved. I am not sure which, if any, unit was there prior to our move. I know that at one time there was an Air Force unit there. Also, from what I gather, the caves were used to store ordnance.

Because I was a cook at the time, I was not very involved in the communications aspect of the mission. I did however have friends who were. The 207th was an AUTOVON station. They controlled phone access to all NATO units in northern Europe including SHAPE headquarters in Belgium. Most of these operations were run out of trailers (diesel truck trailers). At the time I was there, the caves were primarily used for storage. The one exception to this was what was known as the CRYPTO room. This was a communications room that was involved in ultra-secret communications. Needless to say, we were not privy to that information.

During military exercises such as REFORGER, or in the case of an actual war, the site was taken over by a higher command (I forget who. I don't think it was NATO or SHAPE. It may have been 7th Army, or whoever was in charge back then.) (I should note that I was a young man back then and prone to a little too much partying. Some of my memories may be a little vague.)

During these exercises we would have generals and other high-ranking officers on site. At this time, the caves would come into use. There was a large conference room in the caves and this would be pressed into service as the command center. Operations ran 24 hours a day. A friend I worked with once "borrowed" the key for one of the cave doors and had a copy made. We would sometimes have parties in this conference room.

The Mess Hall used the caves as a storage area. Often time I would have to go into the caves to get supplies -- such as cases of paper towels. They were kept in the cave to the left (as you are facing the entrances) and down on the second level. I remember having to take a very antiquated elevator to the second level. You could see the water beneath the elevator floor when it stopped at the second level. Our understanding was that the complex was originally 3 or 4 levels, with the bottom levels being flooded when the German army abandoned the site. Of course there were always rumors about scuba divers sent to explore these flooded levels who never came back.

I understand that there were caves beneath the barracks in Kaiserslautern that went even deeper. The electricity and lighting in the caves was very old -- World War II era -- and quite unreliable. Often times we would have to use our cigarette lighters to light the way. Quite scary at times.

There was a gentleman who worked at the site named Herr Rose. He provided maintenance of the heating and plumbing equipment. I think his family may have owned the gasthaus. He was a very nice man and used to help me with my German. He had worked at the site for a long time. I seem to remember him telling us that he was a member of the local forced labor group that was used to dig the caves. (These caves had been initially built by forced labor for the German Army during WWII. Following the war, the US Air Force and Army used it at various times for ordnance depots and signal bases.)

The last unit to occupy the site was the 63rd Signal Battalion. The site was deactivated in the 1990's and returned to German control. Recently it was sold to a group called Trierart and is being turned into a refuge for rescued circus tigers.
---
(Source: Email from Reggie Williams)
I was with 207th Signal Company in Karlsruhe in 1977. By 1978 I was sent to what was considered to be the other half of 207th Sig located in Massweiler. At that time it was 5th Signal's Field Site and also USAREUR Main back up communications.

I was their Generator Operator Mechanic. I had two 100 kw Generators in caves and four 60 kw's on the pad that backed up power for the commo vans.

Now to the "caves"... they were actualy an elaborate part of Hitler's Escape Route. Train tracks ran underground from Hidelburg to Massweiler. Totaly there was 30 levels and the bottom level had the train track. For the most part it was litteraly an underground city. I heard that the location was very difficult for the U.S. to locate and to take out (during WWII). Just looking at that area via Google Earth (a very good Satellite view) you could hardly tell anything was there to this day.

I was searching to find out if the military is still there. I got caught up in the move of 207th Signal from Karlsruhe to Massweiler. Prior to the move it was us and them type thing.... all of a sudden, when everyone was crammed together, fights started breaking out. I got an Article 15 for being late and I had proof making me being late o.k. but by that point the 1st Sargeant was being over kill hard core. I ended up going to the I.G. in Worms.

It turns out the full bird at the I.G. knew my C.O. and the next thing you know my 1st Sargeant called me in and offered me a way out of the military at a time my wife back in the States was having a problem pregnancy in the States. I took it, not really realizing what it meant that I couldn't reenlist. At least it was Honorable with full benefits.

I do not know what role the Massweiler location played during war time. I can say it is very possible that Massweiler was USAREUR main back up communications during war time but I am not 100 percent positive. The whole time I was there the Commo Vans were located inside the mountain side by side. I say commo vans but these were actually like Semi Trailers converted into communication units. Through an exterior building the trailers were back into the mountain just enough that they did not stick out. My four 60 kw generators that supplied their back up power was just out front.

---
267th Signal Company
(Source: US Army Center of Military History)
Lineage: 267th Signal Company

Activated 1 July 1974 in Germany

Inactivated 15 September 1993 in Germany
---
(Source: ECHO, April 1984)
The responsibilities of the 267th Signal Company in Pirmasens include operating and maintaining fixed station communications equipment, including



Pirmasens Dial Central Office



Lohnsfeld MARS gateway station



Pirmasens microwave station and telecommunications center



high-frequency transmitter and receiver sites scattered throughout the countryside
---
1981
(Source: Email from Bob Morgan)
I saw your web site and felt compelled to share some of my fond memories of my tour there, memories that will last a lifetime as long as my brain holds out! Once that goes, hopefully I'll be able to return to your site and refresh my memory.

I was assigned to the 267th Signal Company in July 1981, a few weeks before my 18th birthday. Upon my arrival in the summer, I was already looking forward to winter, never having seen snow in my life as I am a native South Floridian. I recall the late July nights being a bit chilly, so I knew I would be in for one heck of a shocker once the season changed. Once I was assigned a room in the barracks, I found everyone in the company very laid back like there wasn't a care in the world. I took a trip to my new duty location, Pirmasens Primary Technical Control Facility. I was so eager to get started, electronics everywhere, most of which was not part of our AIT training. Like they said at Fort Gordon, forget everything you learn here, it's all going to be turned upside down in the real world. So it was!

The first thing I noticed after a few days, not only were the soldiers laid back, but apparently telecommunications as a whole was this way. No PT? No formations? Go to work, end your shift and hit the town? Seriously?? Wild! I got to meet a lot of great folks in the several departments of the 267th, the microwave, comm center, NCA (National Command Authority-Mystic Star), transmitter site techs, as well as the techs at the 270th AutoDIN switch. I wish I knew where they all are now. I do keep in touch with more than I thought I would have, being 30 years later, and cherish their friendship. Thanks to the internet, it's fairly easy to find your old buddies these days.

Along with keeping communication lines up and running 24/7, PM's nightly, we ran several HF radio exercises from the Tech Control along with the help with the transmitter site and the receiver site in Lohnsfeld, both of which were massive "antenna farms". I recall having to visit the receiver site on TDY for a couple weeks with a good buddy from PTC, to rewire the complete facility. The wiring was quite a sight having been wired and rewired over the years. That place was heaven! Personal cooks, just tell them what you wanted and it was on the place in a flash. The term "antenna farm" really went well with the facility, there were what seemed to be hundreds of sheep roaming the property with a local German herding them. At the tech control, we'd pipe in "stateside music" from Andrews Air Force Base or Fort Detrick, MD., something we always loved doing. We call other tech controls around Europe asking if they'd like something other than AFN. 99.9% of the times they'd jump on it. Once in a while, when the nights got boring, we'd throw the music up on the "shout down", a comm line that tied all fo the tech controls together and terminated on a speaker. Out of nowhere music would start blasting across the speakers of every tech control in the country and we'd hope that it wasn't disturbing anyone, it would be difficult to hear someone trying to contact us to shut it down.

Exercises - As for the exercises, (not PT, gees, what was that??) The one I recall most was when we lost 250+ Marines at the barracks in Beirut. I was scheduled to go TDY to operate a HF link back to PMS TC from a Navy ship in the Mediterranean Sea while a naval tech controller operated the HF shot from our PTC. However, the plans were shot down since I did not have any combat experience, and things got ugly quick, you could hear the shots going off when the tech on the ship would key his mic. Not sure how much actual combat I would have seen since the Navy was shelling the hell out of Beirut from MANY miles away. Oh well, maybe next time. Other exercises over the years were Wintex, Reforger, Crested Eagle, and others that have slipped my mind. The Air Force's 7th Weather Squadron would park under our microwave tower and we'd have to get them connected to the world, communication wise. Those were always fun, great folks to work with! The Air Force always had top of the line equipment, including Ramstein TC that I was fortunate enough to tour on one occasion while splurging for stereo equipment at the audio store on base there.

As time ran on, I realized that there was no going to the field for us either. 24/7, air conditioned building, and the nicest group of guys and gals ya'd ever want to work with. The only scary part was the bosses would throw at us during "alerts" was, you have 30 seconds to get out of the building before Zweibrucken Air Base had planes on top of us destroying the building IF the "flag" ever went up. (Cold War days). That kinda sucked since it took at least 45 seconds to get through the few cypher locks that kept others out that didn't belong. The planes would fly overhead practically on a daily base, practicing the dive bombing. Someone at 73rd eventually had to contact those flyboys and tell them to stop buzzing our microwave tower so close, it would knock out the microwave links to Langerkopf, Donnersberg and Zweibrucken, causing chaos for about 30 seconds, and all of the teletypes (20+ or so) to run "open". They'd all start chattering at the same time, and God did it get loud back there in the DC circuit section when that happened or during a real a link failure!

Downtime – Often times we'd hit the town to relax, as most if not all GI's did there at the kaserne. We'd hit Flamingo's Club where we'd find Peter and Karl Heinz, two of the locals that worked and practically lived there, or Maxim's, right across the street from post. We'd get back late, sometimes 4-5 AM, and once back in the barracks, we'd see the crew from 76 Transportation Company, in formation and ready for the morning's PT. We'd give em hell from our windows, not recalling the small scrap we'd get into from the previous rubbing we gave em, and run into them the next night or so, going at it again, but be prosting brews by the end of the night. Rumpelkammer was another close by favorite hang out.

At one point of my tour, the NCA Department ran low on techs and they were looking for volunteers. Me and another guy volunteered with the condition that we'd be able to return to the tech control within a month or so once they received more techs to fill the vacant slots. NCA was an interesting job to say the least. Most times you sat behind a large console all night long, staring at dozens of lights staring back at you. During mission times, when Air Force One or other govt officials were flying overhead, it would get busy and would keep you on your toes. Unfortunately, those times were few and far between. It was very hard to stay awake sitting in that 6' x 12' room without any windows, other than the frosted glass door, again, with another cypher lock. The time finally came when I was able to return to the chaos of tech control that I loved so much, NCA was fun, but I missed the craziness of tech control so much.

Due to the ever changing shifts at TC, days for a week 0800-1700), swings (1700-2400), and mids, (2400-0800), sleep became a faint memory, especially if you lived in the barracks. There were times when we voted to change the shifts from 5 days on, 2 off, to 4 on, 3 off, 3 on, 4 off, 12 hour shifts. We change up every so often, screwing our internal time clocks even more. The 4 on, 3 off- 3 on, 4 off didn't last too long though, the "day ladies" figured 4 days off in a row was too much time. If you had a roommate or two, you can just about guarantee they were on a different shift, therefore when they got off duty, you could forget sleep. To this day, 30 years later, I still only get (and need) only 3-4 hours of sleep a day, even weekends I don't get much more than that. I blame that on PTC and it only reminds me of the awesome job I signed up for, not having a clue to what tech control even meant at 17 years of age.

I can honestly say that we in the 267th, and possibly the 270th felt the same way, we were not in the real Army. This was one big party. BBQ's behind the TC at 2 AM, softball and football against other companies on post, all of the other activities that the post provided and even air shows on occasion until a copter went down and one of it's blades went hurling into the bank across from the airfield. Then, one of our NCOIC's in the TC was promoted to 1st Sgt and it all came crashing down on us. It was only a matter of time. Never had any hard feelings towards him for it, actually there was a bit of guilt when watching the other companies doing their 2 mile run down to the AutoDIN switch and back and we'd never had to do so.

So, once a month, we had formations, even if we were in bed after finishing a shift, in front of the comm building. PT started out as "you can do what you wish, hand ball, racket ball, the gym, anything you could find for exercise." We apparently were having too much fun, and we ended up having to participate in a company wide PT session, you know, the regular, REAL stuff. It killed most of us at first, but didn't take long to get into the rhythm. Of course it really stunk if you were still trying to get a few winks before going back to work, but we managed. I recall this same 1st Sgt sitting at the start of the road down to the switch where he was timing us, to insure we would pass a real PT test, and I came up the road on my return trip with a cig hanging out of my mouth. That man fell out laughing so hard, he hit the ground. I don't think he'd ever laughed that hard in his life. Always glad to amuse!

3½ years went by fast and I wasn't ready to go. TC'ers had come and gone, gone off to the States to get a job making real money, SERIOUS money compared to what we were making. I thought I was doing great when making E-5 in 3 years, but when I started hearing the stories form those who had left and working for ATT, IBM, American Airlines, etc., it was sickening! However, during my tenure, I managed to get married to a local German gal, had 2 wonderful kids, learned Pirmesenser Deutsch (no where near real German language), divorced as she wasn't willing to return to the USA, new friends that came into country, and I was still a kid. I actually feared going home, this life here at PMS was the bomb! But, I knew my heart was in South Florida, and the time came to say auf wiedersehen. Unfortunately I left prior to the DEB's network firing up, I started the patch panel and some of the equipment installations, but never got to see it up and running.

To this day, I think about the job, the friends, the family, (my now 30 year old son has visited So. Fla. twice with friends of his, still awaiting for my daughter of 31 yrs of age to give it a whirl, one of these days, maybe), the things I've seen over there. I returned in 1997, but have waited way too long to go back again, loooong overdue! I Google whatever I can to locate pics from the area, I unfortunately lost all mine during a move. I see that everything at Husterhoeh is now basically a museum or park, but would still like to go and see the newly renovated area. Google Maps makes it fun, but to go back for the views, the currywurst, frikedelles, and the various schnitzel, would hit home completely. I wish there were more pics of the different sites up here, I had many of the PTC that were also lost. I'm sure it changed over the years from when the site first formed to when it was disbanded.

If anyone that I had the pleasure to work with there would like to contact me, you can Google "aSpAcenut" and find me. I'm on FB as well, Bob aSpAcenut Morgan. Would love to hear from you!
---
(See Worms Page for recent photos of the former Lohnsfeld Communications Station)
(Source: Email from Rodney Weihert)
I worked at the remote site in Lohnsfeld, HF Receiver site. We supported VIP's in the air with HF, the Navy in the Mediterranean, provided phone patch comm for the Marines in Beirut in '83, and assorted other Army operations. Also, we maintained the MARS site, 1USA, the gateway to Europe for unofficial morale calls and messages. We worked with the Primasens Tech Control, who also supported the HF Transmitter site in Pirmasens. I was there from 1982 to 1984. I heard they tore the site in Lohnsfeld down, along with the antenna farm.

---
270th Signal Company
(Source: US Army Center of Military History)
Lineage: 270th Signal Company

Activated 1 May 1975 in Germany

Inactivated 15 September 1993 in Germany
---
(Source: Community Times, Pirmasens Military Community, May 15, 1977)
Communicating - bigtime

by Ben Lockerd

Clear down at the windy end of this ridge called Husterhöhe, next to the "antenna farm", is a fenced-in building which is always guarded by a couple of military policemen. Do they store top-secret weapons there? No, it's just a message center.

The reason it's such a big deal is that it is the main communications link between the armed forces in the States and those here. It is operated by the 270th Signal Company.

Of course, very few of the messages coming through the switching center are top secret. A lot of day-to-day business is carried on through the "switch"; it sends and receives about 55,000 messages a day, according to Chief Warrant Officer 3 Kenneth L. Carter, the officer in charge. This switch is the center for 85 different communications centers, or "tributaries". It is tied in with two identical centers in England and ltaly and, with other centers in the U.S. The whole system is called the Automatic Digital Network (AUTODIN).

It's all computerized, of course, but the message load is often so heavy that they don't catch up until the middle of the night or the weekend (they work 24 hours a day, in three shifts).

The limitation seems to be in the receiving commo centers rather than in the switch. Priority messages, however, can always go around the world in a few minutes.

The switch is tied in with various communications media, including telephone lines and the high-frequency radio receiver at the antenna farm (where each tower receives a certain frequency). Messages are typed into the computer at one switching center, encoded, sent, and then decoded by the computer at the other end.

Most messages are typed out by high-speed teletype machines (which are responsible for the wavy lines that boggle readers' minds). But there is also a computer print-out machine at the switch which prints a line at a time, at the rate of 900 lines per minute.
---
1980
Email from Sue Tully - CO, 270th Sig Co, Sept 1980 -
---
1986
(Source: Email from Wayne Moore)
Served with the 270th Signal Company from 1986 to 1989. This is cool I have so many memories of this place from the people to the fun we had. Its hard to even start.

I remember we use to run PT from the edge of the "Chopper" air field to the site turn off and back. Cooking a hog in the ground out at the "antenna farm" one Fourth of July with the post commander a little tipsy. Drinking more beer then one should and finding our way back to post somehow, exploring castles, country night at the NCO club. Eating at Mickey Ds down town for the first time. "The fries are great there too." Taking photos of every thing, driving over there. Had a old 520 BMW but it died then I got a Opel cadet. We were in housing visiting one of our Sergeants and a parked car rolled into the side of my Opel "Betsy." I loved that car.

One night I was on my way home and it was raining when an elderly German lady that was drunk opened the door and got in and told me she needed a ride home then tried to fix me up with here daughter Ha Ha. Between the bars and the German food the people and places we went it was just great.

I remember stopping on our way out when I was in the ISU we would stop on post and get an "Early Bird" and Coffee, then hit the road to whatever site we had to go to. I don't remember the name of that little restaurant in the middle of the post but we use to eat there in the evening and play this video juke box, at the time that was something, it was almost like having MTV over there.

I remember getting Taco salads at the bowling alley that came in a shell that was as big as a old top hat, still haven't found another that good or that big.

I remember watching the Highlander for the first time at the theater on post and drinking beer that we brought in with us, playing racket ball in the gym and working out then going to the sauna and staying in it too long.

I remember there was a big to-do about the females getting out on top of the building and sun bathing in the nude I never saw it but I noticed the choppers started buzzing the buildings till the post commander put a stop to it.

I remember all the work we put into getting ready for our IG inspection that we passed with flying colors with SSG Hilton acting as 1st Sergeant. I use to feel shivers go down my spine when I saw his Toyota van parked out front.

One night on CQ runner duty a dude in the 267th tried to jump out the window from the second floor. The CQ and I got him back in and I was told to watch him while the CQ called his CO. As we sat there he figured that he was in so deep he would jump anyway. I had him in a bear hug from behind as he was climbing out the window then he elbowed me in the face. Well he didn't really want to jump because I tried to push his butt out that window and he clawed like a cat to stay inside. Ha Ha.

I remember riding through town with a friend when he just got his car and a German lady stopped and yelled at him, in good English, this is a one way street and in his frustration he yelled back I'm only going one way!

I remember going to K town to this German who owned a country and western bar - "The largest country and western bar on that side of the Atlantic Ocean." I don't remember the name. We always sat under the Texas flag for the sake of my Texas friends. I Remember dancing with some of the most beautiful girls I ever meet there. I think most were Air Force.

We used to talk to girls on the distant end when there was a COMSEC problem and before we would get the problem fixed we would talk up a date to meet them there or some other place like a NCO club.

I also remember at Christmas till new years we would use spare lines to broadcast all over the world music that was DJ'ed from some post somewhere (I don't remember where, getting old I guess), so every one down to the guys in the RATT rigs could listen in and call in request and let them know what country he or she was in on the AUTOVON line. We felt that we were all one big family. It did wonders for morale I'm sure since we were not at home during this time.

When we were in K town we would go to the restaurant near the PX and just listen to the English soldiers talk while we would eat lunch. I use to love to listen to them with that accent.

I remember when I first came up on the floor at the switch. The patch bays at tech control was a mass of wires - it looked like a pile of octopus fighting. I learned this was circuits jump out because of problems ADMS and COMSEC problems but no one would work together to get them solved. They just wanted to blame it on the other. My room mate was ADMS and I was COMSEC. We got together playing cards one night and drinking beer and started talking about how no one worked together on these problems and decided to work on some when we were caught up. It took about two months but one day we stood back and there was no more jumpers on the patch bays man were we proud.

We kept it clean for about a month then my room mate got busted for smoking weed when we had a "Whiz Quiz." Now a Whiz Quiz was a guarantee if you had a mustard alert. One night we had stayed up all night playing cards and drinking beer and having deep conversations on the meaning of life, when they came through banging on the doors screaming "mustard alert." We sat there playing till they left then went back to our own rooms and piled up in bed. "Heck it was our day off". Anyway they came back and rounded up the rest of us and we had to go to our sections in MOPP 4 till we could do the whiz quiz.

Well I sit down at the back of COMSEC on the floor in my warm MOPP 4 gear and went to sleep, during which time my fellow workers taped black paper over my gas mask eye lens then woke me saying something was going on for real because the power had went off. Boy did they have fun with me.

The only down side to the whole thing was PT test and watching tech controllers receive all the awards because they talked to General so and so while it was COMSEC or ADMS that fixed his problems but that's the job I guess, you do it because you love it not for the pat on the back.

---
298th Signal Company
(Source: US Army Center of Military History)
Lineage: 298th Signal Company

Activated 10 March 1955 in France

Inactivated 10 June 1965 in France

Activated 4 May 1973 in Germany

Inactivated 15 September 1993 in Germany
---
1957
(Source: Email from Gerald Phillips, 298th Sig Co, 1957- 59)
I was transferred from Camp Hanford Washington to the 298th Signal Company during the middle part of 1957.

The Headquarters was in Fontainebleau, France, the exact post name I do not remember. However, the 298 th was not on the main post. We were on a separate compound attached to the main post. The 298th was assigned at that time to SHAPE headquarters in Paris, and we had a patch that is similar to the current ATAF (Allied Tactical Air Forces) patches that are worn today.

I was only in Fontainebleau for a total or 3 days before my assignment to a 5-man Microwave Relay Site. My MOS was that of a Generator Operator, so I was given a crash course on the Deutsch Diesel Generators the unit used for power, and the basic instructions on the Siemens Microwave Equipment.

The 298th was not your standard type of army unit. On our post we had our own "Club", the British Army was in charge of the club. On the post you would see the French, British, German and US Military. Our vehicles were American, but everything else was a mixture of different countries.

My first duty assignment was on a site near the Luxembourg Border , at place called Thionville. We lived on a French Army post for a time, we then moved to the site when the French need the space. We lived in "Squad Tent" after that.

The site commander was a Sgt E-5, as was most of the smaller 5-man sites, the larger sized sites were manned by the officers and other NCO's (E6-E7). All the sites I was on were commanded by 3-5's. The one advantage was that the only time you had a visit from your line officer (The line was a group of 5 or 6 sites, if I remember correctly) one time a month to give us our diesel and gas coupons for our vehicles and generators, and to get paid. We did not have access to any US Military facilities. We received extra pay for our living conditions, and we also received separate rations since we had to buy our food from the local stores. I was only at the Thionville site for a few months. Our tent caught fire one night and we lost all our clothes and personnel items, but none of our operating equipment was lost. A replacement crew relieved us after about 4 days and we went back to Fontainebleau, where an investigation was conducted. The Carburetor on the old style pot bellied stove somehow got stuck wide open and the diesel fuel poured in and put the fire out, it then flooded the tent until it reached the second heater then it decided to start burning again. No one was hurt we were all doing something else at the time. We moved all the vehicles and equipment in a hurry, but could not save any of our personal gear. I remember one of the men had around three or four mounts pay in his foot locker, He had a hard time trying to get his pay reimbursed.

After the investigation we were again reassigned to other sites that were short on personnel. I was assigned to a site near a town called Stoone (Not positive about spelling), it was a small faming village of about 10 farmhouses. The site was in one of the farmers fields. Across the street from us was an Air Force radio relay site. They lived in a house, we lived again in a tent. While I was there the Air Force moved into Germany. Towards the end on 1959 the American sites were moved into Belgium, and the French took over the sites we originally had. And, during the last two months of my site duty, I finally got to live in a house, after 2 ½ years of living in a tent.

I returned to Fontainebleau for out processing. After clearing I still had a few days remaining until it was time for my flight home, the First Sergeant told me to go to Paris and spend my last few days and to make sure that I get to Orley Field (The airport in Paris) for my flight home.
---
1974
(Source: Email from Stephen B. Weber)
After watching the dedication of the WW2 Memorial today, I got the motivation to try and do a little research on my Army experience. So here goes....
I enlisted into the Army in July of 1974. I was studying Electronics in jr. college back then and decided that computers was really gonna hit it big. So I enlisted, spent 53-weeks at Fort Monmouth, NJ in the DSTE program. (Wish I would have chosen AUTODIN 34H). At any rate, I ended up being assigned to 5th Sig Comd, 2nd Sig Gp, 73rd Sig Bn, 298th Sig Co in Kaiserslautern. I ended up being sent to a detachment in Bad Kreuznach, which is the HQ for 8th Infantry Division. While there, I extended my enlistment (3-yrs) 1 year. During that time, the Battalion Co was LTC Griggs and CSM Downs. The 5th Sig CO was BG Joseph C. Racke, and CSM Sousa. Greatest experience of my life !
I remember going to Donnersburg (Autovon Switch) and dealing with a lot of Microware relay problems ( 26V's is their MOS). I got an ARCOM for converting Siemens Telephone Exchange Part numbers to NSN's. That was fun working with the German Techs.
---
(Source: Email from Dave Storms)
I was in the 298th Signal Company from the fall of 1975 to late in the 1970's. I was stationed at DCS Station Donnersberg because there was an opening there for a Tech Controller in the AUTOVON switch although I had received AUTODIN training. After about a year I was re-assigned to the Company HQ at Kasierslautern and worked for 6 months in the DCO. Then I was assigned to the DCS Station Kaiserslautern, a microwave relay station to Donnersberg for the Kasierslautern area. During that time we received several citations including DCS Station of the year (I can get the year off of my certificate if you would like).

Then I was "drafted" to create a brand new tech control facility for the Landstuhl Sateliite Station and transferred to the 58th Signal Company.

I left Germany in January 1981 and started my civilian career using skills learned from my service years to work for the Jet Propulsion Laboratory, IBM, and Aerojet (now purchased my Northop Grumman).
---
Hill 365 was part of the DCS network and served as terminal KLN, microwave, multiplex and tech control for Kaiserslautern. It had a M/W shot going to Donnersberg.

A USAREUR PAO press release on May 23, 2014 announced that Hill 365 was being returned to the German government. (The site had been closed for several years already.)
(Source: From a table listing real property managed by the US Army in the Kaiserslautern military community, 2005)
KMC REAL PROPERTY – ARMY

TOTAL BLDGS

TOTAL BLDGS

TOTAL LAND

REPLACEMENT

ARMY MANAGED REAL PROPERTY

(NO.)

(SF)

(AC)

VALUE ($K)

KAISERSLAUTERN, HILL 365

6

4,849

17

$10,987

---
327th Signal Company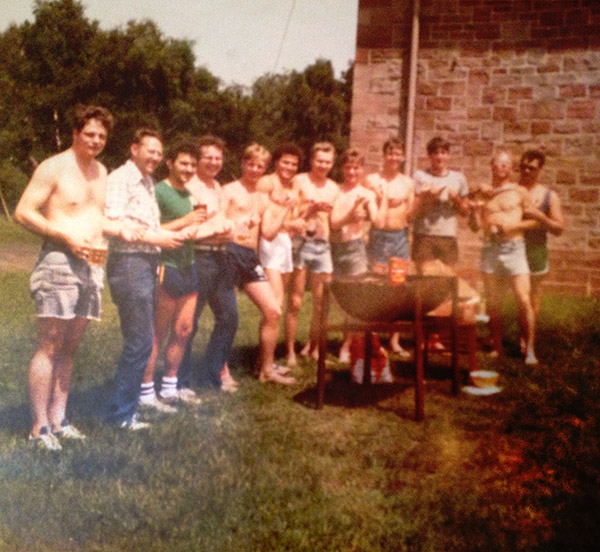 Members of Landstuhl Detachment, 327th Signal Company, 1981 (Rich Ford)
(Source: US Army Center of Military History)
Lineage: 327th Signal Company

Activated 1 July 1974 in Germany

Inactivated 15 September 1993 in Germany
---
1979
(Source: Email from Richard James Ford)
I was assigned to the Landstuhl Detachment of the 327th Signal Company - I was a 26Y. I arrived around June of 1979 and ETS'd June of 1981.

We were detached out of Zweibrücken but that was in about 1980 or so. Prior to that we weren't. I recognized the lapel pin (crest) as the one we had.

We ran the earth station facility (DSC Landstuhl) outside the back gate of the hospital facility. We weren't attached to the hospital at all. Our barracks were at the top of the hill in the back corner of Landstuhl Medical Center. As far as you could get from the hospital - next to the sports field.

I was one of the first 5 that started the Tactical Satellite Controllers unit.

I have a picture of a summer BBQ (see above) that we had outside the barracks on the hill. I don't remember everyone's name in the picture - but the names I can tell you are:


William (Bill) Furbee - from California - I think (San Diego?)


Mike Winchester (Michael Vincent) - From North Carolina


Ray Carter. - From Pascagoula Mississippi

I am trying to find some old buddies of that time: Michael Vincent Winchester, Raymond Carter - and a few others.
---
1982
(Source: Email from Ron Allbritton)
I was a USAREUR signal soldier in Europe during most of the 1980's.

327th Signal Company, Zweibrücken
I enlisted into the US Army in December of 1981 and completed BCT at Fort Dix, NJ and AIT at Fort Gordon, GA. My first duty assignment as a 72G10 – Automated Data Telecommunications Center (TCC) Operator was with 5th Signal Command, 2nd Signal Brigade, 73rd Signal Battalion, 327th Signal Company, Kreuzberg Kaserne, Zweibrucken, GE.

I arrived at the 327th Signal Company in June of 1982. At that time, the 327th Signal Company was headquartered in Zweibrucken, GE with Detachment sites at Meisau, Baumholder, and Landstuhl, GE. In addition to the Satcom Station and Dial Central Offices at Landstuhl, the unit operated the DCO's and AUTODIN Telecommunications Centers (TCC) in Zweibrucken, Meisau and Baumholder.

The TCC's in both Zweibrucken and Baumholder in 1982 utilized the Starndard Remote Terminal equipment in Mate modes. The Meisau Detachment was still using the Digital Subscriber Terminal Equipment but was upgraded to the SRT in 1983.

Capt. MacHamer, mentioned in your posted article was my company commander at the time of my PCS in January of 1984 and actually served as an official witness to my first marriage in December of 1983.

B Company, 34th Signal Battalion, Ludwigsburg
In October of 1985, I returned to Germany as a newly promoted Buck Sergeant, and was assigned to VII Corps, 93rd Signal Bde, B company 34th Signal Bn, with duty at Krabbenloch Kaserne, Ludwigsburg, GE.

I was initially assigned duties in my SMOS as a 31C20 as a RATT Team chief as my PMOS was unavailable. During my time with the 34th Signal Bn, I gained much training and filled many different position, from RATT Section Chief, NBC NCO, COMSEC NCO and Operations NCO.

In October of 1988, I again PCS'd but this time It was a Consecutive Overseas Tour and I was reassigned back to the 73rd Signal BN, in Pirmasens, GE.

7th Data Processing Unit, Kaiserslautern
When I PCS'd from 34th Signal Bn, my reassignment orders where for my first original duty station in Zweibrucken, GE. Sometime between 1984 and 1988, the Signal Companies and the Data Processing Unit's within the 73rd Signal Bn merged.

Upon my arrival in Pirmasens to in-process at the 73rd Signal Bn, I was diverted to the 7th DPU in Kaiserslautern, which had merged with the old 298th Signal Co. The 327th Signal Company in Zweibrucken at this time was now the 9th DPU.

Also during this time, my PMOS was reorganized from 72G to 74C.

While waiting for clearance on my 5 year periodic security clearance re-investigation to be completed so that I could be "read on", I completed on the job training as a 74D Computer operation. While the Company headquarters was located on ESC-Kaiserslautern, the TCC was located on one of the other kaserne's in Kaiserslautern area. There were three kasernes located near each other in Kaiserslautern, they were Kleber, Daenner, and Panzer. The name escapes me as to which kaserne the TCC was located on, but I do remember, that it at the same locations as our largest customer, 200th TAMMC Headquarters.

I do remember that General Flynn was the commanding General of the 200th TAMMC at that time, as he was the one who performed my re-enlistment in 1991.
---
1984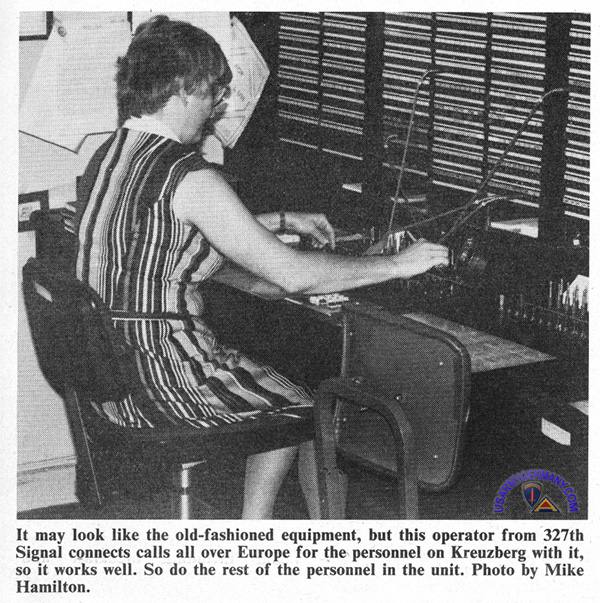 (Source: ZWEIBRUECKEN SUN, June 29, 1984)
The 327th Signal Company could be considered the "Ma Bell" of Kreuzberg Kaserne, but telephone communications is only one service that the 327th provides. It also provides microwave communications and message handling for the entire kaserne.

Activated in Zweibruecken on July 1, 1974, the 327th has had a long but colorful career. It was awarded meritorious unit during two tours in Vietnam, both in 1967 through 1968 and 1968 through 1972. They were deactivated in 1972 and then reactivated again in 1974 with the headquarters located on Kreuzberg Kaserne.

The commander of the 327th is Capt. Douglas Machamer. Other key personnel include 1st Lt. Sherrill Allen, operations; CW2 Robert Kennedy, security; 1st Sgt. Jacob Underwood; MSgt. Horace Nells, message center; MSgt. Gilbert Gonzoles, operations NCO; SFC John Baldwin, telephone exchange; and SSgr Jimmy Kocsus, microwave.

The main duty of the 327th is telephone communications for the community. This includes the installation of telephones, providing numbers and employing operators for information assistance and intra-theater connections. The operators are on duty 24 hours a day, seven days a week, throughout the year.

Morale within the unit appears to run very high, based on discussion with some of the soldiers. The majority of the personnel assigned to the unit enjoy working with and meeting new and different people. Others enjoy the pride and satisfaction of accomplishing a mission. PFC Luis Rodriguez remarked that "The people are very professional and there are good relations between the co-workers."

The security of the 327th, headed by Kennedy, uses steel doors, coding and decoding devices, and other electronic equipment to keep the system free from access by unauthorized personnel.

Although the 327th enjoys these good traits, it does have it's share of problems. One that is probably the hardest to overcome is the dispersion of the unit. Even though the headquarters is located on Kreuzberg, there are also other sections of the company in Miesau, Baumholder and Landstuhl. "If you took away the dispersion of the unit, it would be perfect," Underwood said. The only other problem cited was the breakdown of the equipment. SSgt. Ron Cash stated that this is bad only when, "The system goes down and you can't do anything about it."

Allen said that if a problem with a phone occurs, there is a procedure to follow. "You have to fill out a trouble ticket with the problem, location and your point of contact on it. The oldest ticket gets worked on first, but emergeny numbers such as the fire station have priority."

Communications for the military and the community is a mission the 327th Signal Company strives to accomplish. With high moral and the complete support of the personnel, the 327th serves the community of Kreuzberg.

---
Related Links:
CommCenter Yahoo Group

- this is a discussion group with focus on Communications Centers (fixed-station, tactical, mobile and shipboard). (Facilities covered include teletype, torn tape relay, AUTODIN and DMS.) Membership is restricted.