If you do NOT see the Table of Contents frame to the left of this page, then
Click here to open 'USArmyGermany' frameset
---
| | |
| --- | --- |
| MAPS | |
1950

Map of the Berchtesgaden Recreation Area. Map published by Zimmermann, Garmisch, 1950.

Click on the thumbnail to view a larger format of the same map.

Click here for a facilities list.
1954

Map of the Garmisch (Southeastern Area Command) Area. Map published in 1953 or 54.

Click on the thumbnail to view a larger format of the same map.

1955

Map of Garmisch Sub-Area facilities in downtown Garmisch. Map published in 1955.

Click on the thumbnail to view a larger format of the same map.

---
Installation Maps
| | | | |
| --- | --- | --- | --- |
| 1. Hawkins Barracks, Oberammergau, late 1950s | 2. Chiemsee Leave Center, 1950s | 3. Obersalzberg Area, 1950s | 4. Berchtesgaden Area, 1950s |
Looking for installation maps and information on US Army kasernes in and around Regensburg. If you have any, please contact the webmaster.
TELEPHONE DIRECTORIES
NOTE: I plan to post extracts from the "Troop Units" section of the telephone directories sometime in the near future - if I see that there is any interest.
| | | | |
| --- | --- | --- | --- |
| 1. Garmisch and Berchtesgaden, 15 Aug 1956 | | | |
---
COMMAND AND COMMUNITY NEWSPAPERS
NOTE: I plan to post extracts from the command, unit and community newspapers sometime in the near future - if I see that there is any interest.
Click on thumbnail of newspaper to read the front page.
The Pass Times- Some of the issues published while in Germany
| | | | |
| --- | --- | --- | --- |
| 1. The Pass Times, 13 June 1953 (362 KB) | | | |
| | | | |
---
PHOTOS
Click on thumbnail to view larger image
| | | | |
| --- | --- | --- | --- |
| | | | |
| A. Krafft-von-Delmensingen Kaserne, 1930s | B. Gebirgsjäger Kaserne, late 1930s | C. Platterhof Hotel | |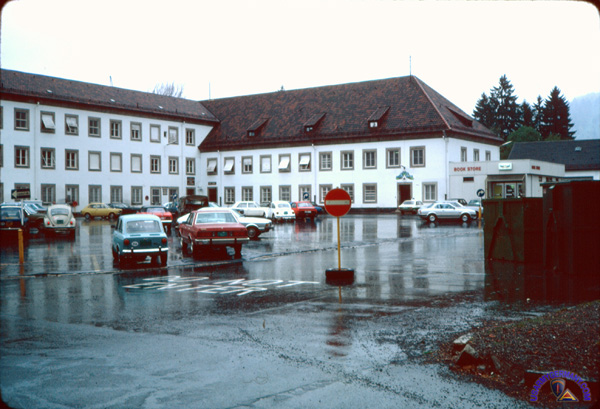 Shopping Center, Bahnhofstrasse, Garmisch 1980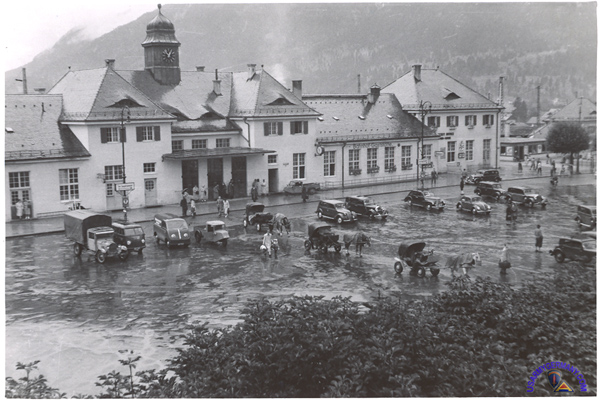 Garmisch-Partenkirchen Bahnhof, 1950s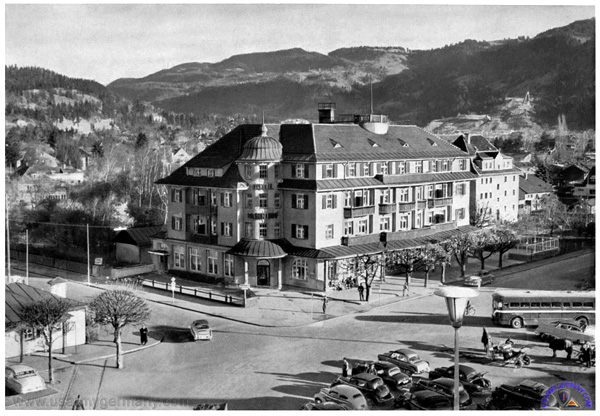 Bahnhof Hotel (center) & Billeting Office (lower left), early 1950s
| | | | |
| --- | --- | --- | --- |
| 1. Garmisch, 1950 | 2. Artillery Kaserne, 1950 | 3. Sheridan Barracks, 1950 | |
| 3. Garmisch-Partenkirchen | 4. Green Arrow Inn | 5. Hotel Eibsee | 6. Hotel Eibsee, 1950 |
| 7. Casa Carioca | 8. Marshall Center | 9. Alpenhof Hotel, 1947 | |
| | | | |
| Berchtesgaden | | | |
| A. Gebirgsjäger Kaserne | B. Gebirgsjäger Kaserne | C. Gebirgsjäger Kaserne | D. Gebirgsjäger Kaserne |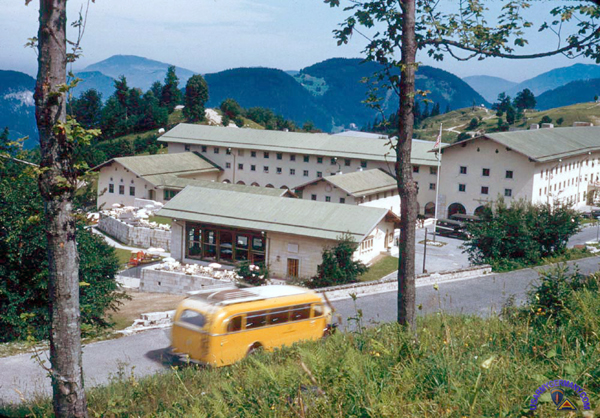 General Walker Hotel and complex, Berchtesgaden, 1954 (Harold Badten)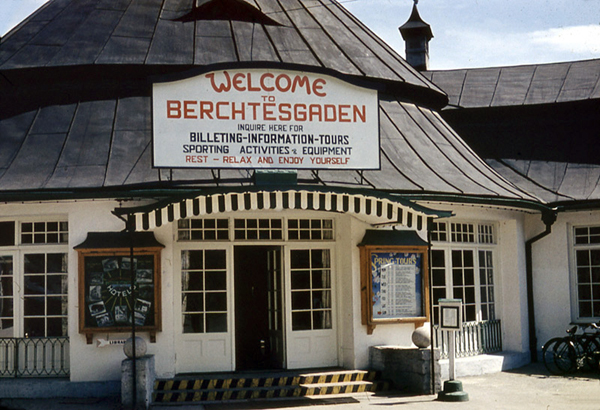 Berchtesgaden Billeting Office, 1954 (Herb Williamson)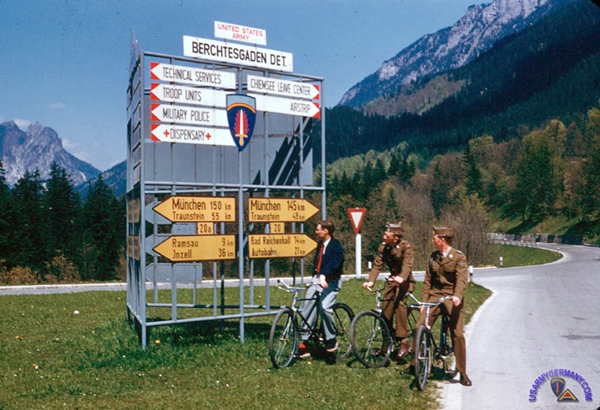 Enjoying the scenery at Berchtesgaden, 1954 (Harold Badten)

1. Berchtesgaden 1946


2. "The Take Ten" Snack Bar, 1947-48




3. Alpine Inn

4. Berchtesgadener Hof

5. Hotel Deutsches Haus

6. Hotel Bellevue

7. View from terrace, Gen Walker Hotel

8. Gen Walker Hotel, 1954

9. Gen Walker Hotel, early 1950s

10. Alpine Inn

11. Take Ten Snack Bar, Berchtesgaden 1949-50


12. Hotel on Koenigsee

Additional explanations and details on these photos would be very much appreciated!

13. Koenigsee

14. Koenigsee

15. AFRC Bldg, Berchtesgaden

16. Berchtesgaden

17. Berchtesgaden

18. Berchtesgaden

19. Berchtesgaden

20. Berchtesgaden

21. Berchtesgaden

22. Berchtesgaden

23. Bowling Center, Berchtesgaden

24. Bowling Center, Berchtesgaden





25. Leave and Recreation Center, early 1950s

26. Gen Walker Hotel, early 1950s

27. The Take Ten (KB)

28. Opa and the PX (KB)

29. QM Filling Station #6 (KB)

30. Special Services Library (KB)

31. Berchtesgadener Hof (KB)

32. TDY House (KB)

33. (KB)

34. (KB)

35. (KB)


36. Gen Walker Hotel (194 KB)
Chiemsee

1. Chiemsee Leave Center

2. Chiemsee


1. (KB)

2. (KB)






Degerndorf
A. Jäger Kaserne
B. Jäger Kaserne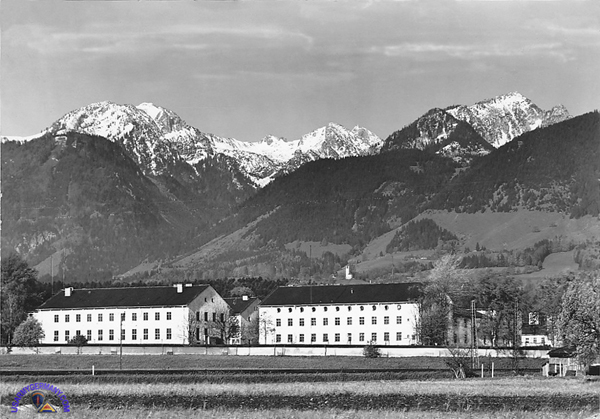 Degerndorf Kaserne, Degerndorf, mid-1950s
| | | | |
| --- | --- | --- | --- |
| 1. Main Gate, Degerndorf Ksn | 2. Degerndorf Ksn (176 KB) | | |
| | | | |
| Mittenwald Kasernes | | | |
| A. Gebirgsjäger Kaserne | B. Gebirgsjäger Kaserne | C. Gebirgsjäger Kaserne | D. Gebirgsjäger Kaserne |
| 1. Jäger Kaserne, Mittenwald, mid 1950s | | | |
| | | | |
| Oberammergau | | | |
| A. Hötzendorf Kaserne | B. Hötzendorf Kaserne | C. Hötzendorf Kaserne | |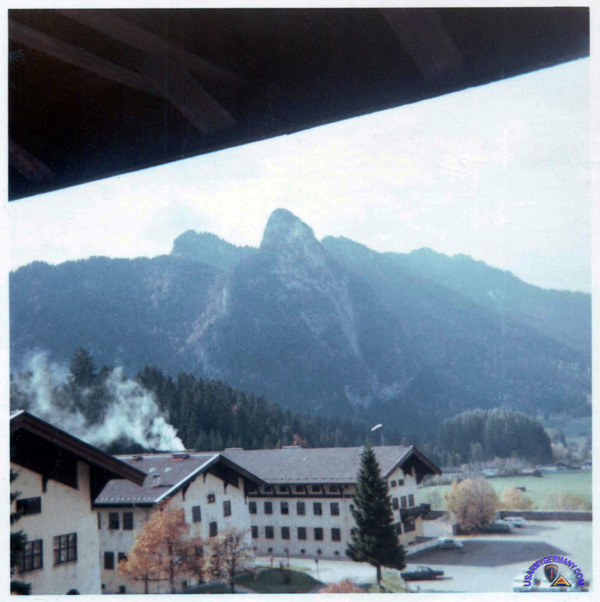 Hawkins Barracks, 1969
(John C. Dispirito)
| | | | |
| --- | --- | --- | --- |
| 3. EUCOM Intel-MP School, Oberammergau 1950 | 4. European Theater Intelligence School, 1946 | 5. European Theater Intelligence School, 1946 | 6. European Theater Intelligence School, 1946 |
| 7. European Theater Intelligence School, 1946 | 8. European Theater Intelligence School, 1946 | 9. European Theater Intelligence School, 1946 | |
| 10. Dependent Housing area | 11. Hawkins Bks from mountain top | | |
---
HISTORIES & MISC. INFORMATION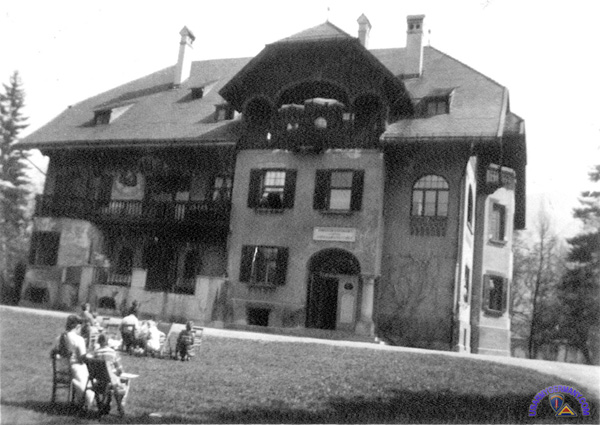 1949
(Source: Email from Capt Minna Ahlmann, USAF, George C. Marshall European Center for Security Studies)
Based on an inquiry from a former Army dependent who was a 3rd grader at Oberammergau in 1946/47, we were able to determine the following situation for grade-school dependents in those years in the Garmisch and Oberammergau communities.

Oberammergau students were bussed daily to the school which was in the Kurhaus of Garmsich, located in the Kurpark.
A photo (see above) of the school as it appeared in 1948 was provided by another a Garmisch student who went to that school in 1948. The photo shows American school children in the school yard during art class - they are drawing pictutres of the school building.
---
1949
(Source: Thanksgiving Menu, HQ Troop Detachment, 7808 SCU, Nov 24, 1949)
7808 Station Complement Unit, APO 172


Roster, Headquarters Troop Detachment, 1949

Page 1, Officers, MSG, SFC, SGT, CPL
Page 2, CPL cont'd, PFC
Page 3, PFC cont'd, Privates



.
---
---
1958
---
1963
(Source: STARS & STRIPES, Nov 12 1963)
Army to Return Hotel to Germans

The Hotel Deutsches Haus will be returned to German custody on Nov. 15.

Since 1945, the hotel has been used by the Berchtesgaden Recreation Area to accommodate American servicemen.

In announcing the turn-over Southern Area Command CO Col Lee C. Miller said the release is in conjunction with Army policy of turning back German property which US forces no longer need. German and American officials will attend the Nov. 15 ceremony.
---
1971
(Source: Email from Mike Lehman)
The maps of Garmisch brought back memories of my family's visit in 1971. Dad was assigned to USAFE HQ in Wiesbaden and we had just settled into base housing when we went south on our first trip beyond the Wiesbaden area. I know we stopped at one of the US rest stops on the way down, maybe around Stuttgart?

We arrived in Garmisch and checked into the Eibsee Hotel. Together, we strolled around town, viewing the Olympic ski jump and taking the walk through the scenic Partnach Gorge. I managed to find a hobby shop, where I bought a Marklin HO scale metal kit of a 2 axle passenger coach, which I assembled posthaste in my room. I'm a bit of a railfan, as you'll see from what constitutes the bulk of my 40 year old memories...

The Eibsee Hotel was a wonderful old edifice. In the dining room that evening, we enjoyed great food and mom and dad split a bottle of Mateus wine from the distinctively shaped bottle. Apparently, the US gov't bought a lot of that stuff, as there was plenty in the European facilities and I've also come across references to Mateus in some Vietnam memoirs I've read.

The next morning we got up early and had breakfast at another US dining facility near the Bahnhof. I tried to figure out what it was from the downtown Garmisch map, but it may have been something else earlier on that map, as I haven't been able to identify it there. Then we boarded the train at the bahnhof to Innsbruck to cross into Austria on this stunningly beautiful rail line. Innsbruck was neat, we lunched and shopped with the mountains looming above the town, another past Winter Olympics site. The ride back was equally beautiful.

The next day, we went to the Zugspitzbahn (cog railway) station. It ascends the mountain, the highest in German (but shared with Austria), then plunges into a tunnel even as the train strains at a steep angle to pull it up the mountain with the cogwheel under the car engaging the toothed center rack between the running rails. The station at the top is inside the mountain. Not shown on this map as it wasn't built yet is the cable tramway that now descends from the summit house to return you back to the station where you started. At the time, it had the longest cable span between towers in the world. It was pretty close to flying as you take that first steep section of cable off the top of the mountain.

We came into town from Munich, so we took the road west to Oberammergau for the scenic bounty it offered. I'm sure our family's experience was similar to many other visiting Americans. Our visit to Garmisch was a reminder that, even though we were there because a parent had serious business to do, the cultural aspects of life in Germany were outstanding resources that helped strengthen existing ties of kinship between Germany and the United States.
---
1984
(Source: Das USAREUR Echo, Feb 1984)
TMP Garmisch is 37

Original article written in German by Dr. Kurt Heil

The transportation motor pool at Garmisch was established by 3rd Army Special Services in the period immediately following the end of WWII. It was originally located at the former Rathaus (municipal building) of the town of Garmisch.
Sometime later the motor pool was moved to Military Government building in Garmisch (later became the PX complex). During that period, the TMP operated a bus service for military personnel to all the hotels run by the Recreation Center, such as the Post Hotel in Garmisch, Hotel Eibsee, Hotel Riesersee, Hotel Badersee, the Garmischer Hof, and several others. The buses also connected the dependent housing area with US facilities. On several occasions TMP transportation assets were used to transport General Eisenhower from the Haus Hirth to the golf course or Haus Flora.

In 1948, the TMP experienced another relocation when it was moved to Sheridan Barracks (formerly Jäger Kaserne). While stationed there the TMP was reorganized into three separate sections: a Sedan section, a Cargo section and a Bus section. In 1950, the motor pools were again consolidated.

Photo: Herr Riedmeier in a GMC deuce-and-a-half in front of the Bahnhof shortly after WWII.
In 1952 the personnel strength at the TMP was reduced by 50 percent and in 1957, the Garmisch TMP participated in moving POL from the POL storage site at Camp Texas (Oberpfaffenhofen) to French armed forces in the Lake Constance (Bodensee) area.

Between 1958 and 1968, the TMP conducted group tours for AFRC and bussed American school children from Garmisch to dependent schools at Murnau and Oberammergau.

In 1968, the TMP was relocated one last time, to Artillery Kaserne.
---
Related Links:
Armed Forces Recreation Center Europe
- the official web site
AFRC Reunion Page
- web site hosted by Paul Lambres for former AFRC employees; check out the Message Board and Archives

AFRC Timeline 1945-2004

- page with historical highlights and personal recollections compiled by Jim Carey
George C. Marshall Center
- The Center is a renowned international education institution that promotes dialogue and understanding among the nations of America, Europe and Eurasia. Dedicated in 1993, the Center's mission is to continue Marshall's vision into the 21st Century.
Garmisch, Chiemsee and Berchtesgaden
- Geoff Walden's page with pre-WWII and WWII era photos of the US Army's post-WWII recreation areas, "Third Reich in Ruins".