If you do NOT see the Table of Contents frame to the left of this page, then
Click here to open 'USArmyGermany' frameset
For additions, corrections, or suggestions please contact the webmaster
---
| | |
| --- | --- |
| MAPS | |
Installation Maps
| | | | |
| --- | --- | --- | --- |
| 1. Hammonds Bks, Seckenheim | 2. Patton Bks | 3. US Army Hospital | 4. Tompkins Bks, Schwetzingen |
| 5. Heidelberg AAF | 6. Stem Ksn | 7. Campbell Bks, Heidelberg, 1968 | 8. Tompkins Bks, Schwetzingen, 1968 |
| 9. Heidelberg Shopping Center, 1968 | | | |
---
1951

Heidelberg Town Plan. The map was prepared by the 524th Engineer TOPO Company in April 1951. It shows US installations and facilities in the Heidleberg area.

Click on the thumbnail to view a larger format of the same map.
---
1951

Heidelberg Downtown. This strip map shows US facilities in the downtown area of Heidleberg.

Click on the thumbnail to view a larger format of the same map.
---
1980

Topographical maps of Heidelberg and surrounding area. These maps are reproduced from the "U.S. Military Installation Atlas" published by the 37th Transportation Group in 1980.

Click on the thumbnail to view a larger format of the same map.

Click here for a list of the installations.
---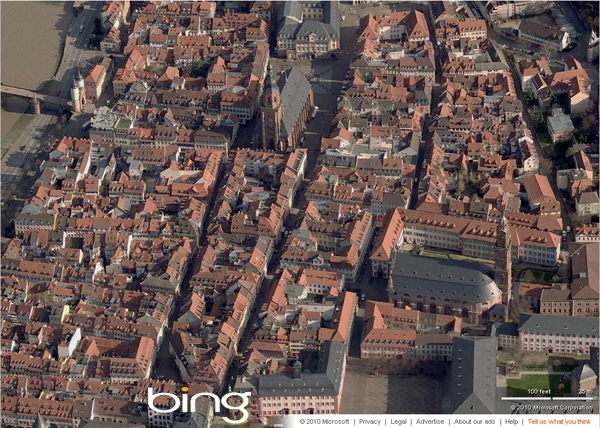 Bird's Eye view of Old Town Heidelberg - similar perspective as above (Bing)
June 2004

Panoramic view of the southern part of Heidelberg where most of the US facilities are located. View is from the Königstuhl hill. (Source: Sean White)

Click on the thumbnail to view a larger format of the same photo.
---
TELEPHONE DIRECTORIES
NOTE: I plan to post extracts from the "Troop Units" section of the telephone directories sometime in the near future - if I see that there is any interest.
| | | | |
| --- | --- | --- | --- |
| 1. 7th US Army/Heidelberg Telephone Directory, March 1945 | 2. 3rd US Army/Heidelberg Telephone Directory, October 1945 | 3. Heidelberg Telephone Directory, March 1947 | 4. Heidelberg Telephone Directory, 25 January 1949 |
| 5. Heidelberg Telephone Directory, 28 January 1950 | 6. Heidelberg Telephone Directory, 29 March 1952 | 7. Heidelberg Telephone Directory, 8 November 1953 | 8. Heidelberg Telephone Directory, 15 October 1955 |
| 9. USAREUR Telephone Directory, 25 July 1959 | 10. USAREUR Telephone Directory, Spring 1980 | | |
---
PHOTOS
Click on thumbnail to view larger image
| | | | |
| --- | --- | --- | --- |
| | | | |
| A. Grossdeutschland Kaserne, late 1930s | B. Grossdeutschland Kaserne, 1930s | | |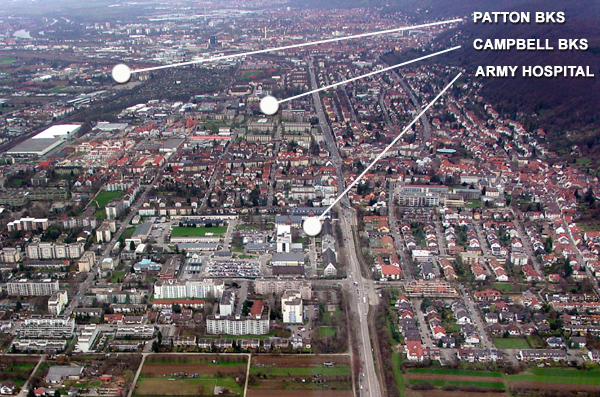 Kasernes in Heidelberg (Mike Smith)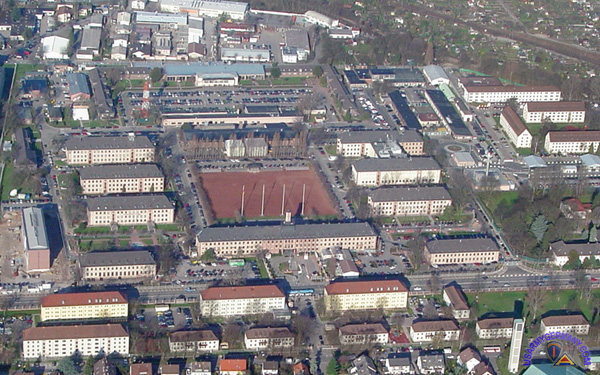 Campbell Barracks, Heidelberg, recent (Mike Smith)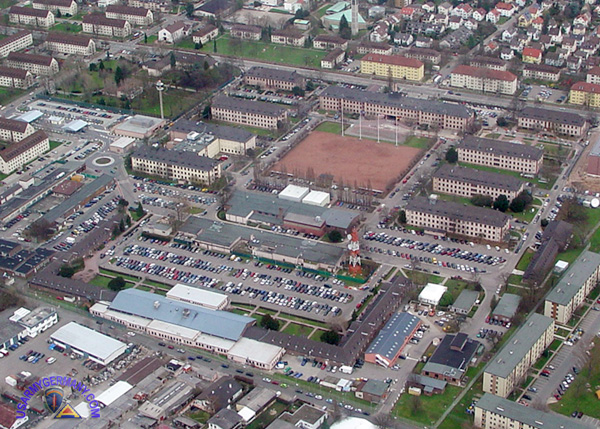 Campbell Barracks, Heidelberg, recent (Mike Smith)

1. Grossdeutschland Kaserne, 1945 (163 KB)


2. HQ EUCOM, Heidelberg, prob 1950
Click here to supersize (401 KB)


3. Farewell Review, Campbell Bks, July 1952


4. Campbell Barracks, mid-1950s (364 KB)

5. Campbell Barracks, 1962-63 (KB)

6. Campbell Barracks, 1962-63 (KB)

7. Mark Twain Village, 1962-63 (KB)

8. Heidelberg, 1962-63 (KB)

9. Grossdeutschland Kaserne, 1946 (204 KB)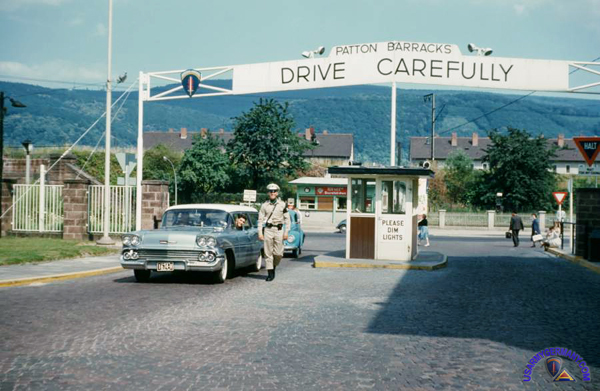 Patton Barracks main gate, 1960 (529th MP Co website)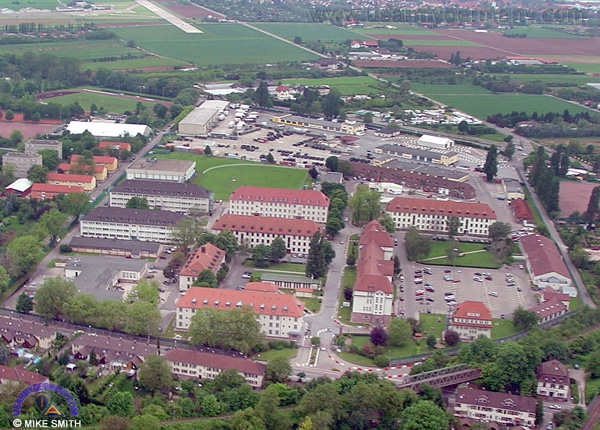 Patton Barracks, recent (Mike Smith)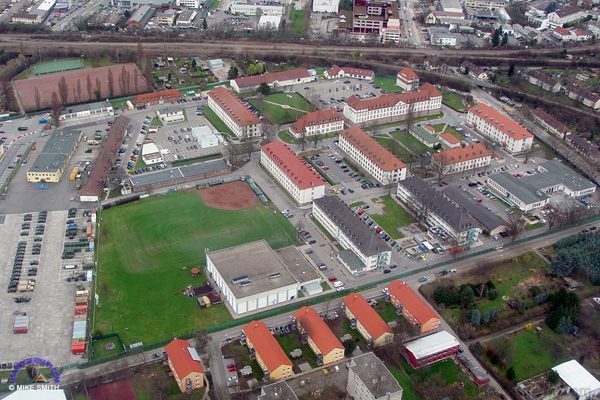 Patton Barracks, recent (Mike Smith)
| | | | |
| --- | --- | --- | --- |
| 1. Patton Bks, 1960 (KB) | 2. Patton Bks, around 1960 (KB) | 3. Patton Bks Main Gate, 1970 (116 KB) | 4. Patton Bks Main Gate, late 1950s (KB) |
| 5. Flaming Sword Service Center, late 1950s (KB) | 6. Main gate (KB) | 7. Kirchheimer Weg (KB) | 8. (KB) |
| 9. Post chapel (KB) | 10. (KB) | 11. (KB) | |
| | | | |
| --- | --- | --- | --- |
| 1. Patton Bks, 1947 | 2. Patton Bks, 1947 | 3. Radio Repair shop, 1947 | |
| | | | |
| | | | |
| | | | |
| | | | |
| --- | --- | --- | --- |
| | | | |
| 1. Heidelberg AAF, 1963 | 2. Heidelberg AAF, 1966 | | |
| | | | |
| | | | |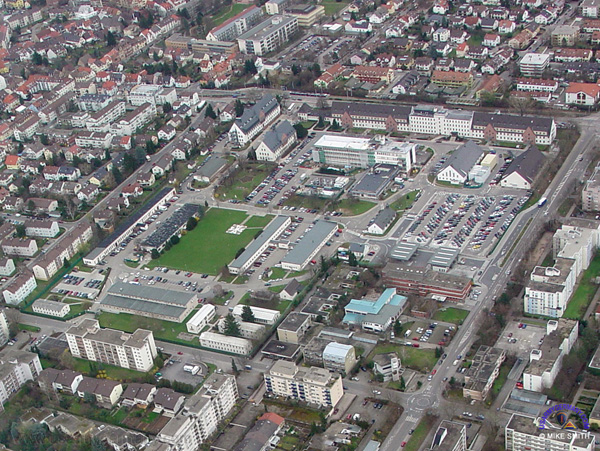 US Army Hospital Heidelberg, recent (Mike Smith)
| | | | |
| --- | --- | --- | --- |
| 1. Nachrichten Kaserne, Heidelberg, 1952 | 2. 130th Sta Hosp main gate, early 1950s | 3. 130th Sta Hosp, early 1950s | 4. 130th Sta Hosp, early 1950s |
| 5. 130th Gen Hosp, early 1950s | 6. 130th Gen Hosp, early 1950s | 7. 130th Gen Hosp, early 1950s | 8. 130th Gen Hosp, early 1950s |
| | | | |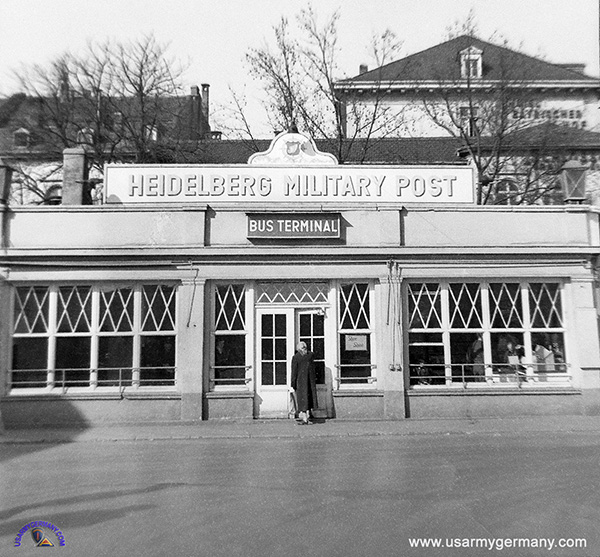 Heidelberg Military Bus Terminal near the Hauptbahnhof, 1940s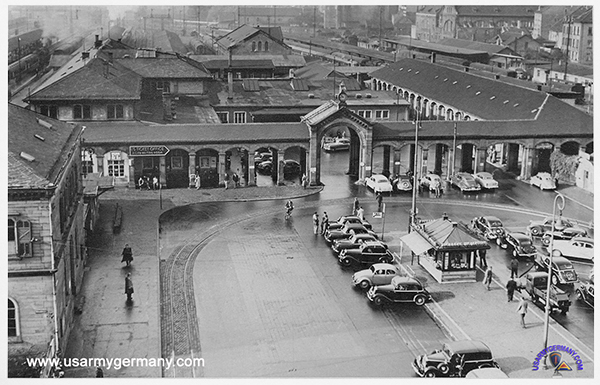 The old main train station in downtown Heidelberg, early 1950s. A few years later it would be
replaced by a new train station that would be built right next to the American shopping center.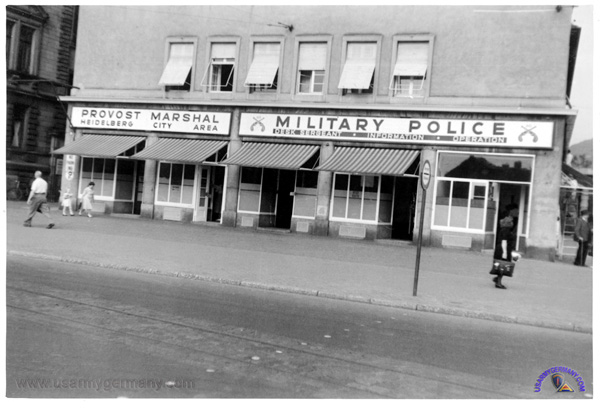 Heidelberg MP Station and Provost Marshal Office (9 Rohrbacherstrasse), 1951 (Bing Maps)
| | | | |
| --- | --- | --- | --- |
| 1. UNRRA Headquarters, Heidelberg, 1945-46 (KB) | 2. Heidelberg MP Station, 1946 | 3. Special Services Center, 1951 | 4. PHV housing, 1980s |
| | | | |
| | | | |
| --- | --- | --- | --- |
| | | | |
| A. Panzer Kaserne | B. Panzer Kaserne | C. Panzer Kaserne | D. Panzer Kaserne |
| E. Panzer Kaserne | | | |
| | | | |
| | | | |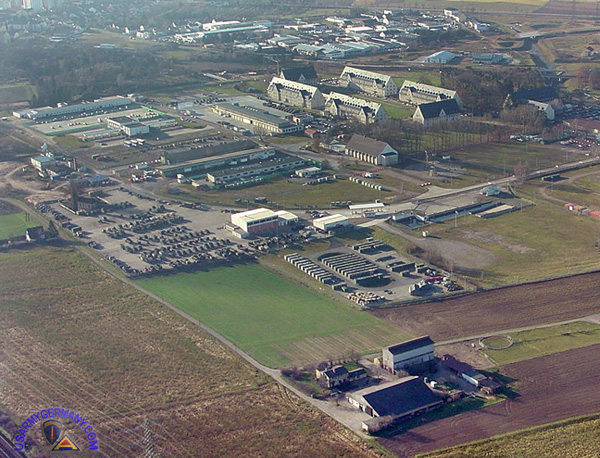 Tompkins Barracks, Schwetzingen, recent (Mike Smith)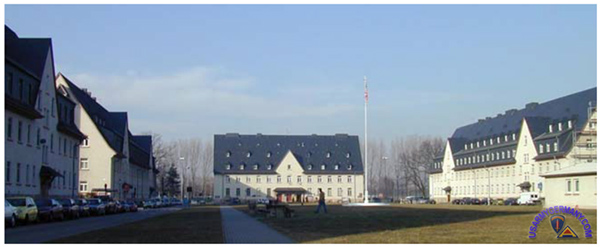 Tompkins Barracks, Schwetzingen, 1990s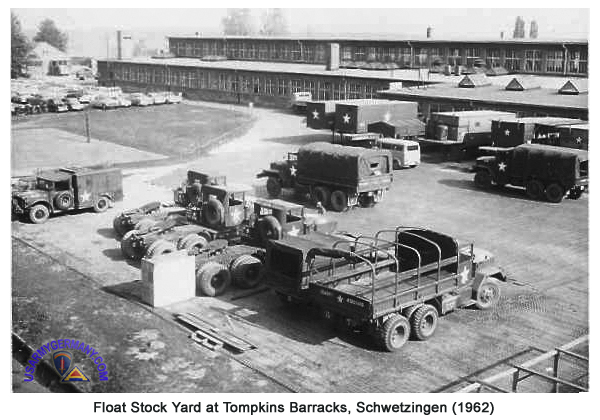 | | | | |
| --- | --- | --- | --- |
| 1. Sketch of Tompkins Bks, 1968 | 2. Building in center (bottom) is Bowling Alley | 3. Building in center houses Barber Shop, Service Club, Snack Bar, and PX | 4. Burned out remains after a fire at 541st Engineer Co |
| 5. Headquarters Building for Tompkins Barracks | 6. Float Stock Yard at Tompkins, 1962 | 7. 964th Float Stock Yard | 8. 964th Float Stock Yard ) |
| 9. Main gate, early 1960s | 10. Outside of main gate | 11. Outside of main gate | 12. Open House |
| 13. Snack Bar | 14. Retreat | 15. Motor pool area | 16. Getting ready to go to the field |
| 17. HJ on display | 18. US and German helos | | |
| | | | |
| | | | |
| --- | --- | --- | --- |
| 19. Bldg #4222 | 20. Post chapel | 21. Post chapel | |
| 22. Tactical equip shop | 23. Maintenance bays | 24. Supply building | |
| | | | |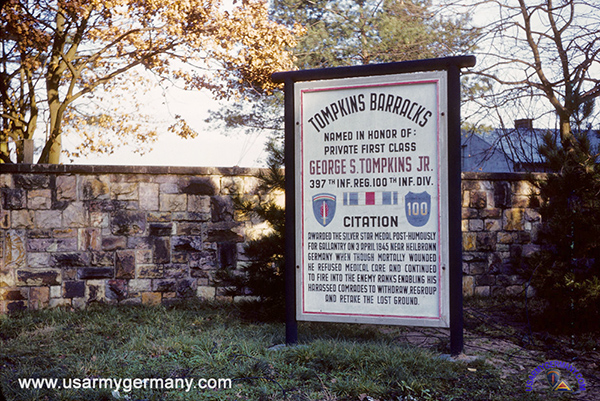 Sign near main gate at Tompkins Barracks, 1952 (Webmaster's collection)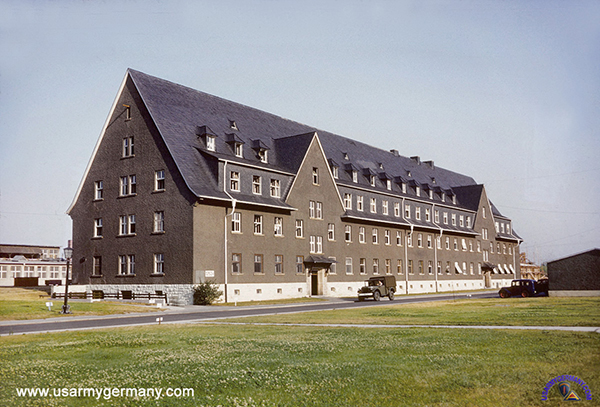 Bldg 4253 (center) and 4252 (far right), Tompkins Barracks, 1952 (Webmaster's collection)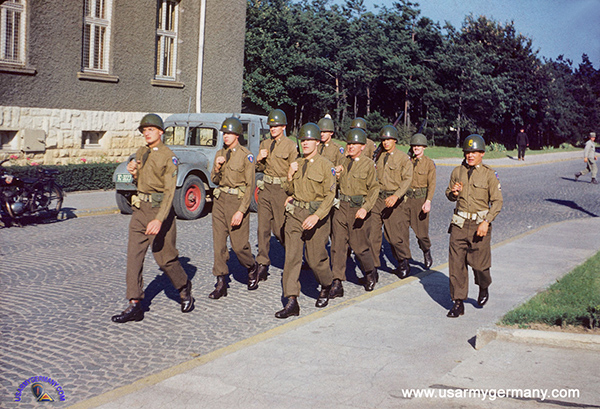 A detail of soldiers marches on a Tompkins Barracks street, 1951 (Webmaster's collection)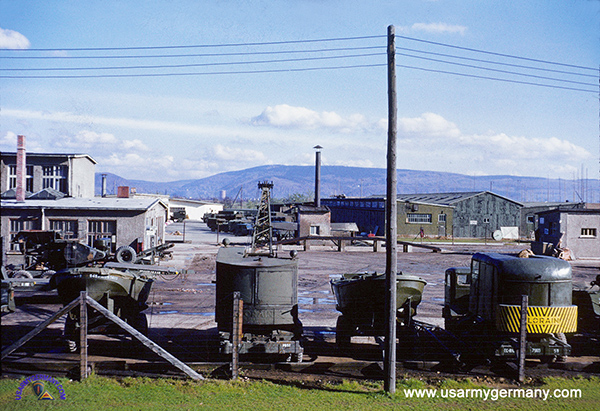 Tompkins Barracks motor park, 1951 (Webmaster's collection)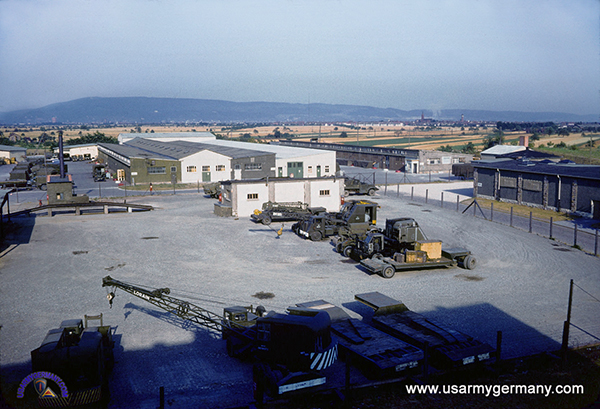 Tompkins Barracks motor park, 1951 (Webmaster's collection)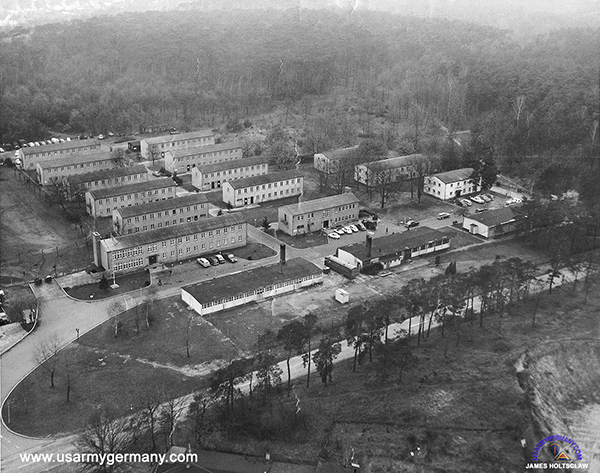 Aerial photo of Kilbourne Kaserne (James Holtsclaw)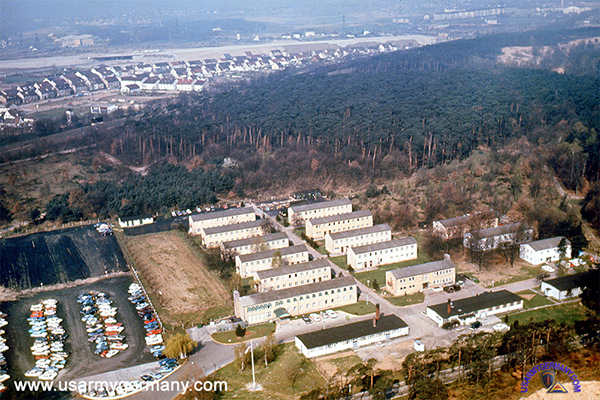 Aerial photo of Kilbourne Kaserne (Webmaster's collection)

| | | | |
| --- | --- | --- | --- |
| | | | |
| | known as Stem Ksn after Oct 1988 | | |
| | | | |
| --- | --- | --- | --- |
| 1. Main gate | 2. Former CID Hqs | | |
| 3. Autobahn 656 | 4. Bldg 1007 | 5. Bldg 1000 (foreground) | 6. Bldg 1002 and 1004 |
| 7. Bldg 1006 | 8. Training area for K-9s | 9. Bldg 1010 - K-9 unit | |
---
USMCA Heidelberg/ 411th BSB (APO 09102) - Histories, Misc. Information

Heidelberg is located on the Neckar River in Baden-Wuerttemberg, approximately 55 miles south of Frankfurt. Community Commander for Heidelberg was the Chief of Staff, HQ USAREUR.
Geographic Locations identified as part of Heidelberg MILCOM in USAREUR Reg 10-20, 14 Dec 1978 (1):
| | | |
| --- | --- | --- |
| | Heidelberg | installations: Campbell Barracks; Patton Barracks; Nachrichten Kaserne (USAH); Heidelberg AAF; Autobahn Kaserne (Seckenheim). |
| | Koenigstuhl | strategic radio relay site |
| | Leimen | |
| | Oftersheim | |
| | Schwetzingen | installations: Tompkins Barracks; Kilbourne Kaserne. |
| | | Click here for the Heidelberg MILCOM section of the BICC list |
(1) The list of remote sites associated with Heidelberg MILCOM in the 1978 Reg was incomplete. Some of the missings sites:
Schwetzingen local training area
and
Oftersheim Firing Ramge
.
Additional information and details would be appreciated! Contact the webmaster.
On 16 October 1991, under the
Community Command Plan
, USMCA Heidelberg was redesignated as the 94th Base Support Battalion and assigned to the 26th Area Support Group, also located in Heidelberg. Later, the 94th would be redesignated as the 411th BSB.
---
Amerikaner in Heidelberg, 1945 - 2013: a look back (in text and over 170 photos) at the history of the US Army garrison in Heidelberg (Military Post, Headquarters Area Command, Military Community, Area Support Group) and the long-term and close relationships developed between American soldiers/family members and their German neighbors in Heidelberg during the almost 70 years of coexistence along the Neckar River.



The book, in German only, will be available on or about 22 September 2014 and can be purchased through the Verlag Regionalkultur - link. A "Look Inside" that includes the Table of Contents is available in PDF format - link.
---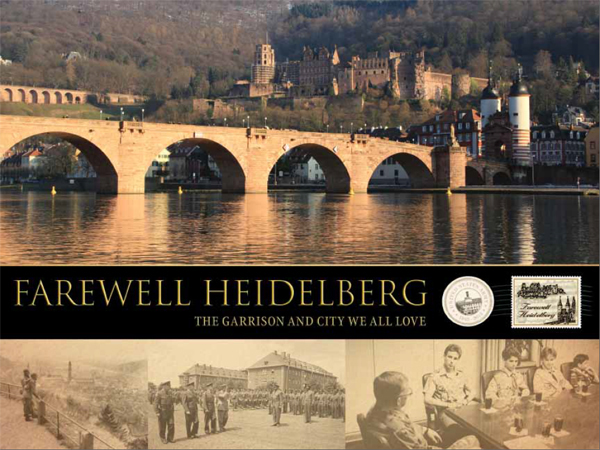 Draft of cover for the "Farewell Heidelberg" commemorative book soon to be released
Farewell Heidelberg: the US Army garrison in Heidelberg (USAG Baden-Württemberg) is publishing a commemorative book as part of its "Farewell Heidelberg" activities. The book is scheduled to be released on 29 May, 2013 just in time for the official closure ceremonies to be held in early June.

The following is the official statement by the Farewell Heidelberg Celebration committee as far as when and how the book can be purchased:



The commemorative tabletop book, Farewell Heidelberg, will be available on 29 May 2013 and can be purchased in person only.

Books will not be reserved, withheld, or shipped.

The book costs $15.00 and is payable in person throughout the Celebration, 1-9 June 2013, at the Village Pavilion Community Center on Patrick Henry Village in Heidelberg.


You can also find out more about scheduled "Farewell Heidelberg" activities by visiting their Facebook page: link
---
(Source: Public Affairs Office, Headquarters Allied Force Command Heidelberg, Campbell Barracks, Heidelberg)
HISTORY BOOK, 1952 - 2013 and Former Times

Published by Headquarters, Allied Force Command, Heidelberg

This is the first of several books to appear that will commemorate the impending closure of the US Army Garrison and NATO command in Heidelberg and the long and close relationship that has developed over the past 68 years between US & NATO military and civilians and the German population and city officials of Heidelberg and surrounding areas.

This history is also available online.
---
(Source: Herald-Post, Oct 10, 1991)
Reorganization creates 26th Area Spt Gp and Heidelberg Base Support Battalion

Some of the change sweeping through U.S. forces in Europe came to Heidelberg Oct. 1, as the Community Command Plan was put into effect in a short ceremony at the Patton Barracks flagpole.

Heidelberg's 26th Support Group became the 26th Area Support Group, responsible for "providing base operations support for an area from Worms in the north to the Swiss border in the south," said Col. James B. Stafford, 26th ASG commander. This area includes the former Mannheim and Karlsruhe military communities. Stafford had been the Heidelberg deputy community commander, a title that no longer exists.

The community concept, in effect since the mid-1970s, has given way to the Area Support Group, or "Hub Community" concept. Heidelberg is the hub for Karlsruhe and for Mannheim, which had already consolidated with the formerly independent community of Worms.

Within Heidelberg, the Support Battalion (Provisional), commanded by Lt. Col. Richard Welter, changed its name to the 94th Support Battalion. Its mission of providing support to headquarters USAREUR has not changed. (The 94th Spt Bn was activated Oct 16, 1991.)

Providing support to the U.S. forces residents of Heidelberg will be the new Base Support Battalion Heidelberg, commanded by Lt. Col. David Huff. His duties will include most of those formerly handled by the deputy community commander, including base operations support, security, and community transition to war planning.

"We have been waiting on 1 Oct. to arrive," said Stafford, "and a tremendous amount of work has been accomplished to prepare for the implementation of the community command plan. We have many challenges as we go through the procedural changes that must take place any time you have a reorganization.

"But I am confident that together we will continue to provide outstanding support to our customers throughout the area."
---
(Source: Herald-Post, Aug 12, 1993)
26th Area Support Gp. has new commander

By Michael Mowrer
Col. John T. Revelle became the second commander of the 26th Area Support Group in an Aug. 10 ceremony at Campbell Barracks, succeeding Col. James B. Stafford.

Oklahoma native Revelle, 46, has been in Heidelberg for about a year, in a succession of jobs at HQ USAREUR in the Office of the Deputy Chief of Staff, Logistics. His most recent ODCSLOG job was as chief of the Base Operations Division.

Asked what are the biggest challenges coming up for Heidelberg and the 26th Area Support Group, he says, "As we've come to recognize in USAREUR over the last several years, change is the main challenge that we have to deal with. And while I think we've been through most of the very difficult change, we have to recognize that there will continue to be change in the future.

"The inclusion of Kaiserslautern, Pirmasens and Miesau (in the 26th ASG) is the first major change and challenge that we have, and we want to make sure that transition is very smooth.

"The second challenge that we have -- a little bit longer range -- is the announced move of V Corps to the Heidelberg area. We're deeply into the planning of that for next summer."

Also, "There is a budget challenge for fiscal year 1994. But I have every confidence that by properly identifying what our requirements are, the senior leadership of the Army is going to make sure that those requirements are met."

Despite the rapid change USAREUR is undergoing, Revelle says, "We're going to find that the Heidelberg community is going to remain relatively stable," though the internal demographics are changing with the arrival of HQ, Land Forces Central Europe soldiers and family members.

The drawdown that has seen Heidelberg drop from a population of 24,000 soldiers, civilian employees and family members to 18,000 will be countered with V Corps headquarters coming in next year.

The 26th ASG mission
"The 26th ASG is really a command and control headquarters. Our job is to establish policy and then provide the resource guidance for seven battalions. Five of those battalions provide the installation support for the communities in our area, and that's our main business. But I've also got a support battalion that basically supports HQ USAREUR, and then a signal battalion that also supports HQ USAREUR.

"We have a power protection responsibility, as any installation does, and then we have the installation management responsibilities.

"Under the community command plan, those installation management responsibilities right now include Heidelberg, Mannheim and Worms, and Karlsruhe. Beginning Oct. 1 we'll be picking up Kaiserslautern and Pirmasens" (including Miesau).
---
(Source: Herald-Post, Oct 7, 1993)
26th ASG welcomes Kaiserslautern

by Michael Mowrer

On Oct. 1 Kaiserslautern's Army elements and the subcommunities of Pirmasens and Miesau were welcomed into the fold of the Heidelberg-based 26th Area Support Group.

The 29th Area Support Group of Kaiserslautern became the 29th Support Group, giving up its base support mission to focus on its tactical mission.

Kaiserslautern's 415th Base Support Bn., which provides base operation support for Army facilities in Kaiserslautern, and the 294th BSB, supporting Pirmasens and Miesau, now fall under the 26th ASG. The 294th will reorganize to an area support team under the 415th later this coming year.

The boundaries of the 26th Area Support Group now extend from Karlsruhe through Heidelberg, Mannheim. Worms and Pirmasens-Miesau.

The mission to take on Kaiserslautern, Pirmasens and Miesau is a significant change for the 26th Area Support Group," said 26th ASG Commander Col. John T. Revelle. "We'll be doing the same work, but it is a huge increase in the area and population that we're responsible for and adds another major headquarters." (Also), "the unique makeup of the Kaiserslautern Military Community, with its Air Force-Army interrelationship is quite different than what we have with the other communities within the ASG.

"We're looking forward to the challenge and the opportunity because we're in the business of providing community support, and we can do it, and we can do it well."

"I like to remind people that the 26th Area Support Group now supports five very different communities and their subcommunities: the Heidelberg community, the Karlsruhe community, the Mannheim and Worms community, the Kaiserslautern community, and the Pirmasens and Miesau communities. Each of those has a different command structure, a different demographic makeup and a different mission that is supported. So each community has to be dealt with based on its own characteristics.

"And the change continues, because during this year we will be drawing the Karlsruhe community down to an area support team under Heidelberg, and we'll be drawing the Pirmasens BSB into an area support team under Kaiserslautern.

These decisions that were made at Hq USAREUR "realign the community support business," said Revelle, "and our job is to make it work well for the citizens of each of the communities.

"Right now as we look in the crystal ball for 1994 we are still faced with the reality that the '94 budget will offer us some additional challenges. It's my responsibility from the 26th ASG perspective to see that each community gets its fair share of the resources. And that will happen."

The Kaiserslautern area is home to the biggest concentration of Americans outside the continental United States, about 60,000 strong.
The major headquarters include Hq, U.S. Air Forces, Europe, and Hq, 21st Theater Army Area Comd.

Lt. Col. Howard C. Butler, commander of the 415th Base Support Bit., said "There's a new spirit rising in Kaiserslautern." Expansion of the 26th Area Support Group's area of command and control to include Kaiserslautern "can only enhance and add to the quality of life for family members and soldiers in Kaiserslautern Military Community;" said Butler.

Esther Lee, chief of staff for the 26th Area Support Group, said, "The (26th) ASG is in a much better position right now to take on a new base support battalion than we were two years ago when we came originally under the Community Command Plan. At that time the 26th Area Support Group was just beginning its existence, and the BSBs were "changing their complexion" from communities to becoming base support battalions. "We now have in place policies and procedures and methods for how we do business. We were figuring that out two years ago.

"The ASG has all the BSBs at heart equally," said Lee, "and that it is our intent and objective to provide the best quality of life that is absolutely possible all the way across the ASG and not to accentuate or emphasize life in one community as opposed to another.

"We are blessed throughout the ASG with having a group ofextremelytalentedprofessionalandinnovative folks," said Lee. "I think it will be a mutually supportive relationship with the new blood that we'll have coming from the K-town area both accentuating and being integrated into the currently existing ASG.

As in any marriage, however, the intermarriage of Kaiserslautern and Heidelberg will require "tremendous communication," said Lee, and this has and is taking place in the form of a series of in-progress reviews between Kaiserslautern and 26th ASG officials.

Some consolidation has already taken place. There is nowone nonappropriated fund civilian personnel office for the entire area support group, one NAF warehouse, and one "One Fund" pool of nonappropriated fund money.

In other developments, said Revclle, "The 26th ASG has two other major challenges that arc facing us at this time. The first one is the redeployment of the 3rd Brigade, 1st Armored Div. from Mannheim back to the States. The second one is the movement of V Corps headquarters from Frankfurt into Heidelberg and Mannheim. So all of these changes will make for an exciting year."

In related news, USAREUR has announced that the 6th Area Support Group will remain in Stuttgart and be responsible for Stuttgart, Augsburg and areas to the east. Original plans had been for the 26th Area Support Group to include Stuttgart and Augsburg, too.
---
HISTORIES & MISC. INFORMATION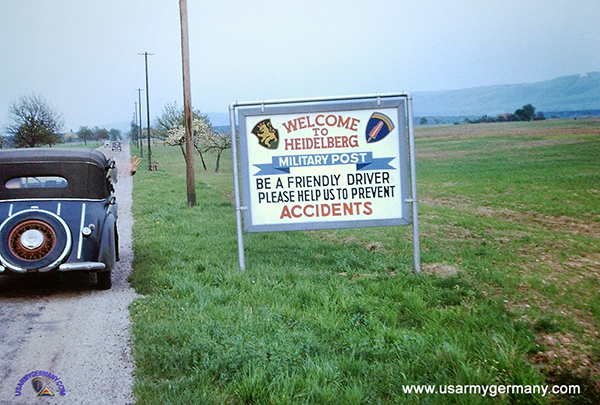 Sign along one the main roads into Heidelberg, early 1950s
| | | | |
| --- | --- | --- | --- |
| | | | |
| Mar 25, 1958 | | | |
(Source: Dependent's Guide, Heidelberg Military Post - a handbook of information for dependents in Heidelberg, 1948)
---
This is for the real oldtimers among us: a short video (11 min), originally shot by an American (Charles Bandy), shows street scenes from downtown Heidelberg in 1949 - Bismarckplatz, Bergheimerstrasse, Hauptstrasse, Sofienstrasse... I am including it here because it demonstrates nicely how much the US Army was part of the daily activity in many cities and towns in southern Germany in those days before the Army and most of its activities were consolidated into the "Little Americas" in the 1950s.

The first 7 min of the video show Heidelberg, the rest was shot in Wiesbaden and Heilbronn. Commentary is in German.

The Hotel on the right in the scene above (that's the corner of Hauptstr. and Sofienstr.) has a large sign indicating that it is the location of "Headquarters European Command - Annex." Other Army activities seen in the video are the Heidelberg Military Post billeting office and the MP Station (see photos in Misc Facilities section above). And lots of Army jeeps, trucks and busses, and American POVs.
---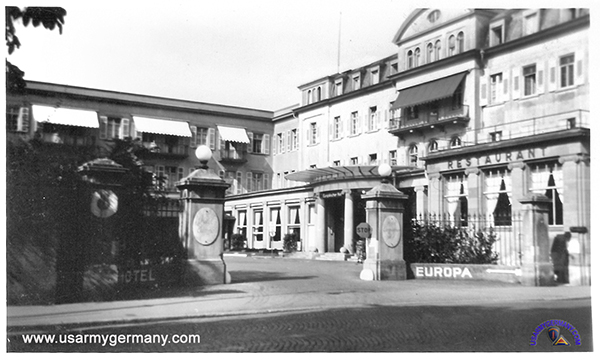 Europa Hotel, Friedrich-Ebert-Allee, Heidelberg, 1948
(Source: Heidelberg Highlights - a handbook of information for newcomers to Heidelberg Military Post, PIO, 1950)
---
(Source: STARS & STRIPES, Dec 17, 1950)
SCHLOSS HOTEL, Heidelberg

The Schloss Hotel, a.k.a. the Schloss Guest House, is an Army-operated guest house for high-ranking visitors, military and civilian. It is situated on a hillside overlooking the famous Heidelberg Schloss and the old part of the city of Heidelberg.

Built in 1875, the hotel had served as a luxury hotel for touring royalty and distinguished artists in the decades leading up to WWII. (Mark Twain reportedly work on the final draft of his book "The Innocents Abroad" while staying at the hotel during one of his trips to Europe.)

With the end of the war, the hotel was requisitioned by the US Army and operated as a VIP guest house. A list of just a few of the dignitaries who have stayed there since 1945 -- Secretary of State Dean Acheson; Gen Omar Bradley; Gen Lucius D. Clay; James A. Forrestal; John J. McCloy; Edgar Bergen; Charlie McCarthy; Lana Turner; T.S. Eliot; and - as the S&S article states - at one time or another just about every general in EUCOM.

(Current) manager of the hotel is Capt C.A. Beazley. He has a staff of 70 to service the 40-plus guest rooms. The hotel also operates its own laundry, conservatory, and a wine cellar. Two Army mess stewards, reportedly among the best the Army has to offer, run the kitchen. Head chef is Willi Langloh who manages seven cooks.

(Webmaster Note: Haven't found any information on when the hotel was closed and returned to the original owners. If anyone has additional details or photos of the hotel, would love to hear from them.)

ADDITIONAL INFORMATION
(Source: Email from Gerhard Moroff, Germany)
I noticed a request on your USAREUR website that you are interested in the subsequent history of the Schlosshotel. The building had been returned to its former owners by 1957, but an attempt to reestablish it in its former function failed. Subsequently, it was acquired by the University (of Heidelberg) who used it as a dormitory for its students. However, they (the University) were not able to bear the cost of maintaining such a luxurious building.

After a period of disuse, the hotel is now being extensively rebuilt and developed with condos and so on. A picture of what it shall look like (I leave it to you to judge the aesthetic qualities...) can be found here http://www.wohnen-im-schlosshotel.de/vision/

My deep respect, heartfelt thanks and congratulations for your relentless work on your outstanding website which I visit regularly.

Click here for more information on Heidelberg and the Schloss Hotel at the time of Mark Twain's visit.



(Select the round image under the

banner to access information.)
---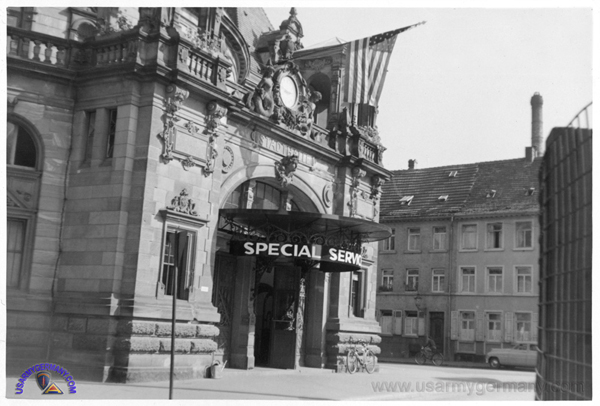 The Heidelberg Stadthalle served initially as the Starlight Club and then
housed offices of the HMP Special Services and American Red Cross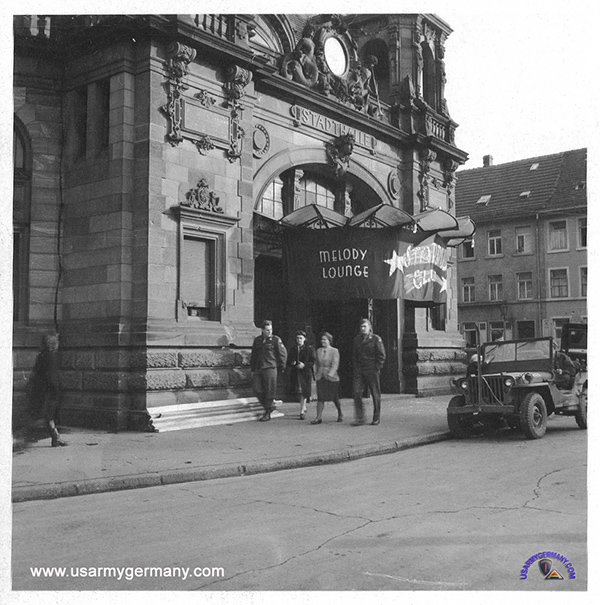 The Heidelberg Stadthalle as the Starlight Club in 1946 (Webmaster's collection)
1951
STADTHALLE, Heidelberg
(Source: INFORMATION BULLETIN (Military Government), January 1952)
Heidelberg City Hall Derequisitioned

The city hall (= Stadthalle) in Heidelberg was derequisitioned recently during ceremonies in which both high-ranking Americans and Germans participated.

The building is one of the largest and most valuable parcels of real estate in the university city to be turned back. In the formal ceremony Col P.J. Lloyd, Heidelberg Military Post commander, presented the keys of the building to Hugo Swart, mayor of the city. Maj Gen A. Bradshaw, Jr., director of logistics for EUCOM, and H.M. Coverley, acting US state commissioner for Wuerttemberg-Baden, also participated.

The city hall, originally requisitioned by the Army in April 1945 and renamed the Starlight Club, has been a recreation center. A fire caused $70,000 damage to the interior of the building in March 1948. When reconstruction was completed, the city hall was taken over by the Heidelberg Special Services offices and the American Red Cross. Completion of new buildings made space available for those two offices.

Return of the city hall is in line with the Army's policy of relinquishing control of real estate as soon as the accelerated construction program permits. Since 1945 almost 8,000 properties on Heidelberg Military Post have been derequisitioned.
---
Mid-1950s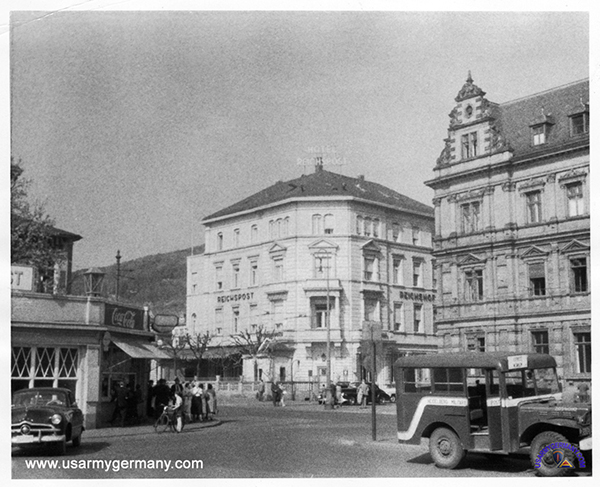 Express shuttle bus at the Heidelberg Military Bus Terminal, 1950s (Webmaster's collection)
If anyone has additional infromation, route maps and/or photos of the community shuttle bus system in and around Heidelberg (1945-1990s), please contact the webmaster.
---
1966
Public Affairs Office, HQ U.S. Army, Europe
(Source: Email from Patricia Davis, Lt Col (Ret))
I was a patient (captain) in the American Army hospital outside Heidelberg, located in the general direction of Leimen...or in the Rohrbach area, circa 1966-1967. I was under the impression the address was in Leimen, but it may have been in either Rohrbach, or the outskirts of Heidelberg proper.

Some retired Army nurse friends here at the Army Residence Community in San Antonio said it was in HeideIberg, but all I can remember is being driven from HQ, USAREUR & 7th Army, out Rohrbacherstrasse, running a high fever. I was given a room in an old kaserne building, with a brass plaque on the wall indicating General Patton had died there.

I looked at the photos on the 130th Station Hospital web page, where he was said to have died, and that definitely was not the room I was in...and the exterior photos of the building(?) didn't ring any bells either.

To answer your question regarding my service in Europe, I transferred From: HQ, US Army Security Agency at Arlington Hall Station in Arlington, VA, after completing the USASA Officer Career Course (first woman) at Ft Devens, MA -- To: HQ, USASA, Europe in Frankfurt am Main. From there, I transferred to the Public Affairs Office at HQ, USAREUR & 7A, Heidelberg, in the Command Information Division (which had Stars & Stripes, AFN-E, and unit newspaper oversight responsibility.) I was detailed Security & Intelligence, as we were always WAC Basic and Control branch, until they converted the old Corps.

In looking at the Third Army/Patton Hospital Room web photos, that doesn't look like the room I was in...as there were no interior observation windows or gurneys or other medical equipment that I recall. I definitely wasn't in the basement area, so it was likely an upper floor room. But, I can still remember that it was cold as a tomb with little or no heat and only one blanket. I hadn't been given any bed slippers and I was trying to call the ward NCO or nurse to get another blanket. They had kept my glasses, but sick as I was, I got up to see what that brightly polished brass plaque on the wall was...and when I saw it read that Patton had died in that room, I jumped back in bed and took all my medicine without any complaint! ha

I moved out of the BOQ and onto the economy after I made major, and lived in a cottage rented from my German landlord and landlady in Dossenheim bei Heidelberg. Dossenheim was the second little community north of the Neckar, off the Bergstrasse (Rte. B3?) near the Odenwald. It was the best decision I ever made, as I learned a great deal about the German people and their history...in fact they had recently discovered the elongated scull of an Alemanen tribesman in a gravel pit near the house...and the street I lived on was called Alemanenweg. I was one of two Americans in the village at the time...and did my shopping in the local stores and bakeries, bought a VW, went to the local hairdresser, and tried to practice my limited German. The local natives were helpful, since it was obvious I was trying to learn the language and understand the people. So they laughed at my Texas accent, and helped me get the things I needed.

My landlord was a "diploma engineer" with BASF in Ludwigshaven. He was a graduate electrical engineer (high voltage) who also had the yards and grounds at the plant in addition to the electric department. He had been a Hauptman in a Panzer division during WWII, and we had a lot of discussions about the war and its aftermath. Believe it or not, he was one of Patton's biggest fans! His wife was the daughter of a former employee of the Baden-Wurtemberg state government in Karlsruhe. She spoke English and several other languages quite well, and loved to practice her English with me. Both daughters (married) spoke English fluently. One taught English in a German middle school, the other taught German to American students at Pepperdine University, where her husband was the (German) business manager of the Heidelberg branch. Her husband got his MA degree, and was studying for a PhD in California, which is how I managed to rent the cottage behind their big house.

I attended many parties with this family, as their "adopted daughter" from Texas, to include electrical engineer society parties in the old castle ballroom in Heidelberg -- where they had a special "burning of the castle" for the group -- and at the Rosengarten in Mannheim... where I was one of only two Americans among 1100 Germans! It was an experience I'll never forget -- and will always treasure as long as I live. A famous Russian singer sang and played a balalaika for us at the Rosengarten -- and he had a range of what seemed to be 4 octaves! At the castle ballroom in Heidelberg castle, they served wild boar they had cooked in the castle kitchens... and the three of them were so large they each had to be carried in on a castle door by several strong men. And they served these with a genuine apple in its mouth -- like the historic old woodcut prints you see in books! We also got a glass of wine each from Perkeo's giant tun ... fun, but I preferred the soft white wines from the Mosel valley!

Frau Westerman told me all the places to go to see the real Germany -- off the beaten track -- and to appreciate the beautiful and pleasant things about the area. I also got the opportunity to attend the Fasching Ball at the University of Heidelberg one year -- where our PAO office staff were the guests of honor. [I even won a few DM at the spielbank at Baden-Baden on my birthday.] When I was promoted to major, my landlord had the BASF Roads & Grounds crew in Mannheim make a miniature garden planter (like the Bonzai display the Japanese make), and they brought a lovely cake and bottles of sekt to celebrate. I went to all their holiday parties -- met their friends -- and learned to love the food and the people and the culture. It was the best assignment I ever had.

My only disappointment was not being able to attend the ceremony when Rommel's son was elected mayor (Oberbürgermeister) of Stuttgart. Our office was invited, but I had a mandatory German class. The other officers got to sit at the same table with him, and learned a lot about his father and the climate of WWII in Germany, first hand.

When I left Germany, and boarded the duty train for the port (we were sailing on the SS United States, in 1968, before it reportedly was to be converted to a troop ship for Vietnam) my landlord and landlady asked to see me off. They joined the senior officers from PAO who were there with their wives as well, and my boss thought these were my relatives! I laughed and told him they were my German "family." It was a very sad farewell.

On the way home, aboard the SS United States, we met a hurricane at sea -- after we cleared Land's End and headed for New York. The waves were splashing up over the top decks, and there were a lot of seasick people. I couldn't believe how that gigantic ship was tossed around like a matchstick -- up and down the troughs, nose to tail. And those waves were like mountains! But the captain was a real seaman and kept us afloat. However, I can tell you seeing lady liberty in New York harbor was one beautiful sight!

P.S. I learned to eat snails and liver knodels while I was there, as well...ha

I ran into a Dr. William Durden on the Internet, the former president of Dickinson College, who said he does international education consulting with the German government, and makes regular visits over there. It would be fun to visit, compare notes and chat with you all, and your extensive knowledge of the area. I would love to see how it has changed -- but what I'd love to see most is what HASN'T changed. They say you "can't go home again...", but I'd like to try.

Thanks for the breath of fresh air.

---

26th Support Group

Farewell 549th - bridgebuilding engineers deactivate Oct. 24. - By Walter Kunz, October 24, 1985

649th Engineer Battalion - Mapping the way for USAREUR units. - By Ken Blackburn, April 2, 1987
---
HISTORY OF AUTOBAHN KASERNE
1945
From June 1945 until the summer of 1947, the 3517th Ord MAM Company provided ordnance maintenance support to units Heidelberg/Mannheim area. The company also operated a Refuel Point (military vehicles only?) and Service Station No. 1 (which, I believe, is the service station later known as the "Oasis" Service Station in Seckenheim on A656).

In June 1947, the 3517th was inactivated and the 547th Ordnance MAM Company activated in its place.
---
(Source: Heidelberg Herald-Post (Heidelberg MILCOM newspaper), Nov 3 1988)
Autobahn Kaserne renamed

Autobahn Kaseme was renamed Brig. Gen. David H. Stem Kaseme Oct. 1 in honor of the late general.

Stem once served as commander of 2nd Region Criminal Investigation Command, Europe, which has, its headquarters at the casem, Iocated on the side of the autobahn between Heidelberg and Mannheim. He was also the first chief of the military police corps regiment and commander of the 95th Military Police Battalion, Mannheim.

He died in a military aircraft accident in the United States in January 1987 while serving as deputy commanding general, U.S. Army Chemical and Military Police Center and commandant of the U.S. Army Military Police School. During 27 years of active Army service, Stem served 10 years with and in support of USAREUR and 7th Army.
At the dedication ceremony, Stem's widow, Margaret, unveiled a bronze plaque honoring her late husband, and their son David Jr., uncovered a new sign above the casern gate.

"General Stem was highly thought of as a soldier, officer and member of the Heidelberg and Mannheim communities, said SFC Wayne M. Lauton Sr., 2nd Region CID. "Every military police unit in the world had a service when he died, Lauton said.

In addition to 2nd Region CID, Stem Kaserne houses the European Transatlantic Council for the Girl and Boy Scouts, a military police dog compound, an AAFES motor pool and appliance repair services and the Roadside Theater.
The casern was constructed in 1937 by the German goverment as an autobahn maintenance and administrative center as part of Adolf Hitler's autobahn building program.

It was confiscated by U.S. Forces in 1945 and used as a gas station. The casern belonged to the Mannheim Military Commumty until 1975 when it was transferred to Heidelberg. The gas station is now closed.
---
HISTORY OF HAMMONDS BARRACKS
(Source: Email from Anthony L. Balliro)
I was stationed at Hammonds Barracks from 1948 to 1950. I was the Chief Dispatcher of the Motor Pool. We moved our living quarters to the Flughafen (Air Field) in Neuostheim ... attached to Hammond Barracks. I left Germany in July for separation. Then the Korean War started in June and I was extended for one year and sent to Yokahama Japan for a few weeks and over to Korea. I was discharged on August 23rd, 1951
Anthony Balliro
---
HISTORY OF MARK TWAIN VILLAGE
(Source: STARS & STRIPES, Feb 10, 1958)
Heidelberg Village Officially Named For Mark Twain

HEIDELBERG, Germany (Special) -- A 708-apartment U.S. military housing development opposite USAREUR Hq here has officially become Mark Twain Village, named in honor of the author who wrote of the beauties of two valleys, the Mississippi of America and the Neckar of Germany.

The village was formerly known to both Americans and Germans as "Little America," although the title was unofficial. But since three other military developments in Headquarters Area Comdd bear the names of well-known Americans -- Patrick Henry near Heidelberg, Benjamin Franklin at Mannheim and Paul Revere at Karlsruhe -- it was decided to fit the headquarters village into the pattern.

The author of "Tom Sawyer" and "Huckleberry Finn" traveled widely in Germany in the late 19th Century, making nine visits to Heidelberg.
---
HISTORY OF PATRICK HENRY VILLAGE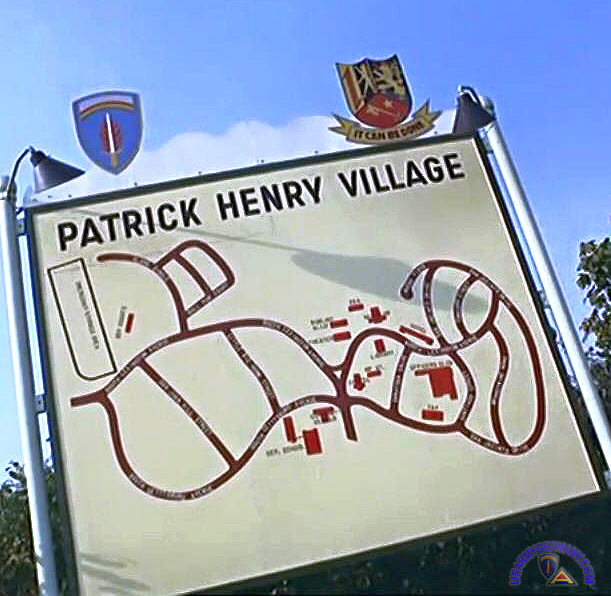 Sign at entrance to PHV, prob. early 1970s (Military Brat Life FB)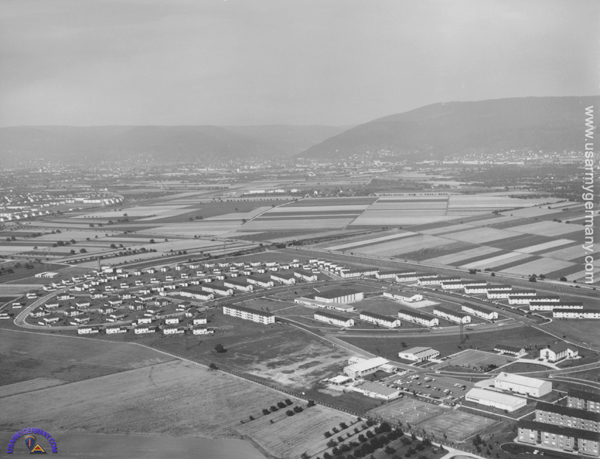 Aerial photo of Patrick Henry Village, 1958 (Webmaster's collection)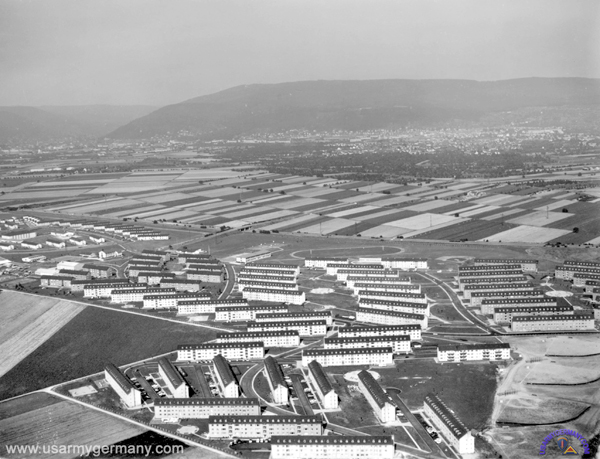 Aerial photo of Patrick Henry Village, 1958 (Webmaster's collection)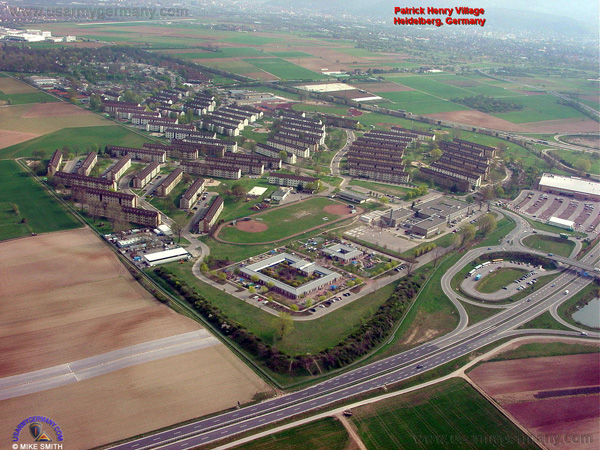 Patrick Henry Village, 1980s (Mike Smith)
(Source: Wikipedia, accessed Oct 6, 2017)
Patrick Henry Village
Patrick Henry Village, also called PHV, was a United States Army installation at Heidelberg, Germany. It opened in 1947 after World War II and was named after Patrick Henry, first and sixth Governor of Virginia.
PHV was at its height populated with up to 16,000 Americans. The housing area closed on 6 September 2013.
After the September 11, 2001, attacks in the United States, fences were built around the living quarters so couldn′t enter anymore without an US Army ID card. Also, the yearly German-American 'Volksfest' was moved to nearby Patton Barracks for security reasons.
In 2002, the US Army planned a large extension of the housing area. However, soon afterwards the Army announced the closure of all Heidelberg and Mannheim facilities.
Patrick-Henry-Village was officially closed on the 6. September 2013 after all military personell moved to the new headquarters of the United States European Command at Wiesbaden. On the 2. June 2014, the site was transferred to the Institute for Federal Real Estate.
In its final state, Patrick Henry Village had a large number of educational, recreational and public facilities as well as shops and dining facilities. Schools included Patrick Henry Elementary School (Grades K-5) and Heidelberg Middle School (Grades 6-8). Recreational facilities included a gym, a bowling alley, a miniature golf course, a movie theater, tennis courts and baseball fields. Public services included a clinic for dentistry, a library, a post office, and a Roman Catholic and Protestant church.
---
Related Links:
Seventh Army Symphony - A very nice site dedicated to the veterans of the 7th Army Orchestra between 1952 - 1962 Dead Link!