If you do NOT see the Table of Contents frame to the left of this page, then
Click here to open 'USArmyGermany' frameset
8th Transportation Battalion (Hcptr)
Seventh Army
Looking for more information from military/civilian personnel assigned to or associated with the U.S. Army in Germany from 1945 to 1989. If you have any stories or thoughts on the subject, please contact me

.
---
---
Battalion History
1950s
(Source: British Pathe Video Film Archives)

Very interesting video newsreel (2 min) on the arrival in USAREUR of a light helicopter company (H-34 and H-13) - possibly the 587th Trans Co in 1956 - aboard the utility aircraft carrier USS Corregidor.

Scenes show docking at Bremerhaven in the dead of winter and the preparations for flying the helicopters off of the Corregidor's flight deck.
---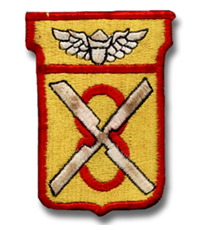 8th Transportation Bn (Hcptr) Shoulder Patch
1962
(Source: Email from Bill Redman, 8th Trans Bn, 1961-64)
ORGANIZATION (May 1962):
| | | |
| --- | --- | --- |
| UNIT DESIGNATION | DUTY STATION | COMMENTS |
| HHD, 8th Trans Bn | Oberschleissheim | |
| 11th Trans Co (Lt Hcptr) | Nellingen | H-34 |
| 18th Trans Co (Lt Hcptr) | Oberschleissheim | H-34 |
| 90th Trans Co (Lt Hcptr) | Illesheim | H-37 |
| 149th Trans Det (Cargo Hel Fld Maint) | Illesheim | |
| 110th Trans Co (Lt Hcptr) | Oberschleissheim | H-34 |
| 661st Trans Co (Lt Trans M&S) | Oberschleissheim | |
| Detachment | Nellingen | |
| | | |
---
1964
(Source: STARS & STRIPES, March 23, 1964)
The 8th Trans Bn is part of the 7th Aviation Group in Ludwigsburg. The battalion operates 55 aircraft, mostly cargo helicopters.
ORGANIZATION (March 1964):
| | | |
| --- | --- | --- |
| UNIT DESIGNATION | DUTY STATION | COMMENTS |
| HHD, 8th Trans Bn (Acft) | Fliegerhorst Ksn, Hanau | TOE 55-056D58 |
| 4th Trans Co (Med Hel) | Fliegerhorst Ksn, Hanau | H-37; TOE 55-058T57 |
| 152nd Trans Det (Cargo Hel Fld Maint) | Fliegerhorst Ksn, Hanau | TOE 55-510T56 |
| 11th Trans Co (Lt Hcptr) | Nellingen | H-34; TOE 55-057D59 |
| 90th Trans Co (Med Hel) | Illesheim | H-37; TOE 55-058T57 |
| 149th Trans Det (Cargo Hel Fld Maint) | Illesheim | TOE 55-510T56 |
| (incomplete?) | | |
| | | |
---
(Source: Billy Palmer, 66th Avn Co, 18th Avn Bn, 4/1970-9/1971)
Hello, the 8th Trans. Bn., V Corps, became the 18th Avn Bn on 25 May 1965 according to "Army Lineage Series - Aviation" by Wayne M. Dzwonchyk (1986, Center of Military History, US Army, Washington DC).

The unit (18th Avn Bn) was still active in late 1971 but shortly thereafter it was disbanded.

All I have been able to find out is that, whenever the 18th Avn Bn stood down, so did the organic units. I have not contacted the archives people at Army Military History to get any information, so I have not idea the exact dates, nor if the units became something else when the Army Aviation Branch was created and all units that had been Bns became Regiments.
If you have more information on the history or organization of the 8th Transportation Battalion, please contact me

.

---
MISCELLANEOUS UNIT INFORMATION

In 1958, the 8th Trans Bn comprised the following subordinate units:
| | | |
| --- | --- | --- |
| UNIT DESIGNATION | DUTY STATION | COMMENTS |
| HHD, 8th Trans Bn | Oberschleissheim | |
| 18th Trans Co (Lt Hcptr) | Oberschleissheim | |
| 110th Trans Co (Lt Hcptr) | Oberschleissheim | |
| | | |

---
18th Transportation Company
(1) At the time of the deployment, the company was still designated as the 587th but was soon redesignated as the 18th. That is why this report refers to the company as the 18th.

Interesting shots of the H-34's on the USS Corregidor at the port of Bremerhaven and then at the Bremerhaven Staging Area airfield.
587th Transportation Company (Lt Hel)
1956
(Source: STARS & STRIPES, March 1, 1956)
The 587th Trans Hel Co arrived on board the USS Corregidor, a Military Sea Transport Service utility aircraft carrier, on Feb 27, 1956.

The company is equipped with 23 helicopters: 21 Sikorsky H-34 CHOCKTAWs and 2 Bell H-13's. This is the first H-34 unit to be stationed in USAREUR. Home station will be Schleissheim near Munich.

Two pilots from the 328th Trans Co (WO Ben C. Reid and WO John D. Dickerson), an H-19 unit stationed at Nellingen, will serve as navigators for the mass flight that will take place when all 23 helicopters are flown from Bremerhaven to Schleissheim on May 2.
---
The 587th Trans Co, Schleissheim, was inactivated and replaced by the 18th Trans Co (Lt Hel) on May 18 1956.

(Webmaster note: I believe the 587th was originally a NY National Guard unit.)
---
18th Transportation Company (Lt Hel)
(Source: Andy Hill , 18th Trans Co)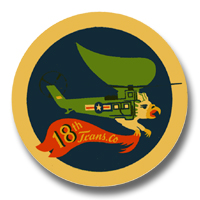 18th Trans Co decal
(Source: Email from Alfred Woodson, 18th Trans Co (Lt Hcptr))
I see that the 8th Trans. Bn. (Lt. Hcpt) is listed and as part of it is the 18th Trans Co (Lt Hcptr). I guess that I skimmed thru it and did not see the unit location of the 18th Trans Co (Lt Hcptr).

The 18th Trans Co (Lt Hcptr) that I was in (1956 -57) was located in Oberschleissheim, Germany. The company departed Fort Sill, OK in January of 1956 in their H-34 Helicopters and left the USA via of an aircraft carrier (with H-34 Helicopters and personnel) arriving at Bremerhaven, Germany and then moving to Oberschleissheim, Germany. Oberschleissheim is about, as I remember it, 12 miles + 2 mile from Munich, Germany.

I need help in locating some one in the 18th Trans. Co. (Lt. Hcptr) who was there in 1956-57. I have developed hearing loss and back problems that happen during my time in the 587th Trans. Co. (Lt Hcptr) which later became the 18th Trans. Co. (Lt Hcptr) which I associate with the many hours that I as a crew had to fly in these H-34 helicopters. I also would like the name of hospital that I went on sick call. Trying to locate anyone who has experienced similar problems.

We were in the 587th Trans Co (Lt Hcptr) at Fort Sill, OK and became the 18th Trans. Co. (Lt. Hcptr) in Germany. Our company commander at Fort Sill became the Battalion Commander of 8th Trans Bn (Lt Hcptr) in Germany. By the way, I believe that our company location [18th Trans Co (Lt Hcptr)] was at one of Hitler air bases that had their communication center. Located next to our barracks was a castle they use to film movies at. A nudist camp was not to far away and a refugee camp was located close or on the base property.

Webmaster Note: To contact Alfred, email me and I will forward to Alfred.
---
(Source: Email from Philip Pitts, 8th Trans Bn, 1958-1959)
I was assigned to 8th Transportation Bn (18th Transportation Co., 564th Trans Det) as Detachment CO in Jan 1958).

CW4 Parsons had been the acting CO until my arrival and checked me out in the H-34 as pilot and then as maintenance test pilot.

He was a superb pilot and instructor.

(I had been RW qualified less than 8 months and had flown very few hours while attending my 6-months long branch company officer's course.

Having no former experience as aircraft maintenance officer, CW4 Parsons stayed on for a few weeks and gave me my orientation before joining the 18th as pilot and (I think) flight Safety Officer until his rotation date.

Afterward, I was heavily dependent on my detachment First Sergeant (MSGT Whitworth), CW4 Cecil Pickle (18th Co. Maintenance Officer), and the senior noncoms in the detachment for technical guidance.

They taught me many things about aircraft maintenance.



Later, I transferred to the 18th flight line as a platoon leader until July 1959, when I was transferred to Hq, 7th Avn Gp

as S-2.

As I recall, the two field maintenance detachments at "Schleissheim" were as shown below.

Maybe somebody else can fill in the other numbers
| | | |
| --- | --- | --- |
| UNIT DESIGNATION | DUTY STATION | COMMENTS |
| HHD, 8th Trans Bn | Oberschleissheim | |
| 11th Trans Co (Lt Hcptr) | Nellingen | H-34 |
| 148th Trans Co (CHFM) | Nellingen | |
| 18th Trans Co (Lt Hcptr) | Oberschleissheim | H-34 |
| 564th Trans Det (CHFM) | Oberschleissheim | |
| 90th Trans Co (Med Hel) | Storck Bks, Illesheim | H-37 |
| 149th Trans Det (CHFM) | Storck Bks, Illesheim | |
| 110th Trans Co (Lt Hcptr) | Oberschleissheim | H-34 |
| 571st Trans Det (CHFM) | Oberschleissheim | |
| | | |
---
(Source: Email from Richard L. Frazer, 18th Trans Co, 1959-63)
I served in the 18th Trans Co at Ober-Schleissheim from July 1959 to August 1963. I have attached a short document and some pictures. Any former members of the 18th can contact me. Would enjoy hearing from them.
I logged on to this web site today planning to retrieve some information on the 18th Trans Co. for an autobiographical "book" I am in the process of putting together so my children will have some idea what their "old man" did in his youth. To my surprise I found a great deal of information posted by Andy Hill. Andy was the Maintenance Officer for most of my time there. I had run into an old friend.

I joined the 18th in July 1959. At that time I was not even an H-34 mechanic. I had originally been trained as a fixed wing mechanic. I soon found that I liked these helicopters, especially when I got to fly in them. From the first time I got to fly in one of those machines I set my sights on becoming a Crew Chief so I could fly all the time.

As Andy said, pilots in the 18th took pride in flying close formations. I remember some of them describing the formations our sister company flew as "any two aircraft going to the same place on the same day". The only collision we had was on the ground. I was right in the middle of this incident as Crew Chief of one of the aircraft involved.

Andy's recollections of THE BULL are most accurate. He did run a tight ship and we all had our run ins with him but I think we all respected him. Years later I had occasion to have breakfast in the field with THE BULL at Fort Hood, TX. He was then Deputy Commander of the 13th Corps Support Command and he had not changed a bit.

The Company Commander who comes most readily to my mind is "Smilin Jack". He was not quite so hard as THE BULL but it was best not to cross him.

I spent just over four years in the 18th. I joined the Company as a PFC Mechanic and left in August 1963 as an SP6 and Crew Chief. Never again would I have the privilege of serving alongside a better group. I often thought of the people who were a part of the 18th as an almost unique group. Many of them stayed in the Army becoming Senior NCOs and Officers.
International Incident

Richard tells the story of an international incident instigated by several helicopters of the 18th Trans Co when they landed in neutral Austria in October 1960.

Read the story (MS Word document)

---
(Source: Email from R. Crowell)
---
(Source: Andy Hill, 18th Trans Co)
You asked about the stripe on the A/C nose and tail section. Each H-34 unit in Germany had their color. The 18th's was white which could be seen a very long ways coming at you. When I first came to the 18th in 1960, I had already spent time in maintenance of the 31st Trans H-34 Co. I had a fair amount of time flying the "34" with troop hauling, cargo, sling. The reason I am telling you this was to explain that I wasn't new to flying them when I arrived in the 18th.

The 18th was in the field when I joined them and I started flying the day after I arrived there. During my first formation flight in the 18th I was sure that every pilot in the 18th was completely NUTS. If anyone would like to see H-34's in CLOSE formation, all they had to do was see the 18th when we were flying cross country.

My first flight I was in the left seat (Co-Pilot seat) we were flighting in a V-formation and, I'm not kidding, I could just about read the Tack in the a/c on my left (we were in the lead a/c of one of the V's. I'm not sure but, there were about 12 a/c in this flight. All the of their a/c's rotor blades were OVER LAPPED. Now that's not too bad in good wind without updrafts but as you know there is all kinds of ground we would fly over and you would have smooth flying then without knowing it up & down it would go.

When you join a unit like that you can do one of two things, don't try to join them or "join them." So, I join those NUTS. It wasn't long that I was as bad as they were.

We had an Officer in the unit who was the operations officer when I arrived, later was XO and everyone called him the BULL, not to his face. He was as hard on his men as any man every was. He retired as Lt Col, went to live in Texas and ashort time after retirement he pass away in this sleep. There were a lot of the men didn't like him (he would not give an inch; if you were wrong, it was best to say so then try to fight him). The OLD BULL became our CO later and he did not change!

Guess I knew him as well as anyone. He wasn't close to anyone and ran a tight ship. On duty he was the operations officer, XO, CO and I was the A/C Maint. Officer and that was how we treated each other. If I was wrong he would be on my back as fast, if not faster, then any other in the unit. Off duty, we spent time together with our wifes checking out wine or just enjoying life. The CO we had at the time was lucky he had the Bull. If he hadn't, the unit would have gone to hell and I would have gone the some other unit.

I will try to send you some other photo's. I didn't plan to write a letter, it just was a big part of my life and it got me thinking more then I should. I think I can get in touch with some the old 18th guys who may have more photo's. There is one who I feel sure would have some.

The 31st and the 18th are about the same type of a unit. They have the same TO&E. Years ago I had installed a Web Site for the 31st with about 100 pages altogether. I took it down a few years ago when the interest dropped. I installed a shorter on about 12 pages but it had problems after a few years. I will put that site back up again as soon as I can locate some time.

As I stated the 31st and 18th were like twin brothers. It so happened that a large amount of the 31 members ended up at about the same time in being assigned to the 18th. I join the 31st when it was first formed at Ft Sill, Ok. It started out as the 553rd Trans and changed to the 31st in Dec 1955. The reason I am telling you all this is to give you some idea how this all fits together. Most of the 31st ended up in the 18th. Many of the guys who served in the 18th do have E-mail ability.
---
564th TC Detachment (Cargo Helicopter Fld Maint)
(Source: Email from Art Moss, 564th Trans Det, 1960-62)
I was in the 564th Trans Det (Cgo Hcptr Fld Maint) attached to the 18th Trans Co from May 1960 until May 1962. We did all of the heavy maintenance on the 18th's aircraft. The detachment did the 3rd echelon, transmissions, engines, rotor heads, flight controls, fuel cells. I remember changing out a tank boost pump outside lying on a piece of cardboard in the snow. Also changing a fuel cell in the winter in the hangar with no heat. We used a portable heater on a long hose to heat the cabin. I was an A&P mechanic when I enlisted.

Sometime in 1961 the maintenance detachments were converted to the 661st Trans Company (1), and moved to a pair of hangars near the end of the runway. The three maintenance detachments (2) were merged into the 661st company. I will look at my old Orders when I got my Pro pay and promotions to Spec 4 & 5. The 661st was basically new and we picked up a lot of equipment.

Radio Free America's antenna farm was spread across the east end of the one and only runway. We initially used the 18th's hangar and one of the Barrack buildings. Maj. Stanley Derby was our Co & Maintenance Officer at one time. Maj. Derby flew P-47's in WWII. Warrant Officer Boyd was our Maintenance Officer in 1959.

We had a lot of engine problems with the H -34's for a while due to poor quality from a specific Overhaul company. On one occasion with all of my crew on post duties & working swing shift, I brought my wife in to help me with some work.

One of the tasks assigned my crew was all of the control system rigging on the H-34's.

Oberschleissheim, Germany was a nice place, however parts of the building had not been refurbished. The working with the 18th was much better as the 564th Det than as part of the 661st Maint Company. We moved from a heated hangar (shared with the 18th) to an un-heated one near the end of the runway.

I lived off base most of the time, near the McGraw SACOM Headquarters & the commissary. I have a few pictures of the area. We did get a 90 ship flyover for one exercise. Also had one ship from the 18th captured in Austria, causing a International incident.

Picture 1 & 2 (Oberschleissheim - see below) were the 18th's and in intially the 564th's, and much of the left hand portion of the building was not used. One of the South hangers (Pictures 3) was used by the 110th and the other by the German Army (Picture #4).

The 110ths Barracks were in the same area. I do not remember the motor pool building. There had been more hangers in the south complex. Pic #17 (Munich Page) was abandoned and it seems as though the building in Pic #16 (Munich Page) was used as a chapel. We also had a club on the property near the HQ building & gate.

The north entrance was the road in front of the Castle and the south entrance came in by past the complex where the 110th was located. The building (Pic #17) was on the south entrance road not far from the 110th complex #4, and east of it was a gun test pit. We once thought that it was an entrance to an underground tunnnel. The Old Luftwaffe building Pic #8 (Munich Page) was abandoned, and was east of the Hq and 18th area.

The initial complex on the airfield was the north complex Pic # 1& 2 (below), per an old cleaning lady who had been there for ever.


The site is pretty good & brings back a lot of memories. After I got out in of the Army in May 1962, I went to LA Airways, then college. I am still in contact with a buddy who was also part of my crew. He was in the 571st Trans Det & later the 661st.

(1) The 661st Trans Co (Maint & Sup)(Lt Trans Hel)(DS).
(2) Per USAREUR Station List June 1961, there were three Trans Det (CHFM)'s at Oberschleissheim: the 329th, 564th and 571st.
| | | | |
| --- | --- | --- | --- |
| | | | |
| 1. Hangar on north side used by the 18th Trans Co and the 564th Trans Det (KB) | 2. Another view of the 18th Trans Co hangar (KB) | 3. 661st maintenance hangar on south side (KB) | |
| 4. South side hangar used by German Army (KB) | | | |

---
90th Transportation Company / Aviation Company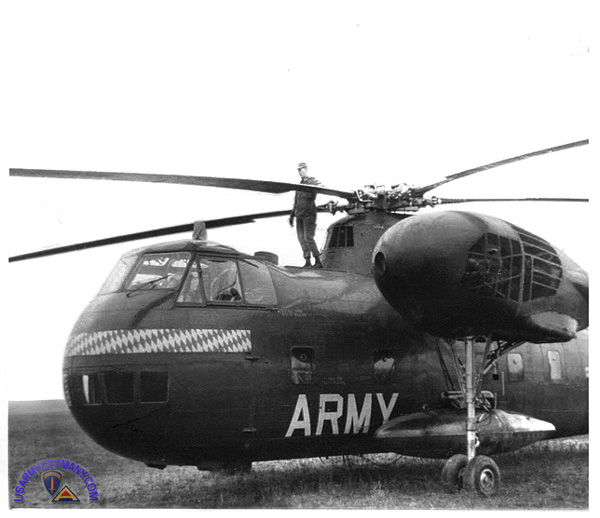 CH-37B MOJAVE of 90th Avn Co at Illesheim
(Tony Soares)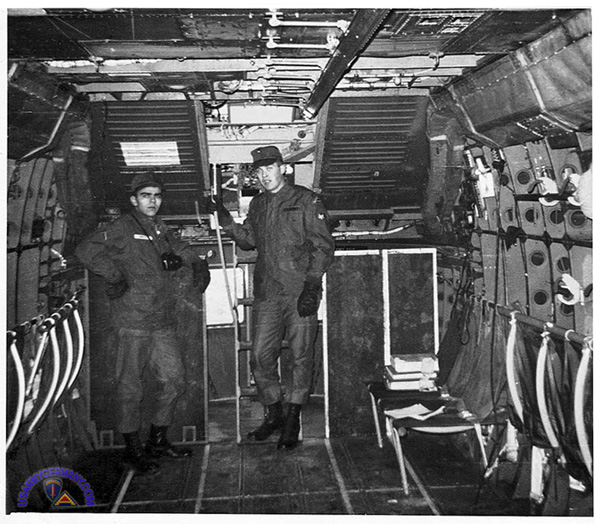 Jim Pimental and Donald Cilly inside one of the Mojaves, 1966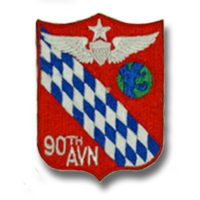 90th Aviation Co (Med Hel) Pocket Patch
1961
It appears that the 90th Transportation Company was originally stationed at Fort Knox, Ky. when they were equipped with the H-37 MOJAVE.

In 1961 the company deployed to Germany with their helicopters.
---
1962
A 90th Avn Co CH-37B during a visit to the UK, 1960s
---
1966
(Source: Email from Tony Soares, 90th Aviation Co, 1966-April 1969)



I was stationed at Illesheim, Germany, with the 90th Aviation Company arriving there at the end of 1966. I eventually became a flight engineer on a CH-37B Mojave (tail number 50615). The unit moved to Hanau some time in 1968. I left in April 1969 for dicharge.

I am pretty sure the shoulder patch (Seventh Army - worn by the unit when Tony initially arrived at the 90th) was changed while we were still in Illesheim. You know what, I am looking at some pictures now of guys that had the V Corps patch on and they had left for discharge before we moved to Hanau. So yes, it did change in Illesheim.

I don't remember exactly how many Mojaves (thats the only aircraft that we had) we had but I would say maybe 8.

When I first got there, they were just taking the 37s out of mothballs. They had not been flown for a couple of years and they had all been preserved and stored.

We did a lot of training flights, traveled to different airfields for static air shows, did a few medical transports, used up a lot of fuel and a whole lot of oil.

I remember one medical transport was a guy that had the bends, he was in one of those portable chambers when we picked him up. I do not remember where we took him but I believe it was a hospital with a larger chamber.

I remember one airshow we went to was either at Rhein-Main Air Base or Ramstein Air Base. When it was over and we started back, we lost an engine. We had not gone too far so we turned back. My crewchief and I ended up TDY on that base for over a month. They brought up a new engine and a team to install it. We had a great time. Stayed in the German Officers Quarters. They treated us like royalty.

I have recently been in contact with a couple of other guys that I was stationed there with. One of them actually lives in the next city over from where I live. We spoke on the phone a couple of times last year and then got together 3 or four times since.

I am now a retired Police Officer, 30 years on the New Bedford, Massachusets Police Department retiring as a Captain.

(Webmaster Note: it appears that the unit's CH-37B's were issued at Illesheim in early 1966. The helicopters were in storage there.)
To see more of Tony's photos (on the Picasa website) - click here.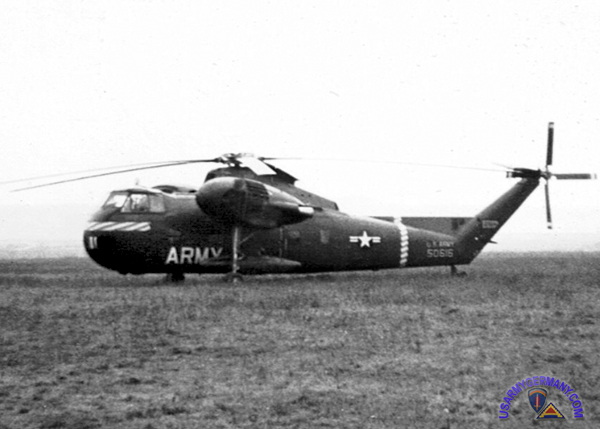 50616 on the flight line at Illesheim
| | | | |
| --- | --- | --- | --- |
| | | | |
| | | | |
| | | | |
| 6. Tony & 50615 at Hanau, 1968 | 7. Nice shot of retractable landing gear | 8. Tony and buddies at Hanau | |
| 9. Soares and Bewley | 10. Good view of piston engine | 11. Greasing the tail rotor | |
---
(Source: Email from James V. Pimental)
From March 1966 thur November 1967 I was assigned to the 90th Aviation Company and was stationed at Illesheim Army Air Base, Germany. While assigned there I was a crew chief of a CH-37 Mojave. I actually was assigned to two aricraft while I was there, Tail Numbers 550617 (Flight Engineer Ken Nye and later Alberto Medreios) & 550621 (Flight Engineer Ernie Cowan). As I rember the post was closer to Bad Winsheim than Ansbach.

We had 16 CH-37 Mojaves assigned to our company. Our main role was to transition the Warrant Officers returning from Vietnam to Med-Heavy Lift helicopter flight status. Our support unit was the 591st, a field maintenance company.

In addition, there was an armored batallion and infantry batallion at Illesheim and also a Medevac unit (Hueys). I think that was the 21st. Medevac. Does that sound right?

In 1969 I went and spent 2 weeks with the Texas Air National Guard to train them on the CH-37 Mojave.

I would like to hear from any of the members of this unit, from 1966 thru 1967.
---
(Source: Hanno Englaender)
---
1969
(Source: STARS & STRIPES, May 3, 1969)
USAREUR & Seventh Army announced that the first CH-54 TARHE unit (295th Heavy Helicopter Co) is scheduled to arrive in Germany early in May.

Concurrent with the arrival of the new unit, the 90th Medium Helicopter Co in Hanau will be inactivated. Most of the unit's complement of CH-37 MOJAVE helicopters will be shipped to the US.
---
149th TC Detachment (Cargo Helicopter Fld Maint)

---
110th Transportation Company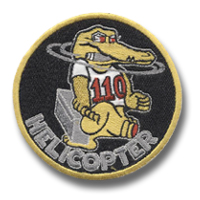 110th Trans Co (Lt Hcptr) Pocket Patch
(Source: Bruce Griggs, 110th Trans Co)
I was assigned to the 110th Transportation Co (Lt. Hcptr) at Ft. Sill, Ok. We deployed to Oberschleissheim, Germany, via rail from Ft. Sill to Brookley Air Materiel Area, Mobile, Ala. It wasn't really the Brookley Air Materiel Area but the Mobile Air Materiel Area, Brookley AFB, Ala.

From BAFB, Ala we went by escort aircraft carrier to Bremerhaven, Germany, and then by rail to Oberschleissheim (north of Munich). Oberschleissheim Flugplatz had been a Luftwaffe Me 262 air base (during WWII) and at the east end of the airdrome, the Voice of America had a large antenna farm.

The Company Commander was Henry Hunter, Cpt, TC USA. At Oberschleissheim Air Base we had the Hq and Hqs Co, 8th Transportation Battalion; the 18th Transportation Company; and the 110th Transportation Company. Down at the south end of the base, there was a TAAM unit (the 48th I think). This TAAM Company provided the 8th Batt with all the heavy maintenance of our H-34 helicopters.

Midway between the base operations building and the garrison area was a small white building with a yellow roof. The fellow who had this building (had mustered out of the Air Corps in 1946 or so and just homesteaded at the abandoned Oberschleissheim Flugplatz). He had a yellow DeHaviland Tiger Moth and gave flying lessons to German nationals and to GIs. His flying club was the only place you could get a soda pop (when the 110th arrived). Even thought the soda pop was German soda pop.

LTC Theodore Schumacher finally got this fellow removed from our base and he then opened a small restaurant in the town of Oberschleissheim. His resterurant was one of the only places in Greater Munich that one could obtain an American style steak dinner. Of course this restaurant was off limits for all GIs.

Later when LTC Schumacher and I were assigned to the Army Aviation Systems Command in St. Louis (he was Director of Personnel and I was a newly graduate Aeronautical Engineer), he found out that I had gone to this steak house at least once a month while I was at Oberschleissheim.
Bruce Griggs
---
1959
(Source: Frank D. Piazza, 110th Trans Co then Company A, 24th Avn Bn, Sept 1959 - Sept 1963)
Just came across your site and saw that you were lacking information concerning the unit patch and the H-34 nose colors of the helicopters assigned to the 110th TC (Lt Hel), 8th Transportation Battalion. I was assigned to the 110th from September 1959 to September 1963 and was the Operations Clerk and Company Clerk of the 110th before and after its redesignation as Company A, 24th Aviation Battalion, 24th Infantry Division.

I arrived at Oberschleissheim Army Airfield as a PVT E-2 right out of the Fort Eustis maintenance school and left the 110th/Co A, 24th Avn Bn as a SP5. I went on to remain in the Army and eventually retired from the Army in 1979, but I can never forget those 4 years at Oberschleissheim. Best years of my life and I literally grew up in that unit.

I have included with this note a picture of the unit patch (1959-1963) and an official company photo showing the front and rear markings of a typical H-34 assigned to the 110th. The nose color was a wide dark gold/yellow stripe with a narrow white stripe above and below the basic stripe marking. See scan. The rear portion of the helicopter had a small form model of the 8th Transportations Battalions DI painted on the body in matching color to the nose stripe.

The 110th unit patch has a black background, a yellow alligator with bloody red eyes wearing a white T-shirt with a red 110 written on the front. The alligator is smoking a gray cigar, has gray rings swirling around his neck and is carrying a gray ammo box with tools inside. The wording helicopter is written in gray with a white outline of the lettering and the alligator.

I don't know for sure when the unit photo was taken, but I believe that it was in the Spring/Summer of 1960 or Spring/Summer of 1961. I do remember that the CO was a Major who had been a P-38 pilot during WW2 and a "chopper" pilot during the Korean conflict.

Thanks for the opportunity to update some records and I hope that this information will be of some use to you and your crew.
---
571st TC Detachment (Cargo Helicopter Fld Maint)
(Source: Email from George Sodon, 571st Trans Det (CHFM), 1959-1962)
I started in the 571st (Cgo Hcptr Fld Maint) in Dec. 1959 after an awful trip of 9 days crossing. The 571 was housed in the same building as the 110th Trans Co (Lt Hcptr), the armory, the post office and day room. The mess hall was in a separate building toward the exit. Across the road were the hangers.

Soon after I arrived, they had a company picture taken. I remember officer Boyd. After the outfit changed to the 661st, I was put on a crew with Art Moss doing rigging.

I believe it was the 661st that came over on a aircraft carrier. I was one of the crew who went up to unpack and set up the choppers to fly down to Munich.

I will get my pictures out and check my memory. Would like to know more about the where abouts of the outfit.

---
Related Links:
| | | | |
| --- | --- | --- | --- |
| | | 4th/152nd Reunion Association - the web site for former members of the 4th Transportation Company (Medium Helicopter); 506th Transportation Company (Light Helicopter); 4th Aviation Company; and 152nd Cargo Helicopter Field Maintenance Detachment. The site includes a good unit history of the 4th Trans/Avn Co and some great pictures of the MOJAVE (H-37) medium helicopter as well as Fliegerhorst Kaserne, Hanau, in the late 1950s. | |
| | | | |
| | | | |