If you do NOT see the Table of Contents frame to the left of this page, then
Click here to open 'USArmyGermany' frameset
54th Transportation Battalion (Hcptr)
Seventh Army
Looking for more information from military/civilian personnel assigned to or associated with the U.S. Army in Germany from 1945 to 1989. If you have any stories or thoughts on the subject, please contact me

.
---
---
Battalion History
1956 - 1963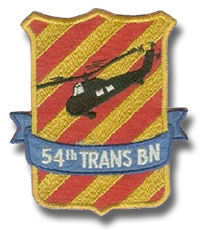 54th Trans Bn (Hcptr) Patch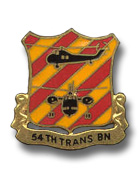 54th Trans Bn (Hcptr) DUI
Redesignated 9 August 1955 as Headquarters and Headquarters Detachment, 54th Transportation Battalion (Helicopter) (Army) and activated on 27 August 1955 at Fort Sill, Oklahoma.

The Battalion moved to Germany in July 1956.

Until November of 1961, the 54th was the largest battalion of its type in the Army. (In Nov 1961, the 8th Trans Bn in Oberschleissheim was reorganized and now shares that distinction with the 54th.

ORGANIZATION (May 1962):
| | | |
| --- | --- | --- |
| UNIT DESIGNATION | DUTY STATION | COMMENTS |
| HHD, 54th Trans Bn | Fliegerhorst Ksn, Hanau | |
| 4th Trans Co (Med Hel) | Fliegerhorst Ksn, Hanau | H-37 |
| 152nd Trans Det (Cargo Hel Fld Maint) | Fliegerhorst Ksn, Hanau | |
| 36th Trans Co (Lt Hcptr) | Fliegerhorst Ksn, Hanau | H-34 |
| 91st Trans Co (Lt Hcptr) | Finthen AAF, Finthen | H-34 |
| 59th Trans Co (Lt Hcptr) | Peden Bks, Wetheim | H-34 |
| 524th Trans Co (Lt Trans M-S) | Fliegerhorst Ksn, Hanau | Dets in Finthen and Wertheim |
| | | |
54th Transportation Battalion (Helicopter) was inactivated 21 October 1963 at Feudenheim, Germany.
If you have more information on the history or organization of the 54th Transportation Battalion, please contact me

.

---
MISCELLANEOUS UNIT INFORMATION

In 1958, the 54th Trans Bn comprised the following subordinate units:
| | | |
| --- | --- | --- |
| UNIT DESIGNATION | DUTY STATION | COMMENTS |
| HHD, 54th Trans Bn | | |
| 26th Trans Co (Lt Hcptr) | Hanau | |
| 36th Trans Co (Lt Hcptr) | | |
| | | |
---
(Source: Pocket patches submitted by Roy Harmon, 26th Trans Co (Lt Hcptr); Kent Sapp, Camp Zama, Japan; and Paul E. Bartlett, 26th Trans Co, Pirmasens)
26th Trans Co (Hcptr)
Pocket Patch


26th Trans Co (Hcptr)
Pocket Patch


87th Trans Det
Pocket Patch




36th Trans Co (Hcptr)
Pocket Patch

654th Trans Det
Pocket Patch
---
(Source: Email from Morris Edelson, 54th TC Battalion, early 1960s)
I was with the 54th Trans Bn in Hanau, served as Public Information Officer, though only a E-4 - it was kind of a new thing. I was in HQ Company under Colonel Michael Strok, and we did some training/promotion things such as delivering Santa to a village, putting a bell tower on a church, and doing a rapid midnight crossing of the Rhine (we ferried them) with I believe the 1st Infantry.

We did relief work in a flooded area near Hamburg, for which the German govt. awarded us commemorative medals - and we flew many many missions, of course.

Most of my "news" is rather unofficial, but if you think it would add to the history, I will try to dig around and find what I can - I contributed articles to the Stars and Stripes and the NACOM News and put out a little mimeographed battalion newsletter, "The Clipper Intercom."

I was transferred to 7th Aviation Group HQ in Ludwigsburrg in 1963 and came back to the States in 1963, also.
I hope others will contribute to the page.
Morris Edelson
---
(Source: Email from Richard West, 54th Trans Bn and 41st Trans Bn)
My first assignment in the army was the 54th Trans in Hanau, Germany and the second, the 41st Trans Bn at Finthen, Germany.

I was a supply clerk for the 524th Trans Co (Maint & Sup)(Lt Hcptr). During the early 60's the 524th was an aviation maintenance company with CH-34, CH-37, H-13 helicopters and some small fixed-wing planes such as the L-19. We were located at Fliegerhorst Kaserne in Hanau, Germany, and the company was assigned to the 54th Trans Bn. President Kennedy visited the 54th while I was there but I was in the field at the time. There was a complete makeover of the post "Fliegerhorst Kaserne" for Kennedy's visit. This was the visit where Kennedy made the famous speech, "I am a Berliner". During my tour with the 54th we worked on CH-34 and CH-37 helicopters along with small choppers like the Bell H-13.

While at the 41st I was assigned to S-4 of Hq Co., 41st Trans Bn, at at Finthen Army Airfield, near Mainz, Germany. While at the 41st I had a good job that allowed me to drive and fly to different locations throughout western Germany and the Bn had units in places like Coleman Barracks near Heidelberg and and Heidelberg itself. The Army had a lot of restrictions in the early 60's but I had a good time.

When I returned to Germany in the early 70's I was assigned first to Company C, in Heilbronn, Germany, then HHC, and lastly Company A both at Wharton Barracks in Kornwestheim outside of Ludwigsburg, near Stuttgart, Germany. These were all companies of 2nd Bn, 4th Inf which was assigned to the 56th Fld Arty.
Richard West

---
4th Transportation Company
1959
The 4th Transportation Company (Med Hel) was formed in February 1958 at Fort Benning, GA. - becoming the US Army's first operational Mojave unit.

In 1959, the 4th was sent to Germany to support US Army, Europe.
---
(Source: Hanno Englaender)
4th Trans Co (Med Hel)
Pocket Patch

The CH-37 Mojave was a medium cargo helicopter with a crew of three. The helicopter's clam shell doors in the nose provided access to a cargo compartment that could accomodate two jeeps or a 105mm howitzer. The Mojave could carry 26 troops or 24 litters in the MedEvac role.

The CH-37 had a single five-bladed main rotor and a metal four-bladed tail rotor and was powered by two Pratt & Whitney 2100 hp pistons engines with a maximum speed of 131 mph (114 knots).
| | | |
| --- | --- | --- |
| 4th Trans Co sign | | |
---
1961
(Source: Army Aviation Magazine, March 1961)
Barely recognizable, four Army H-37 Mojave helicopters sit atop the deck of an aircraft carrier prior to their trans-Atlantic shipment to Europe.

This 1960 photograph of 4th Transportation Company (MH) choppers depicts the unique Sea Spray process wherein Brookley AFB, Ala. technicians completey "cocoon" the aircraft with a plastic coating to preserve them against the salt spray of an ocean voyage.
---



4th Trans Co (MH)
Fliegerhorst AAF






1. Refueling at Fliegerhorst


2. H-37 with jeep


3. H-37's on flightline




4. H-13 and H-37 of 4th Trans Co

5. Loading a weapons carrier
---
Mid 1960s
(Source: Photo Pages by Manfred Faber, Germany)
| | | | |
| --- | --- | --- | --- |
| | | | |
| 1. CH-37B at Rhein-Main, 1964 | 2. CH-37B at Rhein-Main, 1964 | 3. CH-37B at Wiesbaden, 1967 | |
---
CORRECTION:
I'm curious why the 4th is not included in the breakdown of units at Hanau in 1959 thru 1961?? I was stationed there with an H-37A..... 58-993 and remember riding the guys in the 36th that their ships were nothing but APU's to start our BIG birds :-)

We all know that if you wanted a helicopter "right now" it was best to call for an H-34!!!!!!!
Jerry Hopkins
---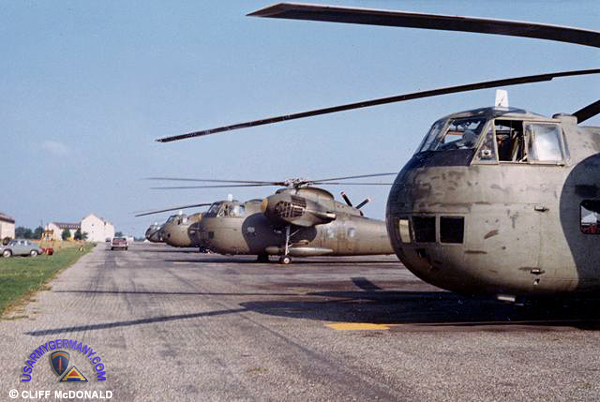 CH-37B's of the 4th Aviation Co (Med Hel) at Nellingen Airfield, c 1969 (Cliff McDonald)
Click here to read an article on the scrapping by the 48th TAAM of the 12 CH-37's that were assigned to the 4th Avn Co at the end.
---
4th Aviation Company
1970
(Source: STARS & STRIPES, Sept 19 1970)
The 4th Aviation Co (15th Avn Gp) received 16 CH-47A CHINOOKS in August as replacement for their CH-37B MOJAVES that will be scrapped. According to Hq USAREUR, these are the first Chinooks to be stationed in Europe. (The CH-47s assigned to the 4th are rebuilds of aircraft that served in Vietnam.)

In USAREUR, the Chinooks will serve in general support and be used for troop movements, field support, cargo shipments and related missions. (A CH-47A can carry 40 combat troops or more than 7 tons of cargo.)

The 4th Avn Co will have three aircraft on call 24 hours a day for missions or rescue standby.
---
1971
(Source: STARS & STRIPES, Aug 19 1970)
On August 18 1971, the 4th Avn Co suffered its worst aviation accident to date when a Chinook carrying infantrymen of 2nd Bn, 4th Inf (56th FA Bde) from Ludwigsburg to Grafenwoehr suffered a mid-air explosion and crashed near Pegnitz, Bavaria killing all 37 soldiers on board.

The accident claimed the lives of the four-man helicopter crew and two officers and 31 enlisted men from Hq Co, 2nd Bn, 4th Inf at Wilkin Barracks, Ludwigsburg.

2nd Bn, 4th Inf is assigned to the 56th Arty Bde and provides security for the command's Pershing missiles.

---
26th Transportation Company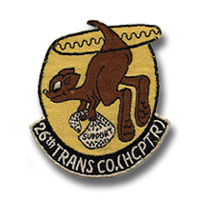 26th Trans Co (Lt Hcptr) Pocket Patch
(Source: various)
The USAREUR Station List for 30 Sept 1956 shows the 26th TC Company (Light Helicopter) located at Illesheim (where hqs of the 54th TC Bn was also located at that time). It is likely that the company was already attached to the 54th at that time.

In the 1958/1959 timeframe, the 26th was tranferred to ComZ and relocated to Verdun, France. The company operated a detachment at Pirmasens, Germany.

In September 1965 the 22nd Transportation Company was activated in Pirmasens, Germany and assigned to U.S. Army Communications Zone Transportation Command with attachment to the U.S. Army Advanced Weapons Support Command. The 22nd replaced the 26th Transportation Company which was inactivated.
---
1956
(Source: Email from Bill Babcock, 26th Trans Co (Lt Hcptr), 1956 - 58)
I was delighted to see the info on the 26th Trans Co. on the 54th Bn web page. I was a member of that company from the summer of 1956 to July of 1958 when I rotated home for separation.

When I came to the company – it was the 284th then – from mechanic's school at Ft. Rucker, we were based at Ft Sill and due to relocate to Germany in late summer. When the move happened, we boarded the baby carrier TRIPOLI at Mobile, AL and then enjoyed a great sea voyage to Bremerhaven courtesy of the USN.

On arrival in Illesheim, the company was first housed in German barracks, then we moved into newly remodeled quarters over the main hangars at the air field. They were pretty comfortable digs, and had the advantage of being close to our work – the H-34s.

Illesheim was a great post as long as one didn't want big-city amenities and activities. Being a small-town kid myself, I thoroughly enjoyed the little place. There wasn't much in town as I recall, one gasthaus inhabited jointly by the locals and GIs from the field, but Windsheim was just a few k away by cab and a larger variety of restaurants and gasthauses (4 ??). The post had a few amenities too, the PX was across the street from the hangar, and I remember a small beer garden sort of place where we could get beer and drinks for the outrageous price of 25 to 50 cents in scrip. There was also a bowling alley which was well attended and we had a small league of pilots and enlisted men.

The company moved to Hanau Fliegerhorst Kaserne sometime in 1957, I think it was summer but memory grows dim on some things. We also had a change in CO from Maj. I. Valdez to Captain Nolan about that time. A lot us in the company regretted leaving Bavaria, but the big city had its plusses such as summer weekend cruises on the Rhine.

It was in the Illesheim hangar that I first met the aircraft shown in one of your photos. As a newly-minted crew chief, I was introduced to 34487 and told it was to be mine. At the time, 487 was the company "hangar queen" and its dull, matte and grease-stained OD paint made it look pretty shabby compared to the shiny polished paint on the other aircraft. It hunkered in a dark corner of the hangar looking more like a junk heap than a mechanism that might offer flight. To me though, it was beautiful. It was mine!

My first job was a big one – finding parts. For some time, 487 had been the source of parts for every crew chief cannibal that passed by with a hungry look in his eye. The red X's looked like an army of fire ants crawling over the pages of its paperwork.

It got done, somehow, and ultimately the ex-hangar queen earned honors as one of the most flyable ships in the company. In the course of the next year and a half or so, 487 was my vocation, my avocation (flying) and very often, my motel and bunkhouse. Together, we traveled to Denmark, the beaches of France ( we were "lifeguards" during a NODEX exercise), the Austrian border, and all over Germany. To me, RON trips were plums and I tried to make sure the ship was ready for anything that came along. I don't remember that it ever let me down.

I was fortunate in getting a good bit of stick time in 487, CWO Dan Hendrickson, was maintenance officer and test pilot for our section and he became a good friend and saw to it that I got to fly pretty often. My airwork got to be pretty good and I could hover and hover-taxi fairly well, but I never did get enough practice in shooting approaches and landing.

One time I was sorely tempted to solo. 487 and I had been weathered in over Thanksgiving in Baumholder and our pilots had left by car to spend the holiday at home. I was supposed to run the engine up one time during our stay. I was also given strict orders NOT to engage the rotor, but how else could I see that the clutch-pump was in working order? Now with the main rotor engaged and up to speed, we were, of course, ready to fly. And why not?

Fortunately, sanity set its ugly teeth in my desire. Actually, I was sure the flight would go OK (stupid!) but I was worried that I couldn't get 487 put back properly without whacking one of the vehicles parked close by, and therefore found out.

Disgrace, loss of stripes and much, much worse, loss of 487 and flight. So no solo.

As you can tell, I had, and still have, a huge fondness for that aircraft. The Wright 1820 was a lovely, reliable engine whose large exhaust stack was ideal for heating "C"s in the field. It drank the same fuel that I used in my Zippo, so it turned out that 487 carried 266 gallons of personal lighter fluid. As for the aircraft interior, it had a large, roomy living/bunk room whose troop seats were terrible for sleeping, but the deck was OK– until the air mattress went down, and they always did, didn't they? Best of all was the crew chief seat beside the cargo door which offered stunning views of the lush, green fields and woods of summer and the white blanketed landscape in winter. I spent a lot of enjoyable hours in that seat.

In fact, if the picture of 487 hovering with a sling load was indeed taken on Feb. of '58, then the amorphous blob seen sitting in that seat by the door would be myself. However, 487 went in for 600 hr. engine change in July '58 just before I left, and as far as I remember, the kangaroo was still on the nose. Certainly it was still dull-finish paint at that time.

My thanks to Roy Harmon - whom I don't remember well (age!) - for his contribution to the site. It has given me a lot of pleasure and brought back some good memories.
---
1957
(Source: Louis Florer, 26th Trans Co (Lt Hcptr), Facebook)
| | | | |
| --- | --- | --- | --- |
| 1. Heli pads | 2. Maintenance | | |
---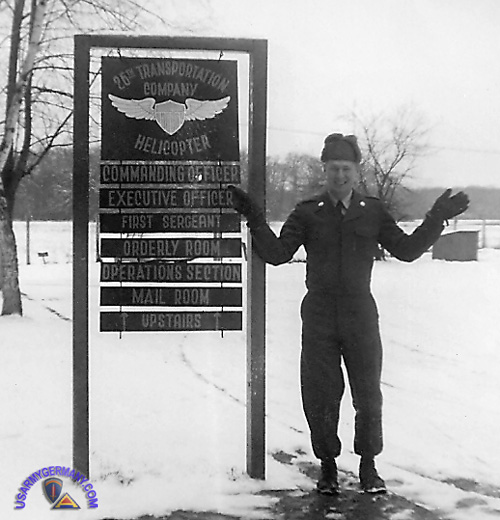 Roy Harmon next to Company Sign
(Source: Email from Roy Harmon, 26th Trans Co (Lt Hcptr), 1957 - 59)
Roy Harmon, 26th Trans Co

In April of 1957, I enlisted in the Army for three years and requested aircraft maintenance; my request was granted. After my first 8 weeks of basic training, I went to maintenance school at Fort Rucker for a total of 14 weeks. The aircraft maintenance course for 8 weeks, then 6 weeks in the reconnaissance helicopter maintenance course. Training on Bell H-13 and Hiller H-23 helicopters. After graduation I was assigned to the 26th Trans. Co. in Germany, working on Sikorsky H-34's.

It took a couple of months working with the crew chiefs to learn the H-34's. After learning how to work on and care for the H-34, I became the on call extra crew chief. When any of the regular assigned crew chiefs were not available to care for their aircraft or to fly, then I got the call. Later on I was assigned my own aircraft. I flew all over West Germany, to France and Belgium.

We flew many good will missions helping the German civilians, such as lifting air conditioners on the top of buildings, flying dignitaries in France to look at new highway interchanges, etc.


Then of course we flew our regular military missions, such as flying a squad of foot soldiers out in the sticks and leaving them for a week then picking them back up. I felt kind of sorry for them. We also practiced med-evacuation, rigging the helicopter for stretchers and loading simulated injured soldiers into the helicopter. We sometimes air lifted jeeps and the driver, transported fresh food to the troops in the field, some other things we transported were what looked like radioactive material containers, two helicopters were used for this, one for the container and the other to carry six guards.

In the fall of 1958 we flew two of our H-34's to Belgium for complete overhauls. Myself and the other crew chief were to fly back via fixed wing but after three days of fog we came back on the train.

I was even allowed some stick time flying the H-34, when flying with only one pilot; I could ride in the copilot seat and a couple of times was allowed to take over the controls.

While I was with the 26th we had one near serious accident, with one of our aircraft (not mine). While flying personnel out on a field trip the pitch control was lost to the tail rotor. The pilot kept up his foward air speed and with the large tail fin on the H-34 kept the tail from coming around, the pilot then made a running landing at the air strip, like a fixed wing aircraft.

Practicing running landings was just one of many things the pilots practiced as part of their training. I never liked the running landings, because when we touched down the helicopter would really shake and the main rotor would go through some rough gyrations, but the training really paid off.

I would say that all of our Warrant Officer pilots were great guys and excellent flyers, but a little like cowboys not spit and polish like Commissioned Officers.

A couple of times we practiced flying the H-34's in formation with H-13's as gun ships to protect the cargo carring H-34's, but they found this didn't work very well because the H-34 was much faster. The best protection for the H-34 was to fly low close to the terrain and fast. One time while practicing close to the terrain flying, we were coming around a hill and met a British Vulcan jet coming the other way, it was quite a surprise. To avoid each other we went down and he went up.

A little more information on the 54th Trans. Bn. - the 36th Trans. Co. joined the 26th Trans. Co. in the spring of 1958. Their logo was the face of a English bulldog painted on the H-34's vertical stabilizer. I don't have any photo's of this.

I was with the 26th Trans. Co. (Helicopter) from the fall of 1957 until the spring of 1959. I was disappointed when I was transferred to the 246th Trans. Co. (TAAM) because it meant almost no flying. The 24th Aviation Co. that we provided maintenance for only had H-13 helicopters, L-19 and other fixed wing aircraft. Both companies were stationed at Infantry Kaserne and operated from the Messerschmitt airfield near Augsburg.

While stationed in Augsburg I met a German girl, and we have now been married 46 years, so I guess it's worked out okay.

I believe being in helicopter maintenance and a crew chief was the best duty a 19 year old soldier could have, but I'm sure glad I was out of the Army before Vietnam became serious.

ADDITIONAL INFORMATION
I don't know if this is of interest to you or anyone but here is a list of the aircraft numbers for nine H-34's of the 26th Trans. Co.


34487


42876


42882


42883


42886


42887


42890


42995


54918

It's nice to see your getting more contributors to the 54th Trans. Bn. web page they have some interesting stories and information

ADDITIONAL INFORMATION

H-34 34487, 26th Trans Co

I was pleased to see the excellent photo of the H 34 34487, Paul E. Bartlett 1964-66 sent you (Photo #2). I think maybe this is one of the two aircraft we flew to Brussels Belgium for a complete overhaul. It looks to have been repainted, the 26th Trans. Co. Kangaroo logo removed from the front clam shell doors, the U.S.A. Star added and unit stripes. It also appears to have some upgrades added.

This is the only picture I have of this aircraft, it was taken in Feb. 1958. It's not a very good picture I needed to use a magnifying glass to read the serial number.

I enjoy looking at the site from time to time to see whats new.
Thanks, Roy Harmon


Just an additional note in reference to this aircraft. I think it was the oldest in our unit. I have a World Aircraft Encyclopedia showing the Sikorsky S-58 (H-34) # 34477 and the information about it states it was the third aircraft to be delivered to the U.S.Army. If they delivered aircraft in numeral sequence then #34487 should have been the 13th H-34 to have been delivered.

I think maybe I know one of the reasons unit stripes were added to the aircraft. Sometimes some of our pilots liked to have a little fun flying low over the boats on the River Main or the nudist camp near Frankfurt, flying straight in and away the aircraft numbers couldn't be seen. The Army came down with directives to all the pilots against doing this sort of thing and of course none of our pilots were aware of anything like this going on.
| | | | |
| --- | --- | --- | --- |
| 1. Sikorsky H-34 of the 26th Trans Co (Lt Hcptr) (87 KB) | 2. Hanau Army Airfield (88 KB) | 3. H-34 over Hanau AAF (99 KB) | |
| 4. 26th Trans Co barracks - front (KB) | 5. 26th Trans Co barracks - back (KB) | 6. H-34's (KB) | |
| 7. Two H-34's at airfield (97 KB) | 8. H-34 still covered with some snow (118 KB) | 9. (62 KB) | |
| 10. Troops loading on H-34 (118 KB) | 11. Engine maintenance (62 KB) | 12. Close up of H-34 engine (96KB) | |
| 13. Heavy maintenance (113 KB) | 14. H-13 (KB) | 15. H-34's (KB) | |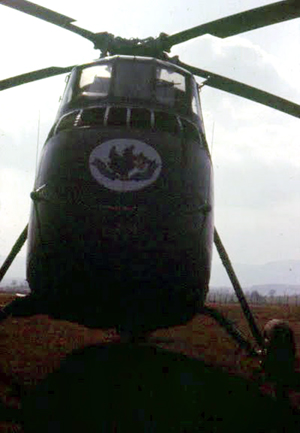 VII Corps insignia on nose of H-34
| | | | |
| --- | --- | --- | --- |
| 16. (KB) | 17. (KB) | 18. (KB) | |
| 19. (KB) | | | |
---
(Source: STARS & STRIPES)
Helicopters Take First Europe Test

A V Corps cargo helicopter company recently became the first cargo "chopper" unit to take its Army Training Test in Europe.

The 26th Trans Co from the 54th Trans Bn, stationed at Hanau, was tested here and passed the AAT with no difficulty.

Although transport helicopter companies have been in Europe since 1954, the 26th was the first to be formally tested after arrival.

Capt Robert B. Mowry, V Corps assistant aviation officer, wrote and planned the test, and Maj Robert K. Cunningham, V Corps aviation officer, was chief umpire and controller.

Testing included all phases of helicopter operations. Missions were flown in marginal weather and tactical situation was maintained throughout. Ground operations were heavily emphasized and tear gas was used during a simulated CBR attack. The company conducted a night displacement under blackout conditions over a 15 mile route.
---
Communications Zone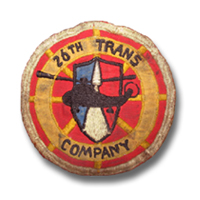 26th Trans Co Pocket Patch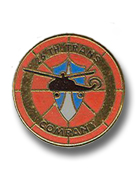 26th Trans Co (Lt Hcptr) DI
(Source: Webmaster Notes)
I found information indicating that, in 1961, at least a detachment of the 26th Trans Co was located at Verdun Army Airfield in support of the 1st Logistical Command.

By 1962, the 1st Log Comd had been replaced by the 4th Log Comd. The helicopter det was still in Verdun.
---
1964
(Source: Email from Paul E. Bartlett , 26th Trans Co, 1964-66)
I was an enlisted member of the 26th Transportation Co. at Pirmasens, Germany, 15 Dec. 1964 to 24 Jan. 66 as 675.30 H-34 Mechanic/Crewchief.

Following that I went to Ft Wolters for Helicopter Flight School Graduated 66-17 finished in 66-19. Asked for AMOC. On to Vietnam 71st AHC and 151st CHFM, then to Alaska with Trans Medium Helicopter Co. (North) Fairbanks, CO of the 18th CHFM supporting the CH-21's . Ended my Army career Jan. 7th 1970.

I have two patches I didn't see on your site. 26th Transportation CO. in 1964, and the 87th CHFM. in 1964. I hope you can add them for the history of the unit.

Some of the Officers I recall in the unit: CO Maj. George Cote, XO Capt. Gill, CWO4 Omar K. Kipe, CWO4 Hank Singer, CWO3 Bill Walton, CWO3 John Banks, CWO3 Bob Johnson, WO Jim Matthews, WO Paine, WO Maher.

Enlisted Men: SFC Ernie Cantrell, SSgt Don Church, Sgt Sexton ,Sgt. Thomas W Pettit, Sp6 Benny Archeletta, Sp6 Carl Diggs, Sp6 Dave Hockett, Sp6 Carl Enriquiz, Sp6 Hightower, Sp5 (Pappy) Boggs, Sp4 Herbert Lynch, Sp John Greer, Sp4 Otto Snyder, Sp4 Paul E. Bartlett.

The Bell OH-13 that was in our unit that I was crewing was SN58-5336 crashed Aug. 6th 1965 in the Canadian Officers Club, Zweibruecken parking lot after striking a light pole. Both persons on board survived, the ship was a total loss.



It should be said that some of the information about names (about 50%) came from Tom Pettit who lives in FL. I just found Tom yesterday when I was searching for other named members of the unit. He is a member of the Vietnam Helicopter Pilots Assn. I remembered from Germany that he went to flight school ahead of me.



Thanks for maintaining this site.
Paul E. Bartlett

ADDITIONAL INFORMATION
Hi Walter, I have been communicating with a long time member for the 54th from Ft. Sill, Ok. and Germany -- CWO John A. Banks who lives in Tuskegee, AL. in good health.

John sent me six DA-759 his Individual Flight Records. John A. Banks flight class is 57-6; his information is available on the Vietnam Helicopter Pilots Assn. website. John went on to fly three tour in Vietnam.


1965, 147th ASHC


1966, 228th AVN 1st Cav


1968-69, 242nd ASHC

Because of men like John A. Banks, I -- Sp4.Paul E. Bartlett -- was inspired to attend flight school and go on to a career in aviation in law enforcement. I had the pleasure to serve for a short time 1964-1966 in the 26th Trans. Det. in Pirmasens, Germany with John A. Banks

John's information form DA-759 sheet#13, shows him at Ft Sill, May – June 1960. Arriving at Sill John had a total of 388 flight hours. John flew H-37A's, H-23's, and H-13's flying 44 hours. The unit operations officer was Kyle J. Spaulding, CWO-2

John's 759 sheet #19 for May-June 1961, is from Germany 26th Trans Co APO189, Flying CH-34's for 22 hours. The asst operations officer was Billy R. Prater CWO-2

John's 759 sheet #25 for June 1962, from the same APO, Flying CH-34's for 17 hours. The Asst. Operations officer was Cpt. Paul H. Jaenichen Inf.

John's sheet #32 for May-June 1963, from the same APO, Flying CH-34's for 43 hours. The operations officer was Harold F. Johndrow CWO-2

John's sheet #38 for May June 1964, from the same APO, Flying CH-34's and H-13's for 34 hours. The operations officer was Bill C. Walton CWO2

John's sheet #62 for April-June 1968 From the 90th Aviation Company APO 09165, Flying CH-37's for 27hours. The operations officer was Alvin T. Jones Cpt.

Walter, I hope this information will inspire others to add more to this important part of history, Paul E. Bartlett
| | | | |
| --- | --- | --- | --- |
| 1. H-34 at Pirmasens (KB) | 2. H-34 at Pirmasens (KB) | 3. OH-13 (KB) | |
| 4. OH-13 (KB) | 5. Hangars at Pirmasens AAF (KB) | 6. H-34 takes off at Pirmasens (KB) | |
| 7. Paul Bartlett in front of barracks on Husterhoeh Ksn (KB) | 8. Paul Bartlett and new VW (KB) | | |
| | | | |
| 1. Orleans AAF (KB) | 2. Verdun AAF (KB) | | |
---
(Source: Author's private collection)



26th Trans Co
Hanau or Pirmasens?






1. (KB)

2. (KB)

---
36th Transportation Company
1957
36th Trans Co (Lt Hcptr)
Pocket Patch

The 36th Trans Co (Lt Helicopter) "Bulldogs" were formed in 1957 at Ft Sill, OK.

The Company moved to Hanau, Germany, in November 1957. The unit was equipped with 18 new H-34s in December of that year.
---
(Source: Letter from John LaMontia, Hq/Hq Co, 54th Trans Bn and 36th Trans Co, 1957-1959)
I was with the 36th Trans Co and Hq/Hq Co, 54th Trans Bn for about 3 years covering the period 1957, '58 and '59, both at Fort Sill, Okla. and Germany.

I joined the 54th in early 1957 and was assigned as CO of Hq & Hq Company, 54th Trans Bn. For several months we did routine training while we awaited orders to deploy the entire battalion to Fliegerhorst, (Hanau,) Germany. The orders finally came and I was assigned officer-in-charge (OIC) to take an advance party well ahead of the entire battalion to prepare for their arrival a months later.

The battalion began packing, crating, and getting home and family matters in order in preparation for the movement to Germany.

We in the advance party were doing the preparation of quarters, drawing of vehicles and all of the other routines for accepting the arrival of the battalion. We were assigned to a former German air base named Fliegerhorst which is located just a short distance from Frankfurt (near Langendiebach, north of Hanau).

Some of the pilots' names (if my memory is still working):

Ed Whitney was the Bn Commander


George Singley, 36th Trans Co CO (later Bn Exec Officer)


John LaMontia, 36th Trans Co CO after George Singley


R. Dismuke, 36th Trans Co Exec Officer


Art Langlois, 36th Trans Co


Bob Denny, 36th Trans Co Ops Officer
I must apologize - after fifty years have passed and being retired from the military with its many assignments, remembering names is my shortcoming.

Decca Navigation Evaluation
Decca Navigation Device

While in Germany, the 54th Trans Bn was assigned the task of evaluating a new airborne navigation device. The system was named Decca. (Decca was an onboard device with a receiver that could determine an aircraft's location based on hyperbolic positioning and plot it on a tactical map)

I was appointed Test Director and continued as Test Director until I retired in late 1959.
I couldn't write about the 36th Trans Co without commenting on this: the 36th Hcptr Co has been recognized as one of the premier elite helicopter units in the European Theater. The men and officers of this unit had pride and integrity in their company. The pride and loyalty of the officers and men was recognized after just a few minutes conversation with anyone in the unit. The 36th pilot was unique in the way he carried himself. The 36th pilot wore black leather gloves and carried a black leather Swagger stick to display his pride in belonging to the 36th.

Major George Singley should be given credit and recognition for his leadership in commanding an elite military unit such as the 36th Transportation Company (Light Helicopter).
John LaMontia
---
1959
(Source: Email from James Bell, 36th TC Co, 1959)
I was stationed with this unit on 1 Jul 1959 from the 24th ID Trains in Augsburg as a CW2 H-34 pilot.

The unit performed a myriad of missions in Hohenfels, Baumholder, Grafenwoehr, etc. We also retrieved SS11 guided missiles from France.

The 4th Trans Co (H-37) unit was also in Hanau with the Bn. Also of note: I believe the 26th Trans Co had only a platoon in Hanau and the rest of the unit was in Verdun, France.

Some interesting names from this time include:

LTC Richard L Long was the Bn Commander


CPT William F Kinn was the Flight Surgeon

Some of the pilots in the unit at the time were:


CPT Edward S Hawkins


CPT Walter W Jackson


CPT Jerry W Robinson


CPT Charles A Benedict


CPT Richard L Dismuke


CPT John C Neamtz


CPT Charles M Priem


1LT John L Middleton, Jr


CW2 Ellis E Brabec


CW2 Charles W Beaman


CW2 Donald H Bishop, Jr


CW2 Robert E Dixon


CW2 James I Goff, Jr


CW2 Steven P Govin


CW2 John W Patterson


CW2 Barbee F Upchurch


CW2 Bill C Walton


CW2 Billy E McGlothlin


CW2 Lawrence J Lisonbee


CW2 James A Bell


CW2 Robert E Denney


CW2 Everett A Eastman


CW2 William M. Hack, Jr


CW2 Curtis R. Hayter


CW2 Hadley F Kittredge


CW2 Walter P McAnerney


CW2 James L McCullough


CW2 Fritz J McDonald


CW2 Frank H Price


CW2 James H Simpson


CW2 Arthur Ulm, Jr


CW2 Bennet G Wilder


CW2 Robert G Frank


CW2 William L Thornton
---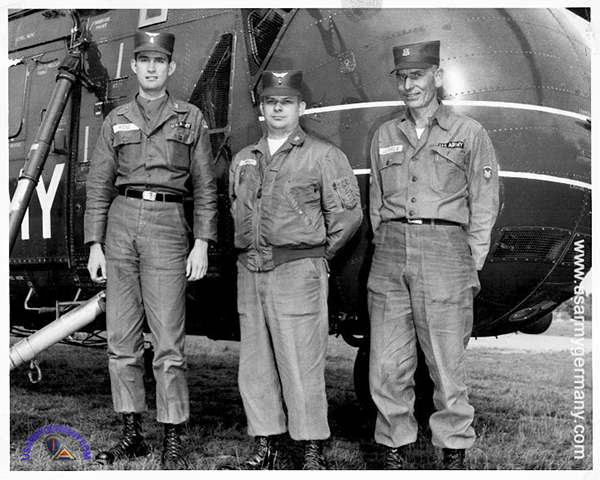 Crew of H-34 #13, Fliegerhorst Ksn, Hanau - Henry Gerken on the right. Others in the picture are
LT. Rose and CW2 Kelly. (Not sure if this was with the 36th or 26th as after dad left the 36th he
was assigned to the 26th.)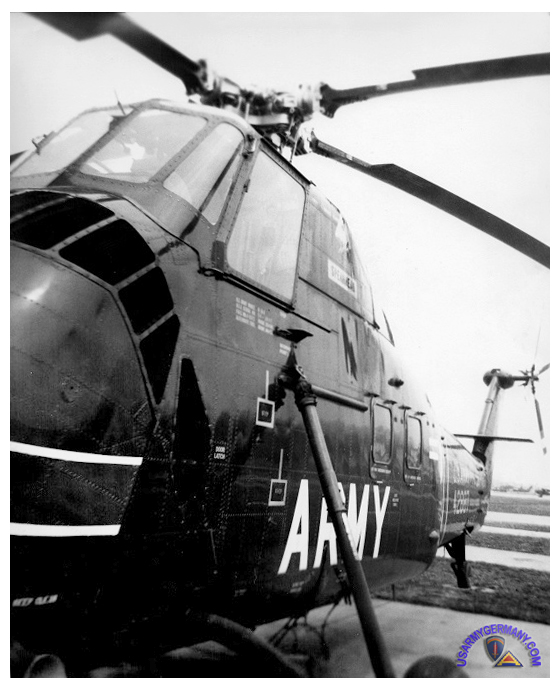 H-34 #13, 36th Trans Co (Lt Hel), Fliegerhorst Kaserne, Hanau, 1960 (Henry Gerken)

(A large 3rd Armored Division insignia is visible behind the pilots compartment)
(Source: Email from Fred Gerken, son of Henry A. Gerken, former member of the 36th Trans Co at Fliegerhorst Kaserne, Hanau, 1959-1961)
My father, Henry A. Gerken, was stationed in Hanau. I was about 10 years old..….what great memories…

My Dad was a crewchief on H-34 #13 in the 36th Transportation Company…Flying Bulldogs. We were in Hanau from 1959 to 1964, but I think he transferred out of the 36th in 1960 or 1961. In any case, he was at Fliegerhorst for almost 5 years. We were there for President Kennedy's visit.

I remember going with him to the flight line on Saturdays to work on some Red X's on his 34. I do remember it being number 13.

Interesting that in the photo I provided the H34 has a tail number 42887, as described on your web page as part of the 26th. I know that was my Father's Helicopter for quite a while.

The photos I am sending to you were taken in either 1960 or 1961.

Someone might recognize the guys in the photo with my Dad and correct me on this, but I'm sure it was at Fliegerhorst around that time.

Thanks for keeping the memories alive….Fred.
| | | | |
| --- | --- | --- | --- |
| 1. Radial engine | 2. Henry Gerken performing maintenance on #13 | | |
---
1961
(Source: Email from Alfred Lankford, 36th Trans Co and 90th Trans Det, 1961-62)
I served with the 90th & 36th 1961-1962. I am proud to have served, was an excellent unit. The unit had the finest pilots and men in Europe. I was crew chief & Tech Inspector. Served with Capt. Charles Benidict. He was a No 1 officer.



I served under the following commanders: Capt. Charles Benidict, Maj. Walter W. Jackson, Maj. Edward A Stewart, 1st LT. William McGlockton, Capt. Winfield C. Frank.


Would like to hear from anyone that served during this period.

NOTE: The stripe that marked the helicopter as belonging to the 36th was green bordered with a white stripe on top and bottom. The 36th emblem was on the tail pylon.
| | | | |
| --- | --- | --- | --- |
| 1. Changing an engine (KB) | 2. Inside of hangar at Fliegerhorst Kaserne (KB) | 3. Flight line at Fliegerhorst Kaserne (KB) | |
---
90th TC Detachment (Cargo Helicopter Fld Maint)
(Source: Email from Bob Winkler, 90th TC Det and 524th TC Co)
I served with Al Lankford and am in the picture with him. I served in the 90th TC Detachment from 1960 till it broke up. I went back to the States in 1964.



(All H-34 units in Germany used a broad colored stripe across the front of the helicopter to identify the unit.) Yes, the stripe (for CH-34's of the 36th Trans Co) was green with yellow edging (both sides of the green stripe about 1 inch wide; the green part was about 4 inches wide).

The 90th had no permanently assigned choppers as we were 3rd Echelon Maintenance assigned to the 30th Trans Co (Army Aircraft Maintenance) and lived on the top floor of their Bldg. The main choppers we maintained belonged to the 30th TC. We were attached to them but had our own CO and Ex Officer. That is what comes to mind but I wouldn't swear to it.

We had an extra chopper that they found out about when they broke up the company up. The chopper (a CH-34) had been air lifted by a CH-37 from where it went down in France. That was a big deal back then. The hook from the rotor of the 34 to the 37 broke in front of a big crowd at the airfield as it was coming in. The Army wrote off the chopper but we salvaged it and requisition parts against other choppers in the Co. Sure helped our Maintenance record a lot though.


The 90th became the 524th TC Co (3rd Echelon) and was greatly expanded. We stayed in Hanau at Fliegerhorst but had our own building and had a Major for a Commander. Carter was his name (made Major while CO.) Every one who re-uped around 1964 got a free ride to the 1st Air Cav when it was formed up stateside.

---
59th Transportation Company
(Source: Email from Carlton Bledsoe, 59th TC Co (Lt Hcptr), late 1950s)
59th Trans Co (Lt Hcptr)
Pocket Patch

I was glad to find your site but I was a little disappointed there was not more about the 59th Trans Co. I was assigned to the 59th Trans Co in Ft Sill OK in 1958. After the unit was complete we were shipped to Peden Barracks in Wertheim, Germany.

I held different jobs but most of the time I was crew chief on a H-34 Helicopter. I spent two years in Germany and left in 1960.

By the way the motto for the 59th Trans was : "PICK UP AND GO "
Carlton Bledsoe
---
1960
(Source: Email from David Niederloh, 59th Trans Co, 1960-63)
I never really knew what our job over there was except to keep as many H-34's in the air as we could. I remember one tough assignment when we had all 20 of our planes in the air. I don't know how many days, weeks we worked our asses off so that our company commander could take off with a full flight, just so that they could fly over some of the other Trans. Co.'s, with their, "noses in the air."


We herded many foot soldiers from one field exercise to another, with crew chiefs having to spend hours just cleaning up the mud tracked into their spit shined interiors.

We trained at Ft. Eustis for six months, right through the summer of 1960. Seven of us shipped out together for Wertheim. We were there until Jan-Apr 1963, as we seven then returned stateside for discharge.
All in all, I'd have to say that my Army tour was fairly good. I got some experience working with the machinist assigned to our company, working as a fill in clerk for our Tech Inspection Team and, of course, a good amount of time doing the heavy maintenance that our platoon was assigned to do for the 59th. Except for damaged main rotor tips when two pilots got too close, we had a perfect no accident record for the 26 months that I was there.
Most of maintenance crews did ride-alongs during test flights . . . got our jollies shooting auto-rotations and the pilots showed us a great deal of respect for us wanting to see how our work paid off.
There was another guy with whom I've written for awhile, a Ronald Giamberdini, we called him "Jabo." A sharp guy who got the Spec. 5 in our group because of his level headedness and his ability to adjust those tricky throttle boxes.

Literally, my last night there, I was helping to reinstall a fuel bladder, while the fuel was still in the bladder. We were trying to do that in the dead of winter, with all of this fuel, so the hanger door had to be open with us in the opening, well, it was miserable. Nothing to what are buddies went through in Viet Nam and other "conflicts," later, however, David Craig III, being one of those fallen comrades.


I don't remember any of the pilots names from the 59th, except for our own Capt. Bisch, who was our platoon leader, but with the war raging in those years that followed, others must have given their lives, as well.

I only did a three year tour in the Army but I used the knowledge I learned there to work in civilian aviation for six and half years while I finished college.

My training and the German family that I met in Wertheim were highlights. The officers and crews worked well together, each respecting one another for the unique talents used to accomplish our mission.


I'm excited about the possibility of returning to Peden Barracks to see the transition from military use to civilian control.


Thanks for the web site and the chance to share some of my memories of working with the 59th during those years.
---
(Source: Author's private collection)
| | | | |
| --- | --- | --- | --- |
| | | | |
| 1. Flight crew (KB) | 2. Unidentified German town with kaserne (KB) | 3. H-34 Choctaw (KB) | |
| 4. Aerial of Peden Bks (KB) | 5. Approach to AAF (KB) | 6. 26th & 59th Trans Co Choctaws (KB) | |
| 7. Flight over German towns (KB) | 8. (KB) | 9. Sling-load operations (KB) | |
| 10. Idar Oberstein (KB) | 11. Wertheim (KB) | 12. Basketball court (KB) | |
| 13. OH-13 pilot (KB) | | | |
---
99th TC Detachment (Cargo Helicopter Fld Maint)

---
91st Transportation Company
1958
(Source: Email from W. W. Fowler)
I served with the 91st Trans Co (Lt Hel)(Choctaw) in Germany from some time in 1959 until Jan 1962. I joined the 91st Trans Co at Ft Sill, OK maybe early 1958.

The unit transferred to Ft Campbell, KY, can't remember the date. Unit departed Ft Campbell, bound for Germany. Helicopters were flown to Brookley AFB, Alabama to be pickeled. The helicopters were then loaded on the hangar deck of the USNS CARD, a WWII escort carrier.

Enroute we stopped at St Nazaire, France, to off load some USAF jets. We then departed France, and began to "unpickle" (?) our birds. If memory serves me correctly, when the USNS CARD arrived in B`haven, we flew the helicopters from the flight deck to a marshalling area in B`haven and then on to Oberschlleissheim AAF, north of Munich. (Found out much later that the USNS CARD was zapped in Saigon Harbor. Got a hole blown in her bottom, but was repaired and returned to service, until scrapped in 1970.)

I know we were at Schleissheim thru the winter, then moved to Finthen AAF, into a brand new hangar, with quarters in a horseshoe shape along three perimeter walls of the hanger pictured online.

CO was Maj Orman Hicks.

Unit markings as shown for the 8th Avn Co were for the 91st Trans Co known as "Maj Hicks Checkerboard Wranglers".

Thank you for hearing me out.

Sp/5 WW Fowler, now civilian since 1962
---
1959
(Source: Email from O. William Swaim)
Just found your web site...really good to find some information about my time in Germany. I recall the name, Sp. Fowler, and think I can almost see his image. He was one for whom I had respect and fondness.

I served with the 91st Transportation Company from Ft. Campbell, KY, moved to Schleissheim Army Airfield, Munich, Germany, and then on to Finthen AAF, outside of Mainz. I joined the 91st in the latter half of 1959 when Captain Tuggy was the C.O. Major Hicks was brought in to shepherd the company to Germany. I was a part of the advanced party that made the initial move, under Capt. Tuggy. The time frame for the advanced party move was early 1960, in April, as I recall.

I trained at Ft. Eustis, VA, (where I in later years returned to join the teaching staff), on the Bell OH-13, and Hiller OH-23 Observation Helicopters. The H Model Bell was placed into service, replacing the G Model, but the company had none for the duration of my time at Finthen. I did odd jobs for the C.O., Maintenance C.O., Capt. Wesner, and Company First Sergeant Hietler—even drove a jeep, on maneuvers.

The Eisenhower-era Berlin Crisis extension got me. I served three months extra (of the original six), and sailed for home in April, 1962, on the USNS Rose, and was discharged. A reenlistment in 1963 netted me another three years with my favorite Uncle.

I've recalled events and dates as best I can. Thanks again for the good web site.
---
(Source: Email from Charles Kollman)
I was in the 91st Trans Co (Lt Hel) from Dec 1959 to April 1963. I left Campbell Ky. in May 1960 and boarded a ship for Europe on 10 June 1960. Stopped in England on 15 June and arrived at Schleissheim A.A.F. around the 22nd.

Initially, we were TDY with the 110th Trans Co (Lt Hel). The 18th Trans Co (Lt Hel) was on the other side of field with 8th Trans Bn. We left Schleissheim AAF in May 1961 and went
to Finthen AAF. The 91st was part of the 54th Trans Bn, 7th Army Avation Group.

On April 3 or 5, 1963 the 91st. became A Co., 8th Aation Bn, 8th Inf Div.

I left for CONUS on 24 May 1963 on the ship USNS Patch.

I believe the 8th Avation Bn ended (was inactivated) in Sept of 1967. I don't know for sure what is going in Schleissheim -- meaning is it active? I know Finthen is still active.
---
1962
(Source: Email from William R. Burks)
91st Trans Co (Lt Hcptr)
Decal

I arrived in Germany on July 11, 1962 assigned to the 91st Transportation Co., 7th Army. until March 31, 1963 when the unit was inactivated.

On April 1, 1963 we became Co. A, 8th Aviation Battalion, 8th Infantry Division.

I stayed in that unit until September 18, 1964, until I went back to the States.

When we became the 8th Aviation Battalion we had to take the diamonds off the aircraft. We replaced them with the Battalion crest on the transmission door cover to the Sound of Guns. We put the 8th Infantry patch on the tail of the aircraft. We painted the dog house cover and the louvered section over the transmission. We painted them red, white, and blue for the first, second, and third platoon.

I am attaching some pictures and I can send more if you like.
| | | | |
| --- | --- | --- | --- |
| | | | |
| 1. H-34 with 91st TC Co markings | 2. 91st TC Co headquarters | 3. Unit members | |
| 4. Maintenance hangar | 5. 2nd Pltn, 524th Trans Co | | |
---
329th TC Detachment (Cargo Helicopter Fld Maint)

---
Related Links:
| | | | |
| --- | --- | --- | --- |
| | | 4th/152nd Reunion Association - the web site for former members of the 4th Transportation Company (Medium Helicopter); 506th Transportation Company (Light Helicopter); 4th Aviation Company; and 152nd Cargo Helicopter Field Maintenance Detachment. The site includes a good unit history of the 4th Trans/Avn Co and some great pictures of the MOJAVE (H-37) medium helicopter as well as Fliegerhorst Kaserne, Hanau, in the late 1950s. | |
| | | | |
| | | | |