If you do NOT see the Table of Contents frame to the left of this page, then
Click here to open 'USArmyGermany' frameset
Army Aviation in the European Theater
(Page 3 - Separate Aviation Detachments)
US Army, Europe
Looking for more information from military/civilian personnel assigned to or associated with the U.S. Army in Germany from 1945 to 1989. If you have any stories or thoughts on the subject, please contact me

.
---
---
22nd Aviation Detachment (59th Ord Bde)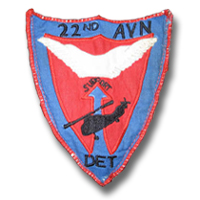 22nd Avn Det, HQ COMZEUR pocket patch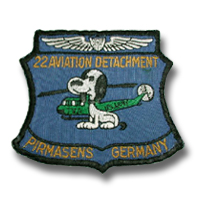 22nd Avn Det, 59th Ord Bde pocket patch

Click here for the 26th Trans Co (Lt Hcptr) Page - predecessor of the 22nd Avn Det.
1965/66
(Source: A Look Back ... at the 59th Ordnance Brigade. Final issue of the 59th COURIER, the command newspaper, published in 1992.)
The 22nd Aviation Detachment was constituted in the regular Army as the 22nd Special Warfare Aviation Detachment in March 1962 and activated at Fort Bragg, N.C. In June 1962, it was reorganized and redesignated as the 22nd Aviation Detachment (Special Forces). The Detachment was inactivated in December 1963.

The unit was activated in September 1965 as the 22nd Transportation Company in Pirmasens, Germany and assigned to U.S. Army Communications Zone Transportation Command with attachment to the U.S. Army Advanced Weapons Support Command. The 22nd replaced the 26th Transportation Company which was inactivated. The following month, the activation orders were amended to designate the unit as the 22nd Aviation Detachment.

In May 1967, the detachment was assigned directly under U.S. Army Communications Zone with attachment to AWSCOM.

In 1971, and again in 1977, the 22nd Aviation Detachment was named the USAREUR Region AAAA Aviation Detachment Size Unit of the Year.

The 22nd will inactivate in July 1992.
---
(Source: Email from Edward Eyman, 22nd Avn Det, 1965-67)
Can't seem to find any information on 22nd Aviation Det. for the years 1965-1967. My commander was William C. Bradley, Maj. (Inf).

A year or so before (about 1965) we changed from the 26th Trans. Co. We had H-34s and a pair of bell bubble helicopters....

When I got to Pirmasens, Ger. it was early 1965 and the Unit was named the 26 Trans Company. I was the Co. Clerk and did all the paper work. The Name was changed to the 22nd Aviation Detachment after several months, am not sure of the date we started changing all the paperwork.

We designed the Shoulder Patch (attachment) and had them made sometime in late in 1965.

As I was a US (draftee) I was discharged in Mar. of 1967. The name could have been changed ealier than my arrival and some time taken to get it recorded. Or it may have been merged with company in Pirmasens that was already there. My memory is not good as to what really happened about the name change.

---
Related Links: