If you do NOT see the Table of Contents frame to the left of this page, then
Click here to open 'USArmyGermany' frameset
Fulda Army Airfield
Seventh Army Aviation
Looking for more information from military/civilian personnel assigned to or associated with the U.S. Army in Germany from 1945 to 1989. If you have any stories or thoughts on the subject, please contact me

.
---
---
History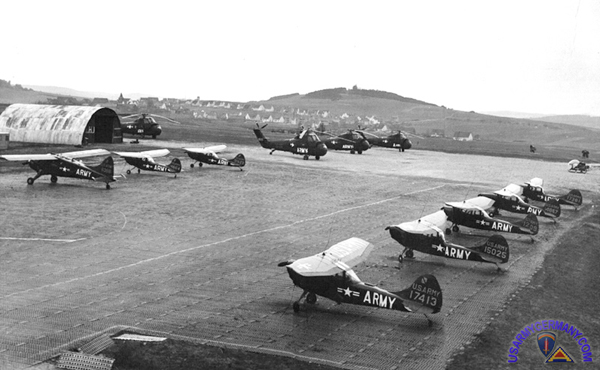 Fulda Army Airfield, early 1960s (Roger Beverage)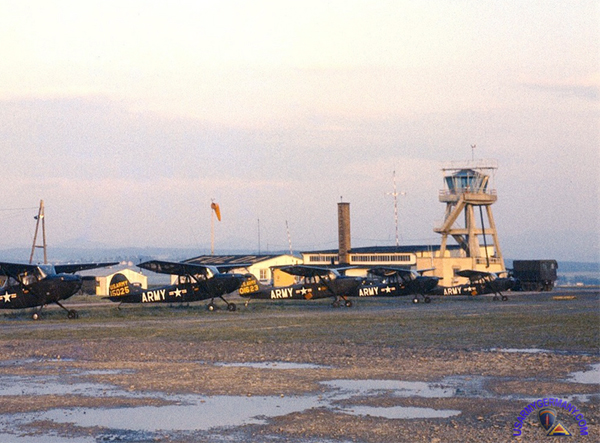 Fulda Army Airfield, early 1960s (Roger Beverage)
1980
(Source: STARS & STRIPES, April 18, 1980)
After a two-year legal battle with local German citizens' groups who tried to stop the renovation project (out of fear of an increase in noise pollution and lowering property values), German courts gave the US Army the go ahead to modernize the Fulda Army Airfield at Sickels.

The airfield was constructed in 1936 and is currently used by the 11th Armd Cav Regt. Helicopter crews of the 11th ACR fly patrol surveillance missions along the East - West German border on a daily basis. There are 350 military personnel stationed at the airfield.

Many of the buildings at the airfield are in bad shape - some having been condemned by Army engineering officials. The Army has been forced to use several makeshift structures by converting storage containers into workshops and turning junked Army busses into offices for maintenance personel working at the airfield. Portable vehicle maintenance tents have been set up and are being used as hangars. (Maintenance for all 11th ACR aircraft is performed at the Sickels Airfield.)

The bulk of the renovation plans entail general facility improvements - to bring the airfield up to acceptable standards, including runway, taxiway and other airfield surface renovations. Plans also call for the total reconstruction of several operations, maintenance and administration structures and the construction of a 250-man troop barracks. (A new tower and hangar facilities will also be constructed.)

Work on the project is expected to begin in late August or early September.

---
Related Links: